Ireland is a destination that many people dream about and glamping Ireland is something that should be on every nature-lovers bucket list. The Emerald Isle is a magical place with stunning scenery and tales of leprechauns, fairies, giants and even hurling tales like Táin Bo Cuailgne.
The best thing about Ireland is it's exactly how you imagine it to be. You'll see endless rolling hills and fields of green with sheep and stone fences. The rugged coastline that will take your breath away, and every fairytale-like village with an Irish pub on every corner with locals telling stories or singing traditional songs after a couple of pints.
Visiting and exploring Ireland and Northern Ireland is an amazing experience no matter where you stay or where you go. But glamping is an extra special experience as the UK was one of the first places where glamping became popular back in 2007. Because of this Ireland has a lot of glamping locations and unique accommodations.
With a little research, you can find some spectacular Ireland Glamping spots. These range from castles, lighthouses and hobbit homes, to more traditional glamping accommodations like treehouses, shepherd huts and glamping pods. We've done some research for you to get started on your own glamping Ireland adventure. Perhaps you may be also interested in Glamping Iceland.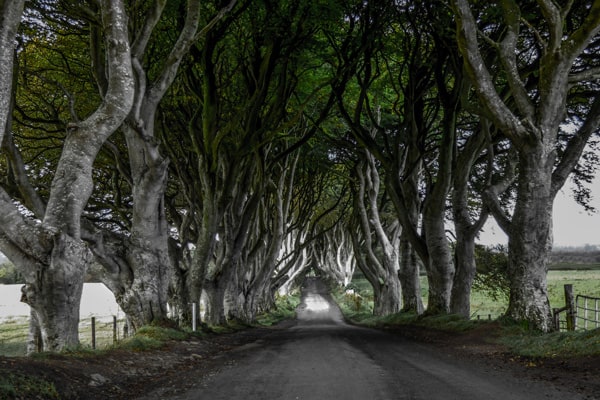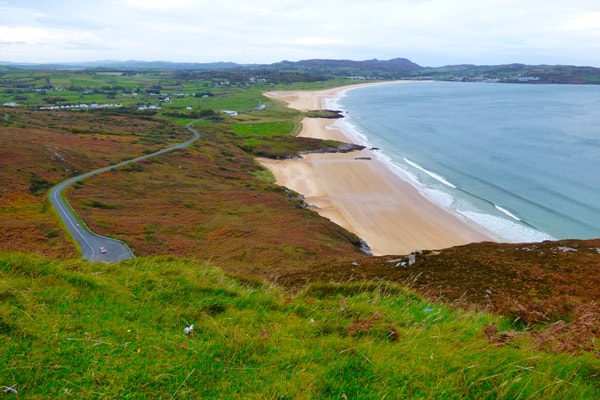 In this Glamping Ireland article, we will go over why you should give Glamping in Ireland or Glamping in NI a try. We will also touch on some of the must-see sights when visiting Ireland. Knowing what you want to see when Glamping Ireland will help you to pick a glamping spot from the array of amazing places that will best fit your Ireland itinerary.
Why Glamping Ireland Should be on Your Bucket List
Many of the top places to visit when traveling around Ireland are outside of the cities. Although glamping Ireland spots can be a unique and fun experience on their own there's the added bonus of staying close to these scenic sites around the countryside. This will give you the opportunity to beat the crowds coming out from those cities. It also enables you more downtime to enjoy the Irish countryside as most glamping venues are immersed in the nature of the island.
One of the major reasons people visit Ireland and Northern Ireland is to experience its natural beauty so why not pick an accommodation style that fits with that setting. An Ireland glamping tour is a vacation you will not soon forget.
Glamping Essentials (What to bring Glamping Ireland)
What to bring with you when glamping Ireland all depends on where you're staying and what kind of amenities are provided. If you are staying in a more rustic glamping spot, there may be some essential items you need to bring with you on your Ireland glamping adventure.
A flashlight for wandering around the property at night is always a good idea as is a lighter or matches. You may need a power supply if you plan on keeping your devices charged while out exploring during the day or if your place does not have power outlets.
Depending on the location and time of year you may need bug spray and sunscreen and rain gear is always good to have in Ireland. Also, some glamping sites don't supply bedding and towels so be sure to inquire if you need to bring your own.
Many glamping Ireland sites will not have TV's or even the internet so bringing a book and pack of cards is essential when camping or glamping. One of my favorite outdoor games for 2 or more people is Kubb (Viking Chess).
You may be glamping in Ireland to unplug and enjoy the peace and quiet but some soothing music in the evening can be a great addition so consider bringing a Bluetooth speaker.
Top Sights to Visit when Glamping Ireland
There's so much to see in Ireland and Northern Ireland that we won't attempt to cover it all here. But we will touch on the main sights to see around the island when Glamping Ireland
The Cliffs of Moher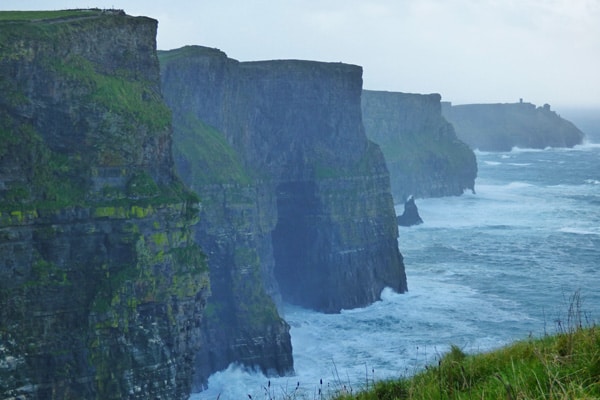 The Cliffs of Moher are near Galway and should definitely be on your to-do list. These massive natural walls rise to 702 feet (214 m)and span 5 miles (8 km) along the Atlantic ocean.
You must be careful when traversing along the top as gusts of wind are a regular occurrence and standing too close to the edge could lead to disaster.
The awe-inspiring scale and dramatic aspect of the cliffs are sure to burn into your memory. Get there early and avoid the crowds as this is one of the most popular attractions in Ireland.
Dingle Peninsula
A trip around the Dingle Peninsula is a must as there is quite a lot of beautiful viewpoints you can stop at including Dunmore Head. It's always voted one of the prettiest drives in Ireland as it gives you a look at Ireland's Wild Atlantic Way.
Make sure to stop for lunch with a pint of ale or Guinness at the picture-perfect Dingle Village. You can also take a day tour to see the famous local dolphin Fungie. If more drink is on your mind, Dingle Distillery is a wonderful place for a tasting.
Beach lovers may want to consider circling Inch Beach on the southern coast of the peninsula on your road map for stargazing. For incredible one-of-a-kind scenery, the local favorite Béal Bán and Wine Strand beaches are the go-to spots.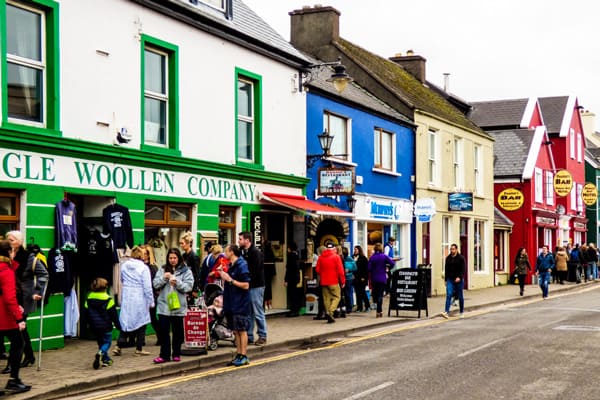 Killarney National Park and Muckross House & Gardens
Imagine walking around and exploring a 19th century mansion and garden in one of the most beautiful landscapes in the world. This is just one of the reasons why people flock to Killarney and spend a bit of time exploring the area.
The Killarney National Park is Ireland's oldest National Park with 26,000 acres of scenic land and historic sights. Muckross House and Muckross Abbey are top sites to visit.
The 15th century Ross Castle is another perfect spot for a picture or picnic. If a good walk is on your mind, perhaps take a hike to the impressive Torc Waterfall. There is a 4.5 km loop hike you can do to the falls weather permitting.
The Giants Causeway
This natural building block phenomenon almost seems man-made when you first see it. Pillars of perfectly fitted rocks in a dancing field of unique beauty is every hobby photographer's dream.
There is a cute pub at the top of the hill for food and drink either before or after so no need to bring a picnic. Good idea to make a reservation ahead of time though.
There's a shuttle bus down and back up if you're not up for the walk. An hour or two at the bottom should be a good time frame to enjoy yourself.
Blarney Castle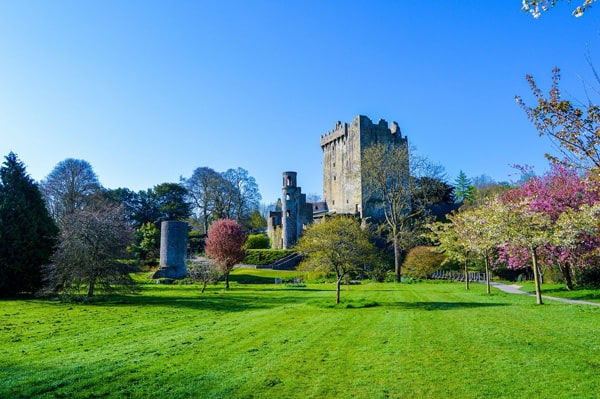 The top sight to see near Cork is this ruined Medieval fortress originally built in the 10th century. This iconic spot is also home to the famous Blarney Stone where it's said that if you kiss the stone you'll be given the "gift of gab"
One story of the stone is that a witch was saved from drowning and revealed the power of the stone to the MacCarthys, who were lords of the castle at the time. As the story goes, the witch simply told the MacCarthys of the stone's great power in thanks for saving her life.
There is a lot to see at Blarney Castle so make sure you plan enough time. Beside the actual castle, you can explore the gardens, the dungeon, the magical rock close and of course the Blarney Stone.
Other Ireland Tourist Spots to See When Glamping Ireland
As we said, there are many amazing places to see in Ireland and Northern Ireland but we just have to mention a few more. The Carrick-a-Rede rope bridge in Northern Ireland is an exciting excursion. A 5,200-year-old passage tomb called Newgrange in County Meath and the Slieve League Cliffs in Donegal are a feast for the eyes. Wandering around Glendalough in Wicklow is a scenic painting come to life.
A unique thing to do between Dublin and Wicklow is kayaking to Dalkey Island where Vikings once held slaves. To the far North, you have Dunluce Castle which sits on the jagged coastline like Game of Thrones. There are so many more places to see and things to do you may just need to book an extra couple of weeks!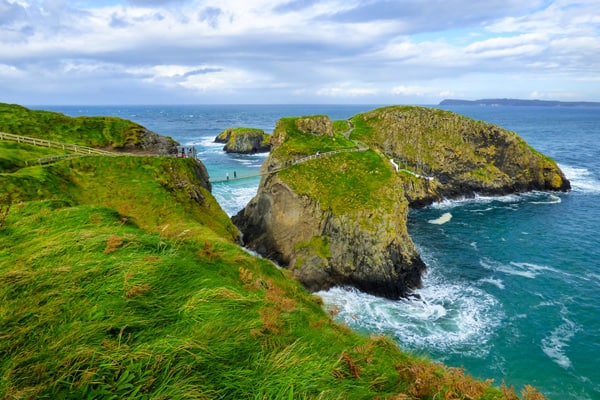 Location: Baltinglass Town
Best For: Solo or Couples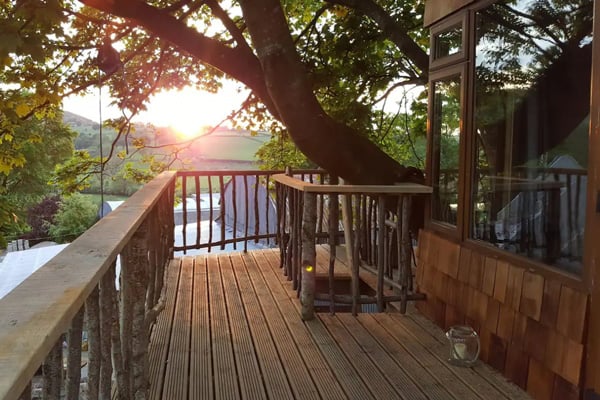 Do you remember how fun it was when you were a kid? No TV or Internet, no stress or routine. A treehouse and imagination were all you needed to have memorable adventures with your friends. This Wicklow Glamping location allows you to re-live those adventures as an adult and share them with your partner. All without compromising on comfort.
During the day explore the 40-acre farm and surrounding woods with walks leading to historical and archaeological sites. In the evening use the BBQ on the large private deck to cook up a meal to enjoy under the stars. Then fall into the luxurious double bed for a good night's sleep before the next day's adventures begin.
Recent guest reviews:
"Such an amazing experience. Very different to your usual air bnb stay. The treehouse is lovely and very practical and safe. We were worried about being cold, but once you get the stove going for a few hours the heat stays in for the whole stay! Its a very unique and different holiday as you're living very basic which I think makes it all that special. We absolutely loved it and will definitely be back to visit!"
---
Location: Wicklow Town
Best For: Solo or Couples
Is there anything more peaceful than staying at a remote lighthouse surrounded by picturesque landscapes, wildlife, and fresh sea air? The interior of this authentic lighthouse was redesigned to create 6 octagonal rooms where every arched window has a breathtaking view.
You'll have everything you need for a comfortable stay including 2 double bedrooms, a fully equipped kitchen and bathroom and a sitting room. This is a very unique Irish glamping experience but keep in mind you will need to climb 109 stairs to reach the top floor.
---
Glamping Donegal County Accommodations
Location: Ballyshannon
Best For: Solo or Couples
Those who are looking for a peaceful yet comfortable and stylish getaway will appreciate this glamping location in Ballyshannon. The romantic hut is located in the woods overlooking Assaroe Lake and with no WiFi or TV it's a perfect escape from the world.
All the facilities are thought-through and enough for a perfectly comfortable stay. Though you will not have access to WiFi or Television, browsing the breathtaking landscape, stargazing from a patio, and enjoying the privacy and comfort of the tastefully furnished room will make your romantic getaway truly unforgettable.
Recent guest reviews:
"This is heaven on earth! It is a very special place surrounded by beautiful wildlife, and the most perfect hosts. This place is just perfect. It is peacuful, quiet, and romantic. Perfect getaway. Couldn't have asked for more. We didn't want to leave, but we will comeback…thank you Tom and Chiara for the moments that will stay with us forever."
---
Cropod – Hillpod Glamping Ireland
Location: Mountains of County Donegal
Best For: Solo or Couples
When you look for a cozy getaway and want to experience the ultimate glamping Ireland atmosphere – the perfect balance between unity with nature and essential comforts, this Donegal location is just for you.
While Glamping in Donegal always offers breathtaking views, fresh air, and the sensation of the untouched beauty of nature, this Earth house stands out! Inspired by rich Irish history and mythology, this contemporary equipped pod is the ultimate location for a romantic getaway or a honeymoon.
Recent guest reviews:
"A perfect escape from the city buzz. The location is amidst mountains with a lake in front of the house. So serene, so so amazing. The space is really aesthetic and clean and the views are beyond words. Gary is an amazing host! He recommended some fantastic cafes nearby. Will definitely come back again!"
---
Location: Fintown Village
Best For: Solo or couples, adults only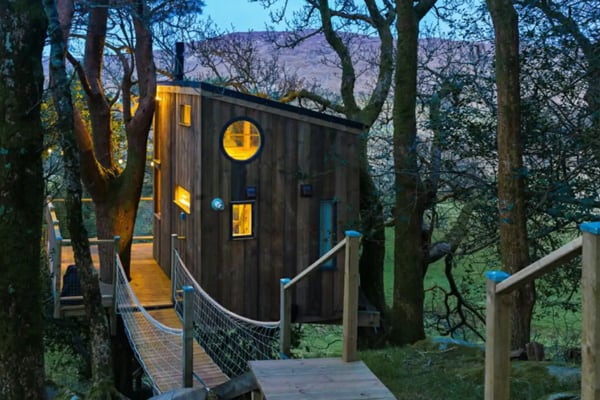 This original Treehouse is designed especially for love birds. A cozy handcrafted cabin that takes you away from everyday routine, offering a fun romantic adventure in the whimsical atmosphere of glamping in Donegal. Couples can enjoy the peaceful, breathtaking views and romantic atmosphere of Gleveagh National Park from their private treehouse deck.
For your convenience, the treehouse is equipped with a flushing toilet and shower with hot water. Plus you may cook your romantic dinner in the kitchenette outfitted with a grill and mini-fridge with an icebox to keep the bubbly cold. What else do you need for a perfect peaceful getaway with your sweetheart?
Recent guest reviews:
"This was the most amazing stay of my life. You feel like you are living inside a tree. The views and atmosphere are spectacular ! I stayed 4 nights and wish I could have stayed longer"
"Our stay in the Birdbox was by far our favourite holiday in Ireland. The place was so cozy and had everything you could possibly need (including lovely warm shower). We were able to fully detach, relax and enjoy the breathtaking surroundings. We felt so close to nature with the views, the deer wondering past and even enjoying the vegetables from the garden. Can highly recommend, and look forward to coming back one day."
---
Things to see when Glamping in Kerry
The county Kerry is a sought-after region of Ireland to explore. Glamping in Kerry provides easy access to the area while getting the full Glamping Ireland experience without the hectic atmosphere of a hotel. Make sure to either book or take your car on an iconic scenic drive called the Ring of Kerry. This loop drive wanders around the Iveragh Peninsula with lots of perfect views and sights to see along the way.
The town of Killarney is another must and great for pub hopping and has an array of magnificent things to see like the Killarney National Park with Muckross House and Gardens, Ross Castle and the picturesque Gap of Dunloe close by.
Glamping Kerry County Accommodations
Location: Castlemaine Village
Best For: Solo or Couples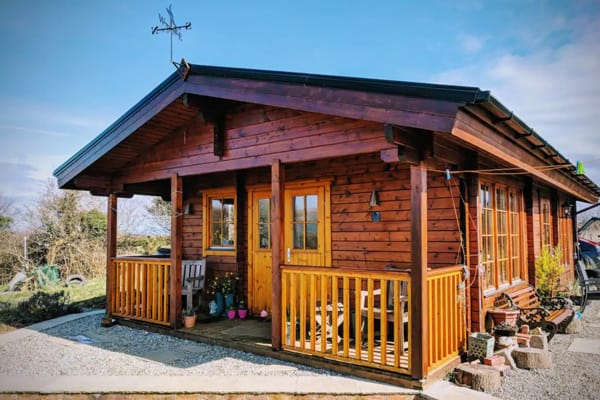 Combining the carefree simplicity of countryside life with a luxurious touch of a top glamping experience. This Chalet in Kerry would be a perfect getaway for a couple of sweethearts who want to leave the dusty city behind and dip into simple pleasures. Though the Chalet is located only 250 meters away from the closest neighbors, you get a whimsical feeling of privacy and freedom that only Glamping Kerry may give you. And a donkey often wandering in the field completes the atmosphere perfectly.
The Chalet is conveniently located close to the beautiful beaches of Ireland's south-west coast. Following a relaxing day on the beach or a walk in the Killarney National Park, you can cook your romantic dinner at a fully-equipped kitchen. After dinner, enjoy the warmth and coziness of this wooden farm-style cabin.
Recent guest reviews:
"This place is the perfect escape from the busy world. It is a hidden gem that will allow you to reconnect with nature and recharge yourself. The cabin is amazing and we loved relaxing on the deck in the morning and in the living room playing cards in the evening."
---
Location: Kilgarvan
Best For: Solo or Couples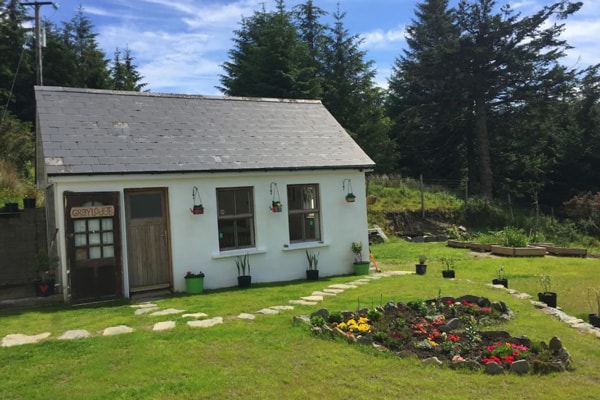 A small cozy cottage located in the middle of a 600-acre forest. This is the essence of a romantic getaway location. Imagine yourself taking walks in picturesque mountains, enjoying breathtaking views of Kenmare Bay. This Kerry Glamping location allows you to dive into the whimsical atmosphere of pristine rural Ireland sites. An ultimate glamping location, this rustic-looking cottage has all the modern conveniences on offer. From a fully-equipped kitchen and essential electric appliances to warm wooden floors and a modern bathroom with a hot shower.
Recent guest reviews:
"This is the nicest place we have ever stayed. The house is so cosy and the area is so peaceful. There are lovely walks you can go on straight from the house and it's really quite. We didn't see anyone in our time there, so it's a perfect little escape, but at the same time you're really close to Kenmare too."
---
Location: Killarney
Best For: Solo or Couples
These charming and cheerful bell glamping tents are perfect for a restful romantic getaway in Killarney. While immersing in the natural atmosphere you'll still be able to enjoy all the comforts and conveniences of civilization. All-weather roofs and heated bedrooms and patio ensure comfort in all seasons. Plus you'll have your own private en-suite bathroom and outdoor covered kitchen with a gas hob and BBQ.
The location offers gorgeous mountain and meadow views but is within walking distance to Killarney Town and National Park so you have easy access to all sorts of activities and amenities.
Guest reviews:
"This was the most amazing little place we have stayed during our trip to Ireland. Truly unique. Great bathrooms, warm and comfortable bed, and close to town."
---
Location: Beaufort
Best For: Couples or small family
This amazing Killarney glamping location combines the experience of a picturesque farm with the comforts of a modern hotel. Enjoy the beauty of untouched nature and the peaceful ambiance of the countryside while staying in a lovely glamping pod. There are two pods on-site each with a double bed and a pull-out sofa bed to sleep a family of 4 comfortably. The pods also come with an ensuite bathroom, small kitchen and deck with seating.
Enjoy your served breakfast with homemade bread and fresh eggs straight from the farm. You can browse around the picturesque sights of Reeks Districts, and spend the evening stargazing or enjoy a barbeque at the shared patio with your friends and family.
Recent guest reviews:
"Our stay at Farmyard Lane Glamping was our best Airbnb experience to date. Laura and Kieran were fantastic hosts and could not have done anything more to make our stay more special, on our three nights. The glamping pods are fully equipped, bed was very comfortable and the pod was really cosy. The fresh eggs, bread and honey were a fantastic touch. The location was ideal, with a ten minute drive into Killarney. We would wholeheartedly recommend Farmyard Lane Glamping to anyone looking for a nice getaway."
---
Glamping Galway County Accommodations
---
Location: Loughrea, County Galway
Best For: Couple, small family
This site has two lovely gypsy wagons which sleep 2 people comfortably plus a small third. The bathroom with hot showers is shared between the wagons. Cooking can be done on an open fire using a traditional cast iron tripod and pot but there is also a small BBq and an indoor shared kitchen for bad weather. Or you can dine at the organic cafe.
The caravans sit on a hill overlooking the stunning Irish countryside with forest views. Onsite are also a community library, art room, kids playground and fairy garden. For an extra charge you can also use the hot tub or go horse riding.
Recent guest reviews:
"Great place! The wagon was so cute and comfier than I expected. Beautiful location with horses nearby. Karolina gave us lots of helpful tips of things to do in the area as well. Would definitely recommend staying here!"
---
Location: Galway City
Best For: Solo or Couples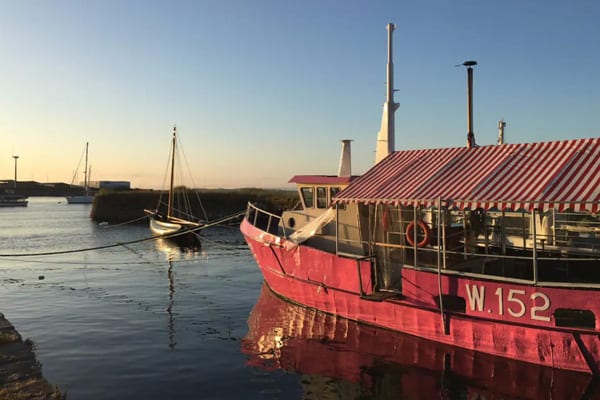 Is there anything more authentic and adventurous than staying on an original Irish fishing trawler? This boat has seen it all – a glorious past in the open sea, and a devastating period of being abandoned and sunk in the dock. Then it was granted a new life becoming one of the most original Irish Glamping locations in Galway.
This houseboat is a unique combination of the adventurous atmosphere of a fishing trawler and the comfort of a luxurious hotel. With the private entrance, bathroom, and neat interior it will become a perfect location for a romantic getaway or an inspiring accommodation for an artistic soul.
Recent guest reviews:
"Fab location so close to Galway city centre. The upper deck area is shielded from the wind by glass panels and automatically lights up at night time which was a lovely touch. We had a great experience and it was such a novelty staying on a boat."
---
Things to See When Glamping in Cork
In the southwest region of Ireland, you have another popular county called Cork. There are a massive amount of places to book for Glamping in Cork as well as a multitude of things to see. Besides Blarney Castle and the famous Blarney Stone, you have an 18th century covered market in the city of Cork. Make sure to stop by the BlackRock Castle Observatory situated on the waterfront.
Outside the city of Cork, you have fantastic Irish countryside to enjoy. Charles Fort in Kinsale is a star-shaped 17th-century fort located on the water's edge and is worth a visit. If you are into megalithic sites you will like the peaceful and historic Drombeg stone circle just east of Glandore. Are you a lighthouse fan? Galley Head Lighthouse is an active 19th-century lighthouse overlooking St George's Channel and two beaches. If you are lucky you can get an amazing tour by Ger Butler.
Ireland
Glamping Cork County Accommodations
Location: Close to Glengarriff Woods Nature Reserve
Best For: Solo or Couples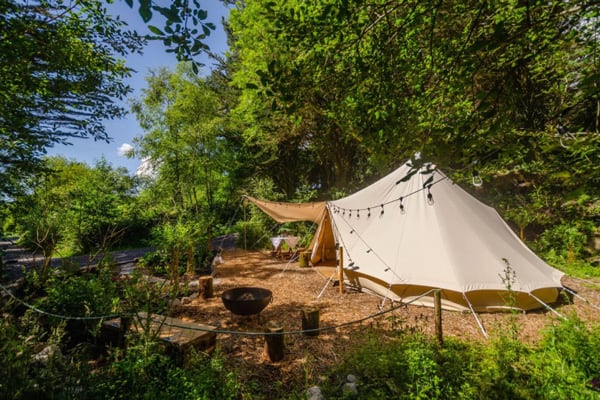 Can a tent in the woods provide you with the luxury experience of an expensive hotel? This glamping Cork location will become a lifetime memory for you and your sweetheart. You'll start your day with an organic breakfast cooked in the kitchen garden using fresh produce grown on site and locally foraged wild ingredients.
After breakfast enjoy a country walk on a private track at the edge of the woodlands with views of surrounding meadows and hills which will lead you to the "Garden of Re-imagination". In the evening you can enjoy stargazing on the patio or cozy up inside before retiring to your luxurious king-sized bed. Both indoor and outdoor seating offers feather cusions and wool blankets for ultimate comfort.
Recent guest reviews:
"We stayed here for two nights in early September. The tent and the surroundings are even more beautiful than in the photos! The homemade breakfasts are incredible! Khloe was an amazing host who was able to give us lots of tips about how to spend our two days in Glengarriff and nearby areas. Our tip, give yourself more than two days in West Cork as there is so just so much to see! Thanks again Khloe for being such a warm and welcoming host!"
---
Location: Gortagarriff, Kilcatherine, Eyeries, Beara
Best For: Solo, couples, small family
This lovely grass-roof, eco-cabin provides the perfect coastal glamping Cork experience. The combination of the remote location and breathtaking views of the Atlantic Ocean are what Irish dreams are made of. At the same time, you won't have to compromise on comfort as you'll have a well-equipped kitchen complete with basic essentials, hot-water shower, wood for the stove, a comfy double bed plus sofa bed and even basic WiFi.
The owners live right behind the cabin ready to help if you need anything but will otherwise leave you to enjoy the solitude to make the most out of your glamping experience. This is also a perfect stopover spot for hikers doing the Beara Way Walking Route.
Recent guest reviews:
"Wonderful place to stay if you are looking for peace and quite and some magnificent views! Anne is a wonderful and easy going host who has tons of local tips. It's great for working or just to enjoy some solitude away from all the rush. Can most certainly recommend!"
---
Location: Cork City
Best For: Solo or couple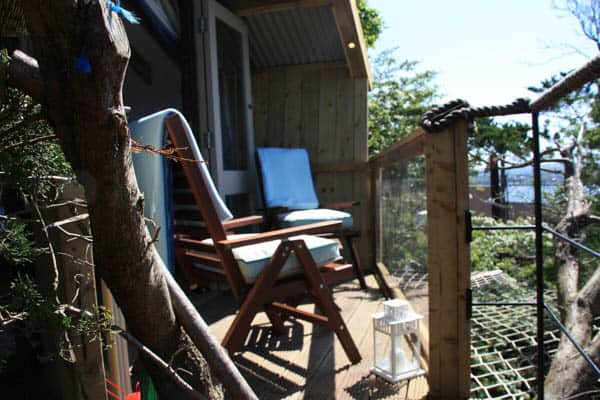 You have the best of both worlds with this glamping treehouse: a tranquil escape surrounded by nature just a 5-minute walk from the city of Cork. There's a cozy bedroom and deck overlooking the trees and city on the top floor and a private bathroom on the lower floor. The treehouse is fully insulated and built to handle strong winds so you'll be very comfortable whatever the weather.
Guest reviews:
"This place is unbelievable. We had the pleasure of staying here for the night hit as we passed through Cork. It has a great view of downtown which you can get to by a short walk. We arrived the night after the Christmas lights were put up downtown which added to the view. The concept is really unique and you can tell that a lot of time, effort, and love have been put into the Urban tranquillitree. Unexpectedly, the toilet and shower area were warm and comfortable. Breakfast included fresh warm croissants that arrive on your balcony via pulley system at a time of your choosing. The treehouse itself is warm and cozy. Spend a nice night with your loved one and get reacquainted. You will not even notice that there isn't a television. Who needs it when you're staying in a place like this?? Richard, thank you so much. If we are ever in cork again we will definitely be staying there again if it is available."
---

Ireland
Glamping Doolin County Clare Accommodations
Location: Doolin
Best For: Couples, small families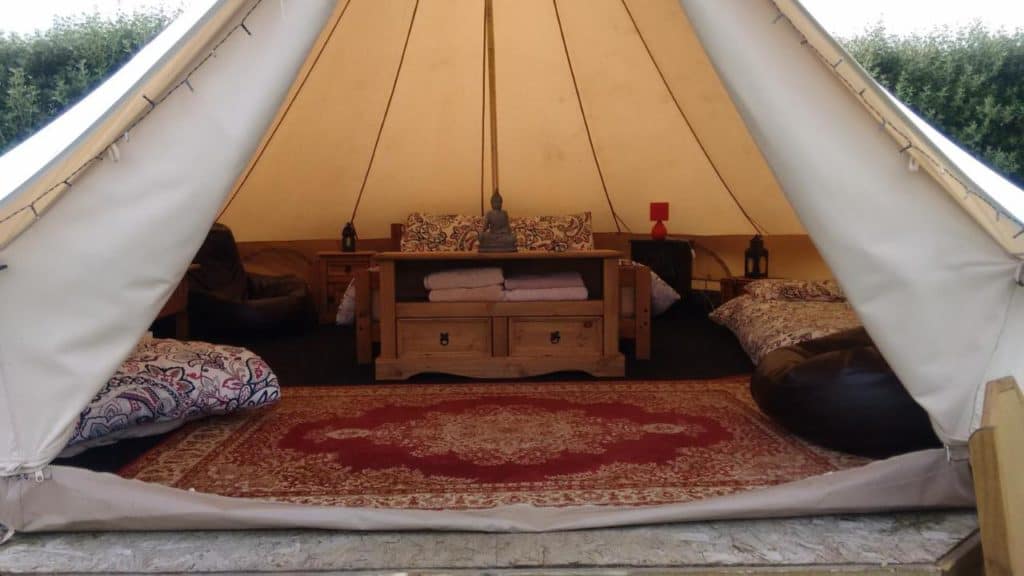 Doolin Glamping Ireland has a bit of everything. Choose from luxury bell tents, a Mongolian yurt, a tipi or a vintage caravan. Whichever glamping accommodation you stay in you'll be resting in comfort with plenty of on-site amenities. There's a small shop, a full camper's kitchen, BBQ area, firepit, laundry and a games lounge.
The traditional music capital of Ireland, the charming seaside village of Doolin is very close and offers great restaurants, pubs and shops. You're also near to the famous Cliffs of Moher and Lisdoonvarna Spa Town.
---
Location: Kilfenora
Best For: Families, small groups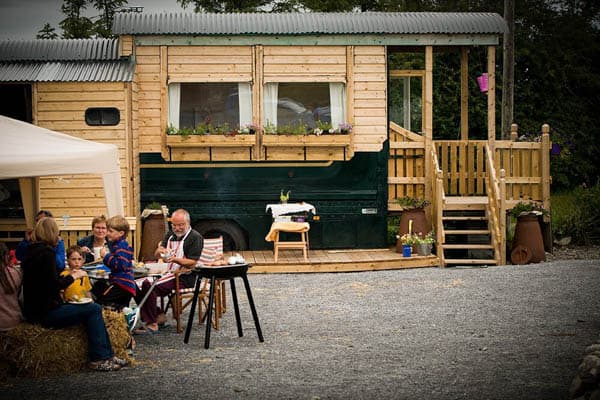 This converted horse truck on a traditional Irish farm may be the quirkiest glamping spot in the Doolin area. This spacious accommodation sleeps 5 comfortably, is fully insulated, has a wood-burning stove and a bathroom with a hot shower. Weather permitting you can use the BBQ and enjoy a feast on the deck while watching life on the farm.
This glamping Ireland site is located in the village of Kilfenora, home of traditional ceili music and is just a short drive from Doolin, The Burren, and The Cliffs of Moher.
Recent guest reviews:
"We had a wonderful time. The children thoroughly enjoyed the glamping experience and they had a lovely time getting to know the beautiful animals. We opted for breakfast which was delicious and good value. The kids had lively pancakes while we enjoyed the extremely tasty courgette fritters and fresh warm scones. The accommodation was clean and beautiful on the inside and fun. A cooler box was provided for us to keep milk for the baby. We also given great recommendations on places to go and eat."
---
Glamping Northern Ireland Accommodations
Location: Newtownards
Best For: Solo or Couples
This fully-equipped and tastefully designed studio will take you away from everyday routine and stress. Here you'll find yourself in a Scandinavian whimsical atmosphere of water and mountain views. Forget the world and lock yourself away with your partner in the middle of jaw-dropping landscapes, fresh air, and a carefree lifestyle.
At the same time access to WiFi, cable TV and all the necessary electrical appliances turn this unconventional vacation point into an ultimate glamping experience just 20 minutes from Belfast city center.
Recent guest reviews:
"What a truly unique place, had the absolute pleasure of a much needed respite stay here and would highly recommend Brent Cove. What a view."
"Beautiful place with amazing view. Full recommendations! I hope we back again :)"
---
Location: Saintfield
Best For: Solo or Couples
Let yourself into a fairytale through the door of this charming cottage. Here, among endless gardens and historic sights, you'll see filming locations of numerous shows including Games of Thrones. The rural Irish nature that seems untouched and lost in time will amaze you.
Nevertheless, the easy access to Belfast, tasteful furnishing with a comfortable bed, cable TV, and WiFi balances the whimsical experience of a romantic getaway with the essential comforts of civilization. Those who looking for the ultimate glamping Ireland experience should put this cottage on their checklist.
Recent guest reviews:
"We loved our stay at the Gardener's Cottage. We wanted a quieter spot just outside of Belfast, and this was absolutely perfect. It's really charming and has everything you need. We had a car, which you would definitely need if you're looking to use this as a home base while traveling the area. If you have a car, and are looking for a quaint, quiet spot on the outskirts of Belfast, you can't go wrong with Joanna's place!"
---
Location: Causeway Coast and Glens
Best For: Solo or Couples
Those who look for a glamping location in Northern Ireland that provides the experience of farm life combined with the tasteful luxury of a 5-star hotel will appreciate this converted horsebox. The trailer is located next to a picturesque hill and walking tracks.
Here you'll enjoy breathtaking views as far as Mussenden and Inishowen. Watch sunsets and spend nights stargazing on a private patio area. A cozy kitchen and outside firepit with logs provided will help you arrange a romantic dinner with your beloved one.
Recent guest reviews:
"Has to be seen to be truly admired. Olive's stay is totally unique. The interior and exterior are detailed to the finest degree. Perfect location for us, away from the crowds and no distance from coleraine, portstewart, portrush or Bushmills. Perfect stay when doing the causeway coast. We had all the amenities we needed. We stayed on a cold frosty night and cosied up by the stove. Although communication was contactless, Olive was very approachable and kept in close contact through pm and wanted to make sure everything was right for us. We owned up for cracking her coffee jar yet didnt charge us. Brilliant host, brilliant location, brilliant stay."
---
Location: Ballycastle
Best For: Solo or Couples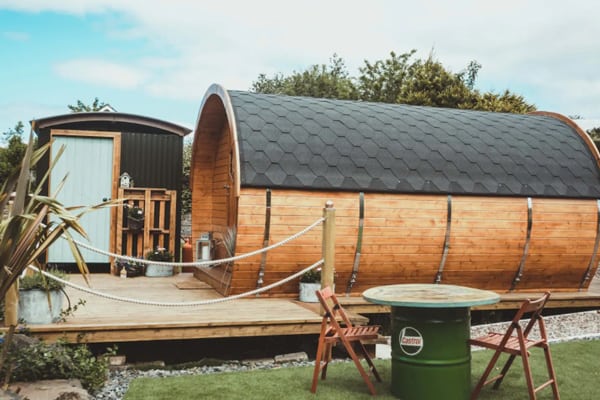 The Glamping Pod NI experience is perfectly embodied in this Pod by the Pond. Located on the northern coast between Ballycastle and Bushmills it's a perfect home base for exploring the area. However, those looking for privacy and quiet will appreciate its location, private deck, and even a small garden. Here you'll be able to forget the world looking at the peaceful water surface or stargazing off the private deck.
If you feel like going out, the nearest pub is only 2 miles away and the hosts gladly provide you a 20% discount voucher. Heating and a gas burner and a hot-water shower make this unique glamping NI location accessible all year round.
Recent guest reviews:
"Stayed here for 1 night and it was absolutely fabulous! The photos don't do the place enough justice. The pod is beautiful and very chilled. We had everything we needed. Joshua is a lovely host and very welcoming. Also recommend the Bothy cafe, unbelievable!"
---
Location Portglenon
Best For: Solo or Couples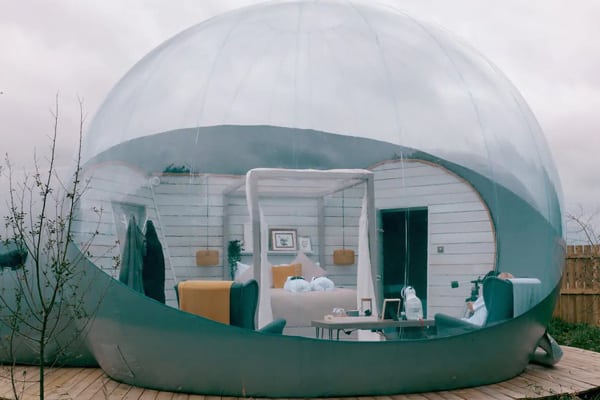 Situated near Portglenone this glamping NI dome bubble is a beautifully unique experience. Featuring a queen-size bed and immaculately decorated living space to enable you to relax after seeing the sights of Northern Ireland. It includes all the amenities you would expect when glamorous camping and breakfast is also provided.
Recent guest reviews:
"This was a brilliant experience from start to finish, the host (Mark) is extremely helpful and I recommend getting the sunsetter package. This stay exceeded expectations, highly recommend and definitely will be back."
---
Location: Dungannon
Best For: Solo, Couples or Small Family
This modern-day shepherd's hut can accommodate up to 4 people. It's fully self-contained with has a kitchen, bathroom and sleeping area all powered by solar, including air conditioning. It is located right on a 5-acre picturesque fishing lake with a BBQ area to enjoy your meals. Don't miss out on this one and book ahead of time. A secret bonus is the hut can be turned into an entertainment mecca as it has its own cinema system.
Recent guest reviews:
"Amazing little gem! All made by Gelynnes husband. Easier to access from Moy when traveling from the south. Will definitely return with kids and family amazing little lake with fish and lovely quiet area without being too secluded. Highly recommend for a peaceful break away."
---
Location: Glenarm
Best For: Solo or Couples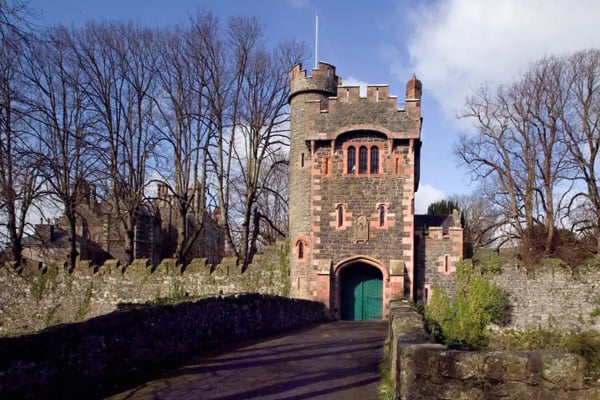 Staying in a castle in Ireland is a bucket list item for sure. Not many folks can afford a full-blown castle stay so why not enjoy this romantic medieval miniature castle hidden away in one of Ulster's oldest villages. The castle sits right next to a stone bridge on the Glenarm River. Enjoy the gothic windows and a stone turret staircase in this once-in-a-lifetime stay. Keep the kids at home as this site is just for adults.
Recent guest reviews:
"If you are looking for a unique way to spend your time while vacationing, definitely pick this location. You get to stay in a very well kitted but rustic castle tower that really does take you back to a simpler and less modern time. It really did help with disconnecting from the hectic feel of modern life while on vacation. It is surrounded by the most picturesque locations and scenery. It affords you private access to an absolutely gorgeous old estate grounds. So if you like taking strolls on nature trails, just taking in fresh air, etc this is definitely the place for you to set up base camp for a part of your trip in Northern Ireland."
---
Location: Larne
Best For: Solo, Couples or Families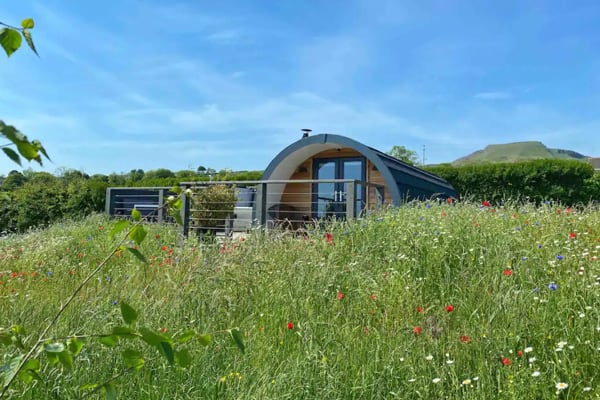 This is just one of two Northern Ireland Glamping Pods available at this property in Larne. Not only do these Glamping pods sleep 2 adults and 2 children, but each one comes with a private hot tub which allows you to check glamping with hot tub Ireland off your list. The pods are located on a hobby farm and each one sports a shower room, kitchen and wood-burning stove.
Recent guest reviews:
"Fabulous night in this gorgeous pod. Everything was sparkling clean which was really important for myself at this time. View from the hot tub was a small piece of heaven!!"
---
See Also
Amazing Places for Glamping Peak District UK
Quirky Glamping New Forest England
Where to stay while Glamping Essex
6 Top Spots for Glamping in Brighton, UK
Best of Glamping Romania: Where to Stay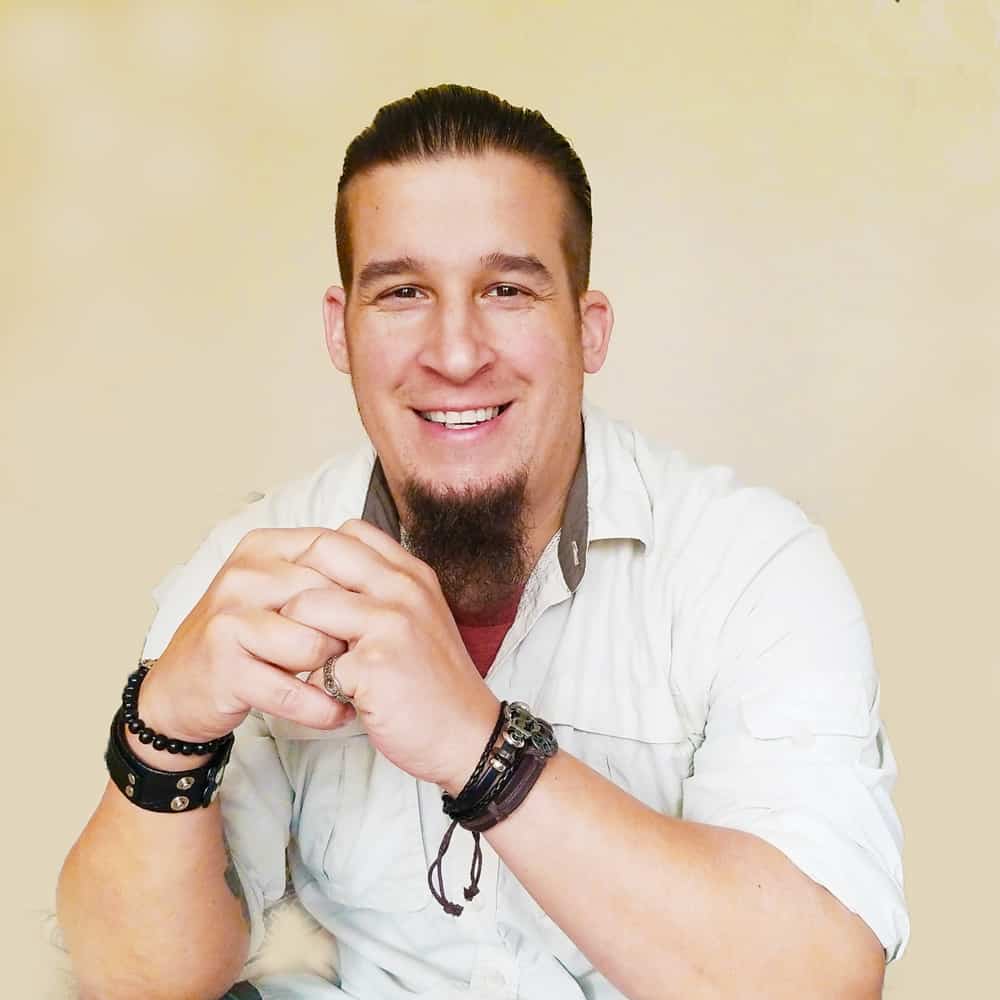 Full-time World Travel Writer who runs multiple websites and social media accounts. I have spoken at various conferences around the world. Some of my hobbies include adventure, fitness and new technologies. I am also a trekkie!