Romania is a country that may not be on everyone's bucket list, but should be. The country is a remarkable place to view raw nature and picturesque villages and towns. It is home to the well know forested region of Transylvania. Glamping Romania is a wonderful way to take in the beauty of the country while still getting the amenities of a hotel or bed and breakfast. Some of the Romania glamping sites are unique in themselves and offer a unique and memorable experience.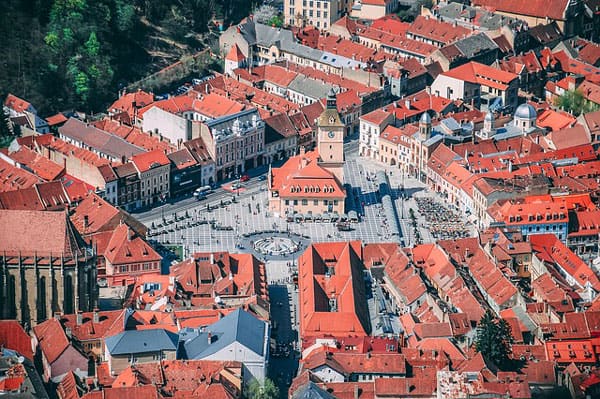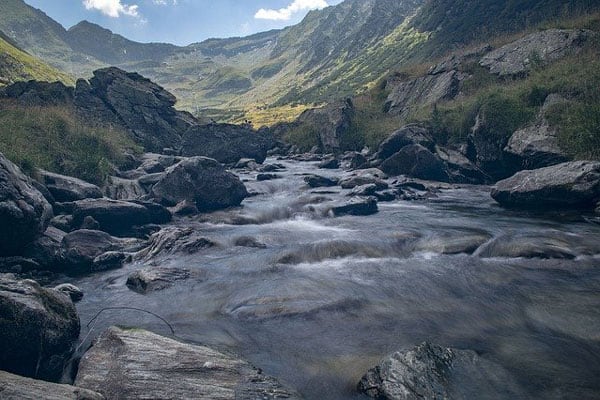 Things to visit when Glamping Romania
Visit Brasov
Brasov is a wonderful town to explore within the Transylvania region and is wrapped by the Carpathian Mountains. There is good skiing and hiking in the area as well as vibrant town square with lots of restaurants and shops to visit.
Bran Castle
The iconic cliffside Dracula castle set in the Transylvania hills. There is a medieval village at the base of the castle and various hiking around the area to get amazing images.
Vama Veche
This city is located right on the Black Sea and is known for it's partying. The vibe here is bohemian and if you are looking for somehting near water with some music, this may be it.
Maramures (Baie Mare)
This mountain region in the north of Romania is a nature lovers paradise. Wooden churches and remaining medieval building give a great traditional Romanian experience.
Hunedoara (Corvin Castle)
Corvin Castle is regarded as the best castle in Romania. The streets that lean up to the castle is lined with trees and make the journey so unique.
Peles Castle
This castle is the site where the first Romania king took residency. It is a wonder to the eyes and exploring all the hidden passages of the castle is remarkable. There are great hiking in the area as it is situated among the Bucegi Mountains.
Check out more European Glamping Articles
Portugal Luxury Camping and Glamping
France Glamping Spots to die for
Glamping in the Cotswolds England
Glamping in the Peak District UK
Top places to stay when Glamping Romania
---
A unique treehouse Romania glamping experience in the rural hills of Transylvania. This peaceful luxury camping spot has amazing panoramic views of the countryside.
This is an eco-friendly glamping location but has all the needed amenities to make your stay memorable and allow you to immerse yourself in the nature around you.
The treehouse is suitable for 2 adults and up to one child with a double bed and a sofa bed for sleeping. There is basic electricity and an outdoor shower and toilet to bring the full experience together.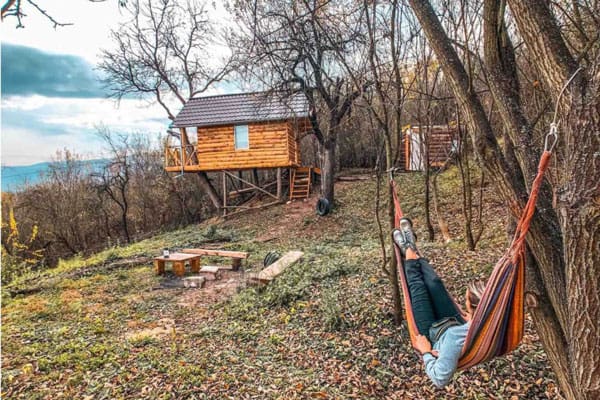 Built in the middle of a magnificent orchard, this glamping dome gets visits form deer, foxes, squirrels and pheasants for the guests enjoyment.
Sit on the sun soaked deck with your morning coffee or use it as a stargazing platform at night. The dome itself has a queen sized bed, stove, AC unit and on-suite bathroom.
Guest can enjoy a set menu breakfast at the BBQ terrace each morning or have it delivered to your temporary sanctuary home. Upon arrival you are greeted with a welcome drink to make this glamping Romania experience even better than it already is.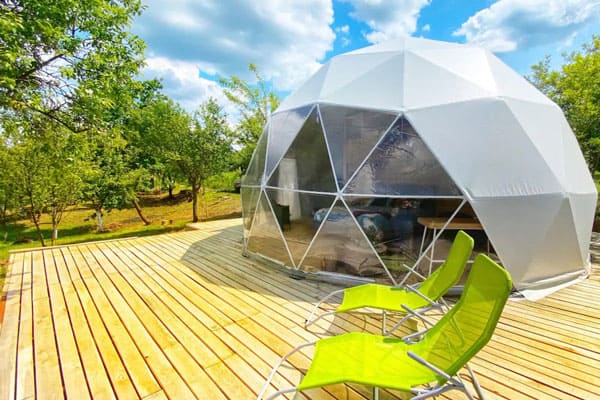 Have you ever thought of visiting the Shire on Lord of the Rings? If so, this is the place for you. These hosts have created their own Romania Glamping Hobbit village for guest to fulfil their middle earth fantasy.
There are four earthen houses available, each one unique and an experience on it's own. The whole village is created out of natural materials and each guest has access to showers, toilets , tub and a sauna.
To get the full experience the hosts also cook meals over a wood fire and served in the village gazebo. Take your glamping Romania experience up a notch and spend some time in this fantasy wonderland.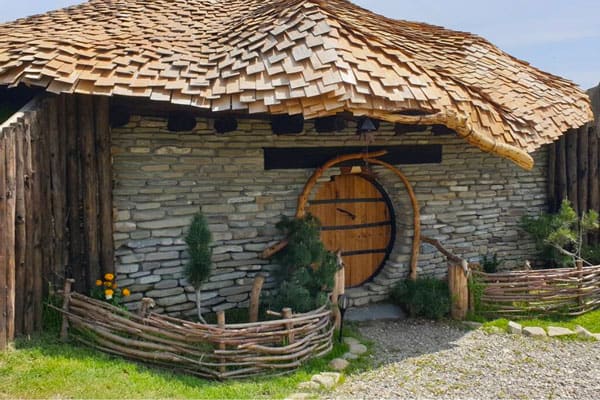 Imagine having the ability to immerse yourself in nature all within a 5 minute drive from Brasov main square. DragonFly Gardens Brasov has numerous glamping tents to stay in. Each one with a double bed, electricity and lighting with a platform deck to lounge on.
The property is kid friendly and the hosts provide a kitchen area, bathrooms and large lounging tent as well. You can rent bikes on site as well to explore the area or head into town. A great place to consider when visiting Brasov.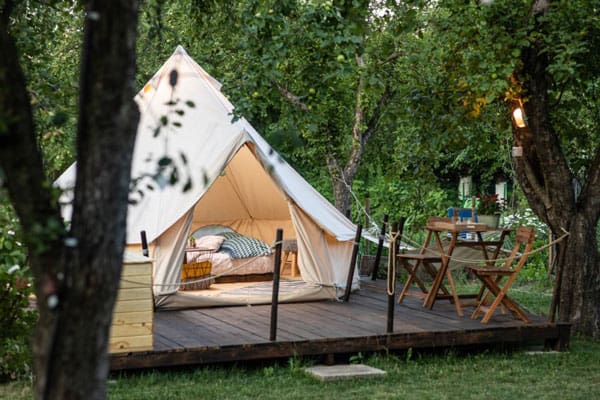 Zen Garden was created for perfect relaxation within mother nature while providing the comforts of the modern world. Two wooden glamping pods are used for sleeping with each one accommodating two people.
On the property you have access to a gazebo and bar that has everything you need for making a memorable meal. It also provides the ability for outdoor film projection and bicycles for exploring the forest trails. A six person hot tub can also be arranged ahead of time for an extra fee.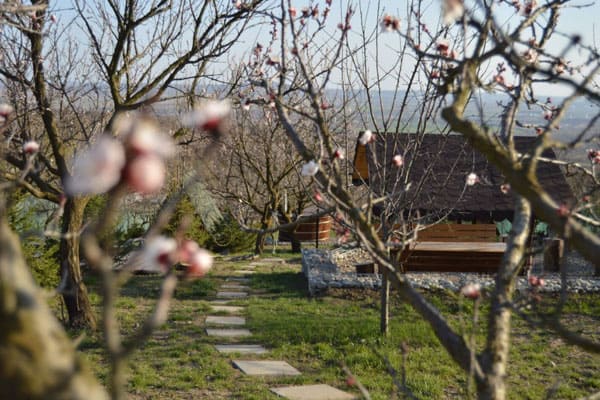 The Ursa Mica Glamping Resort is located 1200 meters above sea level with amazing views that wrap around the property. Each glamping tent is a room with a view that will make any luxury camping Romania enthusiast jealous.
All tents are filled with extra comfortable beds, matching furniture and a quaint, perfect stove to snuggle up with at night. A lounging platform is below each tent which is the perfect spot to take in the morning views with a cup of coffee.
Enjoy the Romanian countryside in this unique and unforgettable stay. Book early as these tend to fill up dates fast.
Enjoy the beautiful Danube river in this one of kind riverfront tiny home. This microhome has a bedroom and kitchenette with 2 stools. The bathroom has a sink, shower and toilet.
Although the tiny home only sleeps 2 people, you can set up tents and add 4-6 more people to your group. There is also a 220 plugin for a trailer or caravan.
There is a beautiful deck that overlooks the water where you can enjoy meals, do some fishing, swimming or cycle along the river.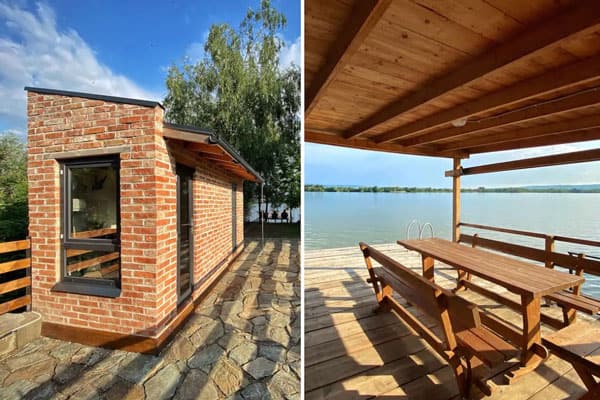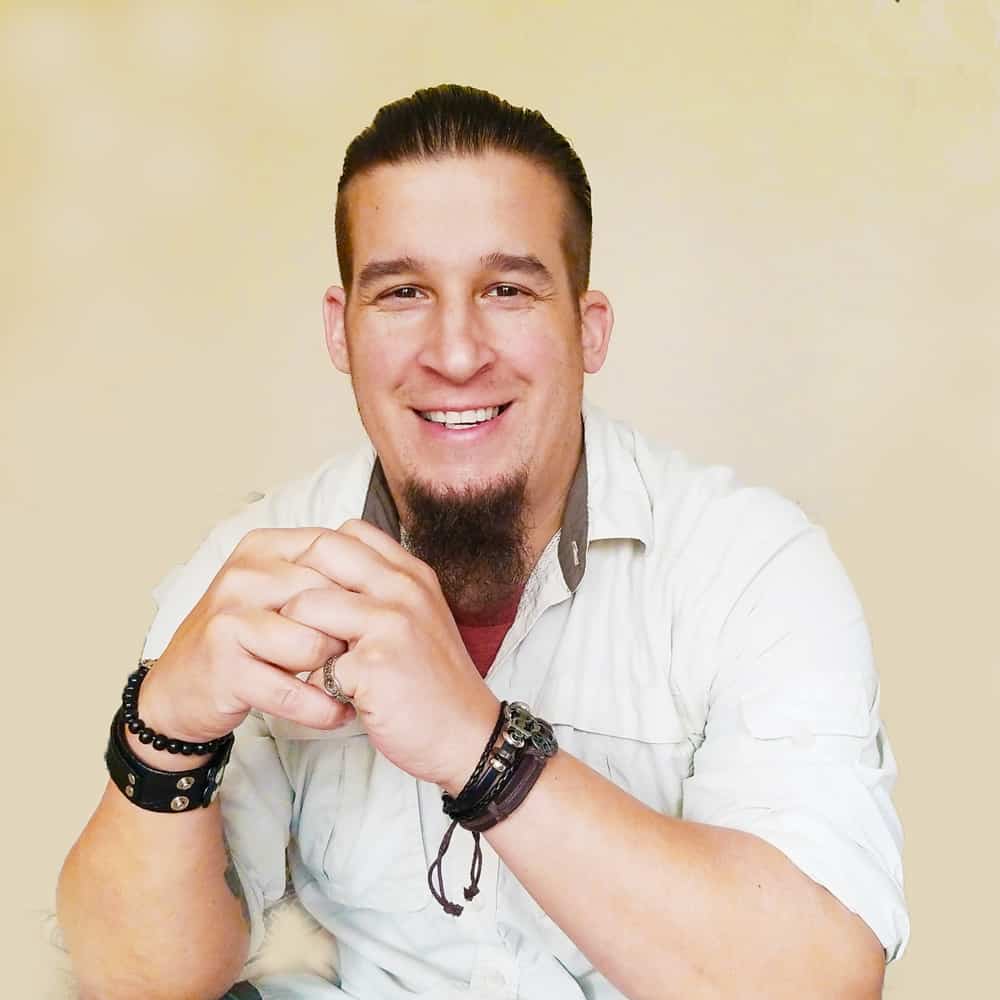 Full-time World Travel Writer who runs multiple websites and social media accounts. I have spoken at various conferences around the world. Some of my hobbies include adventure, fitness and new technologies. I am also a trekkie!