The Cotswolds is quintessential England with charming villages full of iconic cottages, castles, churches, and tea rooms, surrounded by fields of sheep and picturesque rolling countryside. This makes it a popular destination for relaxing getaways and also one of the many unique places for Glamping in the UK. Glamping Cotswolds offers everything you can imagine and more. From shepherd's huts, gypsy wagons, and teepees to castles, old water towers, glamping treehouses, and luxury tents the Cotswolds glamping options are endless.
All the postcard-perfect Cotswold villages with their cream-colored stones, thatched roofs and historical churches set in the epic English countryside make a great backdrop for the luxury camping experience. Whether you plan to stay for the weekend or the week, you will not run out of things to do or places to visit in the Cotswolds.
With an area of 787 square miles covering five counties it is the second largest protected landscape in England and it's full of old English pubs, ancient castles and slow paced rural communities. Book one of these unique stays and experience a Glamping Cotswold Break for yourself.
You may be interested in these:
Amazing Places for Glamping Peak District UK
Quirky Glamping New Forest England
Where to stay while Glamping Essex
6 Top Spots for Glamping in Brighton, UK
Quirky Glamping in North Wales
All About Glamping Ireland Guide
---
Unique Glamping Cotswold Stays
1. Sunset View Shepherds Hut
Location: Bath
Best For: Solo, Couples
Amenities: Comfortable double bed, electric lighting, shower, toilet, heater and power sockets, kettle, toaster and fridge.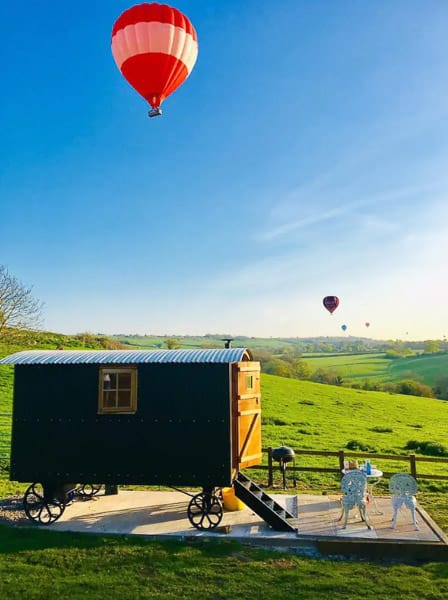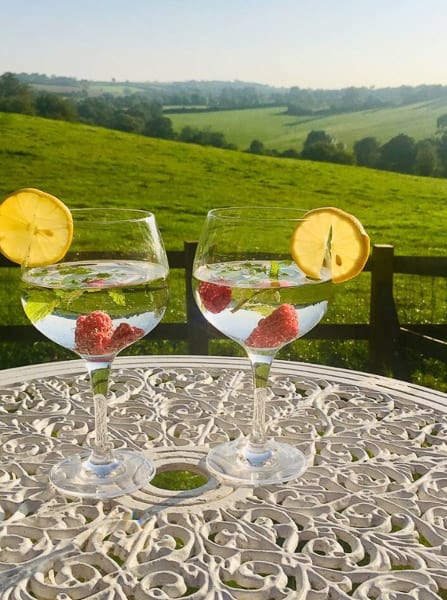 Unwind in the picturesque setting just outside of Bath, England. This hand crafted shepherd's hut overlooks a family run farm and has its own garden and patio. A private bathroom is just meters away. Bring some boots and explore the countryside with a trip into the historical city of Bath.
Imagine sitting on the patio with a glass of wine and taking in stunning sunsets while breathing in the fresh air nature provides. Glamping Cotswolds never looked so good.
---
2. Chase End – Up Sticks Glamping
Location: Birts Street near the Malvern Hills
Best For: Couples, families, small groups
Amenities: 3 bedrooms, kitchen, patio, hot tub, bathroom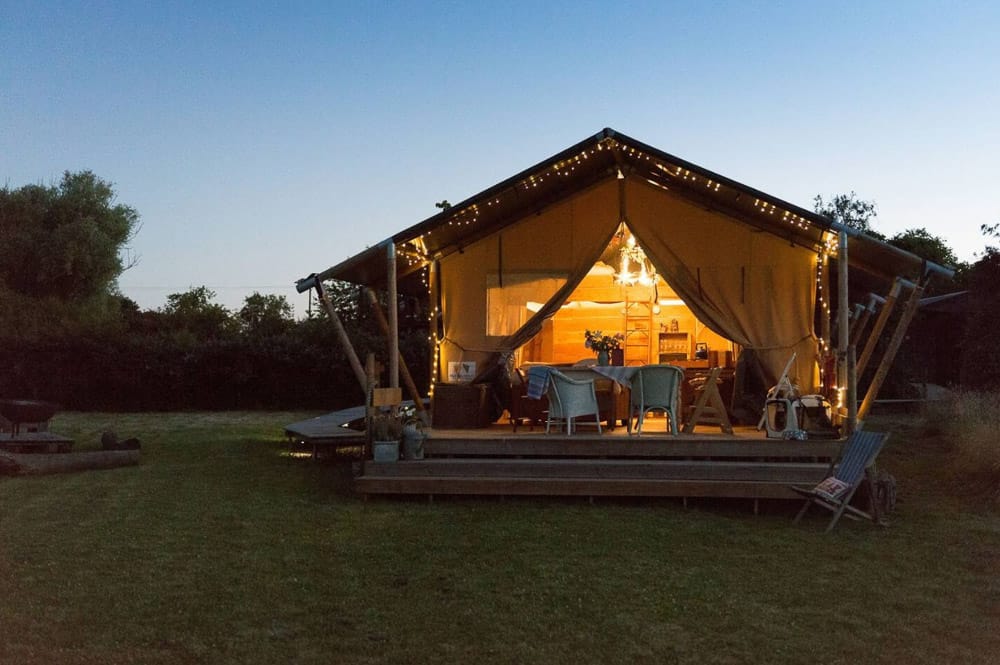 This vintage styled canvas glamping tent is located at Upsticks, a 17 acre property in the Malvern Hills. The owners call their decorating style "up-scale vintage" which combines natural wood finishes with white linens and cosy furnishings and moody lighting. The space sleeps 6 in an upstairs sleeping loft and two downstairs bedrooms. There's also a kitchen, comfy seating area and wood-burner fireplace. A private bathroom is connected by a wooden boardwalk.
The property has an orchard with a natural pond, and tons of oak trees for a perfectly peaceful natural setting. Immerse yourself in nature or explore the neighboring villages by day and come home to rest in comfort with nothing but the sounds of nature.
---
3. The Fish Hotel
Location: Broadway Worcestershire
Best For: Couples, families
Amenities: 2 bedrooms, bathroom, kitchen, heated tub, mini bar, large deck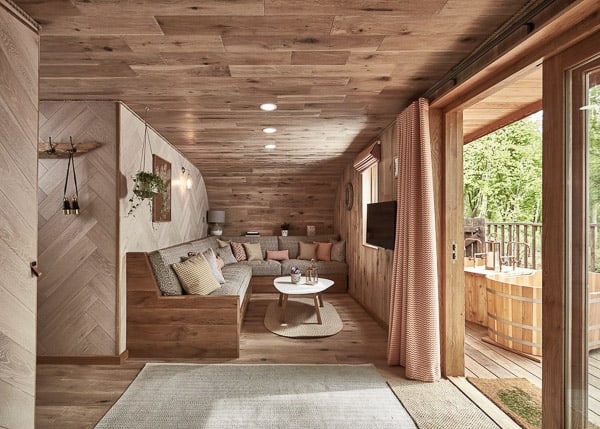 A magical treetop hideaway nestled in the woods with the sounds of nature to lull you to sleep at night and greet you in the morning. This treehouse glamping experience is truly luxury camping with tons of comforts usually only found in premium hotels.
Your house in the trees includes things like en-suite bathroom, underfloor heating, Nespresso machines and a minibar. The deck wraps around an oak tree with tow incredible heated outdoor baths for soaking in the nature around you. Take your meals in the bar or gourmet restaurant or on the community "feasting deck"
---
4. Malvern Hills View Tipi Glamping
Location: Staplow, Malvern Hills
Best For: Couples, families, large groups
Amenities: 4 bedrooms, Communal fire pit, BBQ, bathroom, kitchen
Offering two spacious glamping tipi tents each sleeping up to 5 people and two combi trailer tents with a double & single bed each to accommodate a large get together. The property has amazing views and is located in the heart of Herefordshire. Cook your own meals in the fully equipped pop up kitchen or enjoy walking the countryside exploring traditional local pubs serving food.
---
5. Percy's Gypsy Wagon
Location: Huntley
Best For: Couples, Solo
Amenities: Kitchen, deck, pizza oven, toilet and community shower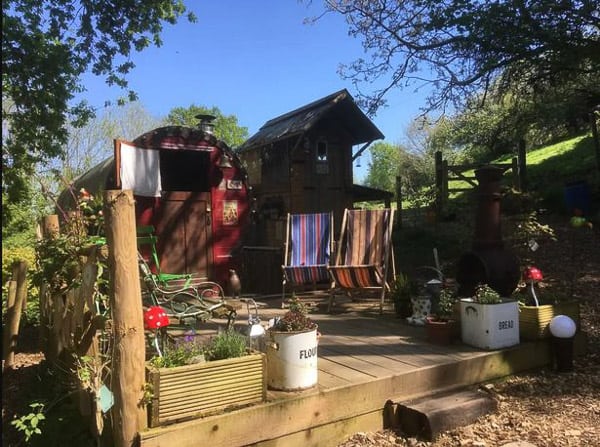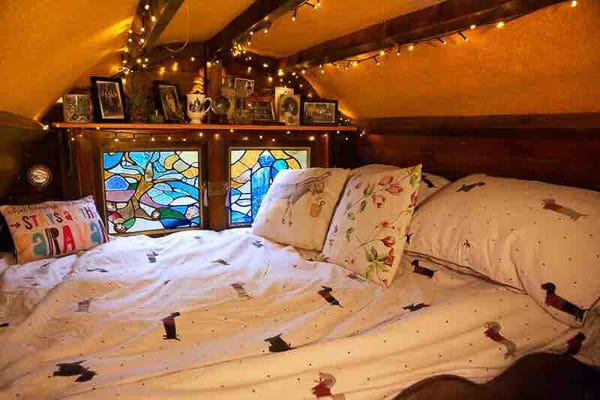 Have you ever romanticized about sleeping in a gypsy wagon? Here's your chance in this hand built traditional wagon located in the Forest of Dean. There is a wood burner and an electric radiator to keep you warm at night. Relax and take in the sounds of nature or wander through the local forest. There's even a friendly donkey and sheep to keep you company.
The wagon has both an indoor and outdoor cooking area and wood fire pizza oven, a cool box and small fridge. There's also a separate toilet and washing area and showers can be taken at the family cottage.
---
6. Shepherd's Cabin Amongst the Trees
Location: The Camp near Gloucester
Best For: Couples, Solo
Amenities: Tub, kitchen, king size bed
This Glamping Cabin is all about the romance of nature in the heart of the Cotswolds. Although there is hot running water, this nature hideaway is without electricity. For evening light you're provided with plenty of candles and torches which adds to the romance and for dinner, games or reading a book. Get the feeling of going off-grid and disconnecting in comfort.
You will find everything you need to cook a meal but you can also walk to the Woolpack pub for lunch. Just follow the peaceful trail through an unspoiled valley for an hour and a half and work up an appetite and thirst for a traditional country pub experience. Then return to relax in a deep claw-footed bathtub.
---
7. Shepherds Saltford Glamping Hut
Location: Saltford
Best For: Couples, Solo
Amenities: Kitchen, Fireplace, bathroom, hot tub, BBQ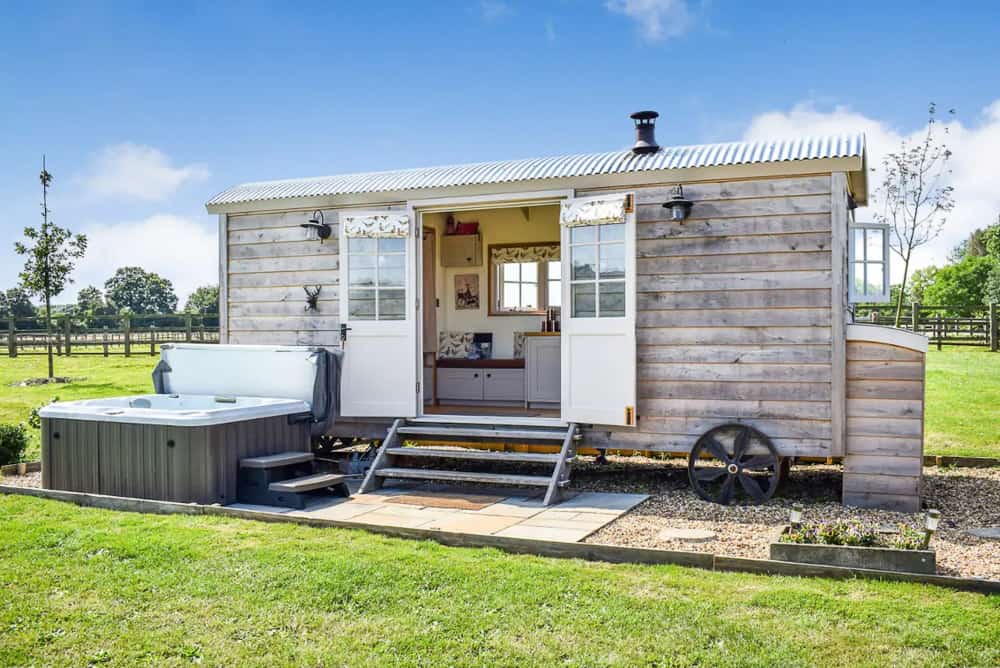 The Shepard's Hut is situated on a 230 acre farm with goats to entertain and chickens to provide you with fresh eggs. Spend your days relaxing, wandering around the property or walking along the Avon River to the local pub. If you enjoy cycling there are bikes for hire and an old train track, turned bike path, which you can follow all the way to Bath or Bristol.
This glamping hut itself is bright and modern with all the comforts of home. You're sure to enjoy the cosy sleeping compartment and spacious shower room as well as a well-equipped kitchenette. Outside amenities include a private hot tub, fire pit, charcoal BBQ, outdoor dining table + chairs and one of the best views the estate offers.
---
8. The Tower Glamping Cotswolds
Location: Somerford Keynes
Best For: Couples, solo
Amenities: Community lounging area and bathroom, fireplace, kitchen
This converted water tower set within the 10 acre Cotswold Sculpture Park is one of the most unique glamping Cotswold breaks. The glamping tower itself boasts a ground floor kitchen. The double bedroom is accessed via a spiral staircase with a sun terrace at the very top to enjoy the beautiful views and watch the local wildlife. There are two shared bathrooms with showers and a community seating area to meet other guests.
It's a couple minutes walk to a local pub and a few minutes drive to Cirencester and guests get free access to the Sculpture Park during the opening season. This area is also quite known for wildlife so bring a camera and keep an eye on the neighboring field.
---
9. Castle Gatehouse
Location: Winchcomb
Best For: Couples, families, small Groups
Amenities: 2 bedrooms, 2 bathrooms, kitchen, living area, Castle Access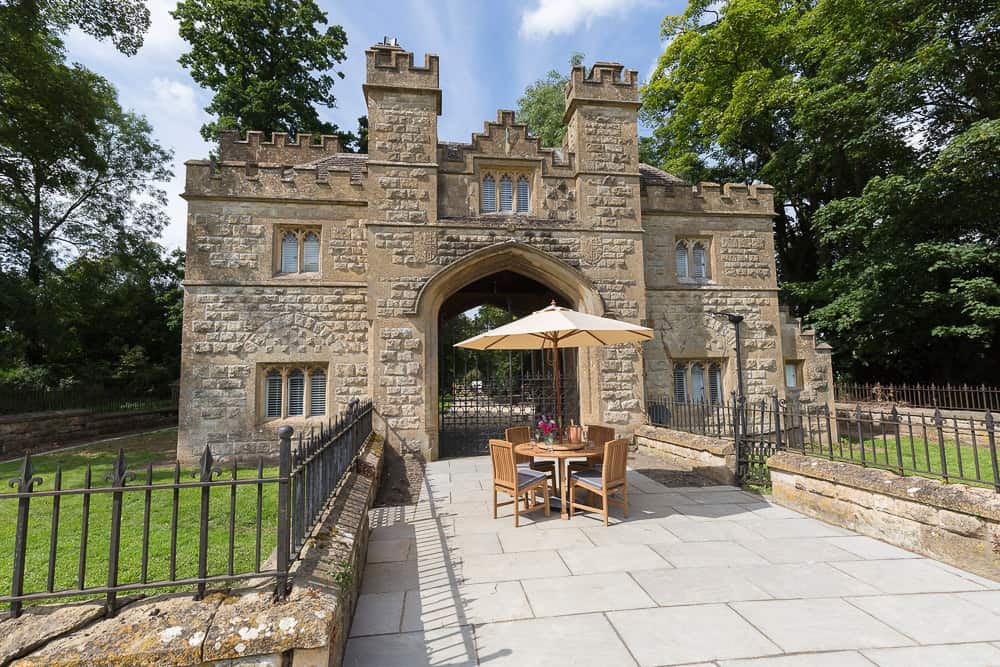 Fulfill your fantasy at this unique glamping stay in the Cotswolds. Owners have converted the historic Sudeley Castle Gatehouse into a charming and comfortable accommodation. Comprising of two separate wings, this glamping castle has two bedrooms with their own shower rooms. One of the wings features a kitchen and living area.
Your mini castle stay is located just a short walk from the beautiful Cotswolds town of Winchcombe. Guests also get access to the remarkable grounds and gardens of Sudeley Castle during open season. If you have always wanted to have that fairy-tale experience, this may be just the right place.
---
10. Nash End Farm Iglu Hut Hideaway
Location: Corse Lawn
Best For: Couples, solo, groups with tents
Amenities: Bathroom, kitchen, garden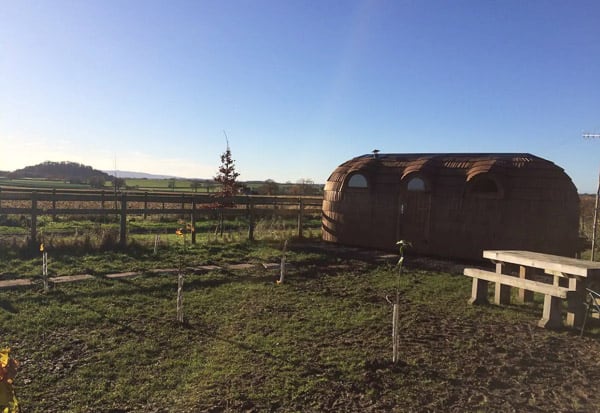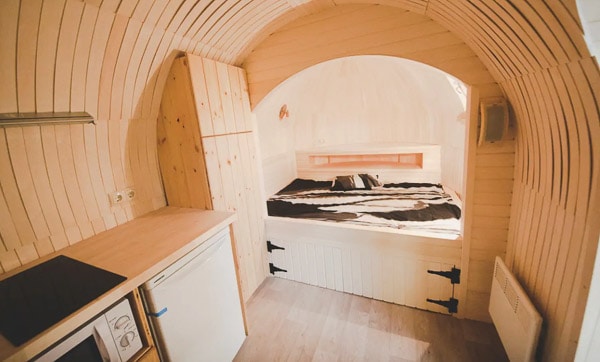 This unique iglu (igloo) style glamping hut provides a kitchen, bathroom and double bed for cosy comfort while enjoying the Cotswolds. If you've always wanted to experience an authentic working farm, complete with all the accompanying sounds, sights, smells and lovely animals but without the hard work then this is the stay for you.
The area has some of the most beautiful countryside England has to offer with local pubs to explore at your leisure. Throw on those boots, go for a good long English walk knowing you have this cute hideaway to come back to.
---
11. Mill Farm Glamping
Location: Poulshot, Devishies, Wiltshire
Best For: Couples, families, groups
Amenities: Luxury Canvas Lodges, treehouses, organic farm, shop, multiple activities
Mill Farm offers luxury canvas glamping lodges suitable for couple or families as well as a gorgeous glamping treehouse large enough fro the whole family. The glamping tents offer spacious and furnished comfort with a master bedroom, bunk barn, and second room with single beds. The living and dining area features a stove oven and fireplace, fridge and kitchen. A private shower and bathroom at the back of the tent wraps up everything you need for a relaxing glamping experience.
Breathe in the fresh air of the Cotswolds and take in the beauty of the Mill Farm on a morning walk. Each lodge also comes with a covered veranda for enjoying the calm sounds of nature with a drink and dinner at night.
---
12. Vine Lodge
Location: Eckington
Best For: Couples, Solo
Amenities: Kitchen, Tub, Bathroom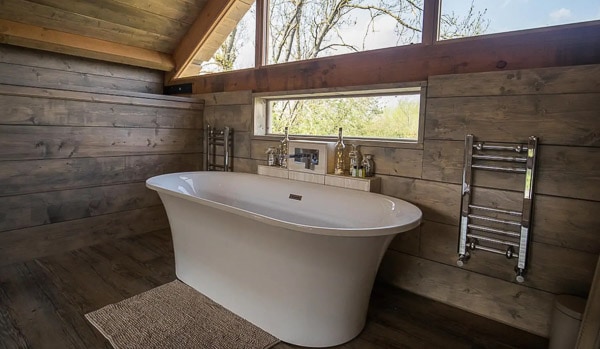 Is there anything more romantic than your own private country lodge? This lovely two-floor wooden glamping cabin sits at the edge of a stream with wild nature all around it. Enjoy a king sized bed with an upholstered plush headboard and luxury bedding with gorgeous countryside views. The ground floor also includes a luxury shower room and kitchen. On the mezzanine floor above relax in a free standing bath tub while enjoying nature through the windows.
Wake refreshed to the sound of birds chirping and go for an afternoon walk around Bredon Hill or take the footpath to the village for a lunch at the local pub.
---
13. The Teasel Yurt
Location: Selsey
Best For: Couples, solo, families
Amenities: Hot water, compost toilet, open air kitchen, BBQ, deck
The glamping yurt is located looking out over the Severn Vale and Stroud hills with spectacular sunsets. It provides a wood burner to keep the yurt cozy when it is cold out. There is an open air kitchen with a canvas roof, a gas burner, firepit/BBQ, sink and cool box to prepare meals. Get a luxury camping experience with amenities provided for you in the beauty of the English countryside.
---
14. The Glamping Orchard
Location: Severn Vale
Best For: Couples, Solo, Families
Amenities: 2 locations, bathroom, BBQ/Kitchen, deck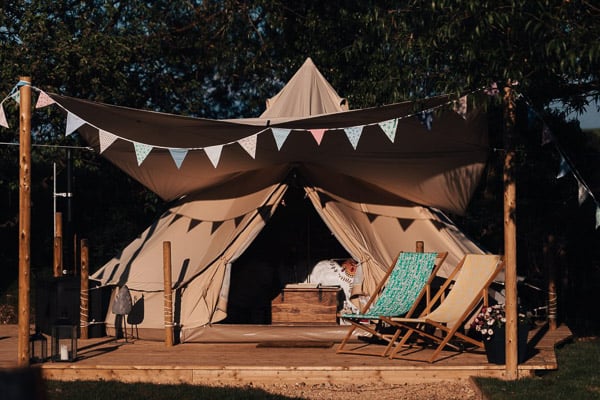 Situated in the picturesque Severn Vale, The Glamping Orchard brings nature to your doorstep. Enjoy peace and quiet in the amazing orchards and English countryside with access to local pubs, market towns and villages.
Warwick Knight is a 1950's restored caravan that has had some luxury upgrades for comfort. It has enough ample room for a family of 4 with a great viewing or sun deck on the roof.
The Glamping tent Belle is thoughtfully decorated and can accommodate up to 5 people. Get the luxury camping vibe and enjoy life under canvas and under the stars. Access to a cooking hut and private bathroom facilities is just a short distance away.
Thanks for checking out our article Unique Camping UK: Glamping Cotswolds. I hope you enjoyed it.
Pin It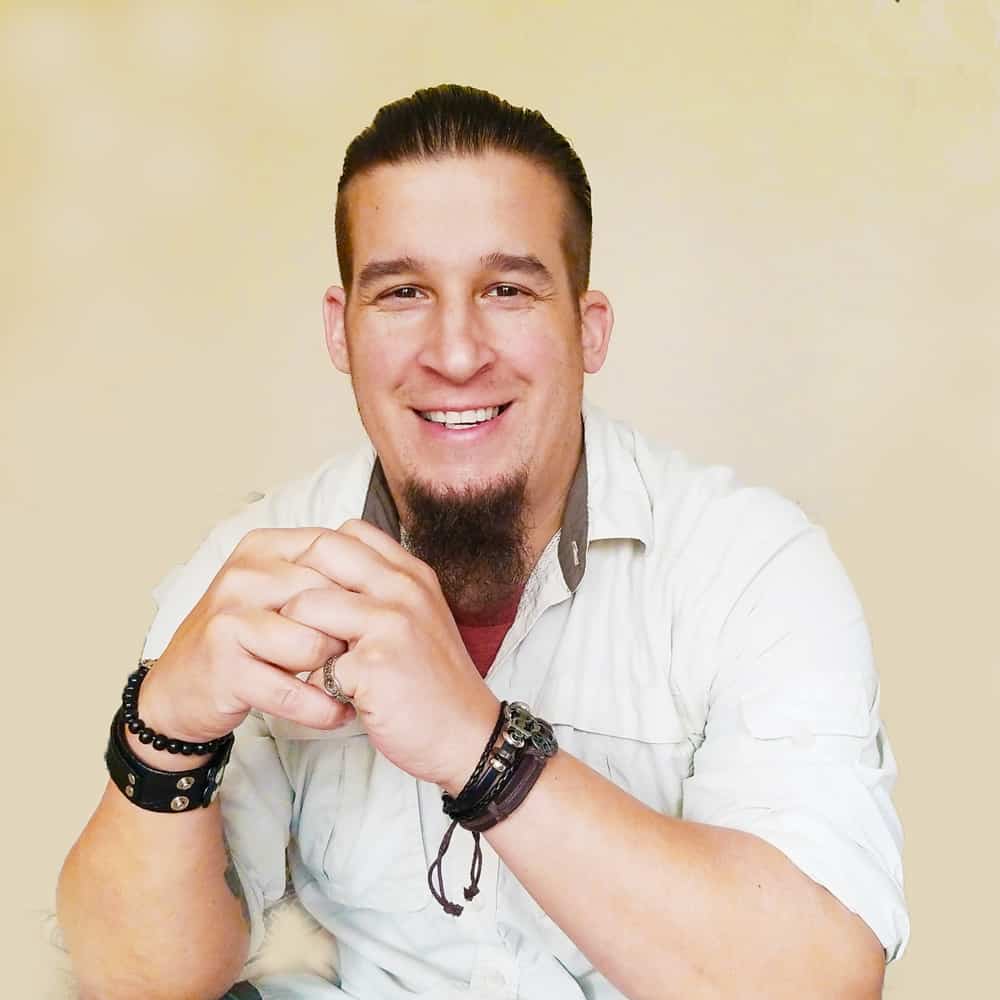 Full-time World Travel Writer who runs multiple websites and social media accounts. I have spoken at various conferences around the world. Some of my hobbies include adventure, fitness and new technologies. I am also a trekkie!