If you love nature, visiting Montana should be on your USA bucket list. But, to fully immerse yourself in the Big Sky Country experience skip the standard hotel stay and go glamping in Montana!
Montana is the land of cowboys and incredible natural beauty with wide-open spaces, majestic mountain ranges, sprawling plains, and lush valleys. Not to mention the iconic Yellowstone and Glacier National Parks.
Imagine days full of hiking, wildlife spotting, horseback riding, kayaking, fishing, and cycling through some of the most stunning landscapes you'll ever see. Then, picture yourself at the end of that day relaxing in front of a fire or in a hot tub under the stars before snuggling up in your own luxurious teepee, treehouse, or yurt.
Does that sound like heaven to you? If so, read on for our top picks of amazing Montana glamping spots and unique places to stay in Montana.
Top Spots for Glamping in Montana
---
Resort-style Glamping in Montana
Glamping in Montana at Under Canvas Glacier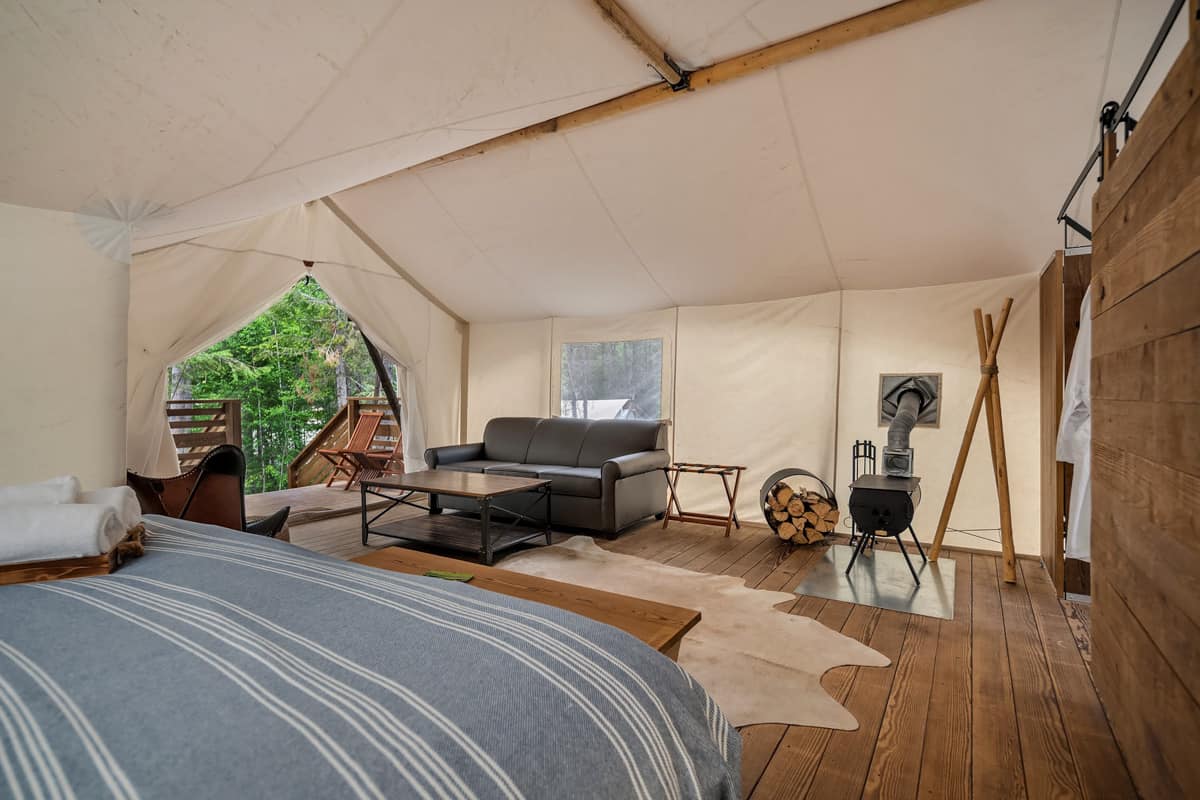 Location: Glacier, MT
Good For: Families, couples, groups, proximity to Glacier National Park
You really can't talk about glamping in Montana without mentioning Under Canvas. In fact, we have an entire post reviewing Under Canvas Glacier. These guys have perfected the art of glamping and have won numerous awards for their luxury camping sites around the United States.
Under Canvas Glacier have a variety of luxury tents in different styles and sizes, many with private bathrooms. Camp amenities include campfires, picnic, and grill areas, Grab n Go snacks and lots of fun activities. Take a look at our in-depth review on Under Canvas Glacier. our
---
Bar W Guest Ranch
Location: Whitefish, MT
Good For: Couples, families, large and small groups, dude ranch experience
Bar W Guest Ranch offers four glamping canvas tents and three charming log cabins in a luxury camping resort. If you have a large group they also rent out the main lodge which sleeps up to 25 people.
Guests enjoy a 3 or 6 day, full western-themed vacation including horseback riding, fishing, wagon rides, square dancing, and campfire cookouts.
---
Glamping Montana at The Ranch at Rock Creek
Location: Philipsburg, MT
Good For: Couples, families, groups, all-inclusive luxury glamping
This all-inclusive luxury glamping in Montana experience has the highest price-point on this list but with everything that's included, it's well worth it. There are 5 gorgeous glamping cabins as well as a lodge, a historic barn, and 7 luxury homes to stay in.
Price includes all meals, drinks, snacks, transfers to and from the ranch, and an impressive list of activities and entertainment. There's also a fitness center, pool, hot tub, saloon, movie theater and bowling alley! You will absolutely want for nothing during your stay at The Ranch.
---
The Resort at Paws Up
Location: Greenough, MT
Good For: Groups of all sizes, families, couples, all-inclusive luxury glamping
Paws Up can house up to 275 guests in their 36 luxury tents and 28 luxury homes but with 37,000 beautiful acres of undeveloped land, you'll always have plenty of space to yourself. The glamping part of the resort is divided into six camps each with luxury safari tents and its own dining pavilion.
As an all-inclusive resort, the price includes meals, drinks, and many activities. The list of activities is endless although some have an additional cost. There are the usual things you'd expect at a top-notch dude ranch: hiking, biking, kayaking, climbing, fishing, horseback riding. But there's also ATV's, dog-sledding, cattle-croquet, go-karts, geocaching, and an aerial adventure park plus so much more.
---
Clear Sky Resorts Glamping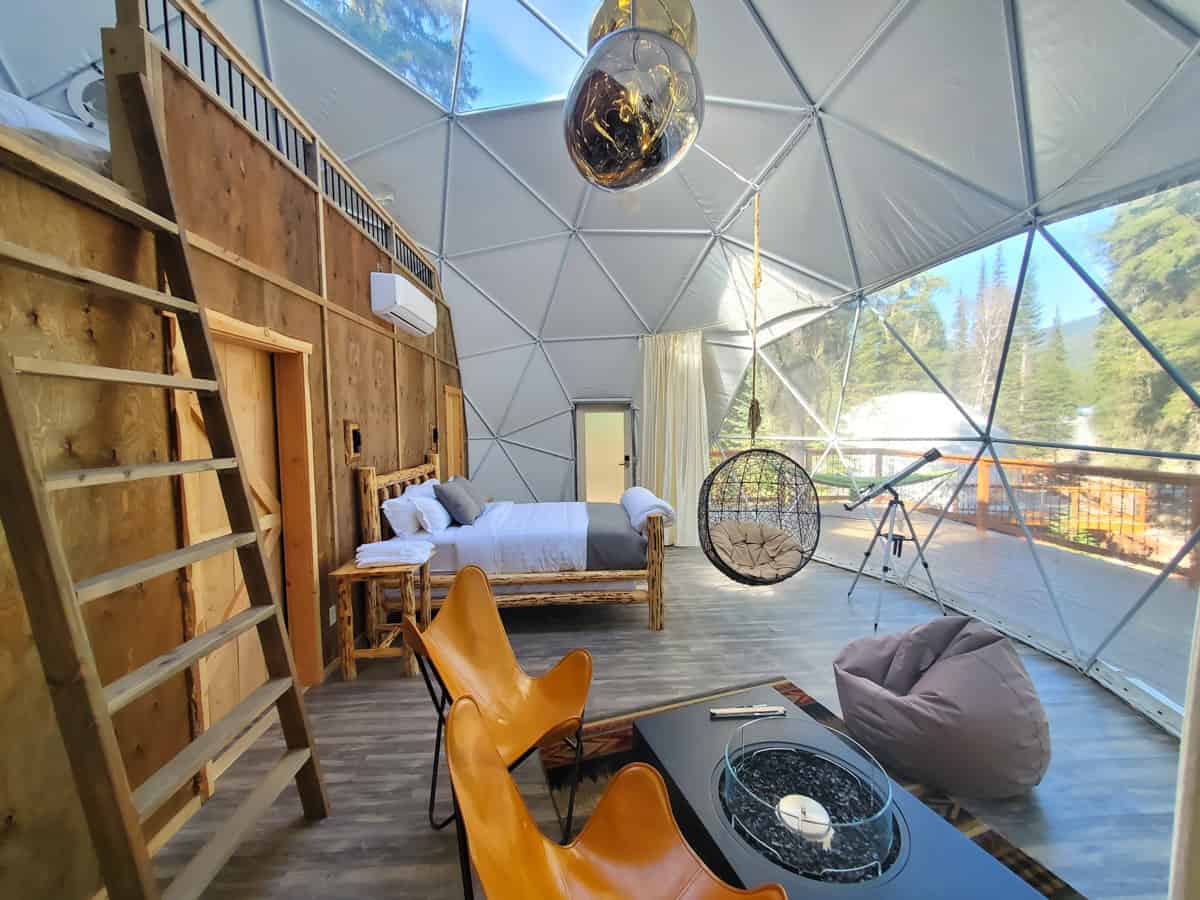 Location: Between west and east entrances of Glacier National Park, MT
Good For: Couples, small families, pet-friendly
If you want to go glamping in Montana's Glacier National Park, Clear Sky Resorts is a great option. Choose from Geo Domes, Sky Domes and Treehouse Cocoons that sleep 2-4 people. All the domes have comfy full or queen sized beds. Some have skylights or panoramic windows for gazing at the millions of stars in the night sky. One even has a telescope!
Resort amenities include on-site bar and restaurant, gift shop, free WIFI, and a community BBQ and lounge area.
---
Tobacco River Ranch Glamping in Montana
Location: Eureka, MT
Good For: Couples, small families
As the name suggests this recent addition to glamping spots in Montana is situated on the banks of the Tobacco River. This makes it an ideal vacation for anyone who loves fishing, swimming, and kayaking as well as hiking, biking, and wildlife spotting.
Accommodations include a range of private, comfy glamping cabins and Airstreams strategically placed around the ranch. Each place sleeps 2-4 people and prices are very reasonable.
---
Unique Glamping in Montana
Glamping Montana Treehouse Retreat
Location: Columbia Falls, MT
Good For: Solo retreat, couples, small family
They have 2 treehouses on 5 acres in a great location between Whitefish and Columbia Falls not far from Glacier NP. The Meadowlark Treehouse has a loft bedroom with a Queen bed plus 3 sleeping benches in the living suitable for kids. The Raven's Nest has 2 bedrooms plus 2 pullout sofas so it can sleep up to 7 people.
Both glamping treehouses have private bathrooms (one even has a soaker tub), a full kitchen, smart TV, WIFI, and firepits for evening marshmallows and hot dog roasts.
---
Luxury Yurt Glamping in Montana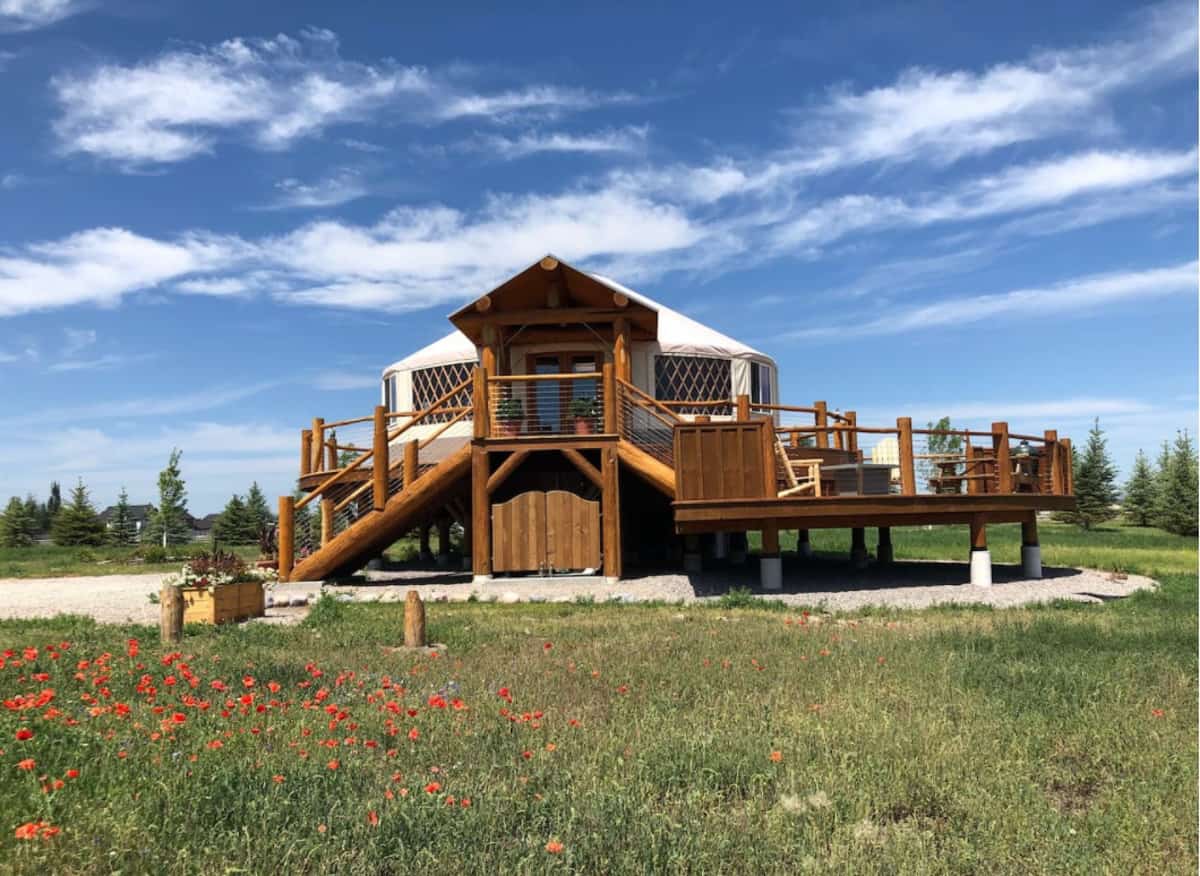 Location: Somers, MT
Good for: Couples, small family
This 2 bedroom luxury glamping yurt sits on the shore of Flathead Lake on a working farm. The yurt has a wide wraparound deck offering 360-degree views of the lake and surrounding mountain ranges.
Your spacious yurt also has a full kitchen, bathroom, washer and dryer, living, and dining area. Plus they have both heat and air conditioning so the temperature is comfortable year-round.
---
Lodgepole Gallery & Tipi Village
Location: Blackfeet Indian Reserve near Browning, MT
Good For: Couples, families, groups, education
Stay in an authentic tipi at the Blackfoot tipi camp and learn about the Blackfoot Indian History and Native American culture. You can take a Blackfeet history tour, go horseback riding on the paths of the Blackfeet Warriors and listen to stories passed down through generations of Native American Tribes.
The tipis are super comfortable with a firepit in the center and traditional double-wall construction providing ventilation and pleasant temperatures. Guest facilities include a shower house, a communal fire pit and a Blackfeet ceremonial lodge for eating and socializing.
---
Glamping at the The Shire of Montana
Location: Near Trout Creek, MT
Good for: Adults only, romantic getaway
If you're a fan of the Hobbit and Lord of the Rings then you've probably dreamed of staying in a Hobbit House. The Shire of Montana will make those dreams come true with their unique, hobbit-house-inspired accommodation.
This magical "house" has a king-size master bedroom, a second smaller bedroom, a designer kitchen and a full bathroom plus a charming living and dining area. The beautiful craftsmanship, detailed design and whimsical decor ensure a romantic setting for your next getaway.
---
Virgelle Mercantile Glamping in Montana
Location: Virgelle, MT
Good For: Couple, families
This restored Mercantile turned B&B also has homesteader cabins and even a sheepherder covered wagon as accommodation. Most of the cabins are suitable for couples but some accommodate a family of 4.
Homesteader Cabins allow you to step back in time with touches like kerosene lamps and wood-burning stoves but the cozy furnishings, shared modern bathrooms and internet assure a comfortable and atmospheric stay.
---
Izaac Walton Inn
Location: Essex, MT
Good For: Couples, families, group, proximity to Glacier NP
In addition to the more standard lodge rooms and cabins the Izaac Walton Inn also offers more unusual accommodations. Here you can stay in a repurposed luxury railcar or a classic caboose that sleeps up to four to six people.
Each of their four railcar glamping cabins comes outfitted with a private bathroom, modern kitchen, gas fireplace and private deck with chairs to sit and enjoy the views. On-site amenities include a sauna, hot tub and The Dining Car restaurant.
---
Glamping Rockin Retros on Rock Creek
Location: Red Lodge, MT
Good For: Couples, families, vintage campers
If you love retro you'll love this vintage campground with 5 vintage campers on the banks of Rock Creek. The trailers have been lovingly decorated with many original pieces in traditional color schemes like red and black or pink and teal.
All trailers have a propane stove, ice box, fire pit, picnic table and BBQ. A spotlessly clean shower house is just steps away and there is a small store on-site for basic needs.
---
The Centennial Inn
Location: Livingston, MT
Good For: Couples, family, fishing
Ladies, if you're looking for a perfect vacation for your train-loving, fisherman hubby this may be it! Or maybe you're the one who loves trains and fishing? Either way, the Centennial Inn will be a treat for both of you. Your home will be a stunningly repurposed Northern Pacific Parlour Car with 2 bedrooms, bathroom, kitchen and parlour with TV.
The train car sits on 13 acres with access to 1,000 feet of private Yellowstone River beach. This river is beloved by fishermen for catching large brown trout and you'll have a stretch of this river all to yourself. You seriously must take a look at the interior images of this Airbnb!
---
"The Blind" Tiny House Glamping Montana
Location: Bonner, MT
Good For: Couples, off-grid experience
For a nature intensive, off-grid Montana glamping experience you won't find better than "The Blind" The sides of this lovely little A-frame are glass and also open up so you will feel like you're fully immersed in nature. There are 2 other glamping accommodations on this family owned 100 acres but you'll feel like you're completely alone.
Being off-grid means using an outdoor solar shower and the bathroom is a 1-minute walk from your tiny house. There's also a Commons Area that has a community kitchen, games, lounge, and WIFI. The 2 person hot tub is shared but is booked by the hour for private soaks.
---
Creekside Hideaway
Location: Clancy, Montana
Good For: Group, family
This cozy earth home is definitely one of the more unique glamping Montana experiences. The space sleeps up to 12 people with 4 built-in, full-sized sleeping nooks plus an additional hidden private bedroom.
There is a full kitchen with a long eating bar and a full bathroom with a very unique shower that's actually inside a tree trunk with a 13 ft high ceiling.
---
Glamping in Montana at The Silo
Location: Corvallis, MT
Good For: Couples, family, pet-friendly
Ok, so you probably haven't spent your life dreaming of sleeping in a grain silo on a dairy farm. But take one look at this amazing glamping spot in Montana and you will be. The owners of this 80 acre property have painstakingly transformed two silos into a gorgeous 2 bedroom, 2 level accommodation.
Your private silo is fitted with a gourmet kitchen, 1.5 baths, large living room, and a private deck with a BBQ. You are free to explore the grounds which also have a fish pond and a charming tea room.
---
Cougar Peak Lookout Glamping in Montana
Location: Near Thompson Falls, MT
Good For: Solo, couple, small family, seclusion
This is the most unique and rustic Montana glamping spot on our list. If you're looking for luxury this may not be for you but if you want seclusion and stunning views this is the place! 
Your accommodation is a converted Forest Service Lookout with a full bed, a mattress pad, 2 chairs, a small table, and a wood stove. There's also a rustic outhouse 200 feet from the lookout.
You will need to bring all your own bedding, water, and other supplies and carry all of this from your car which will be parked 150 ft from the cabin. If you can manage all of this you'll be rewarded with absolute peace and solitude, the most stunning views, wildlife spotting and hiking trails leaving from your front door.
Looking for more Glamping Content?
---
Pin It For Later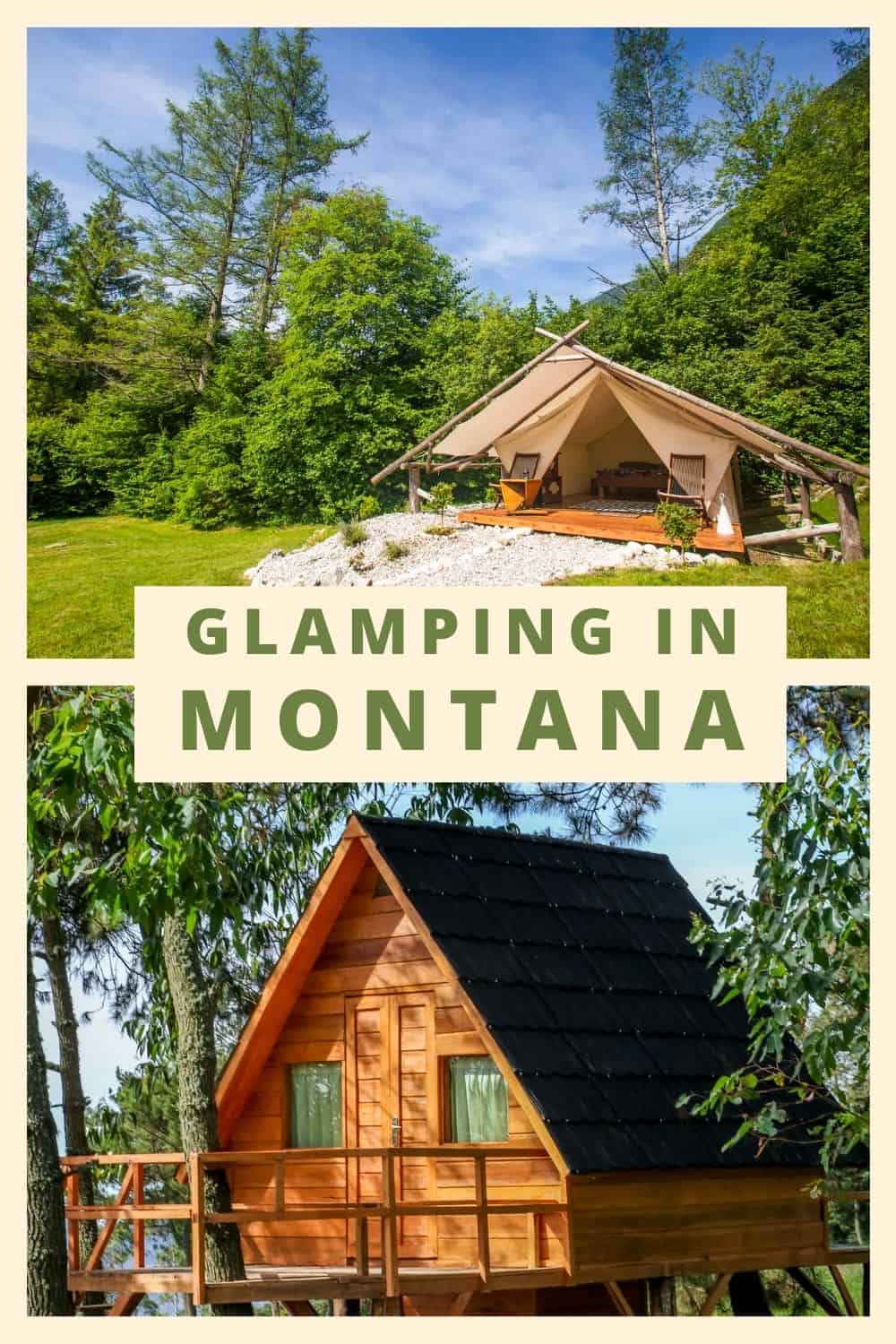 Born in England, Sarah developed her wanderlust at a young age as she traveled around Europe with her parents. As a young adult she spent every penny she could on experiences as opposed to possessions. Eventually she found a way to earn a living doing what she loved: traveling, writing and capturing images of the wondrous world we live in. When not on the go Sarah enjoys time in her "sometimes home" of Vancouver.