What is glamping? Is glamping expensive? What's a yurt? What do I need to pack for a glamping trip? Maybe you're familiar with glamping but you still have some questions. Or maybe you've just recently come across the term and are curious what it means. Well either way you've come to the right place because we love glamping and have made it our mission to learn everything there is to know about this unique type of getaway. This page is designed to answer any glamping questions you may have and go over most of the common glamping terms. If we've missed something, please let us know and we'll do our best to add it in!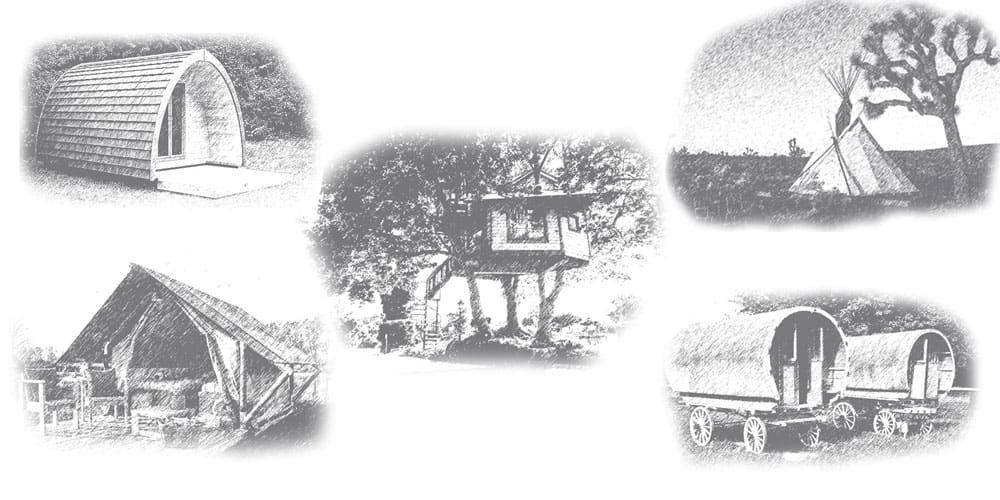 What is Glamping?
Glamping is a term that comes from melding the words glamorous and camping and it's become an increasingly popular way to experience a getaway in nature. The idea is to enjoy all the great things about camping without giving up the comforts of a nice hotel. For example, sleeping on a real bed instead of an air mattress, having electricity, lights and heating or even a private en-suite bathroom and hot tub. Glamping locations are popping up all over the world and range from more rustic-chic to full-on 5-star hotel-style experiences. So now that you know what is Glamping, let dive into the history and the types of glamping. Learn More about Camping vs Glamping
Many of the accommodations today that are associated with glamping were first used long before the term "glamping" or "camping" ever came to be. Tipis for instance are thought to be used over 10 thousand years ago. Yurts were regularly used by nomadic cultures as far back as 600 BC. Many of the first luxury camping spots were first used in war campaigns as generals and other high-ranking officials would use more luxurious tent accommodations and décor than the average soldier. In the 20th century, African Safaris were all the rage and many of the wealthy travelers would indeed have what would be considered glamping accommodations as they explored the continent.
The modern age of what we call glamping now is said to have been started in the UK during the late 20th century with the help of a financial crisis and the need for getaways closer to home. This trend began to grow and exploded in the UK in the early 21st century and by 2013 had expanded into North America and is now one of the fastest-growing travel trends in the world. According to statistical industry research, the global glamping market size was valued at USD 1.88 billion in 2020 and is expected to expand at a compound annual growth rate (CAGR) of 14.1% from 2021 to 2028. This is driving thousands of new glamping entrepreneurs to the industry and large accommodation platforms like "Airbnb" are dedicating a good chunk of their budgets into marketing the growing Glamping industry to their audiences.
How Much Does it Cost to Go Glamping?
Glamping accommodations can range from budget-friendly to upper-end depending on the type of structure, where the site is located and what kind of amenities and services are offered. Here is some more information on the glamping market. A simple setup could be a bell tent with a bed, some seating, a BBQ and a fancy outhouse located in a forest setting. More glamorous setups could be a luxurious treehouse or yurt in a private and remote location with a king-size poster bed, en-suite bathroom, living area and kitchen with mountain views and breakfast delivered to you in a basket each morning. In our articles, we give choices of glamping properties from as low as $40 USD to
Types of Glamping?
Almost any type of structure can be turned into a glamping spot. Even though there is a huge range of glamping types we can narrow them down into a few categories. The most popular type of glamping is a tent structure. There are multiple types of glamping tents including safari tents, dome tents and bell tents. Treehouses are another popular glamping type. Then you have glamping pods or cabins, plus yurts and tipis and finally, you have unique or quirky which includes various structures like gypsy wagons, towers, hobbit homes, train cars, boats and more!
What is a Yurt or Glamping Yurt?
A yurt is a round, portable tent structure traditionally used by nomadic peoples in Central Asia. Today yurts are a popular type of luxury camping tent and range in size from small to very large. Most have wooden lattice support on the walls and beams on the roof. Many also have an opening in the center of the roof. The high roof and lack of corners give them a spacious feeling regardless of the size.
What is a Bell Tent?
A bell tent is a type of glamping tent that usually consists of a round tent-like structure with very short walls that connect to a slanted roof coming to a point in the center via a post running vertically in the center of the tent. Most bell tents have the ability to remove the short walls and keep the roof intact to provide a canopy in warm weather and provide airflow around the whole tent. You will find some of the more popular bell tents for glamping here.
What is a Glamping Treehouse?
Unlike many other glamping types, glamping treehouses tend to be more permanent structures and give an extra sense of being immersed in nature among the trees. Glamping tree houses have been trending in recent years with companies creating various prefab structures to be placed into trees for those who own property and wish to create their own glamping site. The structures can range from your standard wooden cabin-like dwelling to a suspended tent or sphere.
What is a Cabin for Glamping?
A glamping cabin is exactly what it sounds like. A small cabin immersed in nature, used as a shelter while camping. There is a huge array of cabins that may be used for glamping locations. A tiny home on some acreage could be considered a glamping cabin if the purpose is for camping in luxury and not full-time living. A hunter's cabin would make an ideal glamping location. The idea is you get the same sense of camping just with a more solid and comfortable accommodation.
What is a Glamping Dome?
Glamping dome tents are usually of the geodesic type structure. They are built using a shell-like design and polyhedron shapes. These rigid triangular elements spread the structural stress over the whole building. They can vary in size to accommodate 2 people to dozens. The strong frames are covered with a thin material like vinyl-coated polyester fabric or canvas. Some companies provide kits you can purchase and customize your dome tent to suit your needs.
What is a Shepherds Hut and What is a Gypsy Caravan?
Shepherd Huts and Gypsy Caravans for glamping are popular accommodations, especially in the UK. These little homes on wheels can range from more modern to more traditional. They usually provide comforts and amenities for one to two people and can be situated in either a countryside farm's acreage or along walking paths in national parks. There are a few differences between a Shepherd's hut and a Gypsy Caravan.
A Shepherd's hut's sole purpose was to have a place for the person tending the farm during lambing season. Traditionally it had small wheels so it could be moved from pasture to pasture although mostly it stayed on the farm property. (For the full experience, they should be surrounded by herds of sheep, goats, chickens etc.) On the other hand, a Gypsy Caravan or wagon had larger wheels and was used specifically for traveling from place to place often from fair to fair. They also tend to be more ornate and colorful. A gypsy wagon is also called a vardo or a Romani wagon. It is a type of mobile home that Romani people, who are also known as Gypsies in Europe, have used for a long time.
A glamping pod is a small cabin-like structure very popular in the UK for camping. It usually has minimal amenities like a bed, some chairs and possibly a kitchen. Think of a small cabin you may rent in a campground. You are replacing your tent with a small cabin with a bed. Some can be more luxurious than others though and offer more amenities including an en-suite bathroom. They are also one of the cheaper options for glamping.
What Are Some Unique and Quirky Glamping Experiences?
As the glamping industry expands and becomes more lucrative, we are seeing an influx of unique and specific glamping experiences. Besides your standard glamping tents, treehouses or cabins, people are investing in creating a whole experience for guests. They are buying historic structures and transitioning them into a themed glamping site. These include small castles, fire lookout towers, historic train carriages and cliffside lighthouses along with dozens of other historic structures. The possibilities are endless as glamping becomes a household name.
What do I Need to Bring on a Glamping Experience?
This will vary depending on what type of glamping and how many amenities the location is providing. Most glamping sites will provide bedding and towels although some very basic glamping pods just have bare beds and you'll need to bring your own bedding. If the glamping site has a kitchen they usually provide the essential cooking utensils. It's always a good idea to confirm what is provided with your glamping site so you can pack accordingly.
Once you know what basic needs are covered it's time to make a good camping packing list. Some examples: A good flashlight/torch is always a safe bet. If you require specific chairs for your back or want loungers for relaxing, you may want to bring those. Of course, food is always an essential even if the hosts provide meals or there is a pub or restaurant nearby. You'll always want snacks at some point or perhaps marshmallows to toast on a fire and maybe a warming nightcap or glass of wine in the evening.
Another thing to think about is what do you plan on doing in the area, what type of activities are available? Will you need to bring some mountain or road bikes? How about some kayaks or paddle boards? Some glamping sites will provide these so check first. Will you be doing a lot of walking or hiking which will require boots? Slippers for inside the glamping structure? Don't forget to make sure either you or the hosts have some big cozy blankets to cuddle up and watch the stars. If you are into exercise you may want to bring a yoga mat for a sunrise session on the deck or grass. Finally, do not forget a camera as you will want to document this wonderful and unique glamping experience.
How do you start a glamping business?
The need for outdoorsy vacations is on the rise, and if you establish a glamping company, you can meet that demand while also giving your clients an unforgettable experience. Since many of our readers have asked us about starting their own glamping companies, we figured it would be useful to provide a detailed Glamping business guide on how to do it.