In the heart of England, where ancient woodlands whisper tales of yore and free-roaming ponies meander through heathlands, there emerges a trend revolutionising the way we experience the great outdoors: Glamping New Forest. No longer are camping trips defined by crumpled tents and pesky mosquito bites. Instead, envisage a luxurious canvas palace amidst nature, where the songs of the forest are your lullaby, but creature comforts aren't miles away.
Glamping New Forest takes the quintessential British love for countryside adventures and gives it a twist of luxury. Imagine sipping a hot cuppa, wrapped in a plush blanket, as you gaze out from your elegant yurt onto mist-kissed meadows. Or perhaps you'd prefer a starlit soak in a hot tub after a day exploring the myriad trails of the New Forest?
However you envision your perfect woodland escape, Glamping New Forest promises an experience drenched in both opulence and nature's raw beauty. So, for those eager to immerse themselves in the New Forest's enchantment without forgoing the luxuries of modern living, this glamping New Forest guide will be your North Star, steering you to an unforgettable adventure.
More UK content:
Forest of Dean Best Glamping Spots
Amazing Places for Glamping Peak District UK
Glamping in Brecon Beacons in South Wales
Where to stay while Glamping Essex
6 Top Spots for Glamping in Brighton, UK
All About Glamping Ireland Guide
Things to do while New Forest Glamping
---
Country Walks
There are so many great country walking routes when New Forest Glamping that it may be hard to figure out which ones to do. So let us give some options to start with. Landford and Hamptworth walk starts at Landford village and allows you to explore the North tip of New Forest and wander through the old Royal Forests. You then venture to a river, through some more woods and fields until you get to a gold course. Then it is on to a cute hamlet of Hamptworth.
Godshill and Castle Hill walks begins at Fighting Cocks pub in Godshill. From the pub you travel along a path through fields and woodlands to an old Iron Age Hill Fort. Continue to a waterside hamlet in Castle Hill. You get beautiful views of the Avon Valley. You can also take an option trip to Castle Hill fort before returning back the way you came.
Cycling New Forest
Explore Ancient Forests and heaths, pretty little villages and a secret 40 mile coastline while cycling in New Forest. There are over 140 miles of cycling trails to utilize on your New Forest Glamping trip. Some top cycling routes to consider are The Old Railway (9 miles) The Ride to Old Station Tea Room (6.3 miles and good for families) and The Norther Forest Circular (17.8 miles and more intense)
Fishing New Forest
If you are an angler, there are twenty different fish species in the waterways of New Forest. When you are glamping in New Forest and plan to go fishing you have your choice of sea fishing, river fishing or lake fishing(coarse fishing).
Try Orchard Lakes near New Milton for lake fishing. Head to the quaint town of Lymington to charter a boat for sea fishing. Of course if you want to head to a river to fish, you have the Hampshire Avon, River Test and River Allen to choose from.
Other New Forest Glamping Activities
Kayaking, paddle boarding and other water sports are always popular things to do in New Forest. If you are looking for some family fun and adventure while glamping, check out Avon Tyrrell Outdoor Center, Burley Villa School of Riding or New Forest Activities Center. Perhaps you enjoy and Afternoon Tea with Alpacas, the options are unlimited.
Quirky Glamping New Forest Places to Stay
---
Glamping New Forest Shepherds Hut at Hills Corner
Location: Godshill, UK
Best For: Solo and Couples
Amenities: Heating, Garden, Breakfast, Shower and Toilet
'Gabe,' a century-old shepherd's cottage in the midst of the New Forest, has a story as intriguing as its name, inspired by the literary giant Thomas Hardy. Gabe has stood as a mute witness to nature's dance from Salisbury to Godshill, providing refuge to shepherds and vulnerable lambs in England's chilly winters. After a passionate repair, this charming home now stands on a lively smallholding, ready to take you away on an unforgettable glamping adventure.
Gabe is where tradition meets comfort. Drift off to sleep under warm flannelette duvet covers warmed by electric heating, and wake up to the ease of boiling your own cup of tea with your own kettle. The attraction of a personal BBQ and fire pit awaits outside, ready for those starlit nights. A dedicated bathroom is just a few steps away, ensuring your modern comforts are fully supplied for.
The countryside comes to life as morning breaks. The crowing cockerel, braying donkeys, and distant hum of tractors create a melodic soundtrack to your stay. But the real icing on the cake? A delectable country house breakfast served on a charming verandah. Gabe promises a comforting and unique New Forest glamping experience with such authenticity coupled with modern amenities.
---
Brocklands Farm Glamping New Forest
Location: Petersfield, Hampshire, UK
Best For: Couples, Families, Groups
Amenities: 3 Bedrooms, Kitchen, Toilet and Shower, BBQ, Optional Catered Meals
Two beautiful safari tents stand as the ultimate of hidden luxury inside the tranquil expanse of Brocklands Farm. With hundreds of metres separating them, these tents provide a remarkable blend of peace and elegance, complimented by unrivalled vistas. Every aspect in these tents is carefully selected to ensure comfort, from the plush mattresses with delicious dual-tog duvets to the eco-toiletries. As the sun sets, the soothing glow of fairy lights illuminates intimate conversations around the wood-burning fireplace, while the setting sun paints a golden colour over Beacon Hill.
The tents are more than simply a place to stay; they're an experience. The log bed and the fun of a rope swing excite children. The expansive meadow offers plenty of room to explore, while the woods invite for daring den-building. A hare or pheasant may be spotted close, or one may observe the beautiful flight of buzzards and red kites above.
These tents, located in the centre of the magnificent South Downs National Park, provide more than just a picturesque environment. The South Downs Way and the Meon Valley Trail are both conveniently accessible and attract travellers. West Meon, a beautiful village nearby, entices visitors with its tiny shop, cafe, and the famed Thomas Lord pub. With nearby sights such as Paulton's Park and the historic Portsmouth Shipyard, as well as ideas for activities such as crab fishing in Emsworth, this glamping experience offers memories that will last long after the vacation is over.
---
The Red Train Glamping New Forest Carriage
Location: Swanage, Dorset, UK
Best For: Solo, Couples, Small Group
Amenities: Beds for up to 6 people. Kitchen, Bathroom, Deck, Historical
Have you ever wanted to stay in a real 19th-century train carriage? Enter the Red Train Carriage, an 1858 relic thought to have served the GER as a second-class passenger vehicle. This historical jewel, nestled behind the Swanage Railway tracks, was a mere shell when purchased, but has been lovingly renovated, keeping its historical integrity while injecting modern amenities for a lovely visit.
This one-of-a-kind home, despite its modest Victorian dimensions, offers a cosy blend of bygone eras and modern life. The external space, decked out to look like a railway platform, provides a great vantage point to watch the drama of steam engines chugging by, immersing the surrounds in a nostalgic haze. Expect the oddities that come with staying in a century-and-a-half-old carriage, such as a slightly stuck window or the rustic feel of the ledges. However, for each guest, every nook has been spruced up and refreshed, guaranteeing a balance of authenticity and cleanliness.
The carriage is perfectly secluded at the end of a garden, away from the main house, and offers the peace and quiet of a private hideaway. It has storage options in every nook and crevice, as well as essential conveniences such as bed linen, towels, and toiletries. Dog owners can rejoice since well-behaved canines are welcome, however young puppies who are prone to trouble may be better left at home. Overall, this carriage is more than simply a place to sleep; it's an invitation to relive a piece of history while also living right next to a bustling train line.
---
Floating Tree Sphere Glamping New Forest
Location: Sturminster Marshall, UK
Best For: Solo and Couples
Amenities: Romantic, kitchen, outdoor toilet and shower, heat, fire pit and BBQ
Elevate your trip in this lovely floating tree home nestled gently amidst the tranquil Dorset countryside. Every detail of this treetop retreat has been designed to bring guests to a world where modern convenience meets natural beauty. With views that stretch on forever and decor that screams "romance," it's an unrivalled experience for those wishing to reconnect with nature and each other.
This treehouse getaway was purposefully intended to convey simplicity, offering all the necessities without the digital distractions of modern life. There is no Wi-Fi here, which is a deliberate choice to encourage guests to engage in genuine conversations, enthralling nature hikes, or even a good old dance to the beat of the on-board audio. The tree house has mains power, heating, a basic kitchen setup, and even a brand new toilet and shower facilities for 2022, only a stone's throw away from your aerial residence.
It combines isolation and accessibility by being a short drive from local amenities and pubs. The charm, though, is in the details: the sizzle of a barbecue under the stars, the warmth of a fire-pit on a cool evening, and the subtle rustle of leaves that serve as a backdrop to this magnificent location. But keep in mind that, while the treehouse generously provides a bed with a view, guests must bring their own bedding, towels, and sense of adventure for this treetop excursion. Welcome to the ideal combination of whimsy and amazement!
Caribbean Corner Glamping New Forest Yurt
Location: Isle of Wight, UK
Best For: Solo, Couples, Small Family
Amenities: King Bed, Kitchen, Bathroom, Views, BBQ, Beach
Discover a sanctuary of solitude and beauty tucked away in the embrace of trees and few yards from the exquisite sands of Priory Bay beach – a beach yurt that epitomises rustic luxury. This quiet sanctuary is only a stone's throw from London and a short RIB ride from Portsmouth for those looking for a retreat that feels like a desert island but without the long-haul travel.
The design, meticulously built by Island Yurts, bears homage to the classic Mongolian yurt. When guests enter, they are greeted with a plethora of comforts, including a custom-built king-size bed for comfortable slumbers, a sitting room ideal for languid afternoons, and even a roll-top Victorian bath where they can soak beneath the canopy of stars.
The tiny things, though, add to the romance: an outdoor hot water shower with unrivalled ocean views and a kitchen meticulously constructed from discarded pallets. If the sweeping beach views from your private terrace don't leave you speechless, the prospect of taking an outdoor shower with such a view may be the decider. If you come upon a more magnificent shower backdrop, there will be champagne on hand!
Though the yurt is a lovely retreat for couples, it also welcomes small adventurers, making it a great family escape. The sun-kissed, protected sandy beach is unquestionably the yurt's crowning gem; its enticing waves and interesting tides enable adventurous hikes and knee-deep expeditions to St Helens Fort. In the spring, the woodlands turn into a fragrant carpet of wild blooms, providing a backdrop serenaded by chirping birds and the antics of endearing red squirrels.
---
New Forest Glamping Cosy Log Cabin
Location: Ringwood, UK
Best For: Solo or Couples
Amenities: Cosy, Garden, kitchen, bathroom, bicycles, near beaches and pubs, In the National Park
Discover a rustic sanctuary nestled on the outskirts of the picturesque New Forest – a tiny hut that stands as a tribute to artisan craftsmanship and a passion for the natural world. This cottage, adjacent to a quaint country home, is a portal to the forest's various treasures, enticing travellers to pedal its trails, tread its paths, and experience the thrill of horseback riding amidst wild beauty.
Every day promises a new adventure with its proximity to a tapestry of activities, from the attraction of Bournemouth and Mudeford beaches to the excitement of crabbing. Animal lovers can marvel at the splendours of the New Forest wildlife park or interact with the residents of Liberty's Owl Raptor and Reptile Centre. If the attractiveness of the quiet village environment draws you in, the picturesque town of Burley, brimming with stories and sights, is only a short distance away.
The magic continues inside the cabin. The cabin's cosy décor, lovingly crafted by hand, tell stories of dedication and passion. With a cosy lounge and the subtle crackle of a wood burner, the ground level welcomes leisure while smoothly integrating into a utilitarian cooking space. An adjoining bathroom provides modern comforts, while the bedroom upstairs provides a cocoon of luxury under wooden beams. The exterior, though, genuinely dazzles, with a vast veranda ideal for evening reflections and a landscape that is a mosaic of sensations. Relax in a wood-fired hot tub, compete in outdoor sports, dine under the stars, or simply bask in the glow of a bonfire.
---
Isle of Wight Geodesic Dome Glamping New Forest
Location: Isle of Wight, UK
Best For: Couples, Family, Groups
Amenities: Multiple Domes available, pizza oven, kitchen, toilets and showers, restaurant, activities.
The freshly refurbished Geodesic Domes, perched on a picturesque vantage point of our wide farm, provide a unique encounter with nature, combined with modern conveniences. These domes are an invitation to experience luxury in the lap of nature, with their breathtaking sea views and palette of sunsets.
Our five renowned Geodesic Domes have been expertly refurbished and moved to enhance the seascape. The new design incorporates an entrance porch with a timber shop within the structure. A dedicated en-suite bathroom with a shower and toilet, as well as a separate working kitchenette, are located adjacent to the main dome.
The central dome room is envisioned as an open-plan realm that seamlessly blends sleeping and living areas. It's cleverly partitioned to accommodate a bunk room, ensuring seclusion. This room is dominated by a majestic king-size four-poster bed, which is accompanied with a cosy sitting section with a log burner. As the nights draw in, the insulation keeps you warm, and electric blankets on each bed offer an extra layer of cosiness.
The exterior is equally appealing. Each dome has its own BBQ and bonfire, making for wonderful evenings under the huge sky painted with the colours of the setting sun. Domes 1 and 5 have an enjoyable wood-burning tub for those looking for a little more indulgence. A community pizza oven, ideal for shared meals and fun, will delight culinary enthusiasts.
These domes, which are open all year, attract visitors looking for both quick getaways and longer vacations. While they provide privacy, a five-minute stroll over the beautiful fields connects guests to a world of attractions, including The Cow Restaurant, Farm Park, Aqua Park, and the bike rental shed. Your natural hideaway awaits, with modern luxury at its heart.
Canvas & Candence Glamping New Forest Tent
Location: Somerset, UK
Best For: Solo or Couples
Amenities: Comfortable bed, painting, supplies, Guitar, writing desk, access to kitchen and bathrooms.
Marston Park, located between the historic villages of Frome and Bruton, provides an exquisite respite inside its 76-acre canvas. Our Canvas Studio tents, 30 in total, are thoughtfully positioned around the Victorian lake's edge, ensuring each visitor basks in their own private part of the English countryside, replete with enchanting sunset views. If you're coming with a large group, we can accommodate you in many tents.
Each tent is a harmonic blend of rustic charm and modern luxury, including a sumptuous double bed with plush sheets, a cosy wood-burning stove, and custom lighting. Step outside to relax by the fire pit while admiring the tranquil lake views. Our park prioritises guest comfort with first-rate shared utilities, like as stainless steel sinks paired with aromatic Bramley soaps and modern flushing toilets located in traditional timber shacks.
Marston Park is a place for relaxation and enjoyment outside the tents. Relax at our on-site spa & wellness centre or dine at Hakko House, which serves outstanding Japanese cuisine. Frome, a town overflowing with ancient charm and modern vibrancy, is only a short drive away, ensuring that your time at Marston Park is both a retreat and an adventure.
Rosie the Gypsy Wagon Glamping New Forest
Location: Milford on Sea, UK
Best For: Solo or Couples
Amenities: Unique, Patio, Breakfast included, Showers and toilet, coastal village
Rosie, our renowned Showman's "gipsy" Waggon from around 1885, transports you back in time. Rosie, a family heirloom for almost 50 years, sits gracefully outside the pottery, providing stunning views of the woodland area. She is nestled amid Vinegar Hill's one-of-a-kind Milford lodgings and has a heritage not only in age but also in artistry, having been repaired and ornamented by one of the country's last talented gipsy waggon painters.
Every detail of Rosie's decor radiates opulent gipsy sophistication. Dive into the plushness of custom-made velvet drapes and cushions, marvel at the intricate hand-cut glass knobs that adorn windows and cupboards, and sleep sweetly on the extremely comfortable double bed draped in an antique lace spread. And, while the bed promises cosiness, it may not be suitable for individuals who like to extend their toes beyond its 6-foot limits!
Begin your day with a delicious continental breakfast served within Rosie or, if the weather permits, on the patio overlooking the picturesque garden. This communal patio space morphs into a stargazing refuge in the evening, with wood-burning chimineas illuminating the night. Rosie promises a vacation that is as rich in history as it is in luxury, making it ideal for couples looking for an exquisite glamping experience. Remember that, while she has a big heart, she's best suited for two people looking for a memorable holiday.
So next time you are planning a nature getaway or maybe looking for something a little quirky and unique to do on holiday, make sure to book one of our Quirky Glamping New Forest locations and create an experience to remember year after year. These New Forest glamping spots fill up fast so make sure to plan well ahead and enjoy everything the English Countryside has to offer.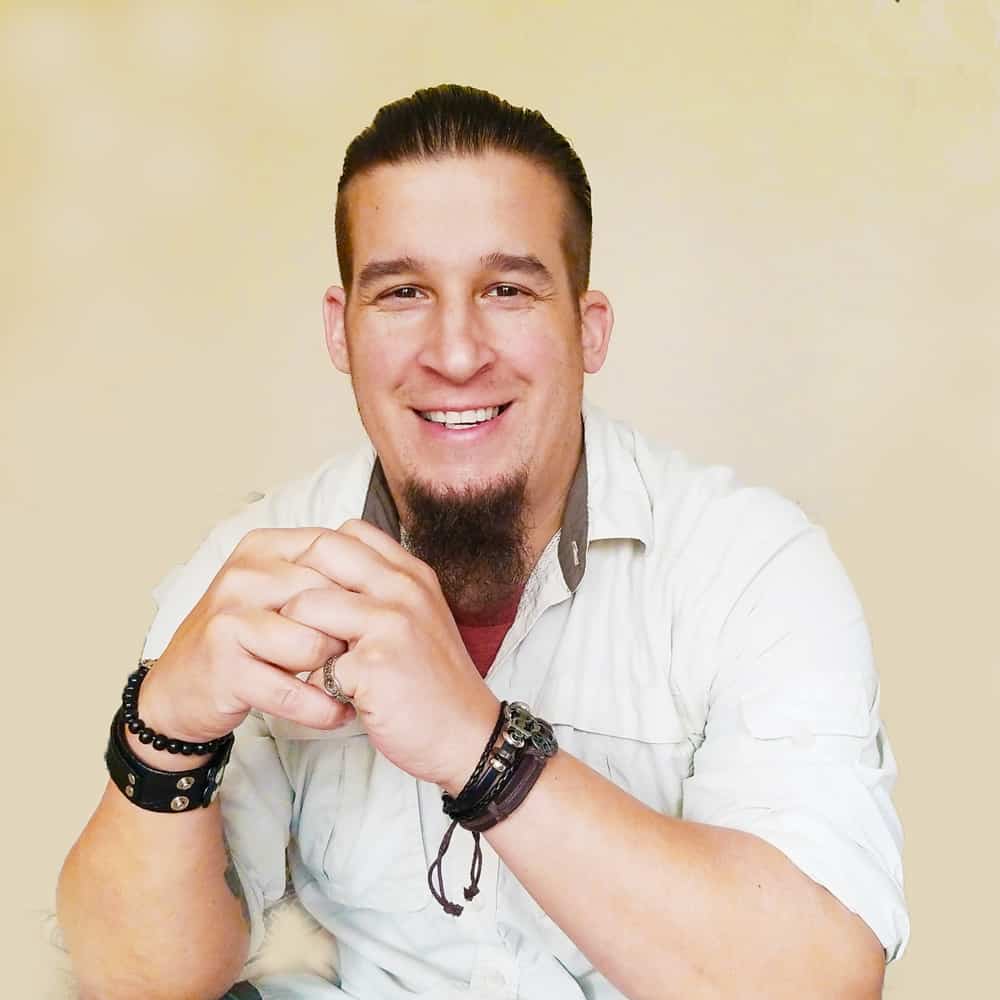 Full-time World Travel Writer who runs multiple websites and social media accounts. I have spoken at various conferences around the world. Some of my hobbies include adventure, fitness and new technologies. I am also a trekkie!