If you know Washington state, then you know that it's famous for its abundance of incredible natural beauty. It's called the Evergreen State for good reason. What better way to embrace all those evergreens than by staying in treehouses in Washington?
Glamping in Washington State is on the rise and new spots are popping up every day. There are various styles of glamping: rustic Washington cabins, luxury safari tents, tipis, tiny homes, domes, camping pods, and Washington yurts to name a few. But in this article, we are going to cover the top treehouses in Washington State for a magical getaway.
Check out our other Glamping Washington Articles:
Leavenworth Cabin Rentals for a Getaway
---
Our List of Enchanting Treehouses in Washington
---
Location: Vashon Island, Washington State
Best For: Family or small group
Amenities: Four beds, kitchen, bathroom, living room, multiple decks, washer & dryer, fireplace
This Washington treehouse rental offers the best of both worlds: you're both on the beach and in the trees! The site is quiet and secluded yet only 10 minutes from downtown Vashon. Inside the treehouse is bright and furnishings are tasteful and comfortable. The separate bathhouse has a clawfoot soaker tub, compost toilet and full-size washer and dryer.
Outside is a lovely deck with water views, a trail to the beach with a beachfront cabana and a large firepit with plenty of firewood. There is also a canoe and paddleboard for guests to use.
Guest Review: "Brenna was quick to respond to my questions and very attentive. We loved the Burma Treehouse! Upon arriving our boys quickly explored the sleeping loft, main floor bedroom/sitting area, lower floor with well-stocked kitchen and TV room. Although the bathroom, shower/tub and laundry are in another building, it was easy and quick to access (think walking down your hall).
We, family of 4 and large dog, had a fabulous time exploring the beach, paddling the canoe and hiking the Fern Cove to Shinglemill Creek trail. Can't forget the fire pit to roast nightly s'mores and star gazing. The walk from the treehouse to the beach is less than 100 yards on a gravel trail. Bring water shoes as the beach is rocky and you'll definitely want to explore at low tide.
Back to the treehouse which was well-equipped with clean bedding and fluffy towels. A wide selection of books are also available. The little extras like fresh flowers, filtered water (some may not like the well water) and plenty of deck chairs to soak in the view really made this a perfect Mother's Day weekend getaway. We WILL be back!"
---
Location: Stevenson, Washington State
Best For: Solo, couples, families, groups (several treehouses sleeping 2-4 people)
Amenities: Bedroom, kitchenette, indoor/outdoor fireplace, resort amenities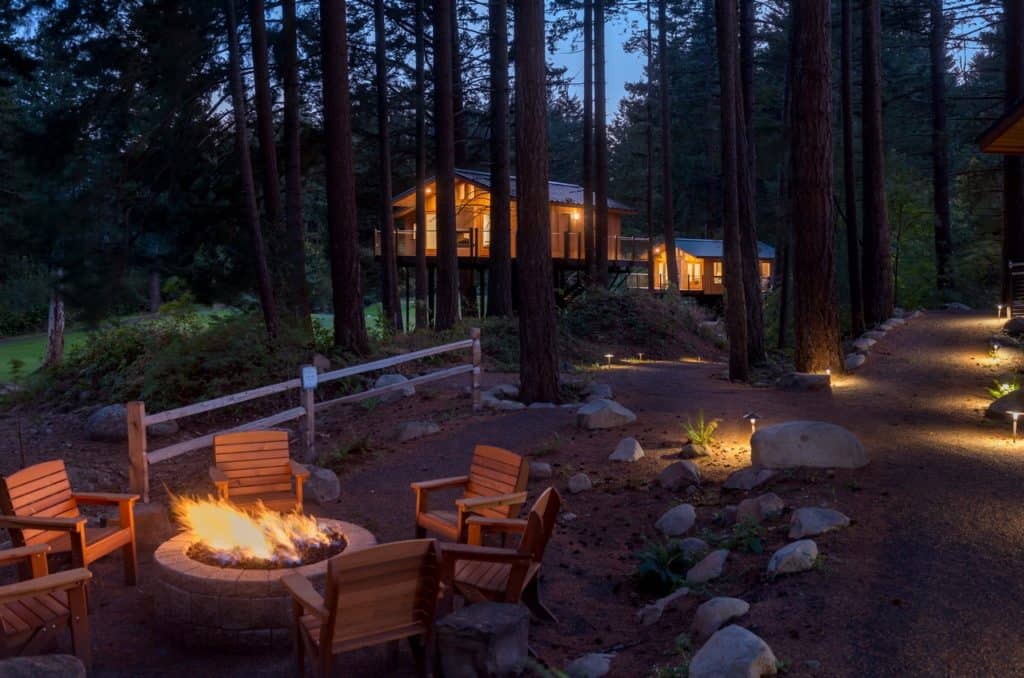 There are four luxury treehouses on the site of Skamania Lodge. They range in size and can sleep 2 or 4 people. Each modern treehouse comes with a kitchenette, full bathroom, living area, indoor/outdoor fireplace and a private deck with a view.
On the resort grounds, there's a lodge with a spa, dining options, a golf course and lots of activities like ziplining and swimming. Nearby is adventure galore with various water activities at Columbia Gorge, hiking and biking and also wine and craft beer tastings.
---
Location: Seattle, Washington
Best For: Solo or couple urban retreat
Amenities: 1 bedroom, bathroom, full kitchen, small hot tub, cable TV, washer/dryer
You'll feel like you're in the woods but you're actually just minutes from downtown Seattle in this Washington treehouse. The treehouse was custom-built in a secluded ravine surrounded by cedars and maples.
The contemporary design is sleek, clean and functional but also cozy and comfortable. It's a perfect blend of city and nature and the 2 person hot tub on the deck is a great place to unwind after a day of Seattle sightseeing.
Guest Review: "Perfect for 1-2 travelers. The urban treehouse feels like a retreat after being on the go all day. I could have added a day just to stay here with a book and go nowhere but for a walk through the neighborhood. Lots of fun artsy touches. Feels tucked away for being so accessible to main roads and the highway. Kurt was very welcoming and clearly had given thought to comforts travelers seek. Would love to stay here again!"
---
Treehouse With a Panoramic View
Location: Olympia, Washington, United States
Best for: Individual, couples, nature, wellness
Amenities: Kitchen, WIFI, free parking, indoor fireplace, TV, smoke alarm, essentials, waterfront, private entrance.
This treehouse rental in Washington has a panoramic view and is a unique way to spend time in nature. It's a perfect place for anyone in search of peace and tranquility. Enjoy longs walks through the forest and return to sleep in the treetops in comfort and style.
Although you have the comfort of a hotel this is not just a place to sleep, it's an experience. Your private treehouse comes with a comfy double bed, living area with sofa, TV with Amazon Firestick, wrap-around deck, electric fireplace, a full-size propane BBQ, outdoor seating area and your own firepit.
There is also a private 1/2 bath at the base of the tree with a compost toilet and sink. Plus guests have access to a lovely shower house which is shared with the campsite guests.
The main focus of this glamping treehouse with a panoramic view is nature, tranquility, and wellness. It's an awesome getaway for nature lovers and romantic getaways.
Recent guest reviews: "What a beautiful place to stay! Truly a great experience. We went in the Fall and the leaves were stunning. The place itself is super cozy for a couples retreat and there's lots to do in the area. Amazing hosts who provide all the extra touches to ensure a great stay. Highly recommend"
---
Location: Snohomish, Washington State
Best For: Couples, small family, nature, wellness, calmness
Amenities: Free parking spot, WIFI, indoor fireplace, washer
This treehouse rental in Washington is a romantic nest in the woods. You will be welcomed by bright rays of sunlight in the morning offering a wonderful start to your day. During the nights you may be serenaded by the distant call of a coyote or hooting owls while during the day you're likely to catch a glimpse of gentle wildlife.
Perhaps, this Washington treehouse rental will provide you and your partner a unique romantic retreat with a memory foam queen bed, stone fireplace and soaker tub. However, a young family of three will also be comfortable in this treehouse as it comes with a children's sleeping loft, small kitchenette and beautiful living space with HD TV.
The treehouse sits atop a hill on 3 acres surrounded by wooded state lands. Amazing views are seen by day and stargazing by night. If you enjoy hiking, some of the best trails in Washington are a short drive away. It's also possible to book the space for special occasions.
This secluded location in the woods is the best place to clear your mind and spend some wholesome time with loved ones and yourself.
Recent guest reviews: "Joe and Cindy's place in the forest is simply magical, don't want to describe it too much because its best experienced first hand. The hosts are so accommodating and easy to communicate with."
---
Location: Lake Sutherland, Port Angeles, Washington State
Best For: Family, groups, unplugged lakeside retreat
Amenities: Lakeside with large deck and dock, wood-burning stove, kitchen full bathroom
We've listed this lakefront cabin because it has a bonus treehouse and the total accommodation is great for groups and families. The main 1950's cabin has two queen-size bedrooms plus two sofa beds in the living room, a full bath and a kitchen. The treehouse is a separate space with a queen bed and a half-bath.
The property is nestled in a quiet cove surrounded by woods and there's a huge deck to enjoy the view. It's a year-round glamping accommodation with swimming and kayaking in the warmer months, skiing and tubing nearby and cozying up to the fire in the winter and abundant hiking and fishing any time of year.
Note that the cabin does not have wi-fi or cable so be prepared for a digital detox and enjoy the peace of nature.
Guest Reviews: "We loved our time on Lake Sutherland! The lake is so beautiful and relaxing and the house is perfect for a group of six. The kitchen was really well equipped, excellent touches everywhere and comfy beds! We brought our boat and fished, waterskied and cruised every day. The public boat launch is great and we were able to park the trailer on the main road above the house. We will most certainly be back, as this was one of the best vacations we've enjoyed! Thank you so much!"
---
The Nest Washington Treehouse
Location: Port Townsend, Washington State
Best For: Family, couples, groups, beautiful view, luxury
Amenities: Essentials, cable tv, bathtub, hot tub, free parking, iron, heating, private entrance
The 3-story Nest treehouse rental in Washington is sheer perfection for a family or group getaway. With 3 queen beds in 3 separate bedrooms, everyone will have their own private space to escape and rest. However, when you want to gather together as a group you'll be able to do so comfortably with a fully stocked kitchen, dining area and a lovely living area with a TV and DVD player. There's even a foosball table and other games to enjoy together.
For pampering, you have a wonderful rain shower, soaker tub, 6-person hot tub, and outdoor sauna. Plus, you'll be able to fully enjoy the surrounding nature with views from 3 decks, one of which has a propane grill and seating area.
Luxury, comfort, and tranquility are the main focus of this glamping Washington treehouse. You can also spend a wonderful time exploring many paths around The Nest and definitely don't miss the "overlook" with stunning views of Discovery Bay.
Recent guest reviews: "We spent two nights at The Nest with our 8 year old son. The place was so cozy and comfortable. We loved it! There were many areas throughout the house to either curl up together or on your own. The hot tub was a bonus! There are very thoughtful decorative touches throughout the home. Plenty of games and DVD's to choose from. A great weekend escape!"
---
Seattle Treehouse & Homestead
Location: Seattle, Washington State
Best For: Couple, outdoor space, budget-friendly
Amenities: Kitchen, WIFI, workspace, essentials, hangers, free parking, iron
This is a budget-friendly treehouse in a lovely urban farmstead just a 10-minute walk from the Othello Light Rail Station. It's an open-air treehouse with a comfy double bed draped with a mosquito net to keep you protected at night. Despite the urban location you are well hidden in the trees giving the feeling of an escape from the city.
There is also The Sweetpea Garden Cottage on the property and the hosts provide a welcoming family/youth hostel atmosphere. This includes the shared use of a beautiful bathroom, kitchenette, large grill, covered porch and firepit.
Recent guest reviews: "This was such a cool experience! I really enjoyed my stay here. It checked all the boxes I was looking for for a quick long weekend trip; affordable, great proximity to downtown, clean, unique. I wanted to experience the Pacific Northwest and this was a cool way to do it. It was like camping but had all the comforts of home; bed, running water, kitchen. I loved in the crisp outdoor air, falling asleep to crickets and waking up to birds. Jessica was very fast to respond, super friendly and although we didn't have the chance to meet she was very welcoming. If you want an adventure in the city, try this out!"
---
Sir Cedric's Cedar Treehouse
Location: Ferndale, Washington State
Best For: Couples, nature, tranquility, wellness
Amenities: Kitchen, free parking, breakfast, WIFI, essentials, workspace, smoke alarm, heating
This glamping treehouse in Washington State will wow you with its creative design and fine craftsmanship. The four-foot-wide Western Red Cedar that passes through the middle of the room provides a soothing woodsy aroma throughout and a feeling of being fully immersed in nature. There is a certain sense of calmness in the whole property that will make you feel as if you are in an imaginary land.
The well-thought-out plan of this treehouse has you gradually climbing the tree as you go from room to room. There's a kitchen, living room and cozy nest-like bedroom within the treehouse. The bathroom, though technically an outhouse, is just as unique and comfortable as the treehouse and features a private open-air shower big enough for two!
Recent guest reviews: "This secluded treehouse in the woods is straight out of a fairytale! We only stayed one night, but it was well worth the visit! I would have liked to stay another night or two to take full advantage of all the amenities offered, and explore the area a bit more. This probably isn't much of a concern to most people renting a treehouse in the woods, but as a bit of an arachnophobe, I am always on high alert for spiders. I didn't even see one! So that was a big bonus for me. I also read other reviews about how lovely the outdoor shower space was, yet thought it wouldn't likely be my cup of tea. I was wrong! It was a very relaxing experience. Our stay at Sir Cedric was brief, but memorable. Thanks Scott!"
---
Location: Issaquah, Washington State
Best For: Couple, family, special occasions, meeting, retreat, nature
Amenities: Yoga, massage rooms, tours, Tai chi, pond rooms, lodge
Treehouse Point has it all and is just 30 minutes from Seattle in a beautiful forest along the River Raging. There are seven incredible treehouses in Washington on-site as well as a lodge, event space and cedar bath-houses making it a perfect place for group getaways, weddings and family reunions.
Your Washington glamping treehouse rental has everything you'd expect in a hotel room so you don't need to bring anything but your personal items. The central lodge has WiFi, games, books, and snacks and they serve a delicious home-cooked breakfast every morning.
This property is a wonderful spot for holding meetings in an eco-friendly atmosphere. It's also a great place to wander around if you are in need of a break from the hassle of city life.
Recent guest reviews: "I had a treehouse as a kid, but that was just a platform. These are luxury treehouses, with power, lights, and comfy furniture. We stayed in "The Burl" which is currently the only one with a flush toilet, a nice but not necessary to have feature. The central bathhouse facility was very nice and clean and not far from any of the other treehouses. All the gravel pathways are lit at night."
---
Pot Leaf TreeHouse
Location: Monroe, Washington State
Best For: Couples, family, nature, calmness
Amenities: Shower, smoking allowed, smoking accessories, campfire, towels
Pot leaf house is one of three Washington tree houses at the Mountain Views Treehouse B&B Retreat. This place has combined the love of marijuana with the love of treehouses. Pot can be consumed anywhere on the property and inside the treehouse. However, you must be 21+ to book here.
This is the largest of the three treehouse accommodations and can sleep up to four people with a double bed and two pull-out singles. There is a small "cooking station" for basic needs but you will need to bring your own bedding and firewood. The toilet is a nearby porta-potty and there's also an outdoor shower. Guests can pay an upgrade to use the main house bathroom and kitchen.
Guests may have the opportunity to meet the property pets during their stay. Veggie Might the pig who often wears a tutu and Juma Sultan, a grey parrot who likes to ask "where's my marijuana?"
---
Location: Leavenworth, Washington State
Best For: Couple, romantic, nature, wellness
Amenities: WIFI, jacuzzi, coffee maker, parking space, dining table
The Brown family has been living on this property since 1902 and are now welcoming other families to experience this special place. Accommodations include a 5 bedroom log cabin but the newest addition to the family is a charming treehouse.
This romantic treehouse in Leavenworth accommodates two guests with a cozy bed, living area and kitchenette all embraced by warm wood paneling and windows streaming lovely natural daylight. The effect is rustic but romantic and comfortable.
The Brown Homestead is on 15-acres of beautiful Washington nature surrounded by mountains and close to all the activities nature lovers seek.
---
If you're looking for a unique and relaxing or a romantic experience these options for Treehouses in Washington State are all great choices. Try out one of these tiny homes among the trees and leave feeling renewed and refreshed.
Other Treehouse Articles:
Treehouses Near Asheville North Carolina
Crazy Tulum Mexico Treehouse Rentals
Kentucky Treehouses You Must See
Treehouses in Washington State Pinterest Pin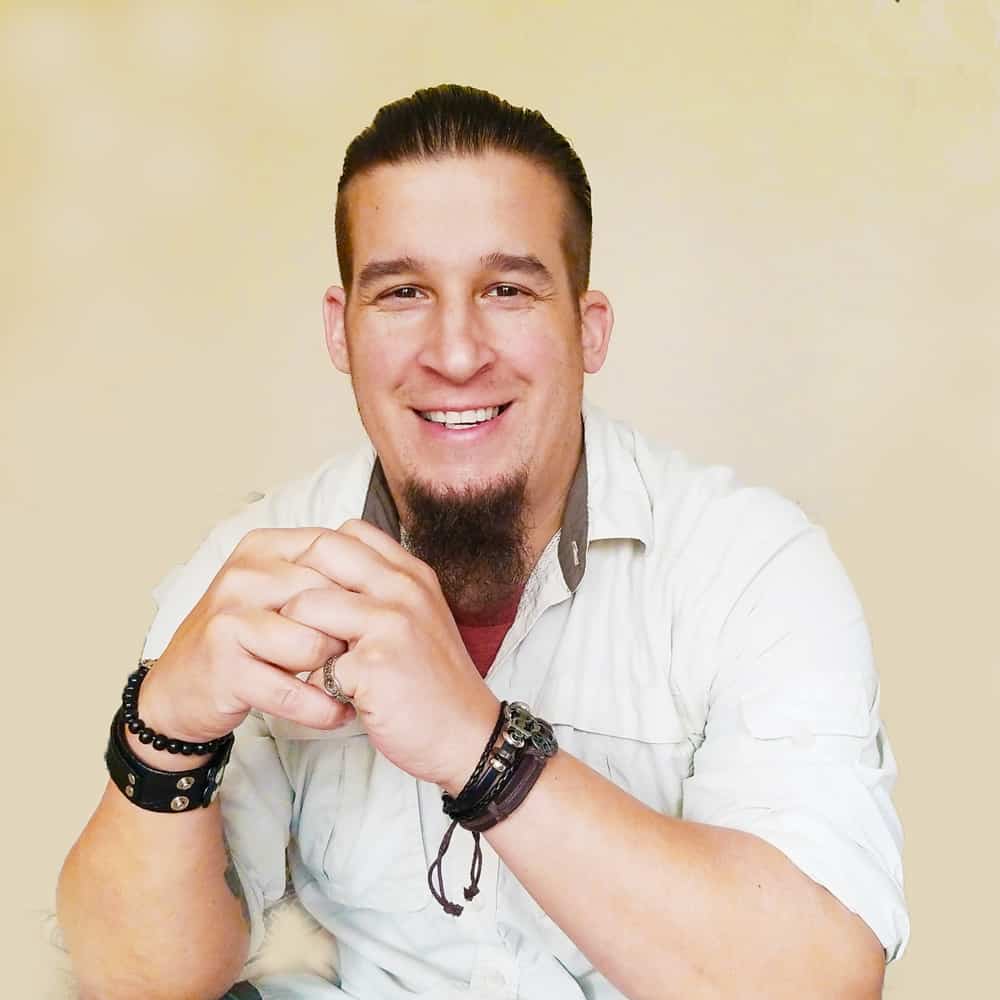 Full-time World Travel Writer who runs multiple websites and social media accounts. I have spoken at various conferences around the world. Some of my hobbies include adventure, fitness and new technologies. I am also a trekkie!