Asheville Treehouse rentals in North Carolina have become all the rage as an option for glamping in North Carolina. So it's no surprise that treehouse rentals in Asheville NC are on the rise. People want to get out in nature to reset and relax from the hustle and bustle of city life. Renting Asheville treehouses over a long weekend or during a holiday break should be on everyone's bucket list this year.
One of the benefits of renting one of these awesome Asheville treehouses is having a solid roof over your head in case the weather doesn't cooperate. Plus, you get many of the luxuries of a hotel while still being able to breathe in the fresh air and enjoy the sounds of nature. Many of these treehouses in the Asheville NC area are just a short drive to the city and many recreational activities can be reached with ease.
One of the biggest draws to this area besides downtown Asheville is the Blue Ridge Mountains. Thousands of miles of hiking trails, some of the best stargazing in the country and an endless array of outdoor adventures are at your fingertips including fishing, hunting, watersports and golfing. What better way to relax in comfort than one of these Asheville Treehouses in North Carolina. It makes a great Glamping in Asheville option. We also have a list of Luxury Cabins in Asheville.
Let's move on to our list of top Treehouse Rentals Near Asheville NC. Enjoy!
Other Glamping Articles That May Interest You
Stunning North Carolina Treehouses to Book
Red River Gorge Treehouse Rentals
---
Best Asheville Treehouses in North Carolina
---
This eccentric, Asheville treehouse began as a neighborhood artisan's workshop, where he handmade dulcimers, banjos, and his own unique brew of local "mountain dew" in the cellar. It's located in a secure, lovely, diverse working-class neighborhood 8 minutes from central Asheville, newly remodeled into a gorgeous house.
This unusual tranquil hideaway is equally accessible to the excitement of the metropolis and the splendor of the nearby mountains, thanks to huge windows and huge terraces with forest vistas.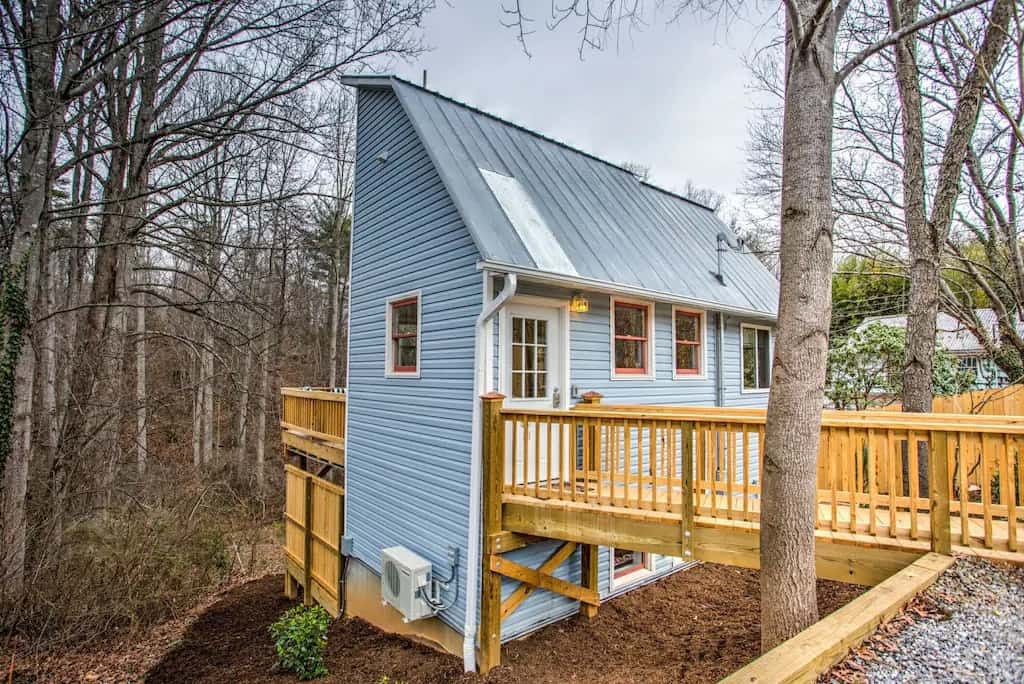 ---
Owl's Nest, one of the Village of Cheshire's first tree houses, has just been renovated with personalized innovations and different furniture. The property has towering cathedral ceilings, recovered walnut flooring, a wood-burning stone fireplace, and locally produced handcrafted ironwork.
The place sleeps up to 6 people and For indoor and outdoor entertainment, Wi-Fi, cable TV, and streaming choices are available, as well as a bespoke surround sound setup. There are four decks on which you may feel at ease with a warm drink in the morning or your favorite nighttime beverage.
---
Unwind and rest whilst taking advantage of the facilities of this magnificent mountain top treehouse cottage in Black Mountain's Village of Cheshire. The Dogwood Treehouse is one of the top Asheville Treehouses to rent and easily beds 5-6 guests while offering sunrises, native designed horticulture, and sunsets from every area in the building, as well as an outdoor fire pit on the terrace.
The Dogwood Treehouse is a wonderful location for a romantic retreat, special events, girl's getaways, meaningful family time, reunions, and get-togethers with friends – and a welcome respite from the oppressive southern weather.
Two bedrooms, a TV with satellite channels, a fully furnished kitchen with a dishwasher and microwave, a washing machine, and two bathrooms with showers are included in the vacation house.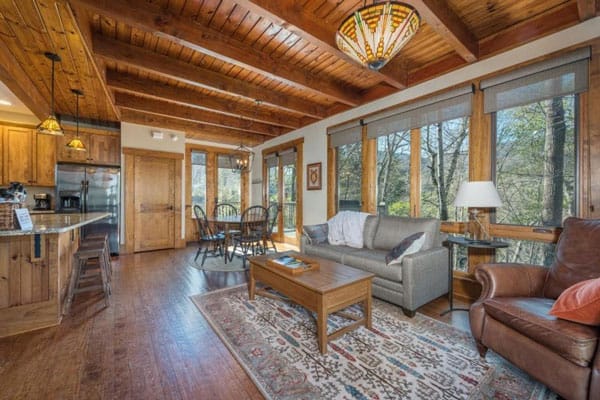 ---
This is quite the experience! The most unusual and magnificent treehouse is perched high above the Carolina Jewel. It is beyond anything else you have ever seen since it was handcrafted by skilled artisans and designers. It began as a "tree home" and eventually evolved into a "Tree Castle." The DYI Network Treehouse Guys erected the treehouse. It does not do it credit in photos.
This holiday adventure really is something else, sustained by five trees on a slope in Reems Creek Valley. The 1000 sq ft veranda around the treehouse is reached after a short stroll along a manicured route from the parking area. As you unwind in the rocking chairs and take in the view, the charming rope lighting gives a gentle ambiance.
The charming house offers everything you might want on the inside: air conditioning, high-speed Wi-Fi, a gas log fireplace, a gourmet kitchen, two complete restrooms with warmed tile floors. There's an outdoor shower on the terrace with unlimited hot water!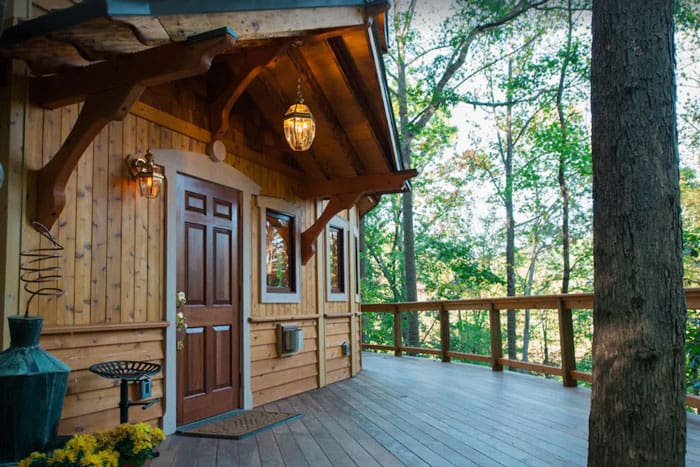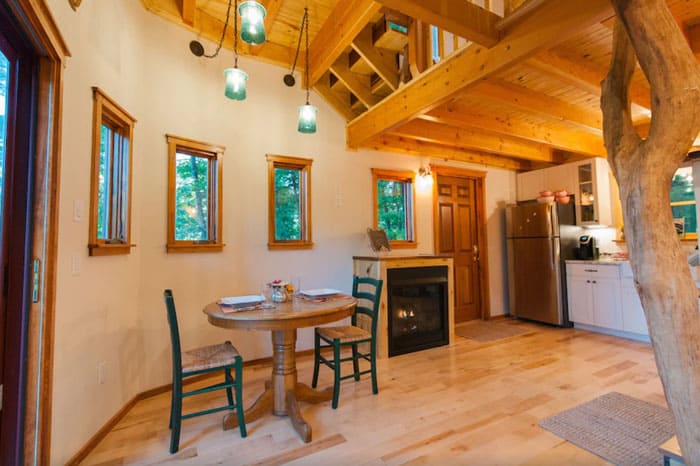 ---
This exquisite retreat set in the highlands of Asheville, North Carolina, offers excellent rooms within easy walking distance of the city's various attractions. The area receives good scores for accessibility due to convenient freeway access and closeness to local shopping and eateries. It's a gorgeous setting, though, which makes it attractive.
The home has six bedrooms and can accommodate up to 10 people. Three of the bedrooms have en suite bathrooms, and all four bathrooms have been remodeled and renovated to include exquisite spa amenities.
With vistas from each and every room and a spectacular wall of windows spanning the building's three levels, this is a residence for all seasons. Enjoy the rich green vegetation in the spring and summer, the vivid colors in the fall, and the winter views of the mountains. Unwind on one of the three terraces or warm up by the stunning round fireplace within.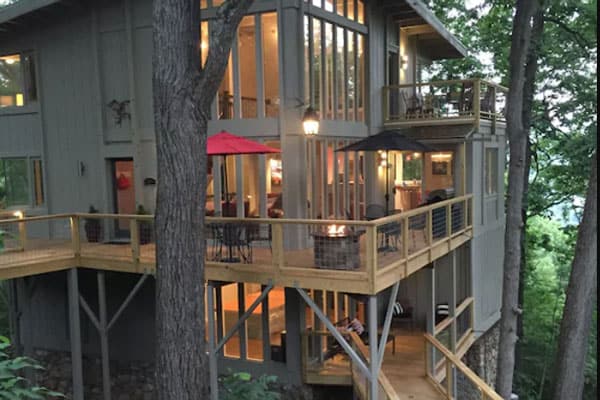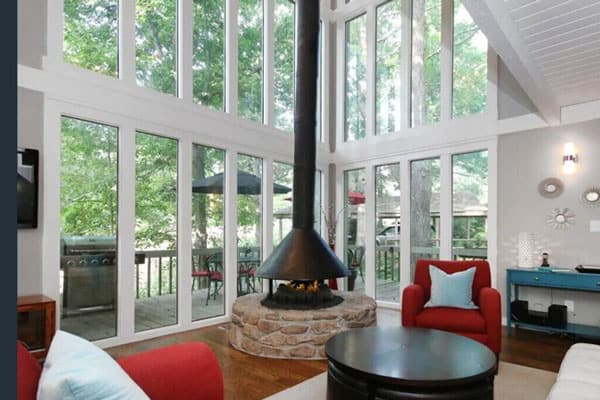 ---
This unique treehouse offers breathtaking mountain and valley vistas from every room and is just moments from the Pisgah National Forest, DuPont State Forest, Brevard, and Hendersonville. Hiking, biking, kayaking, and canoeing are all popular activities in the area.
The next day, wake up to stunning views from the main bedroom's large windows or snooze in with black-out shades on the cozy, comfy queen-sized mattress with exquisite bedding. In your pajamas, have breakfast on the veranda. Alternatively, go for a vigorous morning stroll up the mountain's dirt road.
In this mountain hideaway, you can unwind and revitalize your soul. Book now!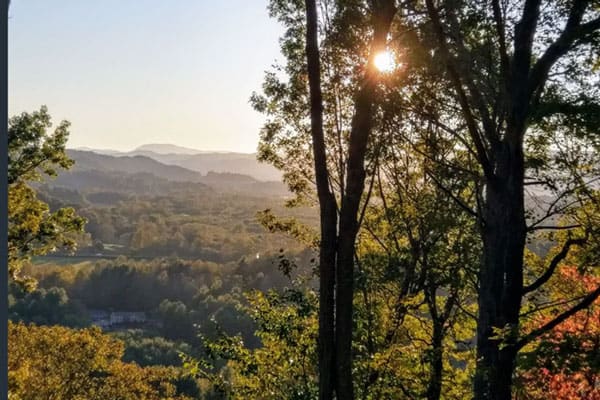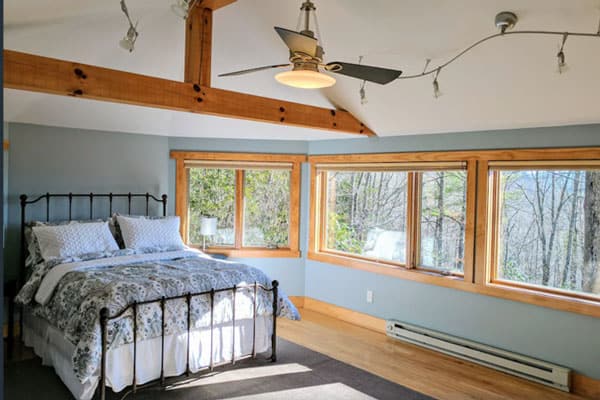 ---
This twenty-acre nature sanctuary is home to four luxury glamping spots and is only 10 min from Asheville. The Asheville treehouses cottage is equipped with a comfortable queen size bed and many other comforts usually attributed to boutique hotels. A gourmet breakfast is delivered to you each morning as you sip on coffee or tea while taking in the morning wildlife.
One of many guests' favorite features is the outdoor shower. All in all the hosts of this glamping retreat have gone above and beyond with attention to detail and thinking of every comfort for the guests. It has been described by many as living in a fairytale. Each spot has its own unique touch. They have two treehouse-type glamping spots and two glamping tent sites. Take a look and book your favorite for your next getaway.
---
Ever wanted to experience sleeping among the trees? Sitting in the treetops with a hanging bridge, this is your childhood dream come true. But, with added comforts and amenities to please your adult side.
The West Asheville Treehouse rental has a sofa bed in the lounge area and a full-size bed in the loft. It comes with a kitchenette to make meals and has heating and air conditioning.
There is a hot outdoor shower across the bridge and access to a shared pool area. All of this is just a short 15 minutes from downtown Asheville.
---
Wrap yourself in a blanket while sipping coffee on this Asheville treehouse rental with a private deck. It's secluded in a beautiful forest only 20 minutes to a scenic road leading to Black Mountain and Chimney Rock State Park.
This North Carolina Treehouse has a cozy cabin-like feel to it with mid-century modern furnishings. Rest peacefully on your weekend getaway with a memory foam queen-size bed and full kitchen. The treehouse also provides a bathroom with a wonderful rainforest shower. What more could you ask for?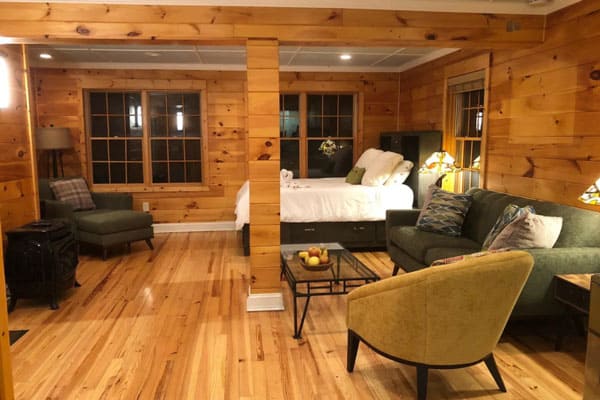 ---
The Taproot Sanctuary is just 35 minutes from Asheville and an awesome escape from the rat race. The Treehouse is nestled up against the Big Ivy Pisgah National Forest for endless wilderness adventures.
The Woodland Chalet is a spacious 12 x 12-foot structure with a wonderful sleeping loft accessed by a ladder. The space has a kitchen for your planned out meals and mini sink and an odorless composting toilet. A private outdoor shower brings the whole treehouse experience together.
---
The Nest Treehouse is the newest addition to the Asheville Glamping Property. It was designed to create a picturesque and luxury treehouse experience for couples. There's a queen-size bed, bathroom with shower, kitchenette, suspension bridge, heating and AC.
The whole Asheville Glamping resort is a feast for the eyes and brings wonder and relaxation to the forefront. Enjoy a great weekend getaway in this unique treehouse or rent one of their other quirky glamping spots. The best part is, it's just outside of Asheville.
---
Discover a magical retreat at Serenity Treehouses, nestled in the captivating landscapes of Asheville, NC. This enchanting haven offers an array of unique treehouse accommodations, including the spellbinding Wizards Hollow, a Harry Potter-themed wonder. Each Asheville treehouse has been thoughtfully designed to deliver an exceptional Asheville glamping experience, with guest comfort at the heart of every detail.
Embrace the whimsy and step into a fairytale when you choose one of these extraordinary treehouses for your next vacation. Ideally situated just north of Asheville, near Stoney Knob, each dwelling presents breathtaking vistas and easy access to a wide range of recreational activities.
Serenity's Asheville Treehouses is not just a place to stay; it's a magical experience, a unique adventure. Surrender to the allure of treehouse living and create unforgettable memories amidst the treetops on your next holiday away.
---
Sitting 35 feet above a mountain stream this Asheville NC Treehouse rental is an artist's perfect sanctuary. The place can sleep up to 6 people and is only 45 min from Asheville. It has a wrap-around deck with amazing views for that morning coffee or evening cocktail. Cook your meals in the chef's kitchen and then cozy up with a drink in front of the crackling wood stove. For those exploring the area, you have the Appalachian Trail within 15 miles and the Blue Ridge Parkway within 2o miles.
---
With Blue Ridge Parkway just minutes away, this Luxury Asheville Treehouse is the perfect home base for exploring the area. Surround yourself with hundred-year-old trees in the Blue Ridge Mountains.
The treehouse can host up to 4 people with a sofa bed and a queen bed plus 2 and a half baths. It has a fully equipped kitchen for the wanna-be chefs and a grill on the wrap-around deck for BBQs.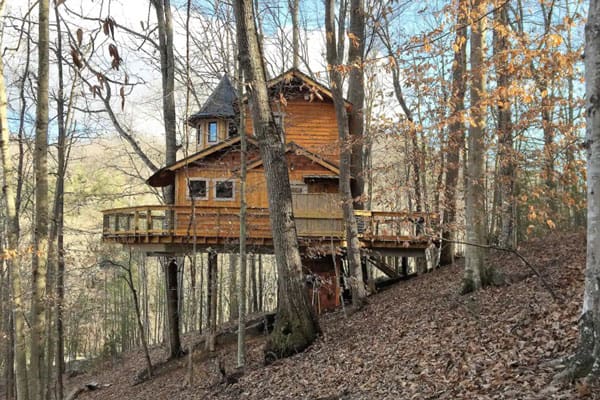 ---
Looking for an oasis in the woods? Look no further than this Asheville Treehouse with a hot tub. This NC treehouse has amenities like luxury bedding, LED fireplace, full internet connection, cable tv, heat/air, microwave, cooktop and refrigerator. There's also a beautiful deck looking out over the forest with an outdoor shower with hot water and composting toilet.
The secluded 14-acre property is 20 min east of Asheville near Old Fort, NC. Relax and reset after a long work week in this paradise in the wilderness. Sip on coffee on your private deck listening to the birds chirp or take a dip in the private hot tub below the treehouse. Book now and simply enjoy your next glamping getaway with mother nature in style.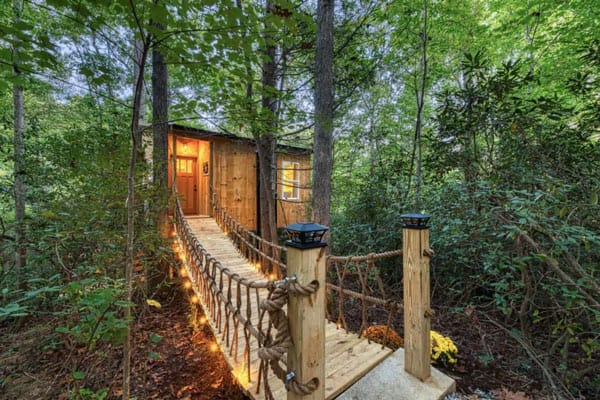 ---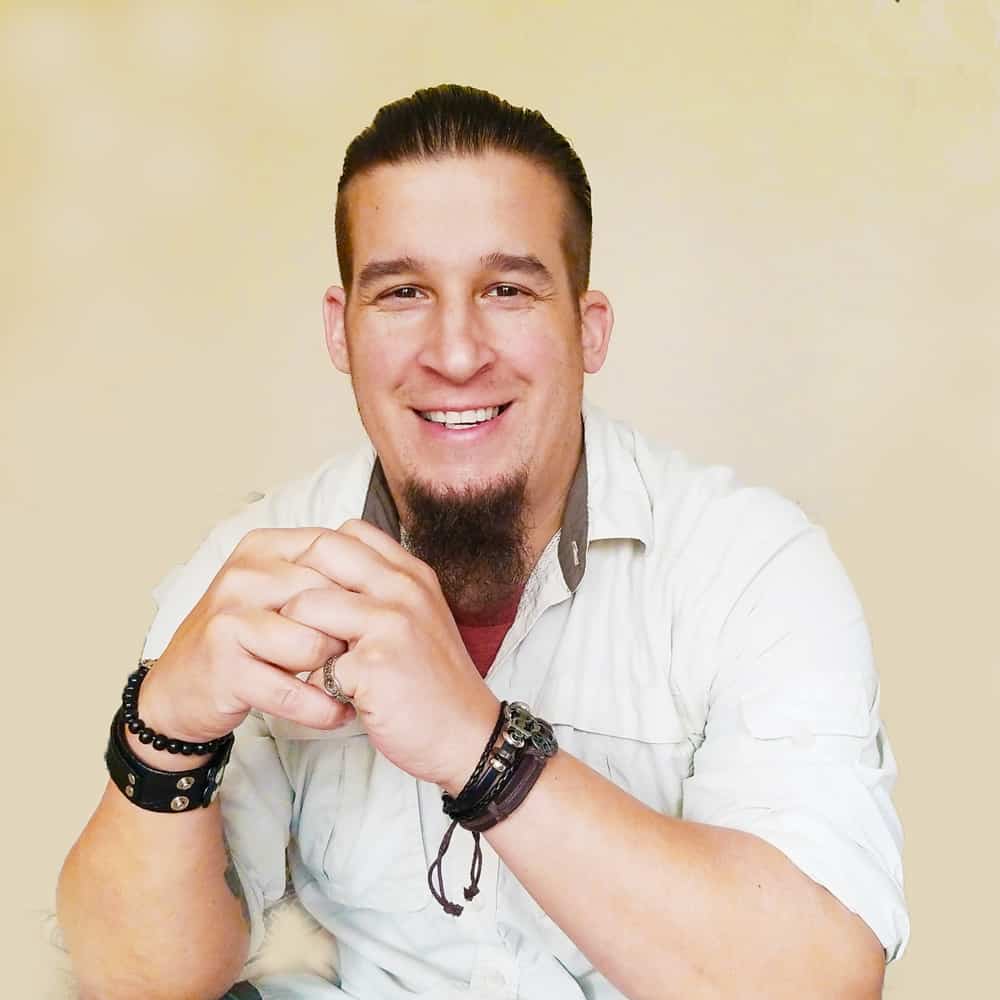 Full-time World Travel Writer who runs multiple websites and social media accounts. I have spoken at various conferences around the world. Some of my hobbies include adventure, fitness and new technologies. I am also a trekkie!