Lead image by Mehosh Photography
North Carolina, located in the heart of America's spectacular Southeast, is a treasure trove of verdant forests, majestic mountains, and tranquil coasts. It's an explorer's dream and an adventurer's heaven. Yurts in North Carolina stand out among the myriad lodgings as the pinnacle of immersive, nature-infused vacations. These round, opulent tents blend the rustic appeal of traditional camping with modern facilities, providing a fantastic North Carolina glamping experience.
Yurts in North Carolina Directory
The popularity of Yurt rentals in North Carolina has grown as local and international travelers seek out holidays that take them off the beaten road and deep into nature's embrace. These dome sanctuaries serve as a doorway to the state's stunning environment, letting you to enjoy the luxuries of a premium stay while being tuned in to the rhythm of nature.
North Carolina offers a broad selection of landscapes to explore while glamping, from the sublime splendor of the Great Smoky Mountains to the relaxing murmurs of the Outer Banks. This remarkable state never disappoints, whether you're looking for a peaceful escape or an adrenaline-fueled adventure. So, step into Yurt Rentals NC and under the Carolina blue sky—your ultimate North Carolina glamping trip awaits just outside a canvas door.
---
Places to see when Glamping in Yurts in North Carolina
---
The stunningly scenic Blue Ridge Parkway runs through North Carolina and Virginia linking Shenandoah National Park to Great Smoky Mountains National Park. It's one of the most popular scenic roads in the US for good reason and is a must-do when in the area.
The Great Smokey Mountains National Park is full of lush forest and amazing hiking trails including a segment of the Appalachian Trail. Chimney Rock State Park has an epic view sure to inspire any photographer or Instagrammer. The city of Asheville is both funky and charming with lots to see and do and is close to the beautiful Biltmore Estate. Pisgah National Forest is another wilderness lovers mecca with an infinite amount of nature to explore.
Next time you plan a weekend getaway or road trip into North Carolina, consider choosing yurt camping NC instead of staying in a hotel or traditional campsite. Here's a list of the 7 best Yurts in North Carolina to get you started.
Looking for North Carolina Treehouses? Or perhaps Glamping nearby Asheville NC? Maybe a Luxury Cabin near Asheville? Are you interested in an NC Tiny House?
---
Our list of Top 7 Yurts in North Carolina You will Love
---
Location: Rutherfordton, North Carolina
Best For: Couples or Families
The Blue Bird Glam Yurt, located on a quiet North Carolina homestead, welcomes guests into an intimate connection with nature's soothing symphony. This isolated jewel provides the peace and quiet of living on a small farm, complete with a welcoming one-acre pond and a herd of friendly hens to keep you company. But this peaceful reprieve doesn't mean you're far from excitement; with Lake Lure and the town of Rutherfordton only a 15-minute drive away, adventure is never far away.
Within a 25-minute drive, you'll find local wineries and the world-renowned Tryon International Equestrian Center, while the dynamic towns of Hendersonville and Asheville are only an hour away. There are numerous activities around, with something to suit every taste.
The Glam Yurt, which debuted in 2021, includes the smart addition of breakfast baskets, which are available upon request, to bring an extra layer of convenience to your stay. This air-conditioned holiday paradise opens to a patio and features a couch bed, dining table, and kitchenette with a refrigerator, microwave, cookware, plates, utensils, and a coffee maker. The bathroom has a shower, and a hairdryer is available for guests' use. Glam Yurt offers the simplicity and charm of yurt living with the ideal balance of isolation and accessibility.
Recent Review: "We have always wanted to stay in a yurt and this was an amazing first yurt experience. The space is bright and welcoming. It's so nicely done and super clean. Our 5 y/o loved staying in "the round house" and can't wait to visit again."
---
Location: Bryson City, NC
Best For: Families or Group
This 2BR Luxury Yurt in NC is nestled within the quiet, lush terrain of the Elk Hollow hamlet in Bryson City, providing a sanctuary from the metropolitan noise. You'll be serenaded by avian melodies, the soothing babbling of a nearby creek, and the symphony of local animals as you're surrounded by the grandeur of the Great Smoky Mountains National Park and the calm of adjoining horse pastures. An unexpected sighting of deer, wild turkeys, or even the rare bear or elk that stray from the park adds a lovely element of surprise.
Immerse yourself in the intimacy provided by this luxury yurt. Its circular living rooms add to the allure, encouraging you to snuggle down on a soft sofa with a hot cup of coffee in hand, to regale your loved ones with stories from your exciting day, or to watch the latest series on DirecTV, courtesy of the offered Wi-Fi. The appeal of the fully-equipped kitchen, with its trendy teal cabinetry, stainless steel equipment, and granite countertops, may just draw out your inner chef, and the pantry's thoughtful stock of basic convenience goods assures your culinary adventures will not be disrupted.
Savor your scrumptious delicacies at the dining table by the window, where you can take in the beautiful scenery as well as your meal. The two bedrooms each have an en-suite bathroom with king-size beds and huge, tiled walk-in showers. A full-size washer and dryer are included for your convenience.
Step out onto the wide screened porch to truly appreciate the yurt's allure. This space, which is equipped for cooking, dining, and relaxing, may become the highlight of your visit. Allow your eyes to wander over the gorgeous vista as you enjoy your morning coffee or a cooling afternoon tea in the comfortable chairs, scout for local wildlife, or simply lose yourself in a riveting book.
Grill up a tasty lunch and feast at the picnic table, or tell ghost stories around the fire pit while roasting marshmallows for a traditional s'more treat. while the day comes to an end, dive into the bubbling warmth of the hot tub beneath the star-studded sky, healing your aching muscles while the nocturnal symphony of the pristine wilderness serenades you.
Recent Review: "Everything was wonderful, from the online check in to the hot tub to the check out. Entertainment was local or a short drive away and Bryson City is peaceful and relaxing."
---
Location: Clyde, NC
Best For: Solo or a Couple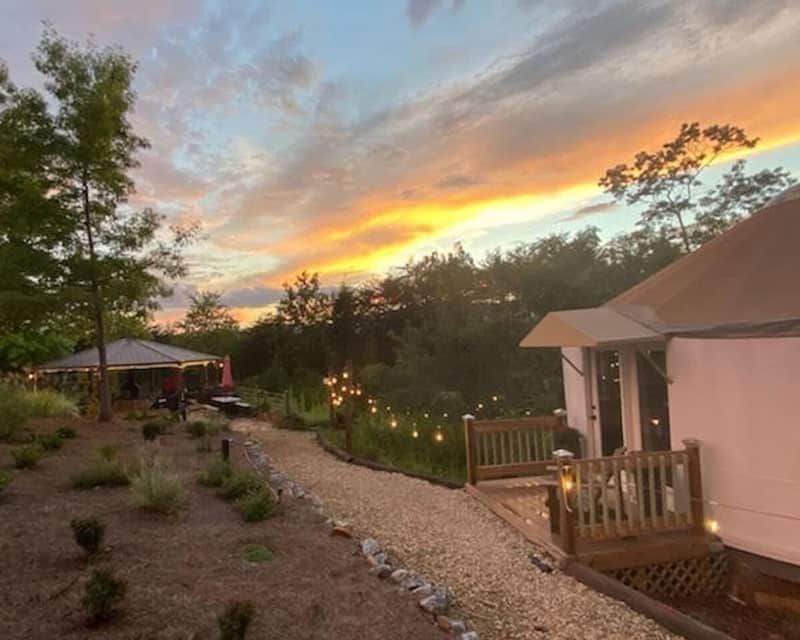 This NC Glamping Yurt is located in the serene expanse of Serenity Ridge, offers an experience that elegantly combines the raw beauty of nature with the luxury of modern comforts. This luxury refuge, perched on a hill on the outskirts of the forest, looks out into the beautiful gardens, providing a calming backdrop for your stay. Your relaxation is secured by the velvety luxury of a king bed, the connectivity of Wi-Fi, a Smart TV for entertainment, air conditioning for comfort, a fully-equipped kitchen for culinary excursions, and a luxurious bath.
The location, which is only minutes away from Lake Lure, Chimney Rock State Park, and TIEC, provides a convenient gateway to activities including as boating, golf, ziplining, and waterfall trekking. This Yurt is part of the Serenity Ridge vacation rental complex, which includes six cabins and the Hilltop House.
The Fire Pavilion is a welcoming place to meet and take in the magnificent mountain views and breathtaking sunsets. A ready-to-light fire stack is created every day here, and a full exhaust hood keeps the space cozy. The property has two walking routes marked with green and white arrows, both of which feature water components and travel through the property's picturesque surroundings.
The wildlife observation area, which is packed with squirrels, rabbits, and deer, will appeal to nature enthusiasts. Enjoy the peaceful hours under the huge tree as you see the local creatures going about their daily activities. Enjoy your stay at the Serenity Ridge Glamping Yurt, where nature's rustic charm blends with sumptuous comfort to offer an unforgettable escape.
Recent Review: "This place was amazing! The mountain views were breathtaking, and we were 15 minutes or less away from everything we wanted to do (Lake Lure, Chimney Rock, hiking trails, you name it!) The yurt was so cozy and still felt very upscale and luxurious. My hubby and I loved sitting at the fire pavillion and looking out over the mountains at sunset. With the location, amenities, comfort, and price, there isn't a better place than this one when you're vacationing at Lake Lure!"
Location: Clyde, NC
Best For: Solo, Couples, Families or Small Group
Between Asheville and Cherokee lies one of the best luxury yurts in North Carolina. The yurt has a living area with Queen-size sleeper sofa, dining area, full kitchen with breakfast bar, bathroom, King sized bedroom and wraparound deck. Outside there is a firepit to roast marshmallows or go all out with smores.
The property is conveniently located at the entrance to the Great Smokey Mountains and only a 30 min drive from Asheville. Only a 20 min drive is the historic downtown of Waynesville NC. There is so many activities near the area like skiing Cataloochee, visiting hot springs, tons of hiking, cycling and water sports.
Recent guest reviews:
"If you want to be out in the mountains with a beautiful view this is your place! The river below is gorgeous and peaceful. The yurt has everything inside and out that you would need. Lake Junaluska a few miles away has a wonderful walking trail around it. Either 2.3 miles or 3.8 miles. The town of Waynesville is about 15-20 min away with neat downtown shops and restaurants.
Asheville isn't far for day trip. There is a pull out sofa, but I really recommend this place for a couples get away! If you can afford the extra expense you should arrange for Chef Ricardo and his wife to prepare a private dinner in your yurt. The food was awesome and it was the perfect added touch for Mike's birthday. We definitely plan to go back."
---
Location: Topton, NC
Best For: Solo, Couples or Families
If you need a bit of space to spread out, this 2 bedroom yurt may be the ticket. Equipped with a queen bed and 2 single beds, you can sleep 4 people comfortably. It also has a full kitchen, living room with a flat-screen tv, WIFI, BBQ and a creek-side hot tub.
The property is located near Nantahala Lake and Nantahala National Forest with plenty of places to explore while using the yurt as a home base. Find a time to get away from the rat race and enjoy mother nature from the comfort of a luxury North Carolina yurt.
Recent guest reviews:
"It was hard to us to leave! We spent each night in the amazing hot tub. The river was stunning and created the most wonderful soundscape for star gazing. We did a great hike up to Wesser Bald Fire Tower, just up the road. Also great adventures right around the glampsite."
"This yurt was the perfect mix of relaxing, fun adventure, and beauty! It was serene and cozy, quiet, top of the line touches inside the yurt with everything we needed, and easy access to lots of trails and the lake nearby. We'll be back again this summer to explore a different season at the yurt!"
---
Location: Close to Asheville
Best For: Solo or Couples
A romantic escape for two where you can feel isolated and close to the wildlife while still being accessible to everything the Asheville region has to offer. We're 5-10 minutes from the grocery store, a few great restaurants, and the Blue Ridge Parkway, 15-20 minutes from Biltmore Estate and downtown Asheville, and 20-25 minutes from the River Art District and bohemian West Asheville. A 5-minute stroll from your doorstep will take you to the Mountains to Sea Trail. If you want to remain in, there is a hot tub, satellite TV, and WiFi to keep you busy, or you can lounge on the terrace and read or sip a cup of coffee while taking in the quiet of the mountains.
Recent guest reviews:
"This place was great! So comfy. Remote, peaceful, yet super convenient to town. Highly recommend this place."
---
Location: Close to Nantahala
Best For: Couples and Small Families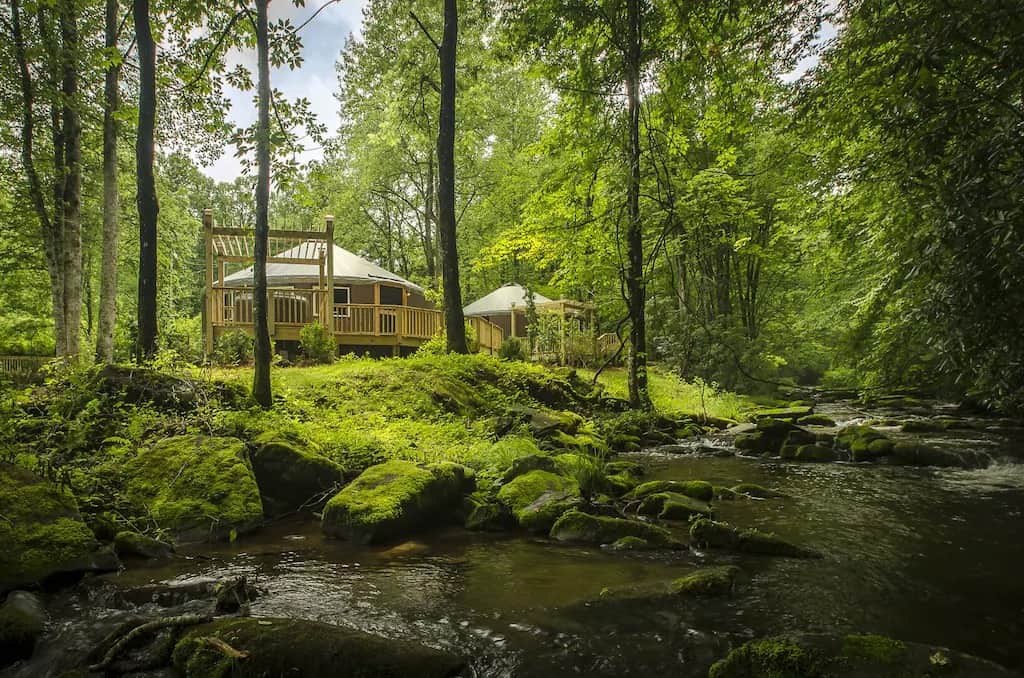 This one-of-a-kind luxury yurt rental is the ideal getaway for any traveler. With two bedrooms and a complete bath, this yurt comfortably accommodates four people. From your own and relaxing porch, which features a fire pit and a hot tub with surrounding streamside views, you may enjoy the gorgeous and tranquil Great Smoky Mountain scenery. This yurt offers everything you need and more for the ideal holiday, and we know you'll want to return again and again.
Recent guest reviews:
"Truly fantastic. Wish we'd stayed more than one night! Highly recommend."
---
Location: Close to Asheville
Best For: Solo or Couples
Situated between Asheville and Black Mountain this Asheville yurt provides a kitchen, king size bed, fireplace and more. Enjoy the bathhouse and hot shower after exploring the area. The property is near the Blue Ridge Parkway, hiking trails, breweries, and restaurants.
Even though this glamping yurt provides many of the comforts of home, it is an off-grid experience. You are nestled in the wilderness running off of solar power, but the ability to unplug for a bit is well worth it.
Recent guest reviews:
"This place was fantastic! It was a very private and quiet location next to a scenic creek. The hosts were very quick to respond to all our messages. The yurt was spotless and had many lovely touches and bed was comfortable. The pictures represent the yurt perfectly. I would highly recommend staying here!"
"Fantastic hosts & yurt, all around. Very accommodating and responsive. If solidarity, nature and nothingness is what you're searching for, this place offers that and more. The most relaxed I've been since 2020 started! And that's saying a lot!!"
---
Location: Lenoir, NC
Best For: Solo or Couples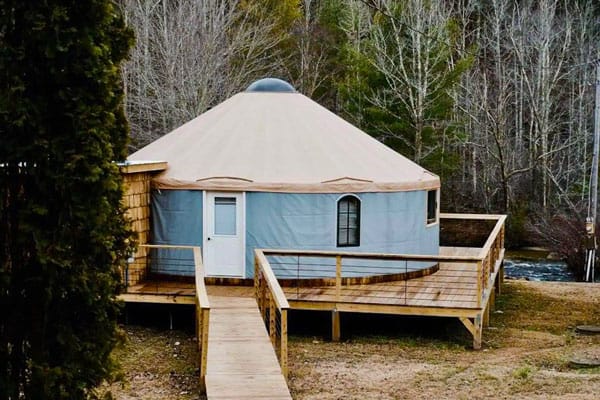 One of the best yurts in North Carolina is this riverfront glamping spot at Brown Mountain Beach Resort. The resort hosts various adventure seekers and nature enthusiasts on their property. Equipped with a hot tub, full bath, queen bed, gas grill and kitchenette the yurt looks over the beautiful Wilson Creek.
Make sure to bring your swimwear and a fishing pole as there is some great fishing and swimming spots on the river. You may also utilize the available kayaks or canoes while staying in the yurt.
Recent guest reviews:
"We had a great time! The yurt was awesome and the view from the hot tub was absolutely beautiful. The amenities were just enough and throughly explained in the description so that we came prepared to cook with what the yurt had to offer. The disconnect from technology was great knowing that all we had was a short walk up the hill to get WiFi to check in with our loved ones. The hot chocolate was amazing and the alpacas were a bonus! The gentleman that owns the resort was very friendly and helpful. We will visit again!"
---
Location: Mars Hill, NC
Best For: Solo or Couples
Live like a Mongolian king in this 30-foot yurt surrounded by gardens, ponds, covered decks, and lush forest. The best part is this 20-acre property is just 25 min from Asheville. Enjoy the fully equipped kitchen for making delicious meals to eat on the deck. There is also a hot tub to soak your body at any time.
The property itself is a wonder to explore with an abundance of wildlife, an old tobacco barn, a greenhouse, a garden, and a trail to some amazing views. If you're looking to get away from it all and throw in a bit of farm life as well, this is the place for you for yurt camping NC.
Recent guest reviews:
"Stop looking a just reserve this now!! Such an amazing place. Very soothing and restful. Being able to hear nature around you yet have the comforts of home was quite a treat. She had a fire ready for me when I arrived & made sure I had everything I needed. The sample teas and coffee were delicious. communication was perfect & the greenhouse tour was super special. When you go be sure to take the short like on the property to see the sunset each night, plus how often do you get to hike in your pj's ;-)"
---
Yurts in North Carolina FAQs
What is a Yurt?
A Yurt is a round, portable, tent-like structure that originated in Central Asia, particularly Mongolia, and was traditionally used by nomads. Modern yurts, particularly those used for glamping, feature a sturdy wooden frame and are covered in durable weather-resistant material. They can offer a variety of amenities, such as comfortable beds, heating, full kitchens and bathrooms, creating a perfect blend of the outdoors and modern convenience.
Are Yurts in North Carolina suitable for families and groups?
Yes, yurts in North Carolina can be incredibly versatile and adaptable to various group sizes. While some yurts are cozy and perfect for a romantic getaway or a solo retreat, others are quite spacious and can comfortably accommodate families or groups. Some large yurts can even have separate rooms or lofts. Always check the yurt listing for information on the maximum capacity.
Are Yurts in North Carolina available year-round?
Many yurt rentals in North Carolina are indeed available year-round. Thanks to their robust construction and the inclusion of modern amenities like heating and insulation, yurts can be as cozy in the winter months as they are refreshing in the summer. However, availability can depend on the specific yurt rental, so it's always a good idea to check in advance.
What amenities can I expect in a Yurt?
The amenities in the yurts in North Carolina can vary based on the specific rental, but many are designed with comfort in mind. It's not uncommon to find yurts equipped with comfortable beds, heating and air conditioning, electricity, kitchenettes or even full kitchens, and private bathrooms. Additional luxurious features like hot tubs, fire pits, outdoor decking, and Wi-Fi are also common in many yurt rentals. Always check the listing for details about what's included in your yurt stay.
If you liked our Yurts in North Carolina, Check out some of our other popular US Glamping articles:
Best Glamping in the Adirondacks
Yurts in North Carolina Pinterest Pin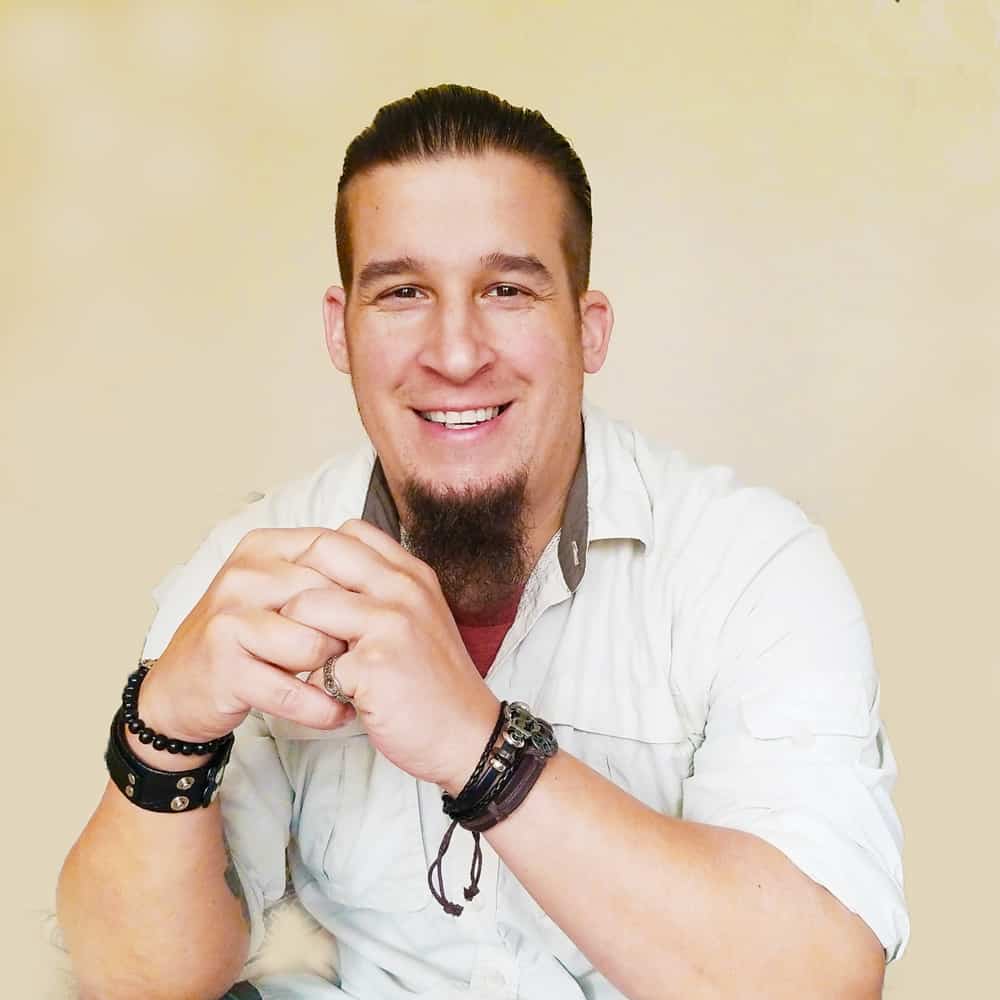 Full-time World Travel Writer who runs multiple websites and social media accounts. I have spoken at various conferences around the world. Some of my hobbies include adventure, fitness and new technologies. I am also a trekkie!