Lead image by Mehosh Photography
North Carolina has a tremendous and beautiful wilderness to explore. Whether you're visiting from out of state or on a close-to-home weekend getaway, staying in one of the many Yurts in North Carolina is a great option. Yurt Rentals NC is on the rise as more and more people are looking for unique vacations immersed in nature. If you're not familiar with some of the awesome places to see while Glamping North Carolina, here's a quick teaser.
Places to see when Glamping in Yurts in North Carolina
---
The stunningly scenic Blue Ridge Parkway runs through North Carolina and Virginia linking Shenandoah National Park to Great Smoky Mountains National Park. It's one of the most popular scenic roads in the US for good reason and is a must-do when in the area.
The Great Smokey Mountains National Park is full of lush forest and amazing hiking trails including a segment of the Appalachian Trail. Chimney Rock State Park has an epic view sure to inspire any photographer or Instagrammer. The city of Asheville is both funky and charming with lots to see and do and is close to the beautiful Biltmore Estate. Pisgah National Forest is another wilderness lovers mecca with an infinite amount of nature to explore.
Next time you plan a weekend getaway or road trip into North Carolina, consider choosing yurt camping NC instead of staying in a hotel or traditional campsite. Here's a list of the 7 best Yurts in North Carolina to get you started. Looking for North Carolina Treehouses? Or perhaps Glamping nearby Asheville NC? Maybe a Luxury Cabin near Asheville? Are you interested in an NC Tiny House?
---
Our list of Top 7 Yurts in North Carolina You will Love
---
Location: Clyde, NC
Best For: Solo, Couples, Families or Small Group
Between Asheville and Cherokee lies one of the best luxury yurts in North Carolina. The yurt has a living area with Queen-size sleeper sofa, dining area, full kitchen with breakfast bar, bathroom, King sized bedroom and wraparound deck. Outside there is a firepit to roast marshmallows or go all out with smores.
The property is conveniently located at the entrance to the Great Smokey Mountains and only a 30 min drive from Asheville. Only a 20 min drive is the historic downtown of Waynesville NC. There is so many activities near the area like skiing Cataloochee, visiting hot springs, tons of hiking, cycling and water sports.
Recent guest reviews:
"If you want to be out in the mountains with a beautiful view this is your place! The river below is gorgeous and peaceful. The yurt has everything inside and out that you would need. Lake Junaluska a few miles away has a wonderful walking trail around it. Either 2.3 miles or 3.8 miles. The town of Waynesville is about 15-20 min away with neat downtown shops and restaurants.
Asheville isn't far for day trip. There is a pull out sofa, but I really recommend this place for a couples get away! If you can afford the extra expense you should arrange for Chef Ricardo and his wife to prepare a private dinner in your yurt. The food was awesome and it was the perfect added touch for Mike's birthday. We definitely plan to go back."
Location: Topton, NC
Best For: Solo, Couples or Families
If you need a bit of space to spread out, this 2 bedroom yurt may be the ticket. Equipped with a queen bed and 2 single beds, you can sleep 4 people comfortably. It also has a full kitchen, living room with a flat-screen tv, WIFI, BBQ and a creek-side hot tub.
The property is located near Nantahala Lake and Nantahala National Forest with plenty of places to explore while using the yurt as a home base. Find a time to get away from the rat race and enjoy mother nature from the comfort of a luxury North Carolina yurt.
Recent guest reviews:
"It was hard to us to leave! We spent each night in the amazing hot tub. The river was stunning and created the most wonderful soundscape for star gazing. We did a great hike up to Wesser Bald Fire Tower, just up the road. Also great adventures right around the glampsite."
"This yurt was the perfect mix of relaxing, fun adventure, and beauty! It was serene and cozy, quiet, top of the line touches inside the yurt with everything we needed, and easy access to lots of trails and the lake nearby. We'll be back again this summer to explore a different season at the yurt!"
Location: Close to Asheville
Best For: Solo or Couples
A romantic escape for two where you can feel isolated and close to the wildlife while still being accessible to everything the Asheville region has to offer. We're 5-10 minutes from the grocery store, a few great restaurants, and the Blue Ridge Parkway, 15-20 minutes from Biltmore Estate and downtown Asheville, and 20-25 minutes from the River Art District and bohemian West Asheville. A 5-minute stroll from your doorstep will take you to the Mountains to Sea Trail. If you want to remain in, there is a hot tub, satellite TV, and WiFi to keep you busy, or you can lounge on the terrace and read or sip a cup of coffee while taking in the quiet of the mountains.
Recent guest reviews:
"This place was great! So comfy. Remote, peaceful, yet super convenient to town. Highly recommend this place."
Location: Close to Nantahala
Best For: Couples and Small Families
This one-of-a-kind luxury yurt rental is the ideal getaway for any traveler. With two bedrooms and a complete bath, this yurt comfortably accommodates four people. From your own and relaxing porch, which features a fire pit and a hot tub with surrounding streamside views, you may enjoy the gorgeous and tranquil Great Smoky Mountain scenery. This yurt offers everything you need and more for the ideal holiday, and we know you'll want to return again and again.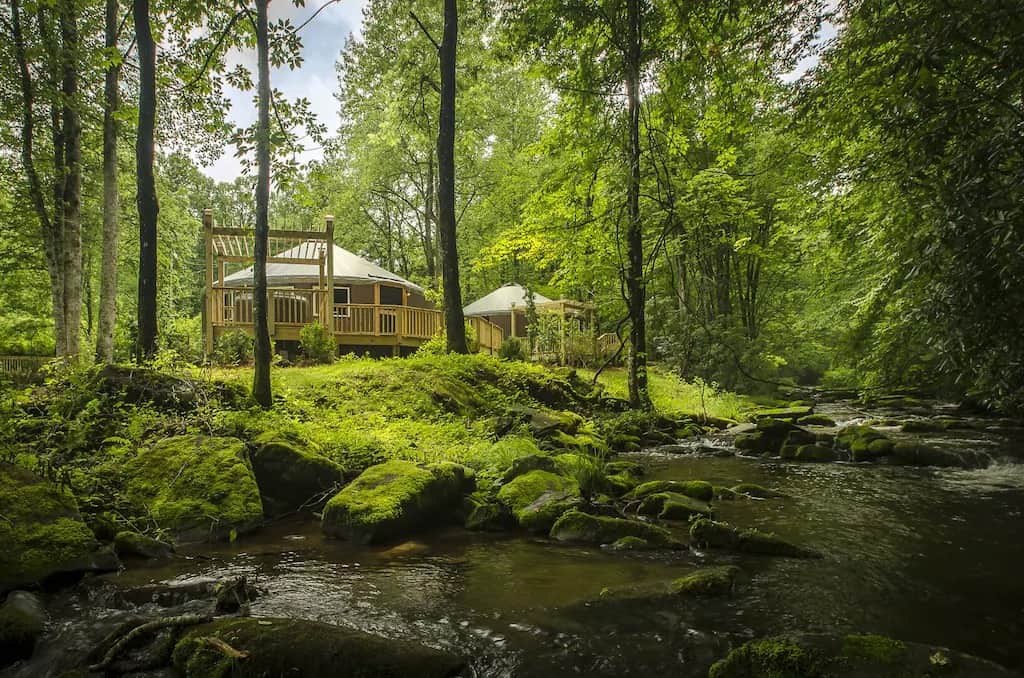 Recent guest reviews:
"Truly fantastic. Wish we'd stayed more than one night! Highly recommend."
Location: Close to Asheville
Best For: Solo or Couples
Situated between Asheville and Black Mountain this Asheville yurt provides a kitchen, king size bed, fireplace and more. Enjoy the bathhouse and hot shower after exploring the area. The property is near the Blue Ridge Parkway, hiking trails, breweries, and restaurants.
Even though this glamping yurt provides many of the comforts of home, it is an off-grid experience. You are nestled in the wilderness running off of solar power, but the ability to unplug for a bit is well worth it.
Recent guest reviews:
"This place was fantastic! It was a very private and quiet location next to a scenic creek. The hosts were very quick to respond to all our messages. The yurt was spotless and had many lovely touches and bed was comfortable. The pictures represent the yurt perfectly. I would highly recommend staying here!"
"Fantastic hosts & yurt, all around. Very accommodating and responsive. If solidarity, nature and nothingness is what you're searching for, this place offers that and more. The most relaxed I've been since 2020 started! And that's saying a lot!!"
---
Location: Lenoir, NC
Best For: Solo or Couples
One of the best yurts in North Carolina is this riverfront glamping spot at Brown Mountain Beach Resort. The resort hosts various adventure seekers and nature enthusiasts on their property. Equipped with a hot tub, full bath, queen bed, gas grill and kitchenette the yurt looks over the beautiful Wilson Creek.
Make sure to bring your swimwear and a fishing pole as there is some great fishing and swimming spots on the river. You may also utilize the available kayaks or canoes while staying in the yurt.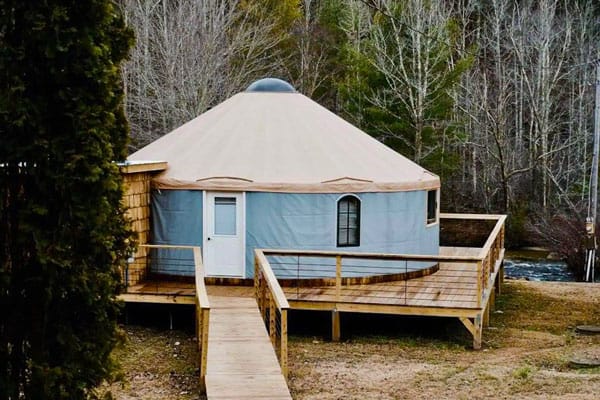 Recent guest reviews:
"We had a great time! The yurt was awesome and the view from the hot tub was absolutely beautiful. The amenities were just enough and throughly explained in the description so that we came prepared to cook with what the yurt had to offer. The disconnect from technology was great knowing that all we had was a short walk up the hill to get WiFi to check in with our loved ones. The hot chocolate was amazing and the alpacas were a bonus! The gentleman that owns the resort was very friendly and helpful. We will visit again!"
---
Location: Mars Hill, NC
Best For: Solo or Couples
Live like a Mongolian king in this 30-foot yurt surrounded by gardens, ponds, covered decks, and lush forest. The best part is this 20-acre property is just 25 min from Asheville. Enjoy the fully equipped kitchen for making delicious meals to eat on the deck. There is also a hot tub to soak your body at any time.
The property itself is a wonder to explore with an abundance of wildlife, an old tobacco barn, a greenhouse, a garden, and a trail to some amazing views. If you're looking to get away from it all and throw in a bit of farm life as well, this is the place for you for yurt camping NC.
Recent guest reviews:
"Stop looking a just reserve this now!! Such an amazing place. Very soothing and restful. Being able to hear nature around you yet have the comforts of home was quite a treat. She had a fire ready for me when I arrived & made sure I had everything I needed. The sample teas and coffee were delicious. communication was perfect & the greenhouse tour was super special. When you go be sure to take the short like on the property to see the sunset each night, plus how often do you get to hike in your pj's ;-)"
---
If you liked our Yurts in North Carolina, Check out some of our other popular US Glamping articles:
Best Glamping in the Adirondacks
Yurts in North Carolina Pinterest Pin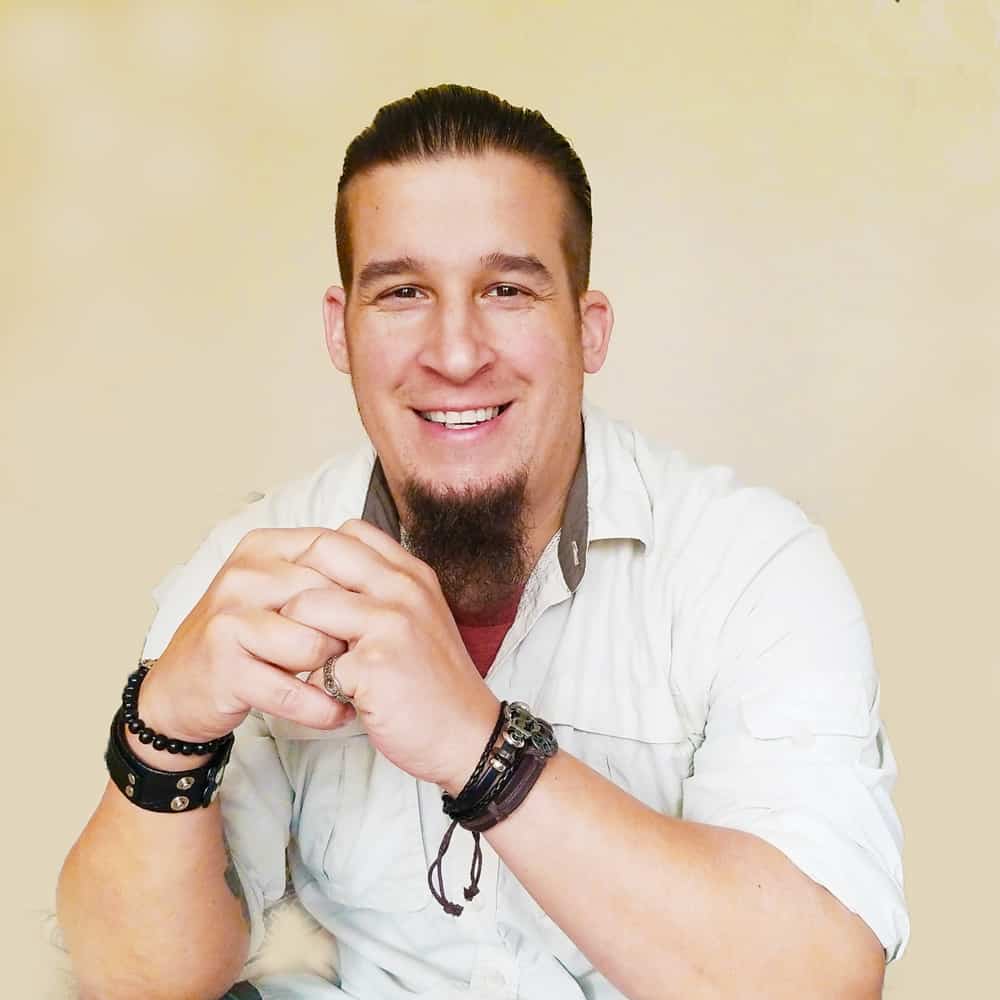 Full-time World Travel Writer who runs multiple websites and social media accounts. I have spoken at various conferences around the world. Some of my hobbies include adventure, fitness and new technologies. I am also a trekkie!