As one of the first 13 colonies in the United States of America, Virginia has a lot of history. People visit the Old Dominion state for not only the history but the amazing nature to explore. This is a reason why visitors and locals alike flock to Virginia Glamping Spots throughout the year. There are few things better in life than reconnecting with nature but not many are up for roughing it out in sleeping bags and stuffy tents. Glamping Virginia has become so popular that we decided to put together a list of some of our favorite Glamping in Virginia Spots You Must Visit.
Check here for some amazing West Virginia Glamping
If you're searching for a romantic holiday or a break from your computer, Glamping in Virginia checks all the boxes. Virginia's fair share of dramatic outdoor settings and hidden corners make it perfect for escaping your pesky work emails and busy urban life. Discover nature trails along the Blue Ridge Parkway, pour a glass into the sunsets at vineyards with beautiful vistas, or kick back and discover lovely tiny villages on a picturesque journey via your car. The possibilities are endless.
Whether you are visiting from afar or just enjoying a weekend getaway, make sure you take the time to check out some of the amazing things to see when glamping Virginia. Before we show you our favorite Virginia Glamping spots, let us tell you a couple of our favorite sights to explore.
Our Top Sights To See When Glamping Virginia
The Shenandoah National Park is one of Virginia's most beautiful locations. You may travel along the famed skyline drive and soak in a few of the state's most breathtaking sights. For history buffs, Manassas National Battlefield Park is a must-see. It is the location of the famed Battle of Bull Run and the Second Battle of Manassas during the American Civil War.
The Luray Caves are a National Historic Site and the biggest caverns in the eastern United States. It is crazy to think that these stunning masterpieces were created by mineral-infused water dripping over tremendous lengths of time, such as Giant's Hall, a 10-story-high room with enormous expanses of gold pillars.
Other Glamping Articles You May Be Interested In:
Top Yurt Glamping In North Carolina
Remarkable Treehouses in Tennessee
Kentucky Treehouses You Will Love
Treehouses near Red River Gorge
---
Phenomenal Glamping Virginia Spots You Can Book Now
---
Location: Shenandoah, Virginia
This one-of-a-kind, quirky structure can accommodate up to four people. Hobbits appreciate elegance, and you'll discover it here at Hobbit House. They have surround sound with SiriusXM and Bluetooth connectivity, a spacious tiled shower, a wood-burning fireplace, an outside barbeque, a campfire area, a walled-in porch, and a hot tub.
The property was so carefully thought out that the journey to this Glamping Virginia destination is lovely. Enjoy wandering down the route and taking in all of the new additions, such as the pavilion and the lake. The inside of the hobbit house is lovely; you may listen to music all day, light a fire, and dine like a hobbit.
Recent Review: "Our stay at the Hobbit house was absolutely amazing! The house itself is beautiful, with a thoughtful decoration. The place was clean and had everything you could possibly need. We thought there would be more walking trails from the door, but it didn't take anything away from our stay."
Location: Luray, Virginia
It's a great time of year to be outside with the luxuries of a yurt at any time of year. Bring your walking stick and take advantage of the many hiking routes available. The Hummingbird Yurt in Virginia sleeps two to four people, making it ideal for two adults and two children… Air conditioning, refrigerator, toaster, coffee maker, waffle iron, tea kettle, crockpot, microwave, ceiling fan, infrared heater with two settings, pedestal heater, BBQ Pedestal charcoal grill, firepit /charcoal grill.
Tubing, rafting, canoeing, and kayaking are available (fees apply) with advance reservations. You are invited to bring your own tube, raft, canoe, or kayak, for example. When staying in The Hummingbird Yurt, remember to bring your personal bedding and sleeping bags.
Location: Staunton, Virginia
Go see the Shenandoah Valley's stunning sights. This lovely campground near Staunton, Virginia, is located on the Middle River. This location is ideal for fishing, kayaking, biking on farm roads, viewing wildlife, or taking a beautiful stroll to take in the views of the mountains and functioning farm. Within a 15 to 25 minute journey, the valley is packed with history, culture, breweries, and wines to visit.
Every camp has a safari-style canvas tent measuring 10'x12′ on a high platform with one queen bed or a queen-size bunk bed inside. Larger parties can use the extra 5-person pop-up dome tent offered (or bring your own camping gear). A 6-foot picnic table, an outside fire pit, two Tentrr Adirondack chairs, and a heating supply will keep you nice and cozy at night.
Location: Verona, Virginia
Set amidst a lush farm, guests visiting 1Tribe discover a wonderfully serene lodging experience. This is exactly where you come to seek respite from the hustle and bustle of the city. You'll find ten cabins, furnished with basic modern amenities like a queen bed. Wake up after a blissful sleep to the sight of herds of cows and other wildlife grazing and going about their day – there are few better sights to wake up to.
There is no electricity and water in any of the cabins but the open-air showers certainly beat any hotel's rainforest shower. Disconnected from your devices, you can tour the farm in the morning, soak up the sunshine with a quick splash in the river and a barbeque before settling by a bonfire come nightfall.
Location: Nellysford, Virginia
Nestled amidst the beautifully secluded mountains of Nelson County, the resort is home to four log cabin homes, all overlooking a picturesque private lake. The cabin experience is very modern with central AC, heating, smart TVs, fully stocked kitchens, Wi-Fi, and everything else you'd expect at a hotel.
Each cabin also has its own outdoor fireplaces and grill stops while a porch looks out over the glimmering lake. It's a setting that easily erodes all your stress and worries
And it's a nature lover's dream. There are plenty of walking trails. You can enjoy a refreshing swim. Take a boat out and indulge in a spot of fishing. Or, just sit by the creek and cool your feet.
Bringing your furry friend? Three of the cabins are pet-friendly
Location: Trevilians, Virginia
Looking for something different? How about a renovated tugboat? Fitted with all the modern conveniences you could ask for (yes, that includes Wi-Fi), the LUX Heated Tugboat sits on an 8-acre lake, complete with an island and over five miles of hiking trails that take you through some of the most scenic settings in the state.
There's plenty to spruce up your stay with paddle boarding, kayaking, fishing, and BBQing on the cards. It's a completely private experience as only guests to the tugboat and guests to other cabins have access to the property.
Location: Pulaski, Virginia
Sitting in a magical jungle, a stay at the quirky Blank Slate Bus#23 is exactly what you need to reset your mind and spirit.
Your hotel? A renovated 1988 International Blue Bus with beautiful 360-degree views over the surrounding woods.
There's one cozy bedroom with enough space for two, a low-impact toilet, and a solar-powered outdoor shower – all the essentials to keep you comfortable.
For one week during the summer, the Blank Slate Bus#23 transforms into an art bus. Look around and you may find some art supplies if you want to get creative during your stay.
Location: Dugspur, Virginia
Add a touch of romance to your getaway with a stay at the Lee Gypsy Caravan, hidden within the famed Blue Ridge Mountains. Set in a stunning meadow that looks straight out of a novel and surrounded by 107-acres of untouched farmland full of forests, ponds, and wildlife, the caravan is ideal for a romantic escape to the countryside.
Step inside and you'll find a cozy bedroom for two with a window overlooking the meadow and the clear, unpolluted night sky. A little way is a renovated barn that serves as the kitchen and dining space.
There certainly is enough lawn space around and the beautiful meadow is only interrupted by the farm's original structures, now renovated and converted into relaxing spaces for guest use. Alongside is a fire pit for when you want to roast some marshmallows and warm your hands in the evenings.
Location: Dugspur, Virginia
Guests may go escape for a calm vacation in this glamping tent near Dugspur, Virginia, which is bordered by beautiful meadows. The snug double bed on the inside pleasantly sleeps two people.
Within, visitors can find towels, nice beds, sheets, and soap, among other necessities. Utensils, pots, and pans, as well as other kitchen materials, are given. Outdoors, guests will discover a two-burner gas stove, ideal for preparing tea in the morning. Delicious dinners may also be prepared on the BBQ. The ice cooler keeps fridge items cold until they're ready to eat. A small breakfast table with two seats is also available. Solar and ordinary lanterns, as well as candles, are used to light the tent. There really is no running water, but there is enough of drinking water for guests.
Recent Review: "We loved this property. The "off-the-grid" feel without losing too much of the basics. The property was beautiful and close to many hikes. Was a little confused pulling in to the property, but that was no one's fault but my own for arriving at almost midnight. Theresa was EXTREMELY thoughtful! It was about 40 degrees that night and she made sure we were set for a cold night by providing little guide lights, plenty of gas for the portable heater, and a heating pad (felt covered pack of hot water) to keep our sheets nice and warm through the night! Would absolutely stay again."
Scottsville, Virginia
With 250 acres of rolling meadows and woodlands circling you, Woodhaven Farm is a delightfully quiet and isolated experience.
It's a working farm with an expansive, airy two-bedroom apartment above the barn, offering plenty of views in all directions. Watch the sunrise over the nearby pond. Enjoy a glass of Virginia wine as dusk falls. Or challenge your buddies to a game of pool, arcade, or ping pong. Regardless of what you are in the mood for, you'll never be short of exciting things to do.
The Barn is also the ideal base from which to experience Virginia's best highlights. Hike through woodlands or kayak at the James River, explore Scottsville, visit the state's wine region or take a peek into the country's history at key Civil War battlegrounds. In addition, the homes of three US presidents are just an hour away.
Location: Piper Gap, Virginia
Leave your stress behind and journey uphill to Blue Ridge Parkway Yurt where scenic views and modern luxury await the curious traveler. With a hot tub, exclusive fireplace, and complete privacy, you'll never want to leave.
Completely designed from reclaimed wood, Blue Ridge Parkway Yurt transports guests to a bygone era far removed from the modern world. There's an outdoor fire pit with woodcuts from nearby fallen trees and ready for use. Most of the lights are powered by solar while water is sourced fresh from almost 400 feet underground, then naturally filtered by the rock structure.
The glamping Virginia yurt is also ideally located with easy access to The Blue Ridge Music Center, New River Trail as well as bluegrass music festivals, local breweries, and much more.
Hope you enjoyed the article and these awesome Glamping Virginia Spots. There's no better place for a comfortable tête-à-tête with nature than Glamping in Virginia. Until next time!
Glamping Virginia Pinterest Pin!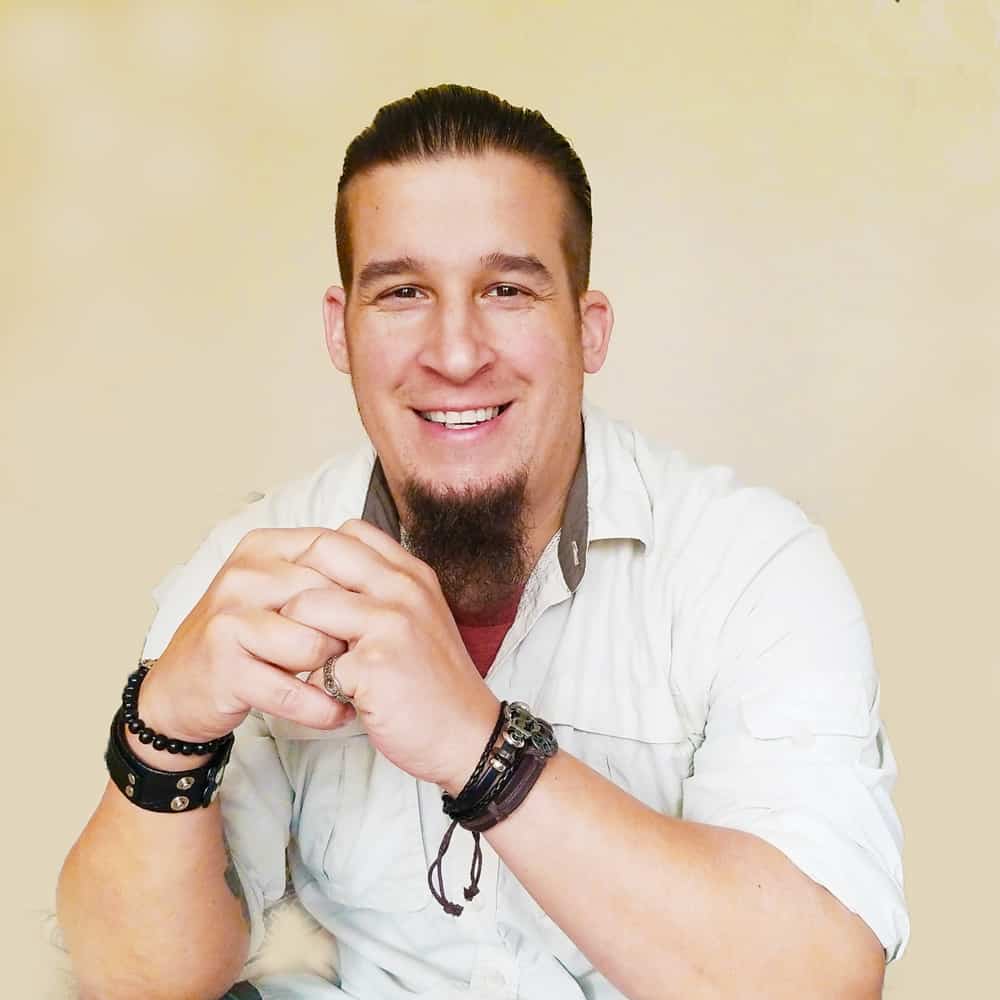 Full-time World Travel Writer who runs multiple websites and social media accounts. I have spoken at various conferences around the world. Some of my hobbies include adventure, fitness and new technologies. I am also a trekkie!