Tennessee is the mecca of country music and home to Graceland. It is also a land of outdoor wilderness featuring vibrant greens, blazing reds, warm oranges, and dazzling yellows. You can explore the Smoky Mountains or enjoy one of the many rivers and lakes this state has to offer. Glamping in Tennessee is a very popular choice when it comes to accommodations. Even more so, Treehouse Rentals in Tennessee are on the rise and sought after as a way to immerse yourself in the beautiful nature of Tennessee while still enjoying the comforts of a hotel.
We searched long and far for some of the best Treehouse Rentals in Tennessee and we think we have come up with the ultimate Tennessee Treehouse List. Take a look below and find the perfect Tennessee Treehouse rental depending on where you plan on exploring and how many you have in your group. Whether you are looking for a romantic treehouse getaway, family vacation, or a group of adventurers needing a fantastic and unique treehouse home base, you should find it on our list. If you are looking for a Tennessee Glamping dome, we have a list for that too.
Other Articles for Treehouse Glamping Lovers:
Washington Treehouses to Die For
Stunning North Carolina Treehouses
Treehouses in Tulum Mexico You Must See
---
Unique and Amazing Treehouse Rentals in Tennessee
Treehouse Glamping Near Sevierville, TN
This accessible treehouse is positioned over 10 feet up amid the trees, with huge windows that let in the natural splendor. This treehouse beds four people and is located on Cove Mountain in Wears Valley. The treehouse is well-equipped. It has a queen bed and a couch bed, as well as a full bathroom and kitchen.
When you enter the Owl's Nest treehouse, you'll notice the quiet and peaceful atmosphere created by the woodsy design. While your treehouse is nestled in the forest, Owl's Nest is reached by a series of "simple to walk" stairs. The exterior decks offer plenty of opportunities for outdoor sitting and observation. Relax on the terraces or dine outside in the pure mountain air.
Treehouse Glamping Near Sevierville, TN
The Chasing Fireflies treehouse is a 15-foot high perch in the treetops! Experience the quiet, tranquil view from this treehouse overlooking the Great Smoky Mountains National Park, equipped with contemporary conveniences and big windows. When you overnight at the Chasing Fireflies treehouse, your childhood memories will come flooding back.
This Farmhouse-style treehouse features big windows that let in plenty of natural light and is equipped with modern conveniences, all while delivering a quirky and charming experience. At the foot of Cove Mountain in Wears Valley, the Chasing Fireflies treehouse is next to the Great Smoky Mountains National Park. This treehouse has an open floor plan with one bedroom and one bathroom that can accommodate up to four guests. The treehouse is well-equipped. It has a queen bed and a couch bed, as well as a complete bathroom with a shower and a small kitchen.
Treehouse Glamping Near Sevierville, TN
The Treehouse is located 20 kilometers from Sevier Distilling Company, 22 kilometers from Wild Bear Falls Indoor Waterpark, and 41 kilometers from Forbidden Caverns in Sevierville. The resort is 20 kilometers from Dollywood and 19 km from Parrot Mountain & Gardens and has free private parking.
This Treehouse has one bedroom, a television, and a kitchenette with a dishwasher, a refrigerator, and a washing machine. There are towels and bed linen available.
Treehouse Rentals in Tennessee Near Pigeon Forge, TN
Designed by the famous Treehouse Guys, it is difficult to tell where the outside ends and the inside begins. The environment is ideal for a peaceful writers' getaway, a bridal or romantic vacation, or a memorable family trip to the Smokies. The property offers the best of both worlds in that you may be in Gatlinburg or Pigeon Forge in minutes while yet feeling like you're in the woods. The house is largely built on four oak trees and one hickory tree. Two oaks run through the house's inside, one oak and one hickory sprout through the main deck area, and the other oak holds a crows nest platform accessible by a 20′ suspension bridge. One of the top treehouse rentals in Tennessee.
Treehouse Rentals in Tennessee Near Jamestown, TN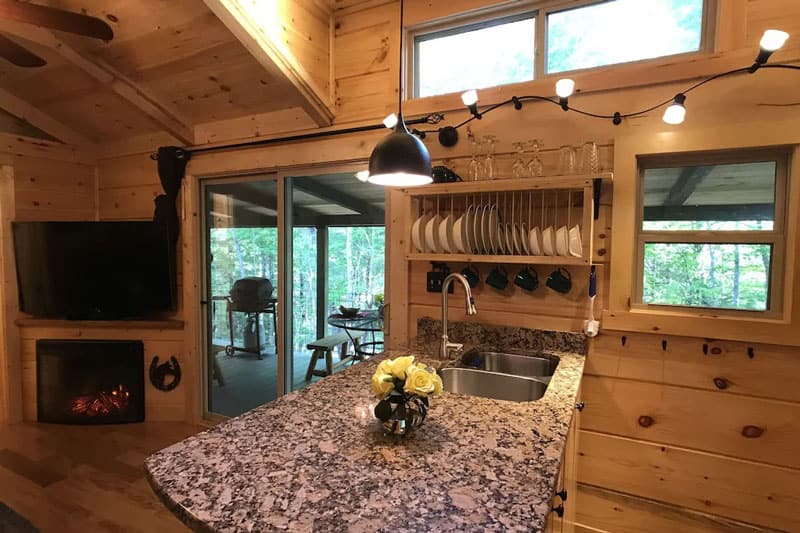 A lovely log cottage for two in the woods, like your own grownup treehouse! A Jacuzzi, gas grill, and wood log furniture may be found on the porch. The jacuzzi is nestled against a beautiful mature hemlock tree. Keep an eye on the squirrels playing in the trees there next to you. Sunrise and sunset hues are particularly beautiful in the winter. The foliage will encircle you in the summer.
Big sliding glass doors in both the living room and the bedroom opens to the terrace, allowing you to enjoy the outdoors! A beautiful granite and silver kitchen, desk workstation, washer/dryer, king-size bed, and complete bathroom can be found on the inside. There is no charge for using the internet.
The Treehouse Rentals of Tennessee at Treehouse Grove Norton Creek
Pete Nelson, the "Treehouse Master," developed and built Treehouse Grove, a Treehouse Resort near Norton Creek. Treehouse Grove visitors will have simple entrance keypads in their Treehouses. All of Treehouse Grove's facilities are available to customers, including grills, fire pits, picnic tables, hammocks, swings, walking and hiking paths, and Norton Creek!
Based on the season, the Pavilion at Norton Creek Resort is also accessible. These Tennessee treehouses near Gatlinburg are only four miles from downtown Gatlinburg and six miles from Pigeon Forge. It's a one-of-a-kind alpine retreat. These are some of the best options for treehouse rentals in Tennessee.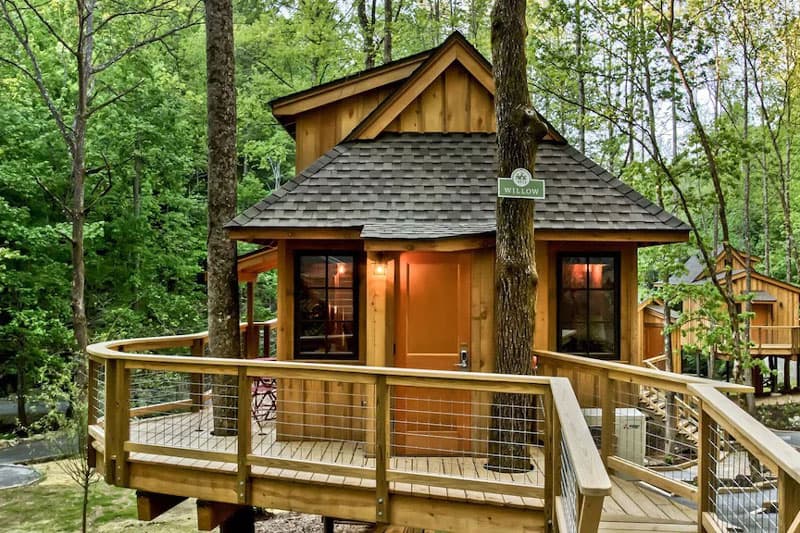 Willow Treehouse is perhaps the most secluded Treehouse in the lower grove, with a continual roar from Norton Creek, a hidden gem. This Treehouse has a huge swing below it, as well as all of the luxurious personal amenities you've come to expect, including high-speed Wi-Fi, a shower, toilet, heating and cooling, a kitchen, and, of course, your top streaming channels.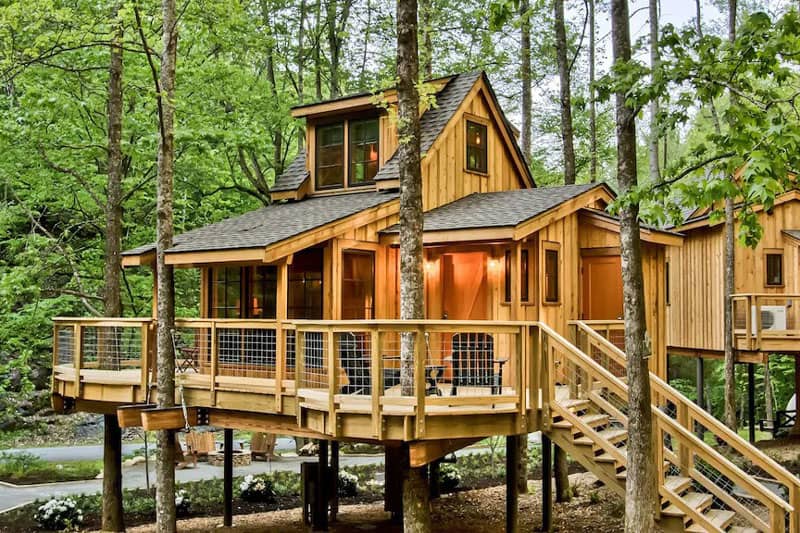 Ascend the steps to the Poplar and you'll soon be halfway up the treetops. On your view deck, you will enjoy a great panoramic view. Enter the kitchenette and serve yourself a hot beverage into a bronzed cup. The lounging room can accommodate many visitors while you arrange your fun-filled day together. Then at the conclusion of each day, you'll retire to the Poplar Treehouse's peacefulness and luxurious linen, which will lull you to slumber. Just another one of the amazing treehouse rentals in Tennessee.
Maple Treehouse is for individuals who want a peaceful hideaway where they can relax and appreciate their environment. This treehouse, often known as the "Honeymoon Treehouse," is located high in the woods, where you will discover the peace you need.
Soak a stroll around a nearly 30-foot-wide view deck or relax on the screened porch and take in the scenery. Relax in the sitting room with a nice book and take in the tranquility of nature's stillness. Go to the kitchenette for a refresh when your coffee runs out.
Hemlock Treehouse in Norton Creek can be accessed by the stairs or a connecting ramp. Inside, you'll find a naturalist's heaven with all the extras you'd expect from a retreat. In your kitchen, which has a mini-fridge, microwave, and high-quality dishware, prepare a meal or snack anytime. From this one, your journey begins. The thick forest that surrounds you is a hiker's paradise. Through the Great Smoky Mountains, 800 miles of trails link, guaranteeing that no matter how far you traveled the day before, you'll always have a new experience ready for you.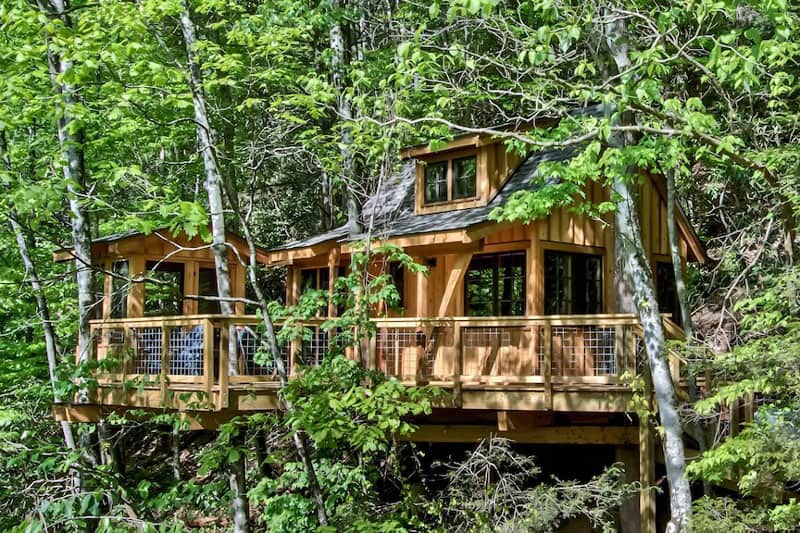 Dogwood soars over the Grove. This magnificent treehouse offers the limitless pleasures of a day spent high in the forest, staring down and out over the forest below. The Dogwood's craftsmanship and meticulous attention to detail will relieve tension, calm your mind, and bring vitality to your spirit.
The Dogwood and its sheltered observation deck are reached by a strong stairway. You are welcome to sit here and gaze out over the other treehouse rentals in Tennessee in the Grove beneath you. This region has a calm elegance, where contemporary humans and nature come together in the serenity that so many have wished for. Throughout your time in this treehouse, you will get this sensation.
With a fantastic view of the creek and a sheltered observation space off the central treehouse, this fabulous canopy accommodation is a little different from the rest of the Grove.
As you stare out over the woods beneath, rest against the trunks that come through the terrace. As the recognizable pure air of the Great Smoky Mountains passes through your chest, eliminating the pollutants of the city with the cleanliness of fresh air, soft birdcalls and the noise of the wind through the leaves will enter your ears.
Every plank of timber is placed with care in order to achieve a natural balance. The sitting area is surrounded by wide windows, which allows you to enjoy the splendor of the woodland at any time. After a day of activity, the luxurious shower will revive you, while the kitchen will allow you to prepare up a lovely supper on the supplied porcelain dishware.
You are welcomed by Mother Nature as soon as you arrive at the Magnolia Treehouse. As you ascend into the treehouse, the entryway stairs are bordered by new evergreens. You will have a luxury stay in a one-of-a-kind setting here under Mother natures canopy.
Huge windows have been strategically positioned to maximize views of the woodland. A power temperature control system ensures that the heat or cold in the atmosphere is perfect. Revive yourself with the luxury hotel grooming items and towels after a relaxing wash. As you go out into a covered observation platform that rises above the earth, you'll catch a whiff of pine and be at peace.
Treehouse Glamping Near Dunlap, TN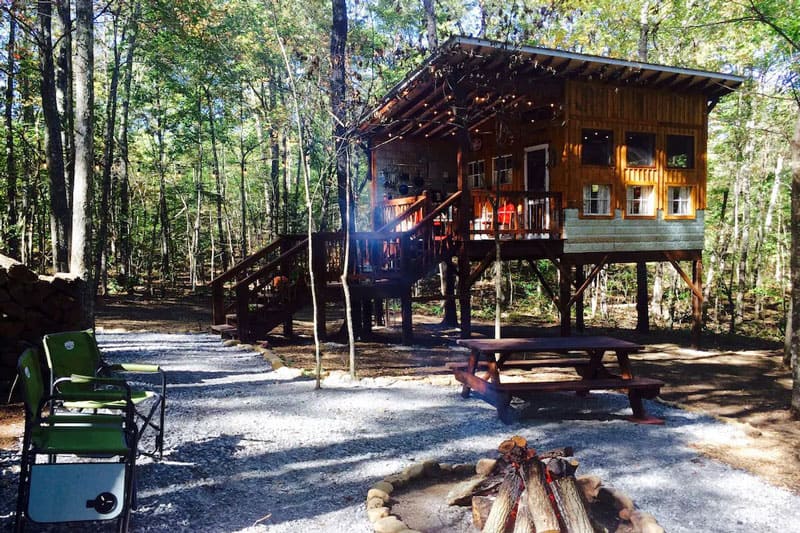 Deer Camp is the ultimate glamping destination! It's camping with all the contemporary comforts and none of the packing.
A comfortable queen bed, a table for two, a lounge, and a chair, as well as a wood fireplace, air conditioning, smart tv, internet, books, board games, and the option to enjoy a movie while snuggling beneath one of the extremely soft blankets.
Prepare food in the outdoor kitchen, which has a faucet and sink, a gas grill, stove, and oven, as well as an outdoor heater, or cook over an open flame in the fire pit while sitting in camp chairs and eating at the outdoor picnic table.
Further adventure awaits guests in the greenhouse bathhouse, which includes a working toilet, an on-demand Camping shower with limitless hot water, and a sink. If you are looking for unique treehouse rentals in Tennessee, this may just fit the bill.
Treehouse Rentals in Tennessee Pinterest Pin!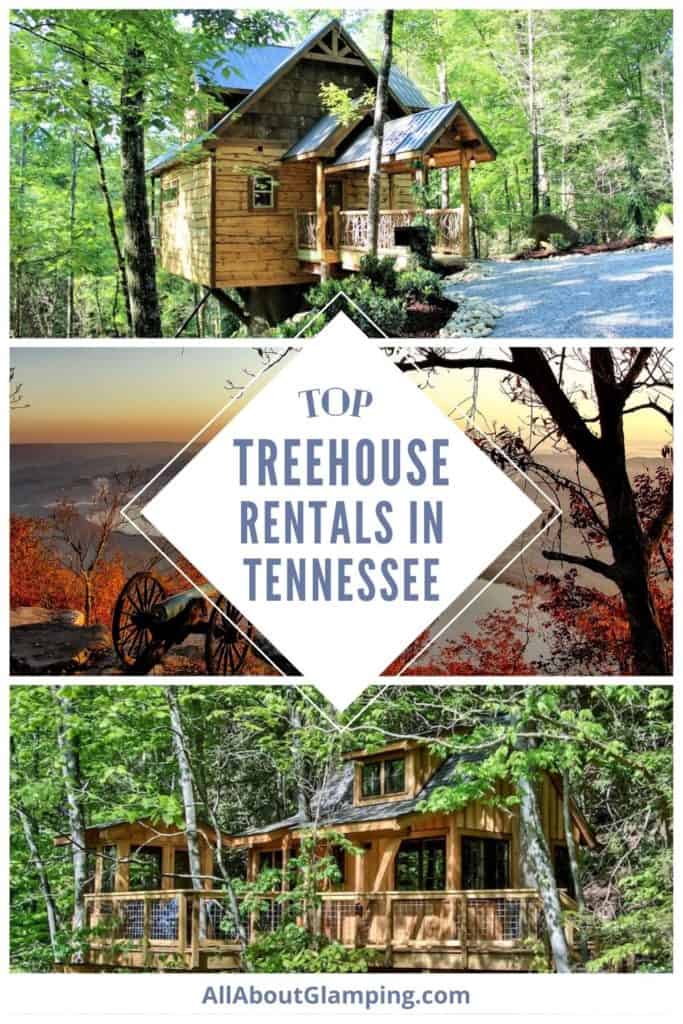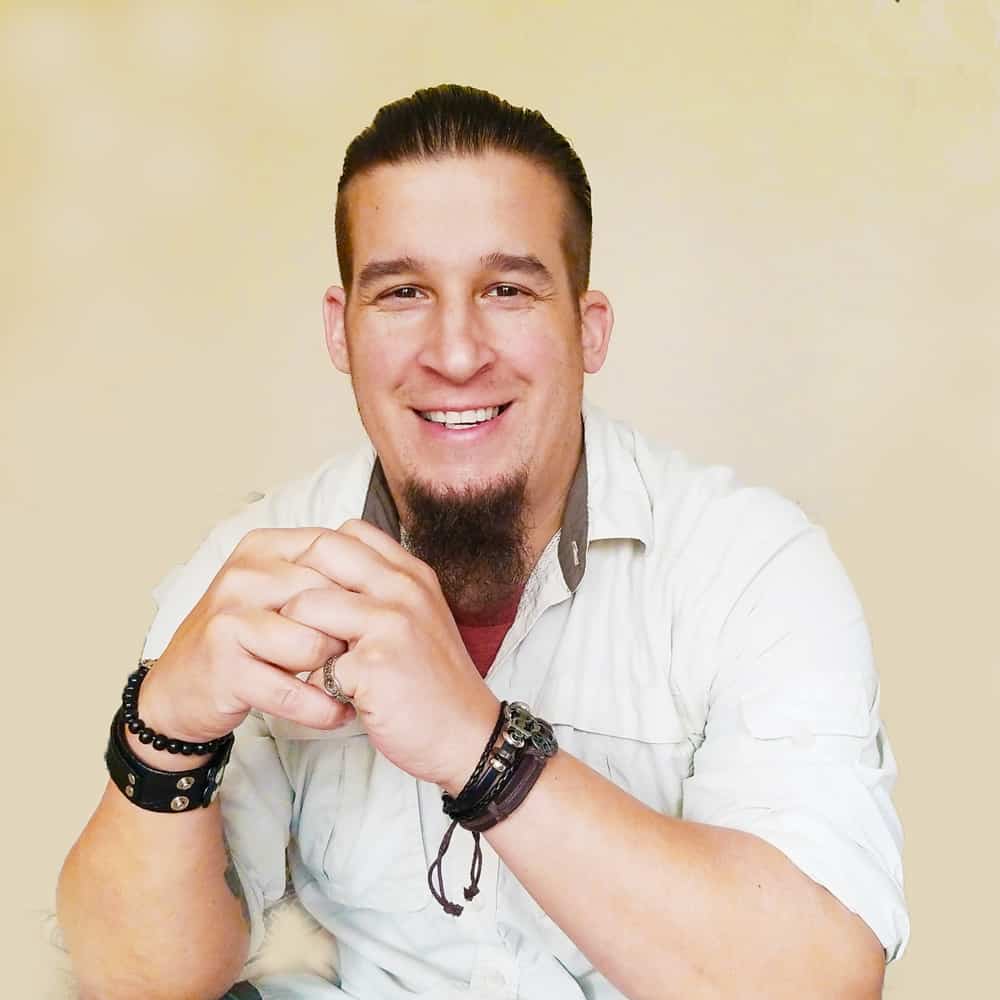 Full-time World Travel Writer who runs multiple websites and social media accounts. I have spoken at various conferences around the world. Some of my hobbies include adventure, fitness and new technologies. I am also a trekkie!