Renting Treehouses in North Carolina is a popular getaway for not only locals but for those traveling to the state to explore its beautiful wilderness and coastlines. North Carolina has some of the most wonderful nature in the country. People flock to North Carolina for glamping to trek to stunning mountain vistas and discover inner calm by visiting the magnificent sandy beaches. Searching treehouses North Carolina spots can be a daunting task. This is why we have done the research for you. We also wrote one for Asheville.
When choosing the perfect North Carolina Treehouse, it depends on the size of your group, where in North Carolina you plan to explore, and what your budget is. In the list below we will go over our favorite Treehouse Rentals in North Carolina and what you can expect from each one. We also have a specific article on Glamping near Asheville.
Our Treehouses North Carolina List
---
Capacity: Sleeps up to 4 people
Location: Jefferson, NC
This Treehouse in NC is a sensory experience that is rich with creativity and charm! The farmland provides unlimited trekking opportunities. The gentle farm animals like attention and will let you stroke and love on them as much as you want! Dogs, horses, donkeys, goats, chicks, turkeys, and ducks are all present! The Gypsy Chick Inn, the gypsy trailer where the hens dwell, allows you to collect your own eggs.
Because the owner is a stained glass artist, the tree home always has a sunset because he has constructed three pieces that hang together to make a magnificent sequence of sunset in the mountains. The clawfoot tub is positioned in front of a beautiful vista for a pleasant relaxing soak, and an ancient apple tree stump has been turned into the bathroom sink. These and many other details are why people book this place.
Capacity: Sleeps up to 6 people
Location: Fairview, NC
While eating breakfast on the balcony, take in the beautiful greenery of the woodland. Feel at ease and at ease. Leave the city behind. After a day of activity, relax with a meal and a bath beneath the stars. The cottage is designed in a chalet style and is pleasant and inviting.
There are several windows with which to enjoy the stunning scenery of the adjacent woodland. Downtown is 13 kilometers away. It is calm, soothing, and peaceful. Enjoy, unwind, and breathe deeply while relaxing in the hot tub. You'll of wished you had a couple more days to relax in this natural wonderland.
Capacity: Sleeps up to 8 people
Location: Maggie Valley, NC
Nestled by massive trees with spectacular annual mountain scenery. The house is strategically located in the middle of one of Maggie Valley's historic mountain communities and within minutes of just about everything, despite the fact that it seems private.
The property has been entirely spruced up and renovated with all modern amenities and can sleep up to 8 guests. It has 3 bedrooms (2 queen / 1 king), 2 full baths, a fully equipped kitchen, 4 eating spaces (indoor/outdoor), a gas fireplace in the living room, high-speed WiFi internet, 3 large screen Roku TVs, a gaming room with breakfast/wet bar, and 2 giant walk-around terraces with hot tub and BBQ grill.
Capacity: Sleeps up to 4 people
Location: Reems Creek, NC
This Treehouse in North Carlina offers everything you might want on the inside: air conditioning, high-speed Wi-Fi, a gas log fireplace, a gourmet kitchen, two complete bathrooms with heated tile floors. There is an external shower on the terrace with limitless heated water!
The treehouse changes with the seasons; in the winter, the vistas are open and you can see the mountain range. Summer is encircled by foliage and songbirds, with only a few peeks of the mountains in the background. The hills "turn green" in the spring as the leaves begin to emerge in the lowlands and work their way up to the peak tops. Autumn is a rainbow of hues.
Capacity: Sleeps up to 4 people
Location: Penrose, NC
The Pisgah National Forest, DuPont State Forest, Brevard, and Hendersonville are all within minutes of this unusual treehouse, which provides spectacular mountain and valley views from every room. In the region, hiking, biking, kayaking, and canoeing are all popular sports.
Awaken to beautiful views from the master bedroom's big windows or nap in with black-out shades on the warm, comfortable queen-sized bed with gorgeous linen the next day. Brunch on the balcony in your pajamas perhaps. Otherwise, take a morning brisk walk up the mountain's dirt path.
Capacity: Sleeps up to 2-4 people
Location: Hot Springs, NC
These hand-crafted comfy treehouses are open all year and provide every amenity. The vistas from the new hot tubs are a hit among all visitors. The cottages are perched high above the forest floor, surrounded by nature and offering spectacular views of the Blue Ridge Mountains.
The treehouses include fantastic WIFI, fresh beds, linens, and towels, gas grills, hot tubs, indoor fireplaces, small kitchens, ROKU TV, games, and literature, as well as personal decks with mountain scenery. In the forest, they have a new 24 × 24 Treehouse Viewing Platform where the visitors may enjoy yoga, workshops, or meditation.
Capacity: Sleeps up to 4 people
Location: Asheville, NC
"Treehouses of Serenity" is a collection of five North Carolina treehouses in Asheville and a hobbit dwelling. We are located in the Blue Ridge Mountains, just 10 minutes north of downtown Asheville. Each home features large windows with long-range mountain/sunset views, as well as fully functional bathrooms.
The Aerie pictured here is a three-story treehouse with a six-foot-diameter circular window that provides a spectacular outlook. On the middle/main level, there is a queen bed in the loft, a kitchen, and a bath, and on the lower level, there is a living room.
More Treehouse Glamping Articles:
Awesome Treehouse Rentals Tennessee
Fairytale Treehouses in Washington State
Pin It!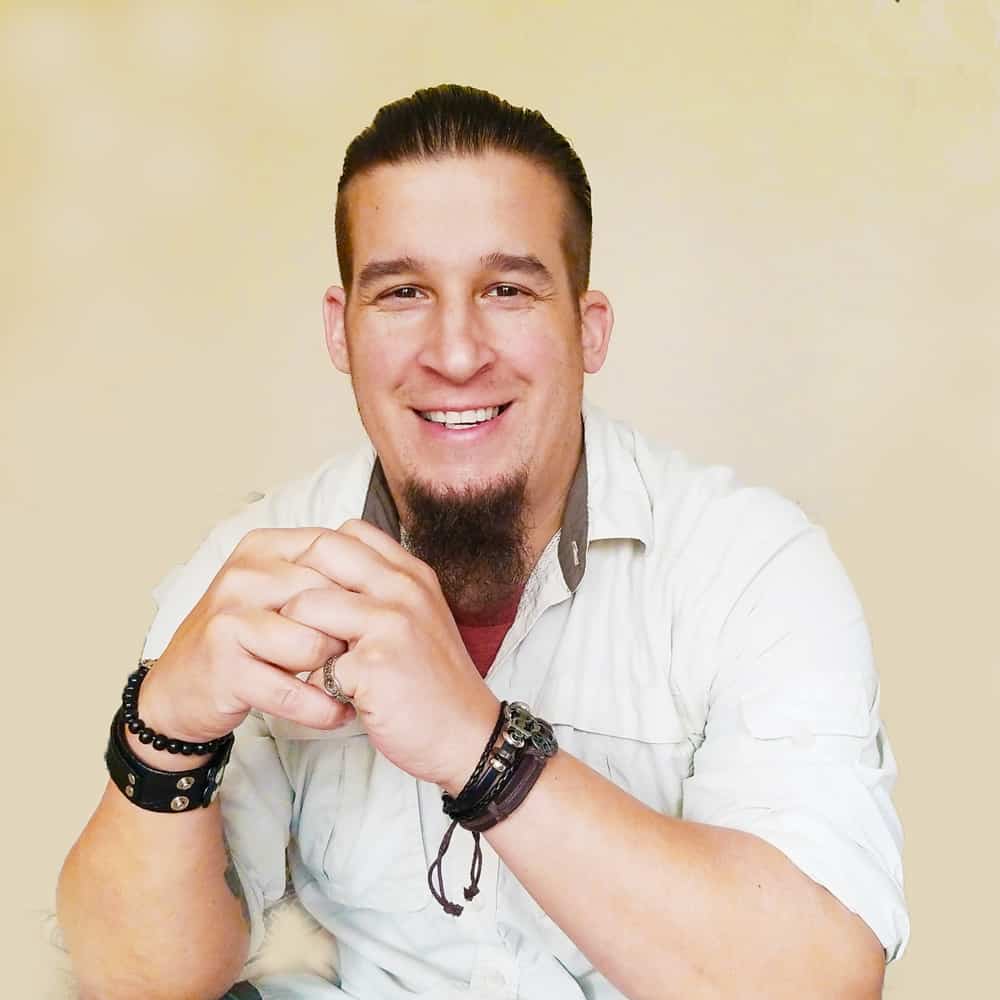 Full-time World Travel Writer who runs multiple websites and social media accounts. I have spoken at various conferences around the world. Some of my hobbies include adventure, fitness and new technologies. I am also a trekkie!