North Carolina has a beautiful climate and more than 300 miles of coastline. This makes Glamping in North Carolina one of the most sought-after areas for luxury camping. There are three regions in the state. Its Coastal Plain, which includes the Outer Banks, is dotted with lovely beaches. The Piedmont, a plateau from Alabama to New York, is next, followed by the famous Appalachian Mountains.
The Appalachian Mountains go from Alabama to Canada in the eastern United States. The Appalachian Mountains include the Great Smoky Mountains and the Blue Ridge Mountains in North Carolina. The Great Smoky Mountains and Cherokee region, the Blue Ridge Mountains of the High Country, and the Blue Ridge Mountains at Asheville, and the Foothills are the three mountainous regions of North Carolina.
With a broad selection of unique stays, North Carolina glamping offers all or most of the elements for an amazing glamping getaway. These can include yurts, treehouses, NC tiny homes and more.
Regions for Glamping in North Carolina
---
The Blue Ridge Parkway and the Appalachian Trail are quite known destinations in North Carolina's Blue Ridge and the Smoky Mountains. But there's a lot more to discover in this beautiful landscape, explore waterfalls, ancient rivers, agricultural delicacies, and even some of the nation's top crafted beer.
North Carolina glamping near Asheville is an adventurer's fantasy come true. There are several state and national parks, as well as numerous adventure activities, allowing this to be an excellent location for some luxury camping.
Glamping in North Carolina on the coast has its own distinct ambiance and range of activities. And with its charming seaside villages and many attractions, there's always a fresh experience to discover.
Glamping near the Piedmont region's main cities, such as Charlotte, Raleigh, Greensboro, and Durham, is a one-of-a-kind experience. These locales have all you'd anticipate from an urban getaway, plus a soul and personality that can only be found here. Visit vineyards, breweries, golf courses, and natural wonders.
As you can see there is a ton to do and see in this great state. Glamping in North Carolina is a wonderful way to enjoy the outdoors in luxury while exploring and relaxing for lasting memories. Check out this list of our amazing top North Carolina Glamping spots to book for you next trip.
Check out why you should go to West Virginia for Glamping
Our Top Spots for Glamping in North Carolina
---
Location: Jonathan Creek, North Carolina
If you are looking for a luxurious glamping in North Carolina experience, you must not look further than Smoky Mountain Glamping. The glamping tent is made of a canvas wall that includes a queen bed for you to rest. Besides that, you get access to an outdoor shower, private portalet, fire pit, cooking essentials, and more.
Of course, if you want to make the most of your experience, the Great Smoky Mountains National Park is only a few minutes away. You can go there for more outdoor adventures in no time. The tents come with a porch for you to enjoy the beautiful outdoors.
Location: Apple Ridge, North Carolina
Creekside Glamping nearby Blowing Rock includes all the views you will love to see. There are hiking trails that lead to beautiful streams and majestic mountain views you will remember forever. After you are tired of all the outdoor adventures, you can come back to rest in your private glamping tent.
The tent includes four bunk beds with a composting toilet and a kitchen pavilion for you to enjoy. That is why if you want to immerse yourself in nature, there is not too many glamping in North Carolina spots better than this. It will not disappoint you at all.
Recent Review: "Pictures do not do this place enough justice. The second we pulled up we were in awe at how beautiful the property was. The hosts were the best that I've had the pleasure of doing business with. They were very prompt in answering any questions I had. This place is very quiet and peaceful and very spacious and comfortable. Book now or you'll regret missing out!"
Location: Upper Peachtree, North Carolina
Glamping at the Chapel will fulfill all your glamping in North Carolina dreams in no time. The property is spread over 48 acres, and you can swim in the pond, immerse yourself in the wood-fired sauna experience, and rest in the beautiful chapel. It also includes an outdoor deck with a fire pit, charcoal grill, and chairs for you to rest and relax.
You can use the outdoor area to rest and relax or play Bocce ball or badminton as they are provided on request. However, the best thing to experience here is the wood-fired sauna. Once you come out of it, you will have relaxed every muscle in your body in no time.
Recent Review: "Unquestionably the best glamping experience we've ever had (well the only one we've ever had). Billy is a rare host and what he's created here is a blessing to all in need of rest adventure and everything in betwixt."
Location: Deep Gap, North Carolina
Are you looking to experience an environment-friendly and luxury Geodesic dome? If you are, you must not look further than this glamping experience. The dome sits on more than eight acres of private property with a trout stream for you to experience.
Inside the dome, you will find a king bed with clean and comfortable sheets and a high-end cooler that serves as a fridge. The charcoal grill is your kitchen, and there are screens for windows to ensure that you are caressed by the cool breeze coming in. Once you visit this tent, you will find it the most aesthetic and pleasing experience ever.
Location: Peak Creek, North Carolina
Tree House on the Farm is the glamping in North Carolina experience of everyone's dream that loves to immerse in nature and animals. There are more than seventy acres of hiking trails with a unique treehouse and farm-friendly animals that you will love. The treehouse is the main attraction as it is filled with charm and artistry that you will not find anywhere else.
You can also indulge in nearby activities that include canoeing, tubing, kayaking, and much more. So, if you want to have a full glamping experience full of activities, animals, and nature, then be sure to book your stay here. You will love everything it has to offer.
Recent Review: "The treehouse is amazing! Stephen and Lisa are very nice hosts. We are considering this for an annual trip. Highly recommend the treehouse!!"
Location: Nantahala, Topton, North Carolina
Stay in a luxury NC yurt while enjoying majestic creek views in the Great Smoky Mountains. It includes two bedrooms and a full bath with central heating and air conditioning. Your private porch will also include a hot tub for you to enjoy with your significant other.
There are four yurts located next to the creek, which is why it is the ideal glamping experience for families, companies, friends, and more. The best part is that there are many activities for you to do. These include water sports, fishing, zip lines, boating, hiking, etc.
Recent Review: "The yurt was just as described and even more beautiful inside. We felt cozy and right at home. The only regret is we had to leave to return to work the next week! Looking forward to returning later this year and have told others about our awesome experience"
Location: Buncombe County, North Carolina
If you are looking for one of the most romantic retreats to go away with your partner, it doesn't get better than the Namaste Yurt. It includes a big bed, hot tub, satellite TV, WiFi, and much more. But, on the other hand, you can also get out of the yurt and enjoy what nature has to offer.
The best part is that there are also some nice restaurants for you to enjoy five to ten minutes away from the property. So, if you want to go for a romantic getaway in a remote location, be sure to consider Namaste Yurt. It has everything you will ever need.
Location: Grassy Creek, North Carolina
The Private Geodesic Dome is set on more than forty acres, and it will offer you an unforgettable experience. All the geodesic domes are handcrafted with over three hundred square feet of windows, solid cherry paneling, chestnut cabinets, wooden floors, and much more. A stairway inside the dome will lead you to an enclosed observatory at the top.
There is also a deck outside the dome that offers you a place to sit and relax. Besides that, the patio includes a hot tub, picnic table, and swing for you to enjoy. Of course, there is a lot to do around the property too, which is why it is the ideal glamping experience for all nature lovers.
Location: Deep Gap, North Carolina
Stay in the heated North Carolina treehouse dome and unplug from the world to recharge your soul. You will receive a stove, two cargo net hammocks, a king bed, bunk beds, a fire pit, a trout stream, and much more. However, the place does not include electricity, plumbing, or WiFi.
You can even camp in the winter as the tent stove will keep you warm no matter what the weather is. Keep in mind that children and pets are not advised to come here. If you want to bring your pet, you will need pre-approval and pay a fee of over $35.
Location: Ashe County, North Carolina
Immerse yourself in the mountains with the Tiny House on Wheels experience. It is the ideal location for a couple's Glamping in North Carolina getaway that will blow your mind. You will receive a queen-size bed, bathroom, and kitchenette.
The best part is that you can also bring your pets after paying a $50 charge. Besides that, you must let them know beforehand that you will be bringing your furry companion. So, if you want to enjoy the mountains with your significant other, be sure to check this out in no time.
Location: Candler, North Carolina
The Adorable Retro Camper with Hot Tub is quaint, cozy, and comfortable for you to enjoy the site. The camper sits on an open deck with an excellent hot tub that includes lights and Bluetooth speakers for you to enjoy. The best part is that the site is secluded, and you will get some of the best views of the Smoky Mountains from here.
It is minutes away from many biking and hiking trails for you to enjoy. Besides that, you can sit on the deck at night and enjoy the excellent stargazing experience. There is also a Nespresso machine that will make your mornings even better here for all the coffee lovers.
Location: Avery County, North Carolina
Spirit Bear offers a rustic yet chic glamping experience in a tepee that you will not find anywhere else. It includes a queen bed, two twin beds, a glass and propane fire pit, shower, art glass sink, and much more. Your comfort is their top priority, which is why it also includes a Yeti cooler, mini-fridge, coffee maker, fans, WiFi, and more.
There are also many hiking trails around the area for you to enjoy and explore when you are here. If you want to bring your pets, you can do that too by paying a charge of $25. So, be sure to sign up for this unique Glamping in North Carolina experience and enjoy camping like never before.
Recent Review: "Truly- the tee pee experience looked amazing and daunting at the same time. It was truly magical and actually easy- not daunting. The hosts thought of everything – aim flame lighters, wood, towels, etc. there is an excellent grill we used for dinner one evening."
Location: Ferguson, North Carolina
Stay in an authentic tipi with hand-painted interiors and exteriors. All of them are decorated and furnished so you can feel as if you are staying at home. Of course, when you combine that with the tranquillity of the mountains, the experience is like no other.
The Geo tipi includes two queen beds with pillows, blankets, and sheets. Besides that, you also get a percolator coffee pot, propane grill, outdoor eating area, and more. So, if you want comfort, luxury, and nature, be sure to give this place a visit.
Recent Review: "Great place to stay! The tipi's are top notch, and the hosts are the best kind of people. It's a beautiful property with all kinds of fun outdoor activities. Highly recommend!"
Location: Ivy, North Carolina
Fulfill your dreams of living in a hobbit house with this one-of-a-kind glamping in North Carolina fantasy. The house is crafted from materials that exist in the land nearby. Even though you might think the house is small, it is still incredibly spacious for you to enjoy.
The front pillars of the house look like Stonehenge, which is why they have also been given the name Hobbit Henge. The best part is that it is located in a meadow that offers you the best views and nature. So, book your stay here and live like a hobbit for a day.
Recent Review: "My stay was fantastic. The mountain view from the property is beautiful (seeing the stars at night was lovely), the rental itself is so adorable and cozy yet more spacious than expected! Perfect little getaway spot. Thank you!"
Location: Onslow County, North Carolina
If you want to get away with your partner in a tiny cottage, then be sure to check this out. It includes a queen bed, tiny fridge, bath, deck with chairs, and much more. You can enjoy the beautiful beaches of Emerald Isle and come back to relax during the day.
The Hammocks Beach State Park is also only a few miles away for you to enjoy. Besides that, there are some excellent restaurants and shops nearby. So, if you want a romantic stay with your partner, you must book the Glamping Cute Tiny Cottage.
Recent Review: "Lil sweet was the perfect little room for my vacation. We enjoyed the outdoor pavilion, even on the cold nights. It was the perfect location for us, being between shopping and the base. Thank you Corky and Audra for marking the space available!"
Location: Swansboro, North Carolina
It's a glamping adventure. Plan for your journey as though you were going on a tent camping trip. They do, however, have a generator, rain barrel non-potable water, Air Conditioning, an infrared fireplace, charcoal barbecue, gas cooktop, and even hot water. They also provide 4 sit-top kayaks for free to use in the surrounding waterways.
Recent Review: "My wife and I had a wonderful time! We even saw a pod of dolphins as we were kayaking. Overall it was an amazing experience!"
Hope you enjoyed the article. Remember to come back when you need to plan your perfect Glamping in North Carolina Getaway. We update the article with new options as much as possible! Now get out there Glamping in North Carolina, these places book up fast!
You may also be interested in Treehouses near Asheville or Luxury Asheville Cabins
---
Fantastic Glamping in North Carolina Pinterest Pin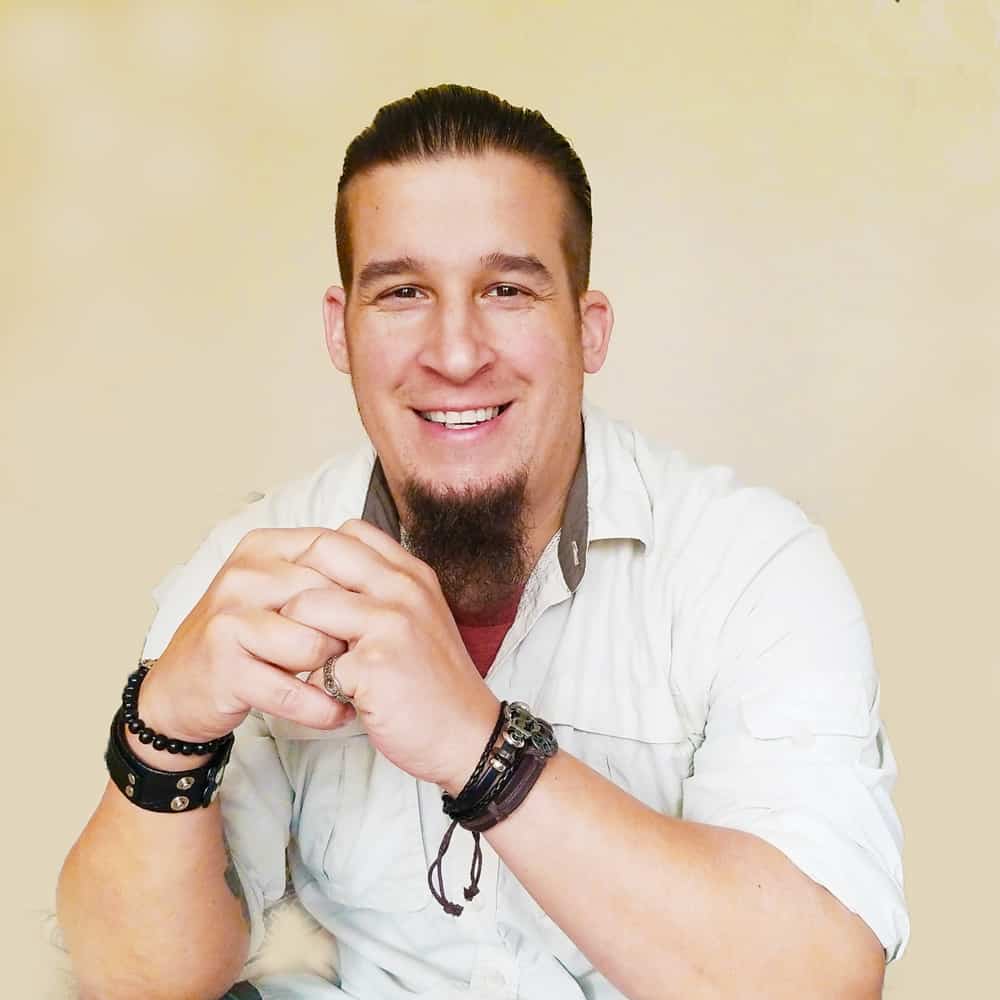 Full-time World Travel Writer who runs multiple websites and social media accounts. I have spoken at various conferences around the world. Some of my hobbies include adventure, fitness and new technologies. I am also a trekkie!