West Virginia is a tranquil state with many unexpected beauties to be discovered when visiting. Amazing natural landscapes, heritage landmarks, and thrilling adventurous endeavors are just a few of the things to do when Glamping West Virginia.
There is something for everyone, whether you choose a West Virginia Glamping vacation with your partner or a group or family glamping getaway.
While Glamping West Virginia, you may participate in a variety of activities such as whitewater rafting, hiking, hunting, fishing, skiing, and zip line. Alternatively, while cuddled up in one of these spectacular WV Glamping places below, take in the beautiful and distinctive landscapes of nature. Our list of spots for Glamping in West Virginia includes mystical WV Treehouses, Yurts in West Virginia, WV Glamping tents, tiny homes, and more. Book soon as they fill up fast!
Other Glamping Articles for you
Top Glamping West Virginia Spots to Book Now!
---
Location: Genoa, West Virginia
The Highlander Rustic Yurt is a one-of-a-kind spherical hut that is shaped like an octagon and is beyond any other home. The eight major timbers were taken from the Rustic Ravines estate's large Ash trees. The Yurt sleeps 2 and has a full bath, kitchen, and living area, It is a perfect getaway for glamping West Virginia.
Location: Elkins, West Virginia
This is the epitome of glamping. On the rear of this traditional yurt, an awesome porch connects to your own personal hot tub. People staying at this West Virginia Yurt are only a short distance from the Shaver's Fork River, where you can find trout to fish.
Indoor pellet stove/fans (pellets given by owner), kitchenette, bathroom, queen-size bed, futon sofa, mezzanine with one full bed, sheets and towels, barbecue grill, cable TV, WiFi, personal patio and hot tub.
Recent Review: "Great little yurt tucked away in the mountains. stayed their over new years. Super clean and cozy. close to a nice town to eat and get whatever you need. Host made it super easy and cant wait to go back!"
Location: Fayetteville, West Virginia
The exterior encircling decking area leading to the observation balcony is 24 feet in circumference. Holly Rock Treehouse is a robust, wooden building with dual French doors and an enormous inside window layout to soak in the nature perspective. It is reached from the mountainside by a suspension footbridge.
A fully furnished kitchen, as well as central heating and conditioning, are included in the Treehouse. There are no extra charges for bedding, towels, or kitchenware.
Recent Review: "The location is super nice and the treehouse is awesome. Rain does come in, on the tree trunk, during huge thunderstorms. It's actually really cool but a little messy. Definitely would recommend."
Location: Seneca Rocks, West Virginia
Searching for a fun nature adventure with your bestie? When you're done wandering for the day, you'll want to stay in a distinctive, comfortable cabin. For preparing your food, there's a small refrigerator, microwave, four-cup coffee maker, and single-burner hot plate, and also basic cookery and dining equipment and dishes (including two skillets/kettles). Relax in the comfortable queen bed with a luxurious duvet, plus a full bathroom.
Recent Review: "We got in late our first night and the lights were left on outside so it felt super comforting on our arrival! It was nice and tucked away off the road, perfect for a nice getaway weekend. The cabin was VERY clean and smelled amazing! I loved everything about this little cabin. The chairs in the closet was a bonus as we had a little fire as well! We stopped at the RiverMart to get some firewood since it had been raining (as recommended in the provided binder with all sorts of recommendations). We will be coming back again!! Thanks so much!"
Location: Shepherdstown, West Virginia
The treehouse is over a rocky ledge with views over our quiet holler, nestled among oak and hickory trees. A 12×5 front patio with a beautiful sunset vista and illumination for evening pleasure is provided.
Within, there's a relaxing corner with huge windows, a little kitchenette with a sink, micro-fridge, double cooktop, and toaster oven, as well as four chairs. Kitchenware, cushions, linen, towels, and fuel for the outside fire pit are all included. The mezzanine is ideally equipped for children, although it is also suitable for inclined adults.
Location: Moorefield, West Virginia
Glamping West Virginia is a one-of-a-kind camping experience that allows people to interact with nature. Camping with a few of the conveniences and luxuries of a hotel.
While you're getting away from the city, these tents feature a lot of the essentials you wouldn't want to be lacking. AIR CONDITIONING/HEATER, new bedding, refrigerator, microwave, carpets, WIFI, power, and so much more.
Location: Peterstown, West Virginia
Four Fillies Lodge is a secluded 84-acre property that you are welcome to wander and appreciate. The Kenya Safari Lodge offers a very distinctive and charming experience along with creature comforts.
There's a king bed, a complete bathroom, a kitchenette, and a hot tub in this room. The glimpses of the stream from the large windows will delight nature lovers. It really is the ideal location for relaxing or engaging in adventure activities like fishing, hiking, caving, white water rafting, and more!
Location: Peterstown, West Virginia
The Scarlet Gypsy Wagon is yet another remarkable lodging with modern facilities from Four Fillies Lodge. It's recognized for its creative features and coziness, making it ideal for you and your family's escape!
The carriage has a comfy Queen bed on the top bunk and a Full bed on the lower bunk and is 200 square feet with a spacious floor layout. It includes a kitchenette with a tiny refrigerator, toaster, toaster oven, basin, and microwave, as well as one full bathroom.
Location: Walton, West Virginia
While experiencing one of the most beautiful environments around from our Farm Treehouse, you'll feel alive like a child again! The Treehouse has enough room for two people and one kid to rest happily. It is indeed full of small openings and gates for distinctive vistas of the Appalachian Paradise encircling you, designed with the delight of a youngster discovering the wilderness in thought. A railed terrace wraps around, allowing you to relax outside with a drink and maybe do some genuine birding. The Treehouse is also equipped with electricity, Wi-Fi, and a coffee maker.
Recent Review: "Such an amazing and relaxing experience. We for a quick getaway and I love it. Heather was caring and kind. Our car broke down and she was kind enough to help us jump start it before we left.
Highly recommend the stay at this amazing treehouse! 🙂
Location: Mathias, West Virginia
Situated in private up a steep road, this tiny home is a great location for Glamping West Virginia. There are two comfy queen beds in this spot, as well as a full bathroom with a shower and a flushable toilet. It has a kitchen for cooking some lovely meals plus a wooden deck, relaxing outdoor furniture, a fire pit, and a propane BBQ.
There is swimming and boating at the nearby Trout Pond plus 23 acres of the property to explore. The state park is also only 3 miles away with lots of other activities.
Recent Review: "This tiny house has everything you need for a great getaway. Outdoor furniture, solo firepit, nice deck outside and the inside has completely functional kitchen, comfortable bed and sofa and hot shower. A very nice welcome gift awaited us. Communication was easy, with very quick response. We loved it and we love the pet friendly stays."
Best Glamping West Virginia Yurts, Treehouses & More Pinterest Pin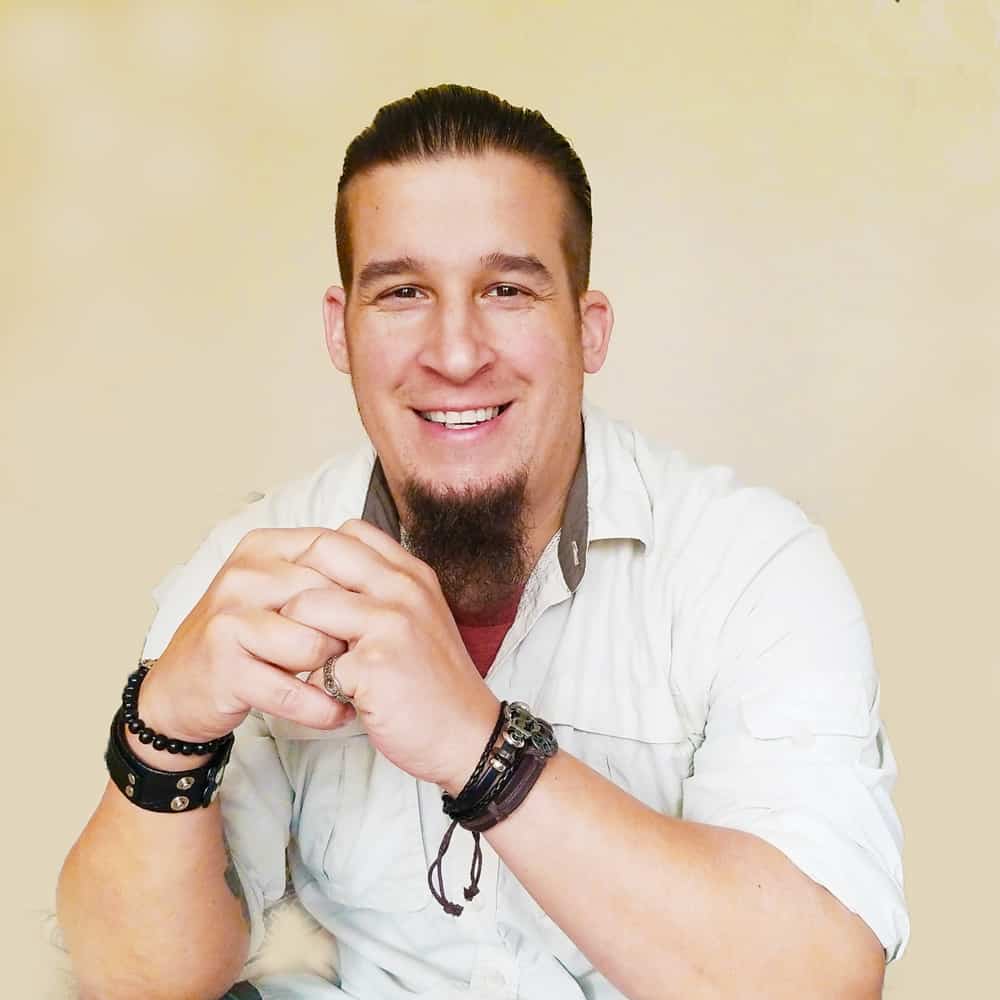 Full-time World Travel Writer who runs multiple websites and social media accounts. I have spoken at various conferences around the world. Some of my hobbies include adventure, fitness and new technologies. I am also a trekkie!