Arkansas is known for expanses of wilderness and park areas including its many lakes, rivers, hot springs, mountains and caves. This is why they call it the "Natural State." Camping and the outdoors is an integral part of the Arkansas culture. This is probably why Arkansas glamping spots and Arkansas Cabins are in such high demand.
People flock to the state for an authentic outdoor country living experience with the comfort of a luxury camping or glamping lodging. There are so many fabulous options including treehouses, yurts, and more that we've narrowed it down for you with this list of unique Glamping Arkansas locations to check out if you are planning a trip.
Before we get to the list, let's go over a couple of popular things to do when Glamping Arkansas.
Interest in more Glamping Articles in the area?
10 Best Tennessee Glamping Spots
Best Cabin Rentals in Blue Ridge Georgia
Virginia Glamping Spots to Book
---
Things to see when Glamping Arkansas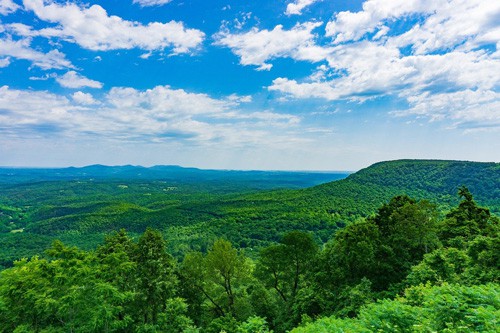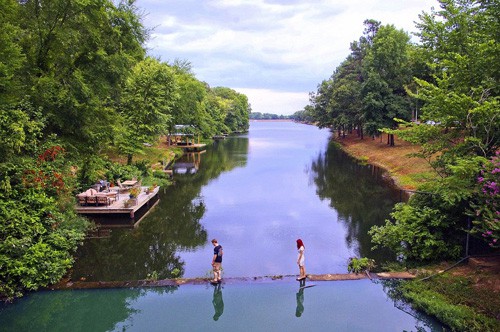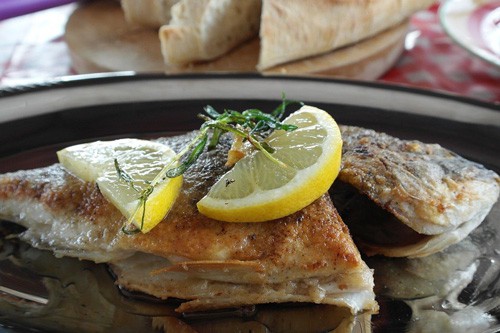 The Ozarks Region
Encompassing a good portion of the Northern part of Arkansas, this area is full of waterfalls, springs, lakes and caves. Some of the top spots to check out in the area are Buffalo National River, Blanchard Springs Caverns and Thorncrown Chapel.
Hot Springs National Park
This is the oldest National Park in the United States and has 47 thermal springs to enjoy. You also have the city of Hot Springs right by the park. It is a great area to use as a home base to explore this region. While you are in the area, make sure to visit the Garvan Woodland Gardens and Crater of Diamonds State Park.
Country Food Experience
Arkansas is also known for its down-home country cooking. If you want to really experience a local meal when Glamping Arkansas start with a pan-fried Catfish, Crappie or Bream and a side of fried potatoes with garden vegetables including some purple hull peas, okra and sliced tomatoes. Wash it down with some cold iced tea and for dessert, you must have a berry cobbler.
---
Best Arkansas Glamping Spots to book now!
---
Location: Hot Springs, Arkansas
Suitable for: Solo, couples, Small families
Prairie Palace Covered Wagon, which has a jacuzzi, is ideal for glamping in Hot Springs, Arkansas. The air-conditioned hotel is 12 kilometers from Magic Springs Crystal Falls, and guests can enjoy complimentary WiFi and private parking on site. A flat-screen TV is also available in the tented camp glamping Arkansas spot. This accommodation includes towels and bedsheets.
Location: Jasper, Arkansas
Suitable for: couples, families, small groups
Canyon View Luxury Treehouse, as the name suggests, provides a luxurious treehouse stay with breathtaking views of Arkansas' Grand Canyon. You'll wake up to the sight of lush green mountains every morning of your stay which you can enjoy from the comfort of your hammock on a large deck.
The glamping Arkansas treehouse can sleep up to 8 people with a king-size bedroom and common spaces with 2 double beds and 2 single beds. Amenities include a bathroom with a bathtub, a fully equipped kitchen, indoor fireplace, BBQ grill, and free parking space. This is a perfect place for a family vacation or romantic getaway.
Recent Guest Review of this Property:
"The cabin and view were amazing! The thoughtfulness and hospitality were unexpected and very much appreciated. The cabin sits right off the road, but that did not bother us at all. The cleanliness and amenities were great."
---
Location: Hot Springs, Arkansas
Suitable for: couples, small family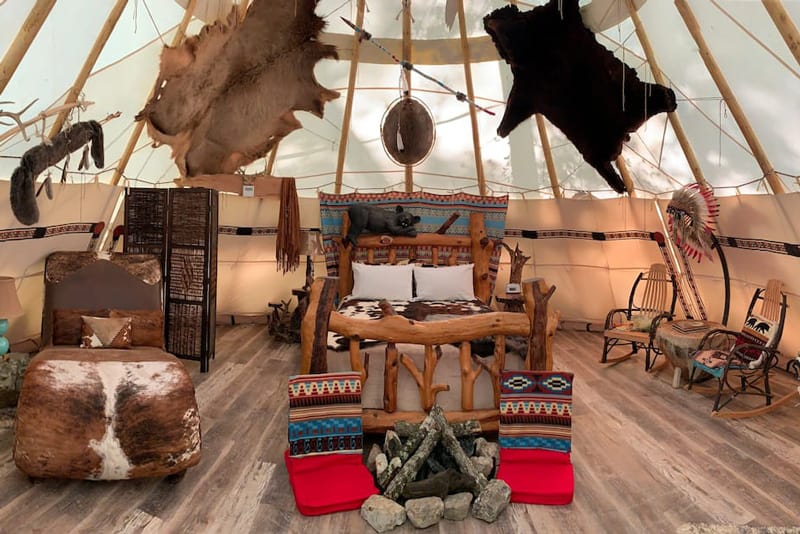 Have you dreamed of glamping in Arkansas in an authentic tipi? Well, your dream will come true at Lakota Luxury Tipi. Great care was taken to create a replica of an actual Indian Camp where this beautiful glamping Arkansas tipi sits in the Ouachita National Forest/Hot Springs National Park.
Your tipi home has a comfy log frame bed and is decorated with animal skins and gorgeous Native American fabrics and craftwork and the exterior of the tipi is covered with authentic artwork. You'll also have everything you'd get in a hotel room such as electricity, heat and AC, a TV and some basic kitchen tools such as a mini-fridge and microwave.
The bathhouse is a few feet from the tipi and is for your private use as is the hot tub. Around the camp, there are traditional items like canoes, firepits, a skimboard, and even life-size Indian pony statues.
Recent Guest Review of this Property:
"We only stayed one night but it was absolutely wonderful!! Only wish it could have been a week. The tipi was warm and beautifully decorated. Any concerns we had were answered and taken care of immediately. The bed was comfortable. The twinkle lights in the " ceiling" of the tipi were so cool. Everything was sparkling clean. The tipi , bathhouse , hot tube and the area surrounding the tipi outside. The walk to the bathhouse was no problem. Just use a flash light at night if you eyes are old like mine. We loved the hot tube and had no problem with water temperature. Even on a cold February night.
Very short drive into Hot Springs for dinner. Love Love Love Loved it!!!! If you get a chance to stay in this unique place DO IT! You will not be disappointed. Will definitely be back! And sleep under the hide. It made the experience feel more authentic like being in that era."
---
Location: Mountain View, Arkansas
Suitable for: couples, families, small groups
This treehouse is a magical retreat perfect for a couple, a family, or a small group of friends as it can sleep up to 6 people. There's one king-sized bed, 2 twin beds in the loft and a sleeper sofa in the common space. You also have a full kitchen, bathroom and jacuzzi tub in the treehouse.
Outside there are several spaces to enjoy the lush green surroundings that make this glamping in Arkansas experience something you'll never forget. Relax with a book on the porch swing or rocking chairs, sit around the campfire roasting marshmallows or grill up a meal on the lower deck gas BBQ which also has a great wood bar.
Recent Guest Review of this Property:
"What a great couple of nights. The treehouse is great- very cozy and clean. Loved the views, the privacy, and the fire pit. Hosts were excellent. Will be coming again in summer."
---
Location: Heber Springs, Arkansas
Suitable for: couples, small family, small groups
Staying at this one-of-a-kind cottage designed by architect E. Fay Jones is truly an extra-special glamping Arkansas experience. There's no doubt that nature-inspired the design and decor of the beautiful and serene Stoneflower Cottage. From the natural finishes to the floor-to-ceiling windows bringing the stunning views inside you will be in awe the minute you step inside.
The lower level is all about natural stone…it's on the walls, floor, and even furniture…creating a whimsical grotto scene. The main bathroom on this level features a shower that emulates a waterfall and opens up to the garden.
Climb a spiral staircase to the next level where you'll find the living area (with 3 sofa beds), the modular and moveable dining area, plus the kitchen. Rich wood, natural light, and modern decor are the focus on this floor as well as a large deck with jaw-dropping views. The top floor is a sleeping loft with a queen-sized bed and more amazing vistas and architectural details.
If you can bring yourself to leave the Stoneflower you'll find yourself at the foothills of the Arkansas Ozarks surrounded by forest and Greer's Ferry Lake to explore.
Recent Guest Review of this Property:
"It was a really special experience to be able to stay in an E. Fay Jones home – a perfect weekend getaway."
"Very beautiful and memorable experience – I recommend anyone coming out to this area to try a stay at the Stoneflower! It's a place like no other – a very one-of-a-kind stay. I loved all the architecture and little details. The first floor is completely made of stone and nothing I've ever stayed in before. Eating out on the upper deck for our Thanksgiving is something I'll never forget!"
---
Location: Roland, Arkansas
Suitable for: solo retreat, couple, romantic getaway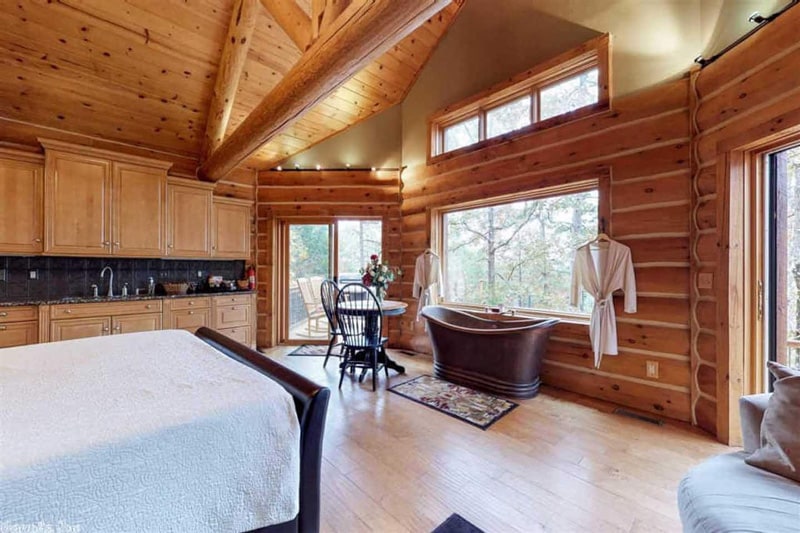 The hosts have appropriately named this lovely glamping Arkansas cabin "An Enchanted Evening" Everything you need for a romantic getaway is here: a comfy king-sized bed, a stone fireplace, an old-fashioned copper tub with a view and a 2-person rain shower are just some of the special features you'll find. Other amenities include a full kitchen and a private deck with a BBQ and a hot tub for a starry night soak.
The location is also perfect. The cabin is nestled in a forested area with stunning views of Pinnacle Mountain and Lake Muamelle. Plus, it's only 20 minutes from iconic Little Rock, Arkansas.
Recent Guest Review of this Property:
"We loved our stay. The view, the hot tub, and the relaxing atmosphere created a wonderful getaway. Host was responsive. We will definitely stay again!"
"Wendy's cabin was such a special glamping Arkansas get away. We hiked pinnacle mountain and other than that didn't want to leave the cabin. It's truly a beautiful place."
---
Location: Eureka Springs, Arkansas
Suitable for: solo retreat, couples, romantic getaway
Two air-conditioned cottages and treehouses with coffee/tea makers and irons/ironing boards are available at Oak Crest Cottages & Treehouses. Rooms with balconies or patios are available. Refrigerators and microwaves are available in each room. Showers are available in the bathrooms.
Guests can use the complimentary wireless Internet connection to surf the web. Cable channels are available on flat-screen televisions.
Both Treehouses are similar with a Hot tub for two people, a stove, and air conditioning (in season only), a family room with a 40″ flat-panel TV and DVD player, a fully equipped kitchen with a refrigerator, microwave, and coffeemaker, and a guest room with a KING BED and Cable TV/DVD, and a restroom with a stall shower.
Recent Guest Review of this Property:
"LOVE how unique this property is. The owners communicated best directions and were quick responders! I would recommend Oak Crest to anyone visiting this area."
Location: Mountain View, Arkansas
Suitable for: solo retreat, couples, romantic getaway
They have a magnificent Glamping Arkansas treehouse on the slope of Dodd Mountain that overlooks Mountain View and is quite isolated and forested. Guests can always count on a pleasant stay.
Prepare for a mountain getaway with all the comforts of home and only 5 minutes from civilization. We have a King and a Queen-size bed. The king is below, while the queen is upstairs, up a ladder. For those warm summer visits, we have heating and cooling below and an air conditioner on the balcony.
They have a two-person soaking tub (with a view), a terrace with views of both sides of Mountain View, a veranda swing, and the possibility of seeing some local animals.
Recent Guest Review of this Property:
"My friend Caleb had been wanting me to see the cabin for a long time. I am so glad we stayed there and will be staying at the cabin again every time we come to Mountain View from now on! They are with the price and I would change nothing about them."
Location: Eureka Springs, Arkansas
Suitable for: solo retreat, couples, romantic getaway
The basic comforts of a queen bed, private shower/toilet, microwave, and refrigerator are combined with the atmosphere of whispering pines in the woods in our unique Glamping Arkansas Pods. Eureka Springs is about five minutes away. For your entertainment, there is a BBQ hut at the glamping site. On your own terrace, you may have a propane fire pit. Relax, enjoy, and go on calm walks. Take a look at the million stars that light up the sky at night. There is parking available. There is television and internet access. USB ports are available. Coffee and tea are offered at no charge. Three sleeping pods on Iris Hill can accommodate a total of six persons.
Recent Guest Review of this Property:
"Me and my partner wanted a quick getaway before I leave for college and I honestly couldn't have asked for anything better. We wanted something quiet but close enough to town to do our shopping and the pod was perfect. All he could talk about was how much he loved it and when he wants to come back, and I do too!! The rain hitting the roof of our little cabin and the fresh air was just wonderful. Thank y'all so much for having us!"
Location: Eureka Springs, Arkansas
Suitable for: solo retreat, couples, romantic getaway
This is the newest addition to the glamping yurts in Arkansas and it's a perfect place for a romantic getaway. There is a king-sized bed in this glorious white oak yurt as well as a comfy seating area, dining table, kitchen and bathroom. Black walnut and white oak were used for much of the furnishings, cabinets and counters and the bathroom has a gorgeous petrified wood sink.
Outside the yurt is a large deck with a private hot tub overlooking stunning views. There's also a grill and outdoor seating on site but if you want to go out for a meal it's just minutes to historic Eureka Springs.
Recent Guest Review of this Property:
"A wonderful getaway! Melissa & Blake were great hosts. The yurt had everything we needed for glamping Arkansas and was cozy and cute! The bed was very comfortable and you can't beat the hot tub with the views!"
---
Location: Hot Springs, Arkansas
Suitable for: couples, romantic getaway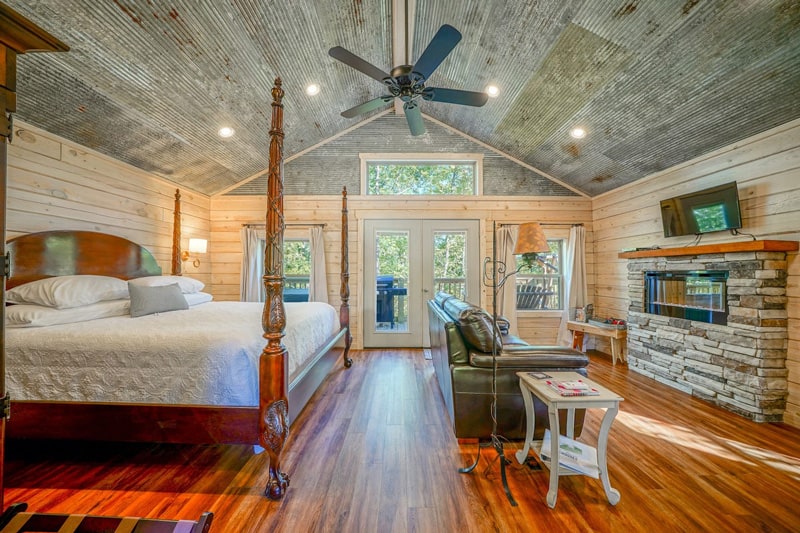 Located near downtown Hot Springs National Park, the Mountain Air Treehouse is not just one treehouse but six of them. Each has unique features and privacy within the canopy of trees. You and your partner can snuggle up in a luxurious king-sized bed in front of the fireplace after grilling dinner and enjoying a relaxing hot tub under the stars on your private deck. Your treehouse also has a bathroom, kitchenette, sofa and TV.
Start your day with a cup of coffee on the porch swing while admiring the view of the Ouachita Mountains before setting out to explore the 27 acres of woods and stroll along the creek. If you want more action you're just minutes from downtown Hot Springs National Park.
Recent Guest Review of this Property:
"This place is top notch! Relaxing, comfortable, romantic, and beautiful. The private hot tub was our favorite place to watch the sunrise and sunset. Truly, the perfect getaway. We will be back!"
Glamping Arkansas Pinterest Pins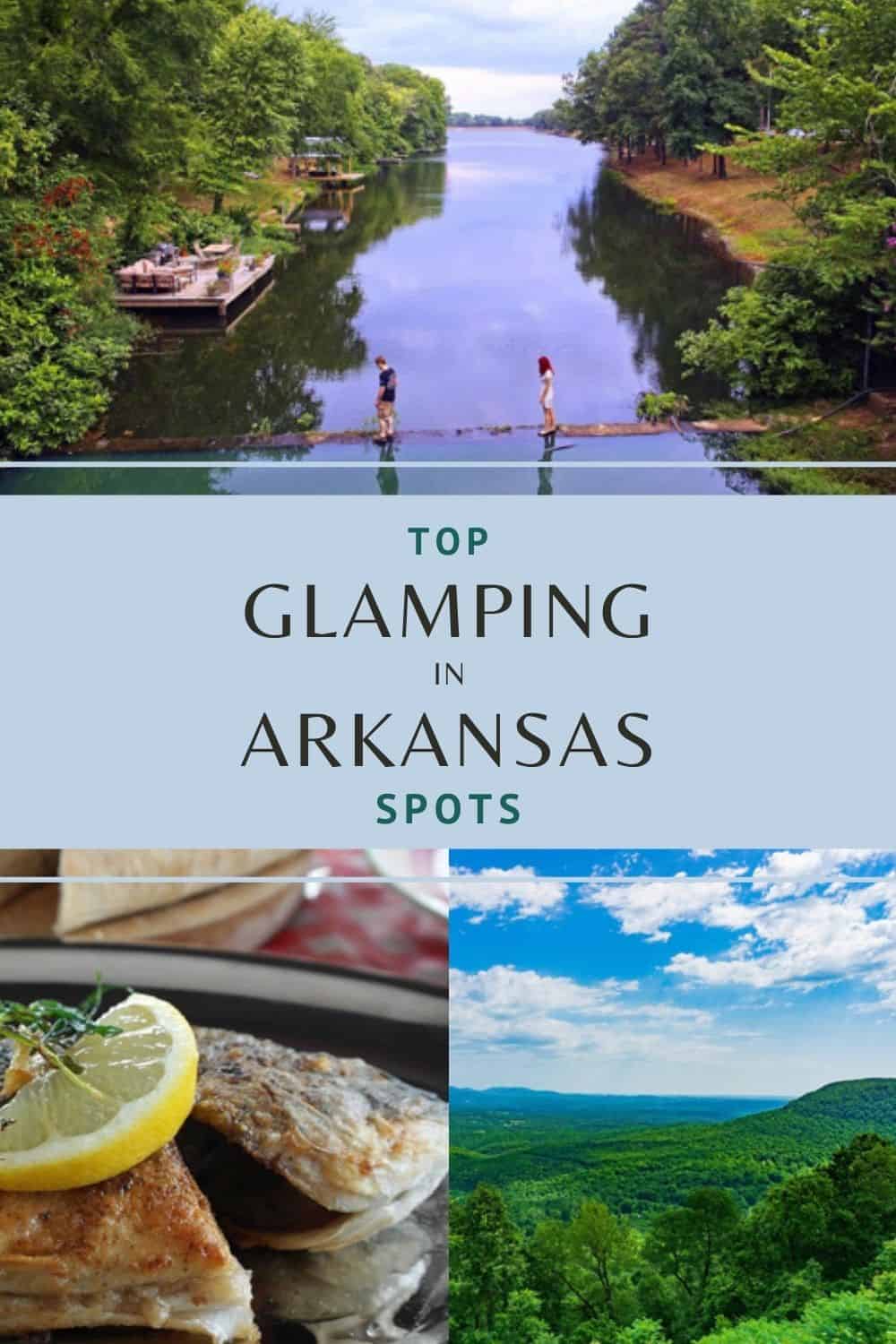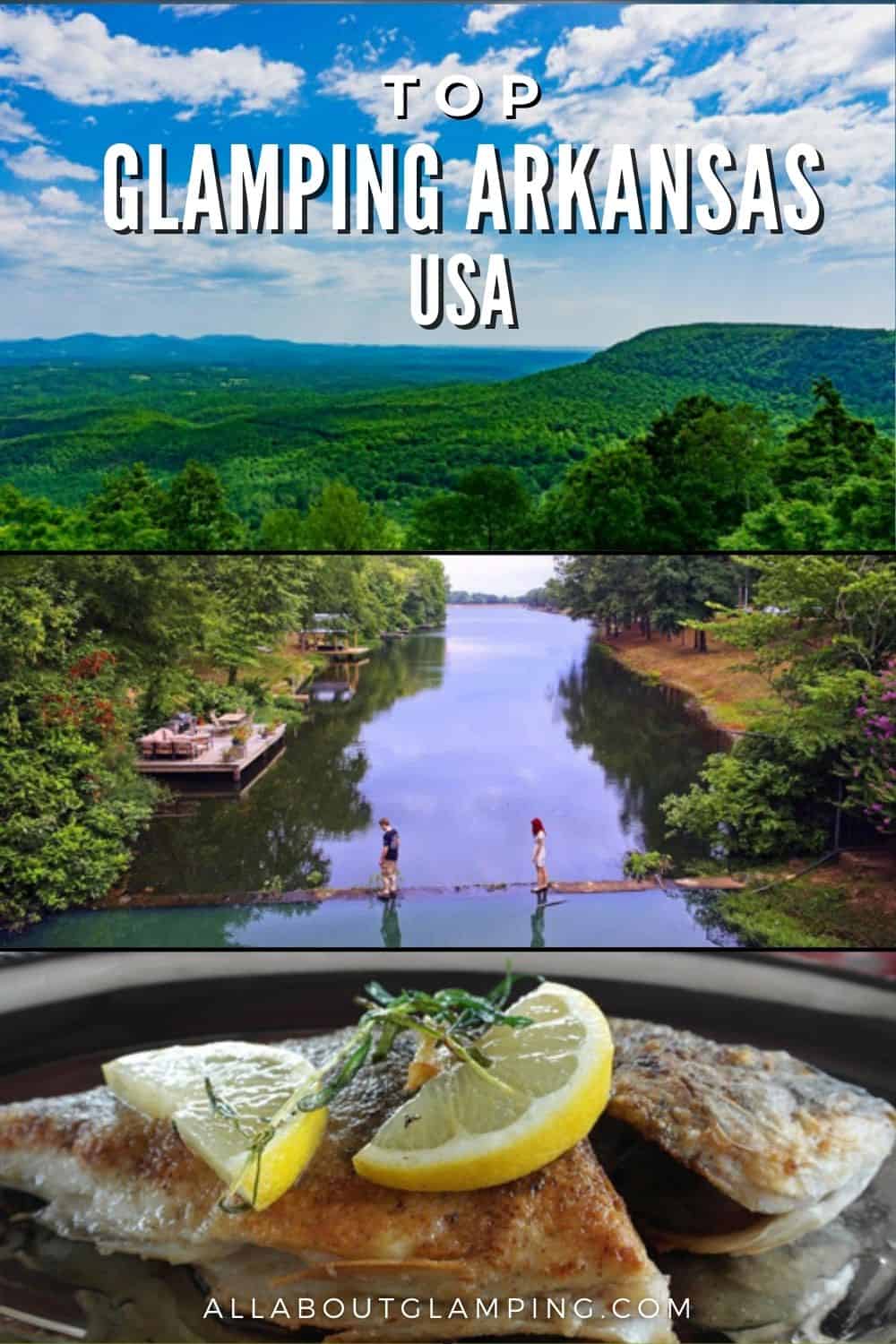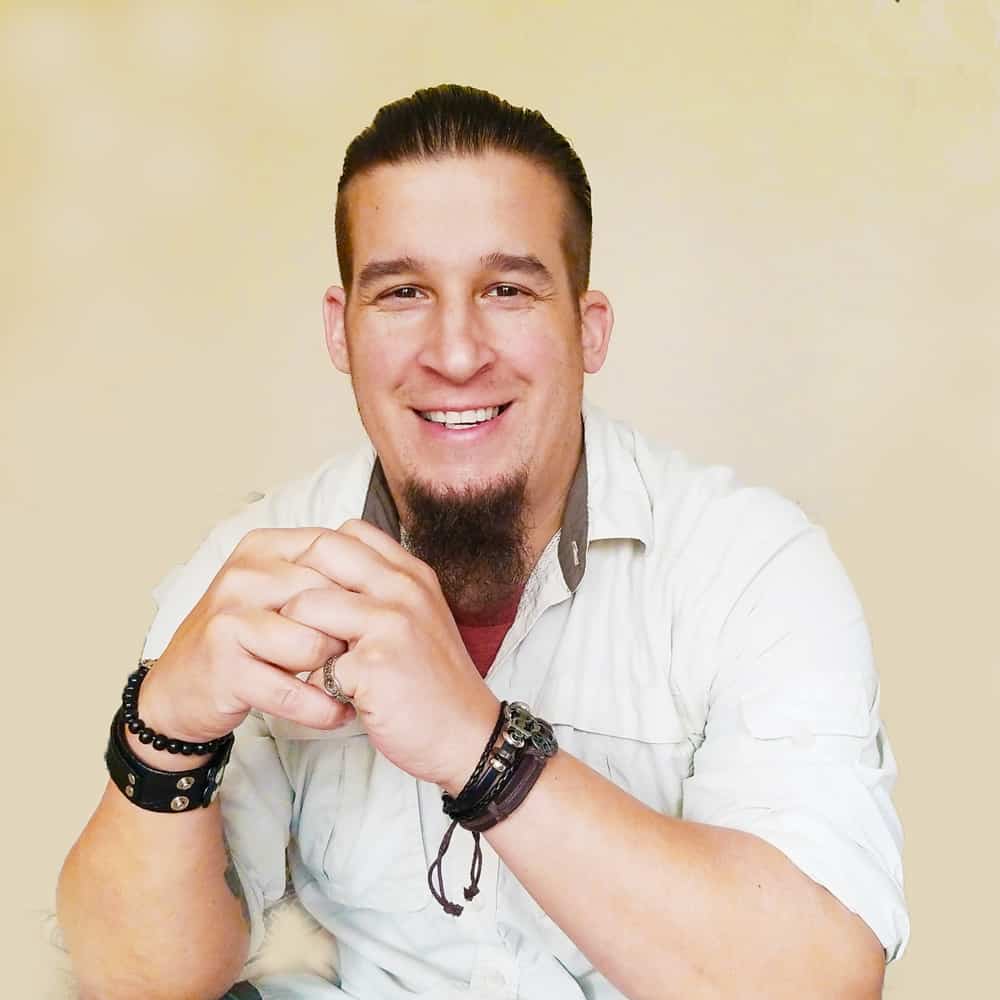 Full-time World Travel Writer who runs multiple websites and social media accounts. I have spoken at various conferences around the world. Some of my hobbies include adventure, fitness and new technologies. I am also a trekkie!