Glamping in Nebraska should be on every person's bucket list. The midwestern state of Nebraska is comprised of the expansive prairies of the Great Plains, and awe-inspiring rock formation in its panhandle and massive dunes of the Sandhills. It is no surprise that Nebraska Glamping is becoming so popular as people are looking to enjoy the state's amazing nature without having to pack the car full and spend hours setting up a camp.
Let's go over some of the unique and amazing things to do when Glamping Nebraska and then check out some of the top places you can try glamping in the Cornhusker State yourself. Make sure to bookmark this page to refer to it when you are planning your next trip.
---
Read Also:
---
What to Experience when Glamping in Nebraska
---
Tanking
Grab some friends and climb into a big tub for watering livestock and down the river you go. This may sound weird, but it one of the unique things to do in Nebraska. Relax with a cold drink as you float down the slow-moving water and take turns with the paddle. Just try not to get dizzy paddling in circles.
---
Carhenge
Think Stonehenge but with cars. Yes, that is exactly what this is. This art piece is made up of 39 vintage American cars stacked and situated like the ancient stone structure of Stonehenge in England. Great spot for a picture and another very unique thing to see in Nebraska.
---
Toadstool Geological Park
One of the most unique landscapes in the United States and a great place for hiking as well. Strange rock formations surround you as you venture through the area with fossils of the past hidden in the earth. Have your camera ready as you will be taking pictures every few minutes.
---
Lake McConaughy
This giant lake has over 100 miles of shoreline and consists of 35,000 acres of water. Fishing is a big deal in this lake with the ability to catch walleye, channel catfish, Northern pike, wiper and white bass. There are also white sand beaches for swimming, kite surfing or enjoying the sun.
---
Niobrara National Scenic River
One of Nebraska's most wonderous natural scenes is on the Niobrara National Scenic River. You have Snake River Falls, which cascades over layers of rock with mist shooting up as it hits. You can also canoe along sandstone cliffs and take in the fresh air and views.
---
Cowboy Trail
This popular cycling route is 192 miles long and has 221 bridges on its path. It is the longest rails-to-trails conversion project in the U.S.A. You can try for the whole route or just enjoy specific parts of it. It crosses an array of rivers, valleys, prairies and woodlands to amaze the eyes of the beholder.
---
Sandhills
Designated a National Natural Landmark in 1984, the Sandhills take up one-quarter of the state. Much of the region is a mixed-grass prairie which helps stabilize these picturesque sand dunes. Some of the dunes can reach up to over 300 feet. The Sandhills are some of the prettiest and most amazing dunes in the US.
---
---
Top Spots for Glamping in Nebraska
---
Location: Ashland, Nebraska
Suitable for: couples, small families, small groups.
Do you want to experience luxury and nature at the same time while glamping Nebraska? Then the place you are looking for is the Kimberly Creek Retreat. This is a nature sanctuary and there are many things for you to do and see starting from the Mahoney and Platte River State Parks, to Wildlife Safari Park, Quarry Oak Golf Courses, museums, wineries and restaurants.
There are many options for you to choose from and all these glamping options have air conditioning rooms, heating facilities, a bathroom with a private shower, mini-fridge, oven, toaster, microwave, dishes, private fire pits and propane grills.
The Sundowner- Accommodates 8 people in the three bedrooms and is a murphy bed as well. You can have a romantic evening while swimming in the hot tub in the cabin.
King Dome- Accommodates 6 people with 1 king-sized bed and 2 queens sized loft in a 24 ft dome.
Queen Dome- Accommodates 4 people with 2 queen-sized beds in a 20 ft dome.
The Ranch- accommodates 6 people with 2 queen-sized beds and one double bed. It is a charming rustic spot with a fireplace.
The Sanctuary- accommodates 6 people with 2 queen-sized beds and one double bed. It is equipped with all things you need and is elegantly designed with a contemporary style.
The Homestead- Accommodates 5 people with 1 queen-sized bed and 1 queen bed loft, along with a child sleeping bed. Therefore, this little cabin is perfect for small families.
The Nook and The Cranny- Accommodates 2 people with its double beds. Perfect for couples who are looking for glamping Nebraska experiences in a Euro-style pod.
---
Location: Chadron, Nebraska
Suitable for: solo retreat, couples, romantic getaway.
If you are longing for a peaceful getaway, away from all your worries in a place where no one won't be there to disturb you, then the Sheep Wagon Hideouts is your perfect place to be. As the name suggests, these wagons are hidden in the wilds of the RuJoDen Ranch and access to the wagon is by foot by parking your vehicle in a space ¼ miles away from the wagon.
The sheep wagons are comfy with an authentic design of eleven and a half feet long and six and a half feet wide as they have been in the 1900s, and it has a bed, ovens, wood stove, storage space to store your belongings. You can ask the hosts for anything you need or bring everything yourself. However, linens, towels, utensils, etc. are provided to you along with an ice cooler.
There are many activities for you to do such as hunting, fishing and watching wildlife or simply walking around and admiring nature are a few things that you will love.
---
Location: Nehawka, Nebraska
Suitable for: couples, romantic getaway.
Located 2.5 miles away from the town of Nehawka, the Slattery Vintage Estate offers one of the best glamping in Nebraska experiences because you will be staying in B&B bungalows! However, the place is highly romantic, especially at night and therefore, only guests over the age of 21 are allowed inside the premises.
The glamping tents have 2 sizes as 12X14 or 14X16 and they are on decks with porches, so that you can get a lovely view of the vineyards. These tents come with king or queen-sized beds, dressing tables, tables, chairs, fans and heaters.
---
Location: Waterloo, Nebraska
Suitable for: couples, families and small groups.
Are you dreaming to spend your night in a caboose while you are in Nebraska? At Two Rivers State Recreation Area, you can make that dream come true with the cabooses that are fully equipped even to be used in summer. There are many outdoor activities such as, camping, bird watching, hiking, horse riding, fishing and swimming in the lakes on the premises.
It can accommodate up to 6 people with two bunk beds and two mattresses in the cupola. Other camp amenities include a private bathroom with shower, kitchenette, refrigerator, stove, dining area, picnic area and a BBQ grill.
---
Location: Peru, Nebraska
Suitable for: solo retreat, couples, romantic getaway.
The Cabin at Honey Creek is a super cozy little cabin inspired by the architectural styles of the 1890s. So, if you want to have a travel-back-in-time experience while Nebraska Glamping, then this is your place. You can stargaze with your loved one at night enjoying some BBQ near the firepit or explore the Honey Creek which includes doing activities like hiking, biking, hunting, visiting a museum or a winery or shopping in the countryside.
It can accommodate up to 2 people with its 1 double bed. Other camp amenities include air conditioning rooms, heating, bathroom with hot water, kitchen, microwave, dishes, silverware, cable TV and long-term stay facility.
---
Location: Ponca, Nebraska
Suitable for: families, small groups.
Just as the name suggests, this is a tiny house nestled in a lush green hilly area in Nebraska. And the best part is, you can have the entire home to yourself with 80 acres of green space.
You can hike in the Ponca State Park Trails which is located a 10-minute drive from the property, or simply lie down in a hammock reading a book enjoying the beautiful scenery. Another thing to do is canoeing in Powder Creek which is located 1.5 miles away from the property.
It can accommodate up to 6 people with its 2 bedrooms that have 1 double bed, 1 queen bed and common spaces. Other camp amenities include air conditioning rooms, bathroom, washer, dryer, cable TV with Netflix, travel crib, board games, indoor fireplace, fully equipped kitchen, BBQ grill and firepit.
---
Location: Omaha, Nebraska
Suitable for: solo retreat, couples.
If you want to spend your vacation with animals (cows, ducks, tortoises and even camels) then this is your destination! This can be a great glamping in Nebraska experience because you will get to see how these animals are cared for in this Animal Therapy/Rescue Ranch.
The camper can accommodate up to 2 people with its queen-sized bed. Other camp amenities include a bathroom, kitchen, microwave, refrigerator, BBQ utensils, BBQ grill, free Wi-Fi and TV.
Pin it!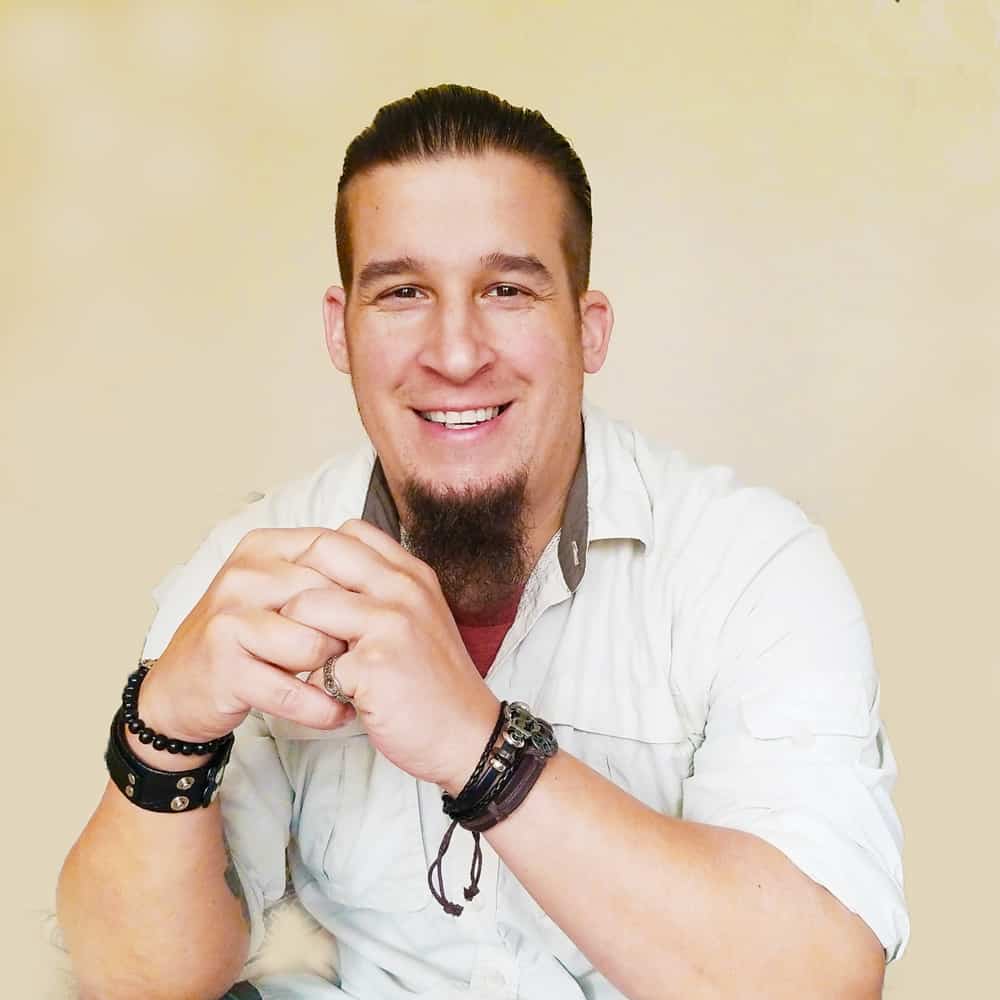 Full-time World Travel Writer who runs multiple websites and social media accounts. I have spoken at various conferences around the world. Some of my hobbies include adventure, fitness and new technologies. I am also a trekkie!