Glamping in BC has boomed in the last few years and has become one of the top places for luxury camping in the Pacific Northwest along with Washington and Oregon. That's not surprising since British Columbia is regarded as one of the most beautiful areas in the world. From Vancouver and the gulf islands, the tree filled mountains to the expansive Okanagan wine region it amazes both locals and travelers alike. It has so many different environments and unique ecosystems to choose from that you can spend a lifetime exploring all it has to offer.
---
Also read
Camping on Salt Spring Island BC in Luxury
Treehouse Glamping in Washington State
---
Regions of British Columbia
The vast province of British Columbia is divided into 5 main regions. The Gulf Islands which consists of around 200 forest covered isles with Vancouver Island as the biggest. Vancouver Island is giant and is the largest island on the west coast of North America and makes an ideal location for Glamping in BC.
The Greater Vancouver area consists of the city of Vancouver, the North Shore, Fraser Valley, Whistler and the Sunshine Coast. This is the most populated area in BC, but don't let that fool you. Nature is everywhere and it is easy to get your glamping on.
The Okanagan to the east has an arid climate and is full of orchards and vineyards, and some of the best fruit and vegetable-growing land in the world. Dozens of parks surround Okanagan Lake with Kelowna as a popular tourist destination for sun seekers. If you want to combine wine tasting with glamping in BC this is the place to go.
British Columbia also has the Cariboo, Chilcotin and Central Coast area which is known for it's guest ranches, outdoor adventure and pristine lakes, rivers and streams. The coast offers Discovery Coast, Princess Royal Island, and the awe-inspiring Great Bear Rainforest.
Northern BC is a region with never-ending unspoiled masterpieces of nature to feast your eyes upon. This vast wilderness consists of Prince George, Fort Nelson, Fort St. John and the Alaska Highway to name a few.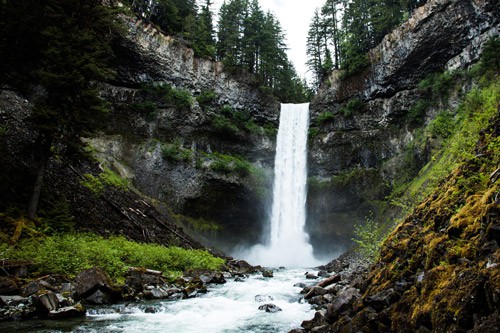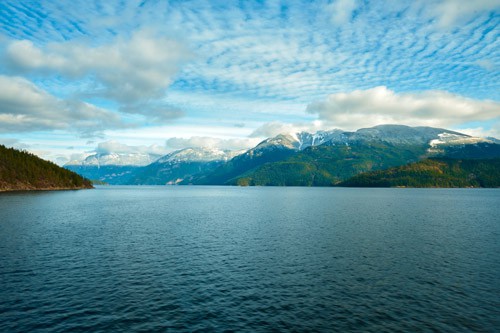 List of Unique Glamping in BC
Location: Vancouver Island
Best For: Luxury, families, couples, outdoor activities
Amenities: Safari tents, deluxe beds, comfy seating area, fireplace, private deck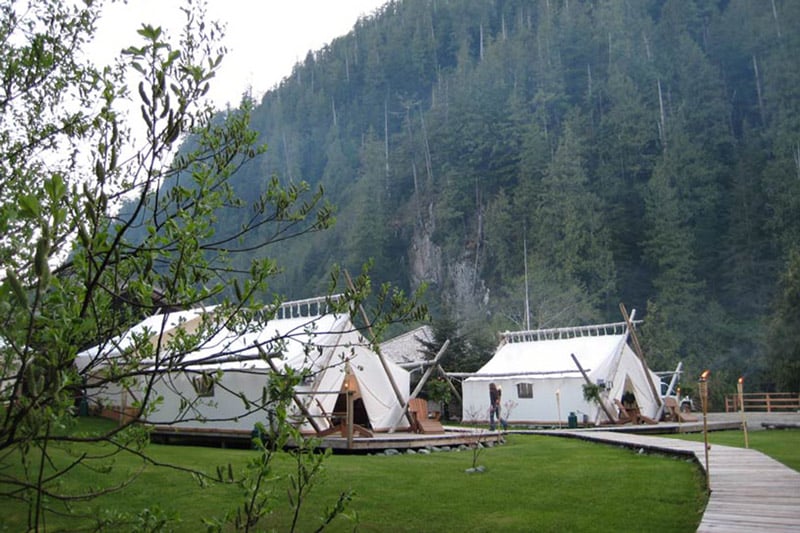 Luxury glamping safari tents nestled in the Clayoquot Sound Biosphere Reserve on Vancouver Island. This biosphere contains some of the last remaining untouched ancient temperate rainforests in the world.
Prospector style tents for glamping situated along the water's edge make for a unique experience. The resort provides spa and wellness services as well as outdoor adventure excursions.
Each tent is decorated and designed with 5 star comforts to make your stay a truly memorable one.
---
Free Spirit Spheres
Location: Vancouver Island
Best For: couples, outdoor activities
Amenities: Treehouse sphere with bed, galley, table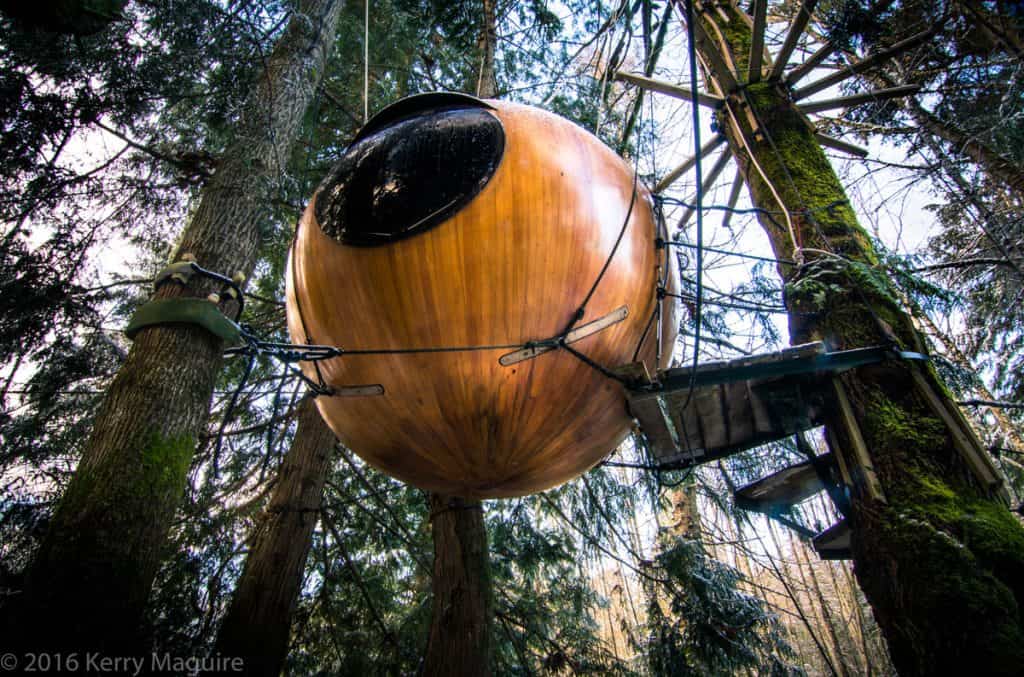 If want a unique glamping experience not found anywhere else, this is it! Deemed as artwork among the trees, each sphere has a bed, table and small galley with sink.
One of the more unique Glamping in BC stays on our list, Free Spirit Spheres takes Glamping Pods to the trees. These treehouse glamping spheres are situated in the rainforests of Vancouver Island.
---
Cliffhouse Cottage
Location: Galiano Island, Gulf Islands
Best For: Luxury, families, couples, outdoor activities
Located on the beautiful Galiano Island this cottage provides beautiful views of the gulf waters of BC with a feeling of total seclusion and privacy.
The Cliffhouse Cottage provides a queen-sized bed, a solarium, wood stove and a refreshing outdoor shower. If that was not enough, you can lounge out on 2 spacious decks or relax in a one of kind heated sauna near the ocean.
Book now as this place's calendar fills fast!
---
Cob House
Location: Mayne Island, Gulf Islands
Best For: Luxury, families
Have you ever wondered what it is like to live in a cob house? Well now is your chance. This unique stay on Mayne Island is one of a kind.
This unique dwelling was hand-sculpted using locally acquired and natural materials. It has a center living area with slab stairs leading to the bedroom in the loft.
It creates a magical tranquil space wrapped in nature which enables you to get away from the 9-5 and reset.
---
Salty Pear
Location: Salt Spring Island, Gulf Islands
Best For: Luxury, couples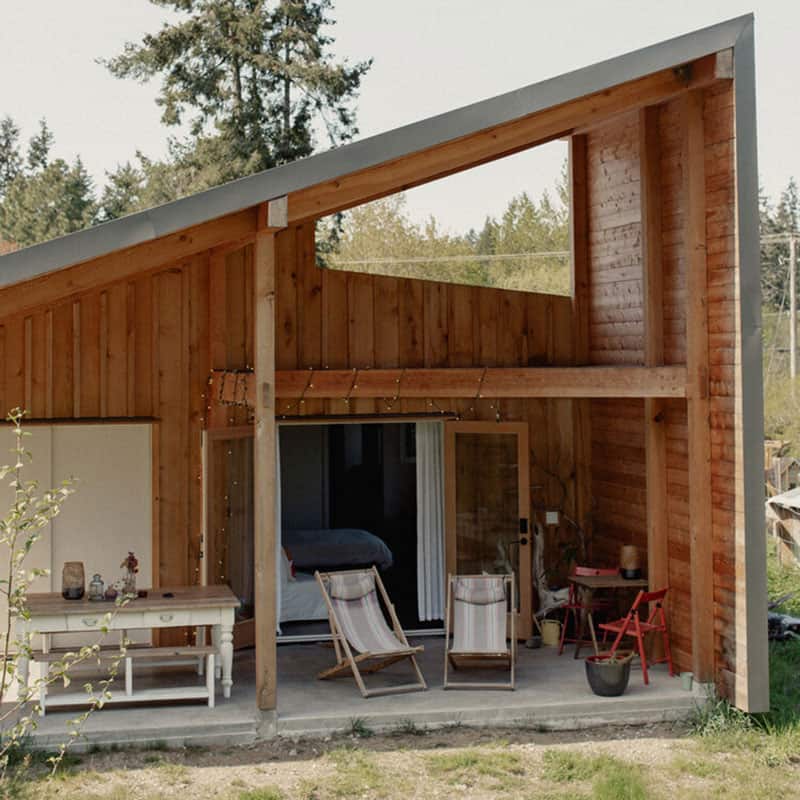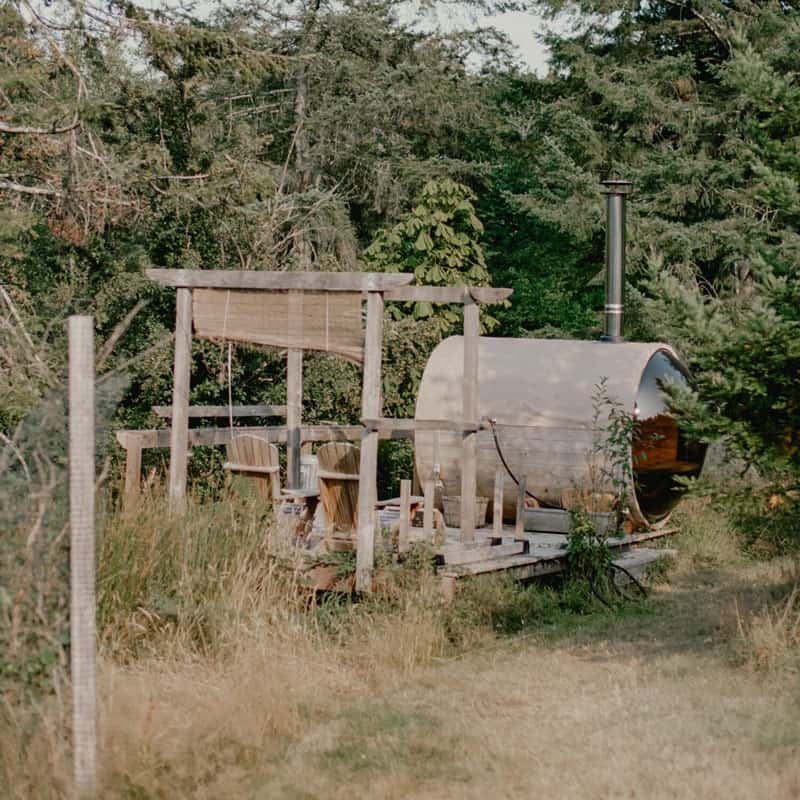 Salty Pear is a great place to relax and take in yet another unique way of glamping. It has two accommodations to choose from, the Camping Casita that provides fresh breakfast farmed from the neighboring organic farm, a private kitchen and bathroom, plus a colemans campfire and picnic table help to create the camp vibe, etc.
The Studio Suite is nestled on 5 acres of fruit trees and provides a private deck, mini kitchen and heated concrete floors and more!
Each of these glamping cabins give you access to a unique barrel sauna to relax in nature and the town of Ganges is just a 10 min walk via a nearby trail through beautiful Mouat's Provincial Park.
---
Barefoot Beach Resort and Campground
Location: Penticton, Okanagan
Best For: Families, couples, outdoor activities
Barefoot Beach Resort offers a village of Glamping Yurts in various sizes from studio yurts that can sleep up to 3 people to 2 bedroom yurts that can sleep up to 8 people. They also have a couple beach houses with views of Lake Skaha.
All the accommodations have an array of amenties including kitchen, bathroom, tv, cable and wifi to name a few. You get access to a private beach, an onsite restaurant, gym and the Kettle Valley Rail Trail.
---
Woods on Pender
Location: Pender Island, Gulf Islands
Best For: Luxury, families, couples, outdoor activities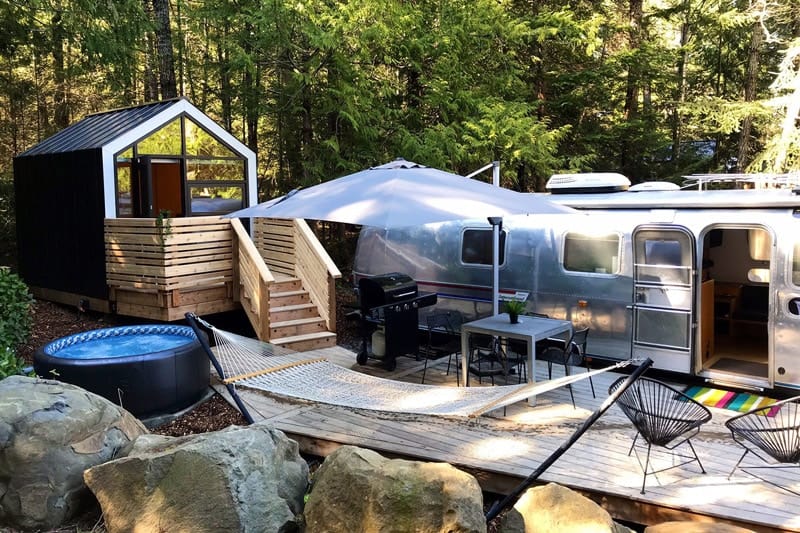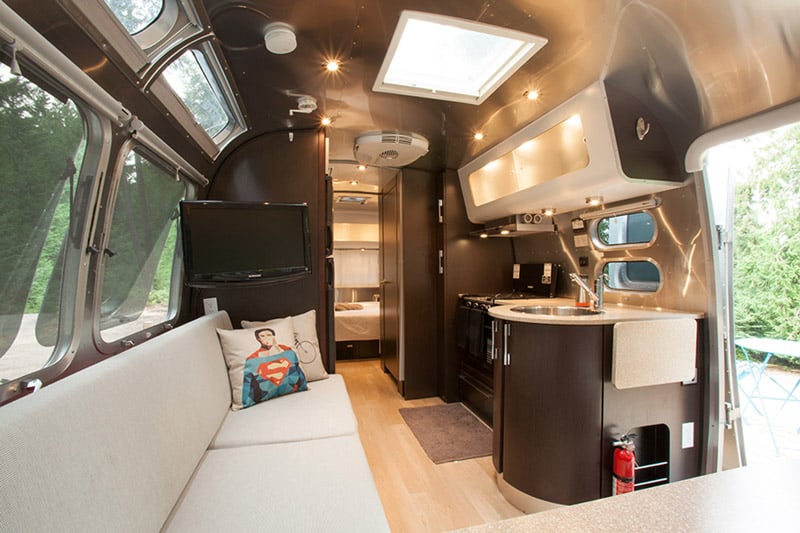 Woods on Pender have 9 beautiful Airstream glamping rvs to choose from. Each one is air conditioned with a BBQ, fire pit outside, wooden deck, a double hammock and Adirondack chairs for relaxing.
Many of the locations even have a bunkie cabin on the plot for friends and a ready to go hot tub for stargazing in the evening.
Inside each glamping trailer is a multitude of amenities found in only the nicest RVs and trailers. At the campground you will also find a farm to table restaurant, food truck, various outdoor games, hiking trails and more.
So whether you want to roast marshmallows, grill some burgers, lounge in your hammock and relax while reading a book or explore the surrounding area, you can count on making this a good home base.
---
Siwash Lake Wilderness Resort
Location: Bonaparte Plateau, Cariboo
Best For: Luxury, couples, outdoor activities
Siwash is exactly what it claims to be, a small, luxury wilderness resort & intimate family owned guest ranch where horses, adventure & ecology entwine amid Nature.
Siwash Star Camp takes tent glamping to the next level. They offer an opportunity to experience sleeping in pioneer-style canvas wall tents under some of the world's clearest skies.
Don't let the words Pioneer Style fool you. This is some of the best luxury glamping in BC. These tents provide a raised platform, fully furnished with glass-fronted wood-burning stove, special sky watching dome over a king sized bed, Private bathroom facility and a wood-fired cedar hot tub.
You have at your fingertips farm fresh dining and various activities to choose from including horseback riding, fishing, hiking, rafting and unique skill building workshops.
---
Location: Sunshine Coast, Greater Vancouver
Best For: Luxury, couples, outdoor activities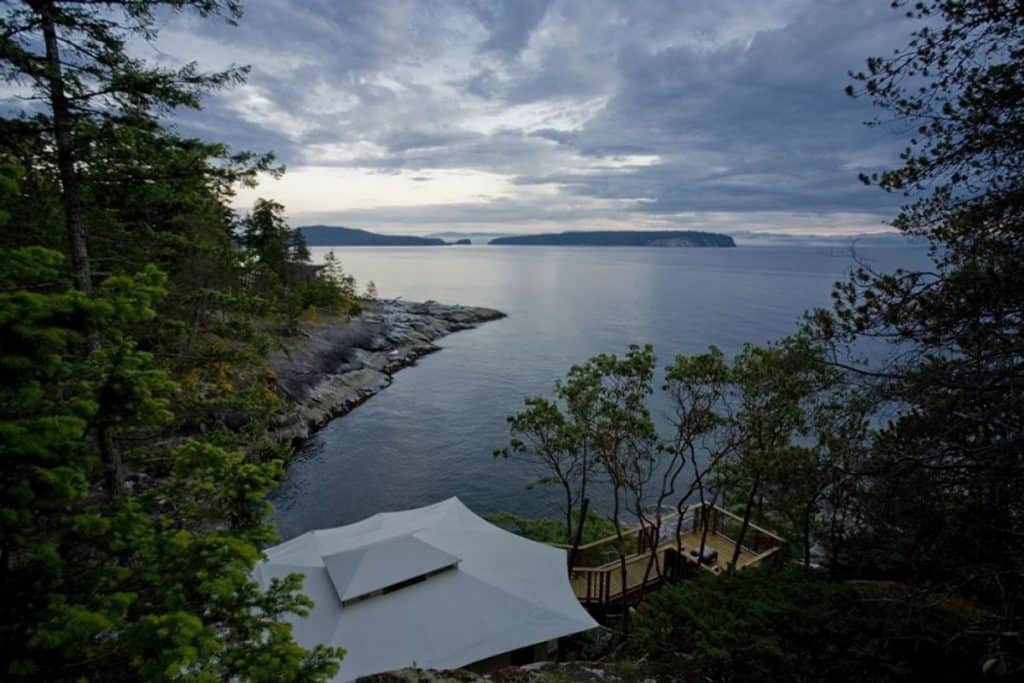 The Rockwater Tenthouse Suites offers a truly unique romantic glamping experience. The meditating silence of the forest combined with the picturesque view of Malaspina Strait provide a remarkable setting of romantic solitude.
Each luxury glamping tent is equipped with top end furnishings, a the king-size bed, hydro-therapy tub, rain forest shower, propane fireplace, shoji screens and radiant floor heating.
You can relax on a private deck in your provided luxurious Warm Buddy bathrobes. The resort also provides dining options, a spa and access to outdoor activities such as kayaking, hiking, mountain biking and golf.
---
Unique Treehouse Glamping
Location: Wardner, Kootenays
Best For: couples, outdoor activities
One of the most unique tree house stays available, this eclectic looking glamping treehouse is situated 5 meters above the ground and built on 7 trees . It is an Eco-friendly retreat where you can relax on the deck taking in views of a pond, a lake and all that nature provides.
The glamping treehouse includes a kitchen, indoor fireplace, bathroom and queen sized bed. Surround yourself in nature and live among the trees for a few days!
---
Nectar Yoga BnB Glamping Pods
Location: Bowen Island, Gulf Islands
Best For: Luxury, couples, outdoor activities, wellness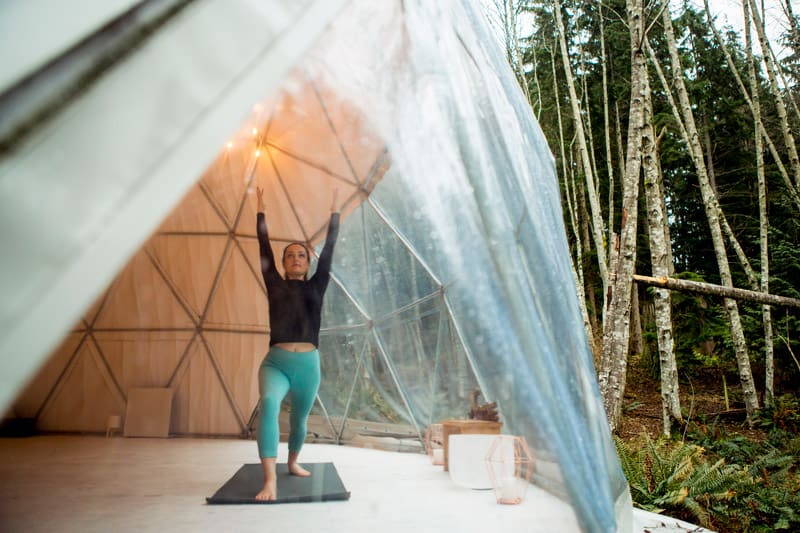 Feel like you need a reset? Nectar Yoga Glamping Pods may be your answer! Nectar offers a safe and unique place to relax and recharge within nature. Each glamping cottage is mindfully designed to provide the safe, warm, nurturing space you need to completely relax. You have two choices.
The cozy A-frame that sleep 1-2 people with a covered deck and access to shared bathroom facilities or Deluxe cottages that sleep 1-3 people with a reading nook, writing desk, mini fridge and en-suite bathroom.
This glamping resort enables you to start your day with either a silent guided meditation walk through the woods or a seated meditation in their unique geodesic dome. Following your meditation session you will embark on an asana yoga session in the dome to awaken your body for the day ahead.
Next you meet in Onyx Lodge at the harvest table to enjoy breakfast with community. The food is made with locally-grown, organic ingredients from Bowen Island or BC's west coast as often as possible. They also provide additional yoga sessions, tarot reading and massage for an extra cost.
---
So remember to bookmark this list of Unique Glamping in BC for the next time you decide to take a weekend retreat or need a unique experience to relax in luxury with nature.
Also check out the Best Glamping in Oregon and Best Glamping in Washington
---
Pin it or Share it for your friends to see!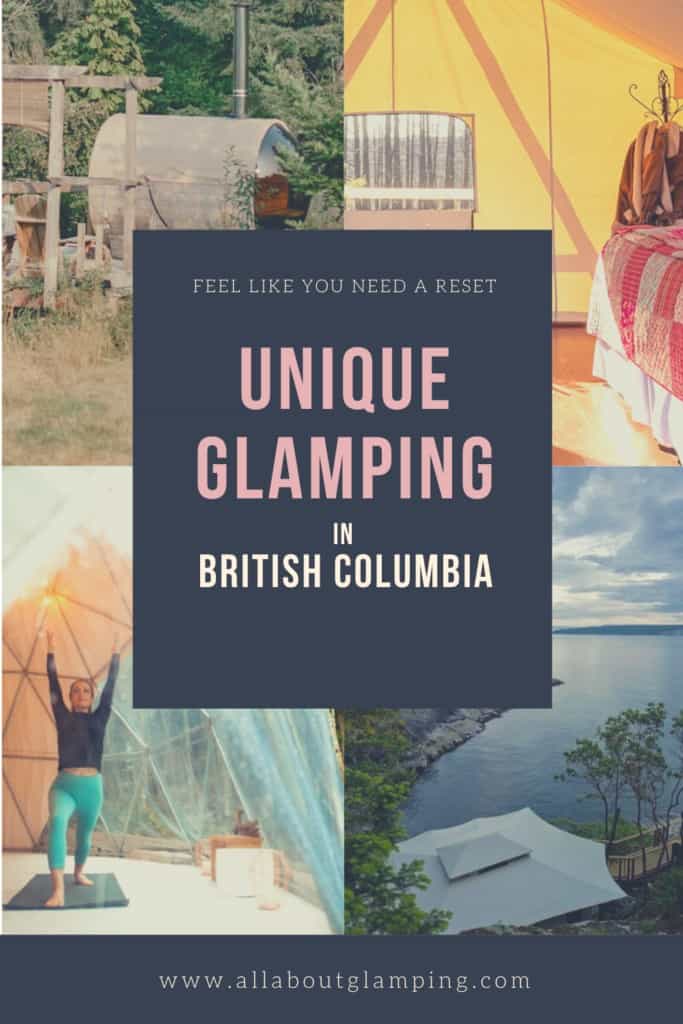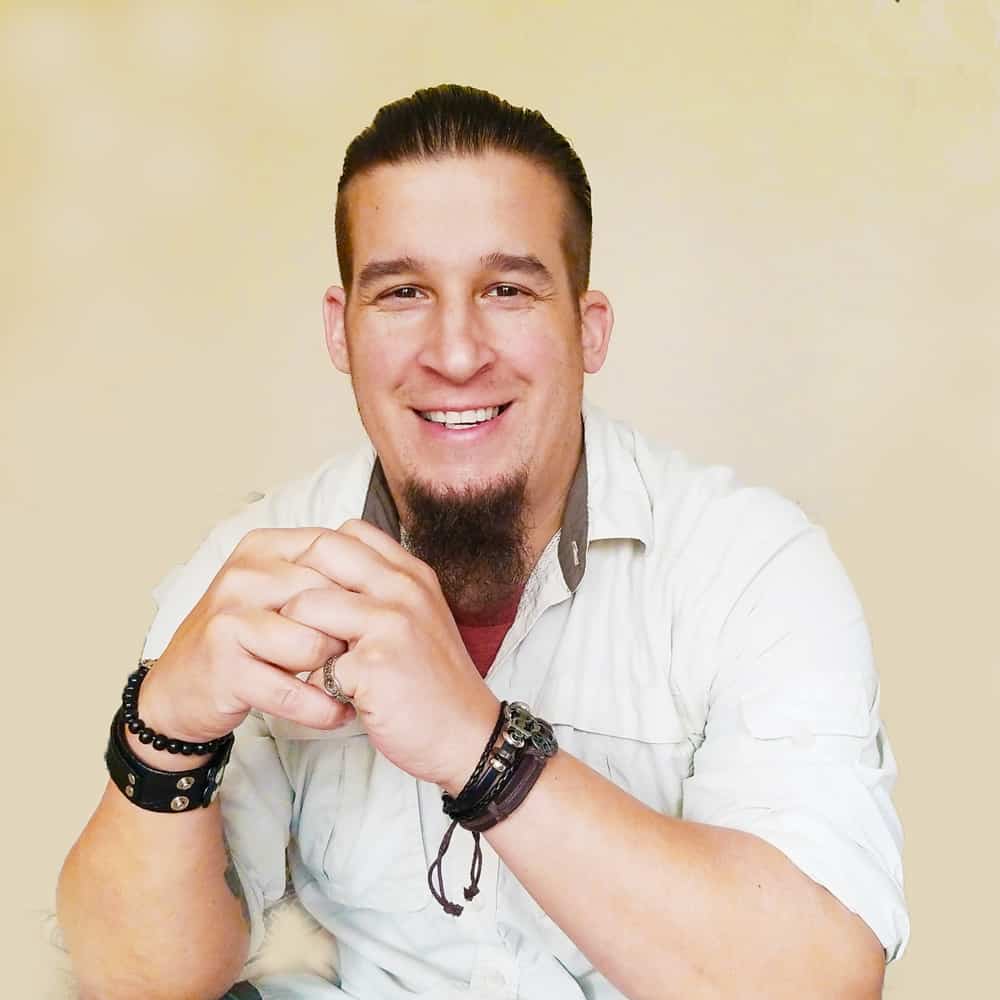 Full-time World Travel Writer who runs multiple websites and social media accounts. I have spoken at various conferences around the world. Some of my hobbies include adventure, fitness and new technologies. I am also a trekkie!