The Adirondacks is a stunningly beautiful region in upstate New York that contains one of the largest protected areas in the country. Covering about 6 million acres of incredible natural beauty offering loads of outdoor activities it's no surprise that there's a great selection of glamping in the Adirondacks.
Along with the draw of nature and adventure the Adirondacks is also home to more than 100 unique communities. In between hiking, boating and wildlife viewing you can explore charming villages, take in cultural experiences and enjoy an impressive food and wine scene.
You may be interested in Getaway House New York Glamping Cabins with 3 locations
This article will provide our list of the Top Spots for Glamping in the Adirondacks plus we'll touch on some of the awesome things to do when exploring this unique region.
---
Read Also:
Treehouses in Asheville North Carolina
---
Things to do when Glamping in the Adirondacks
Cycle between wineries on the Adirondack Coast
On the New York coast of Lake Champlain there are 7 wineries, 6 breweries and 2 cideries. The best part is you can cycle from place to place and create an amazing tasting experience. There are a multitude of loops and routes in the area to choose from for the avid cyclist or mountain biker.
Hiking in the Adirondack Mountains
The Adirondacks has the best hiking in New York State. There are plenty of options for all experience and activity levels. If you're looking for an easy hike with a great view, try out Mount Arab. There's a fire tower and cabin museum at the top and it's only a 1-mile hike.
For a bit more of a challenge head out to explore Hanging Spear Falls. The longer of two trails is 6 miles but is well worth the effort. If you're experienced, give Mount Haystack a try. It's the 3rd tallest of the 46 Adirondack peaks. The view is truly remarkable.
Water Sports
When Glamping in the Adirondacks you have access to over 3,000 freshwater lakes, rivers, streams, and ponds. Fishing is a year-round activity in the region and water activities like kayaking, paddle boarding and rafting are very popular when the weather is nice.
---
---
---
Top Spots for Glamping in the Adirondacks
Location: Elizabeth Town, New York
Best for: Couple, small family
Experience "living in the round" with this yurt in the woods of the High Peaks region. The property is naturally peaceful with great hiking just steps away and within walking or cycling distance to the nearby village. You're also close to Keene Valley, Lake Champlain, Lake Placid and Whiteface Mountain.
Inside the yurt you'll be warm and cozy in the winter and can open up the doors and windows in the summer for a nice cross breeze. It can sleep four comfortably with a queen in the bedroom and a double in the loft, plus a futon sofa bed in the living room. There's also a full kitchen and bathroom and a deck with seating and a BBQ.
Guest reviews:
"We could not have been happier with our stay in the yurt. It is even more secluded than we expected, but still so close to everything! You can't see or hear any neighbors, but you're still a short walk from town. The views are absolutely gorgeous, which was only helped by the perfect weather we had while there. I've never seen so many stars. We took our kayaks over to Lincoln Pond for a day, we hiked the Blueberry Trails another day and cooled off in the swimming hole, and we basically just relaxed and enjoyed the yurt the rest of the time. The highest temp it got outside was low 80s, but the yurt was never uncomfortably warm, even in the middle of the day. Honestly, you don't need to bring much with you -everything is already there! The kitchen has everything you need and more. It was just me and my husband this time, but we would love to come back with our toddler. Thank you, Doug, for sharing your amazing yurt home with us!"
---
Adirondack Safari
Location: Warrensburg, New York
Best for: Solo, couples, families, groups, summer only
Adirondack Safari is a unique glamping site that is only open for the summer months. Every June they set up spacious glamping tents in a big field at the Warren County Fair Grounds. Tents come with beds to sleep from 1-6 people and are decorated with some seating, nightstands, carpeting, lamps and fans. Sites have electricity and there are grills for cooking and seating around the firepits as well as a large community bathrooms with 8 showers.
Onsite activities available include fishing, kayaking, river tubing, crafts, cultural shows, and there's even an outdoor movie theatre! There's also a camp store for basic needs like ice, wood and charcoal.
---
Location: Lake Placid, North Elba, New York
Best for: Couples, backpackers, adventurous solo travelers
The Micro is a wee house on wheels just a short drive from both Lake Placid and Saranac Lake. This tiny house has a total area of 280 sq ft so cozy and compact and definitely good words to describe it. However, that's all part of the charm. Think of it as a way to go back to your childhood and sleep in kids' clubhouse where you have to climb a ladder to your loft bed.
Somehow the hosts have managed to incorporate a lovely bathroom, little kitchen, and comfy seating area into the charming space so you'll have everything you need. Plus there's a private deck, outdoor seating, a BBQ and a firepit. Note that there is an additional fee for bedding and towels if you don't bring your own.
Recent guest reviews:
"The place is in a great location with everything you need and so much more. It honestly feels like a home with how cozy it is, so much so that it was difficult to get up and go out. Would highly recommend for any couple looking to get away and relax or go on adventures"
---
Location: Barneveld, New York
Best for: Couples, solo travelers
The Scenic Orchard is a newly constructed romantic getaway with every comfort covered. The decor is clean, modern and calming but the heated floors and purple bed keep you cozy and comfortable anytime of year.
This tiny house sits on 40-acres and the floor to ceiling windows throughout make the most of the valley views from everywhere in the house, including from your queen sized bed. Other amenities include a fully-equipped kitchen, a bathroom with walk-in shower, all-weather deck with fireplace and a hot tub with a view.
Recent guest reviews:
"One word – PHENOMENAL! Everything was perfect and the small touches throughout made it that much better. Heated floors, robes, a nespresso machine!? I'll be dreaming of that view from the hot tub for months! Thank you Emily for such an amazing stay!!"
---
Goodall's Treehouse Cabin by the River
Location: Taberg, New York
Best for: Couples, single parents with an adventurous kid, backpackers, solo travelers
Goodall's Treehouse Cabin in the woods is a perfect Adirondack Glamping experience. Sitting in a pine forest on a 60-acre nature sanctuary it's the epitome of peaceful. This two-storey treehouse has a sleeping loft with a queen bed, reading nook, kitchenette, and a deck. There is a sawdust toilet as well but guests also have use of a detached full bathroom with shower. In front of the cabin are a BBQ and fireplace.
The property itself is a nature lovers dream. Wander around and you'll find riverfront, hiking trails, spring-fed ponds, firepits, and gardens plus free range chickens and rescued dogs running around.
Note: Goodall's Treehouse Cabin is part of the Wellnesste Lodge and Nature Sanctuary family. There are several other cabins on site as well as a Happy Camper Bus!
Recent guest reviews:
"Couldn't have been happier with the Treehouse Cabin! It was exactly as advertised. The heat works amazingly well and it is built very nicely. Highly recommend if you want a few days to disconnect. The river and woods make for the perfect soundtrack to relax and fall asleep to!"
---
Location: Wilmington, New York
Best for: Couples, backpackers, solo travelers
This off-grid, relaxing tiny treehouse is a serene place to spend some time to reset. The treehouse features a queen bed, a half bath, and a screened-in porch with a hammock. Below the treehouse is a covered outdoor kitchen with a large gas and charcoal BBQ and a deck with fireplace.
There are trails through the woods leading to lovely open view meadows. The location is very close to Lake Placid and an array of hiking Adirondack trails.
Recent guest reviews:
"This picturesque treehouse was a perfect getaway spot! All of the amenities were awesome, from the hammock on the porch to the fully equipped outdoor kitchen. And Rachel and John were such gracious hosts! I'd recommend this spot for lovers of the outdoors who want something between camping and a motel/hotel stay."
---
Location: Port Leyden, New York
Best for: Romantic couples getaway, solo travelers
If you're looking to stay in an actual treehouse this Adirondack glamping spot is a great choice. This brand new, unique and private treehouse hangs between Ash and Maple for the ultimate tree-top experience. To enter the treehouse you'll follow a 100 ft hanging pathway that winds it's way up into the tree canopy.
Inside there's where you'll find a cozy double bed, small seating area with fireplace, a well-eqipped kitchenette, and a well-layed-out bathroom with a full shower. No WiFi, cellular network or TV provides an opportunity for a digital detox.
Recent guest reviews:
"If you are thinking about coming here, don't hesitate! This was exactly the weekend my boyfriend and I needed after a hectic year. It was so nice to be away from cell service and wifi and just have a weekend together with our pup. There was a great kitchen space with everything we needed, extra toothbrushes and soap available as well! So thoughtful there were even dog bowls there for the pup. We had the best weekend playing in the snow and just enjoying each others company without any distractions. Will definitely be returning!"
---
Location: Lake Luzerne, New York
Best for: Families, groups
This lakeside 1940's cabin is the ultimate Adirondack glamping experience. You can comfortably sleep 6 people in the 3 bedrooms and there are also 2 full bathrooms. It has been completely renovated and modernized but still retains a warm and cozy wood cabin feel with log walls and an original stone fireplace. There's a large kitchen, spacious living room and dining area plus a large covered porch.
The location is on the shores of a quiet lake with a dock and is great for swimming as there are no motorized boats allowed and there are a canoe and a kayak for guests use. Nearby there is river rafting, horseback riding and the Painted Pony Rodeo. The town of Lake George is only a few miles away with restaurants and shopping.
Recent Guest Reviews:
"This is a lovely property and our stay was fantastic. The owners were helpful and very easy to communicate with. The cabin and surrounding property were beautiful. We would highly recommend this location for a family getaway!"
---
Location: Paul Smiths, New York
Best for: Romantic couples getaway, solo travelers, tranquility
The name is truly justified as you'll feel the magic of this treehouse as soon as you approach. The yurt-shape makes this one of the more unique treehouses in the Adirondacks and provides a spacious interior with 360 degree views of the surrounding woods. Inside there's double bed, a cozy seating area, a small table and chairs and shelves of books to curl up with. The bathroom is 20′ away and there's also a screened-in outdoor cookhouse for preparing a romantic dinner or pre-hike breakfast.
The Magical Treehouse is close to Saranac Lake, Lake Placid, Whiteface Mountain and great hiking spots which can be explored easily. If you are adventurous in nature, bring along a mountain bike, fishing kit and swimming gear for enjoying the additional charm of the location. There's also 5-miles of hiking trails on the 27-acre property itself.
Recent guest reviews:
"The magic tree house is a wonderful launchpad to your Adirondack adventure . So many thoughtful touches abound from the lights being on when we arrived , a local maple syrup welcome gift , to a pile of firewood available for our use. Don't worry if you forget a book to read I'm the hammocks, as there is a well stocked library . The property trails are well marked and clear. It is impossible to get lost! More challenging terrain is a short drive away."
---
Location: North Creek, New York
Best for: Romantic couples getaway, backpackers, adventurous solo travelers, tranquility
This is a great example of basic glamping: combining traditional tent camping with some extra comforts. While you're not exactly in the lap of luxury, you're also far from "roughing it" in this spacious tent containing a gorgeous king-sized log bed, wood floors, and small table with two chairs. However, like regular camping there is no electricity or running water and you will be cooking outside on a grill or over an open fire. Plus you need to brng your own bedding and towels.
If an escape from the city life and an immersion into nature is what you're looking for then Hemlock Camp is your answer. Your luxury tent sits on 200 acres of wild woodland and contains miles of hiking trails, a pond, a small beach, and picnic area. The glamping site must be accessed on foot although you can pay a fee for a UTV to drive you and/or your belongings the 1/4 mile to the tent.
Recent guest reviews:
"Beautiful landscape and gracious hosts! The space was clean(even the outhouse!) and very well thought out, everything you need to cook and get the fire pit going. The bed was super comfy and the yurt has lots of extras like flashlights, matches, and little things you might need- just bring extra blankets! Could easily spend a day hiking the trails and then grilling up a nice dinner! We loved our stay and would recommend to those looking to live off the grid and escape for a couple nights!"
---
Location: Jay, New York
Best for: Couples, families, backpacker group, adventurous friends
This rustic glamping yurt, just in front of Whiteface and the Adirondack Mountains, is great for a small group or family. It's a big step up from traditional tent glamping but also provides the feeling of an off-grid escape into nature. Adirondack Mountain Yurt sleeps up to 6 people with 1 queen bed and 2 bunk beds but you must bring your own bedding. The yurt also contains a kitchen area with a full-sized stove and fridge, a living room with ample seating, and a small dining table.
There is electricity but no running water so the guests must use a composting outhouse and a nearby water hydrant for washing and you can enjoy the woodstove for heating the room on cold nights. If you have kids the best of this Adirondack glamping experience may be the farm itself. You're free to wander much of the farm where you'll see pigs, sheep, lambs, farm dogs and chickens.
Recent guest reviews:
"The view of the mountain outside of the yurt is beyond incredible – keeps me coming back! The yurt is charming and exactly as described – super spacious, basic kitchen essentials, a comfy bed, cozy living room! The new wood stove rocks!!! It heats up the space quickly and with little amount of wood! I would definitely suggest bringing an electric blanket to use in the cool mornings on the couch if you plan on sitting to eat or enjoy a coffee! Made all the difference this year!"
---
Pin It!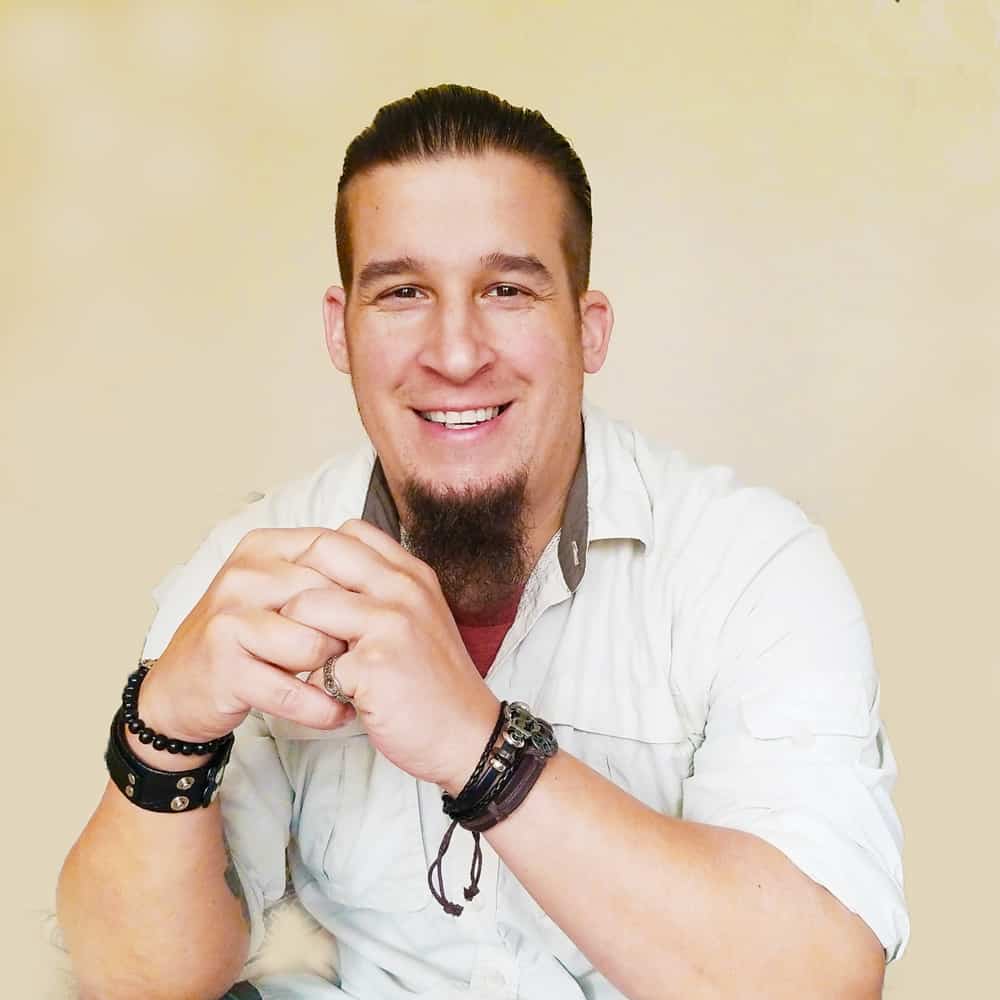 Full-time World Travel Writer who runs multiple websites and social media accounts. I have spoken at various conferences around the world. Some of my hobbies include adventure, fitness and new technologies. I am also a trekkie!