Joshua Tree in California is a popular destination for its unique landscape of jagged mountains, open desert, and crazy looking trees like something out of Dr Seuss. The Joshua Tree National Park is where the high Mojave Desert meets the low Colorado Desert. People flock to this area not only for nature, solitude and incredible starry skies but for various music festivals including the iconic Coachella.
Whether you're traveling to the area for a festival or for quality time with mother earth, Joshua Tree Glamping is the best way to experience it. There are many unique glamping options including tipis, yurts, earth domes, glamping tents, even boats! We've compiled a list of our favorite Joshua Tree Glamping spots for you to check out. Remember to book as soon as possible as slots fill up fast.
More California Glamping Articles to Enjoy:
Ventana Big Sur Glamping Resort
Before we get to the list of top Joshua Tree glamping sites, let's go over a few things you can see and do in the area. Of course, you have loads of outdoor activities including rock climbing, hiking and cycling, and 4x4ing plus a ton of fun festivals. A few things you'll want to put on your to do list are Hidden Valley, Cholla Cactus Garden, Keys View, Arch Rock, Cap Rock, Slab City and 49 Palms Canyon Trail.
If you're looking for some great guided experiences try out Goat Hiking with stunning views of the Mojavi desert. You could also book a unique Hot Springs Sunset Experience for two. If you want to do you own hot spring adventure, Thousand Palms Oasis in the Coachella Valley Preserve is a unique place to enjoy a picnic and wander the surrounding trails. It's situated right on the San Andreas Fault line and ringed by tall palm trees.
Not surprisingly, Joshua Tree has a great community of outdoor enthusiasts. So if you're not in search of complete solitude you'll likely make some new friends in one of these amazing glamorous camping spots or while out exploring the unique natural beauty of the area.
Now, let's get to the list!
---
Our List of Top Joshua Tree Glamping Spots
Joshua Tree Glamping Yurts at Joshua's Tree Houses
Location: Yucca Valley
Best for: Couples, small groups
Looking for fun and budget friendly glamping experience in Joshua Tree? Make sure to check out the options at Joshua's Tree Houses. There are three bell-tent yurts and three tiny homes on this 5-acre property just steps from Joshua Tree National Park. Each glamping accommodation sleeps 2 people in a queen-sized bed and comes with a private outdoor seating area and firepit.
On the property you'll also have access to three bathrooms, a shared kitchen, 5-person hot tub, and a cooling pool. Just a short distance from the site are numerous hiking trails, rock climbing and of course hundreds of the twisty, spiky Joshua Trees.
Recent guest reviews:
"Loved our yurt! Important to pack extra blankets for late night fireside! It was so beautiful to experience nature at this camp. The hottub under the stars was a highlight and the cornhole and horseshoe games were a fun touch. Amazing how quiet it was; sunset and sunrise were gorgeous. The public bathroom, kitchenette, and shower were super clean and useful. Thanks so much Sean!! Hope to return one day."
---
The Rising Sun Glamping Tipi at Lazy Sky Boutique Retreat
Location: Yucca Valley
Best for: Couples, small groups
Sometimes you just want to leave it all behind and enjoy the silence and purity of nature. If you also want a comfortable yet original and authentic accommodation, the Rising Sun Tipi may be exactly what you're looking for. Located near Joshua Tree National park, this Tipi is a part of Lazy Sky Boutique Retreat which offers five tipis, yurts, and glamping tents on 10-acres.
The Rising Sun Tipi comes with a luxurious queen bed, hammock, Yeti cooler, and a private patio with a propane firepit. The winters are pretty unpredictable in the Joshua Tree area. It can even snow sometimes. The Tipi is equipped with a space heater while the beds have heated pads and sheets. Shared amenities include bathrooms, a hot water outdoor shower, full kitchen, and a propane BBQ and deck dining area.
Recent guest reviews:
"This place is awesome! Such a cool experience. Tony and Annie made sure we are warm during cold desert night. We had a very memorable night. Thank you"
"Amazing experience!!! Beautiful experience all around. Would do it 100 times over."
---
Joshua Tree Glamping Hangout
Location: 5 minutes from Joshua Tree Music Festival Grounds
Best for: Couples, off-grid experience
This Desert Igloo provides a truly unique off-grid glamping experience that will appeal to the real outdoorsy types that want to sleep in comfort. You'll be staying in an authentic earth bag dome with a cozy double bed and small seating area but all the other amenities are outdoors.
Bathroom facilities include a fabulous outdoor shower and sink and an eco-friendly composting toilet. The open-air covered kitchen has a sink with hot water, full-sized fridge and a large propane BBQ. There's also a lovely firepit with seating so be sure to bring wood for romantic evenings by the fire.
Recent guest reviews:
"If this place is available, BOOK! I stayed alone and felt very safe. The igloo was so cute and everything was clean! Wasn't sure on the compost bathroom but it was actually great. Highlight of my trip was def the outdoor showers! Will stay here again and recommend to everyone I know!"
---
JTLYC Set-Sail. Stargazing Pool Deck Tiki Fun
Location: Seven miles from downtown Joshua Tree
Best for: Couple, unique accommodation
This very unique Joshua Tree Land Yacht Club glamping site provides the thrill of a boating lifestyle without leaving the safety and comfort of solid ground. Yep, your accommodation is an actual boat! But not just any boat. This vessel has a retro decor with a cozy bedroom, tiki lounge with sofa and record player, a mini fridge and a coffee pot.
The outdoor area is just as fun and quirky with an open-air "sharky" shower and real bathroom, boat deck with a seasonal "Tiki Pool", and kitchenette with gas BBQ, dining area and fire-pit. It's a perfect place for a fun and romantic getaway close to Joshua Tree National Park.
Recent guest reviews:
"Michele really created an amazing space to escape from the busy city and feel like you are in a unique and fun space! I took my fiance for his 38th birthday and he loved it! There were unexpected high winds that occurred, but we still had a blast and used the Tiki Room during those high winds. The solar lighting she created is absolutely beautiful at night and the themed outhouse, shower, tiki room and boat were so amazing and creative! It was an unforgettable trip and Michele was awesome! I've already recommended this place to some of my friends and colleagues. We hope to be back someday but maybe in the spring this time so we can use the pool! :)"
---
Moon Camp: An off-Grid Joshua Tree Glamping Retreat
Location: Yucca Valley
Best for: Family, small group
Leave the routine of dusty cities and appreciate the off-grid glamping experience that this Moon Camp accommodation has to offer. This unique eco-friendly location is powered by solar panels entirely. It offers its guests a spacious outdoor area where you may watch marvelous sunsets from your private hammock. You can enjoy a barbeque with friends and family or take stargazing to a whole new level with the Telescope provided.
With the main dome house, cozy guest house, and a newly renovated lounge shipping container, Moon Camp is intended for 6 guests who may enjoy the comfort of 5 separate beds and 2 bathrooms. The off-grid atmosphere of Moon Camp does not require the entire denial of the benefits of civilization. Moon Camp has Wi-Fi, 55" TV, an equipped kitchen and even, and mini-split A/C. This glamping experience is perfect for friends and family getaways for those who are looking for the freedom and relaxation of an off-grid lifestyle.
Recent guest reviews:
"Moon Camp was amazing! My boys enjoyed doing their zoom and showing their friends the incredible scenery. We hiked the Ryan Mountain Trail which was only a few minutes drive. Shopping is so convenient for those few items we missed. The camp had everything we needed and the details/decorations seriously amazed me. We played board games, made s'mores in the campfire, did some star gazing and made popcorn on the stove. Truly much needed for my soul. Communication was so easy as our host were always attentive and made sure everything ran smooth. I wish I could just move in! -Scorpio ♏️"
---
The Land Yacht – Joshua Tree Glamping
Location: Panorama Heights, Joshua Tree
Best for: Couple or family with small kids
Located at one of the most spectacular areas of Joshua Tree, Land Yacht is not just one more Airstream setup. Here you may enjoy the wilderness of majestic untouched nature and the ultimate privacy of a glamping getaway without the need to share facilities with anyone. This location is also unique. You might get the ultimate sensation of being lost at an undiscovered land. But it would take you only several minutes' drive to get to the Joshua Tree`s downtown center and the National Park main entrance.
The Airstream itself has a Queen Bed sleeping area and a kitchen with a fridge and dining area. The additional 2 bunk beds make the Land Yacht a perfect location for a couple with small kids or a group of up to 4 people who don't mind close quarters. During the summer period, you may also enjoy the large stock tank pool with a powerful filter and a built-in pump.
Recent guest reviews:
"This is a unique place and should be experienced if you're in the area. But be aware, it's more glamping than five star hotel glamour, so you need to be comfortable staying in a fairly remote location and be okay with the wildlife around you. You will hear small animals around the Air Streamer at night. But I loved waking up to the sun light in the morning and having my morning coffee on the patio with nobody else around. So peaceful. And Joshua Tree National Park, Pioneertown and even Palm Springs are within easy access from the property."
---
Airstream Oasis in Joshua Tree – A/C and Hot Tub
Location: Joshua Tree
Best for: Couple
This Airstream is the ultimate embodiment of the classical Joshua Tree glamping experience. Sitting on a 1.5-acre lot it has an astroturf lounge area and a hot tub, outdoor shower, and private bathroom. When you've had enough chilling in the seasonal stock tank swimming pool or hiking at the Joshua Tree national park, you may enjoy all the convenience of the Airstream Oasis as a King-sized bed, Wi-Fi, TV, A/C, and more.
Though the lot is shared with a cabin, which is also rented, the accommodations are separated with a fence and have their private driveways. Perfectly designed for couples looking for a romantic getaway, Airstream Oasis is thought through and designed to become a private paradise for its guests.
Recent guest reviews:
"Had such an amazing time here with my boyfriend for our anniversary! The place looked exactly as the pictures make it to be. Very clean and the jacuzzi was crystal clear which we both appreciated. Also very close to local small shops and eateries. 10/10 recommend"
---
Hidden Passage Guest Ranch-Safari Air Cottage
Location: Morongo Valley
Best for: Couple
What do we lack so much in dusty big cities? Wide-open spaces, untouched nature, relaxation, and privacy of course. This AirCottage offers you the ultimate glamping experience. A combination of a romantic getaway at a desert oasis and comfort of all the necessary conveniences. So after breathtaking hiking, horseback riding, relaxing yoga or stargazing, you are free to use a community pool with filtered water.
Though Hidden Passage makes you feel the ultimate thrill of discovering the heart of the desert, it is conveniently located next to Joshua Tree, Palm Springs, and Pioneertown. The cell service is completely unavailable in the Canyon granting you a chance for an off-grid getaway, the accommodation offers a strong and stable Wi-Fi for your comfort and safety
Recent guest reviews:
"Awesome spot!! We had such a wonderful stay. Our air cottage was spacious, clean, wonderfully decorated—the bed was so comfortable and even had a heating pad so really warm and cozy for the cold desert nights. The stars were so beautiful every night, and the outdoor shower and bath was awesome. We loved it, thank you so much Diane and team!!"
---
Busway to Heaven Glamping Bus
Location: 4 miles from downtown Joshua Tree
Best for: Couple
Hop on this vintage 1975 BlueBird bus that will take you away from the routine and stress to the freedom and fun of wilderness. This is not just one more transformed bus: this campervan has its own name – Zoe – and a history being at different periods a school bus, a hangout facility for two adventurous entertainers, and even a recording studio.
Now Zoe is a welcoming glamping facility that offers a Queen bed, equipped kitchen, and air conditioning. So if you are looking for an ultimate no-frills glamping experience at Joshua Tree, Zoe`s simple yet sufficient equipment, fence-separated private area, and private deserted location might be your perfect romantic or private getaway.
Recent guest reviews:
"Great place to stay! Very close to town (but not too close), WiFi worked great, the outdoor shower and private yard was awesome, and the bus was fun to experience. This is a great place for those looking to stay in an unusual but beautiful way."
---
28 Palms Ranch Stargazing Yurt
Location: Twentynine Palms
Best for: Couple, small family
Located just 20-min away from the North entrance of Joshua Tree national park, this yurt is an ultimate natural observatory. It is perfect for stargazing, meditations, or moon-bathing. This authentic Mongolian Yurt has a private heated shower, composting toilet, BBQ with sink, and fire pit. This makes it an ultimate glamping experience that combines unity with nature with essential comfort facilities.
The Toono – an open window in the roof turns this yurt into a private observatory inspiring you to wonder and experience the mysteries of the Universe. Also, the yurt has no wi-fi or television making it perfect for those who wish to escape the buzz of the modern world, unite with nature and each other. The yurt is built and equipped for stargazing, marshmallow roasting at a campfire, and observing the wildlife and beauties of nature. This makes it a perfect educational and bonding experience for small families or companies of close friends.
Recent guest reviews:
"You probably wouldn't stay anywhere else after visiting Erin's place near JT National Park. It's located perfectly were you are close enough everything yet far enough for a quiet escape. Check in was smooth, property clean. There are solar lights provided for each Yurt but I'm happy we bought extra. Theres a picnic table and prepping area with a sink outside ..if you are a cooking type of group…I'd suggest bringing an additional table. I'm happy we brought table linens as well. Theres a sink inside of the Yury which was a bonus. Bed super comfy. just an all around amazing stay. Thank you Erin!"
---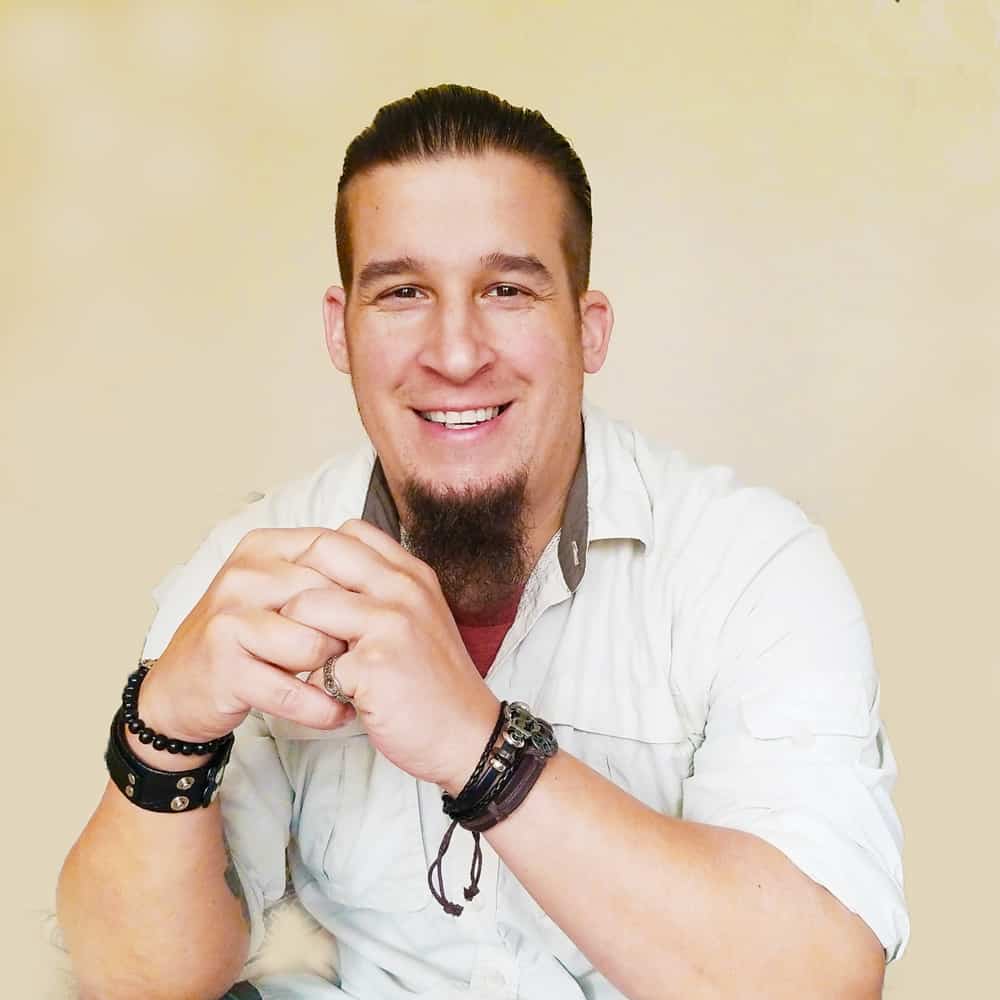 Full-time World Travel Writer who runs multiple websites and social media accounts. I have spoken at various conferences around the world. Some of my hobbies include adventure, fitness and new technologies. I am also a trekkie!