Missouri has quite a bit to offer. The "show me state" definitely has some unique and wonderful things to show off. Of course, you could opt to go for a hotel in downtown St. Louis, Kansas City or Springfield but why not immerse yourself in the beautiful nature of the state while enjoying the luxuries of a hotel. This is why glamping in Missouri is on the rise and there are some great choices to book for your next trip.
We will go over some of the cool outdoor activities and sights you can explore on your next Missouri glamping getaway, plus we will show you some of the best spots to book for glamping in Missouri. Bookmark this page for future reference and feel free to reach out with any questions you may have.
Bonus Facts: Did you know that the Pony Express, Oregon Trail, Santa Fe Trail and California Trail all began in Missouri. Chuck Berry, Sheryl Crow, Walt Disney, Edwin Hubble, Nelly, Brad Pitt, Harry S. Truman, and Mark Twain are just a few of the famous folk that came out of Missouri.
Other articles you may be interested in:
The best Blue Ridge Georgia Cabins
---
Sights To See When Glamping In Missouri
---
Loess Bluffs National Wildlife Refuge
This refuge is one of the best spots to view bald eagles and snow geese. There have been over 400 eagles seen at one time at the refuge and in February 2013, over 1 million snow geese were counted. The region is over 7,000 acres and has a popular trail going to the top of Loess Hill.
Ha Ha Tonka State Park
This is a beautiful park with amazing views and some unique things to see. You can venture along more than 15 miles of trails that will connect you with caves, a spring, a natural bridge, a sinkhole and a lake. There's also a 1905 European-style stone castle with expansive views of the Lake of Ozarks.
Dogwood Canyon Nature Park
This park in the Ozarks consists of 10,000 acres of wilderness. There are a few awesome ways to get around the park including biking, walking, horseback riding, private jeep tours, Segway tours and an open-air tram. Enjoy viewing caves, waterfalls and wildlife such as bison, elk and longhorn cattle.
Table Rock State Park
This Missouri State Park provides a great jumping-off point near Branson and those wanting to explore Table Rock Lake. The park has a marina and provides scuba diving and fishing excursions. There is a paved walking and cycling path, plus a hiking and mountain biking trail for those more adventurous.
Caverns and Caves
Missouri has an abundance of caverns and caves to marvel at. Marvel Cave at Silver Dollar City is a good choice and is one of the deepest caves in Missouri. Fantastic Caverns in Springfield is a sure bet and is quite popular. You should probably put Mark Twain Cave Complex on your list as well. And of course, you have Bridal Cave and Thunder Mountain Park near Camdenton which always draws enthusiasts.
Elephant Rocks State Park
Elephant Rocks State Park is a great picnic and photo spot with even more amazing views. Stand among elephant-sized billion-year-old granite boulders and read old miner comments carved into the rock face. There is a self-guiding trail that brings you through these giant structures and gives a view of the old mining operation.
---
Places to Book for Glamping in Missouri
---
Location: Ste Genevieve, Missouri
In the heart of wine country, the Silo Farm Haus is conveniently positioned. This lovely home is nestled on a 200-acre farm, only minutes away from nine local wineries, breweries, and a prized restaurant. The Silo Farm Haus is a historic grain bin that's been on the farm for many years and had been used to store grain until several years before the changeover. It features approximately 800 square feet of absolutely unusual round home fun!
On this 200-acre property, enjoy your morning cup of joe on the veranda, which views hillsides and a water quarry, or rest and relax in the afternoon after exploring your favorite wineries.
Location: Hamilton, Missouri
Hawley Farm Missouri Glamping is a boutique glamping resort with several luxury camping options. There is Juliet Creekside (pictured above), a canvas glamping tent with a queen-sized bed tucked away in a wooded alcove. The Hillside canvas tent with a queen-sized bed and amazing views. And the Big Bear glamping yurt which sits in a scenic grassy field and has a king-sized bed.
All guests have access to a Happy Hour Deck, a swimming pond, a private toilet, solar showers, fire pits and other amenities. The hosts provide free breakfast for up to two guests but you can book breakfast for additional guests. This 210 acre Missouri glamping property is just minutes away from the quaint town of Hamilton.
Guest Reviews:
"We loved our stay here, and plan to be back! The views are beautiful, the grounds are so well maintained, and the sites are peaceful and not close together. Such a wonderful place for peace and quiet. They provide the fun of camping, the comfort of a nice hotel and the extras and hospitality of a bed and breakfast. We slept well, hiked, played outdoor games, ate the large provided breakfast outside while enjoying the view, enjoyed 2 short trips into Hamilton (with surprisingly good restaurants!), had s'mores around our fire, and just rested without technology. You can come with virtually no supplies or knowledge of camping and still be covered. They go above and beyond. I highly recommend it."
Location: Ridgedale, Missouri
Camp Long Creek at Big Cedar Lodge has a variety of luxury camping accommodations including camp huts, camp cabins and glamping tents. The luxury canvas glamping tents have wooden floors, a king-size bed, a chandelier, plus heating and cooling. You will also enjoy a private bathroom with a shower and a secluded fire pit area.
The location of Camp Long Creek on Table Rock Lake provides a scenic and serene setting for a romantic or family getaway. You can also book activities at the lodge such as spa and yoga sessions, fishing trips and shooting challenges plus there are some fabulous dining options.
Location: Park Hills, Missouri
Are you looking for Nirvana? Not the band, but a sense of calm and peacefulness. This may be the spot for you. Nestled in the woods, under the stars by the fire with a glorious traditional tipi. It can accommodate up to 6 people with 2 queen beds and two additional cots available.
Pamper yourself with optional services such as massage, hot tub, instructional workshops and delicious meals you won't want to miss. A truly magical experience!
Guest Reviews:
"We had an amazing tipi adventure. We loved staying in the woods with nature's symphony all around us. Our stay was very clean and welcoming. Our hosts were very interesting and kind. State parks and hiking were everywhere. It was a great outdoor adventure."
Location: Potosi, Missouri
This one-of-a-kind glamping treehouse in Missouri sits 20 feet in the air and very close to Sayersbrook lake. Have a peaceful night's sleep after staring at the stars in the California king-sized bed in the loft.
The place has all the amenities you may need. Plus there are trails to explore, a beach and docks to try your luck catching a fish. As a bonus, there is also a hot tub to enjoy and soak your muscles after a day of exploring.
Guest Review:
"This treehouse was Amazing! It has everything you need and is part of a campground. There is a beach, docks to fish off of, trails, and so much more. The listing amenities and description does not do this place justice."
Location: Annapolis, Missouri
This is such a unique place and full of life and fun. The colorful vintage camper is located in the backwoods of the Ozarks nestled into the pines on the side of a grassy meadow within a quick walk to a crystal clear stream. Inside you have 1 queen bed, 1 twin bed, and 2 twin air mattresses and outside is a giant kitchen with large patio.
They also have 2 other glamping spots on their property if you are a larger group needing more room. Head back to the 60's for a weekend or week and enjoy this unique Missouri glamping experience.
Guest Reviews:
"The property is an inspiration for a family gathering, cooking, bonding, and fun. We could not have had a better time. The host has thought of everything. I can't wait to book again!"
Location: Des Arc, Missouri
Stay in a hand-built log cabin with amazing views of the St. Francis Mountains. The details in the cabin structure reflect the care and expert skills that obviously went into this build. The decor of Moondance on Coyote Ridge has character and ambiance with artifacts and antiques everywhere you look.
Moondance sleeps 4 people in 2 bedrooms and has everything you would need for a weekend or week-long glamping getaway including a unique shower room. The hosts have another cabin called Solitude on the St Francis if you need room for more than 4.
Guest Reviews:
"We rented this cabin with the goal of having a quiet weekend away from civilization. The cabin exceeded our expectations. The details in the decorations are charming, and it added a level of fun to the weekend. We had a lovely stay."
Pin It For Later!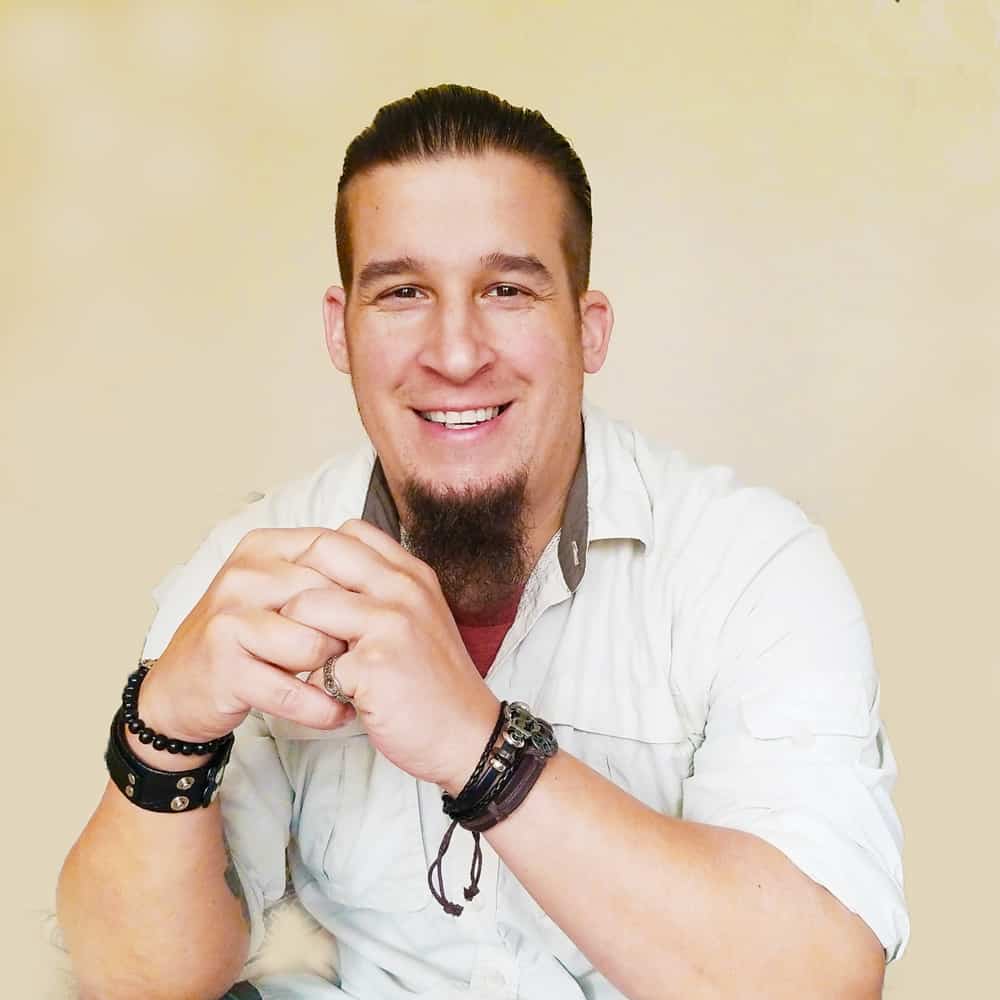 Full-time World Travel Writer who runs multiple websites and social media accounts. I have spoken at various conferences around the world. Some of my hobbies include adventure, fitness and new technologies. I am also a trekkie!