The New England state of Vermont is known for mountain ranges, including the very old Green Mountains, maple syrup, amazing fall colors, craft breweries, Lake Champlain, and the famous Bernie Sanders. It also has some of the most wonderful glamping locations. Glamping Vermont provides a unique experience to reset and enjoy nature with the many comforts of home.
Vermont glamping accommodations vary from whimsical treehouses and converted barns, tipis and luxury tents, plus farm stays and unique tiny homes. In this article, we'll introduce you to some of the hottest spots for Glamping in Vermont this year.
If you haven't had the pleasure and exploring this wonderful US state, let's touch on just a few of the remarkable things to do and enjoy when visiting Vermont. Keep this article in your favorites as you will want to come back to it when you plan your Glamping Vermont vacation or next glamping weekend getaway.
Other Articles You May Want To Read
Top Glamping in New York State
---
Top Glamping Vermont Spots
---
Featured Property
Winter River Glampground for Glamping Vermont
Location: Corinth, Vermont
Winter River Glampground is a one-of-a-kind glamping adventure in Vermont's gorgeous countryside. This property is a wilderness lover's heaven, lying on 6 magnificent acres of woodland and meadow amidst Vermont's stunning Green Mountains and the White Mountains of New Hampshire. The array of bell tents available for rent at this Glamping Vermont venue is the centerpiece. These are not your typical camping tents; they are large and elegant, with comfy beds, lights, and furnishings. It's like having a luxurious hotel suite in the midst of the forest.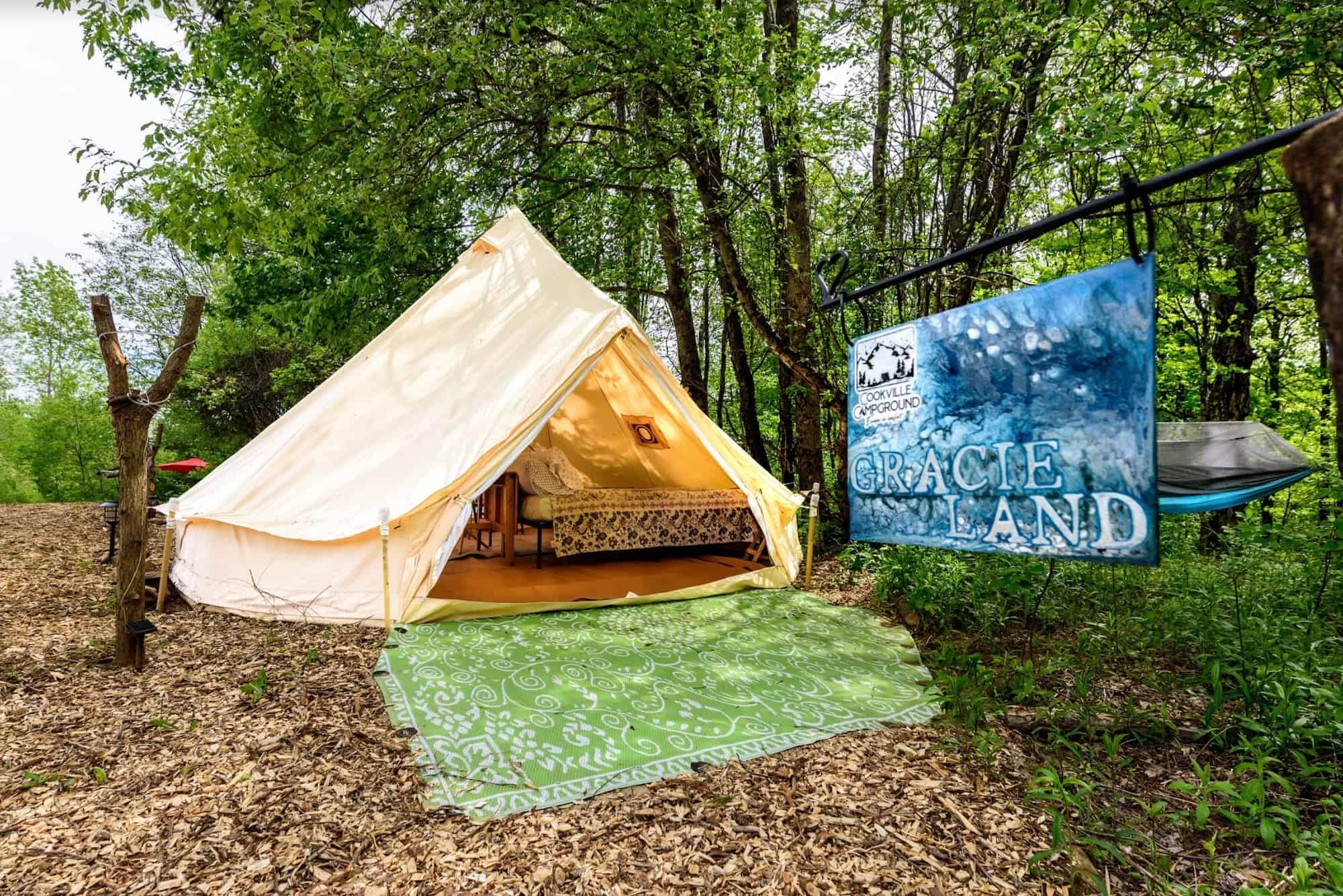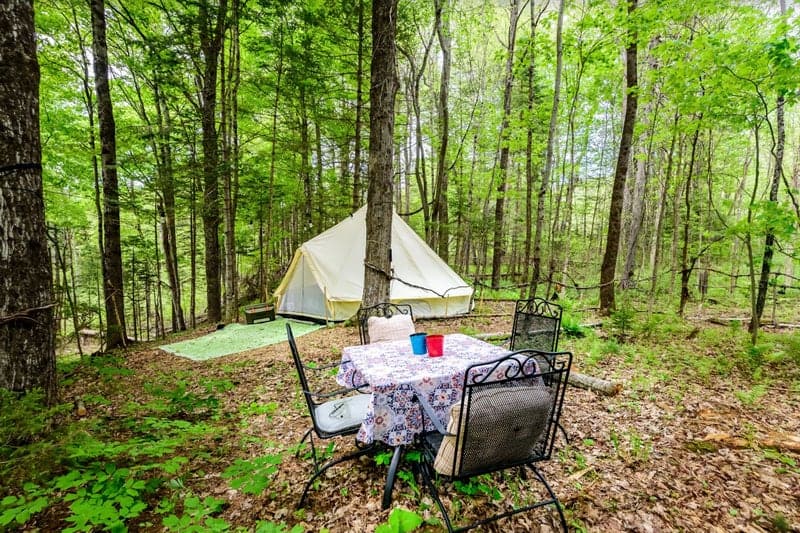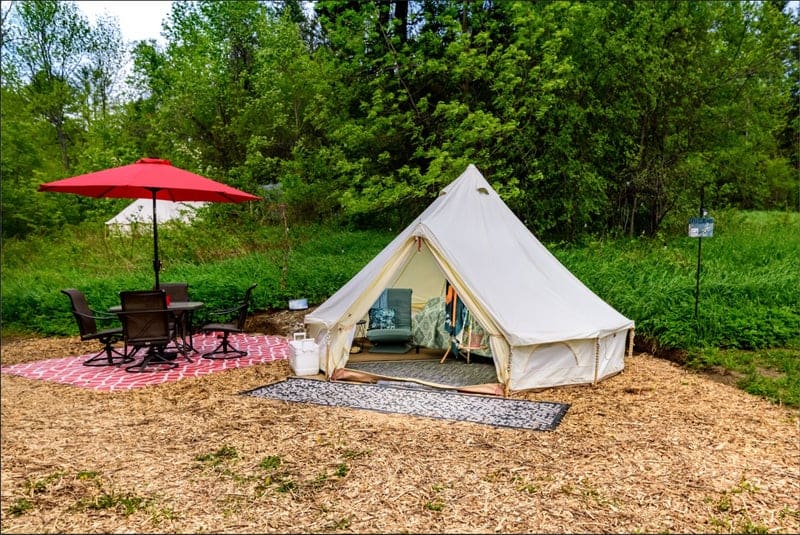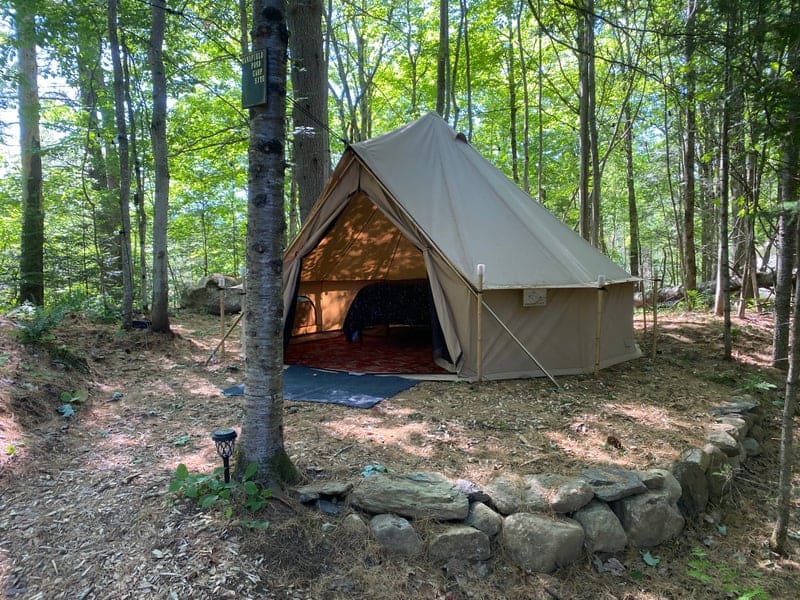 The setting is what makes this glamping resort absolutely unique. The glampground is located by a river, allowing visitors to participate in a variety of outdoor activities. There's something for everyone, from kayaking and fishing to hiking and bird viewing. Guests may also spend their nights burning marshmallows and swapping tales with other glampers around the fire pit. The resort also has common facilities with hot showers where visitors can unwind after a day of touring.
The Winter River Glampground is ideal for anybody searching for a one-of-a-kind and enjoyable holiday. It's perfect for couples, families, and groups of friends wishing to get away from the stresses of daily life. This glamping facility is guaranteed to give visitors an amazing experience, with its gorgeous natural surroundings, unique rooms, and unlimited recreational activities. It's the ideal combination of adventure and comfort, providing you with the advantages of both.
A Hobbit Hole Tucked In A Vermont Grassy Hillside
Location: Middletown Springs, Vermont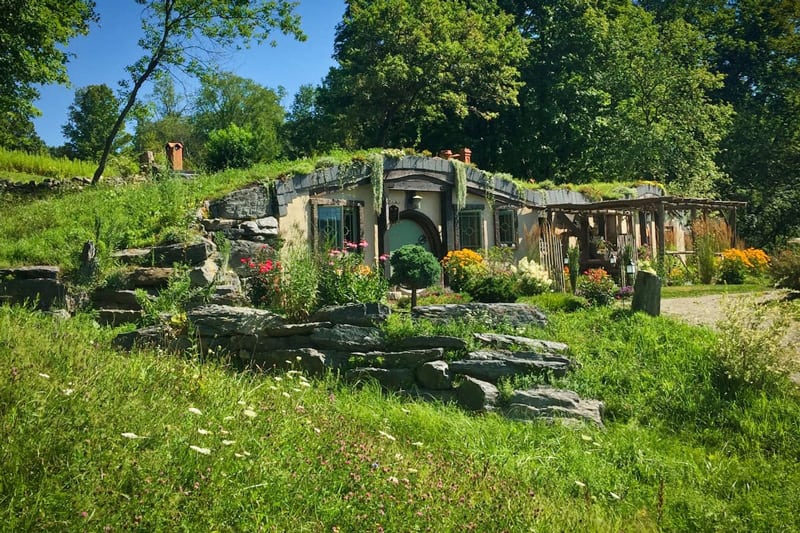 Welcome to "The Hill," a one-of-a-kind and charming Vermont holiday destination. The hosts created and constructed this 1100 sq. ft. house in 2018, which combines fantasy architecture on 12 gorgeous green acres. The walk-on roof provides a magnificent view of the valley, and the Crossman's General Store and town facilities are just a 5-minute walk away. In July, guests may collect fresh eggs from the host's chicks for breakfast and pick blueberries.
There are two booking choices for the cottage: a three-night stay from Thursday to Sunday or a three-night stay from Sunday to Wednesday. Check-in is from 4 to 7 p.m., and check-out is by 11 a.m. or earlier. To reserve a stay, visitors must have two positive evaluations from past Airbnb stays. The home is ideal for adventurers and Tolkien aficionados, with wonderful Tolkienesque style, antiques, and unique touches that will transport you. Guests may also take part in the Arkenstone Quest, the Ring Hunt, and Bard Bowman's Archery Challenge. The cottage also accepts well-behaved, non-shedding dogs weighing less than 25 pounds for a charge and a refundable deposit.
Lilla Rustica Treehouse Glamping Vermont
Location: Moretown, Vermont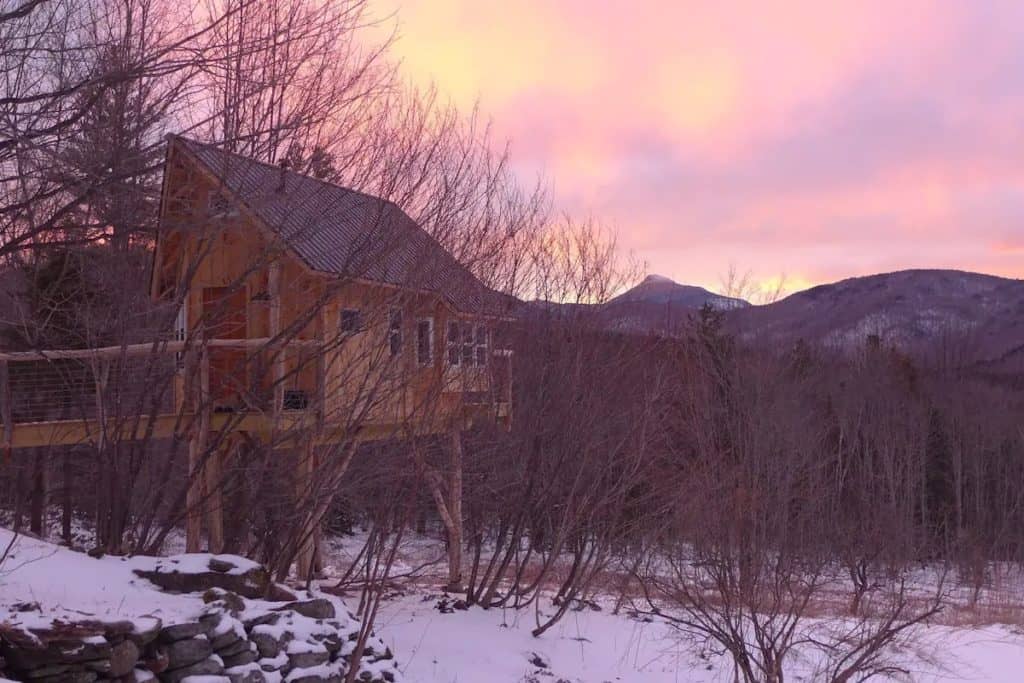 Lilla Rustica is a tree-shaded cottage in the woods. The Tree House Guys, a local Vermont firm that has a season on the DIY network, created this private home with stunning vistas. There's a lot of detail here, yet the design is still natural and straightforward. Camels hump State Park is seen from the porch. There is a queen bed in the loft and a queen bed below with three sides of the bed facing the vistas. Hiking trails are available immediately from the cabin. A fantastic glamping Vermont vacation spot!
The Lilla Rustica cottage in the pines offers a lovely nestled-in feel about it, with breathtaking views from every window. The downstairs queen bed is one of the attractions. You may watch at the sky when laying in bed, or hear dear move under the cabin while sleeping because the cabin is surrounded on three sides by windows. Feel far away from it all while yet being close to Vermont's Route 100, which includes Ben & Jerry's, Prohibition Pig, Stowe, SugarBush, and the Mad River Valley, Lawsons and The Alchemist breweries, as well as a plethora of swimming holes and hiking and mountain bike opportunities.
Recent Guest Review: "Not only was the morning view gorgeous, but everything about this little cabin in the trees was clean and useful. We had everything that we needed, and the host was great with recommendations and easy check in. Thanks for a good escape!"
Vermont Glamping in Isolation Bliss
Location: Bridport, Vermont
You'll be greeted by breathtaking vistas and sunsets when you arrive at our glamping Vermont cottage. The house is crammed with books, and it's quite lovely and inviting. It features a bright one-bedroom (half-open to living room) with gas fireplace, a full kitchen, and a covered deck… It's wild and wonderful! You'll also have access to a two-person canoe and two kayaks.
In the living room and kitchen, the tub and shower are hidden behind a screening. The toilet is located adjacent to the kitchen in a closet. So, while there isn't a lot of privacy, it is a very special experience.
Recent Guest Review: "This was the perfect getaway. It was not hard to find, even in the dark. We had some change of plans for arrival times and it was no problem. The owner offered to work with us if our plans had to change dramatically.
We were able to use the canoe and kayaks, enjoy the sunset from the landing, and cook comfortably. Our dog was happy, and we jogged every day. We also hiked at Snake Hill and Moosalamoo. And we found some cool breweries and wineries nearby. Pratt store had the few things we needed, and we bought some local cheese from the creamery nearby.
The house was great, and the neighbors were friendly. Although it may seem small by some standards and the bathroom parts in the kitchen… those were a feature, not a problem. We loved it. We played some games and read some books as well."
The Hermit Thrush Glamping Vermont Treehouse
Location: West Pawlet, Vermont
Suitable for: small groups, large groups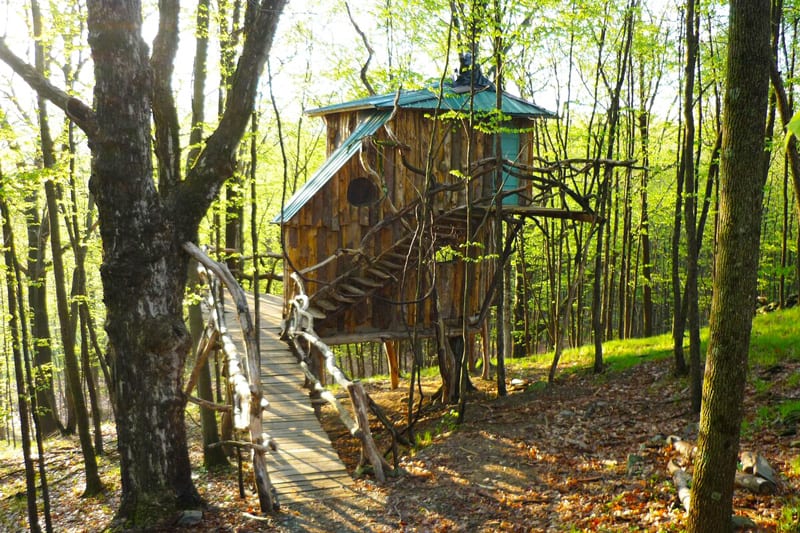 Relive childhood adventures in the woodsy Hermit Thrush Treehouse. The idea behind this double treehouse concept is to provide an organic feeling among the green trees and the magical sounds of the birds. The finishes and furnishings are mostly made of irregular wood which adds to the charm and natural ambiance giving a rustic and natural experience while still offering basic comforts.
The treehouse compound can accommodate up to 11 guests with 4 bedrooms so it's a great getaway for groups of friends or a family gathering although the rustic nature is not recommended for very young children. Treehouses each have a bathroom and living space and there's also a shared cooking pavillion, fire pit, outdoor shower and hammocks on the site.
Recent guest reviews:
"My family had an amazing experience. It was nice to unwind and enjoy nature. Rik hand crafted the tree house and space with so much thought and creativity. It was very private, yet a short drive to many stores and restaurants."
The Green Mountain Tiny House Vermont
Location: Jamaica, Vermont
Suitable for: couples, romantic getaway
Tucked away in the beautiful Green Mountains, this tiny house is a perfect place for romantic glamping in Vermont experience with your partner. The design offers modern luxury with a full kitchen complimented with a farmhouse sink and butcher-block countertops, a bathroom with a soaker tub and shower, an electric fireplace, Smart TV and queen bed.
Outside amenities include a porch, stone firepit and Weber grill and seating to enjoy peaceful al fresco meals. For the adventurous couples, there are some hiking trails in the nearby state parks, or else, you can arrange for kayaking, rafting activities in the west river.
Recent guest reviews:
"This was the perfect getaway! Everything was clean and well kept. The house has such thoughtful design features and extra special touches go above and beyond other Airbnb's we've stayed in. We loved the cozy indoor space and the nice area outside by the fire. Can't wait to go back!"
Vermont Glamping Barn on 40 Acres
Location: Monkton, Vermont
Suitable for: solo retreat, couples
Located 30 minutes from Middlebury, this cozy converted barn at the Grousewood Forest is a wildlife lovers' dream because of the frequent sightings of deer, owls, bears, wild turkeys, and bobcats. You can also visit some of the many vineyards, breweries and cideries located nearby the property for a tasting or to buy a bottle for enjoying back at the Glamping Vermont Barn.
This cozy barn studio can comfortably accommodate two people with a double bed, mini kitchen, full bathroom, BBQ grill, and outdoor seating area.
Recent guest reviews:
"This place was amazing. The space was perfect and so many things to do but sitting by the fire was preferred. Everything you need to make meals, play games and enjoy yourself is there. Highly recommend. The place had so many cute touches!!"
---
Good Night Moon Vintage Airstream Glamping Vermont
Location: Hartland, Vermont
Suitable for: solo retreat, couples, romantic getaway
Two vintage trailers in a stunning natural setting provide a cozy Vermont glamping experience. These retro trailers will give you comfort and security while still feeling like you're camping in the great outdoors. There is a communal outdoor kitchen with BBQ and composting toilet and plans are in the worls for adding a shower.
There's a fire pit a small swimmable pond on-site and 12 acres of woodland to explore. Depending on the time of year you're in a great location to enjoy fall colors, a hot air balloon festival, berry picking, farm stands and cideries.
Recent guest reviews:
"Couldn't ask for a better glamping experience. Was shown great hospitality by Jim and Juli. They made sure daily that I had plenty of wood and water, without needing me to ask. I was traveling alone and Juli went as far as to check up on me and make sure I was safe (and sane) when the day was over. I would definitely stay here again, and recommend it to a friend!"
Cozy Glamping Vermont Tipi Retreat at Nwyfre Farm
Location: Brookfield, Vermont
Suitable for: solo retreat, couples, romantic getaway, pet friendly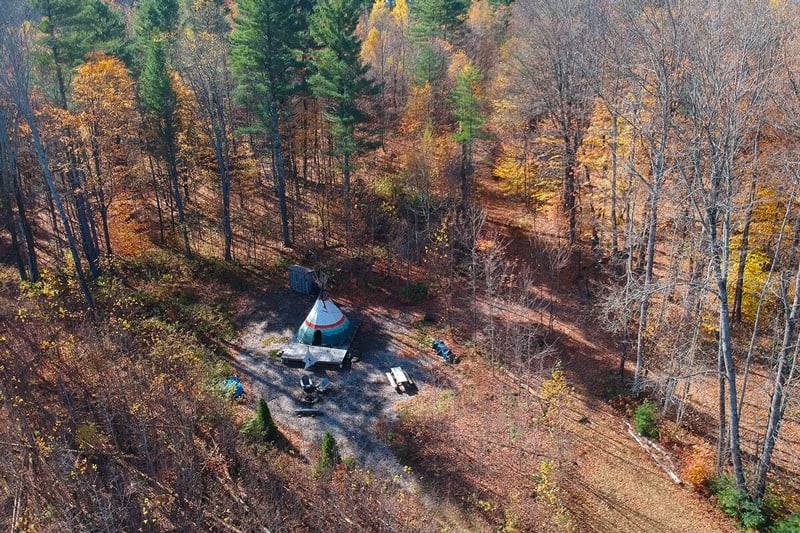 Staying in a tipi is one of the more unique glamping Vermont experiences and the Cozy Tipi Retreat at Nwyfre Farm is a great option. The tipi sits on 13-acres of blissful seclusion but you can easily access the main residence at the farm if you need anything. It's a perfect place for a romantic getaway or an unplugged solo retreat.
Your Cozy Tipi comes equipped with a double bed, kitchenette, and a wood burning stove. Outside the tipi you have a private bathouse with heated shower, adirondack chairs and a firepit with a grate for cooking.
Recent guest reviews:
"This stay was so much more than we could have expected, we really cannot wait to go back! We have an 8-month old female pup who loved playing around with their dog Sage, she was free to roam and loved every minute. The space was so relaxing, warm and inviting. We were able to take a nice walk around the property and enjoyed the amazing views. The tipi itself was so beautiful and cozy! Exactly what we needed, 10/10!!"
---
Luxury Glamping Vermont Treehouse Dog Mountain
Location: Saint Johnsbury, Vermont
Suitable for: families, small groups, pet friendly
The Outpost Treehouse, nestled in the forested areas near Dog Mountain, will be a dreamy glamping Vermont vacation. It was designed with love by the hosts which is evident by the calming ambiance and attention to detail. The treehouse can accommodate up to 6 people with its two bedrooms; one king-sized bed and two queen-sized beds. Interior features include a full kitchen, bathroom and Cathedral living room with fireplace. Outside you'll find a two-storey deck complete with dining area and bar, a porch with cooler and dog kennel plus fire pits and a charcoal grill.
You'll be close to lots of outdoor activities while you're here including hiking, mountain biking, and skiing. Plus, you're close to the historic town of St Johnsbury, Stephen Huneck Gallery, and Alerin Barn event venue.
Recent guest reviews:
"A truly magical getaway! We celebrated a special birthday & had a stunning atmosphere with all the finishing touches that had all the right vibes! This was a positive & clean experience upon arrival till departure! Alexa was thoroughly an amazing host! The only thing we wish was for more time to explore the area , (would go for at least 2 nights)fabulous for all including our Leo."
Vermont Glamping Treehouse at Bliss Ridge Farm
Location: Moretown, Vermont
Suitable for: couples, families, small groups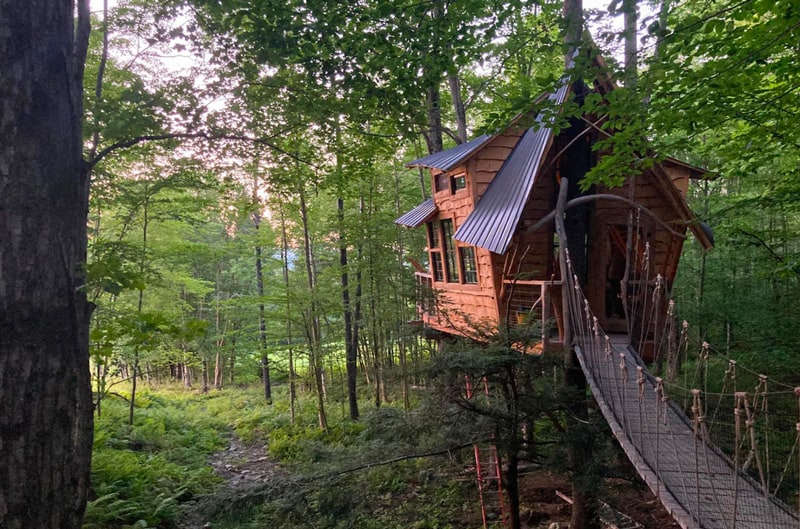 The Treehouse at Bliss Ridge Farm, with its Dr. Seuss inspired design, is one of the best luxury glamping Vermont spots. Not only do you have a gorgeous and comfortable interior but also incredible views of Vermont's Worcester Mountain range. You can easily access the Mad River Valley from here by a 15-minute drive and also, do some hiking in the nearby nature trails.
This charmingly quirky treehouse can accommodate up to 7 people so it's a great option for a family or group of friends as long as you don't need full private sleeping areas. There's a queen bed and pull-out sofa on the main floor plus 2 lofts with a double in one and a single in the other. Other amenities include a living room, bathroom, kitchen, BBQ grill, and patio.
Recent guest reviews:
"The treehouse is extraordinary. It's so unique and creative, it doesn't feel real. The location is outstanding, with rolling hills and fields to explore with the most beautiful views. The treehouse is cozy and sweet with thoughtful touches, we were very comfortable and the hosts were wonderful. Our two and a half year old was in heaven- between the rope bridge, the lofts in the treehouse, the hammock, and walks in the woods, he was wide eyed and excited the entire time. We will make this annual getaway for sure."
---
Vermont Glamping Tent in Heaven
Location: Wells, Vermont
Suitable for: solo retreat, couples, romantic getaway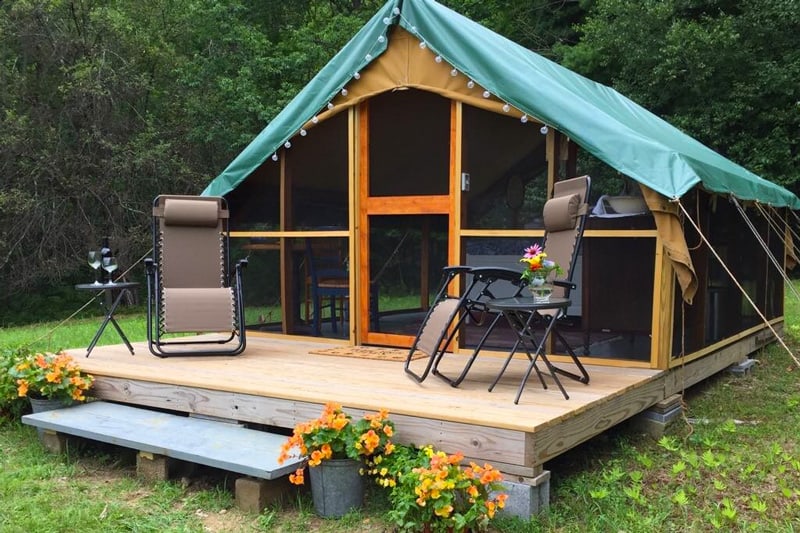 If you want to have a glamping vacation with farm animals in Vermont, this is it! The glamping tent is located at the Harmony Homestead Farm in peaceful surroundings and you can easily access Killington and Lake George from here. From the moment you wake up to the time you go to sleep, it will be a graceful embrace by nature, so much that you will never feel like leaving your cabin.
The luxury tent can accommodate two people in a double bed. Other amenities include a bathroom, kitchen, refrigerator, dishes, silverware, stove, BBQ grill, free Wi-fi, garden area, and free parking space.
Recent guest reviews:
"Paul & Gail are wonderful hosts and so passionate about what they do. The place is a brilliant retreat and so comfortable you'll feel right at home immediately. Everything is thoughtfully taken care of. Our only regret is forgetting to buy their amazing home made maple syrup before we left!"
Glamping Vermont Yurt Retreat
Location: Putney, Vermont
This is a charming, quiet, and fully furnished four-season yurt nestled on a six-acre property in Vermont. The Vermont yurt is ideal for individuals wishing to relax and refresh in a peaceful and well designed environment. The yurt is located on a secluded hillside with views of gorgeous Vermont farms and woodlands and is 45-60 minutes from various ski slopes. It's also adjacent to plenty of neighboring swimming and hiking paths, making it an ideal escape for outdoor lovers and folks who enjoy glamping Vermont.
The yurt is equipped with a complete kitchen, woodstove, terrace, WiFi, power, hot and cold running water, and an outdoor shower (no winter shower, with some exceptions). Everything inside has been picked with care and affection, including comfy seats, a wonderful woodstove, and excellent lighting.
The terrace is a terrific place to listen to the birds, have a drink, read a book, and just relax. In the modest but well designed kitchen, guests will find everything they need to prepare delicious meals. The mattress is organic, and the yurt takes pleasure in its soft, well-made beds, which include exquisite linens and two types of pillows. The composting outhouse is linked to the terrace and is 10 steps from the front entrance. 
Quarry Brook Glamping Vermont Dome
Location: Putney, Vermont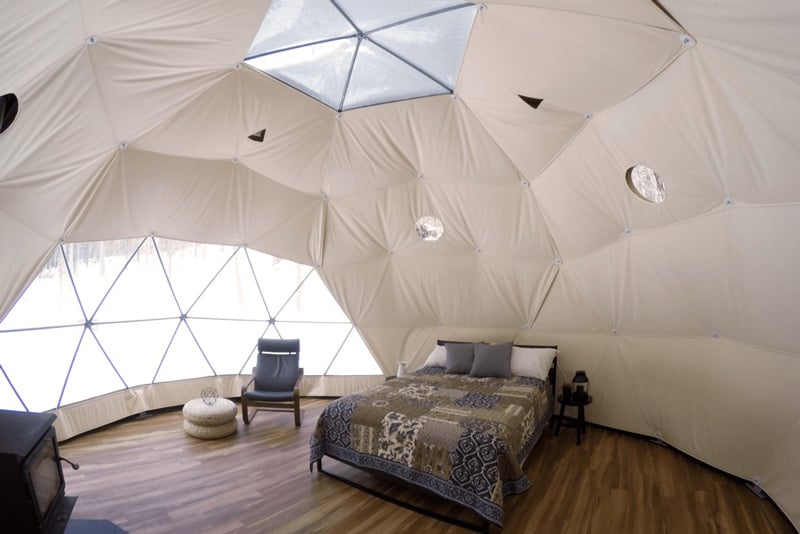 Quarrybrook's geodesic dome in Vermont offers luxury camping and a great option for glamping Vermont. This one-of-a-kind lodging provides a fresh perspective on conventional camping, along with all the conveniences of home. The dome is located on a quiet, forested site surrounded by gorgeous environment, making it the ideal location for a relaxing escape.
The inside of the dome is big and open, with a fully equipped kitchen, comfy beds and furniture, and a private toilet. Guests may also take use of the outside living area, which includes a fire pit, hot tub, and a private terrace.
The site is just a few minutes from Silver Lake and provides excellent chances for kayaking, swimming, and hiking. The dome is also near to the picturesque town of Woodstock, which is renowned for its amazing restaurants, farmers markets, and Feast and Field, a weekly music and food festival.
---
Things to do when Glamping Vermont
---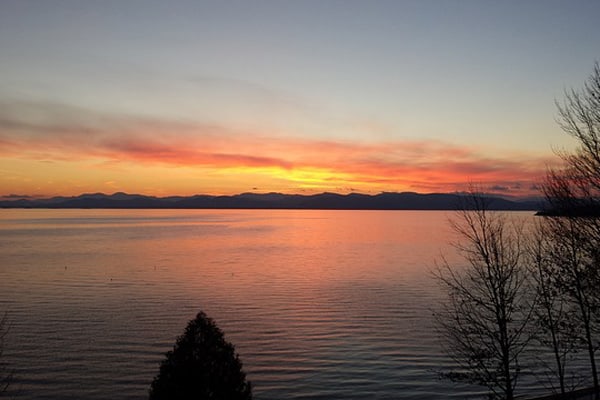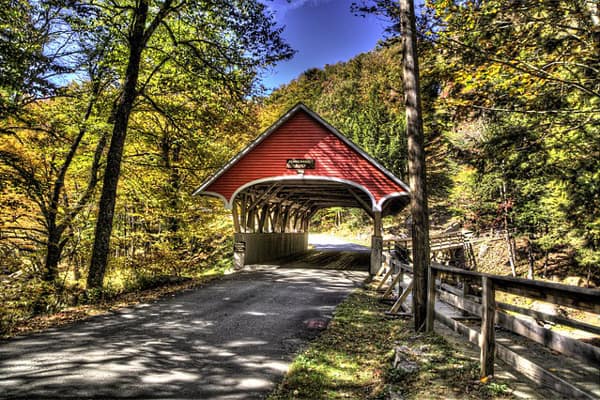 Hike Mountain Mansfield
The tallest mountain in Vermont at 4,395 feet with an array of scenic hikes and walks. It has an amazing 360-degree view from the very top. You can find some cool rocks and boulders to scramble over but nothing too dangerous.
Enjoy Lake Willoughby
Located in Westmore, this gorgeous lake has two public beach areas, water activities, and the village of Westmore to explore. Ask about the natural waterslide and falls off Long Pond Road.
Explore Groton State Forest
This giant area encompasses 7 state parks including Big Deer State Park, New Discovery State Park, Boulder Beach State Park, Kettle Pond State Park, Ricker Pond State Park, Seyon Lodge State Park, and Stillwater State Park.
It has a multitude of outdoor recreational activities while glamping in Vermont. These include hiking, swimming, fishing, hunting, horseback riding, and cross country skiing to name a few. Part of the Cross Vermont Trail also treks through the region.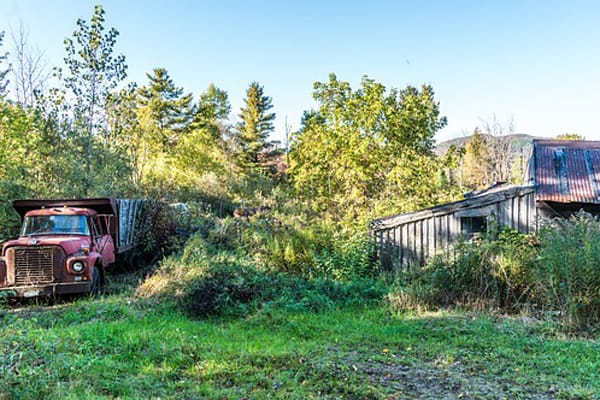 Breath in Nature at Green Mountain National Forest
This popular recreational area was established in 1932and some consider it the backbone of the state. It is home to a ton of wildlife to observe including beavers, moose, coyote, ruffed grouse, black bear, white-tailed deer, and wild turkey.
It also provides wonderful hiking trails, waterfalls and some good ski resorts for all-year outdoor activities.
Bike Kingdom Trails
Kingdom Trails is a great area to explore, especially for mountain bikes. It has over 100 miles of multi-use trails for all experience levels. The trails are well maintained and you may even indulge in some food trucks and a drink at a Tiki bar on your adventure.
Chase Waterfalls
Vermont is full of waterfalls. If you plan on Glamping Vermont, make sure you take some time to visit at least one of these natural marvels.
Moss Glen Falls is a great scenic falls with hiking in the area. Bingham Falls is very pretty with some swimming areas. Warren Falls is a cascading waterfall with some natural pools to soak in.
Besides the many, many outdoor recreational areas to visit and explore, there are some other unique spots if you are in the "Green Mountain State." The Lincoln Family Home is a popular sight as well as the Sugarbush Farm for maple syrup and cheese. Of course, you also have the well-known Ben and Jerry's Flavor Graveyard. If covered bridges are your thing, go to the southeastern corner of the state which has lots, and check out the almost 200-year-old Silk Road Bridge as well.
---
Glamping Vermont Pin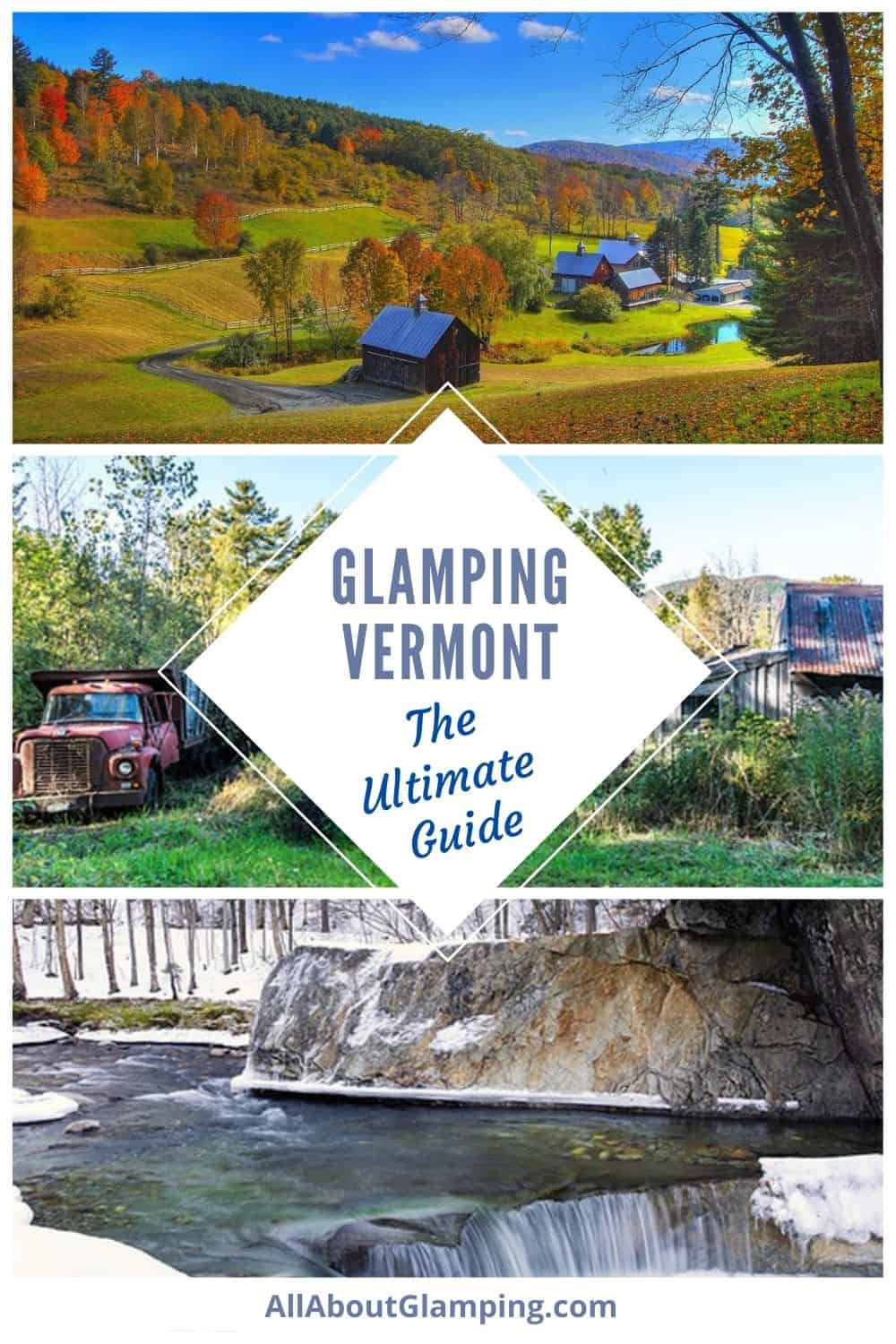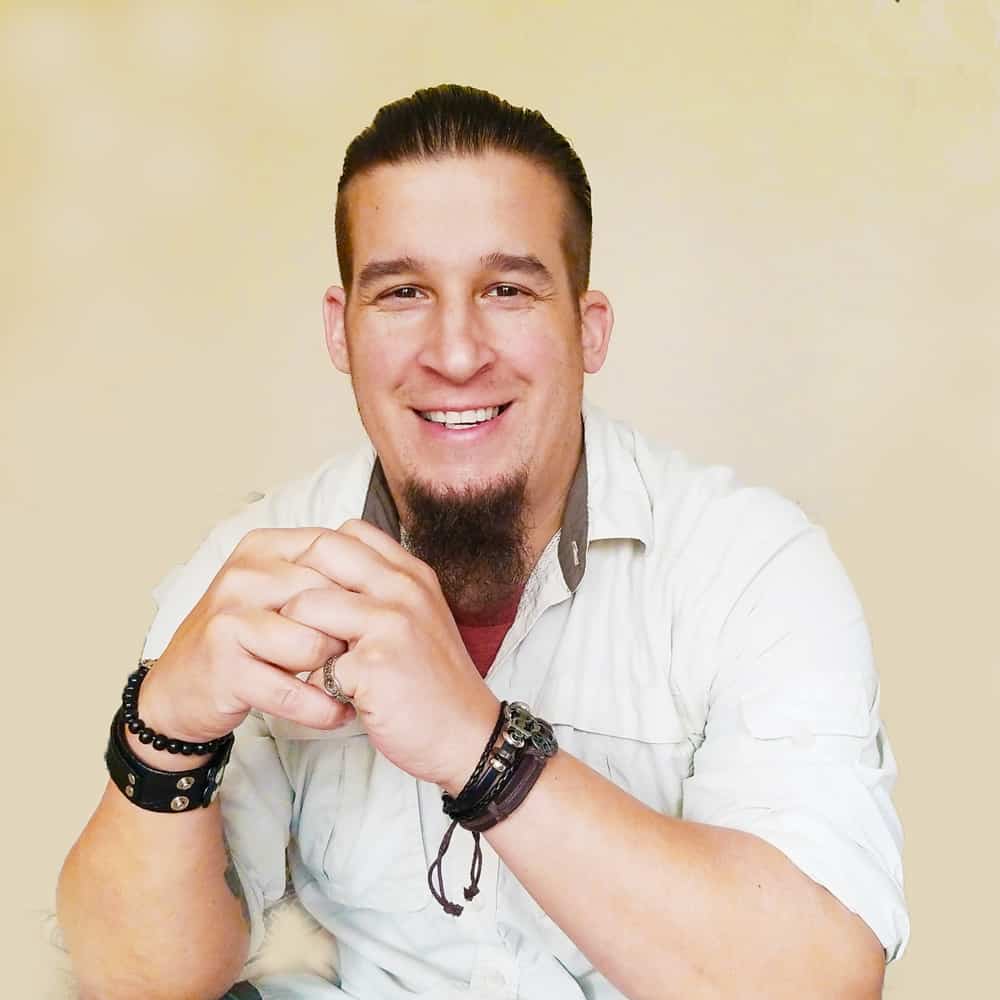 Full-time World Travel Writer who runs multiple websites and social media accounts. I have spoken at various conferences around the world. Some of my hobbies include adventure, fitness and new technologies. I am also a trekkie!