Welcome to Snowdon glamping in Wales – a magical escape into the heart of nature! The stunning beauty of the Snowdonia National Park is unrivalled, and the perfect backdrop for a unique Snowdonia glamping experience. Nestled in the foothills of the mountains, glampers can expect to be surrounded by nature and all its wonders, whilst enjoying the comfort of luxurious accommodation.
Glamping in Snowdonia offers a range of accommodation options, from traditional yurts to cosy cottages and luxury treehouses. Each option is equipped with comfortable beds, private bathrooms, and amenities such as hot tubs, fire pits, and BBQ facilities, making sure you have everything you need for an unforgettable stay.
There are plenty of things to do while Snowdon glamping. You can explore the surrounding mountains, hike to the top of Mount Snowdon, or take a scenic drive along one of the many stunning routes in the region. For the adventurous glampers, there is Zip World, which offers exhilarating activities such as the world's fastest zip line and underground trampolining at Bounce Below.
There is also the Coed y Brenin Bike Center and Dyfi Bike Park for cycling enthusiasts, offering miles of trails and stunning scenery. For those looking for a more relaxed time, you can visit the historic town of Dolgellau or spend a lazy day on the beach. The region is also famous for its delicious local produce, including seafood and traditional Welsh dishes, which can be enjoyed in local restaurants and cafes. Below we have compiled a list of some amazing options for Snowdon glamping and hope you enjoy exploring Snowdonia's beautiful landscapes. Besides glamping in Wales there are many other quirky places to stay in Wales that may be right up your alley.
Read Also: UK Glamping – Brecon Beacons Glamping – Glamping near Brighton – Isle of Man Glamping
Snowdon Glamping Sites to Book Today
---
Travel to the beautiful Ceredigion countryside for a one-of-a-kind Snowdon glamping experience in the heart of nature. The Ty'r Onnen and Ty'r Derw treehouses offer a magnificent escape from the rush and bustle of everyday life, with stunning panoramic views and a babbling stream surrounding them.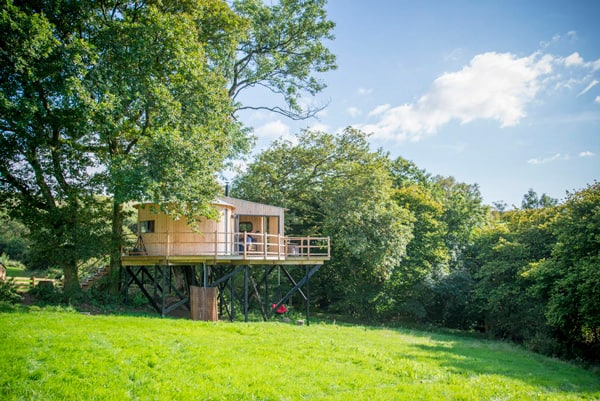 Each treehouse has its own set of amenities for guests to enjoy, making it ideal for nature enthusiasts. The treetop refuge is exquisitely crafted, with an al fresco copper bath and a luxurious hot tub. This treehouse comfortably sleeps four people, with additional space for one child. Meanwhile, the romantic hidden treehouse, replete with a wood-fired hot tub, an outdoor waterfall shower, and an interior wet room with a log burning stove, offers a cosy and intimate atmosphere for two adults.
Ty'r Onnen and Ty'r Derw treehouses provide an exceptional Snowdon glamping option, whether you spend your days exploring the gorgeous Welsh countryside, stargazing under the clear night sky, or toasting marshmallows around the fire pit. These one-of-a-kind sanctuaries are only 7 miles from beautiful beaches, making them an ideal base for exploring the local area. Therefore, why not treat yourself to a luxurious treehouse vacation and create wonderful memories with your loved ones?
Do you want for a romantic getaway surrounded by nature? Go no farther than this spectacular tree house located in a private woodland and overlooking the stunning Cader Idris Mountain. This is the ideal location for couples seeking a peaceful and one-of-a-kind escape.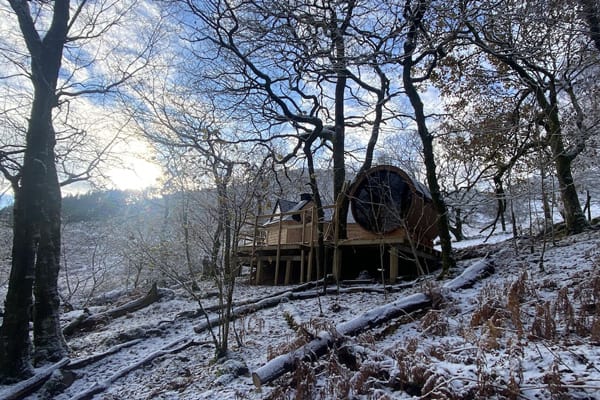 This amazing tree house is equipped with exquisite amenities that will make your stay unforgettable. A hot tub, a log-fired sauna, and a log burner inside the tree home provide the ultimate in leisure. The tree home is completely off-grid and solar-powered, making it a unique and eco-friendly lodging choice ideal for people looking to detach from the hustle and bustle of contemporary life.
Wake up to the sound of birds singing and breathe in the fresh mountain air as you gaze out your own sanctuary's window. This tree house is extremely unique, providing a quiet and romantic retreat for couples seeking adventure and tranquility. Don't miss out on this once-in-a-lifetime opportunity to escape to the Welsh countryside and make wonderful memories with your family.
Brynkir Tower is the ideal destination for a one-of-a-kind and spectacular retreat in the heart of Snowdonia National Park. Our medieval tower has off-road parking and all the conveniences you need to make your stay comfortable and enjoyable. You'll have everything you need to feel at home during your visit, including a wood-burning fire, DVD player, TV, bed linen, towels, dishwasher, microwave, bath, central heating, and room for two dogs.
Brynkir Tower, located on the outskirts of Porthmadog in the picturesque village of Garn, offers breathtaking views of the mountains and Cwm Pennant. Take a short drive into Porthmadog to explore its shops and cafes, or ride the Highland Steam Railway for an unforgettable experience. For a day at the beach, visit nearby Criccieth, which has beautiful beaches and a castle.
Brynkir Tower is the ideal site for nature enthusiasts and explorers wishing to see Snowdonia National Park from a unique and historic perspective. Don't pass up the chance to stay in this one-of-a-kind medieval tower and create lasting memories with your loved ones.
Go to the lovely forest refuge of Woodland Yurt, located beside the magnificent Mawddach estuary, and immerse yourself in nature in a warm Mongolian Yurt. This one-of-a-kind, family-sized yurt is tucked in a tranquil environment with spectacular views and direct access to nature walks. It's the ideal spot to unwind and refresh.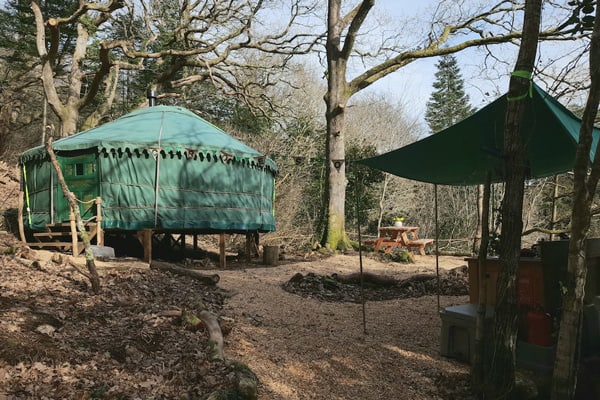 Enjoy the peace and quiet of sitting around the campfire, listening to nature's calming noises and gazing at the gorgeous star-lit sky. Allow your children's imaginations to run wild as they explore and play in the woods. All bedding, linen, and firewood are given, as well as a fully equipped outdoor kitchen and a separate luxury bathroom.
Cae Canol Cottage is a semi-detached holiday home in Cwm Teigl, which is surrounded by the stunning Snowdonia National Park. The cottage is located close to the 500-year-old stone Cae Canol Farmhouse and offers breathtaking views of the surrounding landscape. The cottage is ideal for couples, with a mezzanine bedroom, open plan living space with a log burning stove, modern kitchen, and shower room. There are amazing views in all directions from the porch.
There are numerous chances to explore the area landscape on foot, including historic pathways to Cwm Penmachno and the Crimea pass. Llan Ffestiniog, which lies adjacent, has a convenience store and a community pub. Zip World: Titan, Bounce Below, and Antur Stiniog mountain biking are all popular among thrill seekers.
The Snowdon glamping cottage is pet-friendly, and up to three well-behaved pets are allowed. Dogs, on the other hand, must be kept under control at all times and must not be enticed by sheep that graze right outside the front door. The cabin offers plenty of parking and an electric vehicle charging station.
Please keep in mind that the cottage is roughly a 15-minute drive from civilisation, so bring everything you need for the first day. For the surrounding region, warm clothing and sturdy boots are required. From October to April, the narrow mountain track has six gates that must be locked after usage, and a 4×4 is advised.
This hobbit-style glamping home is a separate, single-story hut with an open-plan living space, a kitchen with essential amenities such an electric oven and stove, microwave, fridge with freezer section, a four-person eating area, and a sitting area with a Smart TV and a couch bed. One double bedroom and a shower are provided.
A wood-fired hot tub, patio, sundeck, gravelled area, and furnishings are also available. Three off-road parking spaces and all needed facilities, including WiFi, gasoline, power, a hot tub starter kit, bed linen, and towels, are included in the rent.
This holiday rental is pet- and smoke-free. The proprietor sells hot tub logs after the original pack. WiFi is also spotty in rural areas.
The property does not allow electric car charging either. A local garage has a charging point. For a tranquil and rural escape, Nant y Garnedd is a remarkable experience.
This Luxury Safari Tent is situated close to the historic town of Dolgellau, providing guests with convenient access to a variety of sights and activities in the surrounding area, including Zip World, Bounce Below, the Coed y Brenin Cycling Center, and the Dyfi Bike Park. The tent has a balcony, a seating space, a dining room, and a kitchenette that is equipped with a refrigerator, an oven, and a microwave. It also has views of the mountains.
In addition, guests can take advantage of the hot tub located on the premises, and bicycle rentals are available for those who would like to get out and discover the surrounding area. Both Castell y Bere and Aberdovey Golf Club may be reached in a car in a short amount of time from the tent. The Anglesey Airport is the closest airport, and it is located 100.6 kilometers away.
This family-run Snowdon glamping business in the Snowdonia foothills gives clients a calm and adventurous getaway with plenty of activities and sights to see right on their doorstep. The owners' first goal is the satisfaction of their guests, and they work hard to make each glamping experience unforgettable.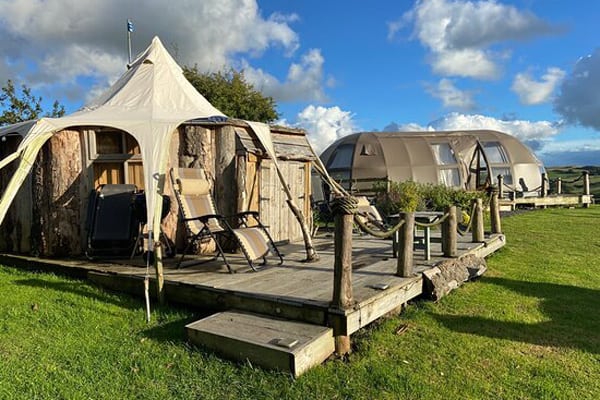 Each of the two tents and Gracie's Lodge has an own wood-fired hot tub for ultimate relaxation beneath the stars to enhance guests' experience. Visitors can sip bubbly in the bubbles while admiring the beautiful views. A Tuscan outdoor wood-fired oven is also available for use, which is ideal for making the tastiest pizzas, slow roasts, and barbecues.
The Hoot Tent is ideal for groups of up to six people and has a private wood-fired hot tub with beautiful views, as well as a secluded garden with a Barbecue and bonfire. Bella Tent, which sleeps up to four people, also has a private wood-fired hot tub and a lovely outdoor lounging area with its own fireplace. Gracies Lodge, which sleeps up to four visitors, offers a self-contained apartment with a super king-size bed, private Jacuzzi hot tub, and private terrace with Barbecue. In addition, guests can use the hot shower located at the bottom of the garden.
This tiny hut, nestled in the heart of Snowdonia and surrounded by gorgeous mountains, is an ideal hideaway for people looking for a calm and rustic break. The open-plan living room provides everything you need, including a kitchenette with a compact fridge and a camping fire.
The cabin has a king-size bed and a cozy lounge area with a TV, making for a relaxing stay. It is heated by an electric fire, which keeps guests warm and cozy on cold nights. For your comfort, the bathroom includes a toilet and a shower.
There is private parking available, however the path up to the chalet is steep. Visitors can park at the bottom of the track, 50 meters from the cabin, or drive up to the top of the track, where there is plenty of room to park and turn around.
There is a fire pit outside for people who enjoy being outside, and the hosts may offer logs, matches, and firelighters for a cost. Alternatively, guests are welcome to bring their own.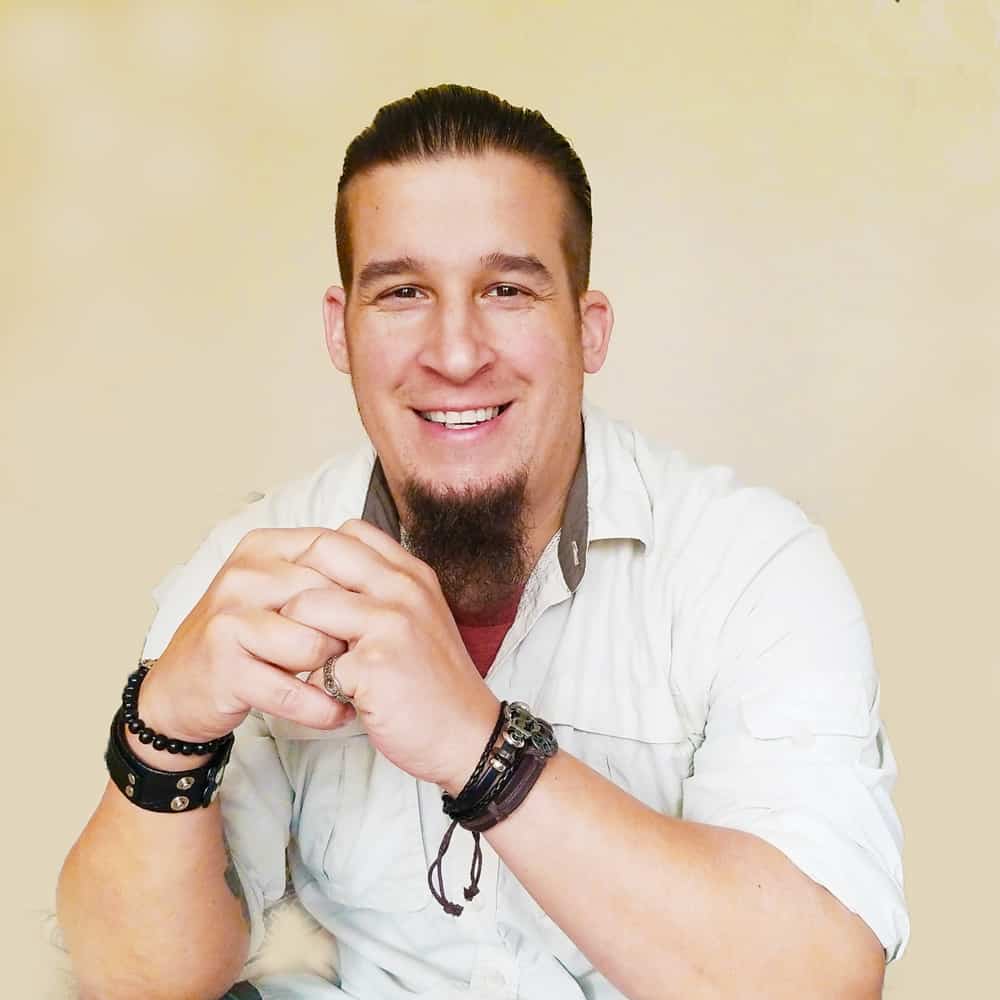 Full-time World Travel Writer who runs multiple websites and social media accounts. I have spoken at various conferences around the world. Some of my hobbies include adventure, fitness and new technologies. I am also a trekkie!