Oklahoma has a lot of wonderful places to explore in the United States especially if you base yourself in one of the Romantic Cabins in Oklahoma available to rent. It has a charming environment, beautiful from all parts of the State. One such part of the state is the Wichita mountains, which have breathtaking views and feature large free-roaming wildlife in Oklahoma.
The Chickasaw National Recreation area is a go-to place to see natural and mineral springs. And Turner falls is one of the places you want to take your family to. At 77 feet, it is the largest waterfall in Oklahoma and is one of the places people frequent.
From its rich Cowboy heritage to its large deposit of natural resources, particularly oil and Gas, not to mention its contribution to the Energy sector of the economy. In addition, it has kept alive its superabundant Native American History.
It will be an oversight if we fail to mention that Oklahoma City and Tulsa City are the largest cities in Oklahoma. They have a breathtaking landscape, and the major oil boom in the early '90s contributed to the natural beauty they are both known for today. The art galleries and museums and the well-trimmed gardens are some of the reasons Oklahoma is amongst the top places on a tourist list.
What more? Oklahoma is considered one of the best places for lovers and romantic couples to visit for their honeymoons, vacations, and retreats. Hence the romantic cabins in Oklahoma we have listed here.
There are many Romantic cabins in Oklahoma, however, nine of them are worth mentioning in this article. You will get to know the locations of these Cabins, a brief summary of what each has in store for you, and recent reviews from those who have visited each Cabin. Let's get down to business, shall we? Looking for Oklahoma Yurts?
Other Glamping Articles you may enjoy
Cabins Red River Gorge Kentucky
---
List of Romantic Cabins in Oklahoma
---
Here is a list of Romantic Cabins in Oklahoma you can enjoy with your sweetheart.
Location: Rural Kiamichi Mountains, Southeast Oklahoma
The Ridge Trail Cabin in Oklahoma is nestled between the Kiamichi mountains, and you can see the beautiful sunset. Though there are three cabins close to one another, it does not deny you the privacy you desire, as each cabin is separate enough to ensure that you do not get prying eyes looking at you. However, if you plan an extended family visit or a group visit with your friends, and you need more space, there is a discount on offer for you to get all three cabins to yourselves; what is known as the 'group rate.'
Ridge Trail Cabin is equipped with a roomy two bedrooms with queen-size pillow mattresses. One of the rooms has a bathroom en suite. It has an upstairs loft where you can play games and watch movies. It has a fireplace where you can sit around to get warm. Also, you can stretch your legs if you so desire.
For a foodie, a grill outside is located outside, and the cabin has a toaster, kitchen pots, and other cooking utensils. Once you have what meal you want to eat, it takes no time before food is ready.
Recent Review: "Absolutely breathtakingly beautiful. The views are amazing, the place is so peaceful. The house is well furnished and very comfortable. Easy access and friendly host. Will definitely stay again."
Location: Eagle Creek Dr, Smithville Oklahoma.
When you plan that great escape with your heartbeat, Mountain Sky Cabin has beautiful scenery for you. It is a well-secluded area with views of the sunrise from the mountain. With a king-sized bed in the cabin, it also affords you a pool and a spa. The kitchen is well populated with the required amenities. You get a 40 inches TV, a DVD player and a selected number of DVDs, a stereo but to mention a few. Renting the Mountain Sky will cost an average of $214 per night. If you love to go fishing, play golf, Mountain biking, Hiking, etc. Nearby places offer you the opportunity to explore and engage yourself in what you love.
Recent Review: "If you're looking for an amazing getaway with you and your significant other, this is the cabin! The open layout and the amazing view off the back deck, simply relaxing. Will definitely be going back in the future. After all, it is where I asked my best friend to marry me!"
Location: Broken Bow, South Eastern Oklahoma.
It is a one-bedroom cabin that was recently built in 2021. It has a large TV, a fireplace and a game room where you play various games, among which is a Pool table. The kitchen has all modern-day furnishing. It possesses and outside furniture. Additionally, there are various activities you can do; there's a Kayak/Canoe and a boat, all on the go for the price of $215 average per night.
Recent Review: "This cabin set the bar for all other cabins that my Wife and I will escape to, from now until we no longer take vacations. This cabin was straight up *IMMACULATE*. Amenities, floor plan, furnishing, the hot tub, cleanliness, the ultra luxurious robes, linens, *EVERYTHING* was 5 star!! I definitely will be re-booking this cabin when I can."
Location: Broken Bow, Smithville, Oklahoma
The Rivers Bluff cabin is located along the path of a river, and it is best known for its kayaking privileges. It is a cabin just for two. Thus, you can choose to come to this place on your honeymoon, or possibly when you are celebrating the anniversary of your wedding or any other special event. It features a nearby gambling casino, golf, swimming, water skiing, paddle boating, and horseback riding, to mention but a few. And it has a good entertainment unit and the Just the two of us cabin's kitchen is exquisitely furnished.
Recent Review: "The pictures do not do this cabin justice! They had anything and everything you could need! The views were outstanding! We will be back soon!!"
Location: Broken Bow, Oklahoma
If you plan a low-key retreat in a tranquil environment with great interior designs and features, then the Couple's Retreat: Woodsy Broken Bow Cabin Studio is the perfect escape for a quiet moment. It is located close to Beavers Bend State Park, and the sight is awe-inspiring as you experience the perspective firsthand.
The property is a one-bedroom studio apartment, with a nicely fitted kitchen, a smart TV, and an outdoor gas grill. It is located strategically close to nearby activity-parked places such as the Beach Area, Mountain Fork Brewery, Beavers Bend Wildlife Museum, and many more. A great option to choose from our list of Romantic Cabins in Oklahoma.
Recent Review: "The cabin was adorable! We loved the full kitchen and the comfy bed..the recliners were also very comfy!! We had no plans to do anything but get away from home and relax and the cabin made it easy to do so!!"
Location: Broken Bow, South East Oklahoma
Do you want to go hiking, explore nature and watch as wildlife roam freely? Then, you should consider the newly constructed Bello Louise Cabin for your romantic honeymoon.
They enforced a strict maximum guest policy, and as the name implies, it is a romantic cabin for two. Therefore, you will not be permitted if you are more than two on a visit.
The concept utilized in designing and building the cabin is to ensure you feel at home. The living room and kitchen have all the right appliances needed in a home environment. Bella Louise is a Home away from Home.
It is actually a high-end luxury cabin for couples looking to give each other a treat. It has free Wi-fi and shares proximity to happening places like Pine Creek Lake, Ringold Cafe, and Baldin's General Stores.
Recent Review: "Words cannot express how much I enjoyed the weekend at this cabin. Everything was beautiful and relaxing. The cabin had everything you need to not want to leave. Me and my partner had a amazing time. I fully recommend this beautiful place for a romantic getaway with your partner. We are looking forward to coming back!"
Location: Sand Springs, Oklahoma
For a unique get-away location, the Creekside cabin offers you and your loved ones an experience you cannot derive anywhere else.
You will be required to hike into this beautiful cabin since it is clearly off-grid. It is powered by solar lighting and features a queen bed. As the water gallon is limited to 5, you must take care not to waste water.
Visitors have access to a compost toilet and must consider the weather conditions before booking since it does not have HVAC.
For nearby places close to the Creekside Cabin, you have the Keystone Ancient Forest, City of Sand Springs, Osage Forest of Peace, and Keystone Lake as the numbered places you can choose to visit.
Location: Tuskahoma (Potato Hills, Ouachita Mountains), Oklahoma
For a visit to a cabin that offers a simple feel, the Oka Chukka is your best bet.
It is a cabin located in the solitude of the Ouachita Mountains. It is immaculate and has a kitchen, a TV, a nice shower, and a great place to snap photos for your Insta story.
There is a board game giant Jenga, and it has rocking chairs that provide comfort all day long.
However, due to the high cost of the internet and unlimited data plan being out of reach, visitors are advised to use the internet for only necessary things so as not to exhaust the data. A great choice for Romantic cabins in Oklahoma!
Recent Review: "This cabin was nothing short of- Magical. Relaxing. Seclusive. It was amazing!! Be prepared to stay the whole time you won't want to leave the view for a second. All in all I would recommend! 10 of out 5 stars! When life gets fast and hard treat yourself to a weekend of pure heaven on Earth!"
Location: Sand Springs, Oklahoma
Though tiny in size, Sunny's hut offers you your own space that is private enough for your planned vacation. It has an outside shower and a compost toilet and features a one bedroom and one bathroom conducive for two guests.
The kitchen is furnished with a microwave, other kitchen utensils, and a mini fridge that keeps all your food refrigerated.
As they say, 'size does not determine strength,' Sunny's Hut Cabin has a scenic environment that is tasty for all the beautiful pictures you will love to post on Instagram.
You also get access to the pool or hot tub during the seasons that require any of the two.
Notable nearby activity-packed areas are the Big Al's Convenience Store which is about 6 minutes' drive, Osage Forest of Peace is a 15-minutes' drive, and Downtown Tulsa is a little farther at 25 minutes.
Recent Review: "The hut was awesome! perfect for the woods and the ac was great! the animals are the best part and the trails were beautiful! such a awesome place to go and will be back 1000%"
Romantic Cabins in Oklahoma Pinterest Pin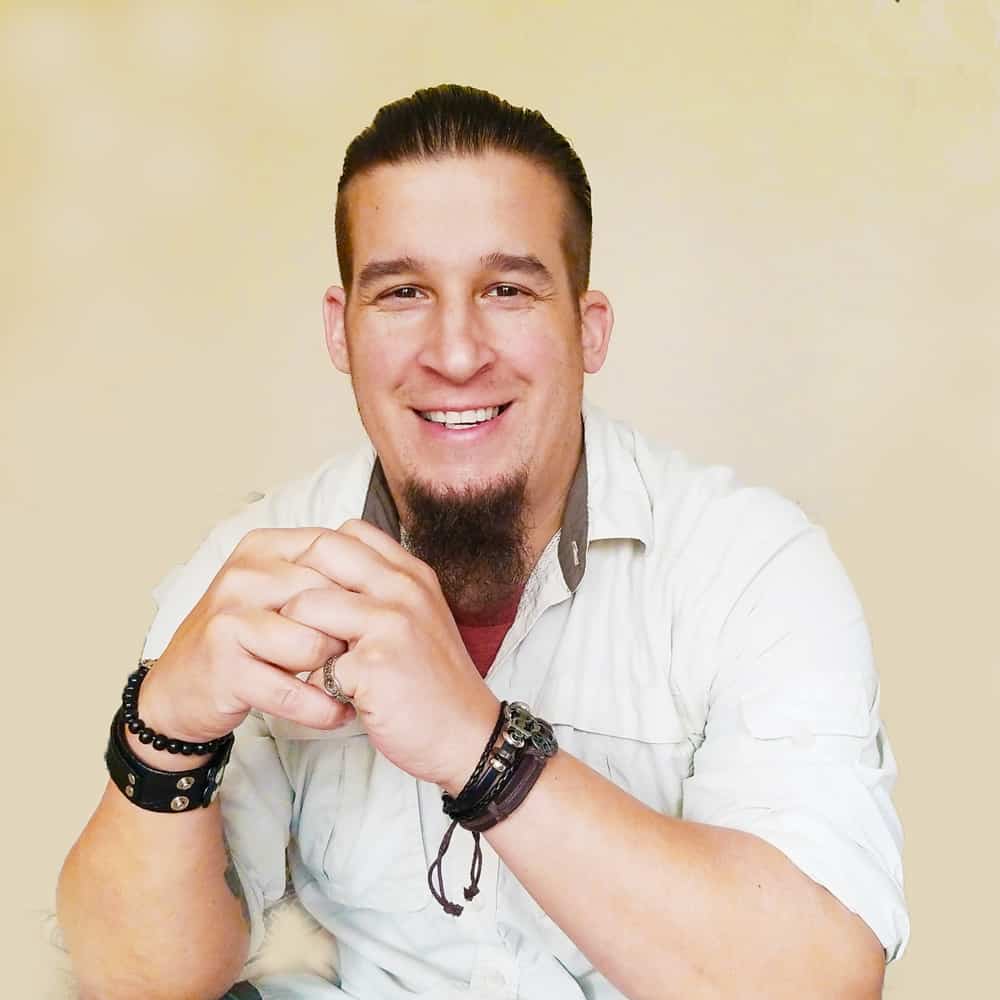 Full-time World Travel Writer who runs multiple websites and social media accounts. I have spoken at various conferences around the world. Some of my hobbies include adventure, fitness and new technologies. I am also a trekkie!