Devon is one of the most famous counties in South West England. Devon has some amazing natural features that make it attractive to tourists and travelers. It has an attractive coastline with very good and decent beaches in their numbers. Devon also features the magnificent Devonshire cream tea and 2 national parks. These features and many more have propelled Devon into one of the most sought-after destinations in England. That is where Devon Glamping comes into play.
Since it is a popular holiday destination in the UK, this in turn makes it a popular destination for UK Glamping and there are tons of properties for Devon Glamping. Glamping in Devon is so beautiful it provides an avenue for a romanceful rural retreat in a shepherd hut, treehouse, luxury tent or other unique accommodation located strategically near the coastline or nestled in the wonderful woodlands the area offers. Families and loved ones can have a good time Devon Glamping from any of the top Glamping Devon getaways we have listed below. But one thing is sure, Devon Glamping is a unique and wonderful option to explore this brilliant region of the UK.
Other UK Glamping Articles
---
Top Devon Glamping Spots to Book Today
---
Location: East Putford, England, United Kingdom
It is a space reserved for 2 with a bedroom and bathroom. It is a decent place to enjoy glamping, located in Putford. It is located in an isolated area surrounded by wildflower meadows. It provides a good environment and facilities for a great getaway. Whether it is romantic or just to recuperate your energy it is sure worth your time and investment. Its strategic location is a point of attraction for this facility. It is close to wildlife spotting and stargazing. It is not far from the historic town of Biddeford and the resort of Bude. It has got a lot of gadgets to make the stay memorable. The room has a refrigerator, ceramic hob, flat screen TV and excellent Wi-Fi services. What's more? Its environment is green energy supported as facilities are in place to charge your electric vehicles.
Recent Review: "Very cosy, comfy, clean and still smelling by new wood. Excellent. I loved the bathroom especially. Fully equipped, simply superb secluded cabin. I can imagine just adding maybe outside wooden hot tub here, nothing else."
Location: Beer, Seaton, England, United Kingdom
It is a glamping site reserved for 2, with 1 bathroom and bedroom. It stands out on its own in the style of accommodation it provides. Its environment is quiet, serene and lovely. It has gadgets that are sure to make the getaway outstanding. These gadgets include Smart TV, a heater, and the like. It provides a parking space. It has an amazing view of the beautiful gardens around. Its location isn't far from the beach meaning it is close to a fun location that provides a lot of relaxation. The environment ha suitable for a workout, with an amazing community known traditionally for fishing, visitors have all they need for a memorable getaway that they won't forget in a hurry. . Also because beer is a fishing community, you did have the opportunity bro eat some piece of fresh fish that is nicely prepared.
Recent Review: "Great for a short break walking with the dogs. Easy access to a quiet (in September) beautiful part of the world. The Escape Pod is really well designed."
Location: Mid Devon District, England, United Kingdom
Delightful Shepherds Hut is located in a nice and wonderful environment in the rural Devon countryside. It does not have access to WiFi services but it is still a perfect location to relax and have a wonderful getaway with the person you loved and escape from the hassles of everyday life. Its rural location is close to attractive locations like the Dartmoor National Park, Meldon Quarry and Beaches too. All of these locations would ensure that you have a perfect place to walk around, relax and enjoy. What more? If you are a lover of green energy, Delight Shepherd hut also offers green energy infrastructure. It has a gas plant and contains all that you need including showers. Refrigerator, cooker. Hob and the likes. You would surely enjoy your getaway with friends and loved ones.
Recent Review: "Beautiful Shepherds Hut . Cosy and very well equipped. Hubby and I were delighted to spend 4 days here with breathtaking uninterrupted views and privacy . Our hosts were lovely and visited to say hello and welcome us but after that we were left to enjoy the peace and quiet and the re-charge we so needed ., If you are looking for quiet and off grid then this place is perfect ."
Location: Plymouth, England, United Kingdom
It is situated in a strategic location at the centre of Devon. It is a luxurious and exclusive eco pod that offers a perfect property to enjoy your getaway whether with your partner or alone. It is a bit compact but still enjoyable as it is surrounded by a clean and renewable environment devoid of noise. You wouldn't have to worry about pets lingering around you. Apart from the cook exterior designs which of course is cool, the interior design is something to marvel about as it has modern and equipped with the best and the most efficient gadgets that are sure to make your stay enjoyable. Inside the property, you should expect to see a refrigerator, gas-powered shower z electric fan and oven. In summary, it is great to have a feel of nature while on a getaway, and you wouldn't regret choosing it. Smart TV and free WiFi.
Recent Review: "Beautiful well furnished quirky little Ecopod, loads of space, well maintained secluded garden area, picnic table hot tub and relaxers. Friendly helpful owner, nothing to much trouble we will definitely go back, maybe try the tree house or bubble next time."
Location: Buckland Brewer, Bideford, England, United Kingdom
It is designed for two and offers one of the best Devon Glamping proeperties. It provides a good getaway venue that is sure to give a lot of fun and comfort. It has a shared kitchen and bathroom with a shower. It also has a kitchen. Its location makes it strategic as it is close to the coastline and Beaches. Its vicinity is so conducive for physical activity and you are sure to have fun with all these. Things to look forward include 
Double Bed with mattress, there is a double seater bean bag, you would also find camping table and chairs, crockery & cutlery, cool box with ice packs, extra blankets, double sleeping bag, camping lanterns, portable stove & water container. It is a perfect getaway facility for you and yours.
Location: Berrynarbor, Ilfracombe, England, United Kingdom
It is a beautiful property that offers so much value for Devon glamping. The accommodation provided is so nice conducive band convenient. It has lots of modern gadgets that make glamping fun and enjoyable. The property has a long burner electric heater refrigerator, electric fan radio, board games and the like. Apart from these gadgets, The Lazy Mare – Glamping with a View!  Offers a good view of some attractive sites located in Exmoor and beyond. So you would always have something to feed your eyes on. Overall Lazy Mare has a living space, a shower room with a shower and wash basin, Kitchen. It is a property you would surely enjoy as it offers so much in terms of adventure.
Recent Review: "A lovely property with great attention to detail. The ideal location for coastal break."
Location: Bickleigh, England, United Kingdom
Exe Valley Glamping in Bickleigh, Tiverton, and Devon is located on a large space estimated to be about 150 acres of family farm space. It offers adventurous glamping that you would not easily forget. It is a great place to have an experience of nature that connects you t8 o the aura of nature on this large farmland. The building layout consists of 3 bedroom spaces and 2 bathrooms. Also, the Kitchen is equipped with all you need to have to enjoy your stay in the area. This makes it suitable for family-style glamping vacations. You have a whole lot to explore with the family in a large space like Exe Valley. Kids are sure to like this space.
Location: Zeal Monachorum, Crediton, England, United Kingdom
One of the best self-contained glamping sites and thus it is reserved for 2. It provides a conducive and suitable environment to enjoy glamping. The location of this property is very accessible and close to public amenities and so there is a lot to explore here. So if you like to walk or trek, this is a place you are sure to find trek able. You are sure to have fun. The building layout has a living room that is a spacious kitchen and a bathroom. The gadget includes a microwave hot plate and some other household stuff. Also, you can expect to have opportunities for hiking and other sporting activities. Also, the Loaders view property gives a good view of Dartmoor and Exmoor awaits you. Loader's view has a dining space, a bedroom, kitchen and veranda from which you can get good views.
Recent Review: "Really beautiful place to stay the scenery is beautiful we all really enjoyed it, the family are really nice and make you feel welcome a beautiful village perfect for a quiet holiday for family's or couples can't recommend enough will definitely be returning in the future."
Location: Plymouth, England, United Kingdom
It is located in the centre of the attractive Yealm valley.  The Yealm valley is enclosed around with exciting natural habitats which include a beautiful carp fishing lake, and Sunridge Geodom. Luxury Genome offers one of the best Devon glamping services. It is affordable and spacious with a serene environment. With a fishing lake around there is so much to experience in terms of adventure. 
The room is designed for up to 4 with a double bed. The facility also has a well-built German kitchen, living space and bathroom. As part of improving visitors' experience, the facility offers 4k Ultra HD Cubena Snuggery. There is also access to PS4 and XBOX so users can have the best fun there is free Wi-Fi that ensures constant connectivity to the internet. It is a perfect place for a nice getaway
Recent Review: "The Geodome was everything we hoped it would be. Cosy, secluded, romantic and the perfect getaway from the city."
Location: Germansweek, Beaworthy, England, United Kingdom
The Yeworthy Eco-Treehouse offers a great property for a great getaway. It is located in a closed area bounded by lakes in different areas. It is a perfect place to have a wonderful romantic getaway. With a cool serene environment. It is worthy of note that the environment is eco-friendly and suitable for all those who like eco-friendly environments. Also, you have a long burner which would help to generate warmth. It has 1 bedroom and 1 toilet and the room is conducive for 2. The facility has gardens and a balcony from which you can get amazing views.
Also, the property has a log burner to help to generate warmth. Because of the lake surrounding this property, you can expect activities like boat rowing that would help to make the getaway very fun. Nevertheless swimming inside the lake is not authorized. Looking for a getaway for 2 people? Yeworthy Eco-Friendly, Off-Grid Treehouse is a perfect place.
Recent Review: "We had a wonderful 2 nights in the treehouse – such a beautiful peaceful spot. Andy and Caroline were excellent hosts – we were very grateful for the use of the 4 wheel drive to get us down the track and it was interesting to hear the story of the treehouse. It was a unique and memorable experience and we would highly recommend it to others. Being off grid for a couple of days was very relaxing and we enjoyed reading, drinking wine and watching the birds and bats over the lake. We would love to come again!"
Location: Saltash, England, United Kingdom
You will be welcomed with a kingsize bed, table and chairs, handcrafted furniture, and handmade furnishings if you choose Wollemi, our Peaceful Pod. Additionally, your own patio features a fireplace and an outdoor gas burner for cooking. ideal for a romantic holiday with a partner.
A 20-meter distance separates the restrooms, which have a shower and a toilet. Visitors may receive treatments in the on-site spa cabin known as "The Greenhouse Spa Retreat." Discover the magnificent 1-acre garden and take pleasure in unwinding in several of its private resting spaces.
Recent Review: "Everything was incredible. It is a great place and you can tell that every detail it has been carefully thought. Would definitely go back!"
Location: Newton Abbot, England, United Kingdom
The Devon Glamping Lake Yurt is a traditional Mongolian yurt on the shores of a small lake and encircled by forest. It has a wood-fired shower, its own fully functional rustic kitchen, and a dining area with a fireplace. Enjoy complete seclusion in a beautiful and fascinating environment on Dartmoor. The Lake Yurt is tastefully furnished with rugs and lanterns and contains a double bed, a double futon, and a single futon. It also has a wood burner to keep you warm and cosy.
Pinterest Pin for Devon Glamping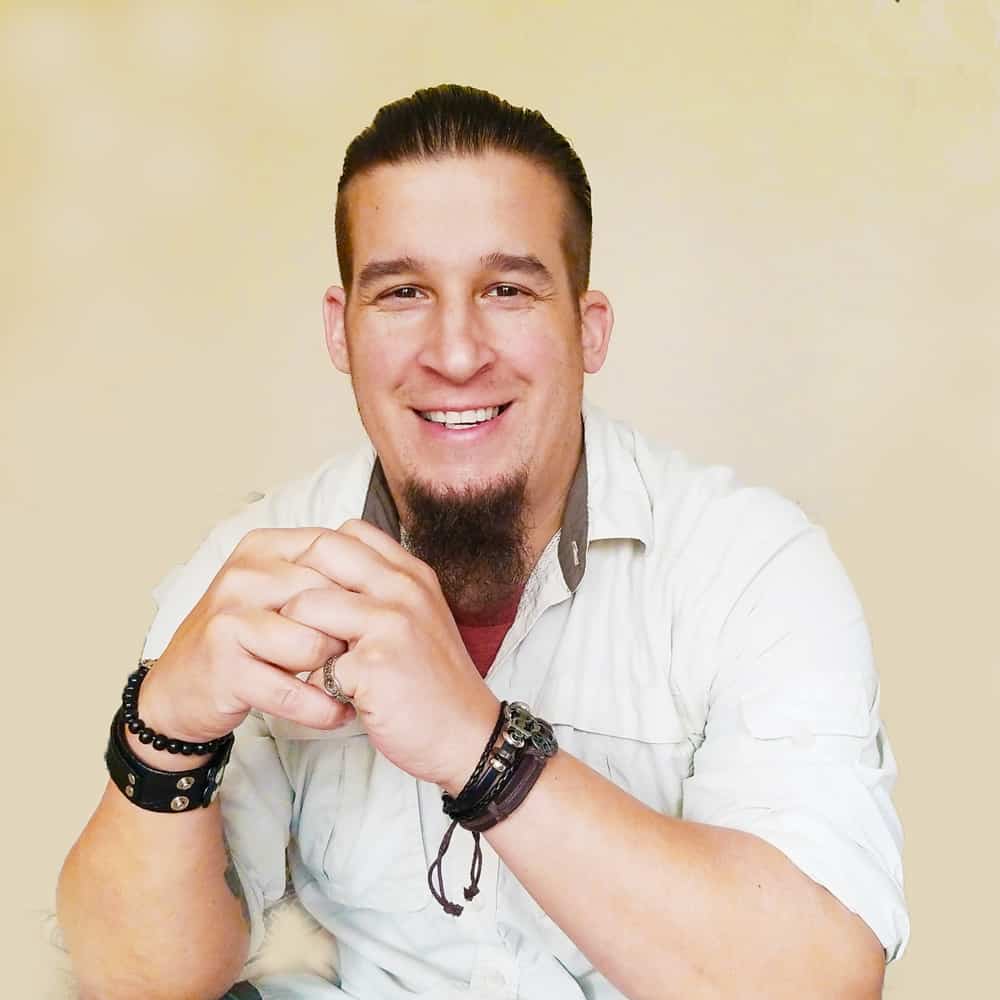 Full-time World Travel Writer who runs multiple websites and social media accounts. I have spoken at various conferences around the world. Some of my hobbies include adventure, fitness and new technologies. I am also a trekkie!