There aren't too many getaways or experiences more magical than staying in one of these unique Treehouse Rentals Texas has to offer. Bring back those childhood memories and enjoy nature surrounded by trees but in the comfort of a Texas Treehouse.
One of the great things about choosing a Texas Treehouse as your Glamping in Texas accommodations is you can book them all year long. Most come with an array of amenities and comforts not found in other glamping types like Yurts, Tents or Teepees. Looking for Glamping around Austin? Maybe a Cabin on a Lake in Texas. Or maybe you are headed to Big Bend, TX
Our Top Treehouse Rentals Texas Has To Offer
---
Location: Paige, Texas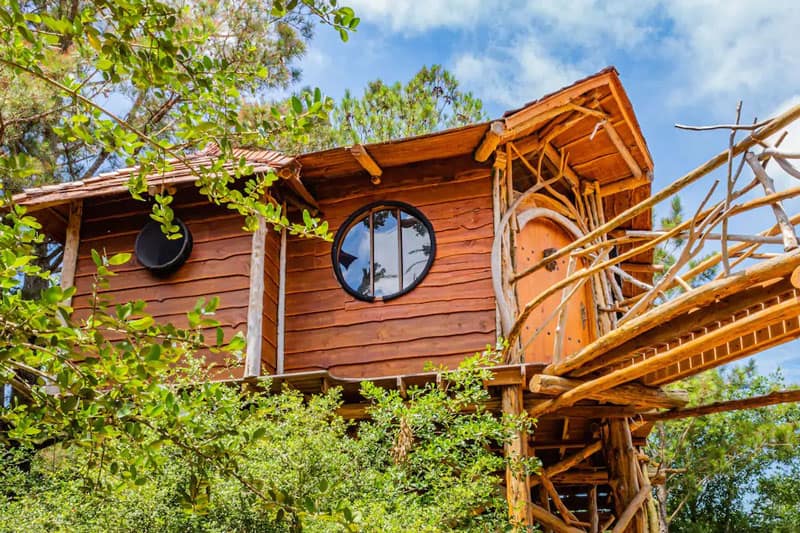 Looking for a unique vacation? Why not stay at this quirky Hobbit-themed treehouse. Nestled on the trees of Lost Pines Forest, this adorable home that sleeps four is a fine glamping experience that melds modern comforts with nature's serenity. The property is dog friendly and you can often find the owners' two dogs trotting along – and looking for scritches!
Nature is aplenty here. The Texas treehouse is by a small pond that attracts little creatures and you can explore the shaded trails for wildlife. Bastrop State Park's trails are just 8 miles away while the Colorado River is another 2 miles away.
While there are two other guest houses, the 43-acre forest is heavily wooded, ensuring plenty of privacy.
Location: New Braunfels, Texas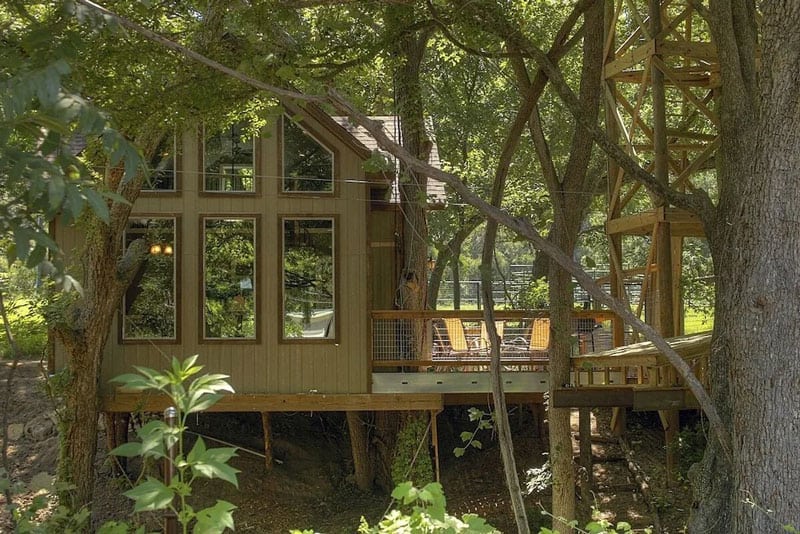 With a huge 80 feet cypress tree, wild mustang grapevines snaking around the trunk and a footbridge over a creek, this treehouse cabin is a special experience all-around.
This is not the plywood treehouse you dreamt of as a child. The modern cabin here is newly constructed with plenty of custom touches and space for eight. Air conditioning and heating, TV, a fully equipped kitchen, Wi-Fi are all standard but don't be afraid– it still maintains a rustic charm to it.
Its central location makes it the perfect springboard from which to explore the highlights of Texas Hill Country. Canyon lake is nearby so is the historic Gruene Hall, Whitewater Amphitheater and New Braunfels.
Location: Dripping Springs, Texas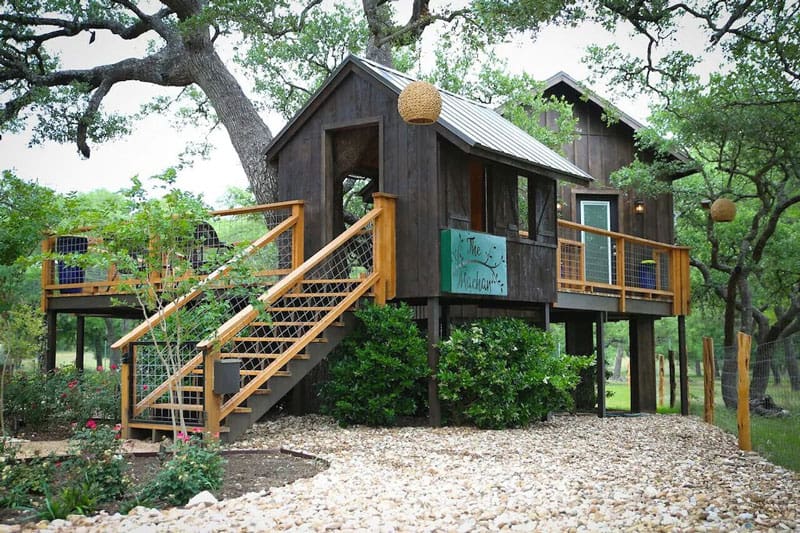 Comfortable, opulent and upscale, The Machan is a Texas treehouse built around a massive oak tree. With a private entrance, a secluded beach with scenic views and rustic stone walkways, a lot of attention was clearly given to its African-influenced architecture.
Inside, the experience is equally luxurious and well-curated. The mini-fridge is stocked with water, there is a TV with Roku and if you need some additional touches like chocolates, champagne or rose petals, the staff will be more than happy to accommodate you. A refreshing waterfall shower, a plush bed and endless rustic charm ensure an ideal weekend escape for two.
Location: Pottsboro, Texas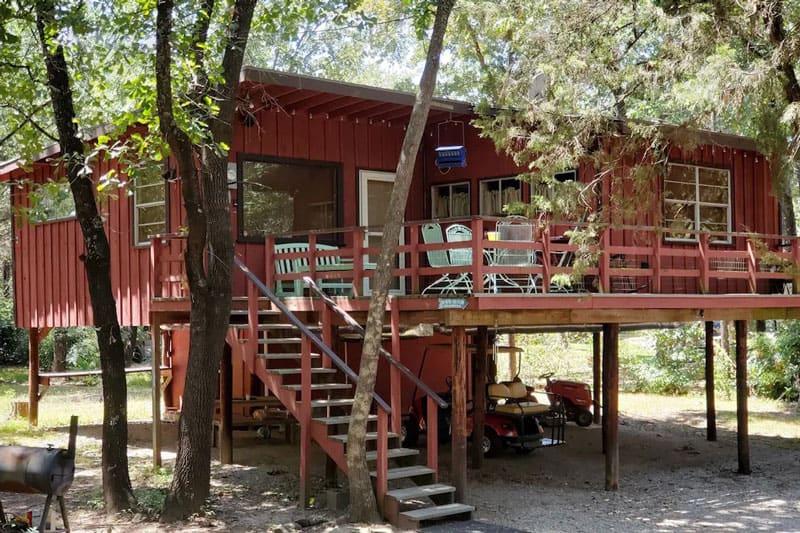 With plenty of adventure, all the privacy in the world and lots of nature and wildlife, this Lake Texoma Treehouse Cabin in Texas is a great family escape. It's far enough from the city for a spot of stargazing while the acres of land is home to many species of wildlife. And if are a fan of hiking, you will love the miles of walking trails here.
The cabin has two bedrooms, living spaces, a dining room as well as a well-equipped kitchen. It is perfect for a family vacation.
Location: Burnet, Texas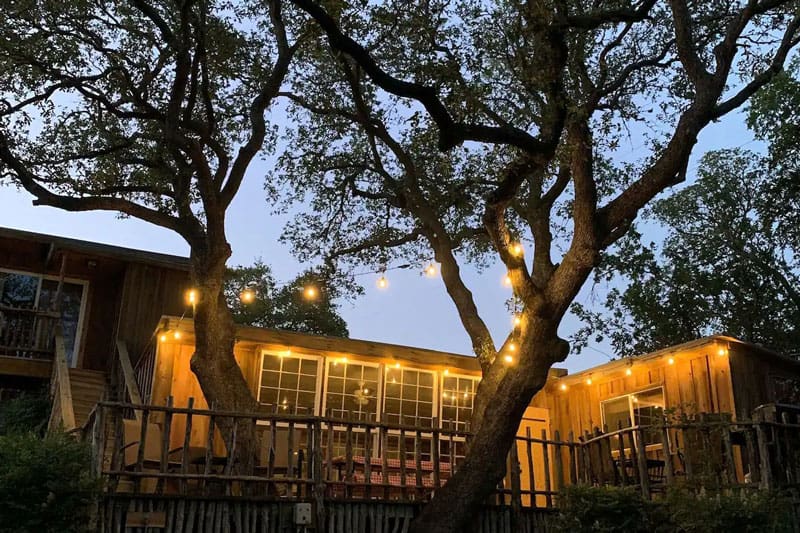 As the name suggests, you can expect a vintage, all-around rustic experience at this cozy Texas treehouse. The mid-century property is a Texas Hill Country gem. Overlooking Inks Lake, it features its own pier so you can park your boat or enjoy a bout of fishing while a spacious deck with comfortable seating is great for afternoon relaxation or stargazing at night.
The multi-level interiors are tastefully furnished with plenty of windows and touches of wood. Plus, with three bedrooms and three bathrooms in total, expect to comfortably sleep 10. Unfortunately, the property does not permit campfires or firepits so you may want to keep that in mind. Interested in more Lakefront Cabins in Texas?
Location: Terrell, Texas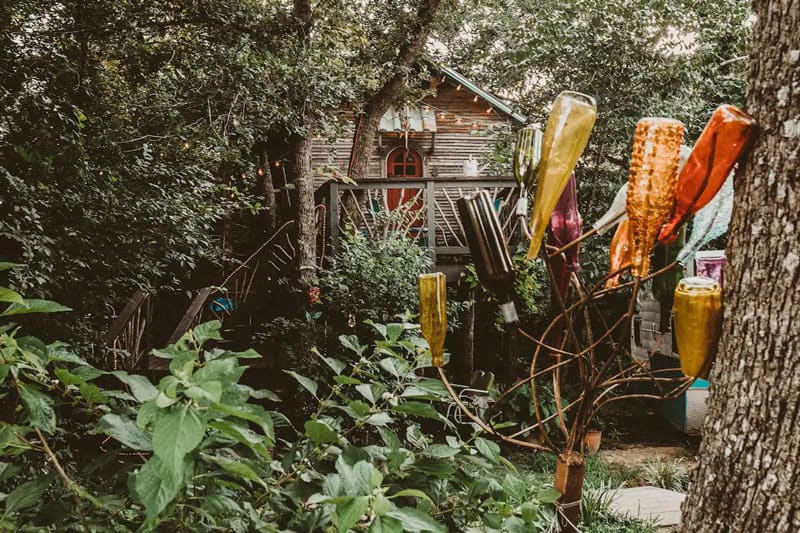 Whether you are looking for serenity, a rendezvous with nature or a quiet escape with your significant other, this lofty Texas treehouse with its many amenities is the perfect place to be. It is stocked with a kitchen and a modern bathroom as well.
A nearby fire pit (with firewood thrown in complimentary) is perfect for enjoying evening cocktails while picnic tables and cards ensure you are preoccupied through the day.
Its great location also means it's a hop away from the stunning Clear Spring Scuba Park and Lake Tawakoni State Park. The No 1 British Flying Training School Museum as well as Terrell Heritage Museum are some other noteworthy attractions worth checking out.
Location: Pointblank, Texas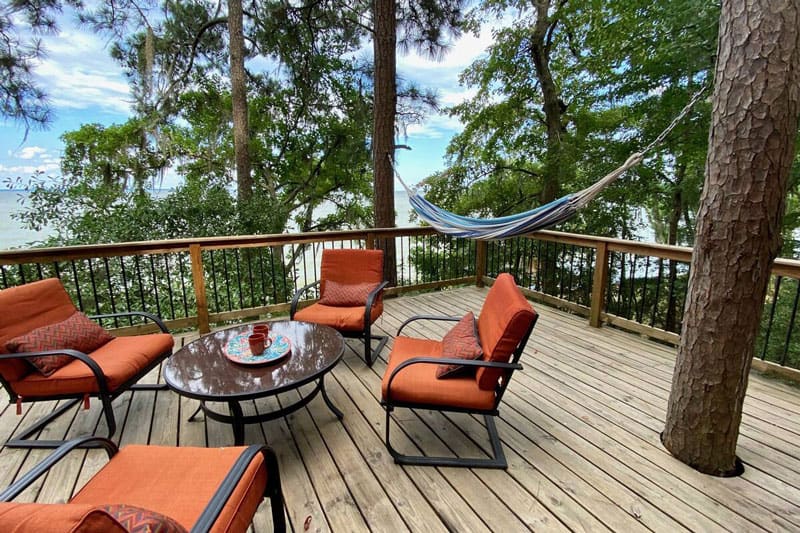 Your ideal spot for a big family weekend, this private treehouse is a thing of beauty. Surrounded by acres of natural scenery, it overlooks Lake Livingston and is a hop away from Sam Houston National Forest where activities like birdwatching and game walks are sure to keep everyone enthralled.
One thing you won't be short of is space thanks to two private bedrooms, two bathrooms along another loft with beds and kid-friendly touches. A Smart TV and Wi-Fi come standard so is a closet of board games, toys and puzzles for all ages. Rest assured, everyone's going to be very busy with things to do!
Location: Spicewood, Texas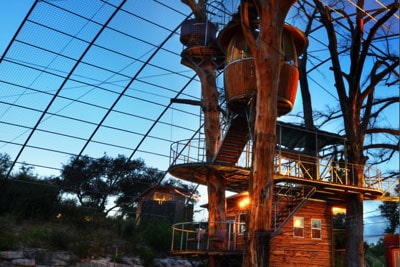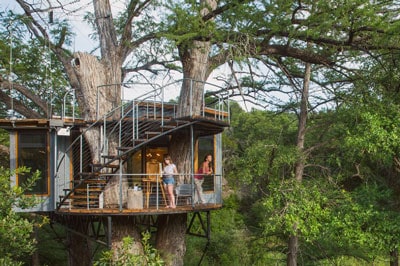 Snuggle up in luxury high amidst ancient cypress trees at the delightful Cyprus Valley Treehouse Rentals Texas. Calling itself a place for relaxation, fun, and adventure, it certainly ticks all the right boxes for a great glamping experience.
A walkway through the canopy brings guests to their property. Tastefully furnished with a rustic, romantic vibe to the place, guests can choose from several treehouses. Some offer private bathrooms with space for six while some are best suited for a couple.
Watch the fireflies, listen to the owls, gaze at the stars – it is truly an adventure unlike any.
Location: Somervell County, Texas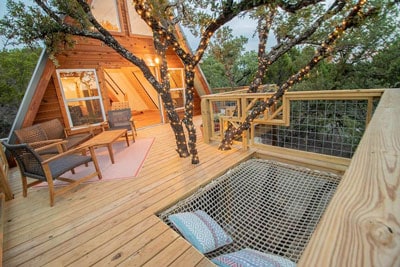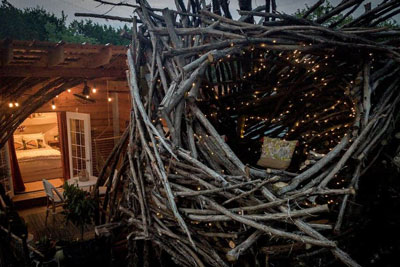 Blending a contemporary décor with an intimate treehouse feel, these treehouse rentals in Texas are great for a weekend away with friends or family. The property is furnished with running water, air conditioning and electricity. Additionally, guests can make use of a stocked kitchenette. There is no Wi-Fi here though so you will have to get out there and enjoy the company!
A huge porch wraps around the trees, offering scenic views over 50 acres of stunning private land. A walk down to nearby Possum Hollow Creek is highly recommended or consider visiting the nearby Dinosaur Valley State Park for a better nature experience – if you can pull yourself away from the treehouse's serenity!
Pin it!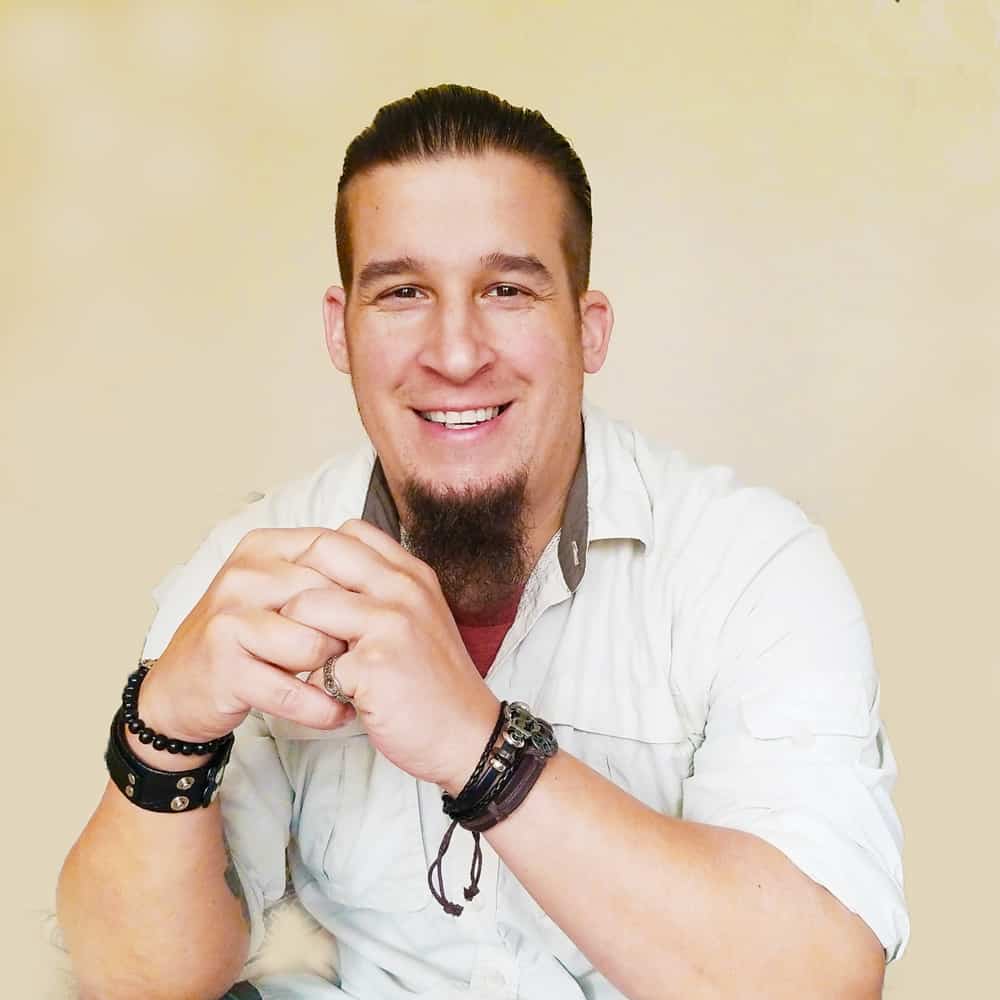 Full-time World Travel Writer who runs multiple websites and social media accounts. I have spoken at various conferences around the world. Some of my hobbies include adventure, fitness and new technologies. I am also a trekkie!