Glamping in Texas is one of those unique trips that should be on everyone's bucket list. Texas has a vast and sometimes wild landscape from ancient forests and fun-filled lakes to endless starry night prairies and adventurous coastlines. There is something for everyone in Texas. It is a road-tripper dream come true which makes Glamping Texas such a fun and unique experience. You can explore the various regions and sights while staying in wonderous accommodations that bring you close to nature, but with the luxuries of a hotel.
You can go from a Texas Treehouse or Lake Cabin to a luxurious Glamping Tent or Yurt in Texas all in the same vacation. The hardest part of planning a Glamping in Texas getaway is deciding which of the amazing Texas Glamping Spots to book. Luckily we have done some of the leg work for you. We have come up with a great list of Spectacular Glamping in Texas accommodations to choose from for your trip. We have also put together a nice little array of places to check out when in The Lone Star State. Looking for an Austin Glamping Spot?
Other Glamping Near Texas Articles to Read
Glamping Spots in Louisiana to Book
Best Georgia Cabins for a Getaway
Best Glamping in Texas Spots to Book
---
Location: Little Forest Hills, Dallas, Texas
Exquisite and bespoke, this timeless property is certainly an extraordinary experience, one where intricate architecture and warm ambiance come together perfectly.
The property melds together contemporary Bauhaus with warm rustic elegance to great results. Set amidst a serene backdrop in the heart of Little Forest Hills, surrounded by countless Japanese Maples and complete with a running brook, it's a dreamy experience all around.
The Treehouse features two bedrooms, two bathrooms, a stunning patio, living space and a fully equipped kitchen. Location-wise, it's just a mile from the acclaimed Dallas Arboretum while White Rock Lake is just minutes away. The nearest airport, the Dallas Love Field Airport, is a 25 minute drive.
Customer Review: "The treehouse was one of the best places we had stayed in a long time. It was easy to find the property and the owners left good well throughout instructions and recommendations on what to do around the area. We highly recommend to stay here although it is pricey it's worth the stay."
Location: Southlake, Texas
To truly enjoy glamping, you have to get out of the city – or so the saying goes. This lovely lakefront property shows us that's not necessarily the case. Overlooking Lake Grapevine, it is right in the heart of DFW Metroplex but with acres of beautiful Texas land surrounding you, it really feels like you are hundreds of miles away in the wilderness.
Indoors, you will find comfortable living spaces with air conditioning and heating. There's running water, a coffee maker and all the necessities. Add to it the numerous board games, the gas grill, an outdoor fire pit and more, and it becomes the perfect escape from the crowds.
Location: Pedernales Bend, Spicewood, Texas
Discover glamping as it is supposed to be experienced at this luxurious tent. Set in prime territory, the yurt-like tent is a step away from the riverfront. And yes, kayaking is always an option here.
An open bathroom with heated running water is available on-site. Step out to the front and you will find a sunny patio complete with chairs and a hammock for an afternoon laze. A little away is a hot tub.
With space for two, it is well suited for couples celebrating anniversaries, honeymoons or just an escape from urban life.
Customer Review: "The whole experience of glamping was wonderfully. Comforts of home combined with a little wilderness. Isolated but still close to civilization. Would highly recommend this get a away. Relaxing and the view was amazing. Night life!! Fireflies and thunderstorms. Best sleep in a long time !!"
Location: Kingsbury, Texas
A luxury glamping resort, visitors to the Wahwahtaysee Resort will find themselves in one of the most Instagrammable glamping destinations in Texas. Surrounded by 100 acres of lush farmland, the luxurious safari tents, which are custom made in South Africa, are perched up next to the San Marcos River.
There is one bedroom that sleeps up to four and is fitted with a bathroom, kitchen and a private patio. The interior décor is contemporary with lots of white, wood flooring and comfortable living spaces. The sofa doubles as a sleeper bed.
Plenty of trees, riverside seating and elevated views of the surrounding forest make it a memorable stay.
Customer Review: "Comfortable, beautiful, and attentive and friendly property owners. The tents are well appointed and beautifully decorated. Everything you could need is provided. The property itself is peaceful and gorgeous."
Location: Seguin, Texas
The unique open-air design of this Geronimo Creek retreat ideally melds together the indoors and outdoors. The entire front wall of the cabin opens up, allowing you to bring the outdoors in for an unforgettable diner, never-ending conversations or simple relaxation. You won't be away from comfort though as all cabins are tastefully furnished and air-conditioned.
A bedroom sleeps five and is connected with an en-suite bathroom. In addition, the cabin is just steps from the babbling Geronimo Creek, which is perfect for a swim, a day of fishing or kayaking –the equipment is provided! There are also fire pits littered throughout the property while exciting attractions like New Braunfels are about 10 miles away.
Location: Kerrville, Texas
Embrace the true heart of glamping with a touch of modernity at the Cedar Grove Cabin. Sitting in the beautiful Hill Country, the property features its own yard and includes all the essentials for a memorable outdoor stay. There's a hammock for lazing under the sun, a fire pit for those chilly evenings and upscale living quarters with air conditioning and heating to retreat to.
In addition, guests enjoy BBQ facilities, a kitchen and scenic views as far as the eye can see. With space for four and breakfast provided, it's the perfect way to unplug!
Customer Review: "The cutest glamping in town! The owners were the friendliest people and they built everything! The place was so cozy and has more space than the photos give credit. Really awesome private outdoor space with firepit, hammocks, and cool outdoor lounge area. Absolutely loved our stay, it was so peaceful and we didn't want to leave!"
Location: Leander, Texas
Unique and adults only, this star-gazing glamping resort is a delightful experience unlike any. The resort is home to four well-furnished pods, all set up on a hill and offering prime views over the surrounding countryside. They all come with private patios, a dedicated star-gazing bubble tent, fire pits, and BBQ grills.
Step inside and the experience is similarly luxurious. There is a king-sized bed with an en-suite bathroom, a fully equipped kitchenette, and a dining space. Mood lighting is available while air conditioning/heater keeps you cool or warm.
Nearby attractions include the Lago Vista Golf Course or the Flat Creek Estate Winery for a spot of wine tasting. If you are the type who seeks adventure, consider hiking along the Colorado River or Lake Travis. Also, consider signing up for game walks and birdwatching.
Customer Review: "We loved this experience. The pods were exceptionally clean. The customer service was stellar. Obi, Karen, and her amazing husband did a phenomenal job with providing us with tasty food and were super responsive and engaging. We will definitely return for another visit. Visit the pods, you won't regret it!!"
Location: New Braunfels, Texas
Sleeping a total of six and close to 30 feet in diameter, a stay at this Texas Tipi Glamping destination is great for large families and groups of friends. Fully furnished, all cabins overlook the Guadalupe River and include a kitchenette with all essentials to whip up a great meal.
Looking in from the outside, they look like a traditional Tipi but once inside, guests are treated to a uber-modern camping experience while fire pits, a farm table and BBQ grills ensure there's plenty to do. Otherwise, you can opt for a leisurely stroll by the river, tubing, boating, fly fishing, bird watching or plan a day out to the many local attractions like the Whitewater Amphitheatre.
Location: Port Bolivar, Texas
Reconnect with nature in a truly unforgettable manner. Located by the beach, this tent yurt opens up to beautiful views of the ocean – and the stars come nightfall. Inside are essential luxuries while romantic touches like battery-operated candles and more add a romantic vibe to the entire experience. The pet-friendly destination also includes two patio chairs in front for when you want to unwind with the cool sea breeze.
To keep with the authentic camping experience, you won't find an en-suite bathroom here but there are public bathrooms and outdoor showers nearby.
Customer Review: "Our family of 5 heartily enjoyed our stay at the Guadalupe Rez. It was a great mix of privacy and good fellowship with other glampers, surrounded by the hills and near the river. We found plenty to explore and natural entertainment options like the dam and nearby San Marcos."
Things to See and Do When Glamping in Texas
---
Big Bend Country
Expanding over a million acres, this region has pine forests, deep canyon exploration, shifting sand dunes, and remarkable stargazing. Big Bend National park, Monahan Sandhills State Park, the scenic El Camino Del Rio, and the McDonald Observatory are some of our top sights in this region. Glamping Big Bend is all the rage right now!
Gulf Coast
Coastal adventures abound along the 600 miles of one-of-a-kind Texas shoreline. From sandy dunes and beaches to quaint seaside towns and wildlife. For nature, visit Padre Island National Seashore, Aransas Pass National Wildlife Refuge, and the Gator Country Adventure Park in Beaumont. If culture is on the docket, make sure to check out Galveston, Port Arthur, Corpus Christi and King Ranch.
Texas Hill Country
One of the most popular areas for a Glamping Texas Getaway with great spelunking, wineries, two-stepping lovers, and some of the best swimming holes in Texas. If you are a hiker, then discover Gorman Falls at Colorado Bend State Park or head to a swimming hole like Hamilton Pool Preserve in Dripping Springs. Go dancing at the historic dance hall Luckenbach or wander through the replicas of Stonehenge II and the Easter Island in Ingram.
Piney Woods
This region is a mix of lush forests, lakes and small-town Texas charm is abundant. Go back into history on a vintage steam engine trip with Texas State Railroad or explore Mission Tejas State Park near Grapeland. Perhaps you want to try your luck at catching a record-breaking bass at Lake Fork. There is also a wonderful Texas Glamping property in this region called Getaway that is not on our list below.
Share Glamping in Texas on Social Media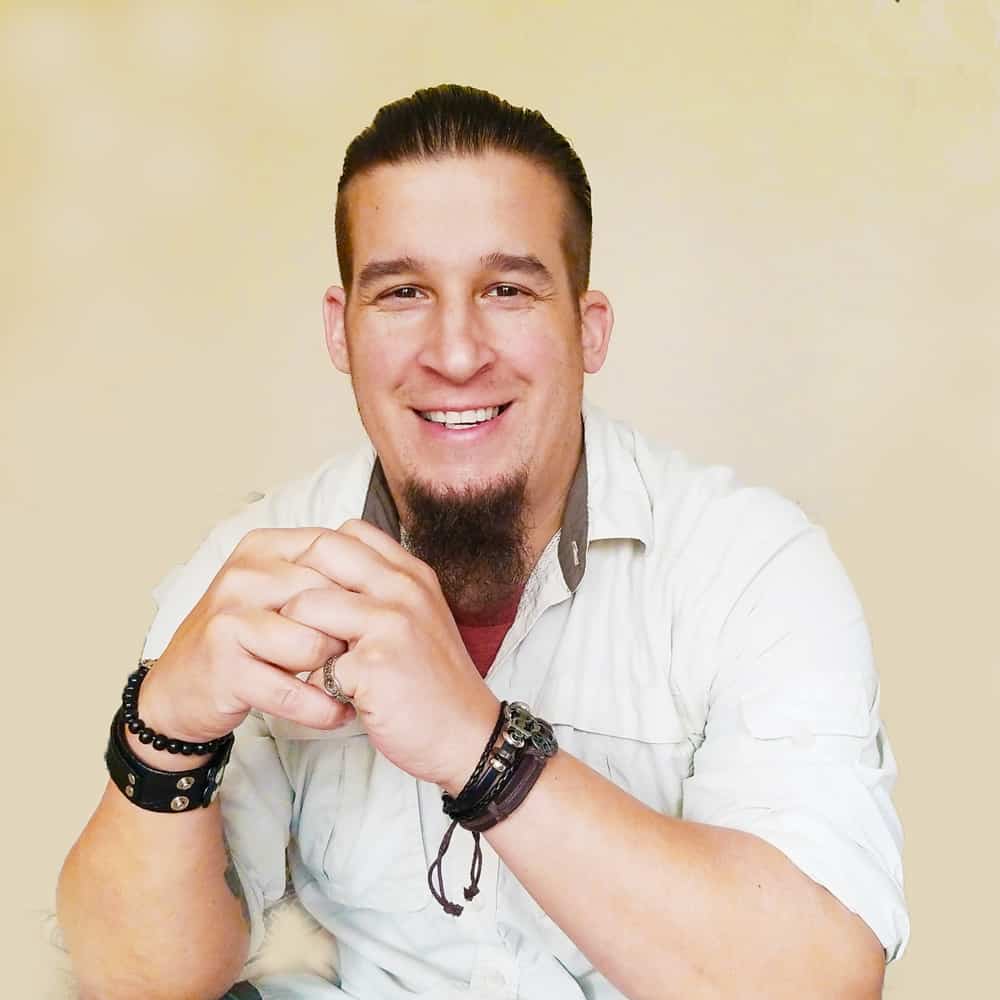 Full-time World Travel Writer who runs multiple websites and social media accounts. I have spoken at various conferences around the world. Some of my hobbies include adventure, fitness and new technologies. I am also a trekkie!