Buckle up, fellow adventurers, and let's journey into the heartland of the Buckeye State where the rolling hills whisper tales of yesteryears, and the landscapes are as diverse as they are stunning. Welcome to the dreamy realm of Yurts in Ohio – where a symbiotic blend of comfort meets raw nature and stirs up a Ohio glamping experience like no other.
Imagine this: a circular haven, echoing the intricate designs of Central Asia, nestled into Ohio's verdant woods, brimming with both rustic charm and modern comforts. You have the golden chance to cozy up by a crackling fire, sipping a hot cup of cocoa, all while being cradled by Mother Nature herself. That's the magic of Yurts in Ohio! These delightful hideaways have the ability to transport you back to simpler times, all while keeping the twenty-first-century amenities close at hand.
As the sun dips behind the Ohio hills, painting the sky with hues of orange and crimson, your yurt will come alive under the soft glow of fairy lights. Here, away from the city's relentless bustle, you will be lulled into tranquility by the sweet serenade of nocturnal critters and the rustling leaves.
Gone are the days where camping was solely a test of endurance, where one had to choose between roughing it in the wild or giving up on the charming, unhurried pace of nature. Ohio's picturesque landscapes have embraced the glamping trend, with yurts as a shining star, allowing you to marvel at the state's unspoiled beauty without sacrificing comfort and luxury. The region also provides romantic cabins and epic treehouses as alternatives to yurts in Ohio. Whether you're wandering through the lush Hocking Hills, seeking serenity by a placid lake, or dreaming under the star-studded canopy of Ohio's night sky, these yurts offer an unforgettable escape from the mundane.
It's high time we embraced the charm of yurt living, a testament to Ohio's love for nature and the outdoors. So, ready to embark on this exciting journey to explore Hocking Hills Yurts and beyond? Pack your spirit of adventure, and let's dive right in!
Our Top Yurts in Ohio to Book Today!
---
Location: Hocking Hills, Ohio
Prepare yourself for a delightful encounter with serenity in Hocking Hills, where 'The Hummingbird' – a radiant, 20-foot yurt – awaits to envelop you in its warm embrace. Picture this: a generously sized yurt home, bathed in natural light, blending harmoniously with its scenic surroundings. This hideaway, though cosy, doesn't skimp on grandeur; an elegant queen bed to guarantee sweet dreams, a versatile kitchenette, and a spacious bathroom with a stylish glass-enclosed shower are just a few of the features that make 'The Hummingbird' truly shine.
Step inside to a marvel of design that makes the most of its circular structure. The kitchenette, though petite, is a powerhouse equipped with dual cooktops, a microwave, and a nifty refrigerator complete with a freezer, all standing ready to help you whip up scrumptious meals. Picture yourself lounging by the captivating electric fireplace, its flickering flames creating mesmerizing dance patterns on the yurt's canvas walls, while the climate control system maintains your ideal temperature, no matter what Ohio's weather is up to outside.
Beyond the yurt's cozy interior, an outdoor haven is waiting to cradle you in relaxation. Sink into the plush loveseat on the patio, roast marshmallows over the crackling fire pit, or share a meal at the bistro dining set under the vast Ohio sky. And the pièce de résistance? A bubbling hot tub where you can melt away your stresses while basking in the breathtaking views of Hocking Hills.
But wait, there's more! If you're in the mood for some friendly competition, make your way to the pole barn, a buzzing hub of fun-filled activities. Challenge your companions to a round of pool, a shuffleboard showdown, or a thrilling game of darts. Better yet, engage in a nostalgic game of yardzee or corn hole. At 'The Hummingbird', you're not just booking a stay – you're signing up for a refreshing and invigorating experience that will leave you craving more of the beautiful yurts in Ohio life.
Location: Hocking Hills, Ohio
Hold on to your hats, fellow Ohio glampers, because the yurt of your dreams is poised to whisk you away on a heart-stirring yurts in Ohio adventure! Tucked away in the resplendent Hocking Hills, a shining 20-foot yurt sits awaiting your arrival, offering an oasis of both serenity and excitement. The moment you step foot into this enchanting sanctuary, with its brilliant, open-concept interior, you'll be soaked in a wave of rejuvenation as irresistible as the Ohio sunrise.
In this magical yurt, compactness and luxury are not rivals, but allies in crafting a stay to remember. A plush queen bed, a resourceful kitchenette, and an ample bathroom with a sleek glass-enclosed shower are all squeezed into this wondrous yurt. The kitchenette, a bijou corner of culinary potential, comes loaded with two cooktops, a microwave, a handy pod coffee maker, and a mini refrigerator with a freezer, not forgetting cookware and dishes all set for your dining escapades. Rest assured, Ohio's capricious weather has nothing on your comfort in this climate-controlled haven. Add in the radiant electric fireplace, and you're all set for a cozy retreat no matter the season.
But wait, the magic doesn't stop at the yurt's door. Step outside and be greeted by the twinkling night sky as you snuggle up on the outdoor love seat by the fire pit, or enjoy an alfresco meal at the bistro dining set. And, when you're ready for the cherry on top, immerse yourself in the steaming hot tub, letting its warm bubbles knead your stresses away as you drink in the majestic vistas of Hocking Hills.
And the fun is just getting started! Once you've recharged, prepare for a whirlwind of activities in the pole barn. From a stimulating game of pool, shuffleboard, or darts, to a spirited bout of corn hole or yardzee, you'll find it hard to resist the lure of friendly competition. With air conditioning, Wi-Fi, smart televisions, and a spa tub to boot, this yurt in Hocking Hills is not just a place to stay; it's the exhilarating and restorative getaway that you've been daydreaming about! This prime choice for yurts in Ohio is ready to welcome you with open arms.
Location: Hocking Hills, Ohio
In the heart of the wilderness lies a secluded campsite spanning 40 acres of pure, untouched nature. Here, a rustic and seasoned Yurt of over 20 years stands tall, proud and welcoming. Embodying the KISS philosophy: Keeping It Simple Silly, it's the perfect place to disconnect and rekindle the primitive adventurer within. This is camping, and it's camping at its most genuine.
Pets are a welcome addition to the experience, with a bubbling creek alongside the fire pit serving as their personal playground. But remember, no pet stays without their family. As the saying goes, "you leave, they leave!" With no electricity or running water, this spot truly channels the spirit of old-fashioned camping, but with a stocked Yurt that provides necessities and more.
A word to the wise though, the Yurt has been a silent spectator to the changing seasons and has its fair share of wear and tear. Yet, its cleanliness is diligently maintained. Nestled deep in the woods, it's part of the wild. Expect to share your stay with a few woodland creatures, a small price to pay for such tranquility and authenticity.
As for the journey, the road leading to the Yurt has had its fair share of battles with erosion, so visitors are advised to drive smart. Staying on the access road, past neighbors' houses, and through two small streams is part of the adventure. And finally, when the sun dips below the horizon, the property takes on a new life. Arriving before sunset is recommended, and don't forget those flashlights! This retreat can accommodate four, but feel free to bring tents for the little ones or other members of the party. It's all part of the fun, a part of the unrivaled camping experience that this Yurt in Ohio offers.
Location: Hocking Hills, Ohio
Where the call of the wild melds seamlessly with the allure of modern comfort, the Urban Pine Yurt stands as a beacon of unique tranquility. Perfectly suited for both glamping aficionados and hardened outdoorsmen, this haven of luxury is nestled within nature's own sanctuary. A harmonious blend of natural communion and lavish comfort, the Urban Pine Yurt transcends typical travel experiences.
Within the expansive bounds of this 700-square-foot abode, visitors will find two bedrooms beneath a breathtaking 16-foot-high center point. With such lofty ceilings, daylight cascades in, making the interior glow, while at night, the yurt transforms into an intimate observatory under the starlit sky. Encircled by the verdant expanse of Hocking Hills, Ohio, Urban Pine is a 30-foot yurt that is as captivating as it is comforting.
Stepping outside, you'll find a spacious 45×45 foot elevated deck, offering panoramic views of the serene ravine. Here, amid the whispers of the woodland, one could light a cozy fire, prepare a sumptuous grilled feast, or simply melt away life's stresses in the private hot tub. The scenic splendor of Hocking County unfolds in front of you: the lively wildlife, the lofty cliffs, the deep gorges, all integral parts of the unique landscape that defines Southeastern Ohio.
Yet, for all its rustic charm, the Urban Pine Yurt does not neglect the conveniences of contemporary life. Inside, guests are treated to a state-of-the-art kitchen equipped with brand-new appliances and crowned with gleaming granite countertops. Cozy furniture invites you to sit back and relax, the fireplace casts a warm, homely glow, and a large screen TV ensures you're never out of touch with the world. So, journey to the Urban Pine Yurt, and allow its elegant design to gift you with a sense of peace, comfort, and a connection to nature that will be etched into memory forever.
Location: Zanesfield, Ohio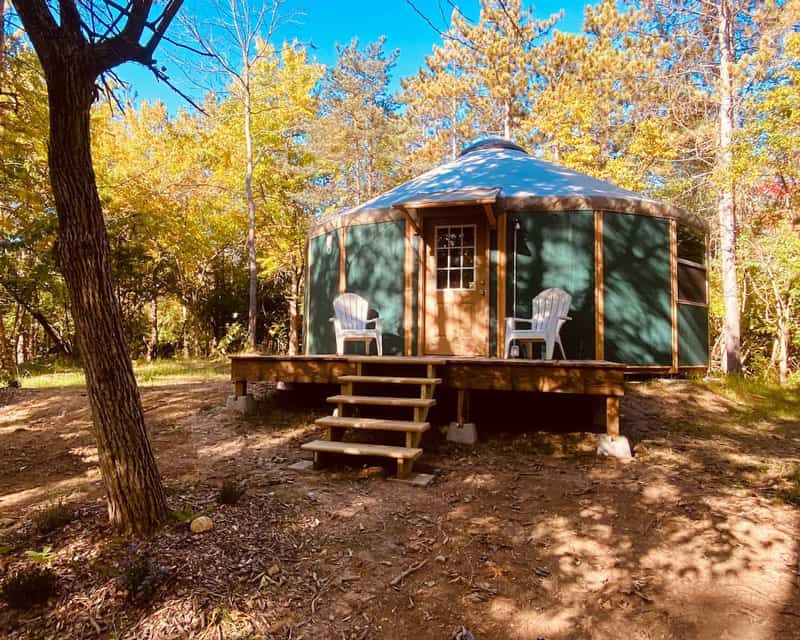 Nestled in the heart of 110 acres of lush woodland, a unique yurt cabin awaits adventurous souls. The space teems with natural light, streaming in through large windows and a five-foot ceiling dome, bathing the yurt cabin in a golden glow. The distinctive circular architecture of the yurt, set against the rhythm of the ceiling beams, offers a living experience that's truly unparalleled.
The open-concept layout of the cabin creates a spacious and inviting atmosphere. A plush, queen-sized bed beckons for restful slumbers, while the generous living area provides ample space for relaxation. The dining area, conveniently located near the kitchen, invites one to enjoy their meals. The kitchen itself is equipped with all but an oven – a toaster oven, microwave, and an electric countertop stove are provided for guests' cooking needs, along with an array of pots and pans. The bathroom features a standing shower with a removable head, adding to the comforts of home.
The yurt cabin's amenities extend outdoors, where guests will find a welcoming deck and a fire pit, perfect for an evening of storytelling and stargazing. And, despite the lack of Wi-Fi, TV, and reliable cell service, entertainment abounds. Puzzles, card games, magazines, and an ever-expanding collection of books are readily available to fill the hours with enjoyment.
The cabin's eco-friendly stance is evident in its organic composting toilet. This user-friendly solution is a bit different from conventional methods but is just as easy to use, with simple instructions guiding the process. When the cold months roll around, guests will appreciate the warmth provided by the pellet stove. Its ease of use makes it an ideal solution for first-time users.
While a fire pit is provided, guests are kindly asked to bring their own wood or gather some from the surrounding area. However, if required, bundles of wood can be purchased from nearby gas stations. This yurt cabin offers a remarkable blend of comfort, novelty, and intimate connection with nature, promising guests a memorable glamping experience in Ohio.
Location: Logan, Ohio
Draped in natural light and laced with the soothing rhythm of nature, these yurts in Ohio offer a refreshing escape for guests. Airy and spacious, it comes fully equipped with heating and air conditioning to ensure comfort throughout the year. A quaint nook for dining or working adds a touch of convenience, and the full bathroom, complete with a stand-up shower, provides all the comforts of home. When winter's chill descends, the gentle glow of the gas log stove casts a warm and inviting ambiance. During milder weather, guests can take advantage of the exterior deck and chairs, perfect for soaking up the surrounding serenity.
These yurts in Ohio serve as an idyllic haven for couples or friends, accommodating either a King bed or two twin beds based on the guests' needs. The unique feature of a clear domed ceiling offers a window to the cosmos, inviting guests to stargaze as they unwind after a day of exploration. Morning coffee or an afternoon glass of wine is best enjoyed on the deck, adorned with comfortable Adirondack chairs.
While the yurt does not have a kitchen, it's equipped with a small fridge, a coffee maker, and a microwave, providing all the necessary amenities for a multi-day stay. The inclusion of a full breakfast, served daily in the property's restaurant, adds a touch of indulgence to the experience (reservations required prior to arrival).
Guests enjoy exclusive access to their accommodation during their stay. However, the hosts reserve the right to enter the yurt for maintenance, safety, or health reasons. It's important to note that these yurts in Ohio are centrally located on the Inn's property, within a short walk of the spa and restaurant. This blend of privacy and proximity offers an optimal balance for a serene and indulgent stay amidst the beauty of Ohio's landscapes.
Location: Logan, Ohio
Not technically a yurt but a bell tent. Step into the embrace of nature with a stay at CAMPO, a remarkable vacation home nestled in Logan. More than just a campsite, CAMPO offers an enhanced camping experience that allows guests to bask in the rich beauty of Hocking Hill's natural wonders. With two bell tents in a private, woodland acreage, guests can enjoy the tranquility of their own secluded sanctuary under the stars. Each spacious and well-equipped tent features full-sized foam beds, comfortable indoor and outdoor seating areas, and a cozy fireplace. Please remember to bring your own firewood to fully enjoy this feature.
A stay at CAMPO is like embarking on an adventure where "almost roughing it" is the theme. Designed to comfortably accommodate up to four adults across the two bell tents or two adults and two children in the main bell tent, the space echoes the simplicity of traditional camping but with a twist of luxury. Draped in solar lamps and bohemian-inspired string lights, the site comes alive after dusk, casting a magical ambiance that is perfect for a fireside evening with loved ones.
Inside the large bell tents, you'll find enough headroom to stand up straight, making moving around comfortable and effortless. The tents are not only furnished with memory foam mattresses and all the linens you need but also come equipped with a wood stove inside, multiple LED lanterns, and multiple seating areas.
The camp kitchen is impressively stocked, with a Stanley full kitchen camp cook set for four, a propane BBQ grill, and an all-in-one cast iron grill. Morning coffee can be brewed with the provided camp coffee maker, offering a delightful start to your day. For bathroom needs, there is an outdoor setup equipped with a shower, a camping toilet, and a sink.
CAMPO invites guests to embrace the essence of camping while enjoying an elevated touch of luxury and comfort, making for an unforgettable stay amidst the enthralling natural landscapes of Hocking Hills, Ohio.
So there you go, now you are ready to choose your favorite of these yurts in Ohio for your next Buckeye glamping weekend or vacation. Enjoy nature and keep coming back for more glamping articles around the world!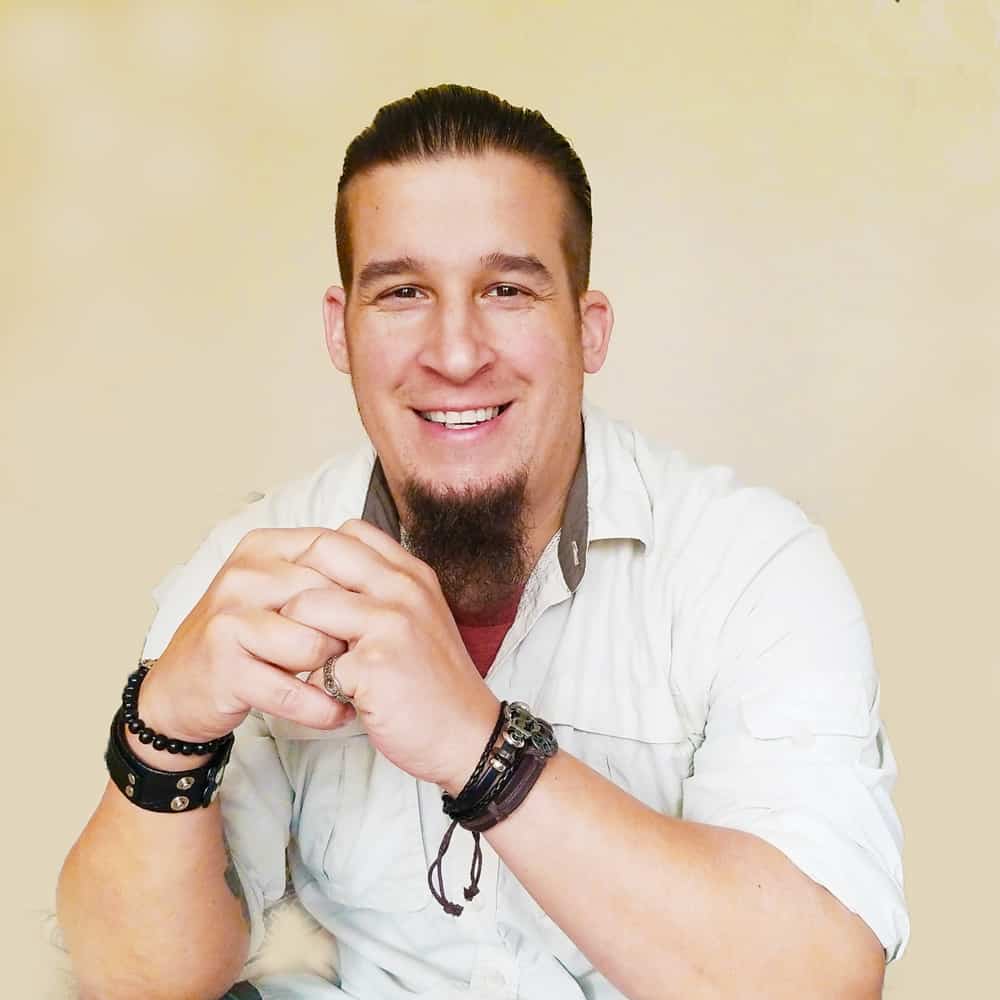 Full-time World Travel Writer who runs multiple websites and social media accounts. I have spoken at various conferences around the world. Some of my hobbies include adventure, fitness and new technologies. I am also a trekkie!