Ohio has a lot to enjoy for a romantic getaway. The Buckeye state's beautiful nature brings lovely ambience and allows couple's to truly revel in each other's company and explore sights from amazing waterfalls to elaborate cave systems. These Romantic Cabins in Ohio offer the perfect home-base to adventure into nature while affording a cozy and comfortable place to relax with a loved one. They range from luxury cottages to cozy Ohio Glamping spots like Ohio treehouses or geodesic domes.
Spending time in one of these romantic cabins in Ohio will not let you down if you've been wanting to get away from it all with a special someone or if all you want to do is enjoy some of the state's natural beauty.
There is a multitude of sights to see in Ohio when renting one of these romantic Ohio cabins. Ohio Caverns should be up high on your list. There are almost 2 miles of studied tunnels in these vibrant caves, with depths ranging from 30 feet to 103 feet. Any trip to Ohio Caverns will be enhanced by a walk at The Crystal King, the state's biggest stalactite.
Nelson Kennedy Ledges State Park is absolutely gorgeous. The dramatic cliffs are really worth a visit. The rock formations are quite uncommon for Ohio's northeast area, however they mirror those that are common across the Hocking Hills. It would be impossible to identify all of the beautiful locations in Ohio without mentioning Cuyahoga Valley National Park with its breathtaking waterfalls and beautiful forested treks to walk.
Possibly Ohio's most well-known natural wonder is Old Man's Cave which photos just don't do it justice. In the Hocking Hills area, make sure to explore Rock House, it is a 150-foot-high sandstone cliff with a tunnel-like passageway in the middle.
No matter where you explore in Ohio, I am sure you will be delighted with what you find and the unique beauty of the region. Booking one of these Romantic Cabins in Ohio with your significant other or even on your own is a great option to have a restful luxury style glamping getaway while still within reach of nature and all its magnificence.
You may also enjoy:
Cabins of Red River Gorge Kentucky
Cool North Carolina Tiny Homes
Amazing Tennessee Glamping Domes
Top Romantic Cabins in Ohio to Book
---
Location: Perry County, Ohio, United States of America
With a 15 ft ceiling height geodesic dome, a big panoramic window open to the forest, and Gazebo with a 2-3 person hot tub, this property is perfect for a couple. You can have an enjoyable camping experience with a king-size pillow mattress, full kitchen, and spa-type bathroom. Extra blankets are also provided for colder days.
The huge panoramic window allows you to watch wildlife with tons of bunnies, birds, deer, and turkeys. The boho curtains block off the entrance to the bedroom to have complete privacy. You can sleep on the king-size bed while staring at the beautiful star show on the dome ceiling.
The large modern kitchen has many amenities to cook delicious food. You can wake up and enjoy your morning coffee on the comfortable deck outside with chairs and a table. For the nights, outdoor lighting provides you with a nice ambiance to relieve your stress.
Recent Review: "This was a really cute property, it was so cozy and clean. It was about 30 minutes from old mans cave which we are used to driving so that didn't bother us. We would definitely stay here again."
Location: Vinton County, Ohio, United States of America
The cabin is surrounded by all the peace and beauty you seek in a relaxing walk through the woods. The main floor comes with a daybed with a trundle. Also, there is a queen-sized mattress in the loft. The loft is not for everyone and might be challenging for older people, but the daybed downstairs can be brought together to make a king-sized bed.
The cabin comes with air conditioning and heating units and WiFi is available. You can find many items packed into a small area for your convenience, including kitchen utensils, a refrigerator, a microwave, a fire pit, and many more.
Recent Review: "Awesome place exactly what we were looking for. The weather was perfect. We even had our 145 lb. best friend with us and he had a ball."
Location: Hocking County, Ohio, United States of America
The Love Shack is a perfect cabin for couples who need a little privacy to rebuild their relationship. You can enjoy a fabulously relaxing and romantic atmosphere, whether you are spending your honeymoon or an anniversary.
Guests can enjoy a nice time by the fireplace, watch the beautiful nature from the sunroom, and soak in the hot tub. The Love Shack offers plenty of features including a bedroom with a queen bed, a fully equipped kitchen, a full bathroom, a DVD player, a pool table, a charcoal grill, and many more.
Recent Review: "A perfectly cozy, clean, and comfortable cabin. Everything was exactly as described. Great location with beautiful views and serene nature vibes. Close enough to all that hocking hills has to offer but away from the hustle and bustle."
Location: Walnut Creek, Ohio, United States of America
Located in Walnut Creek, Ohio, the Romantic Vista Cottage is a gorgeous, standalone property you can easily walk to (around 3 minutes) from Der Dutchman Restaurant, Rebecca's Bistro, Yoder Hardware, and other shops. The cottage comes with a queen-sized bed, a small kitchen, tables for eating, a reclining loveseat, a bathroom, and many other features.
The deck offers a beautiful view overlooking the Cove, Wallhouse Hotel, and Route 39. You can have an unforgettable stay at this pet-free cottage and have a relaxing experience.
Recent Review: "This place is so cute & quaint. It had everything we needed for a peaceful get away weekend. My husband & I enjoyed the views from the deck of the beautiful country side & hearing the clippity clip of the horse & buggies. Very close walking distance to some shops & restaurants. Short drive to numerous other shops & restaurants as well. Super easy check in. We had a great weekend!"
Location: New Plymouth, Ohio, United States of America
Located at Fiddlestix Village, the 1926 B&O Caboose is one of the most unique romantic cabins in Ohio you may find. While it was several decades ago that cabooses became obsolete, there are still many of them turned into valuable possessions of former railroad workers. Over the years, this specific caboose has been used as a child's playhouse, hunting cabin, and even for storage.
The B&O Caboose has been significantly restored with a working railroad crossing sign. A truly magical space is offered in this caboose for family vacation lodging. You will enjoy two twin beds, a beautiful kitchenette, a table for eating and games, a bathroom, and two chairs. On the outside, you can find a platform-like deck with space for relaxation and outdoor dining.
Location: Adams County, Ohio, United States of America
This property is a custom-built cabin equipped with heating and air conditioning systems. It comes with a hundred-year-old refurbished barn wood coverings. It is pretty much a work of art indeed.
At night, it is stunningly beautiful to lay in bed and watch the lit-up 60-foot sandstone cliffs while white-tail deer walk near your huge window. You can use shared men-women bathrooms at the cabin. Although the property offers large areas for relaxation, you can have your private zone with a fire pit.
Recent Review: "Cabin was so cute, and clean. Beautiful area and the shared bathrooms were so nice and clean. Host was so nice and accommodating. We will definitely go back!"
Location: Hocking County, Ohio, United States of America
This 19.8 ft geodesic dome offers you both relaxation and recreation at the same time. You will feel restored with the bright, open floor concept right away. The dome is equipped with anything you may need, including a queen bed, kitchenette, and a large bathroom. The kitchenette comes with two cooktops, a microwave, a pod coffee maker, and a small refrigerator to help you make the best meals.
On the outside, you can take advantage of the fire pit, a love seat, and a bistro dining set to enjoy your night. You will dive right into the stunning views of the Hocking Hills while relaxing in the hot tub. After the restoration, the pole barn will offer many activities: a pool table, shuffleboard, darts, foosball, corn hole, and more.
Recent Review: "We loved every part of our stay. It was above all expectations. Very clean and all appliances were self explanatory. Very private/secluded view of nature! Will come again!!!"
Location: Mesopotamia, Ohio, United States of America
The Forever Spring Cabin is a brand-new property located in a private wooded setting. You can either walk on the nature paths through the forest or relax in the indoor whirlpool for two. There are plenty of amenities in the cabin, such as non-alcoholic beverages, sodas, snacks, juice, pancake mix, coffee, and many others.
The living room is equipped with a gas fireplace, and a smart TV, as well as a full-size sofa bed where two additional guests can sleep. On the outside, you can find a picnic table, a fire ring, firewood, a front porch, as well as a back patio with a grill.
Recent Review: "Loved this secluded cabin. The layout with the huge tub in front of the fireplace and TV was perfect., beautiful setting, nice trail, very clean."
Location: Hocking County, Ohio, United States of America
The cozy Hemlock Tiny House features a modern cedar interior with black and gold accents. Guests can play games or eat dinner at the kitchen table which is near the queen-sized bed. It is extremely enjoyable to lay on the bed close to the large 7×7 window with great views of the surroundings.
The kitchen is overflowing with cooking amenities to create delicious meals. Instead, you can also go to nearby places to eat and drink, including a brewery and a winery. On the outside, you can benefit from a big deck or stone-paved patio with a fire pit and charcoal grill.
Recent Review: "We stayed at The Hemlock for a weekend trip to Hocking Hills. Matt and Christine were very nice and good about communicating about the booking. The property was exactly as described in the listing and was very clean. The cabin is very close to local restaurants and hiking trails. We are very pleased with our trip, and recommend it to anyone looking for a dog-friendly cabin in Hocking Hills. Thanks!"
Location: Tarlton, Ohio, United States of America
This winery cabin in Ohio is an intimate and relaxing property to enjoy the fresh air and nature. You will be away from the crowds of tourists, close to hiking and great outdoors. There are many farms and beautiful countryside around the cabin.
Every day, you will wake up to the birds singing and sleep to the call of the owl. As there is no light pollution, the stargazing will be jaw-dropping at the cabin. You can even see the Milky Way and the surrounding stars when the night is clear. The cabin is even equipped with binoculars for sightseeing, stargazing, and watching birds.
Winery Romantic Cabin comes with a complete set of features, including a fire pit, a charcoal grill, a queen-sized bed, a full bathroom, a refrigerator, a microwave, WiFi, a smart TV, and many other amenities. A great choice for romantic cabins in Ohio.
Recent Review: "My wife and I wanted to stay at a cabin while we explored the Hocking Hills area. We could not have picked a better place. Nicole and Patrick have a very clean, neat and charming cabin on the same property as their winery. We could not have been happier with our stay. Nicole, Patrick and their entire winery staff made us feel welcome and special the entire weekend. The cabin was close to the Hocking Hills visitor center which made it easy to stop and grab some maps of the area before exploring for the day. We loved the cabin and our entire stay! Highly recommend!"
Location: South Bloomingville, Ohio, United States of America
This studio-style Treehouse is tucked away in the trees with incredible views. The cabin is 12 minutes away from Old Man's Cave, Ash Cave, and Cedar Falls. It is equipped with a full bathroom, toilet, and sink. The bathroom comes with a rainfall-style shower head with glassy and transparent windows.
The kitchen offers a mini-refrigerator, wine cooler, oven, coffee maker, toaster, and several other utensils. There is a queen-sized bed in the living room and a sectional sofa with a pull-out couch. The cabin gives you incredible views of the forest throughout the day. At night, there is a complete set of lighting on the deck, the path, the back porch, and the inside of the cabin.
Location: Lisbon, Ohio, United States of America
These tiny romantic cabin in Ohio are nestled in nature just 45 minutes from Pittsburgh and 1.5 hours from Cleveland. The Getaway House cabins are surrounded by hemlocks, a beautiful, native, evergreen tree, with seasonal views of a creek. You can dive right into the fabulous nature along the onsite walking trail, or explore two of the finest parks in the state: Guilford Lake and Beaver Creek.
These romantic cabins in Ohio are equipped with everything you need, including a queen bed, burner stoves, air conditioner, private toilet, chairs, picnic table, hot shower, and many other amenities. You can also enjoy having good neighbors, though the cabins are scattered throughout the outposts.
Location: Beach City, Ohio, United States of America
This romantic cabin is surrounded by 15 acres of trees, birds, and squirrels. The front porch balcony with a bistro table overlooks the beautiful lake. On the outside, there are string lights and fire pits as well as the grill. Also, the fully-stocked kitchen, a microwave, an oven, coffee beans with a grinder, and amazing teas await you in the cabin.
You will enjoy the cozy living room and tub in the loft along with a small library. Cooking a delicious meal is easy with all the pots, pans, and utensils. Instead, you can use the charcoal grill outside too. All of these make the cabin a relaxing spot for romantic couples.
Location: Millersburg, Ohio, United States of America
Once you are inside or outside of Otium, the first thing that catches your eye is peace. Otium is one of the two small shipping containers in the forest. On the outside of Otium, you will enjoy the lounging seats, chairs, natural gas fire pit, outdoor shower, and a soaking tub.
Also, the interior of Otium is designed with colors and textures of nature, blended beautifully with the surrounding. The cabin is equipped with an air conditioning system, a refrigerator, a microwave, bowls, chopsticks, a coffee maker, a BBQ grill, a patio, a balcony, and many more amenities.
Recent Review: "Beth was super easy to communicate with and answered my questions quickly! The space was beautiful and well kept and was such a sweet getaway!"
Share this Pin for Romantic Cabins in Ohio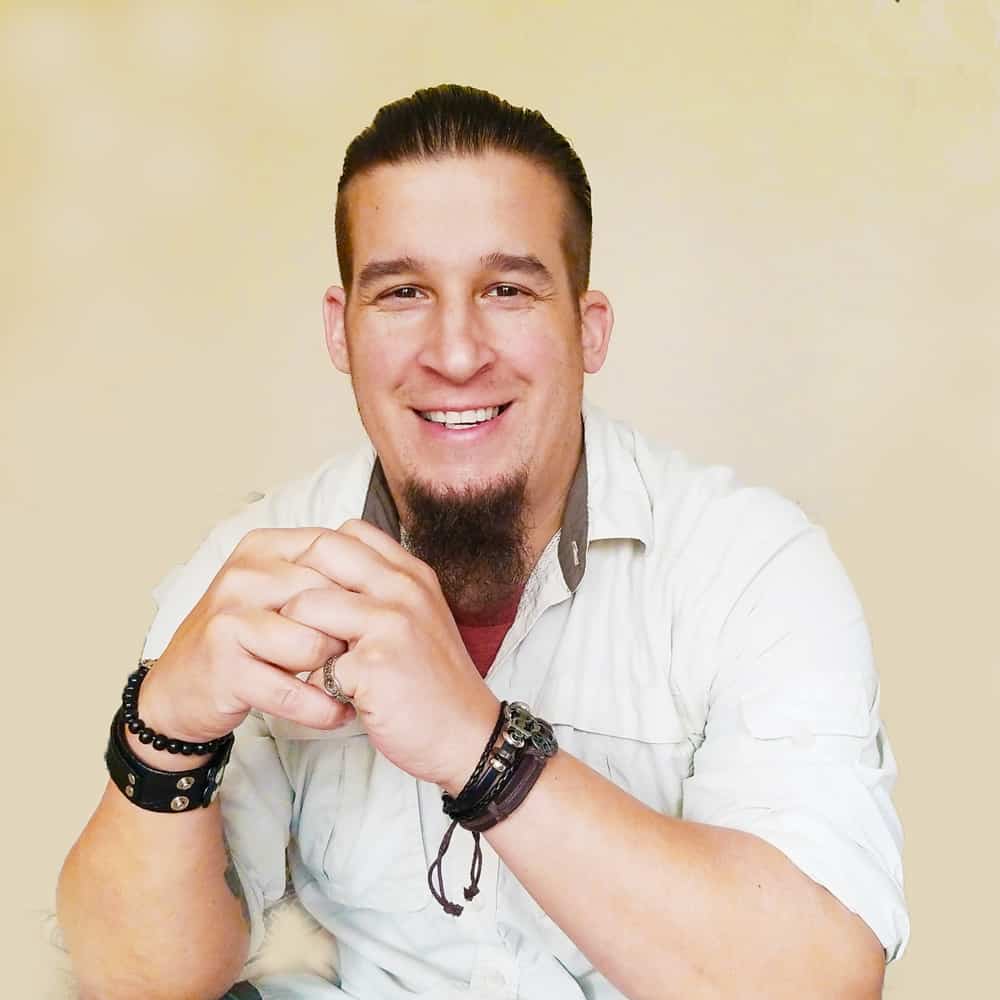 Full-time World Travel Writer who runs multiple websites and social media accounts. I have spoken at various conferences around the world. Some of my hobbies include adventure, fitness and new technologies. I am also a trekkie!