Where can I go Glamping in Washington State you ask? Washington State is well known as a top destination for nature lovers and adventure seekers so it's not surprising that luxury camping in Washington is a favorite activity. But what if you love nature and adventure but also want comfort and luxury? Well, luckily Washington glamping is also readily available.
Sandwiched between beautiful British Columbia and stunning Oregon state, Washington is a diverse showcase for everything the Pacific Northwest is known and loved for. Vibrant and free-thinking cities, crystal clear lakes and rivers, snow-capped mountains, vineyards, orchards and farmland, islands and beaches, Washington has it all. This is why Glamping Washington State is so popular. Whether you are looking for a Washington treehouse, hobbit holes, Yurts, a glamping pod, a tiny home, or a cabin in Washington, you will find it in the Evergreen State.
Regions of Washington State
The Northwest of Washington has the majestic Mt Baker and the Cascade mountains which draw avid hikers and skiers from all over the world.
People love the Olympic Peninsula for its untouched nature, rainforest, rugged coast, surfing, and charming towns. It's a favorite for Glamping Washington!
The Puget Sound is best known for the vibrant cities like Seattle and Olympia but there's still plenty of opportunity for outdoor activities including some great glamping.
Southern Washington has Mt Rainier, Mt St Helens, amazing parks, the Gorge and wine country making it a favorite for camping and glamping in WA.
Central Washington is the dividing line between the west and east of the state and is dominated by the Cascade Mountains and Columbia River.
In the Northeast of Washington, you'll find mostly farmland, forest and river valleys with much less population than the northwest region.
Southeast Washington is the least populated area of the state and is mostly desert, plains, mountains and farmland.
Each of these Washington state regions has something special to offer visitors and locals alike, not the least of which is an opportunity to immerse themselves in nature while enjoying some luxury camping called Glamping.
To help you start planning your own Washington Glamping experience we've listed 10 of the top sites for Glamping in Washington State.
---
Top Washington Glamping Sites
---
Location: Snohomish, Puget Sound
Best For: Couples, groups (multiple treehouses sleep 2 people each)
Amenities: Queen bed, Flat-screen TV, Fireplace, Terrace
Treehouse Place Deer Ridge Featured Top 10 USA is an easy escape from the city. The treehouses are raised on posts giving the feeling that you're high in the trees but are actually just a few feet off the ground. Rooms are beautiful with lots of wood and charming details. Some have 4-poster beds and free-standing soaker tubs next to a fireplace and with a pretty view.
Although it feels like you're in the woods they're actually just 14 miles from downtown Everett for shops, restaurants and a lovely waterfront. However, if it's nature you want there is also an abundance of trails, rivers and other outdoor activities.
---
Location: Orcas Island, Northwest Washington
Best For: Sleeps 4 adults
Amenities: Two Bedrooms, bathroom, kitchen, 3 decks
Part treehouse, part hobbit house this is a fairytale accommodation come to life. The space is divided between 3 buildings on 3 decks joined by bridges and walkways. Cathedral-style windows, a Japanese sunken soaker tub and a tower with a cozy reading nook are just a few of the unique features.
As the name implies you're surrounded by forest and there are stunning water, woods and mountain views from every angle. If you can tear yourself away there's plenty to see and do on lovely Orcas Island.
Guest Review: "This was our second stay at the Forest House, and it was delightful. The deck view is magnificent; surrounded by towering firs, and Mt. Baker visible in the distance. The kitchen is well appointed, and the architecture and decor of the house is relaxing and charming. With all the woodwork and surrounding forest, it feels like you're staying inside a giant tree. Can't wait to return!"
---
Location: Leavenworth, Eastern Washington
Best For: Everyone (several tiny homes allow for groups to book individually)
Amenities: Community pool, tennis courts, lake, pond and so much more!
Leavenworth is a fabulous year-round destination with tons of indoor and outdoor activities for all ages and The Tiny House Village is a great place to stay. The Village has 5 cozy and colorful tiny homes to choose from: Rudolf, Belle, Adeline, Hanna and Otto.
Each home is unique in size and decor and sleeps from 2 to 5 people. All accommodations include a bathroom, kitchen, living area, linens and kitchenware. On-site activities include boating, swimming and tennis. Nearby are dozens of trails for hiking, biking, skiing and snowmobiling.
Guest Review: "Beautiful views, outside of town, about a 20-25 min drive. Adorable, fun to stay in tiny house. We loved it."
---
Location: Greenwater, Southern Washington
Best For: Couple, Small family
Amenities: Queen bedroom, sofa bed, potbelly stove, full bathroom and kitchen, hot tub
An adorable turn of the century Little Red Caboose with absolutely everything you need. The kitchen is complete with plenty of pots, pans and other kitchenware and the shower is big enough for two. Outside there's also a little deck, a fire pit and a huge hot tub in a cozy cabana.
The caboose is next to Greenwater River and just a few minutes walk to town and the fun and delicious Naches Tavern. Nearby are Mt Ranier National Park and tons of outdoor activities.
Guest Reviews: "Lovely digs for a couple or small family. We so *thoroughly* enjoyed our visit. Tiffen is a crazy-hard-working gracious host. Great care and thought, practicality and aesthetics went into every detail of the Caboose (and the ENORMOUS hot tub!) From the gorgeous double-shower to the well-appointed stocked kitchen (with scores-stuff, spices, oil, etc.) to the gas bbq, the games and alphabetized DVDs — everything was quite perfect.
It's not easy to find great places to stay near the Sunrise entrance to Tahoma/Rainier — so the Red Caboose was the perfect for setting off to hike daily.
Also, it's right off the river and dark, so get to enjoy the river's rushing along with the starry beauty at night (after a dip in the hot tub, of course.) Just hope that those of you reading this will be busy when we want to go up next!"
---
C+A+V+E Washington Glamping
Location: Leavenworth, Central Washington
Best For: Families, small groups, adventure, unique experience
Amenities: Cave accommodation sleeps 8, kitchen, bathroom, hot tub, fireplace
Yes, this Washington glamping accommodation is built into an actual cave! But throw away any visions of a cold, damp experience because this cave is all comfort.
There are two cozy bedrooms with four beds plus a full bathroom with a heated floor and walk-in shower, a bright kitchen with a 20 ft high ceiling, and a comfy living room with a fireplace. There's even a cavern hot tub inside to soak in while watching the flickering flames of a second fireplace and tiki torches lining the cave walls.
The C+A+V+E definitely sits high on the list of the most unique glamping in Washington.
Recent guest reviews:
"This place is absolutely awesome. It is so beyond cool and clean and amazing. It definitely gets chilli if you're there in the winter but making the fire makes it snuggly and warm. We loved it, and are still amazed that we stayed in a Cave that doubled as an insanely cool house."
"This place is amazing! It is somewhere between camping and hotel living. The hot tub is outstanding and oh so wonderful on those cool nights ( and days). Close to several trails and the river. It is just off Icicle road – so not too isolated."
---
Pampered Wilderness Glamping Near Olympia
Location: Olympia, Puget Sound Washington
Best For: Couples, romantic getaway, nature, lake activities
Amenities: Six luxury tents, king bed, fireplace, mini-fridge, microwave, BBQ, firepit
In the 842 acres Millersylvania State Park campground there are six "canvas cabins", similar to luxury safari tents, set up for a romantic Washington glamping experience.
Each canvas cabin at Pampered Wilderness is nestled in the trees of the park and comes outfitted with a comfortable king bed and fluffy bedding for a perfect night's sleep in the woods. In the morning you'll have all the tools you need to make breakfast and coffee to enjoy on your own tent deck.
Spend the day exploring the park, swimming or kayaking on the lake, and hiking the many trails before returning to your glamping site. The evening can be enjoyed with a BBQ dinner and relaxing around the campfire before settling into your luxury tent once again.
---
Washington Glamping at Rolling Huts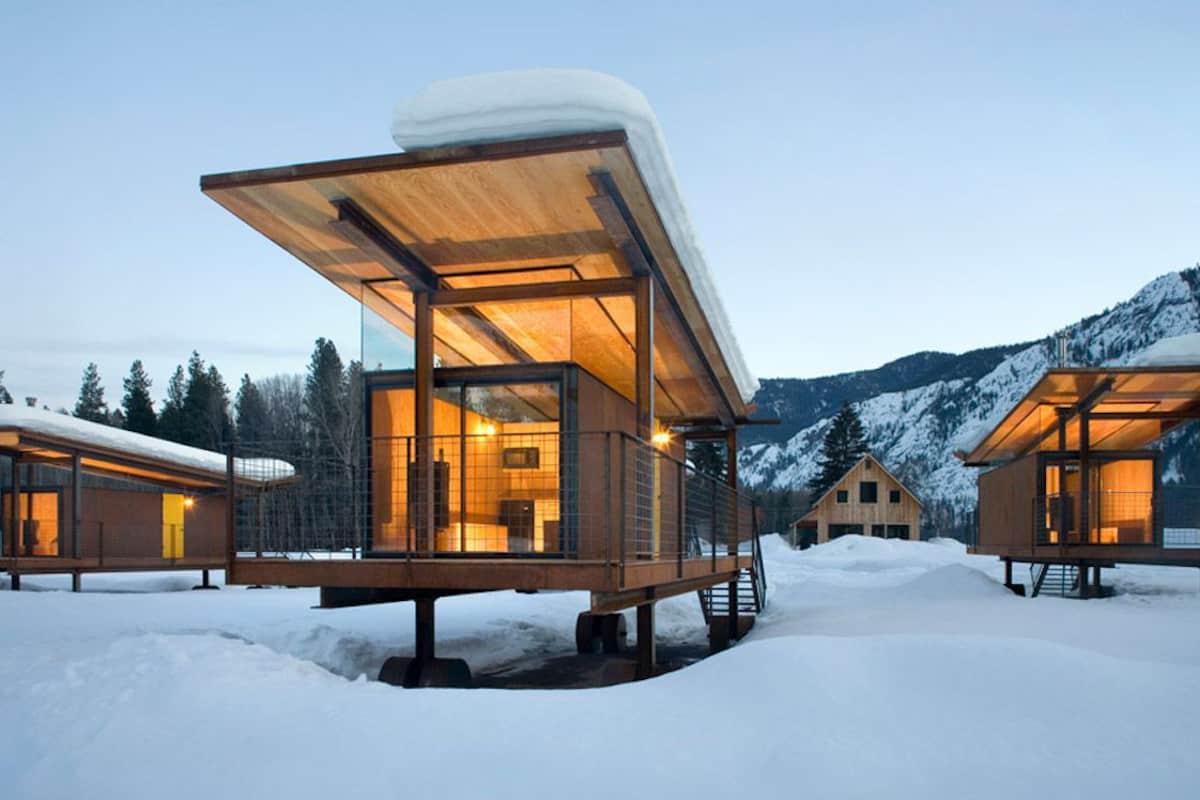 Location: Winthrop, Central Washington
Best For: Couples, small groups or families, modern glamping accommodation, outdoor adventure and activities
Amenities: Six huts, mini-fridge, microwave, fireplace, WiFi, full common bathroom
The ultra-modern Rolling Huts sit in a "herd" in Washington's Methow Valley surrounded by mountains. There are comfortable sleeping mats for two but the modular living room furniture can also create additional sleeping space.
There are full community bathrooms in the converted barn as well as a picnic shelter with grills and propane for cooking.
This Washington glamping spot is open year-round to accommodate the multitude of seasonal sports including skiing, hiking, and mountain biking.
---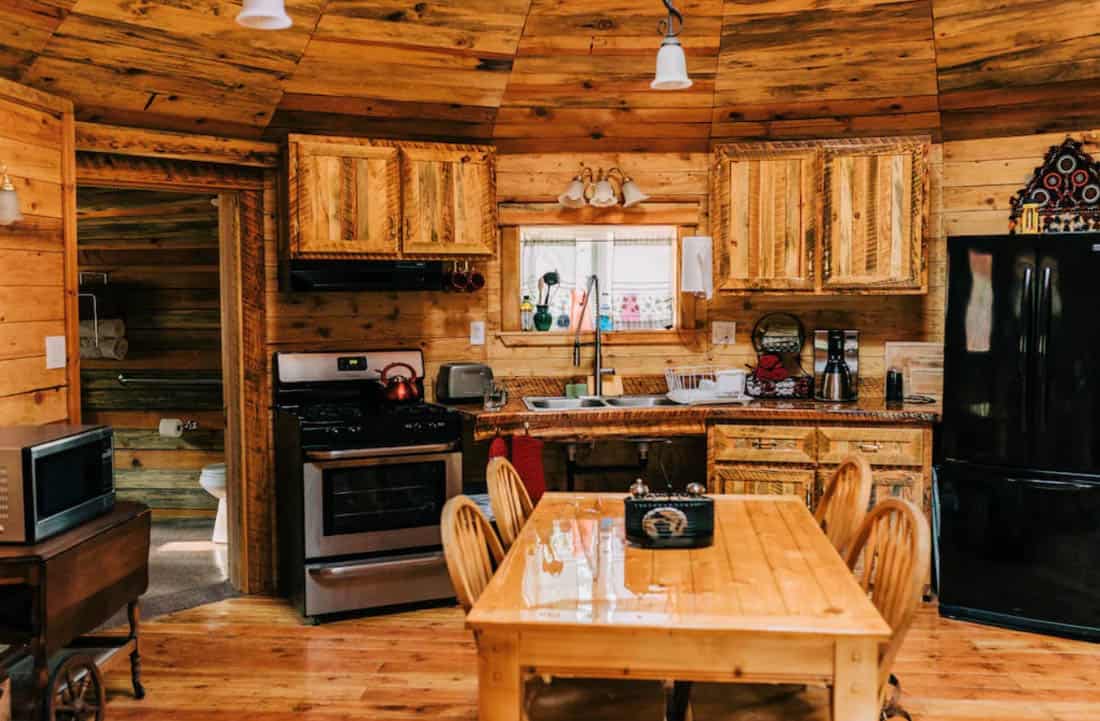 Location: White Salmon, Southern Washington
Best For: Couple of small family of 4
Amenities: 2 double beds, big kitchen & bathroom, wood stove, wood hot tub, all wheelchair accessible
A custom-built 18 sided "chateau yurt" with a large kitchen and accessible bathroom offers comfort and beauty in a private, natural setting. An extra special feature is the teakwood hot tub overlooking the woods.
Nearby are incredible outdoor adventures and activities including waterfalls, river rafting and the popular Columbia River Gorge. Or, just stay on-site and relax surrounded by 100-year-old Douglas firs, soak in the hot tub, sit by the fire and then stargaze at night.
Guest Review: "Wow!! This place was magical!! The yurt in the middle of nowhere with amazing mountain view's, a teak hot tub and the tranquility of nature was such a wonderful way to spend the weekend. The kitchen was perfect, it had everything you need. The yurt was very clean, the owners were very responsive and just all around a very welcoming, incredible and unique place to stay."
---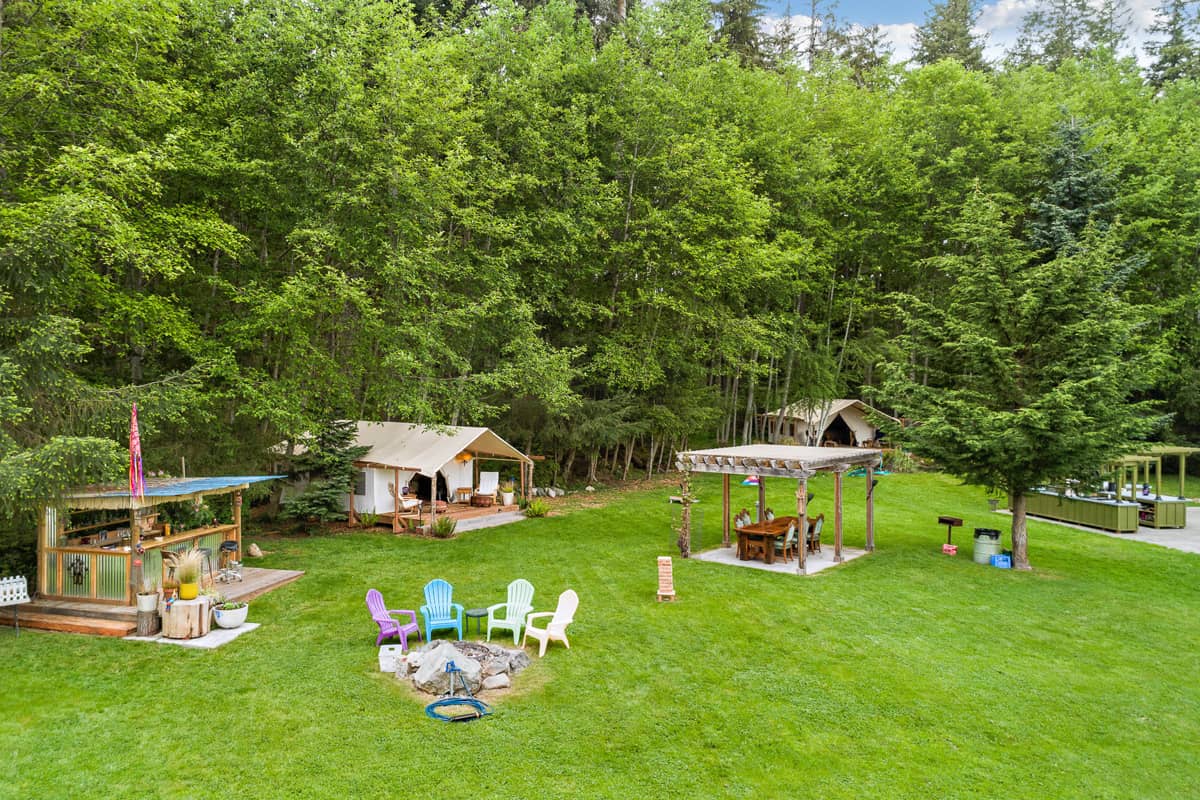 Location: Whidbey Island
Best For: Couples, adult-only, romantic getaway, privacy, nature
Amenities: Two luxury tents, queen beds, heating, outdoor fully-outfitted kitchen and eating pergola, gardens, campfire, shabby-chic outhouse, hot outdoor shower
These luxury glamping tents are themed. One is styled in a Moroccan theme with richly colored rugs, tapestries and glass light fixtures. The other is a travel theme with pieces collected from around the world. The beds are luxuriously comfortable complete with down comforters and there is also a small lounge area plus a table and chairs for a romantic candlelit dinner for two as well as a large private deck.
The three-acre site is beautifully landscaped and wooded with only the two glamping tents on the property. Aside from the well-outfitted outdoor kitchen and eating pergola there's also a charming Tiki bar with everything you need to make cocktails…aside from the alcohol. The solar-powered bathroom is an upscale shabby-chic outhouse with a gorgeous outdoor shower.
Whidbey Island is full of quaint seaside towns and beautiful natural scenery for exploring during the day.
Recent guest reviews:
"Amazing hosts and rental, 100% would suggest visiting here. We were greeted upon arrival, showed the layout and made sure we felt comfortable. The space is awesome, full kitchen, fire pit, outdoor games, tiki bar, a stunning garden, and a spa-like outdoor shower. There is even a yoga/meditation platform!! We stayed one night and wished we booked 2 because of all the fun things to do! Thank you Ron and Denise for everything!"
---
Underground Hygge Washington Glamping near Lake Chelan
Location: Orondo, Southern Washington
Best For: Couples, unique experience, seclusion, scenery
Amenities: Hobbit House accommodation, bathroom, fireplace, heating, garden, deck
You don't have to be a Lord of the Rings fan to appreciate this amazing Hobbit House built into the side of a hill. But if you are a fan you'll be in heaven.
The Underground Hygge was custom built with incredible attention to authentic detail including round doors and windows looking out onto a spectacular view of the Columbia River Gorge and near Lake Chelan. There's no kitchen but there is a full bathroom with a two-person tub and a shower.
You'll have six acres of absolute privacy to hike, play, relax and soak up the stunning scenery and peaceful natural surroundings. However, you don't even need to leave the queen size bed to enjoy the view since the bedroom has a round door that opens wide. It's a perfect place for a romantic Washington glamping getaway.
The only downside is that this unique accommodation is incredibly popular so you need to book far in advance!
Recent guest reviews:
"Wow!!! This place is absolutely amazing, the location alone is so beautiful but combined with the authentic Tolkien experience it was perfection. The craftsmanship that has been put in to the Hobbit hole is stunning and we loved playing chess and having a go at some whittling by the fire. We couldn't quite figure out getting enough hot water for a bath or shower but I'm sure that could just be human error! Definitely use chains or all weather tires to get to the hobbit hole in Winter, the road was very icy, but the snow made the experience all the more beautiful! Would definitely recommend"
---
Washington Glamping at Lakedale Resort
Location: Friday Harbor, San Juan Island Washington
Best For: Groups, families, couples, outdoor activities
Amenities: Lodge, cabins, yurts, luxury tents, bikes, boats, activity tent, general store, lakes
Lakedale Resort literally has it all. For accommodations, you can enjoy one of the best glamping yurts in Washington or a luxury tent. You can also stay in the main lodge, wood cabin or vintage Airstream. They also allow you to bring your own camping tent. This makes it a destination that appeals to everyone.
The large luxury yurts come with a king bed, living and dining areas, fridge and wet bar, bathroom, and a private wrap-around deck with BBQ and hot tub. The "canvas cottages and cabins" (glamping tents) come in a variety of sizes and offer different amenities. Some have power and running water and some don't but all are exceptionally comfortable and sleep four people.
Then there is a wide range of amenities. The resort sits on 82 beautiful acres with multiple lakes, beaches, trails, and grassy areas to play in. You can use the free bikes and outdoor games like bocce ball, volleyball, and horseshoes or go fishing, kayaking or swimming in a freshwater lake.
---
Washington Glamping at Hideaway Tent
Location: College Place, Southern Washington
Best For: Couples, small family, wine tasting
Amenities: Large canvas luxury tent, deck, king bed, sofa, sink, mini fridge, microwave, TV
This large, luxury Washington glamping tent sits on a wooded piece of private residential property near the Washington wine country of Walla Walla. This makes it a great spot for a weekend getaway of wine tasting.
The canvas Hideaway Tent has a luxurious queen bed, seating area, fireplace, plush rugs, and a front and back deck. There is a private full bathroom just steps away from the tent as well as access to an indoor pool and hot tub which can be reserved for your personal use.
Recent guest reviews:
"What can I say. This stay was so amazing me and my boyfriend had a little get always from the city and came here and it was a weekend to remember by far one of the best vacation I've had. So relaxing and comfortable the bed was phenomenal I almost to the point of switching my own. The tent was super warm and cozy even tho we had a small wind storm it didn't effect or stay. We loved the hot tub and pool. The chair outside where great too we sat all night and looked at the stars for people who love in the city this is the best place to go to reconnect with urself and partners. I would definitely love to come back."
---
Location: Ferndale, Northern Washington
Best For: Couples, romantic getaway, unique experience
Amenities: Full treehouse accommodation with bedroom, kitchen, living room, deck, BBQ, outdoor hot shower, private outhouse
Sir Cedric's Cedar Treehouse is one of the more unique Washington glamping experiences. This multi-level charming treehouse has a 4 ft wide red cedar growing up through it so you're up close and personal with nature.
You have everything you need with a separate cozy loft bedroom, a full kitchen and living room plus a lovely private tree deck. The separate outhouse is definitely not roughing it and the outdoor 2-person shower is nothing short of heavenly. This one also made our Treehouse Glamping in Washington article.
Recent guest reviews:
"This secluded treehouse in the woods is straight out of a fairytale! We only stayed one night, but it was well worth the visit! I would have liked to stay another night or two to take full advantage of all the amenities offered, and explore the area a bit more. This probably isn't much of a concern to most people renting a treehouse in the woods, but as a bit of an arachnophobe, I am always on high alert for spiders. I didn't even see one! So that was a big bonus for me. I also read other reviews about how lovely the outdoor shower space was, yet thought it wouldn't likely be my cup of tea. I was wrong! It was a very relaxing experience. Our stay at Sir Cedric was brief, but memorable. Thanks Scott!"
---
Yurt Haven "The Westerner"
Location: Goldendale, Southern Washington
Best For: Couples, small family, privacy, nature
Amenities: One bedroom yurt accommodation, kayaks, bikes, kitchen, deck, BBQ
This Western-themed yurt in Washington sits on a very private wooded setting which feels far more than the 20 minutes it is away from town. You have everything you need to relax, play, plus you can prepare and enjoy meals both inside and outside the yurt. There is a second yurt on the property named "The Outdoorsman"
Yurt Haven is a perfect place for nature and outdoors enthusiasts. The property has plenty of trails to explore and a horse corral if you want to bring your own horses for riding. Hosts can also provide kayaks, electric bikes and hunting experiences upon request and the surrounding area of the Gorge has spectacular scenery and sunsets.
Recent guest reviews:
"Terrific place for a getaway weekend. The attention to detail in this yurt is amazing — I must have spent 20min just looking around at everything on arrival. A little chilly in the winter, but the heaters soon warmed the place up. I would definitely stay here again."
---
Washington Glamping at Brigadoon
Location: Irondale, Olympic Peninsula Washington
Best For: Couples, relaxing, garden setting, coastal
Amenities: Luxury yurt for two, bathroom, kitchenette, private deck, firepit
Brigadoon is a luxury yurt in a lovely garden setting styled with an Asian-themed decor. It's a great spot for a romantic getaway or peaceful retreat close to the ocean for long beach walks.
The comfy bed has an intricately carved wood headboard and there are lots of beautiful Asian decor accents throughout creating a serene and zen-like atmosphere. The bathroom comes with a six-foot soaker tub for relaxing bubble baths.
Spend your day lounging in the garden or walking down to the ocean and evenings sitting around the fire and enjoying the night sky.
Recent guest reviews:
"What a lovely space! Julie has thought of everything: beautifully decorated, comfortably furnished, and lots of extras provided. We borrowed maps made available and explored Port Townsend, Sequim, and the Dungeness Spit. Plus, we got to read up and learn about yurts! A perfectly restful way to spend Thanksgiving weekend. Highly recommended :)"
---
So, are you ready to go glamping in Washington State? If so, don't forget to research all the amazing things you're going to see and do and pack everything you'll need to enjoy all the activities and adventures in the spectacular nature, towns and cities of Washington.
See Also
Luxury Camping on Salt Spring Island BC
Glamping Idaho – The Top Spots
Gypsy Caravan Glamping in Idaho
Under Canvas Glamping Glacier National Park
All About Glamping Ireland Guide
---
Washington Glamping Pinterest Pin
Born in England, Sarah developed her wanderlust at a young age as she traveled around Europe with her parents. As a young adult she spent every penny she could on experiences as opposed to possessions. Eventually she found a way to earn a living doing what she loved: traveling, writing and capturing images of the wondrous world we live in. When not on the go Sarah enjoys time in her "sometimes home" of Vancouver.