Tulum is the ideal destination for anyone seeking complete tranquility as well as never-ending exploration. It is a peaceful but bustling hamlet on Mexico's Riviera Maya that can be quite romantic. This area of the Caribbean coast is host to one of the finest examples of a Mayan archeological site, as well as some of the most romantic and unique Tulum Treehouse Glamping in Mexico you can find, with views of the Caribbean Sea.
Tulum, with its stunning beaches and distinctive and adventurous cenotes, is quickly becoming one of the finest Mexico vacation locations on many people's bucket lists. It also boasts a plethora of events and activities that not only bring you closer to nature but also allow you to meet and mingle with like-minded people from all over the globe. This need to connect with nature is one of the reasons Tulum Treehouses And Treehouse Hotels in Tulum are in such high demand as a Mexico Glamping Tulum Experience.
>>Check Out Treehouses in Thailand<<
List of Tulum Treehouse Glamping Mexico Spots to Book Now!
---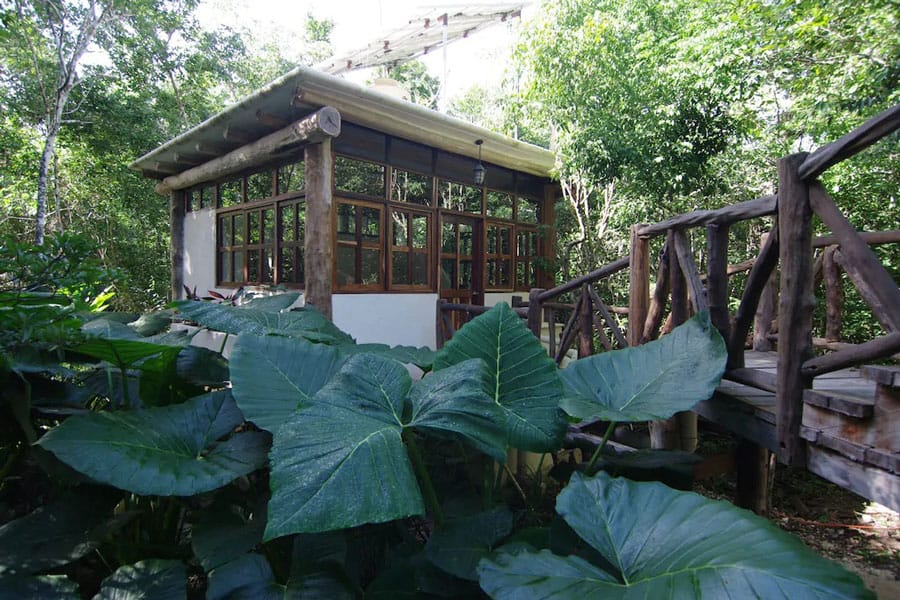 This Tulum treehouse is perfect for couples, with a comfortable bed, an outside heated water shower, and a full kitchen. The secluded Tulum treehouse in the forest is ideal for urban dwellers who wish to escape from the hurried city world for a few nights. Keep a close eye out for the spider monkeys and toucans that visit the neighborhood and stay in bed till late if you want. Wi-Fi is available, so you can stay in touch with your pals whilst relaxing in the hammock. Tulum beaches are only 20 minutes away, so you already know exactly where to go for turquoise seas and smooth, sandy beaches.
Recent Review: "Clayanna's property was simply incredible. Being able to go enjoy the simplicity and pureness of the jungle while still feeling comfortable and safe was an experience I won't soon forget. Thank you Clayanna for sharing such a beautiful with us!"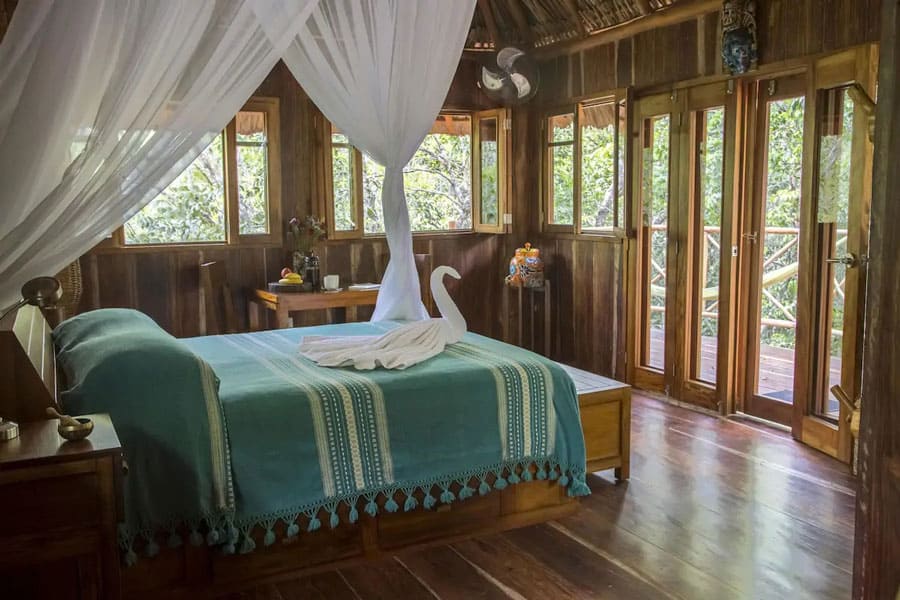 The Ajal Tulum Tree House has four rooms with safes and robes. Terraces are accessible from the suites. Desks are included in these nicely decorated and equipped rooms. Visitors can use the free wireless Internet connection to browse the internet. Showers with rainfall sprayers, bidets, and complimentary amenities are available in the restrooms. Daily cleaning is provided, and in-room massages are available if needed.
Recent Review: "Amazing place to get away from the crowds of Tulum and enjoy the natural beauty of the area, without sacrificing comfort. The design of these treehouses is amazing and they are fully equipped with running water, electricity, etc. There is a cenote with free access just a short walk away. Luz and her entire team are so warm and accommodating! Highly recommend!"
Sleep in this bamboo-and-hardwood-decorated treehouse with inspiration from nature. When you stand on the balcony, surrounded by columns of beautiful green foliage in the infinite forest, find inner serenity. It is a luxury glamping adventure with air conditioning in every accommodation. The accommodations have a bathroom and a bathtub in which you might relax while enjoying the beautiful woodland. If you don't want to go outdoors, there's a restaurant here that serves great local cuisine. Guests staying at this property will be thrilled to learn that the world-famous South Tulum Beach is only a 5 minutes walking distance.
Recent Review: "Fantastic stay! What is Tulum for you? For me it's serenity. An intimate, exquisite, sensual and very private experience. Mamasan Treehouses delivered it all. I was a a bit concerned after reading the reviews about the construction noise and parking problems. And experienced none of it. There is hot water, and all the basic amenities you need. Away from pretentious "Tuluminati" – although if you want to be a part of the "tribe" – you are in a heart of Tulum beach most happening area. Surrounded by the swamp and the jungle."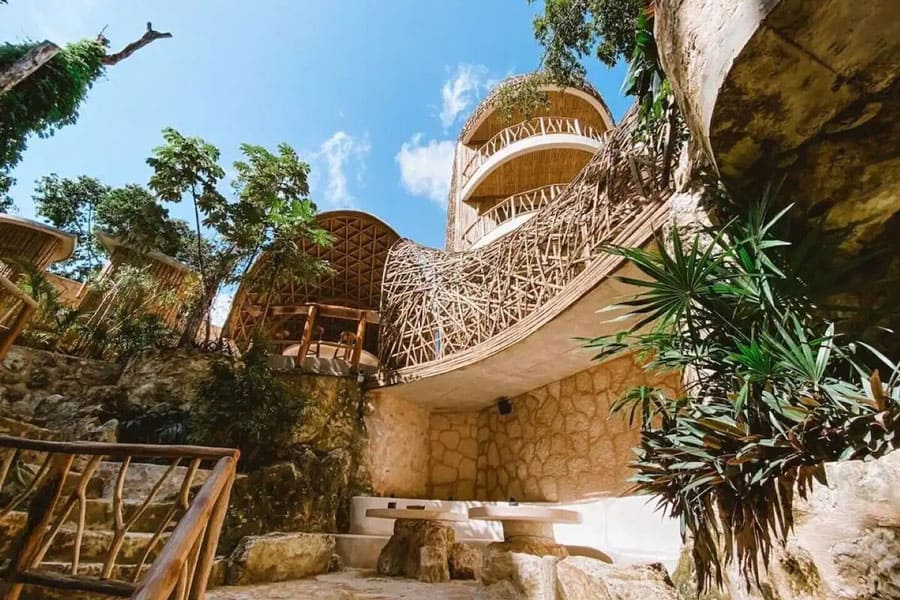 KAN Tulum is an ecological wellness hotel with 24 comfortable and exclusive rooms. Wonderfully built in the manner of a natural tree home. The place was created with a keen awareness of the environment in mind. It is made of environmentally friendly materials like bamboo and uses sustainable power. KAN does have its own cenote, which is entirely natural. Other common areas to enjoy are the bar, Mayan pool, wellness center, and lounging nests. Each room offers a kitchenette, a balcony, and a refrigerator, plus other comforts.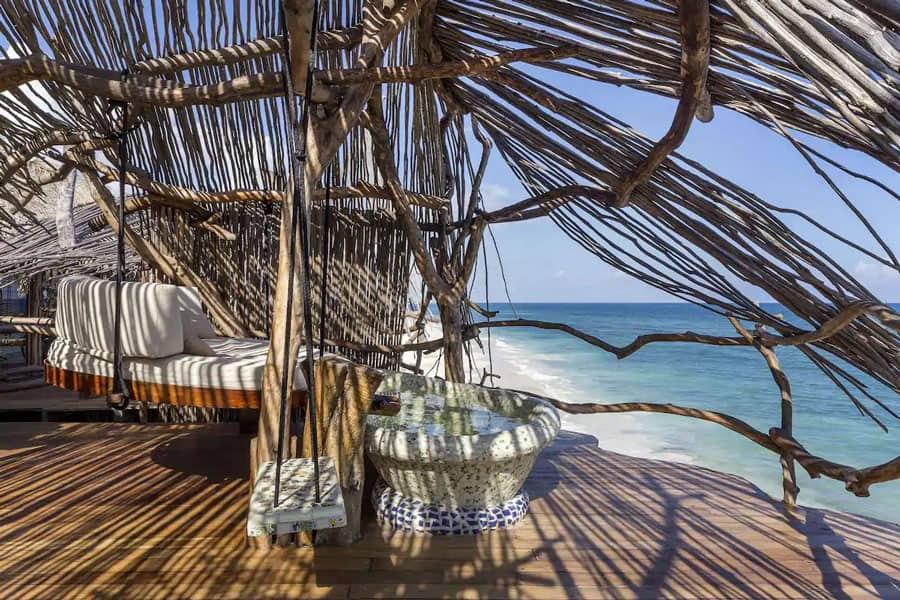 Azulik is a Mayan Wellness Center and an exclusive adults-only beach hotel. It has a quiet, no-clothing-required beach that is ideal for sunning and swimming. Every tree home is built of Mexican-royal-ebony Khatalosh and comes with ground-to-ceiling glass windows that let in natural daylight as well as bug netting.
A personal deck with outside day mattresses, lounging spaces, and vistas of the beautiful forest and the Caribbean Sea is also available in the treehouses. The rooms have a one-of-a-kind Mayan mosaic bathtub where you may enjoy a particularly revitalizing soak in deep mineralized cenote water, which itself is revered in Mayan tradition as holy water.
Recent Review: "The spa and yoga session made me tear up it was so damn good"
If you're searching for a natural treehouse atmosphere, look no further. This lodging, which has concrete walls and flooring, is ideal for unwinding and recharging. Inside the suite, there is a lounge area with a three-seater sofa and barstools. If you'd rather be outside in the cool air, grab a seat on one of the wicker seats on the terrace and observe the sea surf crash against the beach. You can also enjoy the day resting at Nomade Tulum's full-service spa or getting some sunshine on the beachfront. After that, dine at one of the resort's eateries.
Recent Review: "This place is amazing but the customer service is outstanding. They go above and beyond for the best service. Gorgeous place .worth every penny"
Enjoy the day on the hotel's own white sandy beaches or unwind inside one of the hotel's two outdoor pools. Free WiFi and individual yards are available in each of the 73 beautifully furnished rooms. Visitors will also have access to room service, rainfall showers, and complimentary bottled water.
The hotel's architecture is inspired by Mayan construction techniques. Papaya Playa Project employed "Chukum," a Maya method for cooling the inside of structures composed primarily of the resin of the same-named tree. There are secluded porches and dip pools, where hammocks softly sway visitors into rhythm with Tulum's bohemian beat, which are the supreme luxury in just about all the casitas and cabanas.
Recent Review: "I had a great time from begining to end. The guest staff were very tenetive and were able to resolve issues quickly. Francisco and charlie made the whole experience pleasing. Definitely will recommend and will be coming back. Thanks for all that you do."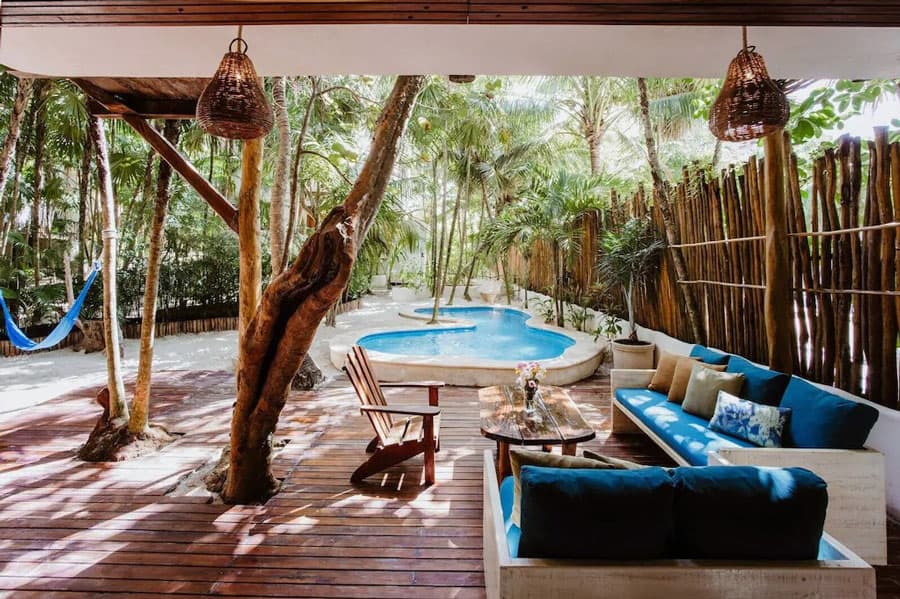 Not exactly a Tulum Treehouse but gives the feel of a treehouse and is great for groups or larger families. Casa Mandala is a three-bedroom contemporary beach house that accommodates 6 to 7 people. The spacious main bedroom on the upper floor has a classic peaked palapa roof situated in the treetops. It is encircled by glass and vegetation. With excellent sheets and toss pillows, the king-sized bed is quite comfy. Open the windows across all outer walls to allow the air in or shut them at night to make use of the air conditioning.
Two rooms, each with its own entrance, are located on the second level. One room contains a queen bed, while the other has a queen bed and a single bed. The main house is an open area, with a lounge room, dining room, and kitchen, allowing you to make food and store drinks chilled. A façade of glass doors leads to the pool and a hardwood lanai with comfy outside furnishings.
Recent Review: "We could not have had a more lovely time at Casa Mandala. The location was right near everything but it felt calm and isolated at the same time. The property is extremely clean and well maintained. The concierge (Chabely) was so helpful and quick to respond with any of our questions/requests. If I go back to Tulum I will definitely be staying here again!"
If you like Treehouses, check out these other Treehouse Glamping Articles:
Amazing Treehouses in Washington State
Coolest Kentucky Treehouses to Book
North Carolina Treehouse Rentals to Die For
Unique Treehouses in Asheville NC
Pin It on Pinterest!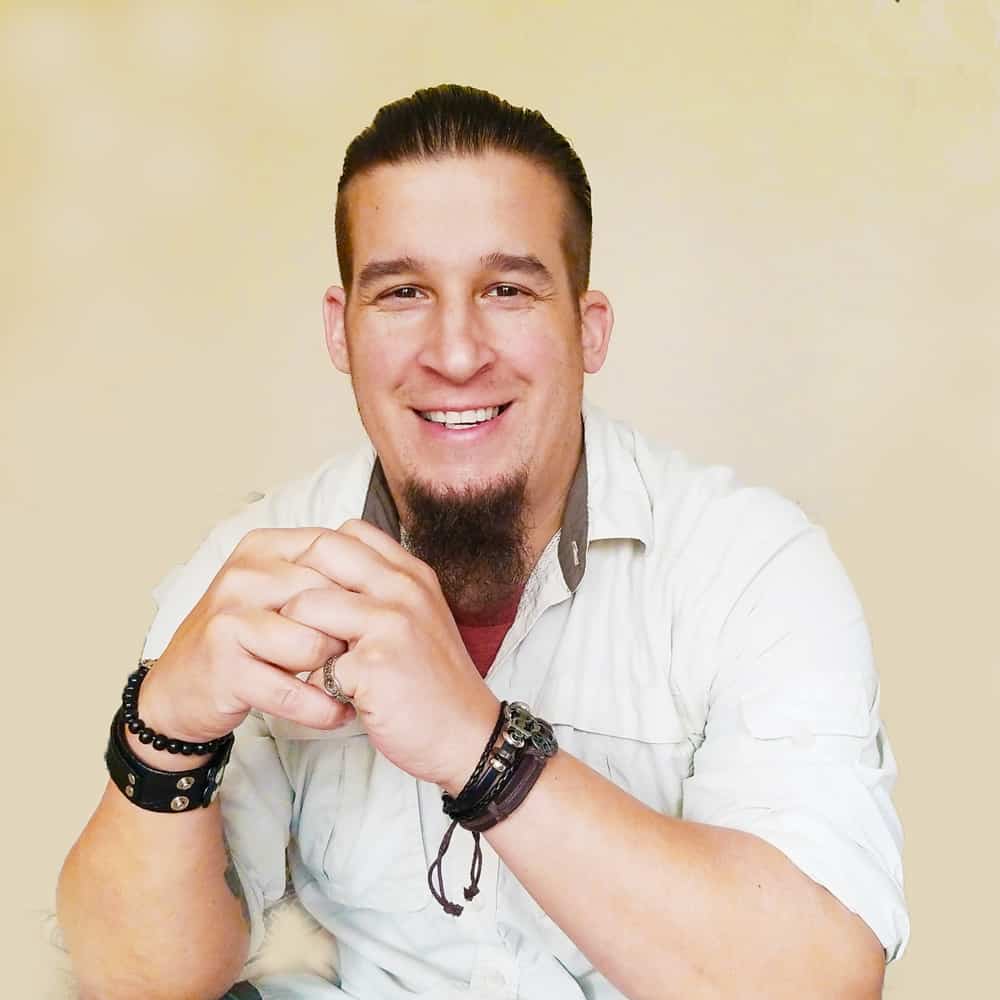 Full-time World Travel Writer who runs multiple websites and social media accounts. I have spoken at various conferences around the world. Some of my hobbies include adventure, fitness and new technologies. I am also a trekkie!