Tulum sits 130 km south of Cancun, Mexico nestled between white-sand Caribbean beaches and lush tropical Yucatan jungle. As a result, it's a favorite destination for nature-loving travelers. So, it comes as no surprise there are some fantastic Tulum glamping spots to experience.
The Yucatan Peninsula is full of natural wonders and beauty. Certainly, Tulum is a place where you can spend your days playing or relaxing on a pristine beach, swimming in mystical cenotes, exploring ancient Mayan ruins, and having epic jungle adventures.
Meanwhile, evenings in Tulum are best-spent enjoying delicious meals and creative cocktails at one of the many bars and restaurants along the beach or in town before retiring to your Tulum glamping site to sleep comfortably surrounded by nature. 
Check out our article on Top Luxury Eco Camping Around the World
Tulum is small but accommodations are generally divided into two main areas: Puebla (town) and the beach. But, there are also glamping sites near the Sian Ka'an Biosphere Reserve which is not far from the famous Tulum ruins.
Glamping in Mexico is very different than say glamping in Ireland or glamping in Washington state due to climate and landscape. However, the types of Glamping structures can be very similar. Glamping types in Tulum include luxury tents, cabanas, geodesic domes, and even tree houses and are situated in unique settings such as jungle, cenotes, and right on the beach.
Here are a few favorite spots to get you started with your Tulum glamping vacation plans:
---
Luxury Tulum Glamping Hotels
For the purposes of this post, we are calling the following accommodations "glamping hotels." This is because they have hotel-type amenities such as a pool and restaurants plus they often have standard rooms along with the glamping options.
Hotel Azulik Tulum
Location: Tulum Beach Hotel Zone
Best for: Adults only, luxury glamping, clothing optional, romantic, beachside
Hotel Azulik Tulum a beautifully unique luxury glamping option right on Tulum beach. It's definitely not the most budget-friendly on our list but it will be one of the most memorable accommodations you've ever stayed in.
The stunning resort combines art and nature creating a sanctuary of harmony and wellness between the sea and the jungle. Luxurious treehouse villas overlook the Caribbean sea and blend into the jungle backdrop making it feel one with nature. Each villa has its own style and special features such as mosaic soaker tubs, artisanal hot tubs with a sea view, round beds, hanging beds, and private decks with plunge pools and stairs to the beach.
---
Harmony Glamping Tulum
Location: Puebla (Tulum town)
Good for: Couples, families, eco-friendly, luxury glamping, healthy food & activities
Harmony Glamping & Boutique Hotel is located on the Green Beat Organic Permaculture Farm at the edge of Tulum town. They are an eco-friendly luxury glamping site offering six Glamour Bell Tents all with queen size beds, luxury bedding, mosquito netting, fans, and private verandas.
The glamping tents share two communal bathrooms that are cleaned twice daily and are outfitted with showers, toilets, sinks, towels, and 100% natural soap and shampoo.
In addition, there are uniquely decorated guest suites within the boutique hotel plus a lovely pool and gardens, two restaurants, and a yoga center on the grounds.
---
Cinco Tulum
Location: Tulum Beach
Best for: Couples, romance, beach
Stay in a romantic glamping tent right on the beach among the palm trees. There are seven tents available complete with king sized beds, comfy bedding, a private hammock lounge area, and either fans or air conditioning.
There is a beach club, a restaurant and a bar on site which all recieve rave reviews. But many of the reviews from past guests of Cinco mention the attention to detail and smooth teamwork of the staff and management that make it such a special experience.
---
Libelula Tulum Glamping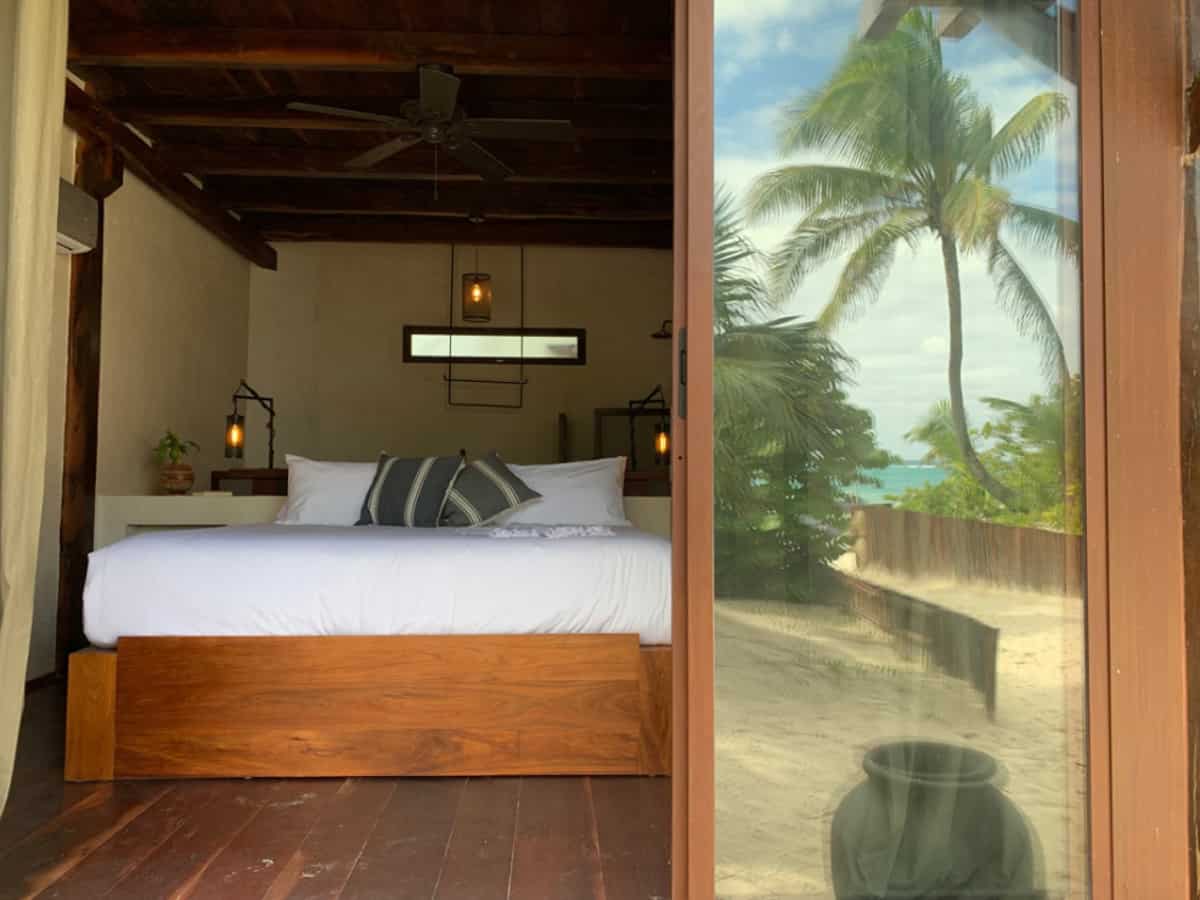 Location: Beachfront in the Sian Ka'an Biosphere Reserve
Best for: Couples, luxury glamping, nature, beachfront
The nine glamping cabanas at Libelula Tulum provide absolute luxury and comfort in the heart of Mayan nature. Cabanas are outfitted with king-sized beds, 600-thread count cotton sheets, en-suite bathrooms with rain showers and organic toiletries, ceiling fans and WiFi. Each cabana suite is uniquely decorated and is steps from the ocean.
Libelula has an onsite kitchen serving authentic Mexican cuisine cooked in their wood-fired oven or on the outdoor grill. In addition, meals are served al fresco at a lovely communal table on the sand creating a lovely setting. This is definitely one of the most luxurious spots for glamping in Tulum.
---
Huaya Eco Camp Yurts
Location: Tulum Puebla
Best for: Couples, small groups, luxury yurts, romantic getaway, convenience to town ameninties
Huaya offers a handful of comfortable, spacious yurts in a jungle garden setting. The location is just steps from the many restaurants and shops of Tulum town but has the peacefullness that come with being immersed in nature.
Each Yurt has double or queen beds and a private bathroom with a beautiful outdoor shower. On site are a refreshing pool, outdoor relaxing areas and a great restuarant serving tradional, local gastronomic cuisine. They also offer daily yoga sessions.
---
Serena Glamping Tulum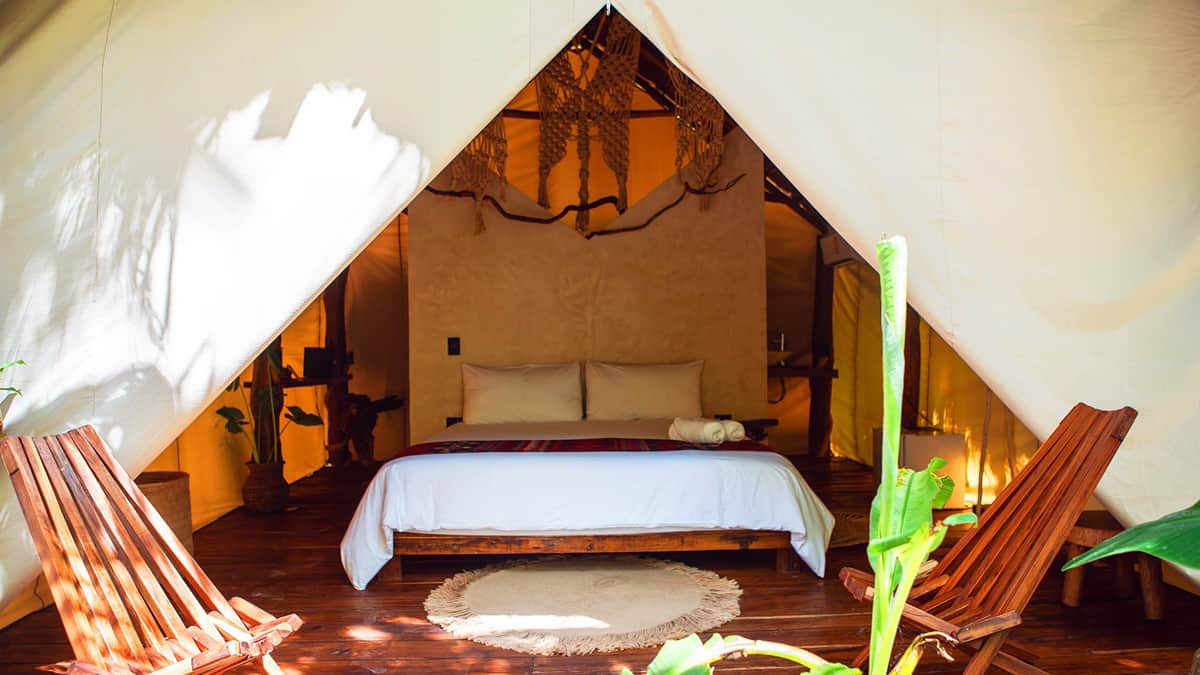 Location: Tulum Beach Hotel Zone
Good for: Couples, luxury glamping, beach, nature, serenity
Serena offers ten luxury glamping rooms with king-sized beds, AC, a private bathroom, wood flooring, and a mini-fridge. They also have jungle rooms which are part glamping/part hotel room.
The location is in the jungle just steps from the beach with amenities such as a Mayan pool, sundeck with a view, fire pits, and bike rentals. Available activities include yoga, meditation, spa treatments plus local food and mezcal tastings.
---
Ikal Tulum Boutique Hotel
Location: Inside Tulum National Park
Good for: Couples, small groups, wellness, beach, Tulum ruins
The zen Ikal Boutique Hotel is located on the beach inside the Tulum National park. There are several rustically-luxurious cabanas providing a serene and comfortable stay within nature.
Each cabana is uniquely decorated and comes with either a king or queen bed, private outdoor shower or tub, a private jungle garden, and lovely views. Some suites even have a private plunge pool.
The beachside Maia restaurant uses organic and locally sourced ingredients and they have an extensive wellness program offering daily sessions and workshops in yoga, dance, and wellness education.
---
Nativus Tulum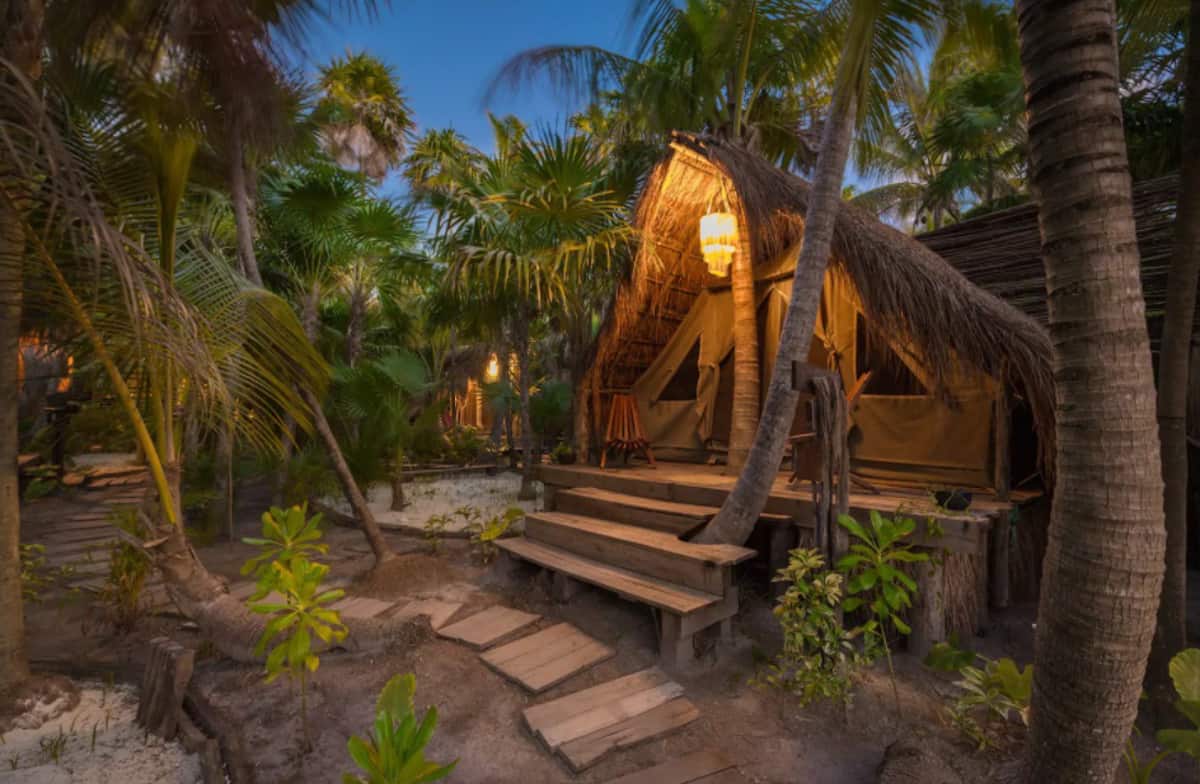 Location: Tulum Beach Road near Sian Ka'an
Good for: Couples, nature, seclusion, activities
The property of Nativus Tulum provides a variety of beautiful natural Yucatan surroundings. You will be jungle glamping in a luxury tent with a king-sized bed, private bathroom, and an open-air shower surrounded by lush vegetation.
Just a short walk from your jungle home is the powdery-white sand of a Tulum beach and on the property itself is a natural cenote with a private dock. Spends days relaxing on the beach or playing in the cenote with the provided kayaks, paddleboards, and snorkel gear.
Bike rentals and yoga sessions are also available on request.
---
Glamping Tulum Airbnb
Airbnb is a great source for Tulum glamping sites. The options range from a single private lodging to sites with several glamping spots. The one thing they all have in common is that they are unique accommodations usually immersed in nature.
---
Cenote Encantado Tulum Eco-Camping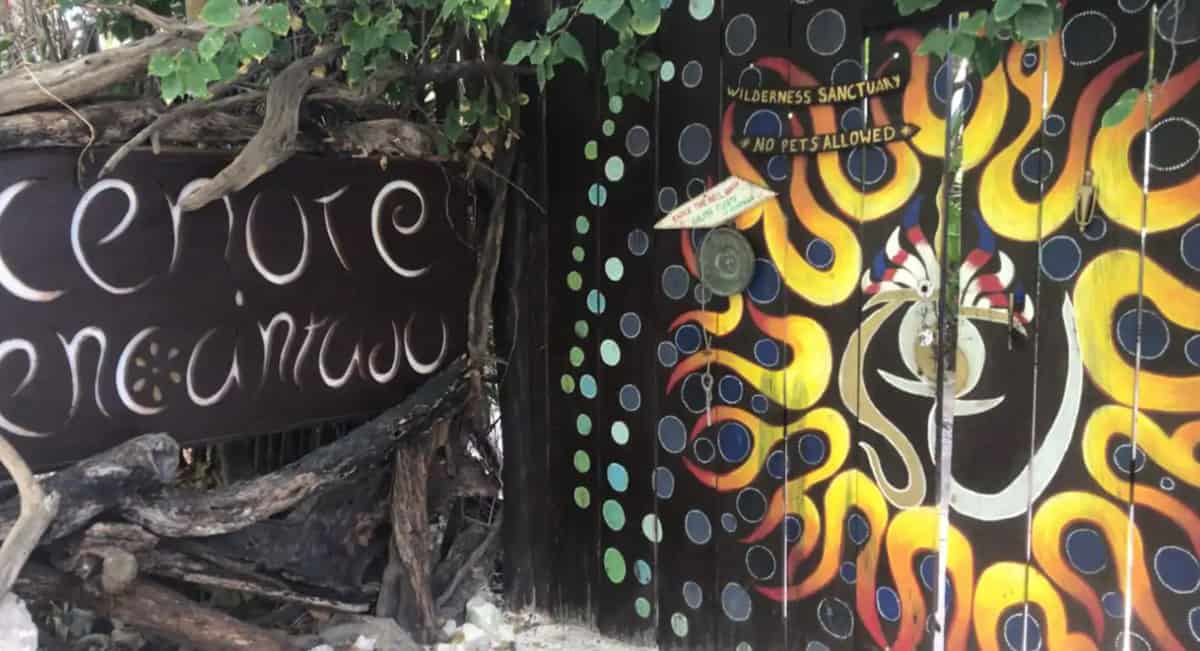 Location: South Tulum Beach close to Sian Ka'an
Good for: Couples, families, budget glamping, nature immersion
Comfortable eco-camping at Cenote Encantado is not quite luxury but it's certainly a special experience. Accommodations are basic tents on slightly raised platforms with simple but cozy beds.
The focus at Encantado eco-camping is on nature, simplicity and serenity. They have an enviable location of being situated in the jungle, 5 minutes from the beach, with a mangrove cenote on the property and just 1 km to Sian Ka'an Biosphere.
Amenities include shared bathrooms, kitchen, and lounge as well as a sundeck, BBQ area, and a firepit.
---
Geodesic Treehouse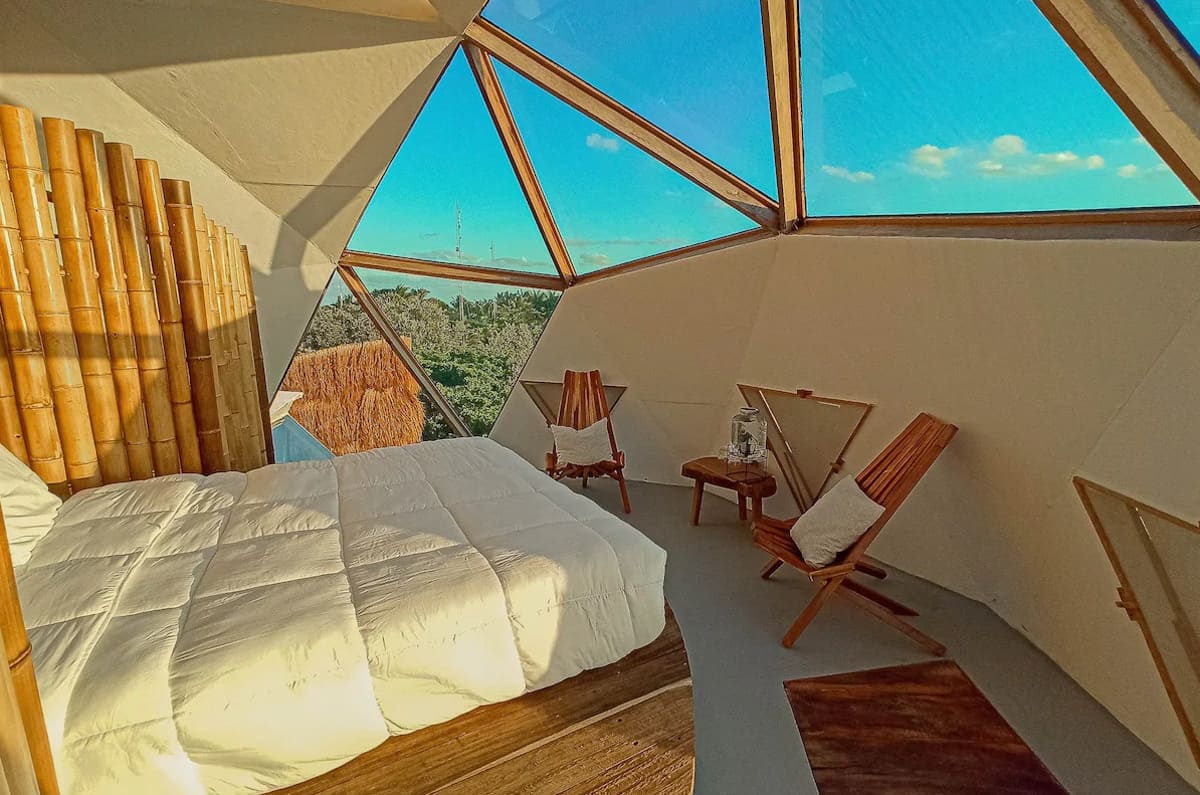 Location: Tulum Beach Hotel Zone
Good for: Couples, romantic, nature, luxury glamping
You really can't much closer to nature than this. A geodesic dome made of locally sourced natural materials perched upon a wooden platform above the Yucatan jungle. You'll be sleeping in a luxurious queen-sized bed with a view of the jungle and skies above. You even have an en-suite bathroom.
The location is just steps from the beach in the Tulum Hotel zone and there is a good restaurant with a stunning rooftop view on site.
---
Lumapi Jungle Eco-Lodge & Huts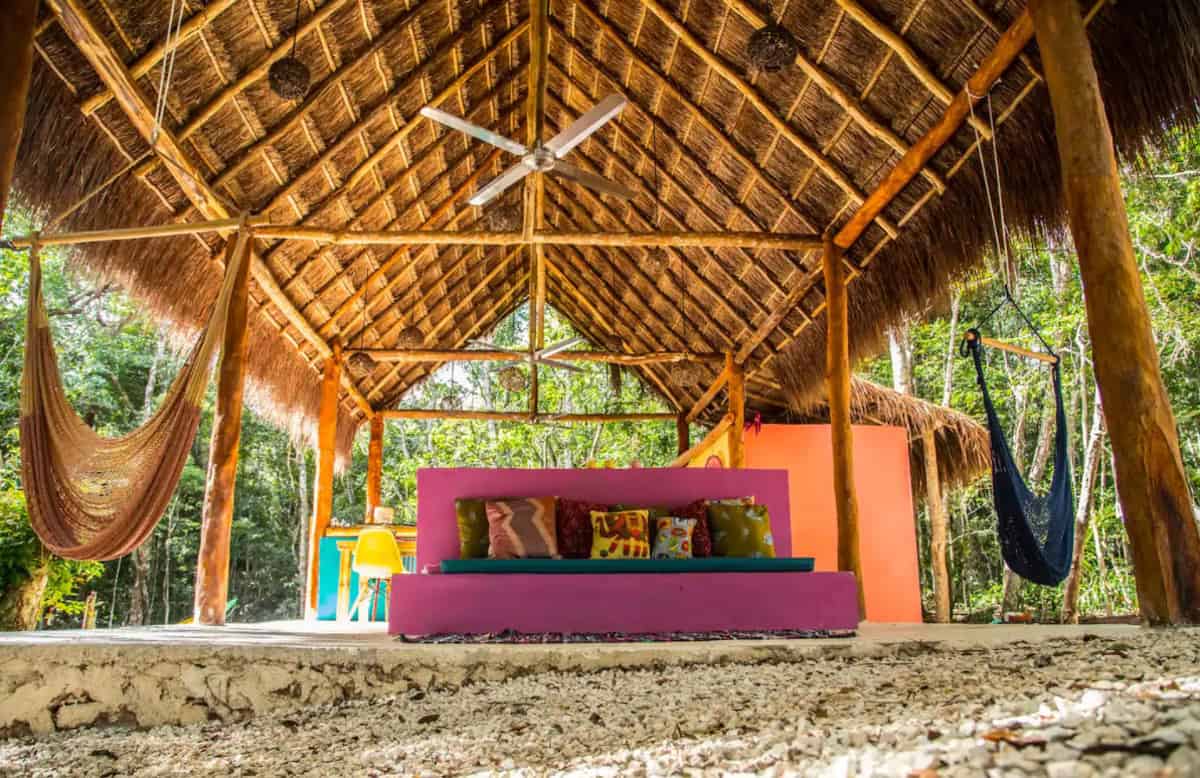 Location: 10 minutes from Tulum Puebla on the road to the local cenotes
Good for: Couples, small groups, adults-only, nature, eco-friendly
Lumapi is a true jungle retreat with a selection of huts and cabanas containing comfy queen or king-sized beds. The accommodations also come with a private bathroom complete with a wonderful outdoor shower.
The vision at Lumapi is to provide guests with a comfortable and magical immersion with nature without doing damage to the environment. They are achieving this by using natural materials and solar power and striving to be 100% sustainable and ecological.
---
Jungle View Treehouse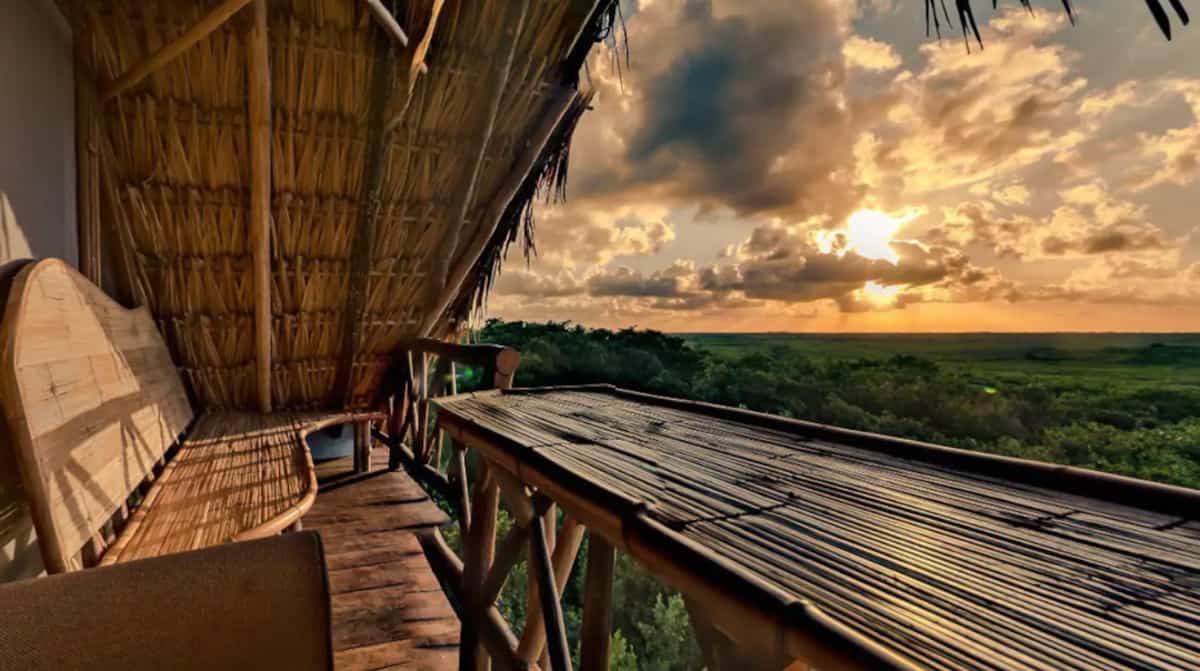 Location: Tulum Beach Hotel Zone
Good for: Couples, small family, jungle view
This 2-floor, 2-bedroom treetop cabana is part of the Iscream House located on the edge of the jungle just 2 minutes from the beach and amenities of the Tulum hotel zone. The views from either of the 2 balconies of this jungle treehouse will absolutely take your breath away.
Inside your eco-friendly jungle cabana you will find floor to ceiling windows, 2 comfortable bedrooms, a small kitchen, and a private bathroom with hot water all with traditional Mexican decor.
---
Casa Nawal Tulum-Oceanfront Tent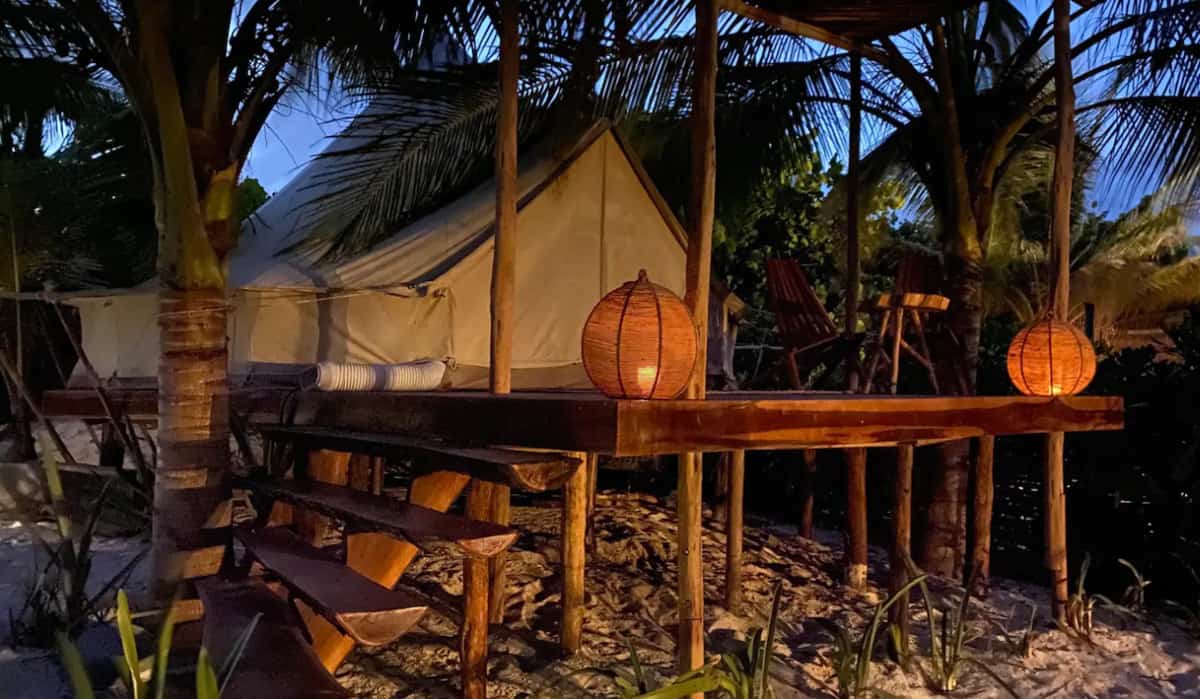 Location: Inside the Tulum National Park close to the Tulum ruins
Good for: Couples, beach, tent glamping
Stay in a romantic glamping tent right on the beach, walking distance to the Tulum ruins. The tent has a comfy queen-sized bed, rugs, a lovely raised deck, and air conditioning!
The lovely Casa Nawal glamping tent is located on the property of the Ikal Boutique Hotel. Guests have access to all the common areas and amenities of the hotel including the restaurant, beach club, and jungle lounging areas.
---
Cenote Lodge at Nahouse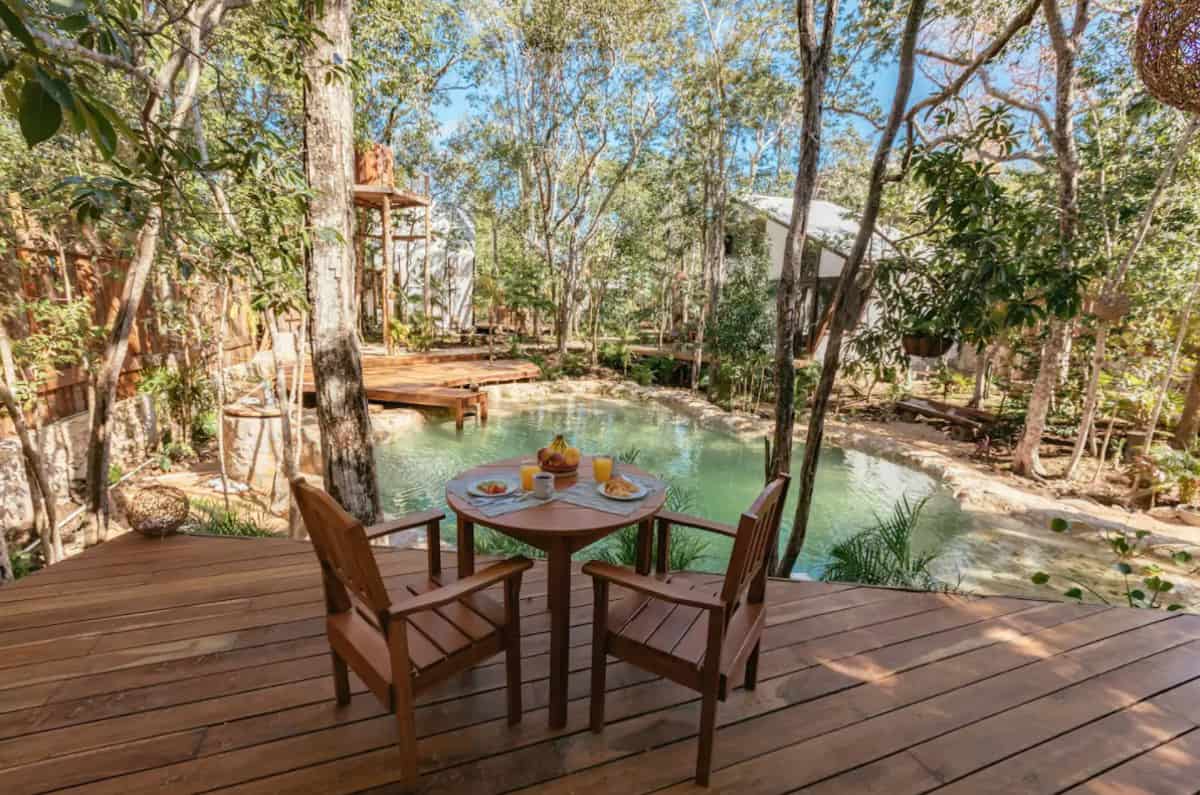 Location: Just outside Tulum Puebla
Best for: Couples, families, luxury
The Cenote Lodge is one of four jungle lodges at the Nahouse complex. The spacious lodge was hand-built from natural, local materials and sits in a peaceful jungle setting. It has 1 bedroom but can sleep up to 4 guests with use of the sectional sofa.
With a full kitchen, solid walls, and floor some may argue this is not glamping. However, we choose to include spaces like these when they are unique structures and are focused on immersion in nature. The natural cenote-like pool at the center of the complex adds to this feeling of a natural experience.
---
Jungle Eco-Treehouse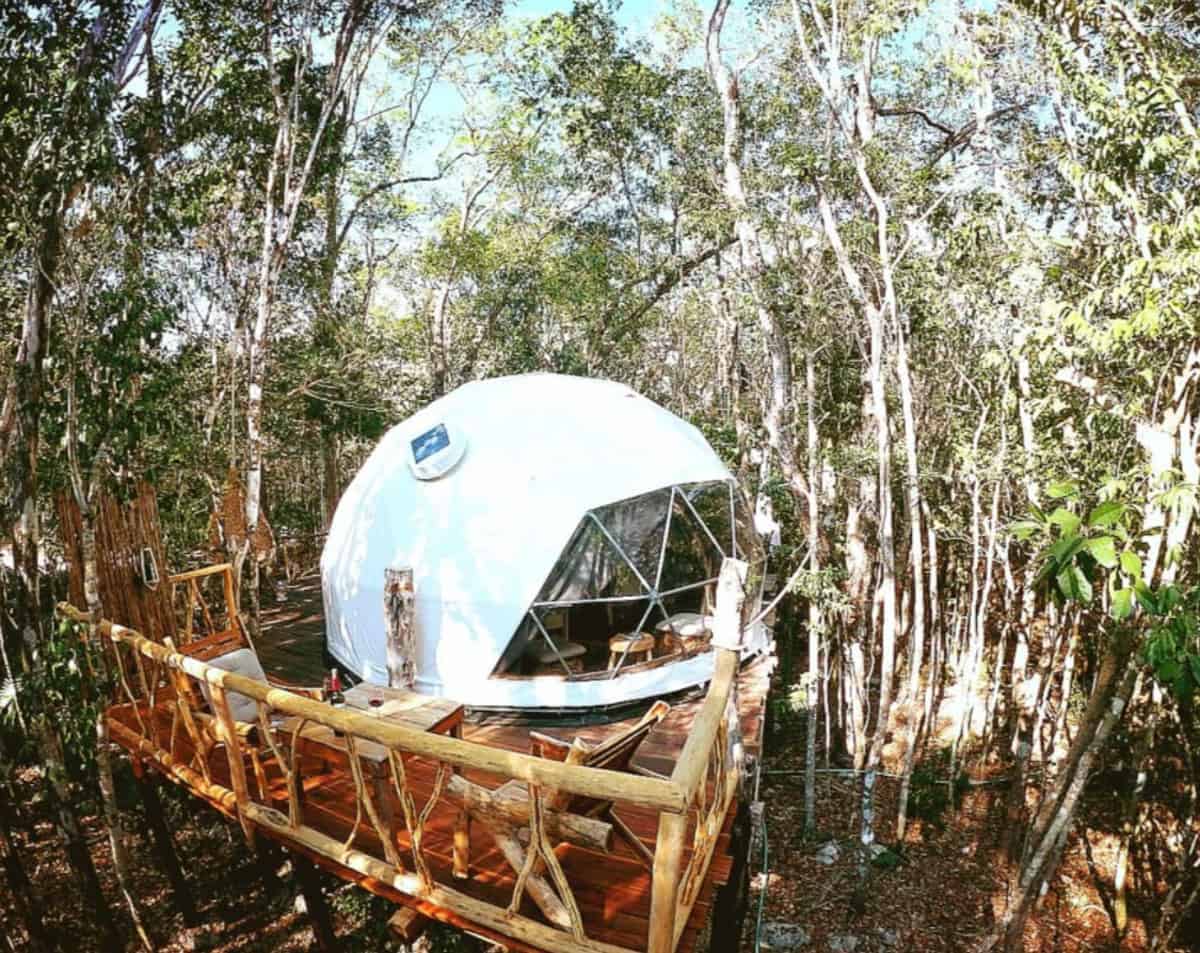 Location: 15 minutes from Tulum Centro
Best for: Couples, nature, serenity, privacy
Stay in a geodesic dome perched in the trees overlooking the Maya jungle. The luxurious bed looks out through a wall of windows to the jungle and night sky creating the experience of sleeping in nature. You also have a private bathroom with an outdoor jungle shower, biodegradable toiletries and a large terrace with a table and chairs for a romantic breakfast or evening glass of wine.
Within walking or cycling distance are natural cenotes to explore and cool off with a refreshing dip and Tulum beach is a 10-minute drive away.
---
Pin It For Later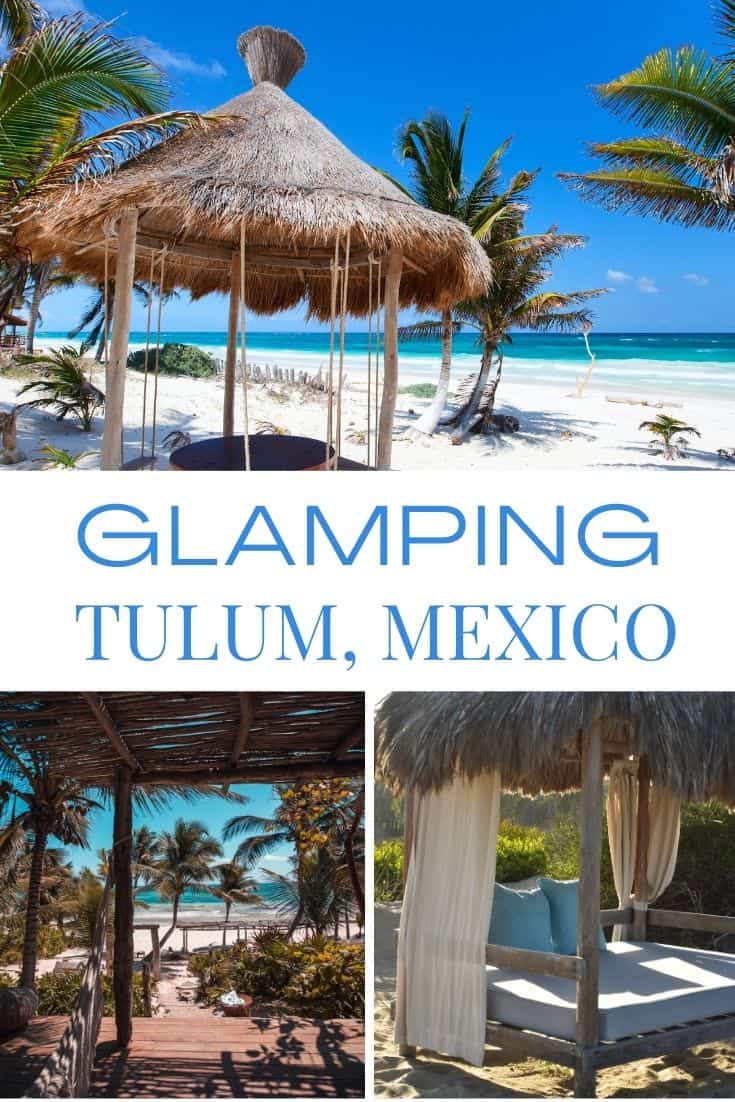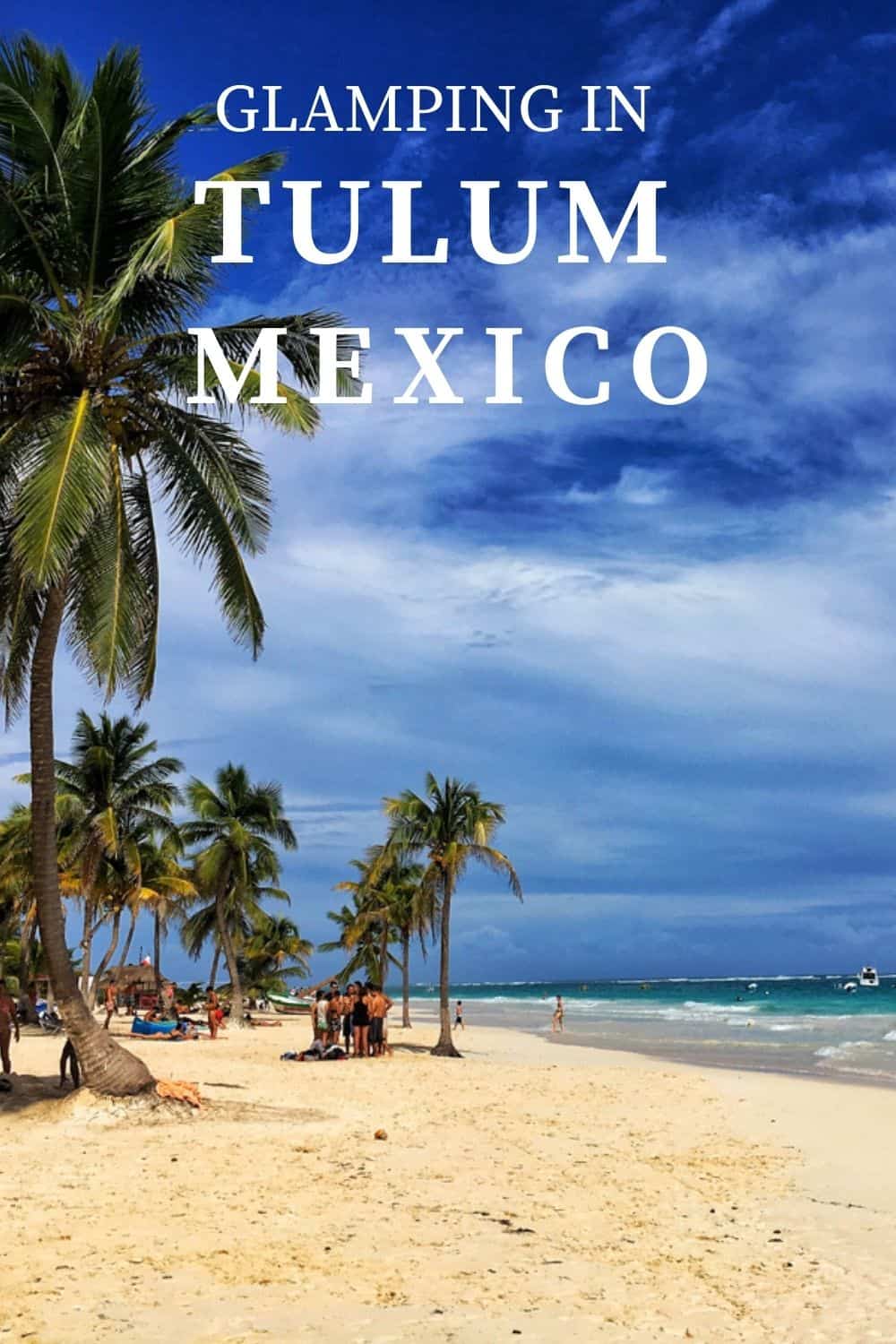 Born in England, Sarah developed her wanderlust at a young age as she traveled around Europe with her parents. As a young adult she spent every penny she could on experiences as opposed to possessions. Eventually she found a way to earn a living doing what she loved: traveling, writing and capturing images of the wondrous world we live in. When not on the go Sarah enjoys time in her "sometimes home" of Vancouver.