Are you looking for your next great adventure? Maybe you're thinking of trying out a solo glamping trip? Or are you planning your next family getaway? Well, no matter the case, Glamping in Wisconsin has something for you!
Home to the Great Lakes and bordering the Mississippi River, Wisconsin provides countless waterways to play in during the summer. Not to mention exploring the state's beautiful rolling hills on foot, horseback, or ATV. Glamping in Wisconsin has it all!
But if roughing it in the woods isn't really your style, and you are looking for something with a bit more luxury, we've got you covered! We've rounded up some of the best Wisconsin glamping spots just for you. With everything from rustic log cabins to waterfront cottages, from yurts in Wisconsin to teepees, you're sure to find the perfect Glamping in Wisconsin getaway you've been looking for!
Other Glamping Articles you may want to read:
Missouri Glamping Spots to See
Unique Sights to See when Glamping in Wisconsin
---
Wisconsin Dells
A canyon carved by glaciers that exhibits sandstone structures along the Wisconsin River's banks. The community, along with the surrounding hamlet of Lake Delton, makes up "The Dells," a prominent Midwest vacation attraction.
Devil's Lake State Park
During the last ice age, around 12,000 years ago, a glacier deposited terminal moraines that sealed the northern and southern ends of the break in the cliffs, creating the 500-foot-high quartzite cliffs bordering the 360-acre Devil's Lake.
Gooseberry Falls State Park
Upper, Middle, and Lower Gooseberry Falls are part of the park that surrounds the mouth of the Gooseberry River. This area is so colorful and marvelous in the fall.
Mirror Lake State Park
Mirror Lake's water is normally quiet and as glassy-smooth as a mirror, thanks to its location away from the wind. The Seth Peterson Cottage, a Frank Lloyd Wright-designed structure, is also located inside the park.
Our List of Top Spots for Glamping in Wisconsin
---
Location: New Lisbon, Southwest Wisconsin
Sleeps: 5 people
Amenities: free wifi, flat-screen tv, grill, full kitchen
This charming 2 bed, 1 bath log cabin is perfect for a relaxing weekend! You can spend your days swimming, kayaking, or fishing in any of the 3 ponds on the property, then spend the evenings in rocking chairs on the spacious front porch. Or curl up in front of the gas fireplace when it gets chilly!
But you aren't leaving behind the luxury of home either. Though it looks rustic on the outside, this cozy cabin features a full kitchen, free wifi, and flat-screen tv!
Location: Cable, Northwest Wisconsin
Sleeps: up to 4 people
Amenities: indoor wood stove, curved lakefront deck
This cozy yurt was designed as a couples retreat, and it is the perfect place for glamping in Wisconsin to relax and reconnect with that special someone. Enjoy kayaking on Perry Lake and soak up some sun. Or stretch out in the hammock and listen to the waves lap against the nearby shoreline.
In the evenings you can roast s'mores in the firepit before cuddling up in front of the woodstove. It's the recipe for the perfect, romantic vacation!
Recent Review: "We love coming to the yurt to disconnect for a weekend. It is a beautiful property where we can enjoy the peaceful sights and sounds of nature."
Location: Ferryville, Southwest Wisconsin
Sleeps: up to 4 people
Amenities: heating and air conditioning, tv, fireplace, hot tub
This unique stay was voted the most romantic getaway for Glamping in Wisconsin, and it's no surprise why! Nestled within 5 wooded acres, this unique, renovated caboose has everything you need for a couples retreat! You can sip your morning coffee and watch for wildlife from the cupola of the car, reconnect around the campfire, or relax in the covered hot tub.
Beautiful location, charming accommodations, and the love of your life…what more do you need?
Recent Review: "The caboose was clean, welcoming and quaint. John had the caboose all ready for us and made us feel at home. The hot tub was AMAZING in the cold frigid weather."
Location: Ferryville, Southwest Wisconsin
Sleeps: up to 6 people
Amenities: charcoal grill, flat screen tv, heating and air conditioning
This 2 bed, 1 bath, log cabin duplex is perfect for a family getaway! Located near Mt. La Crosse Ski Area, Rush Creek Nature Area, Sugar Creek Bluff State Nature Area, and Madigan Winery, there is plenty to do to keep everyone entertained. Or you can stay in and enjoy the view of the great Mississippi River while doing a little fishing or playing some board games.
Pets are welcomed here, and larger groups have the option to rent out the other half of the duplex!
Location: Anitgo, Northern Wisconsin
Sleeps: up to 6 people
Amenities: cable tv, grill, kitchen, half bath
There's something about the thrill of a treehouse that you can never outgrow. And this one is sure to amaze! Nestled in 40 acres of woodland, and perched 17 feet above the ground, you have amazing views of the river. Not to mention plenty of trails for ATV riding in the summer and snowmobiling in the winter.
This treehouse is close to several lakes, public boat landings, and hiking trails, as well as a near town for convenient groceries and restaurants. Easy stair access and a cozy kitchen and living area mean everyone will feel comfortable here!
Pets are welcomed, and there is space for trailers. So bring all your toys!
Recent Review: "It's a treehouse in the woods. Not much more to say! The property is stunning, it feels like it's just you and the north woods. We loved staying here on a long weekend in the summer exploring the area. Would definitely stay again."
Location: Chetek, Northwest Wisconsin
Sleeps: up to 4
Amenities: full bath, kitchen, tv, lakefront
This 2 bedroom, vintage, the lakefront cabin is sure to take you back in time to your days at summer camp! Right on the water and with a dock just a few steps away, this place sparks a lot of joy and could be the home of many fun memories.
Wake up each morning to beautiful sunrises, and enjoy the 180-degree view of the sun setting over the lake. Nearby cabins are also available for rent for larger groups!
Location: Wisconsin Dells, Southern Wisconsin
Sleeps: 2 people
Amenities: skylight, heat and air conditioning, on-site shooting range, kitchen and dining area
Nestled in the solitude of tall pines, this tiny log cabin on wheels is sure to bring you the peace you've been looking for. With no wifi, you get to truly unplug and just enjoy nature!
Spend the day exploring the Dells, Mirror Lake State Park, or Devil's Lake State Park, then spend the evenings roasting s'mores around the campfire. At night you can watch the stars through the skylight from your loft bed.
Plus, enjoy the on-site shooting range, ax throwing range, and rock climbing wall! What more do you want when Glamping in Wisconsin?
Recent Review: "This was the best vacation we have taken together! We loved the tiny house, the convenience of towns nearby and had excellent communication with the property owner! We will be staying again!"
Location: Shell Lake, Northwest Wisconsin
Sleeps: 2+ people
Amenities: kitchen, grill, heater,
If you're looking for something a little bit more primitive, this wall tent is perfect for you! You still have some of the same Wisconsin glamping features, but in just a tent, you will experience more of the true nature of camping.
Nestled on a 40-acre farm, you can wander through woods and meadows or watch the sunset over the hayfields. It's the perfect place to see some of the plentiful wildlife, which includes deer, fox, bear, coyote, and wolves! Bring your instruments, sketchbooks, camera, or horses and enjoy some time in nature!
The 10×12 safari-style tent can sleep two, but there is also a 5 person pop-up dome tent you can set up nearby if needed.
Location: Lyndon Station, Southern Wisconsin
Sleeps: up to 7 people
Amenities: kitchen, grill, heating and air conditioning, water park, shooting range
This 2 bedroom, 1 bath cabin is fit for a hillbilly king! With a quirky, unique, rustic style, it's sure to provide a unique glamping experience you won't find anywhere else!
Located near the Dells and Red Ridge Ranch, there is plenty to occupy your time. But you don't have to go far for some fun either! They also offer rock climbing and kayaking tours in the summer and ice climbing and snowshoeing tours during the winter months. There is also an on-site shooting range and a water park for the kids! All packed onto 10 beautiful acres.
Recent Review: "This was exactly what we needed! Our camper was stolen this summer, and we loved camping. This was perfect for us. The cabin was awesome, and we felt just like we were camping! Everything was exactly like we were told, and we loved it. Next time, we want to stay in the pirate ship!"
Location: Wautoma, Central Wisconsin
Sleeps: varies
Amenities: varies
If you really want to go all out on your Wisconsin glamping trip, Edenwood Ranch is the place to go! Known as a trophy hunting preserve, they also offer wedding and vacation packages.
You have the option to stay in the All American Lodge, Safari Suite, or Hillside Cabin if you want true luxury. But if you prefer something slightly more rustic, they also have spacious glamping tents, decked out with everything you might need!
Enjoy a little hunting, or cruise around on one of their rental UTVs or fat tire e-bikes. During the summer you can spend your day's hiking, swimming, paddle boarding, or canoeing. They also have ziplining and an archery range if you're looking for something a little different than your usual glamping in Wisconsin destination. And during the winter you can brush up on your cross country skiing and snowshoeing.
Location: Douglas Center, Southern Wisconsin
Sleeps: up to 6
Amenities: kitchen, full bath, ac, screened porch, treehouse, dock
This luxurious family cottage will have you glamping in style! Located near a lake, you can spend your days kayaking and swimming, then come back to the cottage and enjoy lunch in the shaded picnic area. Adults can gather around the fire pit or on the screened-in porch in the evenings while the kids are busy in the treehouse.
Conveniently located near the Dells and Baraboo.
Location: Ferryville, Southwest Wisconsin
Sleeps: up to 6 people
Amenities: hot tub, screened-in porch, indoor gas fireplace, wifi, cable tv
This secluded log cabin tucked away in a mountain meadow is newly renovated to provide all the comforts of home while preserving the rustic details of the original building, making it the perfect glamping location!
Enjoy the nearby babbling brook as you explore the rolling hills, relax in the hot tub, or watch an amazing sunset from the porch. It's located close to the Mississippi River, so you can enjoy all of your favorite water sports or spend the day fishing. Or you can head to Rush Creek State Nature Preserve.
During the winter you can enjoy some cross country skiing and snowmobiling.
Recent Review: "When we walked into the cabin we all were in awe. It was more beautiful in person. We loved our stay here. We would spend the days hiking and the evenings in the hot tub. Eric was wonderful with communication and even came out right away when we couldn't get the hot tub working and got it up and running quickly. (It was just a tripped breaker). Our sisters trips was amazing and we'd definitely come back!"
Location: Bayfield, Northern Wisconsin
Sleeps: 2 people
Amenities: half bath, wood stove, propane cooktop
Are you looking for a truly rustic, unique, off-the-grid Glamping in Wisconsin location? Then this sweet, woodland retreat is the one for you! This charming dome is nestled on a remote, 40 acre, organic farm that backs thousands of acres of county land. Located near Lake Superior and Apostle Islands National Lakeshore, you can spend your day exploring the waterways, or roam the farm and explore the vegetable gardens and apple orchards.
This is an off-the-grid property, so there is no electricity, wifi, or cell reception. You get to truly unplug from the rat race and tune into nature for a while!
A nearby yurt and wall tent can also be rented out for larger parties.
Location: Waupaca, Eastern Wisconsin
Sleeps: 2 people
Amenities: outdoor fire pit, clubhouse, golf course, gift shop
This teepee is the perfect place for a romantic Glamping in Wisconsin getaway. It provides a charming, private place for any couple to reconnect and enjoy each other's company. The teepee overlooks a pond and provides you with plenty of opportunities to listen to the birds and watch for wildlife while reconnecting with nature.
But you really aren't all the way out in the boonies! You also have access to Royal Oaks Legendary Campground amenities which include a clubhouse filled to the brim with games and activities, a three-hole golf course, and a small gift shop that features local artists and creators.
The Best Glamping In Wisconsin
There you go. The top Glamping in Wisconsin locations to book for your next nature getaway. Start planning your adventure with friend or family today. What are you waiting for? Get out there and explore!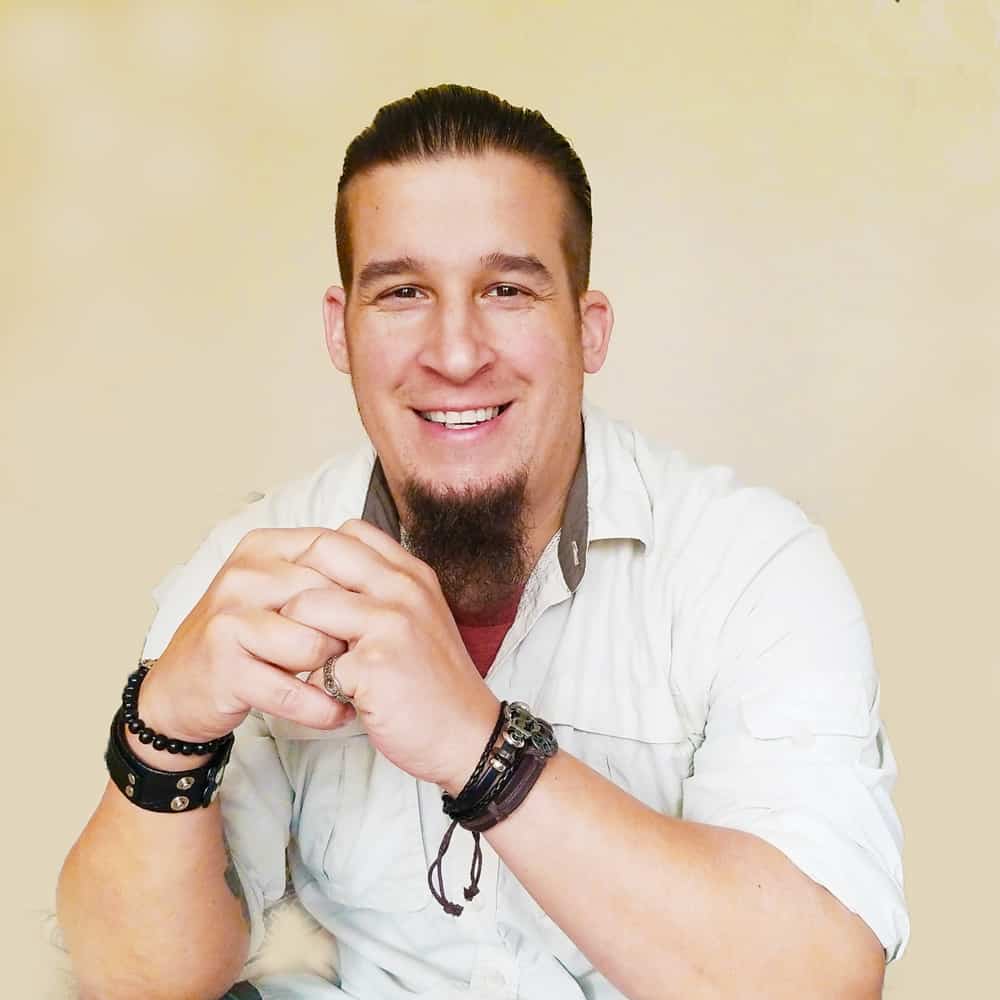 Full-time World Travel Writer who runs multiple websites and social media accounts. I have spoken at various conferences around the world. Some of my hobbies include adventure, fitness and new technologies. I am also a trekkie!