Austin is the capital of Texas. This amazing city is recognized for its diverse music scene, which encompasses music genres such as country, blues, and rock. Trekking, cycling, swimming, and boating are all common practices in the area's many forests and waters. This makes Glamping near Austin a popular getaway experience for both locals and tourists.
It enables folks to enjoy the outdoors and all the region has to offer but still stay close to the vibrant city for events or to get back to work on Monday. Glamping Austin has a ton of options to choose from like treehouses, lake cabins, glamping pods, luxury tents, yurts and more. These unique spots for Glamping Texas can make a wonderful and memory-lasting experience for a single person wanting to relax and get away from it all or a couple or family looking to bond in nature while enjoying some awesome local sights.
Location: Travis County, Texas
Unique and completely off the grid, guests are definitely in for a treat here. The cabin sits on six acres of private property, sleeps 8 and has its own private pond – perfect for a family group outings! And if you have more guests, you can bring an RV or tent for a small additional cost. It is ideal for day excursions too due to its proximity to Canyonlands National Wild Life Refuge, Turkey bend State Park and Lake Travis.
Recent Review: "This property was just perfect for our needs on our quick hunting trip to the area. Everything we needed was at arms reach. The cabin was great! Kids really enjoyed the loft! The outdoor area was the best part, set up with solar lights for the nights and a fantastic fire pit to sit around and enjoy the stars! would highly recommend this to others that are looking to "camp" in the area. 5 stars all around!"
Location: Lago Vista, Texas
This unique and picturesque adults-only glamping resort is sure to be your next favorite destination. Settle in amidst luxuriously furnished pods, all offering scenic views over the area and complete with modern amenities. King-sized bed, ensuite bathroom, kitchen, mood lighting – it's all here! An XL twin bed keeps you cozy while the kitchen is thoughtfully furnished.
The most defining feature though is the exclusive star-gazing hot tub or bubble tent – depending on what you pick. The bubble tent is only available in one pod and is furnished with bean bags, a telescope, air conditioning and heating, as well as sleeping bags.
Location: Seguin, Texas
Tired of the hurried pace of life in the city? This getaway nature cabin is created specifically for people like you. Gone are the days of waking up and rushing off to work. Here, you wake up any time you wish, sip on a hot coffee in your private deck and let yourself be serenaded by the sounds of a babbling brook and the birds that call the area their home.
The unique design of this cabin allows you to open the front wall, bringing the outdoors into your indoors – it's perfect for good conversations, dinner or relaxation.
Location: Kingsbury, Texas
A luxury glamping resort that sits by the San Marcos River, guests enjoys an exclusive and private experience in these tents. The property extends to over 100 acres of scenic land and offers stunning views over the river.
Each tent sleeps up to four adults and includes all the luxuries you would expect at the closest Marriott. Luxury linen, air conditioning, a fully equipped kitchenette, a private deck – you name it! And yes, there's a coffee machine too so you won't miss out on your morning caffeine either.
There are a total of three tents so be sure to plan your visit well ahead of time to avoid disappointment.
Recent Review: "We came to Wahwahtaysee for a staycation birthday celebration and actually didn't want to leave. I am so happy to have found this place–it is luxurious, peaceful, fun, beautiful . . . everything we were looking for in a vacation. The owners are both very helpful and stay out of your way, the tent is stocked with everything you need–I travel a lot and have learned to bring a meat thermometer with me for grilling but this was the first place I've been that had a meat thermometer there! They really had anticipated our every need. The outdoor shower was just secluded enough for me to use it after swimming and as my morning shower, the golf carts were fun and made us feel like we were on an adventure, the tent was so beautifully styled inside that sometimes we just wanted to stay right there. Thank you to the Dillards for a really unique experience. Rarely do I want to repeat a trip but Wahwahtaysee is compelling enough for me to already be figuring out how to get back."
Location: Barton Heights, Austin, Texas
With floor-to-ceiling windows throughout the property and lush vegetation all around you, you'd be forgiven for assuming you are in South America. With a distinct Costa Rican-inspired décor, space for ten and plenty of room for everyone, it's great for a family gathering. There's a 70 inch TV too if games or movies are on the itinerary.
And that's before we get to its location. It is just across from the gorgeous Zilker Park. The 358-acre park is home to Barton Springs Pool which is fed from cool underwater springs – with a temperature of 68-70 degrees, it is perfect for an afternoon dip!
Location: Lakeway, Texas
Just steps away from Lake Travis and with a marina reserved just for guests, this treehouse has all the makings of a pleasant getaway. And with two bedrooms in the property, space for up to six and a hot tub, it is family-sized too!
The interior décor is pretty classy with hardwood, spacious living areas and plenty of windows for that sweet natural lighting. The kitchen comes with all you need to whip up a great meal too.
Fans of golfing may be particularly interested in this property due to its close proximity to many golf clubs and courses.
Location: Spicewood, Texas
This adult-only yurt-like tent is a luxury experience in the wilderness and just the spot for an exclusive romantic retreat. Whether it is a honeymoon or anniversary that you are celebrating, this rustic space with AC and heating, a hot tub and a patio with scenic views over the river is just the place you'll want to celebrate your special occasions.
It is steps away from the riverfront with plenty of opportunities for kayaking – available onsite. The prime location makes it great for exploring the rest of the county too. If its activities you are interested in, Lakeway Country Club and Pedernales Country Club come suggested. And if you are a hiker, game walks through Lake Travis and Lake Austin are highly recommended.
Recent Review: "The whole experience of glamping was wonderfully. Comforts of home combined with a little wilderness. Isolated but still close to civilization. Would highly recommend this get a away. Relaxing and the view was amazing. Night life!! Fireflies and thunderstorms. Best sleep in a long time !!"
Location: Driftwood, Texas
If you are looking for a fun, exciting Austin glamping experience, the colorful Driftwoods Tipi may be right up your alley. Perfect for experiencing nature without giving up your daily comforts, the Driftwoods is a colorful community of stylish properties hidden amidst 5 acres of land.
The spacious one-room Tipi is perfect for couples looking for a nature-filled adventure. Guests enjoy a private bathroom with running water and most of the modern essentials. There is a fan but don't expect air conditioning. It is also pet-friendly – although that's an additional fee.
Location: Austin, Texas
Sitting in the beautiful Live Oak trees, discover a luxurious rustic retreat that puts you squarely in the middle of nature while still ensuring you are cozy and comfortable. This is another adults-only property so if you're looking for a family outing, you may want to keep scrolling. It sleeps up to three and includes a state-of-the-art Jacuzzi as well as a fire pit.
The strategic location in Texas Hill County makes it easy to quickly explore the many lakes, rivers and woodlands around. Locals recommend the nearby Fredericksburg Wine Trail. And if you are looking to spice up your night, Austin's infamous nightlife is just a few minutes away.
Location: La Grange, Texas
A unique cottage designed from a vintage silo, this vacation home makes for a luxurious stay that'll have you coming back. The fact that it's been on at least 6 national Home Decor magazines should tell you enough. It is beautifully decorated and there is a lot of unique furniture and décor that add to its vintage theme.
The two-bedroom property sleeps four, is ideal for a family and is just 8 miles from Round Top. Wine tasting, shopping, museum tours and art galleries are a few attractions you can visit around the cottage. If you are visiting during the fall, don't forget the Fall Antique Fair!
Recent Review: "Really had a great and peaceful stay. The Grain Bins were unique, well decorated on a very nice setting. Great help from owners with suggestions for places to shop and visit. Check _ In was super easy."
Location: Wimberley, Texas
Miss the retro era? You can relive it now in this cozy renovated Airstream trailer. Fitted with the conveniences of home yet surrounded by Hill Country nature, it offers the best of both worlds. A large deck beckons you for a romantic al fresco dinner. Follow it up with a dip in the hot tub or a shower in the spacious outdoor bathroom. String lights complete the serene ambiance.
There is a fire pit nearby should the evenings get chilly and a hammock for a wonderful afternoon nap. The bed has space for two so it's strictly a couple's affair here.
Recent Review: "My SO and I came across this property a few years ago and it's just always been at the back of our mind as a very special, quirky and inviting place that we would like to visit, then this year we booked it for our elopement! The property owners, Jen and Greg, are extremely prompt with communication. They were warm, friendly and very accommodating, and the land itself is absolutely stunning. We chose the limestone lookout for our little ceremony — it's gorgeous. The airstream was a cute and memorable place to stay, and very clean. We absolutely loved it and will be back at some point in the future, I'm sure of it."
Share on your Social Media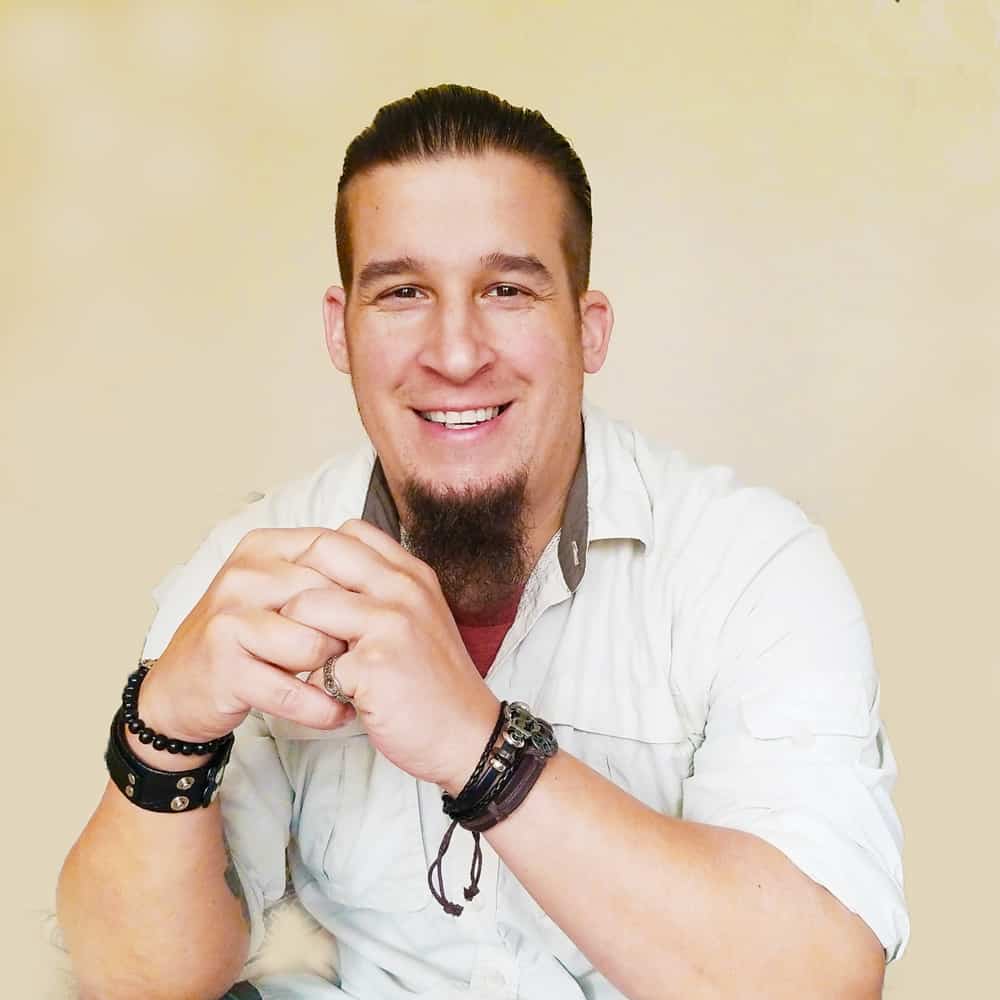 Full-time World Travel Writer who runs multiple websites and social media accounts. I have spoken at various conferences around the world. Some of my hobbies include adventure, fitness and new technologies. I am also a trekkie!