When many people think of southern California they think of large cities like Los Angeles and San Diego. They think of Disneyland. Of course, southern California also has a multitude of unique sites, remarkable desert landscapes, wild coastlines, and awe-inspiring parks to explore. This is the reason Southern California Glamping has been on the rise the last few years with Glamping Southern California spots popping up all over the map along with glamping spots in Northern California.
Southern California glamping has so many options for a unique luxury camping experience. You can choose from Treehouses, tiny homes, safari tents, converted buses, and more. Whether you are planning to go glamping in Southern California for a weekend getaway or for a whole 2-week road trip vacation, it is guaranteed to make a memorable holiday. Before we go over some of our favorite Southern California Glamping spots to book, let's go over some of the amazing spots you may want to explore while Glamping in Southern California.
---
Other California Glamping Articles You May Enjoy
Places to check out when Southern California Glamping
There is so much to see when Southern California Glamping that we wouldn't be able to list them all here. Besides, you've really come to see some cool California Glamping sites. So here are just a few of the most popular recreational areas in Southern California to stave off your appetite.
---
Sequoia National Park
Sequoia National Park includes Mount Whitney, at 14,505 feet above sea level, which is the tallest mountain in the contiguous United States. The location is famous for its massive sequoia trees, especially General Sherman, which is the world's biggest tree by volume. It is unlike any other site on the planet! The Sequoia trees are magnificent and gorgeous. The massive magnitude and grandeur of these make you speechless. This is one of the top sights when folks are Glamping Southern California.
Joshua Tree National Park
Joshua trees are endemic to the Mojave Desert, and this park is designated for them. The upper Mojave Desert and the shallower Colorado Desert are both components of Joshua Tree, which is an environment whose traits are mostly controlled by topography. It also hosts a number of well-known music and art festivals. A must-see when on a Southern California Glamping getaway!
Death Valley National Park
Death Valley is the biggest national park in the lower 48 States, and also the warmest, arid, and deepest area in the country. Badwater Basin, at 282 feet below sea level, is the second-lowest location in the Western Hemisphere and the deepest in North America. Creosote bush, Joshua tree, bighorn sheep, coyote, and the threatened Death Valley pupfish are just a few of the flora and creatures that have acclimated to this severe desert climate.
Torrey Pines State Reserve
It is one of the best-untamed sections of land on the Southern Coastline, despite being within San Diego municipal boundaries. The reserve hosts a plateau containing cliffs overlooking Torrey Pines State Beach, as well as a cove important to traveling seabirds. The region is home to a variety of species and plants, notably bobcats, foxes, skunks, raccoons, coyotes, rabbits, cactus, coastal chaparral, and the uncommon Torrey pine.
Our Favorite Southern California Glamping Spots to Book
---
Location: San Bernardino, California, USA
A romantic getaway is one of the best things you can do with your significant other to ignite that spark of romance even further. This is where the Romantic Hide-a-Way for two comes as it is located in a secluded canyon that is six minutes from Joshua Tree. The cabin includes a fire pit, back porch shower, indoor whirlpool tub, kitchen, and more.
Of course, the views all around are even better, and you can get out from the back door to go hiking in nature. The best part is that there are many nearby shops, restaurants, coffee houses, yoga studios, and much more. You will enjoy a relaxing and romantic stay here no matter when you come.
So, book this cabin, enjoy the cool mountain breeze and stargaze all night. Once you leave this cabin, your relationship will be stronger than before.
Location: Bonsall, California, USA
Do you want to experience Africa without going all the way to the country? If you do, you can come to this Southern California Glamping African Safari Tent instead. The property is 2.5 acres, and it is all organic, with South African Safari fruit trees and protea flowers all around.
The great aspect of this location is that there are nearby wineries, beaches, microbreweries, and a Safari Park. That is why you will get the experience of Africa in no time. Even the tent is all organic, and it features a queen bed, kitchen, bathroom, linens, woodstove, and deck.
So, don't forget to book your stay here to enjoy the authentic African experience. You will leave the place with many fantastic memories.
Location: Joshua Tree, CA
Stargazing is one of the best things you can do in a remote place where it's just you and the world. JTHAVN brings a great experience of stargazing near Joshua Tree with a comfortable unit for you to sleep in. The bedrooms are air-conditioned, and the unit comes with a stovetop, oven, kitchen, and microwave. Of course, you have an amazing swinging bed to enjoy as well.
If you want to make your experience even better, you can go on the Maze Loop train nearby. Besides that, there is also Eureka Peak close by for you to explore and wander around. You can also bring your pets here to have a complete adventure.
So, if you want to get away from the city and stargaze for the weekend, there is no better place than the JTHAVN. Once you leave the premises, you will feel refreshed. It is one of the top Southern California Glamping spots.
Recent Review: "It is one of a kind experience. I like everything about the property. Location, cleanliness, comfortability. Easy to communicate with the staff online."
Location: Joshua Tree, CA
Get away from the hustle-bustle of the city and enjoy a relaxing weekend at The Castle House Estate. The accommodation is excellent, and it offers a seasonal outdoor swimming pool, room service, sun terrace, family rooms, and much more. Of course, the highlight of your stay will be enjoying the excellent activities that Joshua Tree offers.
These include cycling, hiking, and much more. You can go on The Maze Loop Trail or Eureka Peak as they are nearby. Besides that, the Palm Springs International Airport is less than 100km away from the accommodation.
If you want to relax and unwind while living comfortably, it doesn't get better than the Castle House Estate. You will love your stay here.
Location: Twentynine Palms, California, USA
Bask in the glory of the mountains and stars by spending your weekend at The Kosmic Tortoise. You will live in a bubble glamping tent where you get to enjoy the mountains all around you. The tent is air-conditioned, and it features a bed, a bathroom with a shower, and a seating area.
You can also visit the Palms Oasis Trail and Boy Scout Trail to connect with your adventurous spirit. You will also get free WiFi if you still want to stay connected with the rest of the world while being here. However, the real experience comes with being disconnected from the outside world.
If you want to escape to the desert and watch some fantastic sunrises and sunsets, then it does not get better than this. Once you come here, you will want to keep going back for more.
Recent Review: " Wonderful location, the bbq was perfect and the dome was so cosy. We really felt super special staying there."
Location: North Figueroa Street, Los Angeles, California, USA
Do you want to experience a unique safari tent glamping experience? If you do, then book La Boheme Living, as you will love staying in this tent. Of course, the real adventure lies outside the tent, where you can bike, hike, play tennis, light a fire, make s'mores, and do much more.
The accommodation also features air conditioning, barbecue facilities, a garden, free WiFi, and much more. Staples Centre and Microsoft Theater are also nearby if you don't want to do anything adventurous and want to experience LA. However, La Boheme Living is ideal for couples looking for a quick getaway.
Besides that, the accommodation is also near grocery stores and restaurants, so you have access to great food all the time. Don't forget to book this stay if you want a comfortable glamping experience in LA.
Location: Joshua Tree, California, USA
This is one of the finest interesting locations to vacation in the desert, having been transformed from a former Vermont Blue Bird school bus. Visitors don't need a driver to live out your rock 'n' roll tour bus fantasies. Freshly remodeled and made to look like an urban stylish flat with creature comforts.
No need to worry about the paparazzi since you'll be hidden away in the hillsides on one acre in a quiet portion of Joshua Tree.  It has a  fully furnished mini-kitchen plus an indoor bathroom with a shower, you'll find all you need inside. This small bit of paradise offers stunning sunset vistas and a sky full of stars.
Recent Review: "Really unique stay. Location is great for Joshua tree park. Very peaceful and relaxing. Gabriella is a tremendous host!"
Location: Temecula, California, USA
The Treehouse of the Namaste Farms Working Sheep Farm is located on top of the old-growth Redwood stumps. The treehouse has a suspended truck bed patio, stained glass windows, a private outdoor bathroom and shower, and much more. Remember that more than two people can't fit in the treehouse, so it is the perfect place for couples to enjoy.
Because you will be on a working sheep farm, you will get to connect with lots of animals, such as squirrels, rabbits, chickens, goats, and more. You can have a peaceful sleep while listening to the sound of nature all around you. On the other hand, if you want to explore the area, there are wineries, equestrian facilities, casinos, and much more for you to enjoy.
Of course, if you only want a staycation, then the treehouse is ideal for that too. You will love this glamping adventure as you stay with the animals all around.
Location: Temecula, California, USA
If you want to connect with nature and be surrounded by Oak Trees, you must book your stay at Amazing Airstream. It is the ideal place to get away from everything and enjoy the best of nature. The accommodation comes with a king bed, two twin beds, a couch, a private area with a hammock, a bathroom, a kitchen, and more.
It is also two miles away from Pechanga casino and ten minutes from a shopping center and winery. That is why you can also go out of the accommodation and explore what the area offers. You will be in nature while also close to everything you could ever need.
So, if you want to live in the best of nature while relaxing, be sure to book your stay at the Amazing Airstream. You will feel refreshed once you finish your stay.
Location: Warner Springs, California, USA
Are you looking to camp with privacy and comfort? If you are, then Camp Ribbonwood is the ideal choice as it is a safari tent cabin close to nature for the best experience. The tent is luxurious, and it features a hot tub, kitchen, heated bed, fireplace, BBQ, bath, and much more.
The tent also overlooks the Beauty Mountain Wilderness and Dodge Valley for you to enjoy the best views. So, if you are looking for a private and comfortable glamping experience with your significant other, don't forget to opt for Camp Ribbonwood.
Location: Mount Laguna, California, USA
Finally, we have Deer Peak, where you can glamp and sleep under the trees in the Cleveland National Forest. Laguna Mountain is one of the highest peaks with a diverse habitat that you will love to experience. The best part is that the glamping site is secluded, so you will be away from everyone and everything.
The glamping site also comes with hotel amenities that you will love. So, if you want to enjoy camping without all the hassle, be sure to give Deer Peak a chance.
Location: New Cuyama, California
The Snail is among the Blue Sky estate's five Shelton Huts. The five are arranged in a circle surrounding our central campfire and the Khalili Cantina. Huts have wooden floors and front and back walls made of wood and glass. Waterproof canvas is used for the top and sidewalls.
Every hut has electric light and an outlet. They are neither heated or cooled, so dress appropriately for the weather. This one contains one double bed, a wide live edge wooden table, and enough flooring room for a pair of sleeping bags or a cot.
Recent Review: "Came here with a group of friends and had a great time. The amenities make for an easy and comfortable stay. A lovely place to unplug and relax. Jack was super friendly and helpful, and the mead tasting was delicious and informative. Glad to support good people doing good things in this community."
Cool Southern California Glamping Awe-inspiring Spots Pinterest Pin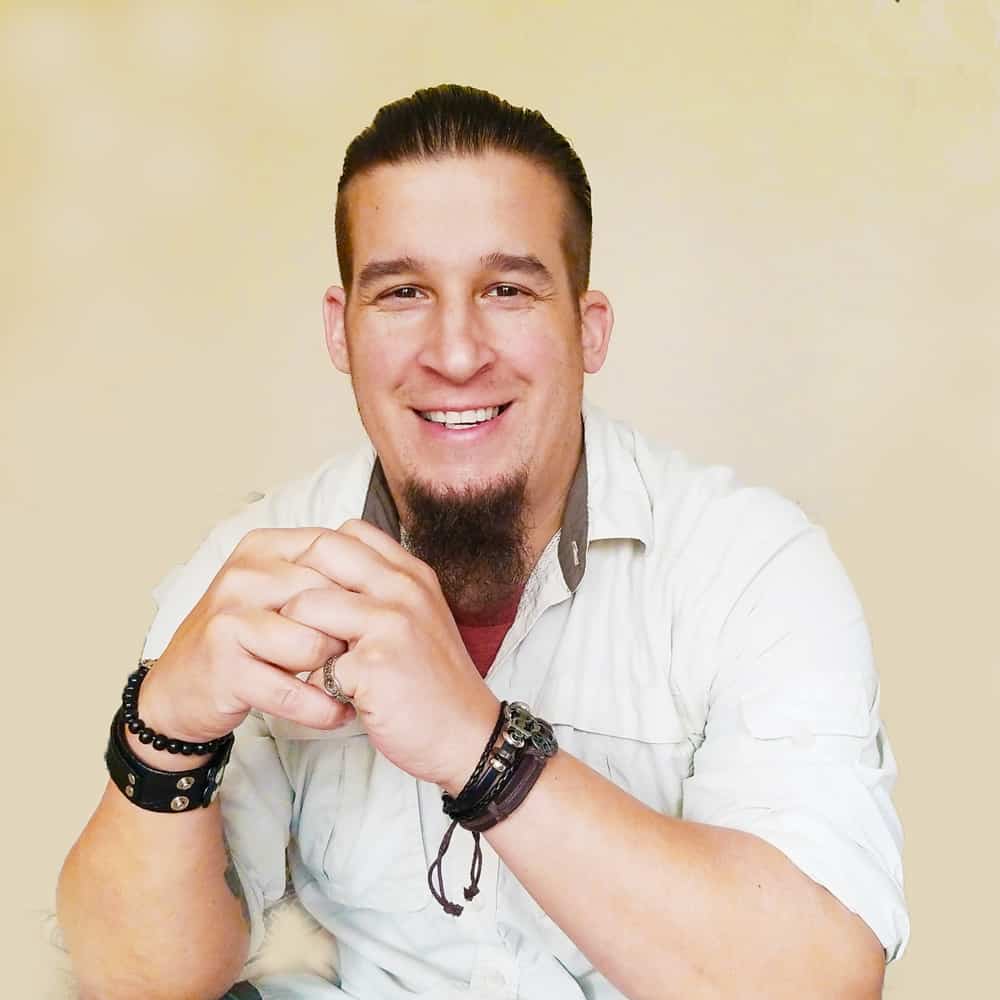 Full-time World Travel Writer who runs multiple websites and social media accounts. I have spoken at various conferences around the world. Some of my hobbies include adventure, fitness and new technologies. I am also a trekkie!