The Great Smoky Mountains is a mountain range that rides along the border of Tennessee and North Carolina. They are actually part of the Appalachian Mountain range and push a bit into the Blue Ridge Mountain region in Georgia as well. Smoky Mountain Glamping is a popular pastime in the area due to the endless outdoor activities provided in the region. You have the Great Smoky Mountains National Park and Nantahala National Forest both with miles and miles of trails. Water sports, biking, horse riding, fishing are just a few other fun adventures to partake in while Glamping in the Smoky Mountains.
Now luxury camping in the Smokies can consist of anything from canvas tents and treehouses to train cabooses and Smoky Mountain Yurts. There are a few popular spots around the Smoky Mountain region for glamping including some in Tennessee and some in North Carolina. There are some great spots for Glamping Pigeon Forge to choose from as well as Glamping in Gatlinburg TN. We have some great spots near Waynesville and Topton North Carolina. So browse through our list and choose your favorite for your next Smoky Mountain Glamping Getaway!
Check out our Asheville Glamping Guide or Treehouses in Red River Gorge
Our Top Spots for Smoky Mountain Glamping
---
This one-of-a-kind luxury Smoky Mountain yurt rental In Topton, North Carolina is the ideal getaway for just about any traveler. The Smoky Mountain glamping yurt pleasantly accommodates four people with two bedrooms and a complete bath. Your own deck, which contains a fire pit and hot tub with a calm brook running nearby. The place is surrounded by the stunning Great Smoky Mountain environment. This yurt offers everything you could want and more for the ideal holiday.
This fantastic holiday experience will be with you for the rest of your life! In fact, this magnificent plot of property has four yurts, so it's a great place for a family trip.
Recent Review: "I needed a change of scenery and relaxation and this definitely have me both. Yurt was clean and had everything to make it feel like home. Plenty of things to do in the area even with my trip being off season. The best thing was that my four paw child could join and the creek was her jam lol. I'll definitely be back"
With all of the amenities of a hotel, plus a kitchen, outdoor fire pit, and grill, you can't go wrong with the Creekside Cabins near Bryson City, North Carolina. Expect to be surrounded by nature and to fall asleep to the sounds that only the Smoky Mountains can offer. You can comfortably sleep 2 adults and 2 children, and when you are ready to explore, this property boasts a location that is only 1 mile away from the Great Smoky National Park. You will enjoy the unmatched beauty of the Smokies while still having access to the comforts of home.
If you're looking for an unquestionably unique experience that allows you to live off the grid comfortably, the boathouse in Robbinsville, North Carolina is the perfect getaway for you!
This boathouse is only accessible by boat or canoe, meaning your privacy will be unmatched. What's more, there is no wifi, truly allowing yourself to disconnect and re-energize. This is the perfect example of glamping – bring your own water and blankets, but enjoy a kitchen, comfy beds, and a TV with you and up to 3 guests. It is important to note that you need to have all of your reservation information printed out ahead of time because there is no wifi or service once you begin the trek to your boathouse.
Recent Review: "It was an excellent well kept vacation property. Stacked well with all of your creature comforts you could ask for. Extremely accommodating and some of the best views of lake Fontana and the Beautiful surrounding mountains."
Located in Bryson City, North Carolina, this 1965 Vintage Camper has all you need to successfully glamp and more! Fully restored and equipped, this camper will transport you back in time. Expect to sleep a maximum of 4 people, but 2 adults most comfortably. Wake up to the babbling stream and enjoy your morning cup of coffee in peace. Then, when you're ready for an adventure, venture over to Deep Creek White Water Rafting for some fun!
Look no further than the Lil' Red Caboose on the Creek in Bryson City, North Carolina for all of your Smoky Mountain glamping dreams! What's more fun than spending the night in a red caboose while enjoying the beauty of the Smoky Mountains? Including a queen bed and a dinette that turns into a twin bed, you and up to 3 other guests can experience this once-in-a-lifetime glamping train. If you need more space for guests, there is a second caboose right down the trail. Enjoy the privacy of the woods with all of the amenities of home — and a few hammocks to boot!
Recent Review: "This property was the perfect spot to spend the night after riding the Polar Express. My 2 year old is obsessed with trains, and he loved the place. I didn't think we were going to be able to get him to leave the next morning. The caboose is similar to staying in a camper, so it is of course a smaller space, however it is very clean and exactly as advertised. The site is absolutely perfect – complete with fire pit, chairs, and corn-hole boards."
A modern tiny home with natural light and plenty of space for friends and family, this accommodation has everything you could ever want for glamping. Equipped with a kitchen, bathroom, 3 beds, and wifi, the Lækjarhús Tiny Home in Pigeon Forge, Tennessee is the perfect escape. Enjoy dinner by the fireplace, listen to the creek nearby, and explore the Pigeon Forge Strip all while staying in a contemporary tiny home! You can comfortably sleep 4 people, but you may want the whole place to yourself!
Live out all of your Hobbit-inspired fantasies in this tiny home located in Pigeon Forge, Tennessee. Decorated to remind you of your favorite novel, combined with amenities like high-speed internet, a fireplace, a/c & heat, a kitchen, and a bathroom, you'll sleep easy knowing you have everything you could need for Smoky Mountain glamping! The tiny home is made from repurposed materials from the surrounding communities, making this the ultimate combination for all of your Pigeon Forge glamping desires. You can sleep up to 4 guests between the sofa bed and the queen-sized bed.
Every kid wanted an epic treehouse in their backyard. Well, now you can experience the luxury treehouse in Sevierville, Tennessee that was built by the Treehouse Guys of the DIY show network! You will be immersed in the calmness of nature, while still enjoying your favorite Netflix or Hulu shows if you choose. Strongly built around multiple trees, this treehouse meets all of your needs. It has a kitchen, bathroom, a deck with chairs, and a hot tub! Imagine sitting on the deck looking at the beautiful landscape and sky of the Smoky Mountains, while in a tree!
This luxurious canvas tent is truly the best of both worlds. You get the authenticity of camping in a tent with the glamorous amenities of home. Located in Jonathan Creek, North Carolina, you can enjoy a comfy queen-sized bed, while still experiencing what it is like to camp in the great outdoors. There is a grill and all of your cooking essentials, along with an outdoor shower and a private outdoor bathroom. It comfortably sleeps 2 people, but for an additional charge, you can add an additional 2 persons — perfect for a cozy family getaway!
Be completely immersed in the great outdoors and enjoy the amenities of a hotel because this property has over 50 rooms! Accommodations vary from smaller tents with a shared bathroom to suite size tents with a private bathroom. Located in Sevierville, Tennessee, this is the perfect place to stargaze with your family and create the perfect Smoky Mountain Glamping experience. There are biking and hiking trails nearby, food made to order, grills to enjoy dinner outside. Your room is a large canvas tent, so you can camp in style!
Recent Review: "Staying at Under Canvas was the highlight of our trip to the Smokies. It is a great place to relax and disconnect! No cell phone service or wifi. The staff is lovely and the grounds are beautiful. The only negative is that the kitchen uses plastic cutlery while serving meals."
Are you looking for the tranquility that camping offers, but also really looking forward to getting a good night's sleep on your trip? Canopy Ridge in Pigeon Forge, Tennessee is the perfect Smoky Mountain glamping experience for you! This property offers a luxury safari tent equipped with an outdoor shower, fire pit, and comfy bed. There are shared bathrooms on the property, as well. Canopy Ridge gives you the opportunity to disconnect from the fast-paced world and live off the grid for a short time.
Recent Review: "My husband and I love to camp and driving from FL it was really nice to not have to haul every single piece of camping equipment. We were in safari tent 4 which was furthest from parking and most secluded. Highlights for us:
1. The private outdoor heated shower! My favorite was waking up in the cool morning air and taking a hot shower under the trees 🙂
2. Very clean and well kept tent, bed, etc. you can tell the owners take pride in their property
3. The coffee bar w/ a keurig by the parking and shared bathrooms."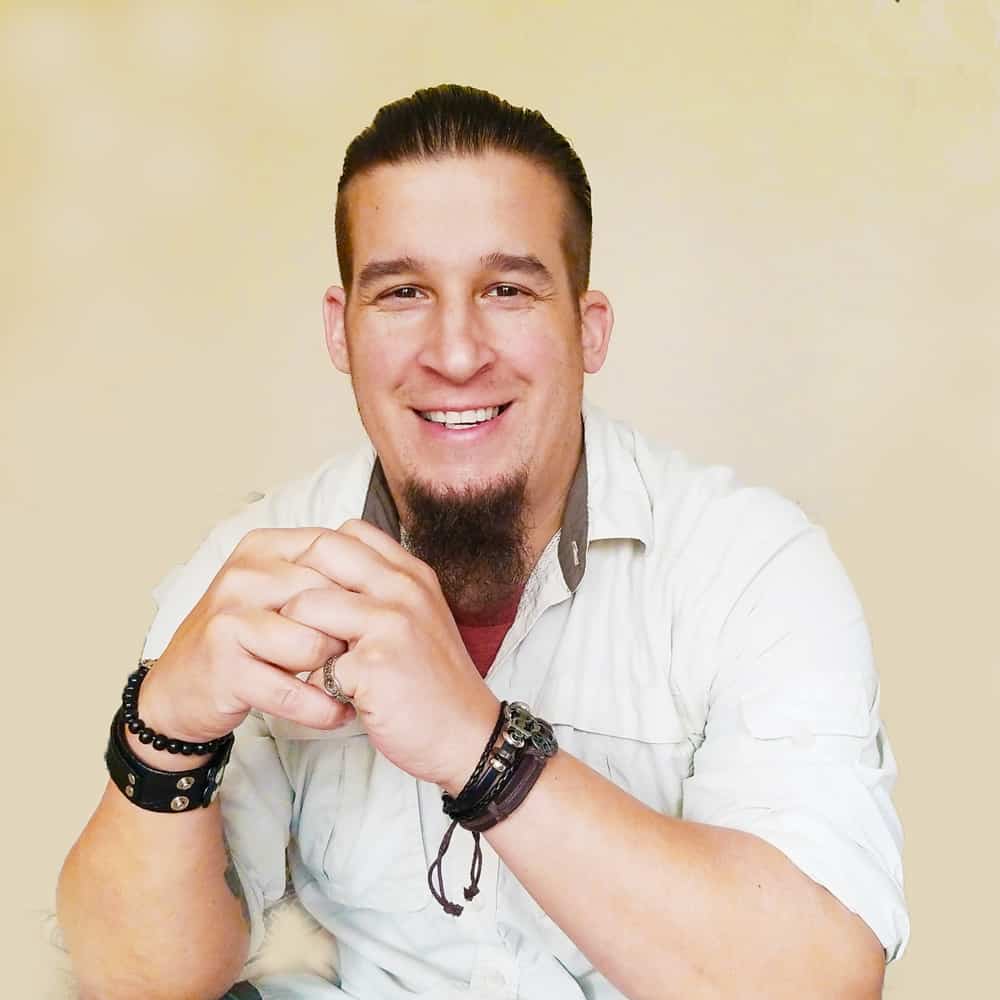 Full-time World Travel Writer who runs multiple websites and social media accounts. I have spoken at various conferences around the world. Some of my hobbies include adventure, fitness and new technologies. I am also a trekkie!