Experience the warmth of Southern hospitality coupled with the raw beauty of the great outdoors in a distinctly Alabamian style – by glamping in Alabama. Alabama is recognized for its rich history, diversified landscapes, and vibrant culture, but it also has a plethora of unique glamping locations that give an innovative take on typical camping. From the Appalachian foothills in the north to the sandy sands of the Gulf Coast, the Heart of Dixie welcomes explorers, adventurers, and leisure seekers alike to immerse themselves in its natural splendors while enjoying the pampered, intimate appeal of premium camping.
These glamping in Alabama locations, nestled in Alabama's lush forests, beside tranquil lakes, or beneath the huge Southern skies, serve as a gateway to the state's mesmerizing landscapes and outdoor activities. The four varied seasons of the state provide a shifting backdrop for outdoor activities, making each glamping excursion unique. Explore the Talladega National Forest's trails in the cool fall air, paddle along the Alabama Scenic River Trail in the summer heat, or marvel at the animals of the Gulf Coast during the spring migration season – all from the comfort of your luxury tent, cabin, or treehouse.
Exploring Alabama's glamping scene is about more than just magnificent vistas and exciting activities; it's also about learning about the state's unique culture and traditions. Many glamping locations are near historical monuments, dynamic cities, and lovely little villages, providing guests with a mix of natural retreat and cultural exploration. Discover local craftsmen and music, or dig into the rich history of Civil Rights – all within walking distance of your magnificent glamping retreat.
Glamping is more than simply a vacation in Alabama; it's an experience that combines luxury with nature, comfort with adventure, and local culture with outdoor living. Pack your luggage and get ready to see Alabama like you've never seen it before – via the unforgettable and captivating experience of glamping in Alabama.
A few other amazing locations for Glamping:
Top Glamping in Alabama Spots to Book Now!
---
Location: Cherokee County
Fleu da Coop is a one-of-a-kind glamping experience in Alabama's heart. Fleu da Coop, a repurposed 38-foot 2003 Bluebird school bus, is the latest in a line of inventive conversions known as skoolies. This skoolie is much more than a normal holiday rental; it offers a unique combination of luxury and coolness, making it an ideal fishing camp for anyone wishing to explore Weiss Lake, the Crappie Capital of the World.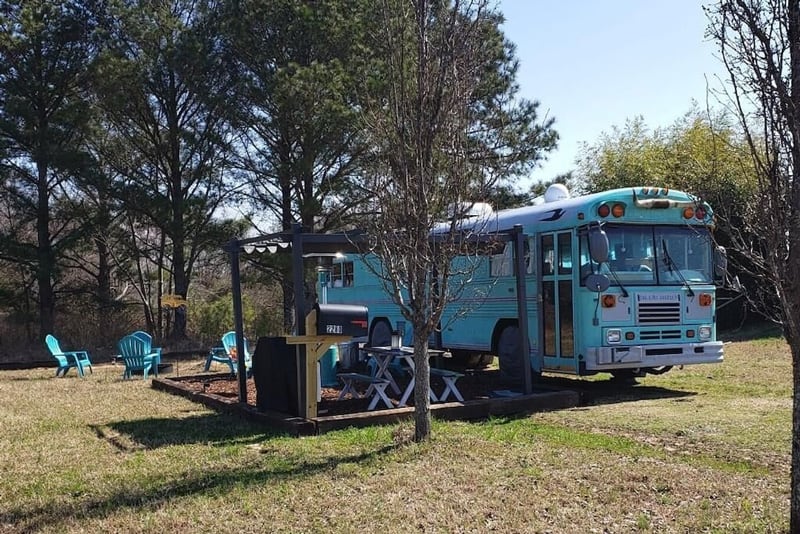 Fleu da Coop accommodates four people comfortably, with a queen memory foam bed in the rear, a twin memory foam bed in the cabin, and another twin memory foam bed that also serves as a sofa. Each sleeping area has been attentively planned, with the queen bedroom including a TV and convenient nightstands with shelves, lighting, and USB outlets.
The skoolie's kitchen is small but well-equipped, with a 2-burner RV-size propane stove top, a gas grill with a side burner on the patio, a wine refrigerator, and a hotel-size refrigerator/freezer combo. Small gadgets such as a microwave, coffee maker, tea kettle, and mixer fill out the culinary options, as do all of the requisite pots, pans, cooking utensils, plates, and glasses.
While room is limited in a skoolie, Fleu da Coop has made the most of every square inch. The bathroom is designed around the wheel well of the school bus, resulting in a limited entry but a complete stand-up shower. The bathroom is completed with a wall-mounted lav sink and a normal home toilet. The bus also has two Smart TVs, both of which are loaded with YouTube TV Premium, enabling visitors access to live channels, including local stations.
Fleu da Coop encourages outdoor living with a patio area that contains a picnic table, a huge outdoor space heater, an Adirondack chair fire pit, and a canopy-covered seating area. Guests are welcome to visit the 23-acre farm, meet the resident alpacas, emus, goats, and chickens, and even taste fresh eggs and local honey produced on the property.
However, if you want to bring a boat, keep in mind that, while the lake is nearby, it is not immediately accessible from the property. But don't worry, the nearest launch is less than a mile away, and there's plenty of safe boat parking. Fleu da Coop provides an exceptional glamping in Alabama journey, whether you're searching for a unique fishing retreat or a farm stay experience.
Location: Tallapoosa County
The Shaka Style Safari Tent provides a wonderful glamping in Alabama experience for music lovers. This unique glamping site, inspired by a loft in an 1899 building in downtown Nashville, is furnished with painted and autographed guitars, Nashville related paintings, and other signed artifacts, paying respect to the legendary Music City. The tent is 650 square feet in size, with two beds and a big tiled shower. The decor is sleek and edgy, with comfy seating and a lovely cooking space complete with a refrigerator and microwave. There are additional dining options for up to six people.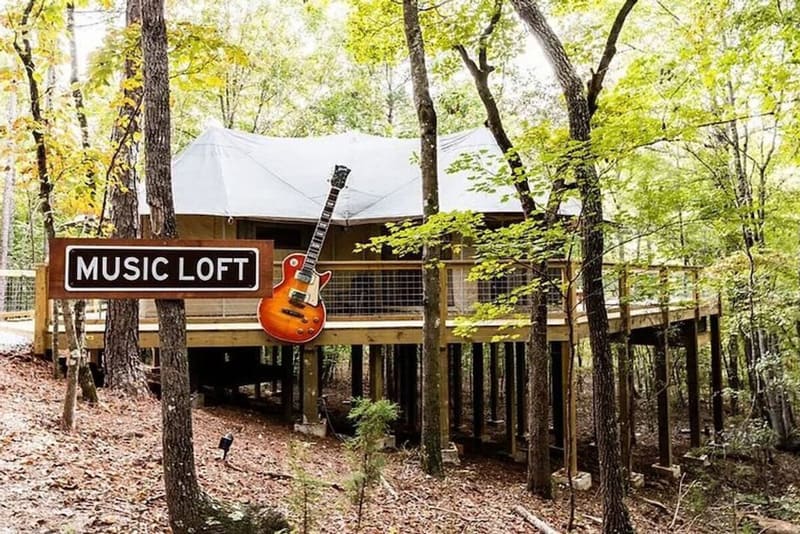 The tent's attraction extends beyond its inside; it is enhanced by approximately 1300 square feet of decking, which provides enough outside living area. The deck has both covered and uncovered parts, as well as a barbecue and a 7×7 hot tub. This glamping location combines an immersive music-themed experience with the excitement of outdoor living. The hosts joke that the only thing lacking is a 10′ towering Gibson Guitar built by Montgomery Gentry. But who can say? It might be right around the corner.
Location: Baldwin County
The Silver Star is a freshly restored Airstream on a 10-acre property that has been outfitted with all the pleasures and conveniences you'd expect from a glamping in Alabama experience. It has a variety of outside facilities to make your stay more enjoyable, such as an outside bed, sofa, shower, bar, and a huge farm table for dining al fresco. For all of your culinary requirements, there is a huge stainless BBQ grill and a second outside fridge.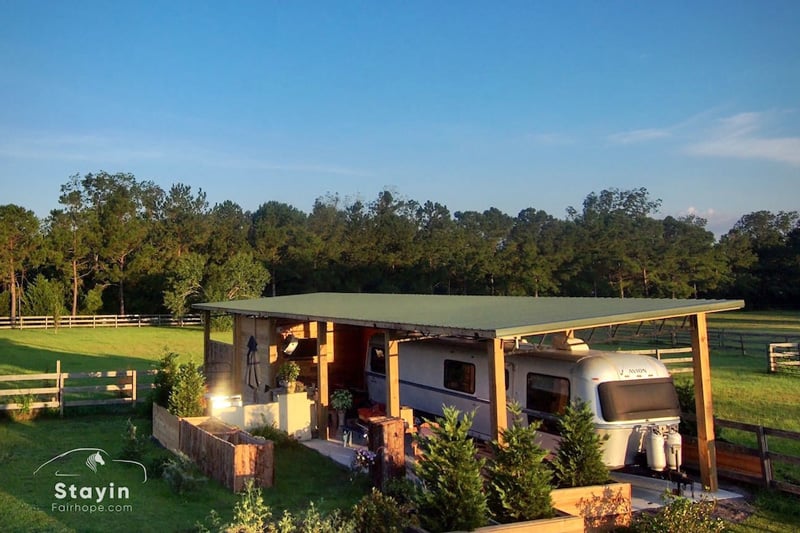 To keep you comfortable no matter what the weather, the outside space is covered to shield you from rain and wind and contains two massive fans for those hot days. A 55″ smart TV with a sound bar is supplied for amusement.
The Airstream has a California King incredibly soft bed, a bathroom with a shower and a tiny tub, a lovely dinette, and a leather sofa that converts to a double bed. For your convenience, the Silver Star also has a fully functional kitchen.
The entire farm is smoke-free, both inside and out, assuring clean and fresh surroundings during your stay. The Silver Star promises an exceptional glamping in Alabama experience, combining farm life's rustic beauty with modern comforts and services.
Location: Baldwin County
Glamping in an Airstream on a private horse farm offers the distinct pleasure of fresh air, starlit nights, and the comfort of green grass beneath your foot. The Silver Sail, a 2001 Airstream, provides all of the amenities of a hotel while being surrounded by nature. It has a brand new covered outside area, privacy curtains and shades, and a 55″ TV/DVD player for enjoyment.
The Silver Sail is just minutes from the Magnolia Springs River, where you can go kayaking or biking to Weeks Bay. If you don't mind a little trip, the gorgeous beaches are just about 40 minutes away, and downtown Fairhope, a small and attractive city on a plateau overlooking the cliffs and shoreline of Mobile Bay, is only about 15 minutes away. Southern Living magazine awarded the community the greatest small town in the South in 2016.
The private outside space of the Airstream has a comfy couch where you may rest, stargaze, or enjoy a movie from their extensive DVD library. The 20-acre Fairfield farm, which is home to horses and other animals, allows you to choose your own herbs and veggies from the gardens and greenhouse, providing a really immersive nature experience.
The property is fenced and quite secluded, with its own lane. The entry is protected by a code and security cameras, making visitors feel safe and unique. The farm is strategically placed, only 5 minutes from Magnolia Springs, Mobile Bay, and Point Clear, 20 minutes from Foley's shopping centers and the new amusement park OWA, and 35 minutes from the beautiful white sand beaches of Orange Beach, Gulf Shores, and Perdido Beach.
Guests may also visit the neighboring Weeks Bay Estuary, a beautiful protected bay watershed where Magnolia Springs and the Fish River discharge into Mobile Bay. There are several activities and sights in the region that cater to all interests. Alternatively, you may just relax, reconnect with one another, and soak in the natural beauty that surrounds you during your time at Little Fairfield Farm, as most guests do.
Location: Crane Hill
The Wanderlust Treehouse, perched high in the trees inside a private 40-acre forest, provides a unique and exclusive glamping experience. This adults-only hideaway is ideal for couples seeking a romantic holiday, a honeymoon, or a peaceful setting to reconnect with nature.
The treehouse is an hour's drive from Birmingham and Huntsville, Alabama, and only 10 minutes from a boat launch on Smith Lake, which offers a range of neighboring attractions. Guests may explore natural walks on the grounds, unwind by a seasonal 2-acre lake, and sip their morning coffee on the porch, possibly spotting a local deer.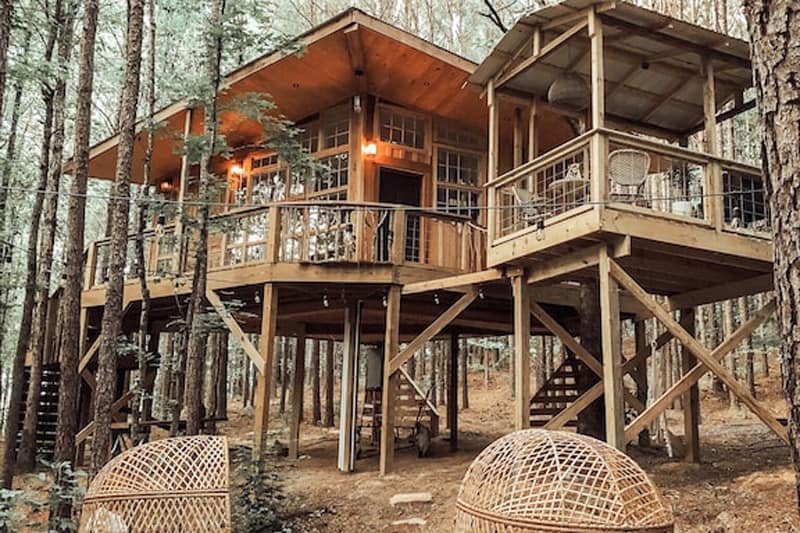 Due to severe allergies, the treehouse, which is 15 feet above ground, is an animal-free zone and is not suited for children. It offers a premium glamping in Alabama experience, complete with an outdoor shower (closed from December 1st to February 28th owing to cold weather) and a kitchenette for basic food preparation. With no Wi-Fi or TV, the resort invites guests to disengage from digital distractions. Guests may instead enjoy the nearby waterfalls, hiking trails, and horseback riding options.
For individuals who wish to remember their amazing visit, the hotel also provides short photo sessions. A basic supply of paper items, cleaning supplies, soap, and hairdryers are given for a comfortable stay. Guests are invited to arrive on Mondays, Wednesdays, or Fridays to experience the peace and quiet of the woodland.
Location: Marshall County
This modest retreat cabin, tucked away at the end of a lonely lane, provides an exquisite vacation for couples. Despite its small size (224 square feet), the cabin has been deliberately built to optimize comfort and space, with a full-size bed on the first level and a loft with a queen-size memory foam mattress. It is tucked in a quiet area that guarantees peace and seclusion, with the host's house around 400 feet away.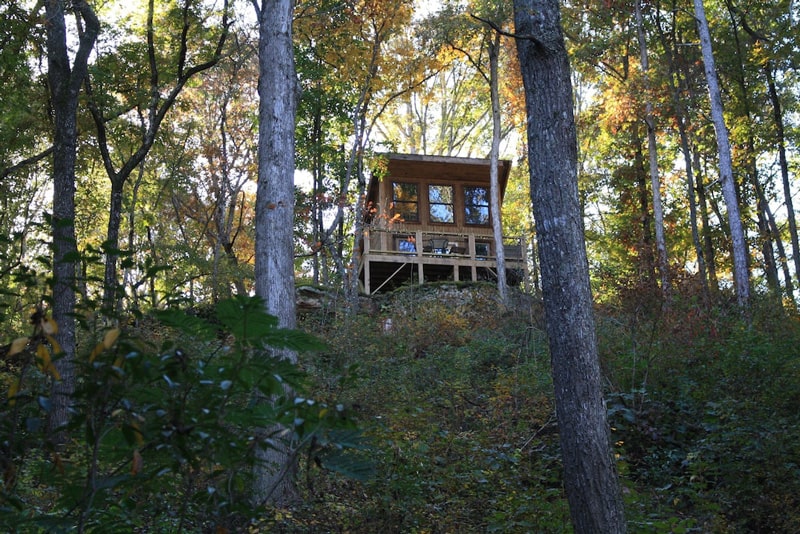 The cabin has basic conveniences such as a microwave and a Keurig coffee maker, and while it does not have a full kitchen, visitors may cook on the outdoor grill. The bathroom has a shower, toilet, and basin, as well as an outdoor shower for those who prefer to bathe outside.
Guests may take a walk that leads to a creek and a secluded beach area. The enormous fire pit is ideal for quiet nights, and visitors are allowed to pick wood for use from the property. The hot tub overlooks the stream and provides an unmatched view, making it the ideal place to unwind. The cabin's appeal stems from its simplicity and closeness to nature, providing a quiet retreat that images just do not do credit to. A great glamping in Alabama option for sure.
Location: Alpine Bay
This distinctive Pacific Yurt offers a terrific retreat on the picturesque Logan Martin Lake, noted for its exceptional fishing and boating options, and is located 15 minutes south of Interstate I-20 and Talladega Speedway between Birmingham, Alabama, and Atlanta, Georgia.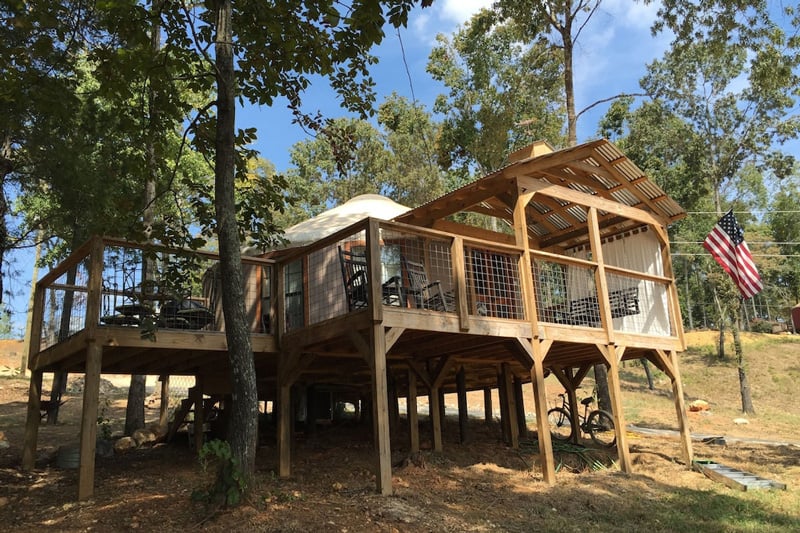 This yurt can sleep up to 8 people comfortably. It has a separate bedroom with two twin beds that can be united to make a king-sized bed, as well as a loft area with one full and one queen mattress. If needed, there is also additional sleeping space on the couch. The glamping in Alabama yurt has heating and air conditioning to keep you comfortable all year.
The kitchen features granite countertops as well as a stove, refrigerator, conventional coffee maker, and microwave. On the terrace, there is also a charcoal BBQ for outdoor cooking. The bathroom contains a stand-up shower, as well as new towels and bed sheets.
The balcony overlooks the tranquil Logan Martin Lake, making it an ideal area to unwind and take in the scenery. Please keep in mind that no dogs or smoking are permitted inside the yurt for the sake of safety and upkeep.
Check-in is at 3 p.m., and check-out is at 11 a.m. If these hours are inconvenient for you, please connect with us since the yurt is in great demand and requires adequate time for cleaning and renewing bedding between visitors.
You may hire a boat from a neighboring marina and use the park's communal boat docks, boat ramp, and white sandy beach. Because this is a rural location, packing light is recommended. There is an outside fire pit available for your use.
Location: Lauderdale County
This beautiful 23-foot dome is located near the shore and offers a perfect retreat for people looking for relaxation and refreshment. As you step onto the balcony, you're greeted by a tastefully constructed place outfitted with everything you need for a relaxing and sumptuous stay.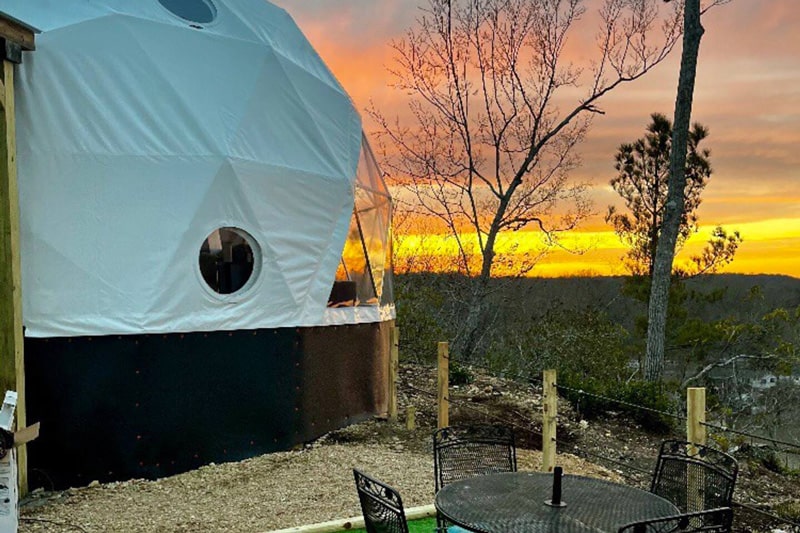 Enjoy the sunshine and the stunning waterfront views from the balcony. With a rustic pergola and shimmering hanging lights, this outdoor space is ideal for partying or simply taking in the scenery.
Inside the dome, you'll discover a beautiful king-size bed, a full kitchen, and a bathroom, all of which are meant to make your stay as comfortable as possible.
This property is suitable for a lonely retreat, a romantic trip for two, or even a gathering of family or friends. Celebration stays, which include two wonderful star-gazing Bell tents, a cottage, and a loft cabin that can accommodate four people, are available for bigger parties. All of these attractions are on the same beautiful site. There is also an additional outdoor bathroom and shower, making it possible for friends and family to remain together in the same location. This waterfront dome definitely gives a one-of-a-kind and spectacular glamping in Alabama experience for all guests.
Location: Rogersville
With this elegantly decorated Belle Glamping Tent, you can escape into a world of splendor. This tent overlooks the sea and is ideal for a romantic getaway. Relax in your quiet refuge, eat on your balcony, and enjoy an open-air shower under the stars.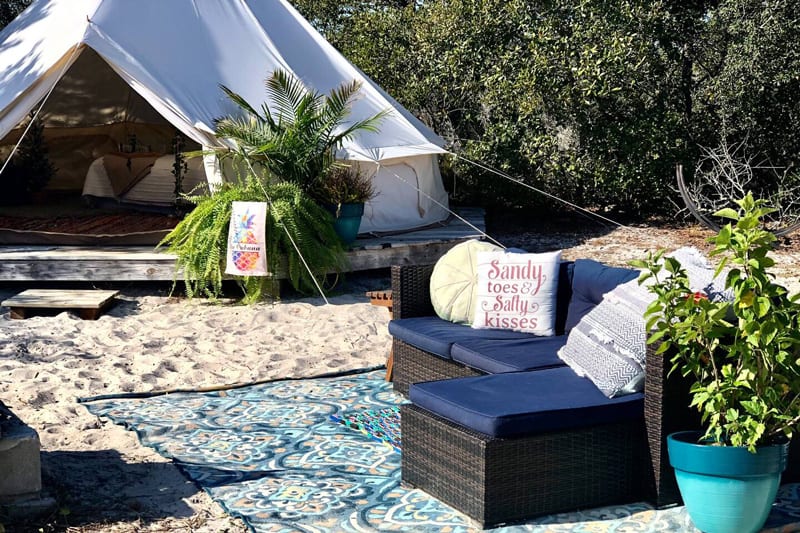 The fire pits add warmth and a wonderful glow to the inviting environment, while the hanging lights serve as a lovely focal point for parties. Enjoy the fresh wind coming off the ocean while immersed in the luxury of luxurious furniture.
The glamping tent has been lovingly arranged and is meant to comfortably seat two guests in a queen-size bed, complete with sheets, pillows, and blankets. A restroom, shower, BBQ grill, and fire pit are available. There's also an outside eating space with mosquito netting, lounge places, string lights, a hammock, and four seats.
This glamping tent in Alabama is insulated and outfitted with electric heaters for chilly evenings and portable fans for hotter days. This Belle Glamping Tent genuinely offers a lovely and tranquil retreat.
Location: Gulf Shores
The Crows Nest Casa de Playa, located in the heart of Fort Morgan, provides a one-of-a-kind coastal getaway. This unique glamping location has a fire pit, picnic area, and plenty of outdoor seating. Guests may use the pool, the pleasant Crows Nest porch, free WiFi, normal TV channels, and an outdoor shower. The property is enjoyable and convenient to both the beach and the bay. While the property welcomes pets, guests are advised to bring a leash because the area is not gated. The Crows Nest offers spectacular vistas and is a must-see throughout your trip. The only items attendees must bring are flip-flops and swimwear.
The property's Bohemian-themed tent offers a unique glamping in Alabama accommodation. It has a king-sized bed, air conditioning, and a charming electric fireplace. It is worth mentioning, however, that the yurt may get fairly warm during the day, especially from June to August. when a result, it is recommended that visitors spend their days at the beach and return to the yurt when the sun sets. The air conditioner does keep the yurt cold, but the cool air escapes readily.
All public beaches are open, and dogs are allowed in Fort Morgan. The property has an outdoor shower as well as a common outdoor porta-john. There is also a selection of guest amenities and bath towels. There have been some concerns with the outdoor toilet stall since Hurricane Sally, which has resulted in a lease on a porta-john for the convenience of the glamping guests.
The Crows Nest porch, dubbed "the best porch ever," serves as the home's focal point. Guests may relax in the saltwater pool, play ring toss, watch WiFi TV, and have a nice time in general. The hosts supply beach towels as well as clean towels/washcloths for showering.
The remarkable Bell Yurt Tent has a king-size bed with a bohemian/Mexican flair. There's also a picnic area, an outdoor charcoal BBQ, tables, and seats so guests can have the whole outdoor camp experience.
Things to do when Glamping in Alabama
---
Glamping in Alabama is an invitation to immerse yourself in the beauty of nature while yet enjoying the comforts of home. Alabama is a treasure mine of natural beauties and rustic charm, stretching from the rolling Appalachian Mountains in the north to the calm Gulf Coast in the south.
The Heart of Dixie provides a range of outdoor activities and rural areas that make glamping here a unique and unforgettable experience, whether you're hiking through green forests, canoeing down tranquil rivers, birding on gorgeous paths, or visiting historic monuments. Discover the allure of Alabama's natural beauty with these nature-focused activities and attractions:
Alabama's State Parks and Trails: Alabama's state parks are a terrific location to start. The state's largest park, Oak Mountain, has more than 50 miles of hiking, bicycling, and horseback riding trails, as well as fishing, paddle boarding, and bird viewing. Peavine Falls, a beautiful 65-foot waterfall, is also located here. DeSoto State Park, located atop Lookout Mountain, is another excellent location for hiking and waterfall watching. If you enjoy birding, don't miss the Alabama Birding paths, which span the whole state and include coastal, interior, and mountain paths.
Cahaba River: Visit the Cahaba River for a day of water-based fun. The Cahaba River, Alabama's longest free-flowing river, is recognized for its diverse biodiversity, including the world's biggest population of Cahaba lilies. You may explore the river at your own speed by renting a canoe or kayak, or you can join a guided trip to discover more about the area's unique ecosystem.
Cheaha State Park: If you're looking for sweeping vistas, Cheaha State Park is a must-see. It is located in the Talladega National Forest and features Cheaha Mountain, Alabama's highest peak. Hike or drive to the peak, where an observation tower provides panoramic views of the surrounding forest and valleys. Cheaha State Park also contains a variety of hiking paths ranging from simple to difficult, and it is part of the Pinhoti Trail, a 335-mile road that runs across Alabama and Georgia.
Fort Morgan: Fort Morgan, located on Mobile Point at the end of Scenic Highway 180 in Gulf Shores, is a historic landmark that played an important part in the Civil War. While it is not a natural landmark in and of itself, the region surrounding the fort is stunning, with sandy beaches and clean waterways. Birdwatchers flock to the Fort Morgan Birding Trail, especially during the spring and fall migrations.
Conecuh National Forest: For a taste of rural Alabama, visit the Conecuh National Forest in the state's south. The Conecuh Trail, a 20-mile walk through longleaf pine woods, crystal blue lakes, and undulating hills, is located in this lovely woodland. The forest is also an excellent location for camping, picnics, and animal viewing.
So if you are planning a getaway to Alabama or simply need a retreat from the city, glamping in Alabama is a great option to immerse in nature and explore the region in a new way. Enjoy!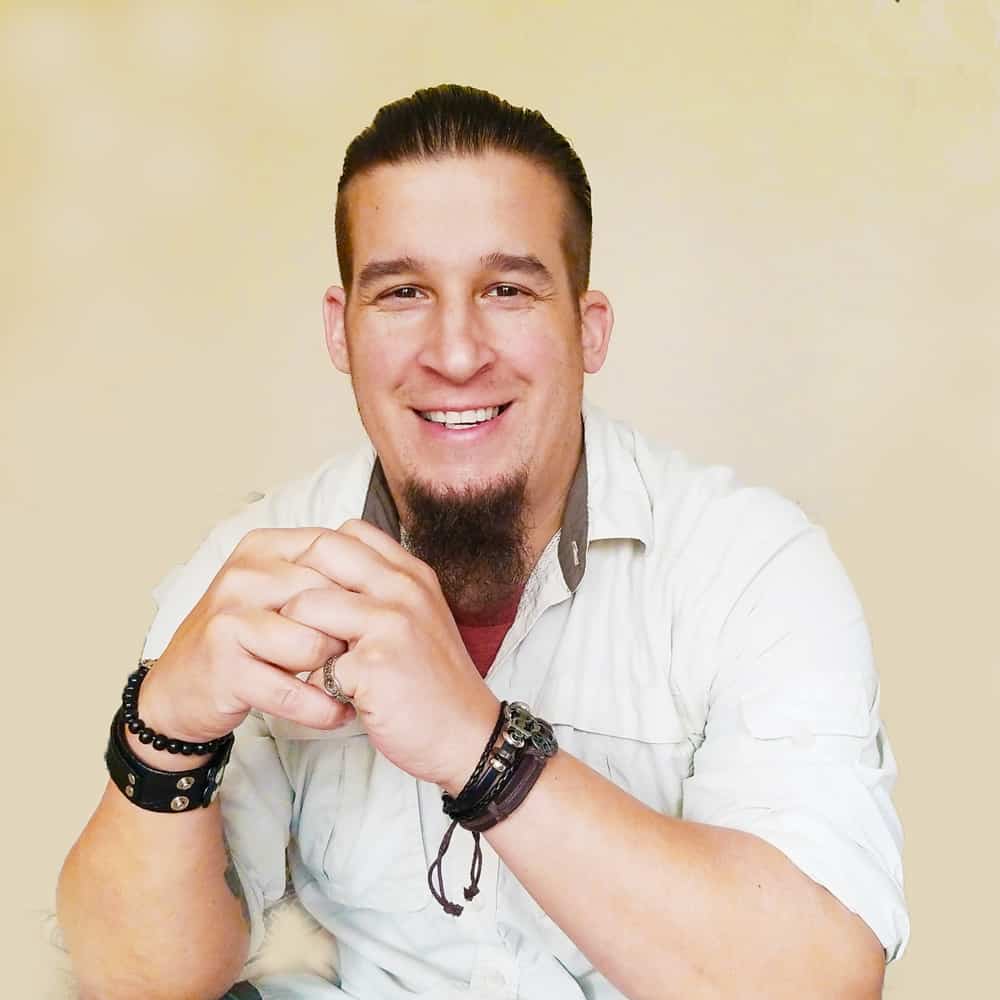 Full-time World Travel Writer who runs multiple websites and social media accounts. I have spoken at various conferences around the world. Some of my hobbies include adventure, fitness and new technologies. I am also a trekkie!