Glamping in Northern California is trending like crazy right now! People are flocking from all over the state and the country to this area for unique glamping getaways not easily found in other parts of the country. From glamping in the Redwoods to remarkable Bay Area Glamping in Sonoma and Napa Valleys. You can choose from Luxury camping in Yosemite to a chalet in Tahoe. The possibilities of immersing yourself in nature while relaxing in comfort are endless. Northern California Glamping can reset and recharge your body and soul with its extraordinary landscape and a bucket list of nature activities to enjoy.
There are a few specific areas where Glamping Northern California is most popular. This tends to be due to the distinctive landscape and sights of that particular region. Also, close proximity to major metro areas, makes it easier to do a weekend getaway or quick overnight reset. This is why Glamping the immediate Bay Area is probably the most popular as you have locals from San Fransisco wanting a quick glamping getaway and those from out of town that want to be nestled in nature but also close to all the tourist activities of the city. Outside the Bay Area, we have included some of the other popular Northern California Glamping regions and our top locations to book in them. We also have some awesome Glamping in Southern California options.
Popular Northern California Glamping Regions
---
The Redwoods
Known as nature's skyscrapers the Redwoods is a must-see experience for any lover of forests. These monsters may reach a diameter of 30 feet (9 meters) and a height of more than 250 feet (76 meters).
Napa and Sonoma Valley
These are the popular wine-making regions of California with beautiful vineyards and miraculous wineries to explore and taste some of the world's best wines.
Yosemite National Park
Yosemite National Park, established in 1864, is more than a magnificent valley; it is a temple to creative forethought, natural stone grandeur, glacial force, biological perseverance, and the peacefulness of the High Sierra.
Lake Tahoe
Lake Tahoe, with its 300 days of sunlight, is a year-round playground for outdoor activities. Summer activities include swimming, kayaking, and windsurfing, while winter sports include superb skiing and snowshoeing.
Other Glamping in California Articles
Glamping Joshua Tree National Park
Our Top Spots for Glamping in Northern California
---
Location: Nevada County, California
No matter the season, this 30' yurt situated near the Yuba River will provide you with the comforts of home paired with the adventure you are craving! There is a fully stocked, full-size kitchen, a comfy queen-size bed, and a bathroom. Enjoy a quiet evening in the claw foot bathtub under the stars or lounge outside on the deck. Equipped with wifi, but no TV or phone, you can choose to completely immerse yourself in nature, but could even get some work done, if needed! In the summer, explore the nearby Tahoe National Forest or go mountain biking on the endless trails. In the winter, enjoy the beauty of Northern California and the seclusion from busy city life.
Recent Review: "My partner and I booked this place for a long weekend getaway, and it was perfect — bigger than we'd expected and nearly all the comforts of home (and then some; the outdoor clawfoot tub is amazing!). It'd be a great place to hunker down for a peaceful stay in the woods, but Nevada City and Grass Valley also have excellent bars and restaurants a short drive away. Kathy and Jim were terrific about communicating the quirks of yurt living and expectations of guests. Looking forward to our next stay!"
Location: Nevada City, California
The perfect getaway for two, this "hideaway" property offers the convenience of location with the beauty and peace of nature. Just minutes away from the downtown of the historical district of Nevada City, guests can enjoy the activities the city has to offer and then retreat to the peace and quiet of this property. Even better, you can bring your furry pal along for the adventure! A full bathroom, kitchen, and stunning patio with an outdoor firepit all elevate the Creekside Hideaway and includes everything you could ever need for your glamping in Northern California dreams. The sound of the creek nearby will lull you to sleep!
Recent Review: "This property is in a charming location on the edge of downtown Nevada City. It's a short and pleasant walk to any Nevada City shop or restaurant. We really enjoyed sitting by the fire pit in the evening with the sound of the stream below us and the bright starry sky above us. The room is a delight and we felt very much at ease here. I would recommend this creekside gem to any friend and family."
Location: Anchor Bay, California
You couldn't get closer to the water if you tried with Cabin 5 on the Bluff. Talk about being one with nature while enjoying all of the amenities of home. The view is unmatched from the deck that sits over the water. With a full-size kitchen, bathroom, living room, and 2 beds that sleep up to 4 guests, this cabin is perfect for your cozy camping adventure. If you get lucky, you may even see a whale or sea lion while taking in the beautiful scenery! What's more, they have a sauna and fire pit so when you get back from kayaking or exploring the nearby town, you can relax and unwind.
Recent Review: "We loved our mini vacation at Cabin 5 on the bluff. Location is fantastic and Cabin 5 has everything. We enjoyed toasty fires, soaking in the sun on the deck, and relaxing in n the lawn. We'll be back. Thank you"
Location: Pioneer Trail, California
This stunning and modern A-Frame Chalet is the perfect way to go glamping in Northern California in style! A walk-in shower, jacuzzi, additional half-bath, full-size kitchen, and 2 beds — what more could you ask for? The floor-to-ceiling windows make it impossible to miss the beauty of Tahoe. Start your day with a cup of coffee on the back deck, then go exploring or swimming in the lake, and end the day cuddled up in front of an electric fire with a good book! And if you really want to, this property offers the convenience of an in-house washer and dryer, making it so much easier to dry your bathing suit after your swim.
Recent Review: "We loved our stay at this awesome A-frame. Everything you need to chill is here – coffee, cocoa, books, games, a nice bottle of wine, comfy beds, alexa, tv AND a record player! Our 10-year old loved having the loft to himself. Super clean upon arrival and lots of useful recommendations for local activities, dining, drinks, shopping, etc. Great, quiet location just a short drive from the action with easy check in and check out. If you are on the fence, I highly recommend you book it."
Location: Sonoma Valley, California
Enjoy the Russian River and all the sights and wonder of Sonoma County's popular Alexander Valley Wine Region at Wildhaven Sonoma.
Glamping at Wildhaven gives you the ability to enjoy 10-acres of riverfront property with facilities including clean restrooms and showers, an external kitchen, exclusive river access with beachfront, a shop with regional delights, yoga sessions, wine tasting, and live music. How much more could you possibly want?
There are a variety of glamping tents to select from at this Northern California Glamping resort. Standard tents (1 or 2 Queen beds or Bunk beds) are the furthest away from the edge of the river, Premium tents (1 or 2 Queen beds) are somewhat nearer, and Riverside tents (1 or 2 Queen beds) are, obviously, closest to the riverside. Electricity, WiFi, a covered porch, sheets, a lounge space, and an outdoor fireplace are included in all camps.
Location: Guerneville, California
Achieve a true level of peace and serenity at the Tree Fort. When you step out onto one of the two decks, you are met with nothing but nature. Sit in the hot tub, enjoy a glass of wine, and stargaze. There is plenty of space and privacy on this property. Included is a queen-size bed, a loft bed, and a separate private sleeping area with a queen-size platform sleeping area. A newly remodeled bathroom, a kitchen, lots of seating outside on the deck and in the living room, this property has everything you need to glamping in Northern California with your friends. If you want to "work from home" or stream the latest episode of your favorite show, the Tree Fort comes equipped with high-speed internet, as well.
Recent Review: "Loved the Tree Fort cabin, I call it Tiny Tree House Plus!! My dog and I had such a relaxing time…we were in heaven!"
Location: Santa Rosa, California
Looking for a Northern California glamping experience that includes a large property with a variety of accommodations, restaurants, and a spa? Safari West is for you! Oh, did we mention, the property has giraffes, cheetahs, monkeys, flamingos, and more that you can experience on a safari? This property is the perfect getaway for you and your family without having to travel too far away! Each tent has beds and a private bathroom. Enjoy the balcony for breakfast and then venture out and explore the on-site coffee shops, stores, and more. When you walk around the property, you might meet an animal or two. Where else can you get that type of immersive experience without leaving the country?
Recent Review: "Fantastic night with the kids, so fun to be able to walk around and visit the animals at night. Rooms are incredibly well appointed, feels like a 4 star hotel"
Location: Mariposa, California
There's nothing like experiencing Yosemite and all it has to offer and what better way to do it than glamping at Autocamp? Each suite is equipped with a comfortable bed, a fully stocked kitchen, a private bathroom, and a sitting area. The free bike usage is an added bonus that allows you to explore the surrounding areas at your leisure. The shared spaces such as the lobby, outdoor swimming pool, and terrace are beautifully maintained and offer plenty of space to gather with friends or family. Make smores or enjoy an evening of games. The options are endless at Autocamp Yosemite!
Recent Review: "It was one of the best experiences my family has ever had. I wish we could have stayed longer."
Location: Bayside, California
Enjoy the privacy of your own cabin with the amenities of a campground at Redwood Coast Cabins. The property includes a shared pool, yard games, and a playground. Each cabin has comfy beds, a private bathroom, a firepit, a kitchen, and more. Each cabin sleeps two people and is the perfect cozy getaway for a couple! What's even better is you can bring your family and friends and they can stay in a nearby cabin. Venture out to the nearby restaurants, bars, or hiking trails together, and then go back to your own privacy of the cabin.
Location: Mendocino County, California
Talk about the perfect glamping getaway! Be fully immersed in the serenity of the mountains here. The Romantic Ridgetop Escape sleeps three people but is the perfect getaway for two. You will feel right at home because this place has all of the amenities you'd ever need. Enjoy stunning views on the expansive, wraparound deck overlooking the mountains. Equipped with a private hot tub, master bedroom, walk-in shower, full-sized kitchen, and more, this getaway will take your breath away. Enjoy the scenery and peace of the property or go exploring at the nearby vineyard or state parks.
Recent Review: "Amazing views and quiet spot to relax and enjoy the coast! This is a great location for Anderson Valley wine tasting and hiking the Mendocino coast. Christina, the property manager, was great to work with and she took care of the only small issue we had immediately. This place will not disappoint!"
Location: Fieldbrook, California
Looking for the perfect property for you and your family? Enjoy having everyone together, while still having the privacy of your own space! You'll be surrounded by the beauty of the Redwood forest while enjoying some of the comforts of home and a comfy bed, but still getting the camping experience. Between the 2 cabins and treehouse, you can comfortably sleep up to 5 people. The best part of the property is that it includes 10 acres of private woods, so when you go exploring, you won't have to worry about crowds. It's important to note that the bathroom is in a separate building, so make sure to bring a flashlight for the middle of the night!
Recent Review: "My group and I had such a great time! It was so beautiful and the air was so clean and fresh! What a perfect little slice of redwood heaven!"
Location: Mendocino Grove, California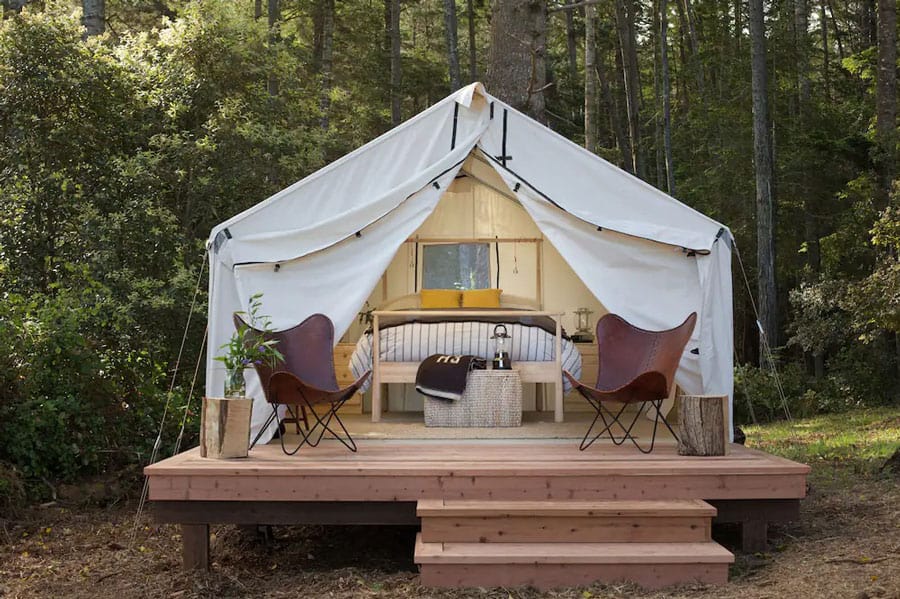 This property boasts 20 individual glamping tents only steps away from the beach! Each tent is equipped with a comfy bed, lounge chairs, and storage for your items. The bathroom is shared with the other tents on the property, but it is well stocked with all of the amenities you'd need for a comfortable stay! There are grills, firepits, picnic tables, and a playground on-site, along with a snack bar and deli! Relax with an on-site yoga class or bring your pet for a hike through the stunning woods or along the beach. This is the perfect getaway from busy city life.
Recent Review: "The place was like a hipster summer camp! We loved our cozy glamping tent! The bed with the heated blanket was the most heavenly sleep ever. The tents are decently apart from each other, but don't expect somewhere with complete privacy. Communal showers were kept very clean and were very modern. Loved the two options: chic & tiled or rustic with an open ceiling view of the redwoods. The private fire pit and grill were a huge plus. They also have plenty of firewood on-site for purchase, reasonably priced considering the convenience. I can't wait to come back and stay more nights!"
Location: Aptos, California
A true paradise retreat, the Mushroom Dome offers complete serenity and quiet in nature. Enjoy the comfy queen-size bed or pull-out couch, and sleep up to 3 people! Once you are at this property, you will feel very secluded, but it is only 10 minutes away from the nearest beach, grocery store, and shopping activities! They have wifi if you need it, but you can completely disconnect here if you choose. Included is a small shower and bathroom and kitchenette. A small note – if you're over 6' tall you might have to do some strategic ducking here and there. If you get lucky and stay there in the summer on a clear evening, you can even see the Milky Way!
Location: Santa Cruz, California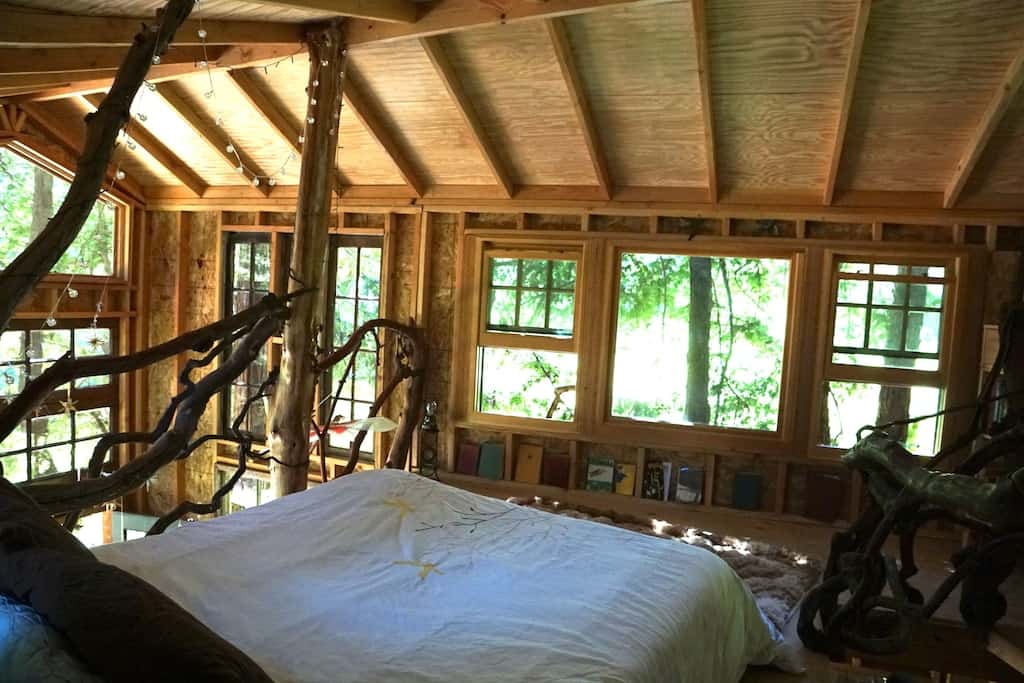 This unique California Treehouse is found on 72 acres of the Santa Cruz Mountains and is tucked away in a shrine of Old Growth Redwoods. It is ideal for those who like being alone in nature and exploring new places. The ceilings are quite high, and there are solar-powered rope lights.
You will arrive to your paradise in the trees at the top of a wooden spiral staircase, which has a queen-sized bed outfitted with clean sheets and cushions. A small porch with a bistro dining set can be found at the bottom of the steps. Here, guests may enjoy wine from a nearby vineyard while gazing out at the moonlight pond and grassland and the reflected glow in the woods.\
Recent Review: "This place is so cute and cozy. It was so quiet and peaceful. Great place to get away and be alone. They provide lanterns and battery candles that I was so grateful for. It gets really dark! I would stay here again."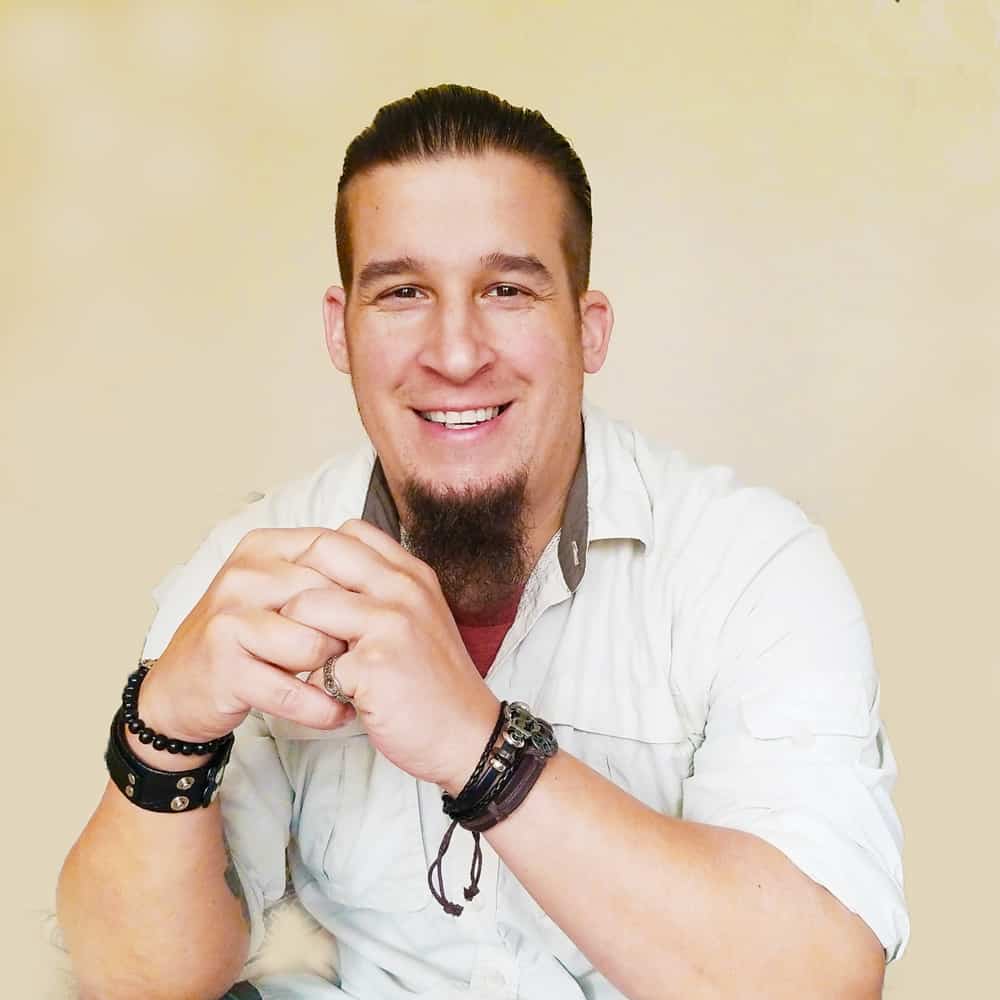 Full-time World Travel Writer who runs multiple websites and social media accounts. I have spoken at various conferences around the world. Some of my hobbies include adventure, fitness and new technologies. I am also a trekkie!