Welcome to the enchanting world of luxury Lake District glamping pods, where the rustic charm of camping meets the comfort of a high-end hotel. Glamping in the Lake District has been a popular UK getaway for years now and Lake District Glamping Pods are just one type of UK Glamping in the region.
Nestled among the breathtaking landscapes of the Lake District, these glamping pods in the Lake District provide an extraordinary escape from the hustle and bustle of everyday life. Imagine waking up to the gentle rustling of leaves, the chirping of birds, and a view of serene lakes and towering fells, all from the cosy confines of a well-appointed pod. It's not just a dream; it's the reality that awaits you in one of the many Lake District glamping pods you can book today!
The Lake District, a UNESCO World Heritage Site, has long been a favoured destination for nature enthusiasts, poets, and artists alike. With its dramatic landscapes, shimmering lakes, quaint villages, and endless hiking trails, it's a paradise for those seeking tranquility and inspiration. The popularity of this natural wonderland stems from its unique blend of beauty, outdoor recreation, and rich cultural heritage.
But why choose Lake District glamping pods for your UK adventure? These innovative accommodations offer a unique balance of nature and nurture. They allow you to immerse yourself in the outdoors without sacrificing comfort and convenience. Equipped with modern amenities such as underfloor heating, kitchenettes, plush bedding, and sometimes even private hot tubs, glamping pods offer a truly indulgent experience. Forget about pitching a tent or battling with a sleeping bag; luxury is at your fingertips.
Lake District glamping pods are your gateway to an unforgettable holiday experience. Whether you're planning a romantic getaway, a family adventure, or a solo retreat to reconnect with nature, these glamping pods in the Lake District provide a comfortable and stylish base for exploring all that this magnificent region has to offer. So pack your bags and set your sights on this wonderful region of the UK, where Lake Distrcit glamping pods await to turn your vacation dreams into reality. Don't delay; your perfect escape is just a click away!
Our Top Picks for Lake District Glamping Pods
---
Smardale Hill Lake District Glamping Pods
The Ash Shepod from Smardale Hill Lake District Glamping Pods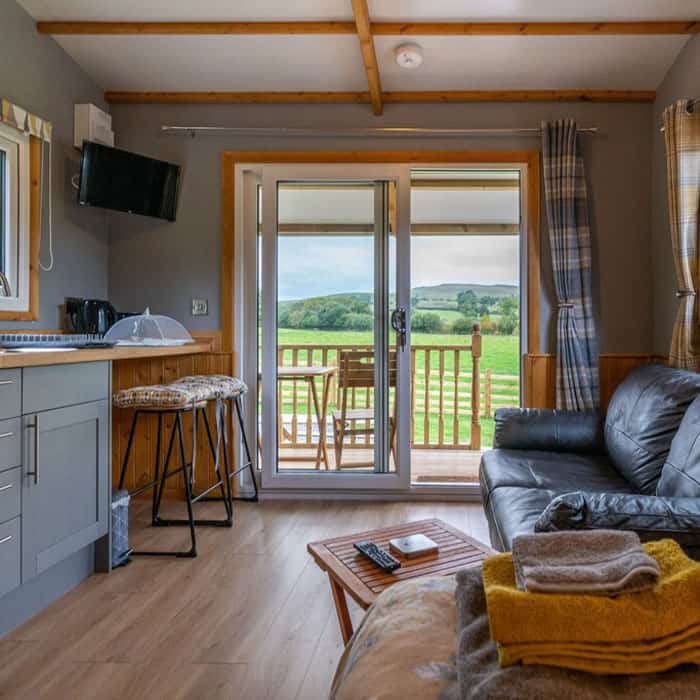 Nestled in the heart of the Lake District, The Ash Shepod at Smardale Mill promises an enchanting retreat for nature enthusiasts and comfort seekers alike. This innovative Shepod, a harmonious fusion between a traditional shepherd's hut and a contemporary glamping pod, invites you to a haven of tranquility. Equipped with underfloor heating, a plush double bed, and an optional double sofa bed for children, the Ash Shepod sets the stage for a memorable escape. Whether you're savoring a cup of tea in the fully equipped kitchen or unwinding in the living area, every moment here whispers relaxation.
Your Lake District Glamping Pods adventure doesn't stop at the doorstep. A mere 5-minute drive will lead you to the Smardale Nature Reserve, where you can take a leisurely walk through some of Yorkshire's finest dales. Admire the historic Smardale Gill Viaduct or try your luck at fishing in the Scandal River, where a mile of private fishing awaits. Craving a taste of local culture? The nearby market town of Kirkby Stephen offers delightful shops, grocery stores, and charming pubs, such as The Kings Head at Ravenstonedale, a treasure trove for food and real ale lovers.
From the alluring views to the thoughtful amenities, The Ash Shepod provides an unparalleled glamping experience among camping pods Lake District. Delight in the complimentary bedding for the double bed and towels for two guests, and stay connected with the available Wi-Fi. Bring along your well-behaved dogs for a truly family-friendly escape, and don't forget to request a BBQ for a sizzling evening feast. Charcoal and wood aren't provided, so plan ahead to ensure a fiery night beneath the starlit skies. The Ash Shepod awaits to be your next extraordinary destination in the Lake District, blending wild beauty with modern luxury in perfect harmony.
The Elm Shepod from Smardale Hill Lake District Glamping Pods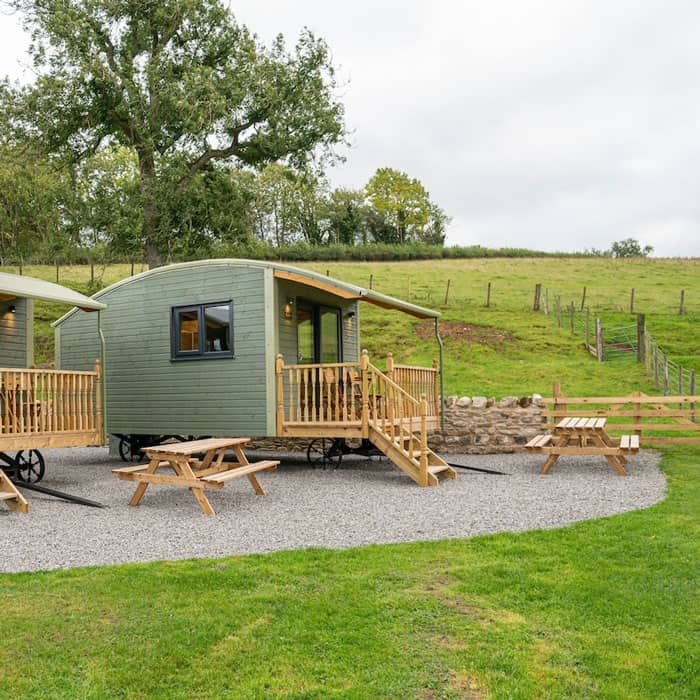 The Elm Shepod at Smardale Mill welcomes glampers to a world where traditional charm meets modern luxury. The Elm is one of two sibling Shepods, each a beautiful combination between a traditional shepherd's hut and a roomy glamping pod, perched on a working farm with breathtaking views. With a tiny double bed, optional double sofa bed, and top-notch facilities including underfloor heating, this Lake District Glamping Pod provides an unrivalled haven of leisure for up to two people and two children.
The splendour of Kirkby Stephen unfolds just outside your door, with the Smardale Nature Reserve only a 5-minute drive away. Wander through the picturesque Yorkshire Dales, admire the ancient Smardale Gill Viaduct or cast your line into the nearby Scandal River for a private fishing adventure. A short trip to Kirkby Stephen brings you to a plethora of stores, groceries, and delightful pubs, such as The Kings Head in Ravenstonedale, that will give local flavour to your visit.
Within The Elm Shepod's Lake District pods, embrace the blend of rustic appeal and contemporary amenities. Every aspect caters to your comfort, from the thoughtful en-suite amenities to the well-equipped kitchen and Freeview TV. Two well-behaved dogs are welcome, and an outdoor grill is available upon request to enhance your eating experience. The Elm Shepod creates the ideal canvas for an unforgettable glamping experience amid the stunning surroundings of the camping pods Lake District, whether you're looking for action or a calm retreat.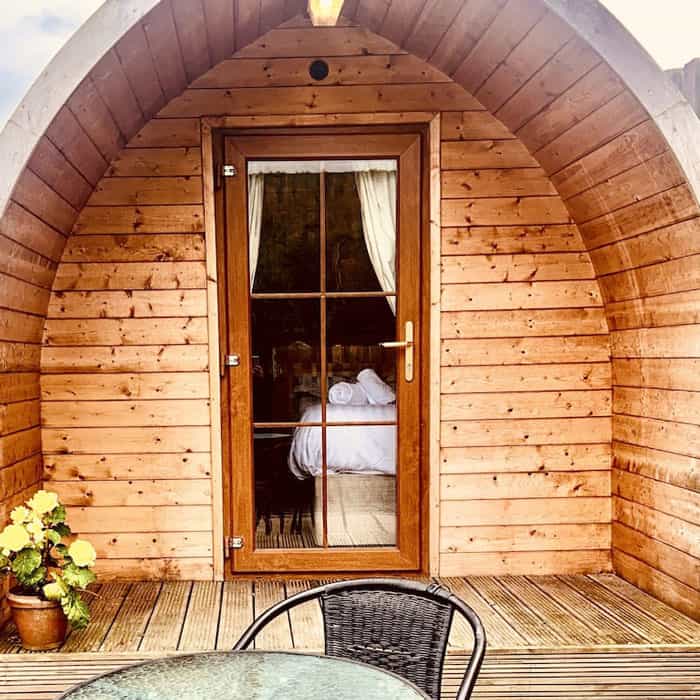 The double and twin Lake District glamping pods at The Wilson Arms beckon for an unforgettable stay in the Lake District, nestled in the majestic shadow of the world-famous Old Man of Coniston and Dow Crag. These Lake District Glamping Pods offer a wonderful blend of rustic charm and modern convenience, overlooking the beautiful backdrop of Coniston Old Man. Guests simply need to bring their towels to complete their relaxing stay, which includes heating, en-suite amenities, and beautiful linen.
These camping pods Lake District are part of the family-owned Wilson Arms country inn, a great stop for walkers trekking the Cumbria Way. They are located in the corner of a huge beer garden. Visitors can immerse themselves in the inn's pleasant ambiance, which features open beams, a real log fire, and a lovely combination of modern and classic decor. Breakfast can be added as an optional extra for those who want it, and full access to The Wilson Arms pub provides a sociable experience.
Whether exploring the Coniston and Furness Fells, the picturesque Duddon Valley, or visiting neighbouring sites like Ambleside and Grizedale, the position of these lake region pods provides unequalled access to the natural splendours of the Lake region. Please keep in mind that current construction work for a new Shepherd Huts project near the glamping pods until April 2020 only adds to the excitement of future enchantments. Step into the glamping pods at The Wilson Arms for a Lake District experience that combines hospitality, comfort, and the awe-inspiring majesty of one of the UK's most cherished settings.
High Gregg Hill Farm Lake District Glamping Pods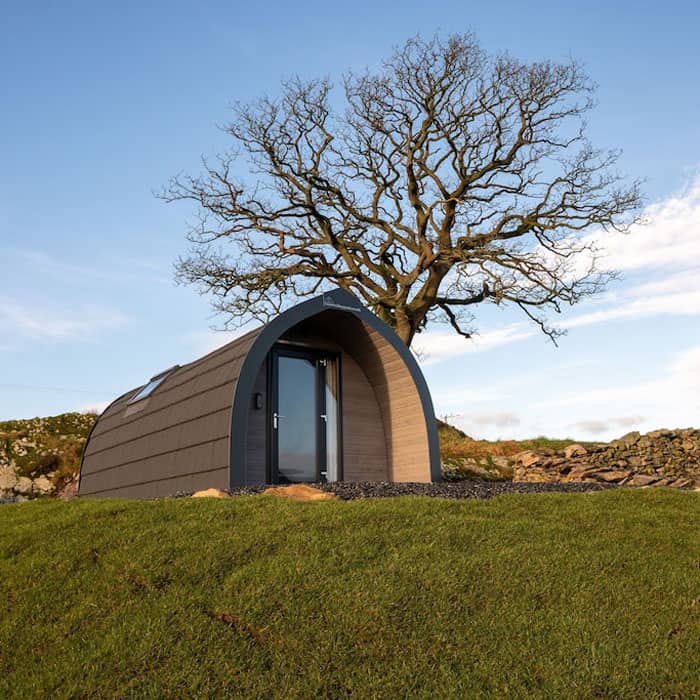 Herdsman Hut, perched on the scenic slope of High Gregg Hall Farm near Underbarrow, is a symbol of modern glamping luxury within the Lake District National Park. The Herdsman Hut is one of the newest Lake District Glamping Pods, complete with underfloor heating, mains power, and plumbed-in facilities, all surrounded by stunning views of Underbarrow and Scout Scar.
This 1-bedroom Glamping Pod is a work of art in terms of design and comfort, making it an ideal choice for anyone looking for a romantic or peaceful vacation from the hustle and bustle of city life. The pod is expertly made and features high-quality furnishings such as a double bed with delightfully nice pillows, a well-equipped kitchen area with a Belfast-sink and modern equipment, and a lavish bathroom with vanity cabinets and a heated towel rail. The sitting and dining areas create a relaxing environment, with a flat-screen TV installed on the wall for entertainment and USB ports for device charging.
However, the Herdsman Hut's appeal extends beyond its indoor amenities. After a day of visiting the Lake District or hiking the fells, guests may relax on the terrace with a glass of wine or a festive BBQ, all while taking in the breathtaking views of the surrounding countryside.
A short walk away is the popular Black Labrador Pub, which serves delicious meals and a wide range of beer. With Windermere only a 15-minute drive away and Kendal only a 10-minute drive, these Lake District camping pods provide a convenient and luxurious base for your explorations. Bed linen, towels, robes, and complimentary amenities are included in the rental price, guaranteeing that your stay at Herdsman Hut is nothing short of exceptional.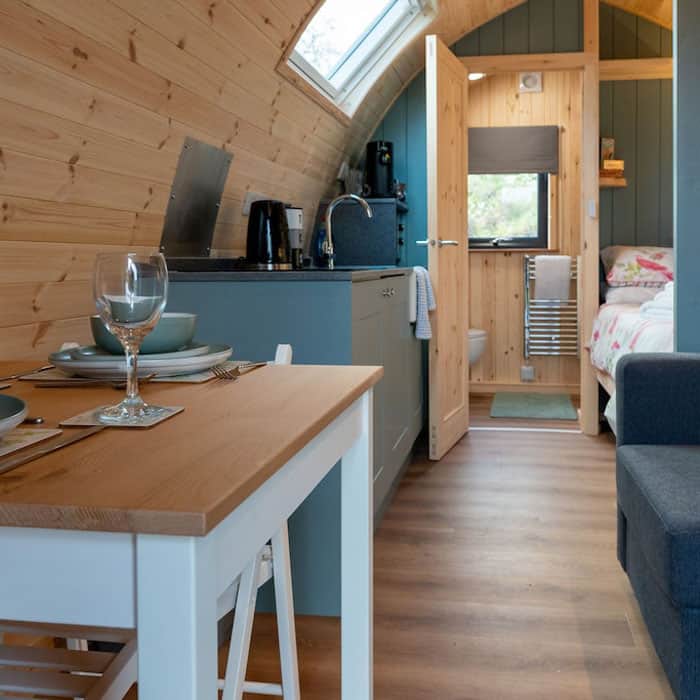 The Shearing Shed, set against the spectacular backdrop of Underbarrow and Scout Scar, offers guests to enjoy the pleasures of glamping in the Lake District style. This modern Glamping Pod, perched on the slope of High Gregg Hall Farm, is identical to its neighbouring Pod, the Herdsman Hut, and offers a unique blend of rustic appeal and contemporary comfort. The Shearing Shed is a great location for exploring the Lake District National Park, located just a short drive from Windermere and Kendal, and a short walk from the iconic Black Labrador Pub.
Guests are met by underfloor heating, mains power, and plumbed-in facilities at The Shearing Shed. The room is cleverly planned, with a double bed with incredibly comfortable pillows, a cosy sitting space with an L-shaped sofa, and a well-equipped kitchen with a Belfast-sink, 2-ring induction cooktop, and Nespresso Coffee Machine. The bathroom, with its vanity cabinets, heated towel rail and shower cubicle, adds to the luxury, providing a restorative experience after a day of trekking on the fells.
Beyond the indoor amenities, the Shearing Shed offers a friendly welcome to unwind on the terrace with a BBQ or a bottle of wine while taking in the spectacular views. The high-quality furniture and fittings combine to an unforgettable stay, making this one of the most appealing camping pods in the Lake District. The Shearing Shed promises an experience that perfectly marries the charm of farm life with the amenities of modern living, whether you're looking for a romantic break or simply a calm refuge from regular life.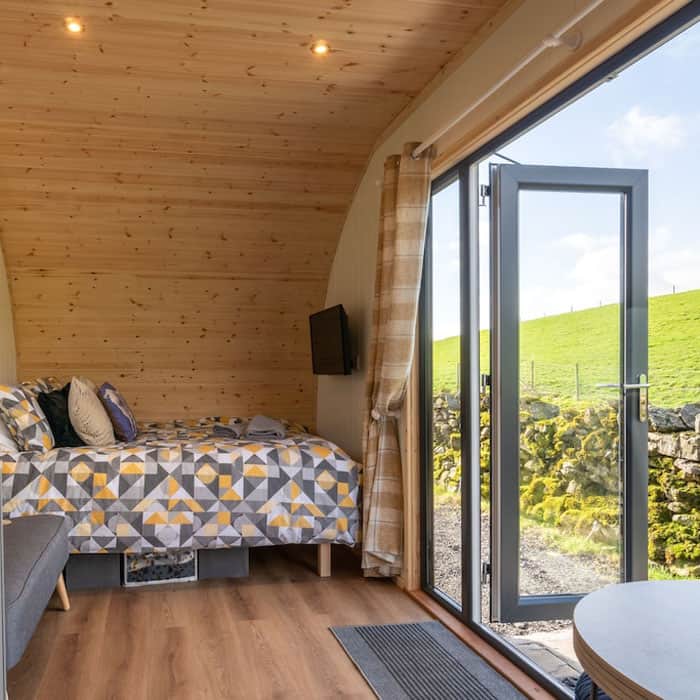 The Laal Ewe is a quaint and modern glamping pod located on a working farm in Underbarrow, just a short distance from the famed Black Labrador Pub. With breathtaking views of open farmland, grazing cows, and sheep, this Lake District Glamping Pod is a tranquil hideaway for anyone wishing to escape the hustle and bustle of city life.
The Laal Ewe, which debuted in 2022, elevates the bar for Lake District Glamping Pods with modern amenities such as underfloor heating, mains power and plumbed-in facilities. The 1-bedroom Glamping Pod has been thoughtfully designed, with high-quality furnishings and equipment for a wonderfully memorable visit. Guests can relax in a king-size double bed with delightfully comfortable pillows, prepare delectable meals in a well-equipped kitchen with a Belfast-sink and microwave combi-oven, or unwind in the stylish bathroom with a heated towel rail.
The Laal Ewe's pleasures, however, extend beyond the confines of the house. With its BBQ and fire pit, the private patio encourages guests to dine alfresco or spend a cosy evening beside the fires. Whether you're looking for a romantic vacation or a peaceful break, a stay at The Laal Ewe will leave you with wonderful memories.
This camping pod in the Lake District offers a unique blend of rustic charm and modern conveniences, with easy closeness to Bowness-on-Windermere and the chance for fall trekking. From the complementary tea, coffee, and amenities to the inclusion of wood and firefighters for the fire pit, every aspect has been carefully addressed. Additional wood can be purchased from the farm, ensuring that your stay at The Laal Ewe is smooth and magnificent in every aspect.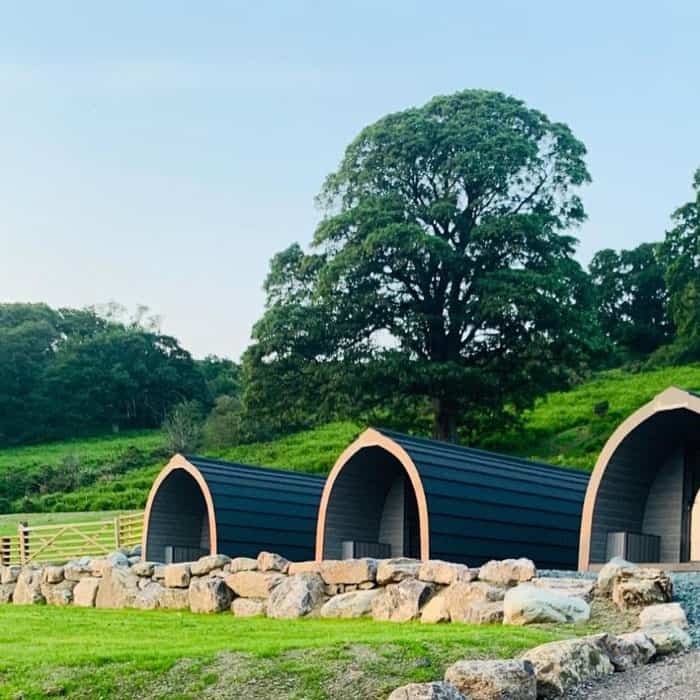 "The Huts," a trio of luxury wooden self-catering Lake District glamping pods that redefine the Lake District experience, are now available. These roomy pods offer an elegant blend of hotel room services and the rustic appeal of outdoor living, and are perfectly positioned to provide spectacular panoramic views across Bassenthwaite Lake. These huts effortlessly integrate you with the surrounding natural splendour, whether you're looking at the starry dark evenings or enjoying the warmth of the fire pit.
Each pod, named after the fells in front of which the farm stands (Dodd, Carl Side, and Long Side), is designed with modern glamping in mind. Dodd can sleep four people with a double bed and a sofa bed, while Carl Side and Long Side can sleep six people, making them excellent for families or small parties. All have underfloor heating to keep you warm and comfortable all year, as well as a kitchenette with a microwave, oven, and fridge-freezer, an en-suite shower room, and Freeview TV. For those amazing nights under the stars, a grill and fire pit offer a touch of summer revelry.
These Lake District glamping pods cater not only to couples searching for a luxurious glamping experience, but also to families looking for a stylish vacation hideaway. The Huts guarantee an unrivalled camping experience in the Lake District, with bedding provided and hire available for 2 nights or longer. They are a monument to contemporary luxury in the centre of the beautiful Lake District outdoors, with an excellent 4G signal and a variety of sleeping options.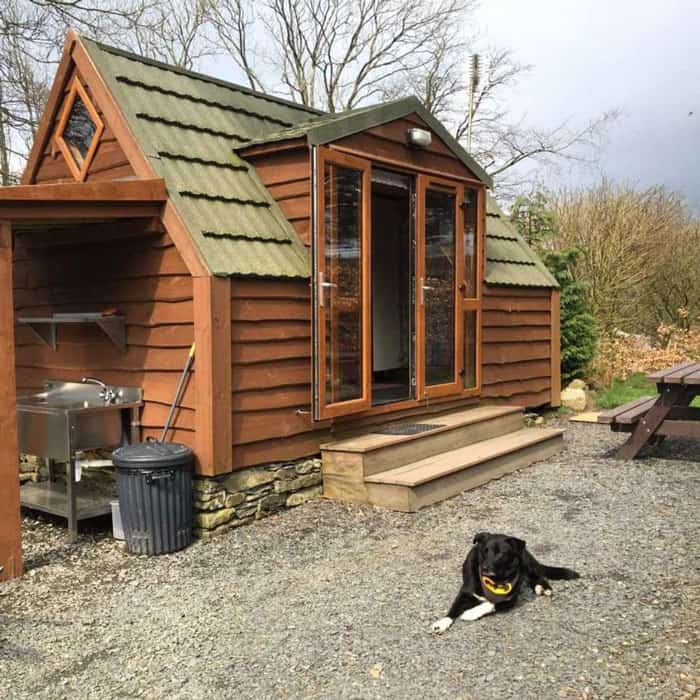 Cartmel Camping Pod is located on the outskirts of the Lake District National Park, just a 15-minute walk from the lovely mediaeval village of Cartmel. The pod is only 3 miles from the scenic coast of Grange-over-Sands, making it a great base for strolling and visiting the surrounding area.
The camping pod, which sleeps four people and has a pullout bed and a bunk bed, delivers the camping experience indoors. It has a microwave, kettle, toaster, a tiny heater, Freeview TV, and a mini-fridge. While you must bring your own cutlery, china, glasses, and cooking supplies, the pod does contain plug connections and two small electric heaters on the wall for your convenience. An indoor wet room includes a shower, toilet and tiny basin, but guests must bring their own toilet paper. Outside, there is a picnic seat and a cooking/washing-up area, making it ideal for outdoor meals and relaxing.
Convenience is at the forefront of this camping experience, with parking for two cars directly next to the pod. It's ideal for individuals who wish to enjoy camping without the hassle of pitching or dismantling tents. Whether touring the many pubs and cafes in Cartmel, such as The Priory Hotel, Cavendish Arms, and Cartmel Coffee Shop, or simply relaxing at The Pastures in Cartmel, this pod provides a unique blend of the rustic and the comfortable. Bring your own camping gear, blankets, and grill to truly enjoy this one-of-a-kind camping experience.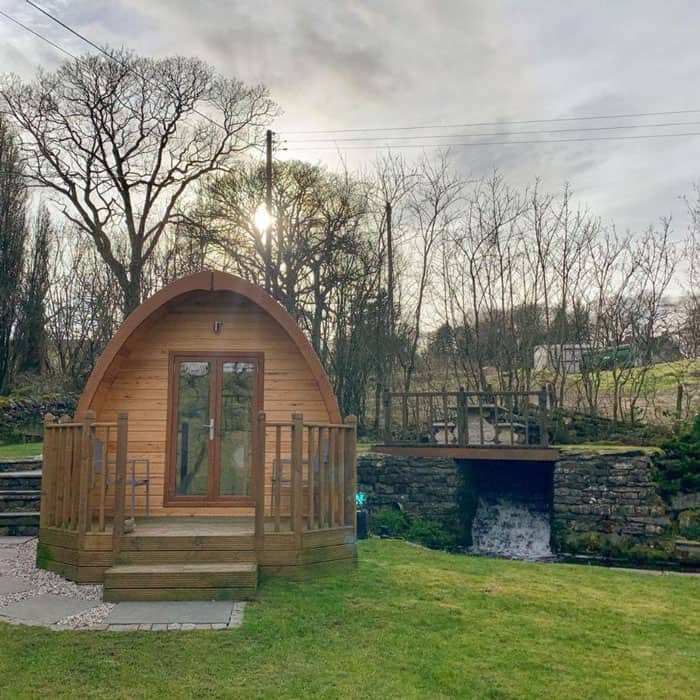 Riverside Mill & Glamping Pod, nestled within easy reach of the Lake District and Yorkshire Dales National Parks, provides an exceptional holiday experience that combines traditional charm with modern glamping. The main mill house offers comfortable accommodation with well-appointed amenities including a wood burner, full kitchen, and super kingsize beds. The separate glamping pod adds an adventurous touch, complete with an open-plan living space, kitchenette, and sleeping arrangements.
Outside, the private hot tub for 6 invites relaxation while the garden, complete with patio, furniture, and a gas BBQ, sets the scene for outdoor enjoyment. Whether you're an outdoor enthusiast looking to explore the scenic surroundings or seeking a peaceful retreat with luxurious comforts, Riverside Mill & Glamping Pod offers a versatile and unique escape that caters to a wide range of preferences and needs.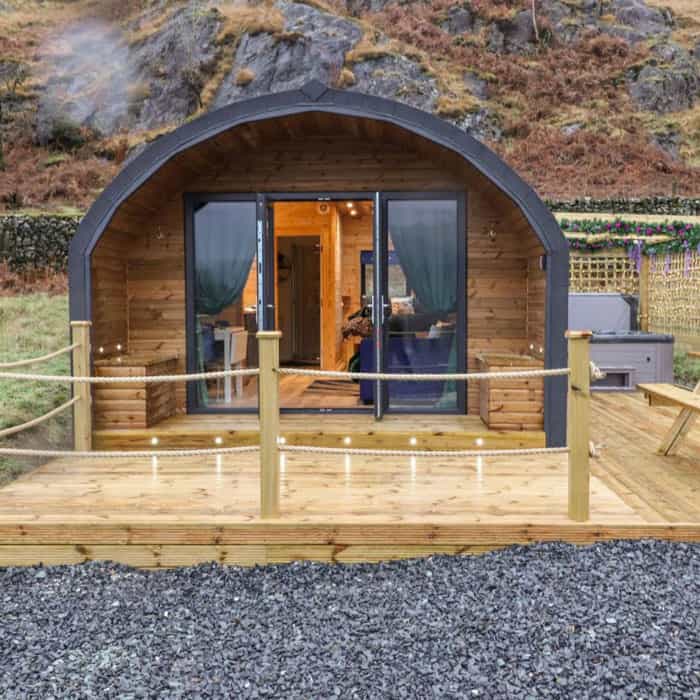 The Shearer – Crossgate Luxury Glamping in Penrith provides a one-of-a-kind holiday experience in the stunning surroundings of the Lake District. The studio-style living room, which has modern conveniences such as an electric hob, microwave, fridge/freezer, and king-size bed, ensures comfort and convenience. The outdoor space, though, is the showpiece, with a gravelled lawn, couches, decks, and a hot tub. Despite being located on a working farm with periodic maintenance work, the place provides quiet and leisure.
Guests can explore surrounding sites such as Lake Windermere, Derwentwater, and the ancient Greenside Mine, which is located near Glenridding, a picturesque lakeside community in the Lake District National Park. With nearby shops, cafes, and pubs, as well as options for outdoor sports such as golfing, cycling, and fishing, The Shearer is an excellent retreat for people wishing to enjoy nature without sacrificing elegance and comfort. Because the pod is located on a working farm, requirements such as keeping pets on a leash are required. A great option for booking Lake District Glamping pods.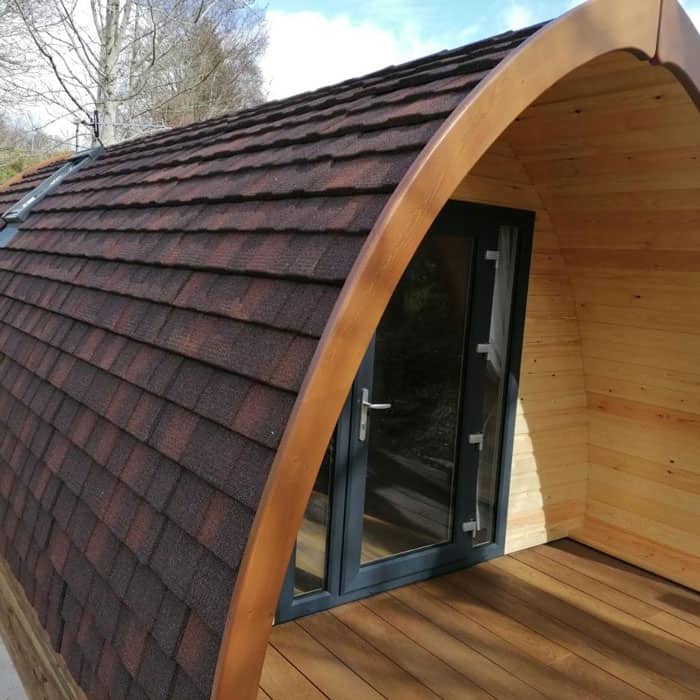 This new Lake District glamping pod promises a wonderful stay for two in the gorgeous surroundings of the Lake District National Park. Guests will find a built-in double bed, a sofa or chaise longue and a kitchenette with cooking equipment, a microwave, sink and mini fridge within the cosy confines of the pod. The kitchen is brightened by a Velux window, and the dining area has an extendable table for two. The private bathroom in the pod contains a shower, washbasin and toilet, and the oak-effect laminate flooring, underfloor heating and sub-zero insulation provide a relaxing stay. Please keep in mind that the stay is only for people, and pets are not permitted.
The location of Ullswater Holiday Park makes it an ideal starting point for exploring Cumbria's natural marvels. With the Helvellyn range, Raise, and the Dodds behind it, and the High Street Ridge and Howtown across the lake, the region offers plenty of opportunity for hikers and cyclists. The surroundings cater to all levels, from difficult hikes to pleasant lakeside rambles. The glamping experience promises a blend of natural adventure and cultural exploration, with surrounding attractions such as Dalemain gardens, The Rheged Visitors Centre, Aira Force waterfalls, and Theatre by the Lake, as well as easy access to Ambleside, Windermere, Keswick, and Caldbeck.
---
So why wait? The captivating beauty of the Lake District is calling, and these luxurious Lake District glamping pods offer the perfect blend of natural wonder and modern comfort. Whether it's a leisurely cruise on an Ullswater Steamer, a challenging hike up Helvellyn, or a tranquil afternoon in the picturesque gardens at Dalemain, your adventure is limited only by your imagination. Embrace the allure of the outdoors without sacrificing the pleasures of a cozy retreat. Book one of these Lake District glamping pods today, and embark on a journey that promises memories, relaxation, and a touch of the extraordinary. This UK Getaway awaits; answer its call!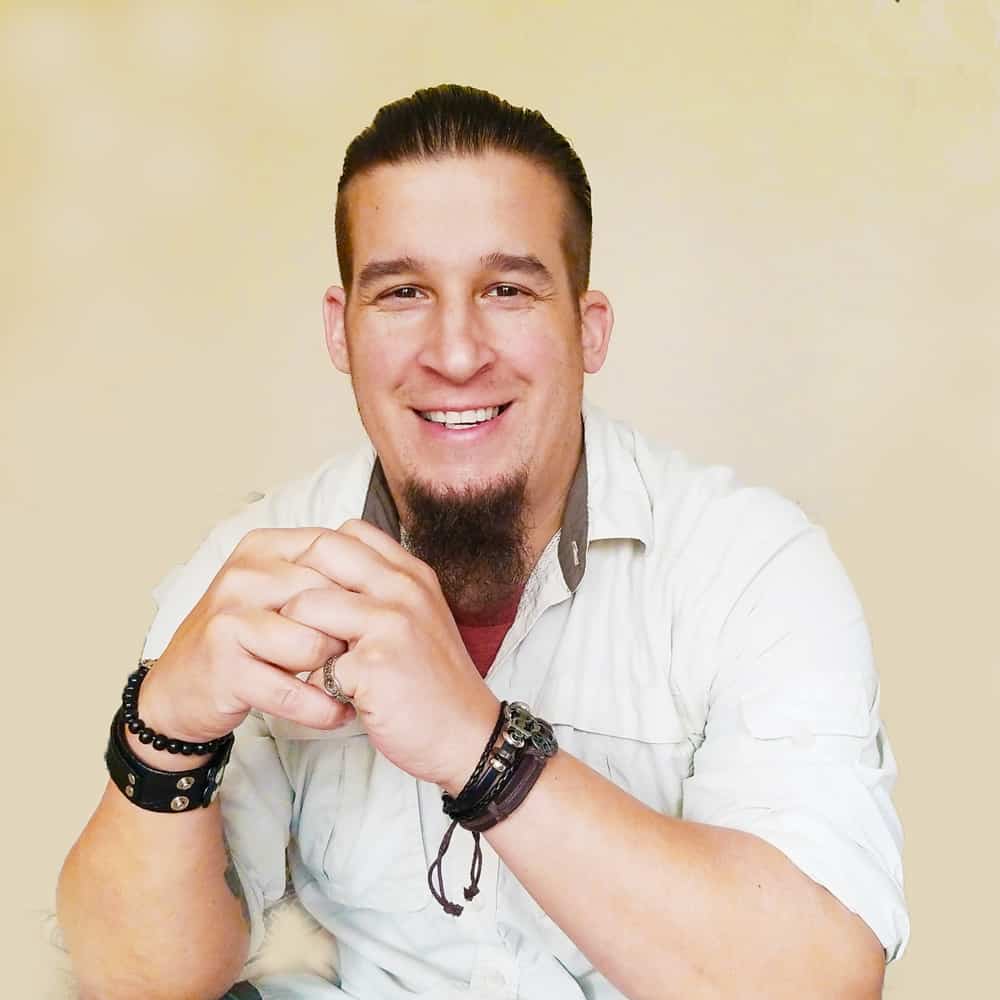 Full-time World Travel Writer who runs multiple websites and social media accounts. I have spoken at various conferences around the world. Some of my hobbies include adventure, fitness and new technologies. I am also a trekkie!