Cheow Lan Lake, located in the middle of Khao Sok National Park, is a stunningly gorgeous natural marvel. A visit to this tranquil lake is a must for any wildlife enthusiast visiting southern Thailand. Visiting the lake by boat is a wonderful experience, with high limestone cliffs and lush green vegetation all around. Imagine a mix of the movie Jurassic Park and landscapes found it parts of Avatar. It is also home to the famous Khao Sok Floating Bungalows you can rent.
Staying in one of the Khao Sok floating bungalows is one of the most memorable ways to explore Cheow Lan Lake. These modest yet comfortable rooms are situated directly on the lake, giving visitors with breathtaking views and a tranquil setting. Visitors who seek to withdraw from the rush and bustle of everyday life and totally immerse themselves in nature go to these Khao Sok resorts and their floating bungalows.
There are several things to view and activities to do while visiting Cheow Lan Lake in Khao Sok National Park. Tourists may take a boat excursion to view the beauty, swim in the cold lake waters, or try their hand at fishing. Adventurers may also climb into the forest to find secret waterfalls and caverns, or they can attempt kayaking or canoeing.
The lake is home to a wide variety of animals, including monkeys, elephants, buffalos and hornbills as well as elusive tigers and leopards. Birdwatchers will be enthralled by the numerous bird species that make the lake home, while nature lovers will be enthralled by the gorgeous flora and wildlife that surrounds them.
Overall, Cheow Lan Lake and Khao Sok National Park is a must-see for everyone visiting southern Thailand. It's a natural wonder and a type of Thailand Glamping that shouldn't be missed, with its calm seas, high cliffs, and wealth of species. In our opinion, staying in one of the Khao Sok floating bungalows is the perfect way to really enjoy this part of Thailand.
You may also be interested to read: Thailand Treehouses – Bali Glamping Treehouses – Glamping New Zealand – Glamping in the Philippines
Our Top Khao Sok Floating Bungalows to Rent
---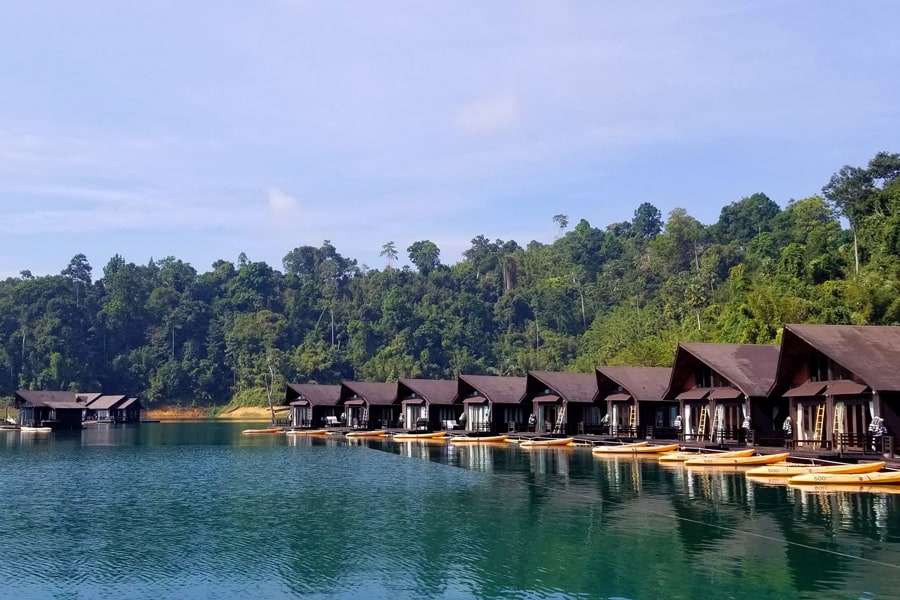 The 500 Rai Floating Resort, located in the midst of Khao Sok National Park, is a one-of-a-kind and eco-friendly resort that offers tourists a revitalising refuge from the contemporary world. The resort provides a kaleidoscope of colours, fascinating views, and noises from various creatures that you will not discover anywhere. With panoramic views of the lake that surround the floating bungalows, the natural beauty is unparalleled.
The resort's 13 Khao Sok floating bungalows all have air conditioning and full-time power, making it one of the few in the area to provide these amenities. This is a rare find in the midst of unspoiled environment, and guests may have the best of both worlds. The bungalows have a rustic appeal that mixes in wonderfully with the surrounding natural scenery, but they also feature modern facilities to ensure visitors have a comfortable and happy stay.
Room options available to guests include Deluxe, Villa, Family Villa, Deluxe Suite, Family Suite, and Honeymoon Suite. Each room type provides a distinct experience and amount of solitude, and all rooms provide stunning views of the lake and mountains and include a kayak.
The Khao Sok floating resort is dedicated to environmental preservation, and its eco-friendly methods are noteworthy. The resort is totally powered by solar energy, and visitors are encouraged to engage in sustainable activities throughout their stay. This includes, among other things, kayaking, swimming, hiking, and animal viewing. Visitors may also take guided excursions of the neighboring jungle and lake to learn more about the natural beauty of the area.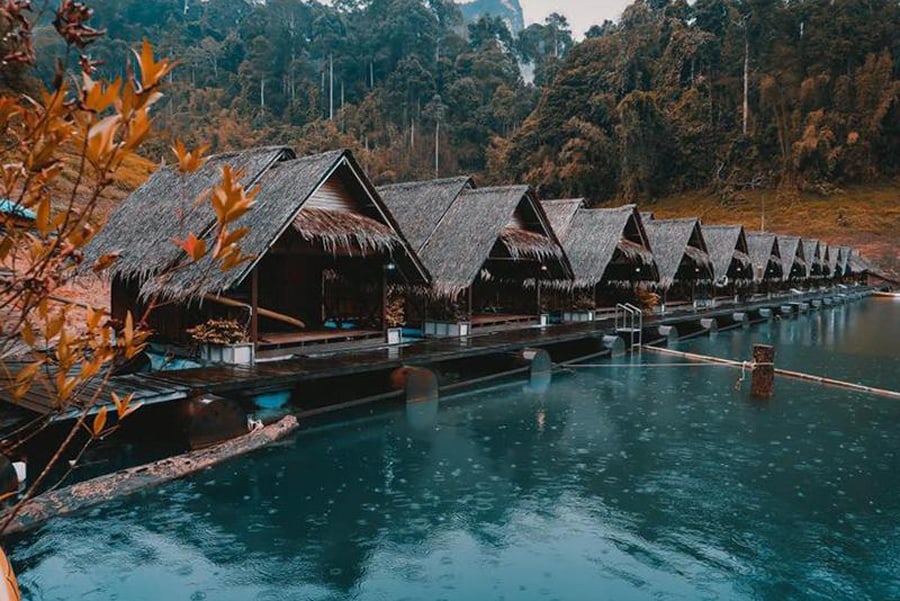 Praiwan Raft House is an exquisite floating raft hamlet nestled in the heart of Khao Sok National Park, with 30 'jungalows' linked by elegant wooden pathways. The rooms are perfectly clean, cool and airy, and each one is built to float gently on pontoons, providing a unique combination of luxury and nature.
Visitors may enjoy the breathtaking views from their own private veranda while drinking a refreshing drink from the little store, which sells a variety of beers, cold beverages, and snacks.
The dining sala is the ideal setting for delectable meals made by the professional chefs, which include a range of curries, jungle greens, and luscious local fruit. The gastronomic experience at Praiwan Raft House will undoubtedly tickle your taste buds if you like spicy foods and fresh herbs.
Unlike standard lodging, the raft home floats on the river, with just the bathrooms and showers on land. The Thai-style shower in the lake while wearing a sarong is a must-do for the more daring tourists. A unique option for booking Khao Sok floating bungalows.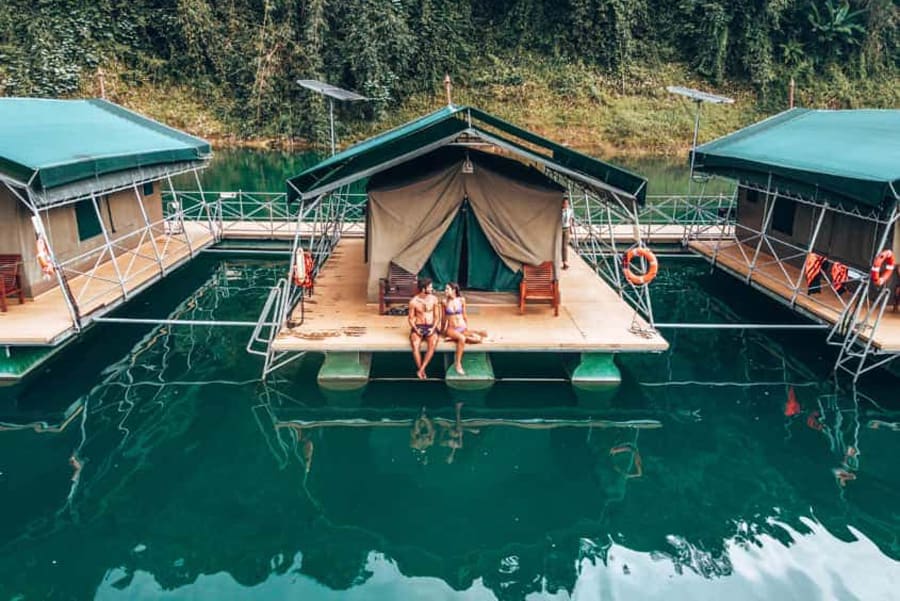 Elephant Hills Rainforest Camp has magnificent tented Khao Sok floating bungalows that allows visitors to experience the natural splendor of Khao Sok National Park. This eco-friendly camp on Cheow Larn Lake is ideal for getting away from the rush and bustle of famous tourist spots like Phuket, Krabi, and Koh Samui.
Guests may enjoy an intimate and customized experience with just 20 deluxe safari tents immediately on the lake's emerald green waves. The tents are completely equipped with an en-suite bathroom with a hot/cold water shower, a sturdy self-made double bed or two twin beds, and power. Moreover, the camp has been intended to conserve the environment by employing solar and wind energy as well as a unique waste management system.
The Rainforest Camp is an excellent base for exploring the beautiful rainforest lake and its environs. Canoeing, jungle hiking, and animal viewing are among the activities available to guests. After a long day of exploration, visitors may unwind in the cozy lounge area or dine in the dining tent.
Elephant Hills Rainforest Camp is a one-of-a-kind and spectacular experience for individuals looking for a luxury and sustainable way to interact with nature. Being one of the world's few luxury floating tented camps, it offers a unique chance to immerse yourself in the natural splendor of Khao Sok National Park while enjoying the amenities of a high-end resort.
The Prai Wan Raft House is a quaint property that can be found in the most northern point of Klong Long. It provides a tranquil getaway that is surrounded by breathtaking nature. The floating bungalows provide superb cottages that have been designed with an attention for detail, offering guests with a comfortable place to stay.
Coral Cave can be reached on foot in forty minutes from the facility, which also features a helpful staff, a convenient snack store, and one of the finest restaurants in the area. The location used to be close to 500 rai, but it has since moved to a spot that is more convenient for those who are traveling. If you are interested in attending one of their yoga retreats and would like more information, you can send them an email. The tranquil part of the lake is frequently chosen as the location for yoga retreats and health seminars.
The bamboo huts of Prai Wan Raft House provide a pleasant place to stay, and Coral Cave can be reached on foot in twenty minutes. Be aware, though, that the rental home is frequently unavailable during the holiday season.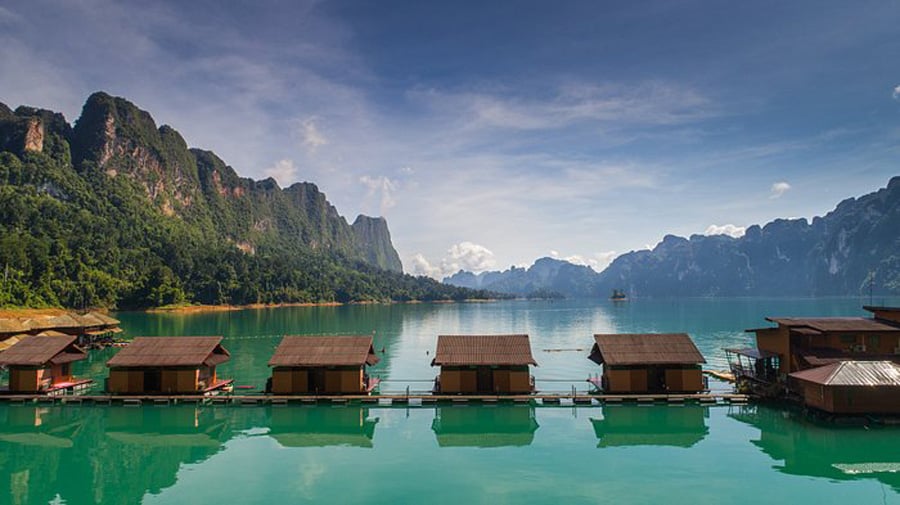 Overwater accommodations at the Panvaree Resort provide guests with a unique opportunity to take in beautiful panoramas of the surrounding landscape, which include both the lake and the mountains. Because there are only ten rooms of varied sizes, visitors may anticipate receiving a tailored stay that is equipped with all of the basic facilities as well as others. Each room features a private bathroom, air conditioning, a refrigerator, and either a private balcony or private patio.
Canoeing, fishing, swimming, and touring the neighborhood are just some of the activities that are offered, and outdoorsy people are sure to like the variety of options. The resort does not include a spa on the premises; nonetheless, the resort's restaurant and bar provide a wide selection of delectable cuisine, including selections that are kid-friendly and specific menu items for visitors who have food allergies.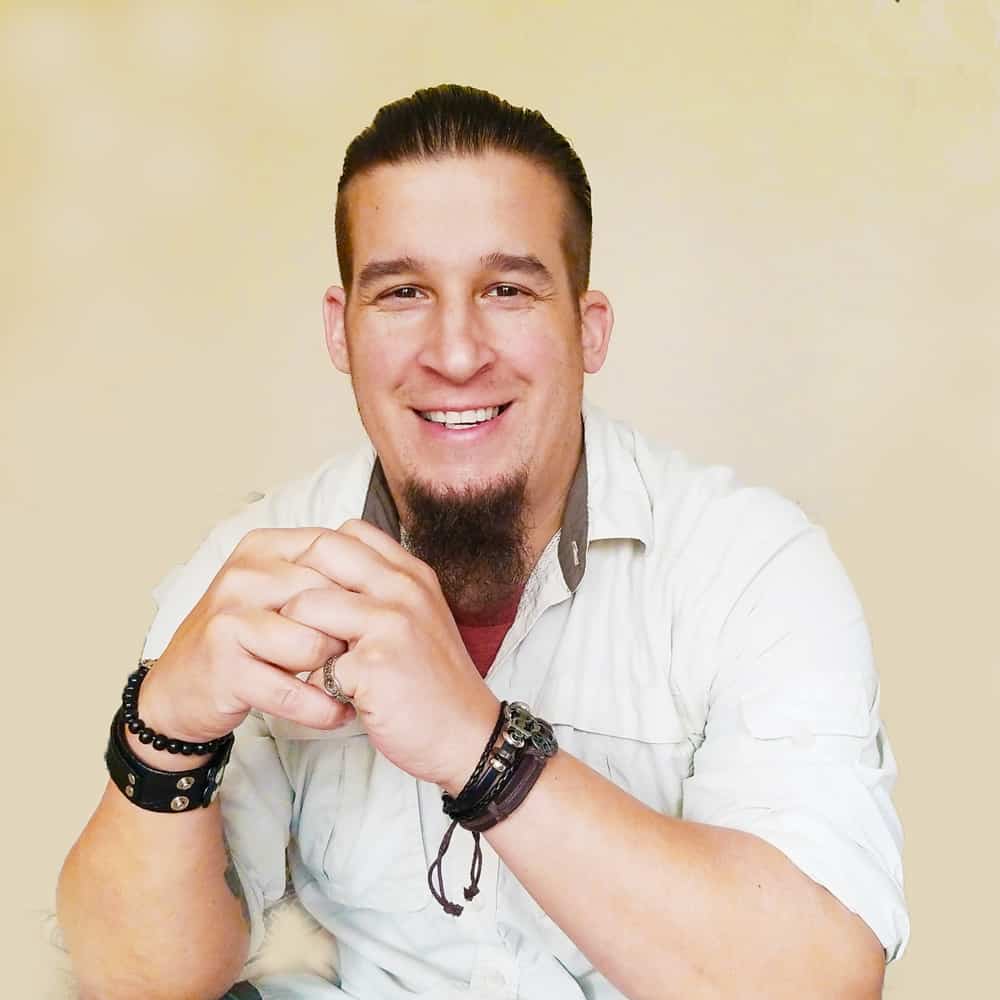 Full-time World Travel Writer who runs multiple websites and social media accounts. I have spoken at various conferences around the world. Some of my hobbies include adventure, fitness and new technologies. I am also a trekkie!