Zion National Park in Utah is not only one of the most popular national parks in the United States, it's an outdoor adventure mecca. Camping, hiking, climbing, biking and tubing are just some of the amazing things to do in the area.
Zion glamping is also becoming a sought-after accommodation type rather than the traditional hotel or regular campground. Glamping in Zion provides the comforts and convenience of a hotel after a day of exploring while still immersing yourself in the beauty of nature.
There are some unique Zion Glamping spots you can book on your next trip and we will go over some of the most popular properties. We'll also introduce you to some of the unique things to do in Zion.
Zions' biggest draws are the crazy rock formations and amazing opportunities for hiking, climbing and biking. Following are some of the coolest nature spots to add to your Zion itinerary which can be enjoyed while glamping in Zion.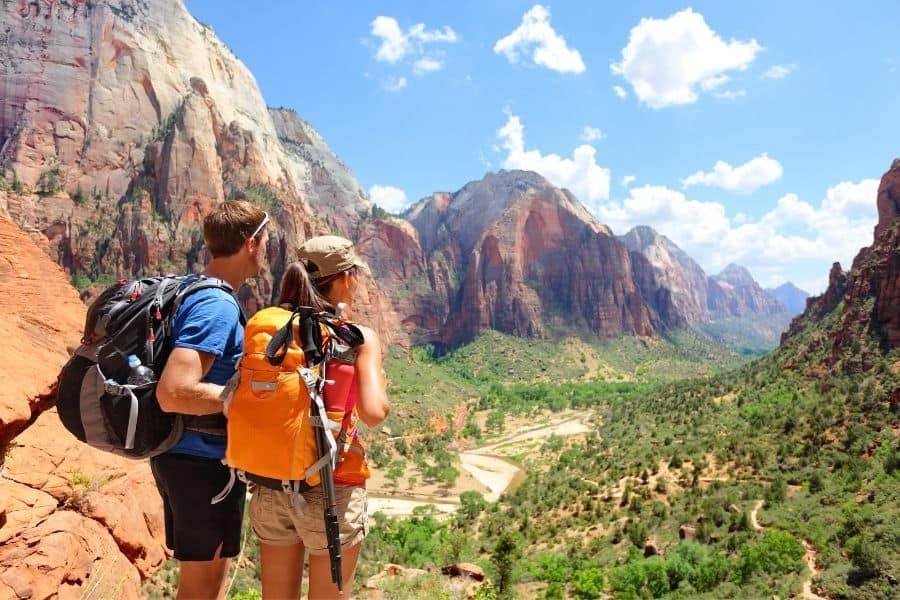 ---
More Glamping Reads:
Under Canvas Glacier National Park
---
Cool Things to do When Glamping in Zion
Hiking Zion
The Upper Emerald Pools Trail is a great hike and is only 3.2 miles long. It takes about 3 hours round trip but it's so worth it. Try to go early in the day to beat the crowds if you can.
If you're looking for a little longer hike, you have Angels Landing Trail which is 5.4 miles long and takes about 4 hours. Again, go early and when you go back down, you can hike some of West Rim Trail as well.
Finally, for the more hardcore, we have The Narrows Bottom Up, which is 9.4 miles and takes around 8 hours round trip. Make sure you hike this one when the weather is nice because you do not want to be stuck in a dangerous flash flood in this canyon.
Climbing and Canyoneering Zion
There are loads of boulders and rock faces to climb all over Zion National Park. Zion also houses a maze of canyon slots that adventurers enjoy climbing and traversing.
This is called canyoneering, which is a combination of hiking, exploring, wading, splashing, scrambling, rappelling, and problem-solving. It can range from easy to very difficult depending on where you go and what equipment you have at your disposal.
Beginners may want to try the lower end of The Narrows above the Temple of Sinawava. Those with more experience may want to head to The Subway and Orderville Canyon for more technical canyoneering. You can get more info about canyoneering here.
Biking in Zion
Another great way to explore Zion is by bike. The park is becoming more and more bike-friendly with established routes and the Pa'rus Trail. You must stay on designated routes and not bike on any other off-road trails or areas.
For added convenience, there's a shuttle bus service in the park with bike racks. Try taking the shuttle up to the top of Zion Canyon and then bike back down. For mountain biking, there are some trails just outside of the park such as Gooseberry Mesa Trail and Right Fork: Bunker Creek Trail.
---
Glamping Zion National Park
The family-run Zion Ponderosa Ranch Resort offers a variety of accommodations including cabins, wagons and glamping tents. Guests can enjoy a wide range of facilities such as a lodge, restaurant, recreation barn, swimming pool and large shared bathrooms. There are also lots of activities both free and paid including basketball, tennis, volleyball, guided tours, horseback riding and canyoneering.
Zion glamping tents sleep 2-4 people in comfy beds and include a sitting area, private deck, electricity and heating for cool nights. For an even more unique experience, you can book the Conestoga Glamping Wagons which sleep up to 6 people in true comfort. If you prefer solid walls then you can choose from a range of Cabin Suites and Cowboy Cabins.
Guest Reviews:
"The accommodations were perfect and met our every need. But the real surprise of our stay was the warm and thoughtful approach of the staff."
"I love how we had the option to relax and enjoy the scenery, or really get adventurous. It was all up to us. Zion was next door and Bryce Canyon was just a short drive."
---
This luxury tiny house retreat has multiple glamping accommodations in three different styles. Each tiny home comes with comfortable beds, a private bathroom and kitchen, an outdoor gazebo, a deck, fire pit and BBQ. Many also have a hot tub and laundry.
The colorful and unique decor creates a beautiful contrast with the surrounding landscape while still maintaining harmony with nature. Located on more than 750 peaceful acres there are 360-degree views and very little light pollution making for stunning starry nights.
Guest Review: "The Tiny's decor was adorable and we had everything we needed for cooking. It was nice to get away from town where you could actually see stars. The private hot tub was amazing!"
---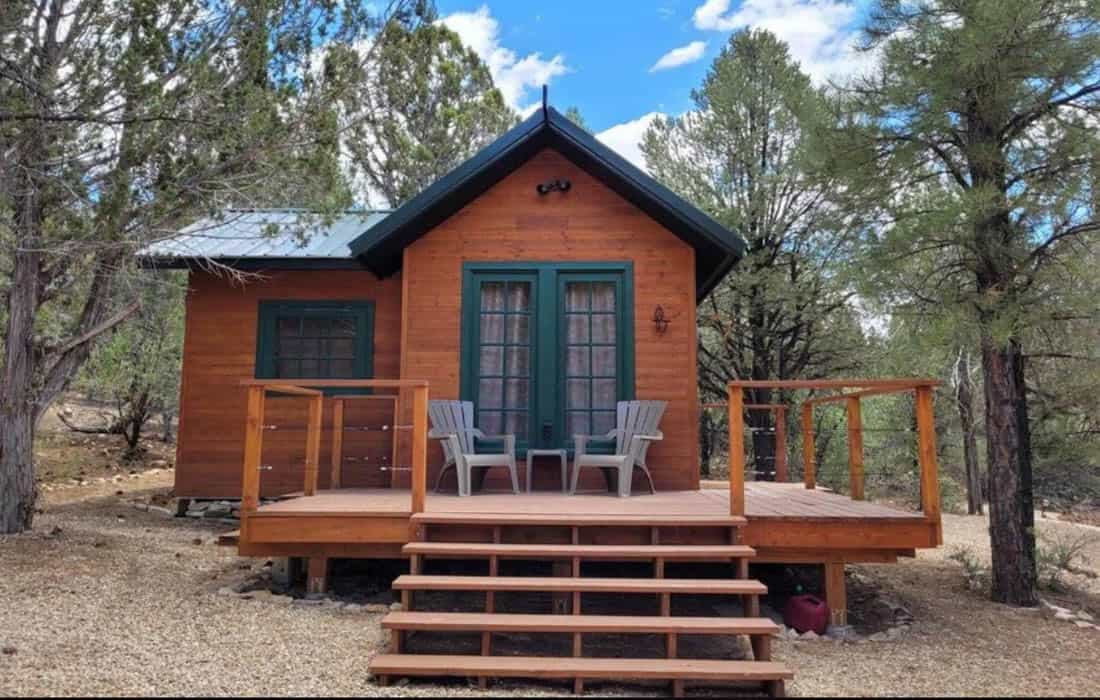 A cute and cozy glamping cabin located on the East Rim of Zion making it a perfect spot to explore on foot or by car. The custom-built cabin has a king-size bed, leather futon, full bathroom with shower, bistro table for dining and a kitchenette. Outside is a deck and a lovely covered gazebo with seating and a full-size BBQ.
It takes just minutes to walk to Zion to go hiking and exploring. The location is also great for visiting Bryce National Park and the North Rim of the Grand Canyon. Whatever you do during the day, stargazing at night is a must here.
---
Open Sky Glamping in Zion
Open Sky is the epitome of luxury glamping in Zion. Accommodations are quality safari-style tents brought in from Africa and they harmonize perfectly with the stunning landscape. The luxury tents come in various sizes and price ranges sleeping from 2 to 5 people.
All tents come with luxurious king beds, full bathrooms, wood floors with rugs, indoor fireplace, mini-fridge, private patio with fire pit and much more. The Star Seeker Camp has added features such as a star gazing lounge, a claw-foot soaker tub with views and an additional outdoor shower.
The location is on the cusp of Zion National Park but just far enough away to escape the crowds and enjoy the peace and quiet of starry nights. There are also mountain bike trails right on the doorstep and bikes can be delivered to your door.
---
East Zion Resort
East Zion Resort is located on a hillside just 25 miles from the East gate of Zion National Park and has a multitude of glamping options. You can choose from their awesome glamping tents, yurts, treehouses or tiny homes. This Zion glamping resort provides all modern amenities including a pool and two hot tubs to soak in after a day of adventuring.
Glamping tents and treehouses sleep up to 3-4 people and glamping yurts sleep 4-5 people. All glamping accommodations come with a full private bathroom, kitchenette, heating/AC, seating area, deck and amazing views.
Guest Reviews:
"Absolutely perfect — this place is exactly what you hope for (and more)… Clean, cozy, comfortable, and modern, with everything you need for a great stay, and in close proximity to some incredible parks and other sights… We were sad to leave, but are already looking for an opportunity to come back here!"
---
Zion Wildflower Resort is a new glamping destination just minutes from Zion National Park. Luxury accommodations include canvas glamping tents, covered wagons and private bungalows. The glamping tents are a perfect romantic getaway under the stars without sacrificing comfort. The covered wagons are a great experience for a family with a king-size bed and bunk beds for the kids. If you need more comfort, try one of the bungalows, complete with bathroom, fridge and microwave.
Amenities at the resort include group firepits, yard games, lounging areas, hammocks, yoga area, complimentary bikes and WIFI. Guests of the glamping tents and covered wagons have use of several luxury bathhouses complete with hot showers.
---
Under Canvas is a popular glamping tent option around the US and glamping at Zion is a beautiful example. Their Zion glamping site offers a variety of luxury canvas tents. The Suite is one of their top-end tents for up to 4 people and is great for families.
The Stargazer is their romantic tent with a lot of the same luxuries as The Suite but with a star viewing window above its king-size bed. The Deluxe is their traditional option with most of the basic luxuries that all the tents include. They also have variations available depending on the size of your group and your individual needs.
This Under Canvas location has been recognized by Conde Naste as one of the Top 40 Resorts in the USA. Aside from luxury glamping, the resort offers on-site dining and a ton of activities including yoga, live music, fireside chats, games, guided hikes and even movie nights!
Guest Reviews: "This was an amazing experience and my favorite stay of our entire trip! What a great idea, well run, wonderful experience. We will look for under canvas again to stay with them again in the future!"
---
Zion Glamping Adventures
Zion Glamping Adventures is all about the experience. They are situated in a private canyon close to close to Coral Pink Sand Dunes State Park, about one hour from Zion National Park. The site offers 6 luxury camping tents containing 1 or 2 queen-size beds, plus a small table and chairs. All the tents also have air conditioning and heating.
On-site amenities include fire pits, BBQ, garden, a children's playground area and a shared shower house. If you're up for an adventure they will arrange horseback riding and numerous guided hikes and tours of the surrounding canyons, dunes and other natural beauties.
Guest Review: "It has been third time glamping. I absolutely love it. I would highly recommend it to anyone. The tent was clean and the outside area as well. The outside showers are awesome. Tent #10 was my favorite spot."
---
So, you want to camp under the stars in Zion? But, you want a real bed, you don't want to set up your own tent and you're on a budget? Zion Exotic Camping is for you. These glamping tents are basic but they provide the comfort of a real king-size bed, a small deck, a fire pit and outdoor seating.
The site is in a beautiful and super quiet location far from city lights allowing for incredible stargazing. There are clean and convenient shared bathrooms and the camp host is available on arrival.
Guest Review: "This campsite is nestled on a little hill, right below a huge rocky mountain. It's nice and quiet and has a stunning view. The owner was awesome, he came and met up with us down the street when we got a little lost trying to find it! He showed us around the campsite and provided us firewood. The tent was super clean and well vented with a king bed. The bathrooms were a short walk from the site as well. So worth it! A more affordable option to the other luxury camping sites, but just as beautiful."
---
A cozy, rustic cabin providing comfort and convenience just minutes from the entrance to Zion. There's 1 queen bedroom plus a loft suitable for kids plus a full bathroom. The cabin doesn't have a kitchen but there is a mini-fridge and microwave for basic meals. Enjoy the starry nights on a little deck with a small table and chairs.
Guest Review: "Stayed at this property for three nights with my fiancé, during our trip to Zion! It is literally a mile, if that, outside of the east entrance of Zion National Park! It takes about 30 minutes to get from the airbnb to the visitor center/Springdale, but you drive right through the park the entire time, which I would do a thousand times over again for those views!! I felt lucky to be able to do that drive multiple times in a day, absolutely beautiful. The airbnb was perfect and exactly what we were looking for! AC and WiFi worked great for us during our stay! Would highly recommend this property and the manager was very responsive and super helpful with recommendations! Hope to make it back out here one day and would definitely stay here again!"
---
Angels Landing A-Frame Micro House
This adorable tiny home is perfect for romantic glamping in Zion. The interior is indeed tiny with just enough room for a comfy king-size bed. But, the unique convertible door opens up onto a private deck outfitted with seating, a BBQ, an eating bar and a food prep area.
Guests can also enjoy a private bathroom and fire pit and there's even a dog house so you can bring your furry friend.
Guest Reviews:
"A beautiful experience and an amazing view! I couldn't have asked for anything better! Mindy made our stay very easy and made sure we had everything we needed. The place was much better than I expected! 10/10 would definitely recommend!"
---
Pin It For Later!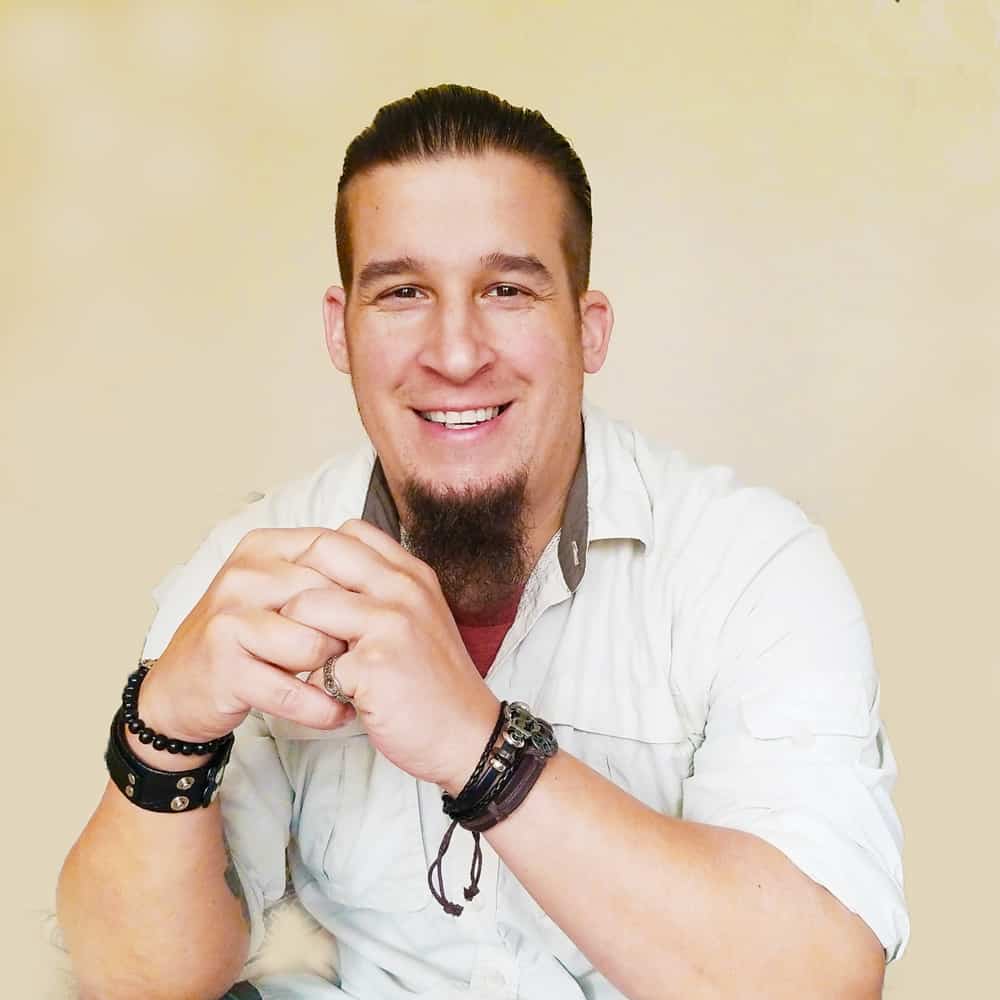 Full-time World Travel Writer who runs multiple websites and social media accounts. I have spoken at various conferences around the world. Some of my hobbies include adventure, fitness and new technologies. I am also a trekkie!