(Updated December 11, 2022)
Yellowstone National Park is one of the most unique and awe-inspiring natural parks in the world. It is situated mostly in Wyoming with parts in Idaho and Montana. There is so much to see and do and the raw nature of this park is extraordinary, to say the least. Glamping Yellowstone is a remarkable experience and a great way to explore the sights of the region while still immersing yourself in mother nature in more comfort than traditional camping. And hotels seem to break you apart from the soul-soothing remedies that Glamping in Yellowstone offers. If you are looking for something a little further South near Jackson Hole, we have options there too.
We have compiled a list of some great options for Glamping Yellowstone. This includes some amazing cabins, unique luxury tents, a treehouse, an authentic tipi, and even a yurt. Before we show you what to book for your once-in-a-lifetime Yellowstone Glamping Getaway, let's go over some of the amazing things you can see when Glamping in Yellowstone.
Other USA National Park Glamping Articles
Must-See Sights When Glamping Yellowstone
Besides the iconic Old Faithful geyser that shoots up high in the air on cue every day. Which everyone goes and see when in Yellowstone, there are plenty of more amazing sights to see and these are our top spots to check out if time is limited in the park when Glamping Yellowstone.
Norris Geyser Basin
This array of hot springs and geysers is out of this world. This gives you the feeling of exploring a completely different planet.
Grand Prismatic Hot Springs
The most colorful and beautiful hot spring in the entire park in my opinion and you can walk right through it.
Lamar Valley
Great location for wildlife viewing including bears and wolves.
Hayden Valley
Another awesome spot for viewing wildlife and wide-open beautiful vistas.
Artist Point
A picture-perfect or should I say painting perfect spot on a giant canyon overlooking an amazing waterfall.
Beartooth Highway
One of the most amazing drives in the country. not really a part of Yellowstone but since you are in the area you must enjoy it. Think Greenland landscapes.
---
Our List of Glamping Yellowstone Spots to Book
---
Location: Jardine, Montana
Built just a couple of years ago in the old mining town of Jardine, this rustic log cabin is a pristine and welcoming escape from life. It sits on 12 acres of land on the border of the national forest – shared with just four other cabins.
The mining site is a gorgeous place to escape to with stunning views of the mountains and the delightful trickle of Bear Creek from your back patio. It's also just 6 miles from Gardiner – the original entrance to Yellowstone! The rustic theme continues through the property's spacious living spaces and two bedrooms. It has a total space of 1040 sq. ft – expect to comfortably host up to six.
Recent Review: "We had an excellent stay and enjoyed the location. The cabin was perfect."
Location: Emigrant, Montana
Minutes away from the park and perched upon a hillside clearing, Carbella Cabin is a spectacular experience that every nature lover should witness at least once in their lifetime. With a stunning bird's eye view of the Yellowstone River valley, panoramic views of the mountains and 70 acres of property all to yourself, expect to come out of your vacation rejuvenated, relaxed and completely reset. Private hiking trails are a hop away while the Yellowstone River is ideal for fishing.
The cabin's open floor plan includes a living room, dining room as well as kitchen. With two bedrooms, you can easily sleep five.
Location: Park County, Montana
Just a five-mile hike from the North gate of Yellowstone and with excellent cutthroat trout fishing opportunities nearby, this beautiful two-bedroom cabin offers an experience unrivaled by any. The property sits in a very private location and guests enjoy 26 acres of private space. Expect complete solitude from the crowds and roads but fear not, as restaurants, markets and shops are minutes away.
The log cabin has all the modern amenities but maintains its rustic charm through beautiful touches like hardwood floors. The windows open to scenic settings like Devil's Slide, Electric Peak and other famous landmarks. If you are lucky, you may even see deer, elk, and bison on the nearby meadows, right from the comforts of the cabin.
Recent Review: "I'm not sure where to start as our week stay was absolutely amazing. We stayed for the whole week of Thanksgiving. Todd is an amazing host and if questions arise is always there. The cabin is nicely supplied with essentials, but the best part is the peace you feel while staying at the cabin. The views of the mountains were spectacular and as you wake up looking out to see what wildlife is in the yard. The proximity to North Yellowstone entrance is perfection. Overall, our family had the best vacation ever, and made many special memories. Would definitely love to visit the cabin again In the future."
Location: Island Park, Idaho
Enjoy an escape to simpler times with a unique tenting experience. Well furnished and with distinct décor, the tents are comfortable and come with their own sitting areas. There's free parking for guests while express check-in, picnic areas and comforters ensure a comfortable experience for everyone.
Sitting in Island Park, the campground is far away from towns and cities, allowing guests to truly immerse themselves in the area's natural beauty. Henrys Lake State Park, Mack's Inn Playhouse and the Grizzly and Wolf Discovery Center are some of the most popular sights around.
Location: West Yellowstone, Montana
Escape to a rustic three-star experience with this riverfront tenting experience. Sitting near Gallatin National Forest, the campground has 74 tents, all with private entrances and sitting spaces. Housekeeping is provided daily for no extra charge while a nearby restaurant and bar ensure you won't miss out on your favorite dishes and beverages. There's also a meeting room and concierge service.
Sitting in West Yellowstone, expect a pretty rural setting by a river. The region's famed beauty is visible everywhere you look – we highly recommend you visit nearby attractions like Wolf Discovery Center and Yellowstone Big Gun Fun and Grizzly for a better understanding of the local ecosystem.
Location: Gardiner, Montana
When you stay at the Dreamcatcher Tipi Hotel, you get the whole experience of staying in a tipi. This property is in the ideal location, giving breathtaking views of Yellowstone National Park and, because to the absence of light pollution in the night sky, some of the best opportunities for stargazing that Big Sky Country has to offer.
The Dreamcatcher Tipi Hotel provides guests with free bottled water and portable fans in each of its 17 rooms. Beds with memory foam and quality bedding are available. Internet connectivity through wireless connection is offered in the rooms for an additional fee. The toilets in the rooms are separate and private. The showers in the bathrooms are equipped with rainfall showerheads. In addition to that, they host community campfires complete with free s'mores.
Recent Review: "This was the first time we had ever stayed there. It was absolutely magical. There were about 20 elk inside the resort when we first arrived. The tipi was larger than we thought, very spacious, cozy, and it had 2 heaters inside. We slept great. Family of 4 here. The manager was very welcoming, and that night they made a campfire, provided marshmallows for the children, and beer/wine for the adults. I can't say enough good things about Dreamcatcher. 5-star, will return next season."
Location: Gardiner, Montana
With its own patio and a hop away from Yellowstone's North Entrance, enjoy a scenic and minimalistic escape at this cabin. It's a perfect location for an adventurer as kayaking, fishing, rafting, biking, skiing during winter and hiking are all easily accessible activities. And it is only a ten-minute drive to Yellowstone Hot Springs, Boiling River and other iconic locations.
The cabin is certainly well furnished with a TV, dining table, sofa and a completely stocked kitchen. The bedroom has space for two and has its own bathroom with a shower and all amenities.
Location: Island Park, Idaho
Sitting at the bottom of a private mountain and a short 14 miles from Yellowstone Park, this cozy little cabin with space for two makes for a great summer vacation home. You won't find a full-sized kitchen here or a laundry room. But, you will find world-class fishing spots, safaris through Yellowstone Park, Harriman State Park, picnics by Hebgan Lake, and mesmerizing hiking and biking trails.
Some of the other recommended activities nearby include visiting Mesa Falls waterfall, Sawtelle mountain (you can drive to the top), and or the historic Johnny Sack cabin.
Recent Review: "Our stay here was amazing! Very cute Treehouse cabin is a must. We loved everything about it. It was only 10-15 minutes from West Yellowstone entrance. We definitely would stay again."
Location: Gardiner, Montana
If the above treehouse sounds too tiny for you, consider this large yurt home. It is complete with a kitchenette, private yard and more. With its own deck and a unique skylight dome, stargazing is a wonderfully fulfilling experience – as long as the clouds stay away!
The yurt is about 3 miles down a gravel road. You are unlikely to meet anyone else during your visit as it sits on a private 9-acre property. Expect all modern conveniences here. Air conditioning, coffee makers, bathrooms with running water – everything you need for a great vacation comes included!
Glamping Yellowstone Pinterest Pin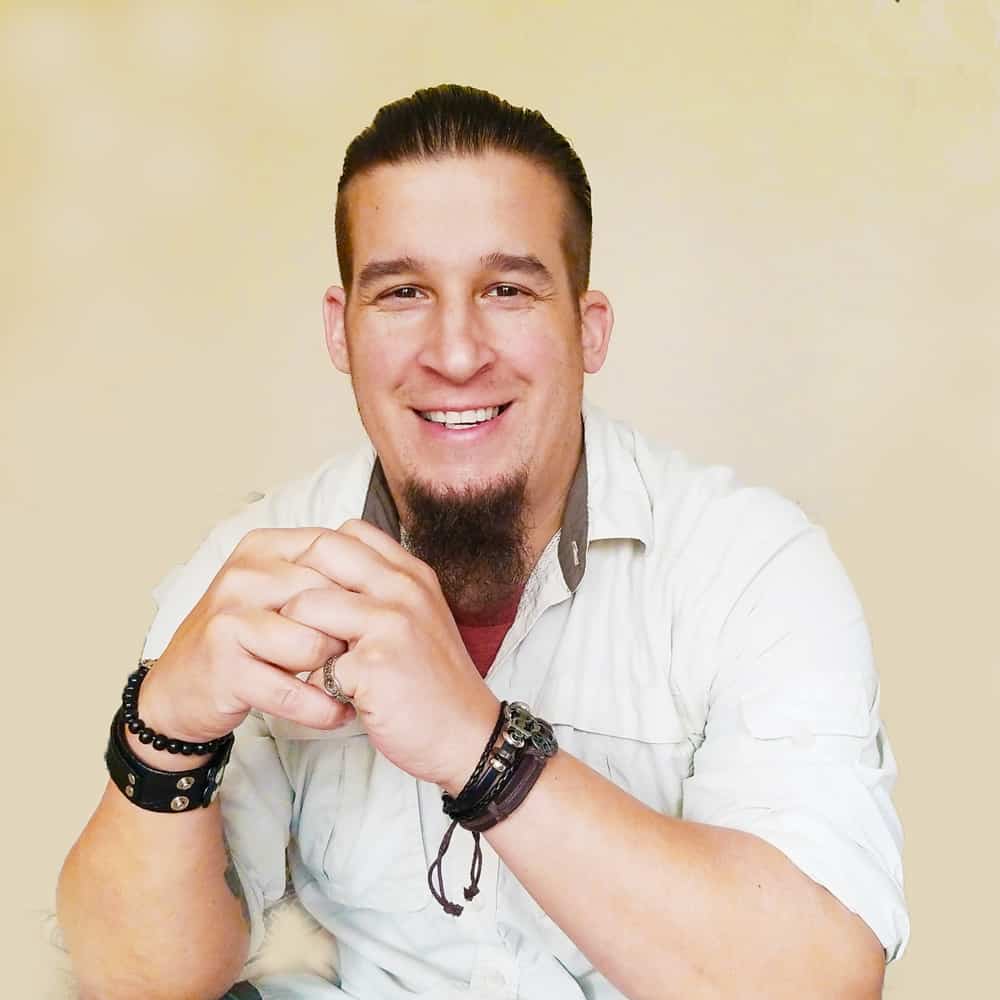 Full-time World Travel Writer who runs multiple websites and social media accounts. I have spoken at various conferences around the world. Some of my hobbies include adventure, fitness and new technologies. I am also a trekkie!