Oregon is a large state that sits south of Washington in the heart of the Pacific Northwest. It's overflowing with diverse, natural beauty and adventure. Among other things, the US state of Oregon is known for the cool and funky city of Portland, a wild and stunning coastline, tasty craft beer, delicious food and of course an abundance of beautiful, unspoiled nature.
It's the state's abundance of natural beauty that makes glamping in Oregon a definite hit. Glamping Oregon should be on everyone's Oregon bucket list.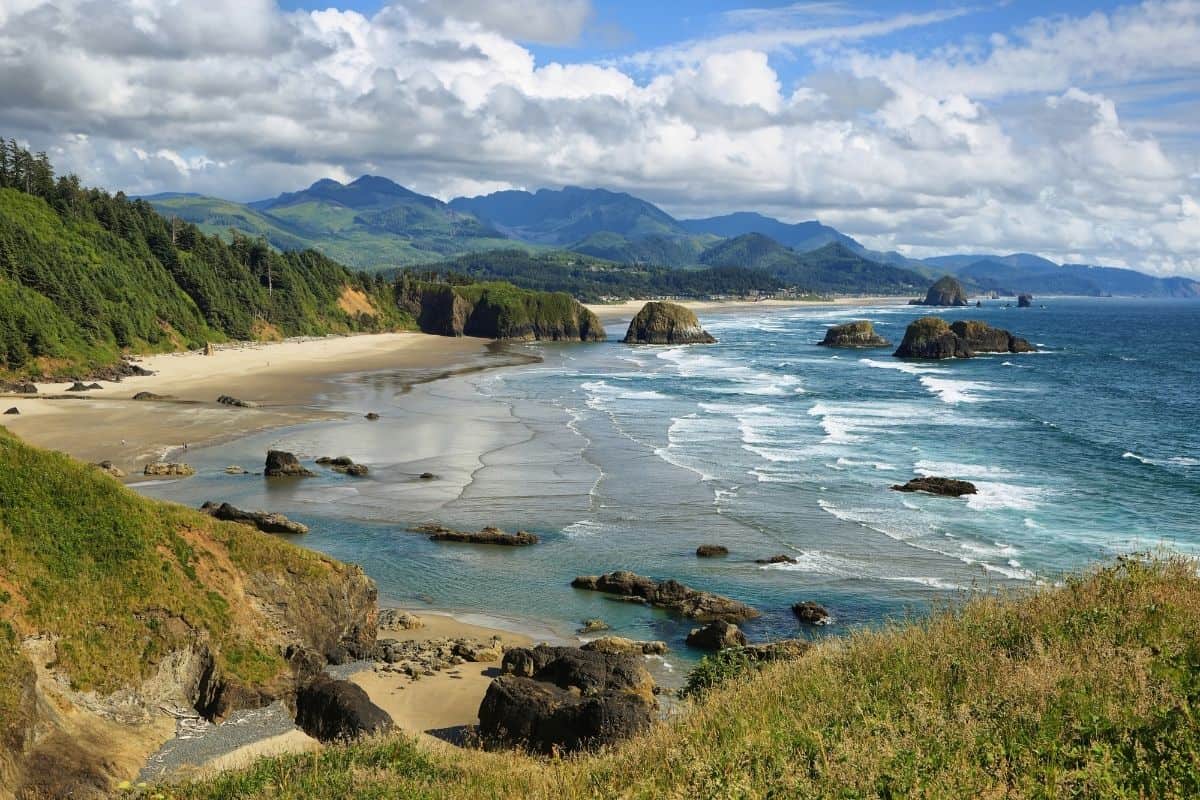 Regions for Glamping Oregon
The untamed Oregon Coast has incredible dramatic scenery, quaint seaside towns, sand dunes, National parks, iconic lighthouses and the freshest seafood you'll find anywhere.
Central Oregon is all high-desert and mountains and is a haven for outdoor activities like fishing, skiing, hiking and climbing.
In the vastness of Eastern Oregon, you'll find the Painted Hills, canyons, rivers and ghost towns making it a favorite area for adventure.
Mt Hood and Columbia River Gorge is home to amazing waterfalls, epic scenery, orchards, and of course the majestic peak of Mt Hood and the awe-inspiring river gorge.
The rivers, lakes, and hot springs of Southern Oregon are favorite playgrounds for water-based activities but there's also a thriving cultural scene here.
Oregon even has a fabulous wine region known as the Willamette Valley which is full of vineyards, farms, forests and, of course, wineries. The city of Portland is at the top of the valley.
One thing that can be said of all these regions is that camping in Oregon is incredible and the options for glamping in Oregon are endless.
If you love the outdoors but don't want to sacrifice comfort and luxury, Oregon glamping has you covered. You can choose from Oregon treehouses, Oregon yurts, cabins, tipis, domes, luxury tents and some one-of-a-kind Oregon glamping structures you've only ever dreamed of.
To get you started on your Glamping in Oregon adventure we've selected ten of the best glamping Oregon spots.
---
---
Our Top Glamping in Oregon Sites to Book
---
Location: Cave Junction, Southern Oregon
Best For: Families, adventure, outdoor activities
Features: Treehouse accommodations, ziplines, horse riding, lodge, breakfast, BBQ's
The Treehouse Treesort is what we would call adventure glamping. This welcoming "bed and breakfast in the trees" is a family-run business and is all about having fun and enjoying nature.
Accommodations include five unique treehouses with names like "The Majestree", "The Serendipitree", and "The Swiss Family Complex." There are also several other treehouses, structures and a cabin available for day use for now but which are awaiting approval for overnight stays.
In addition to the resort treehouse accommodations, there's a satellite treehouse one mile away called the "Lilly Pad". Plus, for a really unique adult experience, the 420 Treehouses let you stay in a loft overlooking a legal medical marijuana grow site.
Aside from the glamping treehouses there are 36 acres of woods and fields to explore as well as horse stables, ziplines, and a giant Tarzan swing.
Guest Review: "Can't say enough about how unique the Treesort is. It really is a resort in the trees. There are some compromises you need to make if your expectation is a standard hotel. The ingenuity and variety is staggering. The zip lines and horse riding were both fantastic. Impressed to that the general attitude was one that provide the materials and folks will figure it out how to make things work. It's a light touch and all felt like a throwback to the 80's. Had a great horse riding excursion, sleeping in the trees was fantastic, have a feeling we will be back.
Oh yeah, and you will be unplugged. So if you plan to use some screens to chill the kids out at some point, better have it all downloaded."
---
Location: Willamette Valley, Oregon
Best For: Families, groups, couples, dog-friendly, wineries
Features: 35 vintage trailer accommodations, pool, clubhouse, cruiser bikes
If your idea of a great glamping vacation includes wine tasting by day and sleeping in a vintage trailer by night then The Vintages is your place!
The Vintages Trailer Resort sits in the heart of Willamette Valley wine country between the two charming towns of Dundee and McMinnville making touring the many wineries and tasting rooms a breeze.
When you're not out tasting you'll have a lovely vintage trailer with a full kitchen and propane grill to rest comfortably and cook a great meal. Your trailer also comes with special touches like terry cloth robes, gourmet coffee and your own bikes for exploring.
The 14-acre grounds also have a swimming pool, lawn games and a dog park to keep everyone entertained and there's a fabulous clubhouse for group events.
Guest Reviews: "Great opportunity to stay in a 1948 trailer with great wood detail. Loved the location for hiking and wineries."
---
Location: Silverton, Willamette Valley
Best for: Couples, rustic romantic getaway
Features: Sleeping loft, kitchen, living room, large deck, hot tub
This unique Oregon glamping spot is a converted greenhouse. The large windows, wood beams and gravel floors make you feel like you're living outdoors but with the comforts of home. A cozy sleeping loft has a full size bed with views of the surrounding countryside. There's a comfy seating area and the spring fed cedar soaker tub adds to the romance.
The kitchen and large bathroom are located in the main barn just 100 ft away. Bali House sits on an organic working farm and there are trails right outside your door. If you don't want to cook at home, nearby Silverton has plenty of restaurants and wineries to enjoy.
Guest Review: "My daughter and I loved our stay on the farm. We petted the horses (including a baby!), walked farm trails, relaxed in the hammock, listened to owls at night, made friends with the dog and barn cat, soaked in the hot tub and more. The Bali House and historic barn are gems to behold! We'll be back someday!"
---
Location: Otter Bay, Oregon Coast
Best For: Couples, group, family, sleeps 5
Features: 5 beds, 1.5 baths, kitchen, deck, dog friendly
This geodesic glamping dome is just a few blocks from the beach and popular Devil's Punchbowl. There is a huge deck and lots of windows so you'll have plenty of natural light and sea air. Inside the dome is a kitchen, lounge area, TV and wifi for your entertainment. The lovely outdoor shower is perfect for washing off the sand after a day at the beach.
You'll have quick and easy access to the nearby beaches and quaint seaside towns including Depoe Bay and Newport. For a small additional fee you can even bring your dogs (2 max). If you are a group or family this is a top spot for glamping Oregon coast.
Guest Review: "My husband and I had a great time at the surf dome. We loved the walk to the beach and the outdoor shower. We would definitely rent this place again. It really does get hot in the dome if it's sunny outside. They had a few fans. You may want to bring an extra fan or some extension cords to make it easier to get circulation where you need it."
---
Location: Marcola, South of Willamette Valley Oregon
Best For: Families, groups, couples, wellness, nature
Features: 5 tipis, 1 cabin, 1 cottage, 1 guest room, breakfast, yoga
The Tipi Village Retreat provides comfortable Zen-style tipis in a peaceful wooded setting making it a perfect place for a relaxing Oregon glamping escape.
The tipis are named appropriately after famous American Indians such as Chief Sitting Bull, Crazy Horse and Sacagawea. They come with stone floors and soft rugs, comfy beds and down comforters to snuggle up in.
Guests have access to a large, central bath house unless they are staying in the Studio or Master Bedroom Suite which both have private bathrooms.
Peace, wellness and nature are definitely the main focus at this tipi glamping retreat. The secluded location in the woods and the lovely creek running through are perfect for attracting wildlife such as elk, deer and various birds.
Enjoy a wholesome, healthy breakfast by the creek and partake in some rejuvenating yoga or reflexology sessions to complete a perfect Oregon glamping getaway.
---
Location: Scotts Mills, Willamette Valley
Best For: Couples, quick country getaway from Portland, small farm stay
Features: Kitchen, bathroom, queen bed, firepit
Luxury vintage Airstream sitting on 67 private acres of meadows, fields and trails. This Oregon glamping accommodation is fully self-contained with everything you need to enjoy a countryside getaway. The queen size bed has luxurious bedding to ensure a great night's sleep and the kitchen is stocked with everything you need to cook a romantic dinner.
Outside you have a firepit with comfy seating to enjoy the evening under the night sky. On the property, you'll be surrounded by nature including beautiful lawns, fields of horses, plus chickens, cats and dogs roaming the farm. All this is just 1 hour from Portland but close to dozens of hiking trails and the cute town of Silverton full of wineries and restaurants.
Guest Review: "From the moment we arrived, we just loved this property. Kristan was super great, spending as much time with us as we wanted, showing us around the farm, sharing details and future plans. The air stream was immaculate. It was just as advertised and we would definitely stay here again!!"
---
Location: Near Tiller, Southern Oregon
Best For: Couples, small family, off-grid experience, nature, privacy
Features: Fire lookout treehouse, kitchen, firepit, hot tub, pit toilet, outdoor shower
The Summer Prairie Lookout Tower is definitely one of the most unique and remote Oregon glamping experiences and a top pick for anyone looking for absolute peace and privacy.
The accommodation is at the top of a wooden tower built to look like a US Forestry fire lookout tower from the early 1900s. It sits on 160 acres of private land near the Umpqua National Forest providing an incredible off-grid experience fully immersed in nature.
Amenities in the accommodation include comfortable beds, living room, kitchen, dining table, deck, outdoor shower, and heating. Also on the property is a pit toilet outhouse, a wood-heated hot tub, BBQ grill, and firepit. All you need to bring are your personal items and food.
---
Location: Troutdale, Columbia River Gorge Oregon
Best For: Couples and families, unique accommodation, scenery
Train caboose glamping? Yep, it's a thing! If you dreamed of hopping on a train to go traveling as a kid this may be your dream come true. This authentic railroad caboose sitting on an actual piece of track has been renovated into a comfy accommodation.
Features: Train caboose accommodation, 2 bedrooms, kitchen, 1.5 bathrooms
The Little Red Caboose sits on a bluff in the Columbia River Gorge area surrounded by scenic views of woods, mountains, and fields of horses. There are 2 bedrooms, a living room with fireplace, kitchen, and bathroom inside the caboose and a cute outhouse and private deck with BBQ and chairs outside.
Guest Review: "Darling little red caboose! We loved our cozy stay here. The cute train theme decor and memorabilia was unique and fun! We played a couple old vinyl records. Enjoyed the beauty of the space and relaxed thoroughly! We so hope to return one day!"
---
Location: Culver, Central Oregon
Best For: Couples, honeymoon, retreats, families, relaxation, romantic, luxury camping Oregon, wellness, nature, adventure
Features: Luxury tents, pool, relaxation decks, spa
By definition, Panacea is "a cure-all or remedy for all ills and difficulties" which is exactly the vision of the hosts at this unique Oregon glamping resort. If you're in search of a place for a digital detox where you can work towards a renewal of balance and well-being Panacea is a perfect choice.
Panacea is 40-acres of healing nature, eco-friendly luxurious accommodations and an outdoor spa offering holistic treatments for mind, body and spirit. It's wellness glamping in Oregon at its finest.
The luxury "Stargazer" glamping tents have skylights for viewing the night sky from the comfort of a king or queen-sized bed. Tents also come with hardwood floors, ensuite bathroom, robes, fireplace, a private deck and footbaths.
---
Location: Bandon, Oregon Coast
Best for: Couples
Features: Queen bed, wood stove, fire pit, sun shower
This Tentrr Signature Site features a canvas glamping tent just 1 mile from the Oregon coast. The glamping site is on Black Moon organic farm where they cultivate cranberries, blueberries and chestnuts. It is secluded from the main farmhouse by a fence and plenty of trees.
Your glamping tent comes with a comfortable queen bed, wood stove, bbq grill, deck, sun shower and outside seating and picnic table. Spend your time exploring the 75-acre farm and property, Bullard's Beach State Park, and the quaint town of Bandon.
Guest Review: "Extremely comfortable and very private location on a cranberry farm. Lots of room for our pups to play and the host was always available for anything we needed. Loved the comfy bed and soft linens. The indoor wood stove heated the area perfectly within minutes for pleasant cold mornings. Great location for easy access to Bandon and some of the most beautiful beaches on the Oregon Coast. It will be hard to camp anywhere else. Thank you so much for such a relaxing retreat!"
---
Location: Bay City, Oregon Coast
Best For: Couples, small families, pet-friendly, beach, views
Features: One luxury glamping yurt, hot tub, queen bed + futon sleeping sofa, bathroom, kitchen, firepit, BBQ, picnic table
If you dream of glamping at the beach then Yurt on the Bay is your answer. This large luxury yurt has everything you need for an amazing romantic or family-fun Oregon coast glamping getaway including cozy bedding, robes, fluffy towels and a full ensuite bathroom.
The private glamping site has a hot tub to soak in and soak up the 180-degree views of the bay. There's also a picnic table and BBQ as well as a full kitchen for creating your own meals to be enjoyed al fresco. If you don't want a digital detox there's a flat-screen TV with movies and games provided and nearby there's fishing, beaches, hiking, golfing and of course the epic Oregon coast scenic road.
Guest Review: "We had a great time. The Yurt has all the amenities you need for a fun weekend. It's close to Tillamook and we enjoyed Cape Lookout and exploring the Wilson River. The Yurt is located on the Tillamook Bay and has a great view and is nice place to unwind and BBQ."
---
Location: Banks, Oregon
Best For: Couples or small family of 4
Features: Queen bed, sofa bed, kitchenette, bathroom
This tiny home is an oasis amongst the trees on the Rice's Horses property. You'll feel miles from anything yet you're only 30 minutes from Portland. The sleeping loft has a queen size bed and there's a comfy sofa bed on the main floor which would suit kids or even adults. The kitchenette has a full fridge, 2 burners and a microwave.
There's a firepit for enjoying the evenings and trails nearby for hiking and horse riding. If you want more entertainment you'll find restaurants, shops and a casino not far away.
Guest Review: "Staying in the Thimble Home on the heavily wooded property of Rice's Horses was a dream.
We awoke to the chirping of various birds, the the early morning light dappling through the trees. Stepping outside we noticed we were neighbors to a hawk and a wood pecker, among many other smaller birds. There is also a neighboring tiny home, as well as the Rice's home down the hill a piece, but neither disturbed the serene and peaceful vibe.
The home itself was clean and cozy, and had everything we needed to enjoy our weekend, except for food which we brought and cooked ourselves on the outdoor fire pit.
Finally, the proximity to the Buxton Trail and many Mom and Pop shops, made it easy to get out of the city and support local businesses, including Rice's Horses. We purchased and hour long trail ride with them and had a blast. We enjoyed their company so much we invited them to a late night fire side chat, and the whole family happily accepted, sharing stories late into the evening.
Overall, 10 out of 10, would do again and recommend to a friend."
---
Location: Sherwood, Oregon
Best For: Rustic but luxurious camping, couples, small family
Features: 1 glamping tent and 1 glamping tipi, outdoor shower, outhouse, firepit, covered deck
Camp Heaven has two glamping sites in the woods, one with a luxury tent and the other with a tipi. Both glamping accommodations come with a comfy queen bed, luxurious bedding, towels and robes plus private outdoor showers, a covered deck and a firepit.
On the property, there are trails to explore, swings to play on, rest areas for relaxing, and in the summer there's an outdoor pool. The location is in wine country so it's a great base for visiting the many wineries in the area.
---
Location: Joseph, Eastern Oregon
Best For: Couples, canvas wall tent glamping experience
Features: Full bed, kitchenette, electricity
This large canvas glamping tent is raised off the ground on a solid wooden platform and has electricity. Inside is a comfy bed, rugs, kitchenette, wood stove and Lugaloo potty. Outside is an outdoor heated shower enjoyable in any weather.
The tent flaps open up to reveal beautiful countryside views of fields and the Wallowa Mountains. Wallowa State Park is close by with lots of trails and river adventures. You can eat or stock up in the nearby cute town of Joseph.
Guest Review: "Couldn't find a hotel during a busy weekend and this turned out to be the far better option. Lovely views, nice people, great bed. I enjoyed hearing the horses and the birds rather than thrumming air conditioners and foot traffic…or any traffic."
Location: Bend, Oregon
Best For: Couples and families, romantic, peaceful, woods
Features: 1 geodesic dome accommodation, kitchen, bathroom, living room, deck, view
This glamping Oregon Airbnb is one of the most unique glamping experiences you'll find. This Geodesic Dome with a custom extension sits on a private, peaceful, wooded lot for the ultimate in luxury glamping.
There are two bedrooms, a full bathroom, a kitchenette with a full-sized fridge, a cozy living room with a fireplace, a dining room table, and a deck with a view of the woods.
The location is perfect for going hiking on Phil's Trail System or Deschutes River Trail or exploring the Old Mill area or the popular town of Bend.
Guest Review: "This is a really fun and unique stay. The location is great, especially if you are wanting to mountain bike or get out to the mountains. We appreciated the hammocks and outdoor spaces, which would be fun for a cool fall night."
---
See Also
Top 10 Washington Glamping Destinations
Top Treehouse Glamping in Washington State
Luxury Lake Chelan Camping with Airbnb
Luxury Salt Spring Island Camping in BC
Glamping Idaho – The Top Spots
Gypsy Caravan Glamping in Idaho
Under Canvas Glamping Glacier National Park
---
So, are you ready to go glamping in Oregon? If so, don't forget to research all the amazing things you're going to see and do and pack everything you'll need to enjoy all the activities and adventures in the spectacular nature, towns and cities of Oregon.
---
Pin It For Later
Born in England, Sarah developed her wanderlust at a young age as she traveled around Europe with her parents. As a young adult she spent every penny she could on experiences as opposed to possessions. Eventually she found a way to earn a living doing what she loved: traveling, writing and capturing images of the wondrous world we live in. When not on the go Sarah enjoys time in her "sometimes home" of Vancouver.