The warm tones of orange and pink that blanket the horizon as the sun sets over the stunning terrain of New Brunswick, Canada, are mesmerising. The air is fresh, the aroma of pine trees remains, and birdsong fills the air. You're about to embark on an extraordinary glamping New Brunswick Canada experience that mixes the beauty of nature with the luxury of a boutique hotel. Glamping New Brunswick allows you to immerse yourself in nature while yet enjoying modern conveniences.
Imagine yourself hidden in a warm, eco-friendly treehouse high among the branches, or cuddled in a tastefully outfitted yurt, surrounded by miles of pristine coastline and acres of trails and forest. Glamping in New Brunswick provides a range of unique lodgings that appeal to all sorts of guests, from adventurers to those who simply want to rest and enjoy the peace and quiet of the great outdoors.
---
Other Glamping Canada Articles
---
You'll fall in love with the natural magnificence that glamping New Brunswick has to offer as you explore the various glamping alternatives available in this charming corner of the world. Spend your days kayaking on tranquil lakes, trekking through lush forests, or scouring the beach for seaglass and other hidden treasures. After an exciting day, relax in your own own hideaway, complete with comfortable mattresses, sumptuous amenities, and maybe even a wood-fired hot tub beneath the stars.
Glamping New Brunswick is the ideal getaway for people looking to reconnect with nature and enjoy the charm of the outdoors without sacrificing comfort. So pack your bags, lace up your hiking boots, and prepare to go on a once-in-a-lifetime expedition to uncover the hidden beauties of this magnificent Canadian province.
Amazing Glamping New Brunswick Site to Book Today
---
Location: Grand Manan Island, New Brunswick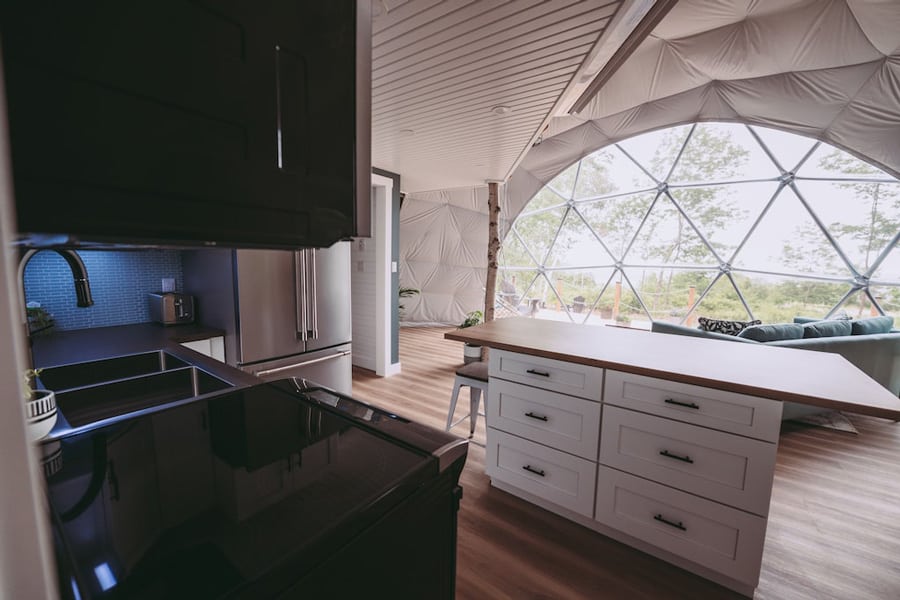 Enjoy a one-of-a-kind stay at Grand Manan Island's private Geodesic Dome, which has spectacular views of the Grand Manan Ferry and the famed Swallowtail Lighthouse. Arise to beautiful sunrises in this brilliant, one-of-a-kind accommodation, which has a full kitchen, bathroom, two organic cotton queen mattresses (one in the downstairs bedroom and one in the loft), a sitting area, and heat and air conditioning.
Go outdoors to enjoy the tranquil outside environment, where you may relax in the hammock or on the deck in Adirondack chairs. Gather around the fire pit at the end of the day to experience amazing moments beneath the stars. This unique geodesic dome on Grand Manan Island provides an unrivalled hideaway for those looking for an extraordinary break with modern conveniences and breathtaking views.
Location: Bathurst Parish, New Brunswick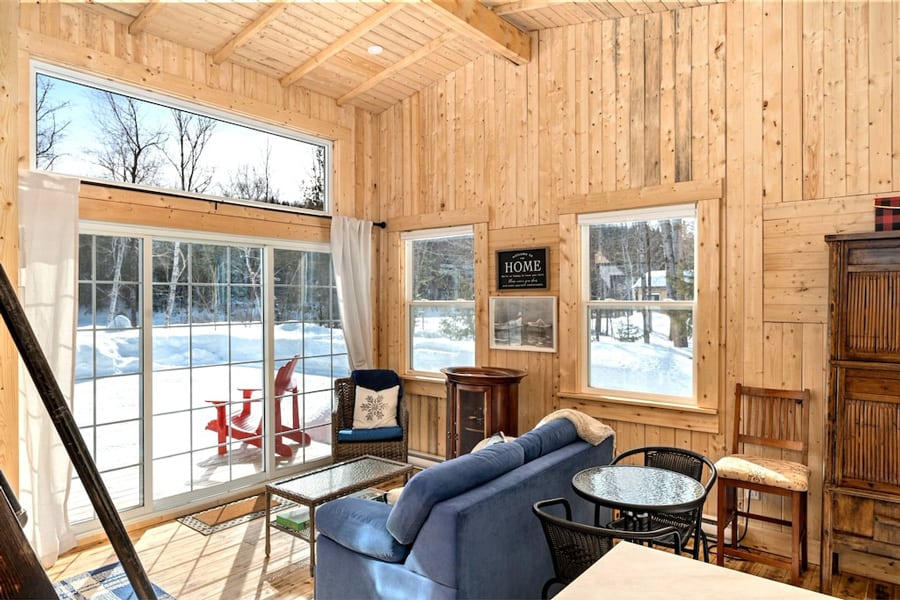 Escape the cacophony of modern life and reconnect with nature in this tranquil woodland cottage, ideal for a romantic break or a family reunion, with room for two more guests. The interior seamlessly integrates modern and classic cabin aesthetics, with a fully-equipped kitchen to meet all of your cooking and entertaining needs. When you create wonderful meals in the open-concept kitchen and living room overlooking the quiet backyard, enjoy free spices, olive oil, tea, and coffee. Have your morning coffee while admiring the stunning views of the river and adjacent woodlands.
Although basking in the cabin's privacy may seem appealing, action awaits nearby, with activities suitable for any season. Summer activities include strolling along the river, sunbathing or swimming at Youghall Beach, exploring the West Bathurst Walking/Cycling Route, and enjoying fresh lobster. Winter fans may go dog sledding with Birch Bark Adventures in North Tetouche, which is only 5 minutes away from the chalet, or embrace the winter paradise with woodland treks or snowshoeing. Our forest lodge provides the ideal combination of leisure and excitement for a memorable escape.
Location: St. Andrews, New Brunswick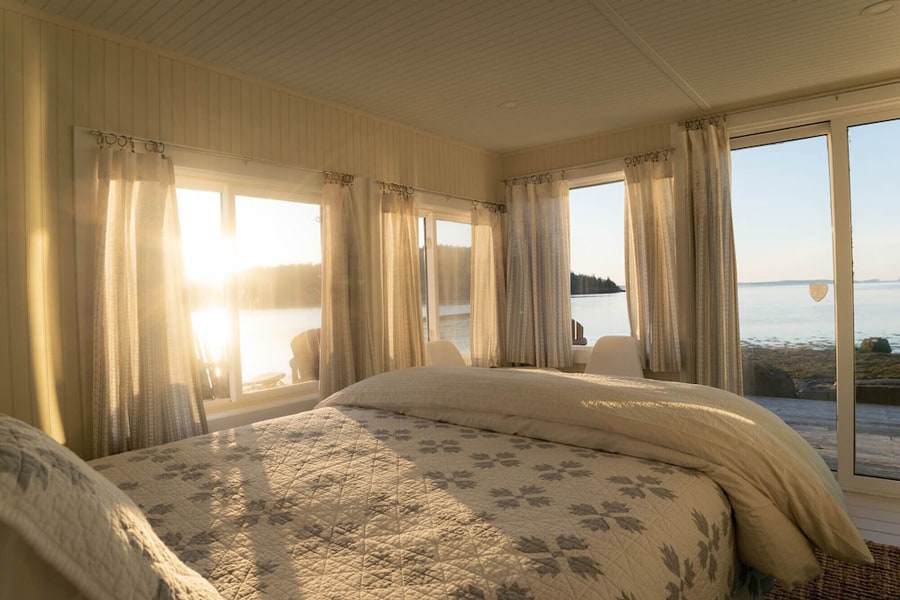 Experience the lovely Artist's Cabin, set on the cliffs of the magnificent Bay of Fundy and surrounded by a sixty-acre farm overflowing with horses, peacocks, geese, ducks, swans, deer, and foxes. You'll be within easy reach of superb restaurants, shopping, grocery stores, a vibrant arts scene, inviting cafes, a world-class golf course, and thrilling outdoor adventures like sea kayaking, hiking, whale watching, and scuba diving in just 8 minutes from St. Andrews and 15-20 minutes from St. Stephen. Expect to be mesmerised by the stunning scenery and welcomed by the friendly locals.
The Artist's Cabin, named for the artists who have found inspiration and rejuvenation inside its walls, emanates warmth and romanticism. Admire the breathtaking views of the Bay of Fundy, Kilmarnock Head, and Ministers Island, making it an ideal hideaway for couples, single explorers, business travellers, and families looking for a slower pace for a week or two. The cabin is solar-powered and has a backup generator for extra energy needs. It also has a propane-powered fridge, cooker, and heater, offering a pleasant and eco-friendly stay in this mesmerising refuge.
Location: Wellington Parish, New Brunswick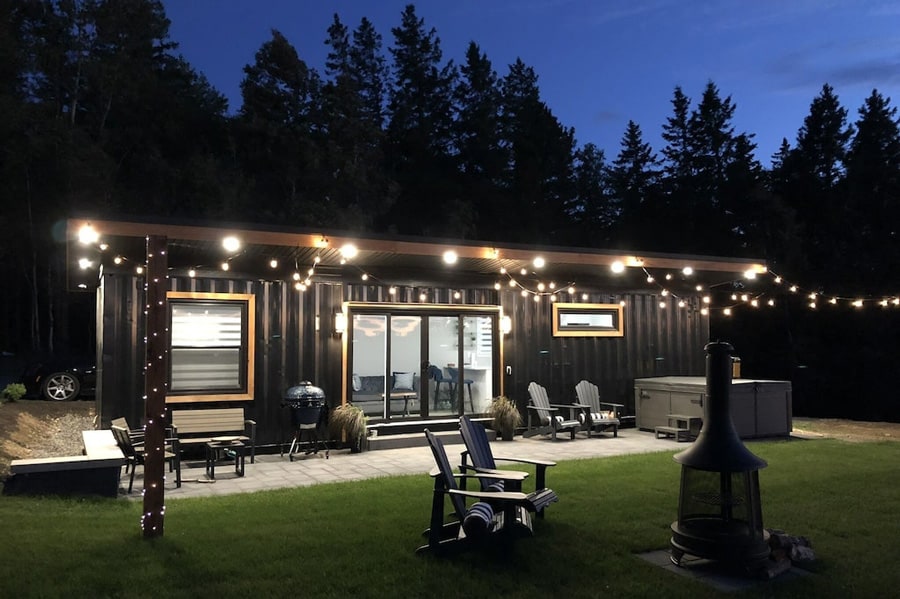 Immerse yourself in nature's tranquil splendour at the Waterfront Shipping Container Retreat, a one-of-a-kind holiday house on the Little Bouctouche River surrounded by lovely hay fields. This one-of-a-kind refuge has everything you need for a pleasant stay, including a fully equipped kitchen, a three-piece bathroom with shower, hairdryer/straightener, robes, and towels, and a cosy bedroom with a queen-size bed, picture frame TV, washbasin, and plenty of storage space. Relax in the hot tub and take use of the free Internet throughout your stay.
This 320-square-foot house on a gorgeous 38-acre property with hay fields, treed portions, and the breathtaking Little Bouctouche River is ideal for a pleasant and restful break. Seasonal activities on the river include paddleboarding, kayaking, fishing, ice fishing, tubing, skating, and swimming. During the winter months, the property also offers for snowshoeing, cross-country skiing, and convenient access to the NB Snowmobile path. Restaurants, petrol stations, tourist attractions, a grocery store, pharmacies, and a summer farmers market are all nearby in Bouctouche.
Location: Hillsborough, New Brunswick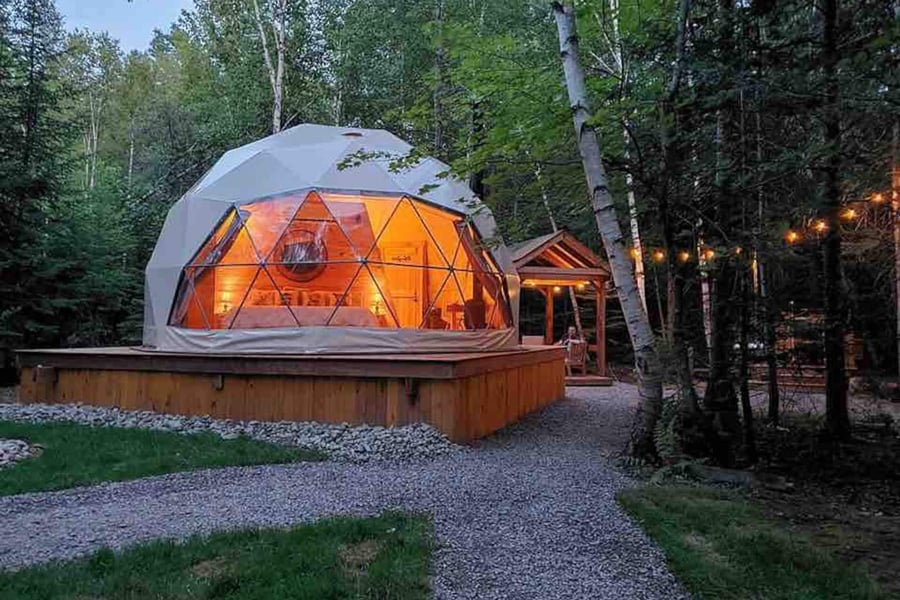 The Woodland Hive and Forest Spa, which can be found tucked away in the quaint hamlet of Hillsborough, New Brunswick, provides an exquisite glamping New Brunswick experience to guests who are looking to reconnect with nature without renouncing the conveniences of contemporary living. This one-of-a-kind glamping dome is an excellent choice for lodging because it affords guests the opportunity to take pleasure in the vibrant colours of spring, the calming warmth of summer, the cosy coolness of autumn, and the enchanting stillness of winter, all while remaining in the peaceful setting of the verdant Canadian forest.
The guests are immediately struck by the sense of seclusion and peace that the Woodland Hive property provides as soon as they step foot on the premises. The opulent dome, discretely positioned within the beautiful vegetation, serves as an ideal hideaway, complete with the soothing accompaniment of the songbirds and the sound of the leaves rustling. The stay is given a dose of genuine warmth and character thanks to the immersive experience provided by the on-site hobby farm, which comes complete with hens and honey bees.
The Woodland Hive offers a wide range of activities and conveniences to its guests, in addition to the natural splendour of the area in which it is located, in order to make the glamping experience more enjoyable. When guests have enjoyed the local eateries and tourism attractions, they may unwind at the property in the wood-fired sauna or cedar hot tub before heading out again to explore the surrounding area. The Woodland Hive and Forest Spa is a great getaway place for individuals who want to enjoy the most breathtaking aspects of Glamping New Brunswick's picture-perfect scenery due to the fact that it combines comfort, elegance, and a connection to nature in its design.
Location: Codys, New Brunswick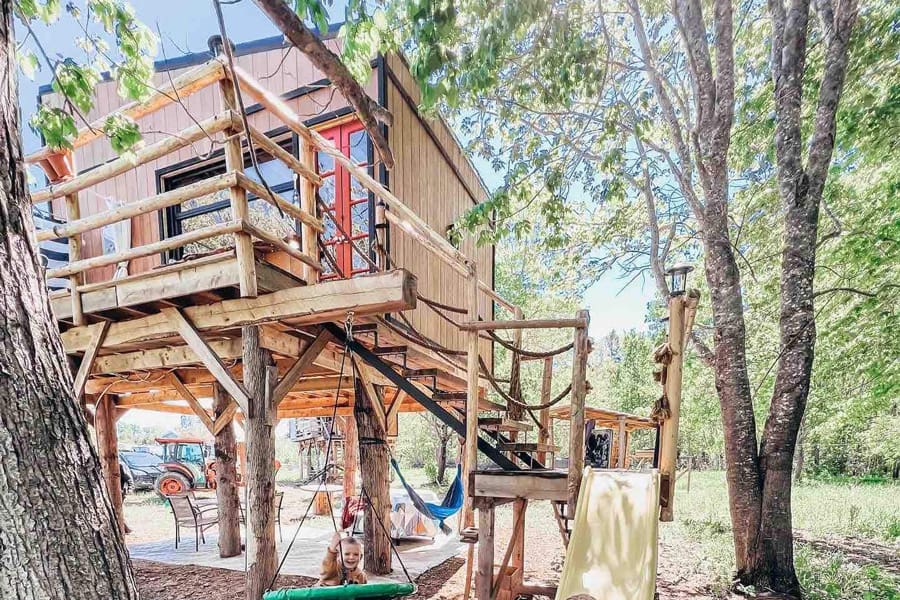 Absorb yourself in nature's grandeur by staying at "The Roy," a lovely treehouse in Codys, New Brunswick, perched immediately on the scenic Washademoak Lake. This nautical-themed treehouse provides a comfortable glamping New Brunswick getaway with two queen beds in the upper loft, a double bed on the lower level, a tiny kitchen with a hob, sink, and fridge, and an interior half bath.
Go outdoors to an amazing outdoor bath and shower area, a barbecue for cooking, and a washer throw area. The one-of-a-kind garage door design allows you to open up the area, welcoming fresh air and a deeper relationship with nature. Use the on-site kayaks and canoes, or relax in the common hot tub area, which has a TV and couch for relaxing. Please keep in mind that this spot is pet-friendly and has other campers as well as a nearby treehouse.
Enjoy the peace and quiet of waterfront life by sipping your morning coffee while gazing out at the lake or gathering around the fire pit in the evening. "The Roy" treehouse provides a quirky and unique hideaway for friends and family, mixing contemporary conveniences with the enchantment of an amazing nature retreat.
Location: Botsford, New Brunswick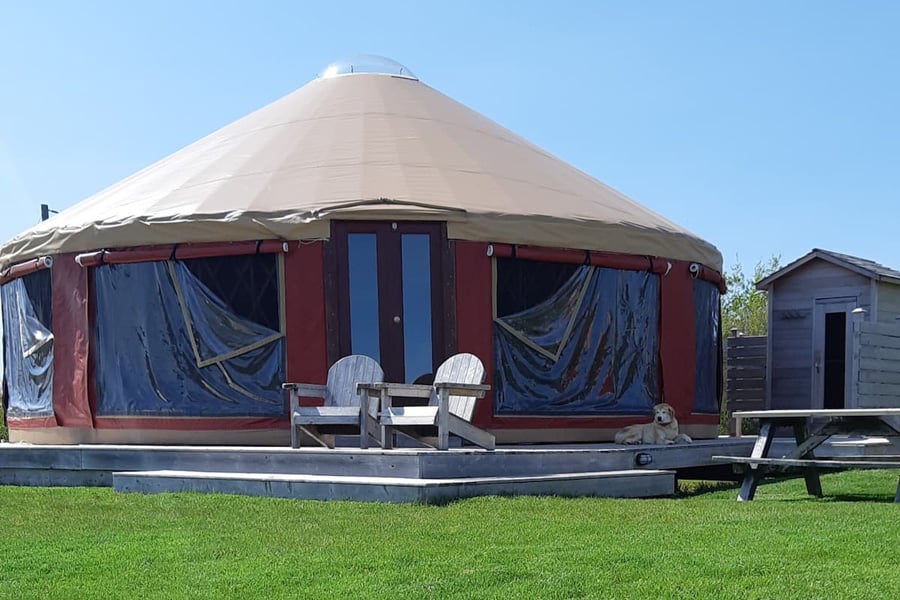 This lovely yurt hideaway, ideal for couples or those seeking inner meditation, transports you to a tranquil paradise. This one-of-a-kind refuge is nestled among miles of unspoilt coastline and acres of woodland paths, and it features floor-to-ceiling windows with a 180-degree panoramic view of the ocean. See the shifting tides, unwind on the down-filled couch as clouds pass by, or take use of the on-site library, music library, board games, meditation cushion, and yoga mats.
The yurt's bathroom has a classic clawfoot tub with a shower, as well as a soothing sauna and an energising outdoor shower. Go through woodland pathways, selecting seasonal raspberries, blackberries, and plums, and immerse yourself in the nine acres of unspoiled nature. Solace may be found in the woodland circle, which is encircled by gorgeous maple, pine, and birch trees.
Enjoy miles of pristine coastline, wading through tidal pools and sunbathing on sandbars. This hidden treasure provides a peaceful retreat where time passes slowly, allowing you to completely appreciate the finest that nature has to offer.
Location: Hampstead Parish, New Brunswick
Find a quiet and romantic treetop retreat ideal for couples seeking a relaxing Nordic Spa experience. This hideaway includes an outdoor wood-fired hot tub, infrared sauna, and hammocks for an ultimate detox in any season, nestled amid a beautiful woodland on a quiet lake off the Saint John River. Reconnect over a warm fire and relax in the open-concept layout, which includes modern conveniences.
Marvel at the stars from your bed beneath massive skylights in the loft-style bedroom, built for two but easily accommodating four. Please keep in mind that this retreat is not appropriate for children under the age of 12. Dogs are welcome for a cost of $50, but are not permitted in the bedrooms or with food/drink upstairs.
See the historic local stores and craftspeople in neighbouring Gagetown and Hampstead, or simply remain and enjoy the peace and quiet of this magnificent treetop refuge.
Location: Saint Martins, New Brunswick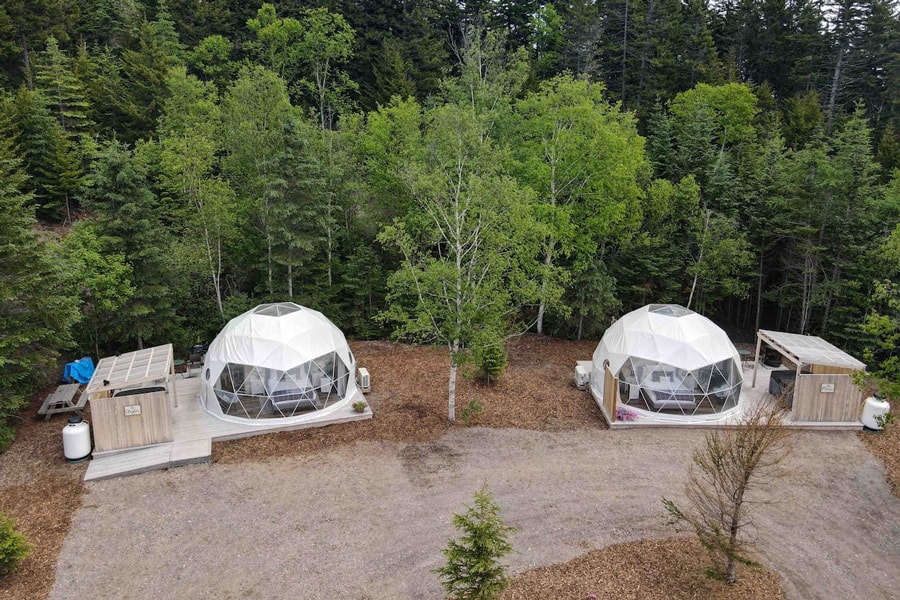 Experience the luxury Fundy Domes, located just off Main Street in St. Martins and within walking distance of the gorgeous Bay of Fundy beach and its world-renowned sea caves. These domes, nestled in an exquisite setting, have easy access to well-maintained ATV and snowmobile trails and are only a 15-minute drive from the scenic Fundy Trail.
Enjoy a sophisticated, upmarket glamping experience unlike any other, with the right balance of luxury and excitement. The Fundy Domes offer all the comforts of home while immersing you in nature, making traditional camping and its flimsy tents a thing of the past.
Despite the fact that the property now has two domes, with plans for additional, visitors may enjoy seclusion owing to carefully positioned hot tubs with privacy walls and curtains within the domes. While the caverns and sea cannot be seen from the domes, their central location in St. Martins means you're never far from stunning beaches, wonderful restaurants, and delightful gift stores. Make the most of your glamping experience at the Fundy Domes by taking advantage of adjacent ATV trails in the summer months or snowmobile excursions in the winter.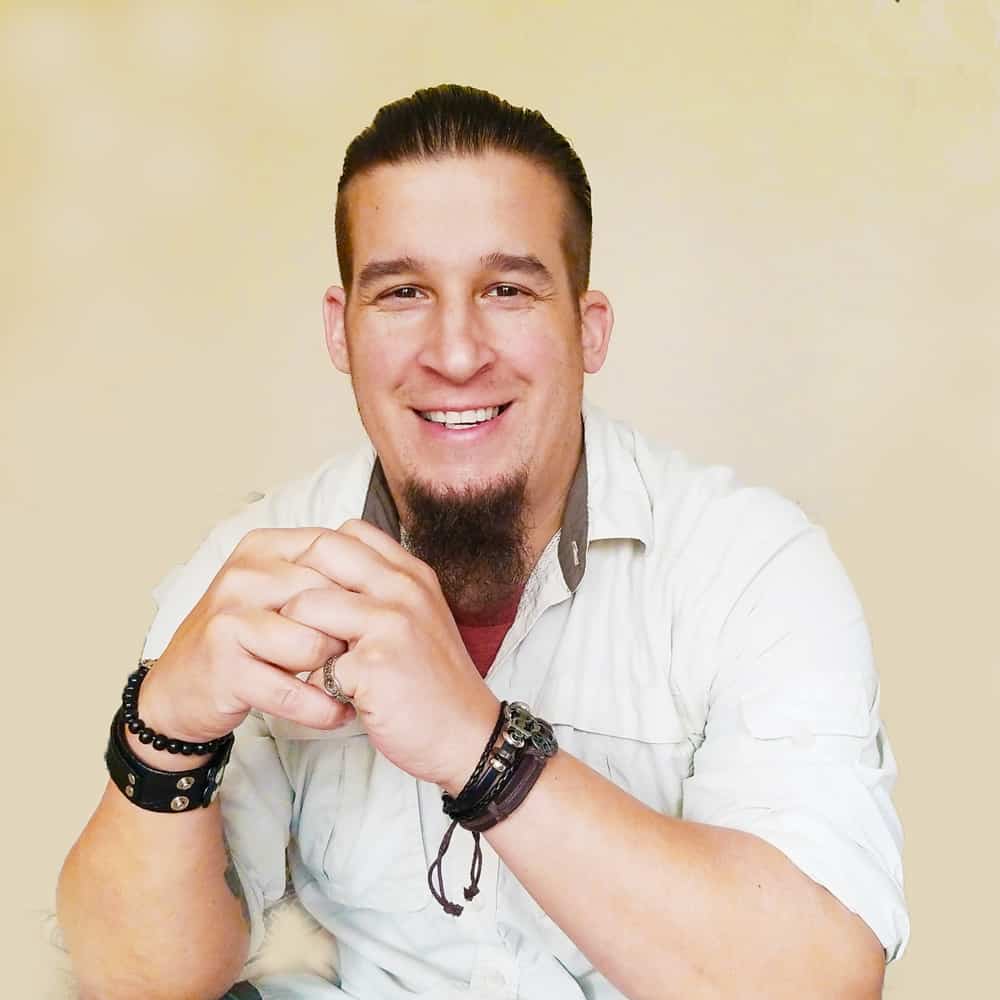 Full-time World Travel Writer who runs multiple websites and social media accounts. I have spoken at various conferences around the world. Some of my hobbies include adventure, fitness and new technologies. I am also a trekkie!