Experience the spectacular beauty and rich legacy of the Isle of Man, a hidden jewel tucked between Great Britain and Ireland in the Irish Sea. Glamping Isle of Man provides an amazing experience for both British tourists and international visitors, blending the marvels of nature with the conveniences of luxurious camping. Immerse yourself in the island's magnificent scenery, from craggy coasts and sandy beaches to verdant hills and picturesque glens, all while enjoying the ultimate UK Glamping experience.
Glamping Isle of Man allows you to immerse yourself in the fascinating history and colourful culture of the island. See old castles, the world's largest running waterwheel at Laxey, or travel back in time on the Isle of Man Steam Train. The island is also a sanctuary for outdoor enthusiasts, with several walking and cycling routes, as well as exhilarating watersports options along its breathtaking coastline.
Take time to explore the Isle of Man's distinctive fauna, such as the famed Manx cat and the elusive basking shark, as you relax in your comfortable glamping accommodation. The island is also a UNESCO Biosphere Reserve, making it a great location for nature enthusiasts looking for a sustainable and environmentally responsible vacation.
Glamping Isle of Man is a spectacular escape from the ordinary, whether you're looking for a romantic break, a family adventure, or a group retreat. See the island's natural beauty, intriguing history, and kind hospitality from the comfort of your snug and well-appointed glamping refuge.
Also Read: Wicklow Glamping – Glamping Scotland – North Wales Glamping
Properties to Book for Glamping Isle of Man
---
Glen Helen Glamping on the Isle of Man offers the perfect glamping escape, with warm, well-appointed pods that sleep up to 6 adults in comfort and luxury. Basic Pods with a king-sized bed, king-sized couch bed, and a drop-down double sofa bed are available, or upgrade to a Pod with a Hot Tub for an added touch of luxury. Each pod has underfloor heating, an en-suite toilet and shower, a kitchenette, and an outside Barbeque area, ensuring that you have everything you need for a wonderful stay.
Please keep in mind that dogs are not permitted on the premises. The 8-person log-fired hot tubs are offered only in the Pod with Hot Tub option for individuals looking for the utmost in leisure. Immerse yourself in the beauty of the Isle of Man while enjoying the perfect combination of luxury and outdoor adventure at Glen Helen Glamping.
With Nine Yards Bell Tents, you can experience the excitement of glamping Isle of Man! This eco-friendly lodging in the lovely village of Castletown provides spectacular mountain views and a prominent position near to historic monuments.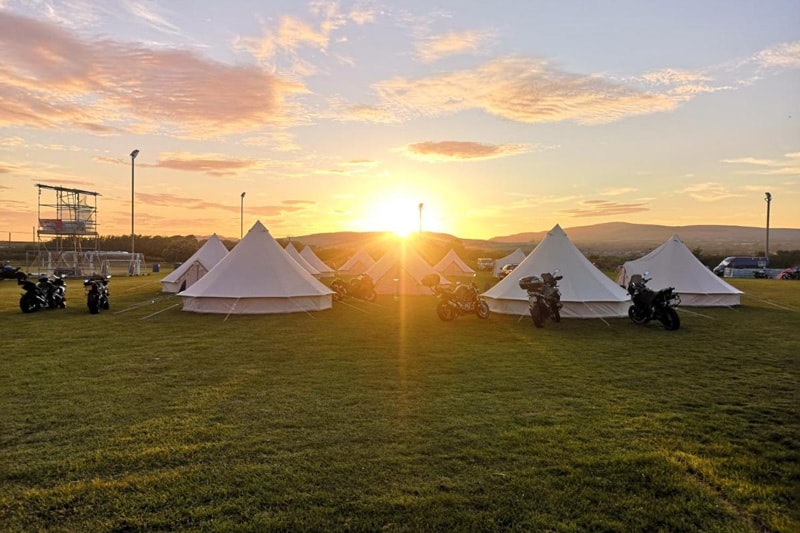 Enjoy the thrills of the TT Grandstand, tour the old Castle Rushen, or visit the local museums and churches. With an on-site snack bar and bar, you'll have everything you need for a great stay. At Nine Yards Bell Tents, where luxury meets adventure, you can experience the genuine spirit of glamping on the Isle of Man!
Retreat to Saba's Glen, tucked away in Union Mills' lovely conservation area. Situated by the peaceful River Dhoo, these wooden yurt cottages blend in with nature while providing all the amenities need for a restful vacation. Unwind in the midst of this peaceful hideaway and experience a sense of escape just a few miles from the bustling metropolis of Douglas. Saba's Glen is ideal for romantic vacations, social gatherings, or family reunions, and it provides the atmosphere for an amazing trip.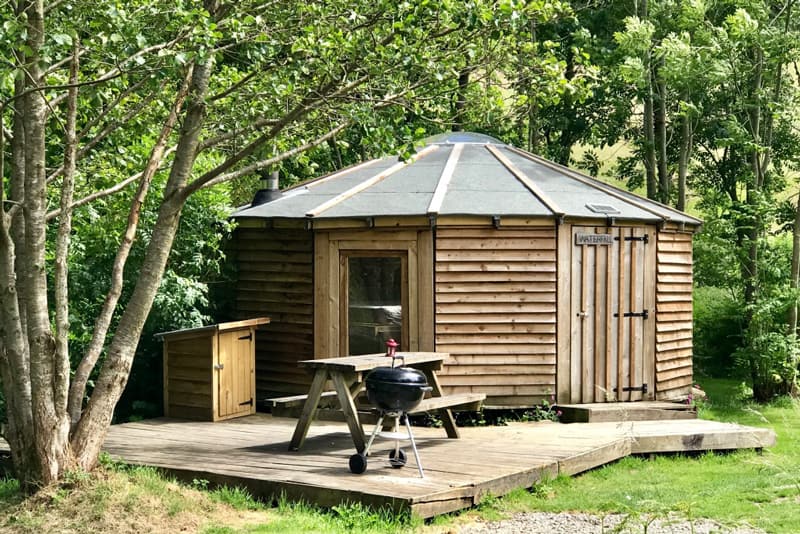 Within a minute's walk from the yurts is the common space in the clearing, which has a kitchen, shower, and toilets. Enrich your stay with a private wood-burning hot tub in each yurt, which seats 3 to 4 people (extra charge for the first night, not included in the yurt price). In Saba's Glen, you may immerse yourself in the grandeur of the Isle of Man's lush greenery and spectacular vistas while making lasting memories.
Knockaloe Beg Farm's lovely wigwam cabins, Robin's Nest and Dovecote, provide the beauty of countryside glamping with a touch of elegance. These eco-friendly, en-suite cabins, nestled in the picturesque field behind the farmyard, comfortably accommodate up to four people each, making them ideal for a relaxing escape.
Relax in the cedar-scented eco-hot tubs, where you may bathe beneath the stars or stare out at the rolling hills. Each pleasant cabin has a private shower room and a small kitchenette with a fridge, microwave, kettle, sink, and a 2-ring electric stove. A pull-out couch bed, table, chairs, TV, and electric heater complete out the facilities, assuring comfort all year.
Relax on the outside decking, which has garden chairs, a Grill for rent, and a fire pit. Wigwams can be hired separately or in pairs. Bring your dog to Dovecote*, where well-behaved small dogs are accepted for an extra £10, and make amazing memories at Knockaloe Beg Farm.
Enjoy the allure of Glendown Farm Campsite, where you can relax and enjoy stunning sunsets and nights beneath the stars. This adaptable campground caters to all types of travellers, including campers, glampers, and motorhome enthusiasts. Enjoy spectacular views of the surrounding hills and the neighbouring steam railway, as well as walking distance to the picturesque villages of Port Erin and Port Saint Mary.
Enhance your glamping experience with the Shepherd's Huts, which have a double bed, a single bed, lighting, mains electricity, a sofa, and a table – ideal for four adults or two adults and three children. Pre-pitched family tents are available for those looking for a more conventional camping experience without the effort.
Glendown Farm Campsite prioritises comfort and convenience, with a common kitchen, dining room, and contemporary toilet and shower facilities for visitors to use. This family-friendly location accepts well-behaved pets and welcomes pre-school children for free. Guests may relax in the calm setting and explore the neighbouring walking and mountain bike trails, or visit the three sandy beaches just minutes away, thanks to a quiet time restriction that ends at 10:30 p.m.
This big, level campground located in a secluded pasture with easy access to nearby facilities offers the ideal combination of luxury and nature. This campsite caters to tents, RVs, campervans, caravans, and camping pods, ensuring a wonderful experience for every sort of outdoor lover. Exploring the local region has never been easier with an awesome, regular bus service stopping just at the camping gate.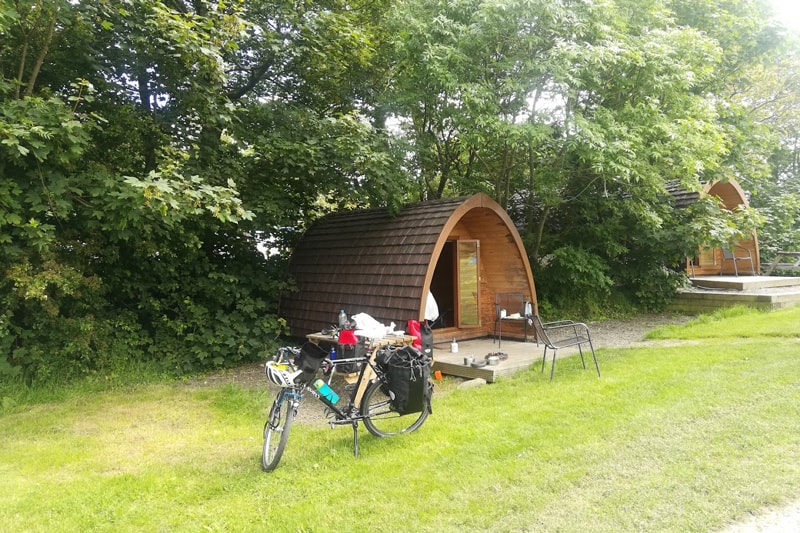 A 10-minute stroll takes you to Union Mills, a lovely community with a convenience store, post office, gas station, and "The Railway," a historic public house serving local beer and cuisine. Crosby has a Co-op supermarket, Costa Coffee, and the renowned Crosby Hotel, which has wonderful meals and plenty of parking. The Hawthorn, a family-run pub/restaurant in Greeba, is only 3 miles away and serves a variety of handmade traditional and foreign meals.
Be warm and comfy in the well-insulated camping pods, which have lights, electrical outlets, an electric kettle, a picnic table, and chairs. Pick between the Standard Pod, which is ideal for two adults and a young kid, and the Family Pod, which can accommodate up to five people. Both pod choices have electric lighting, double electrical outlets, electric oil heaters, and comfortable sleeping arrangements, offering a pleasurable and peaceful stay in the great outdoors.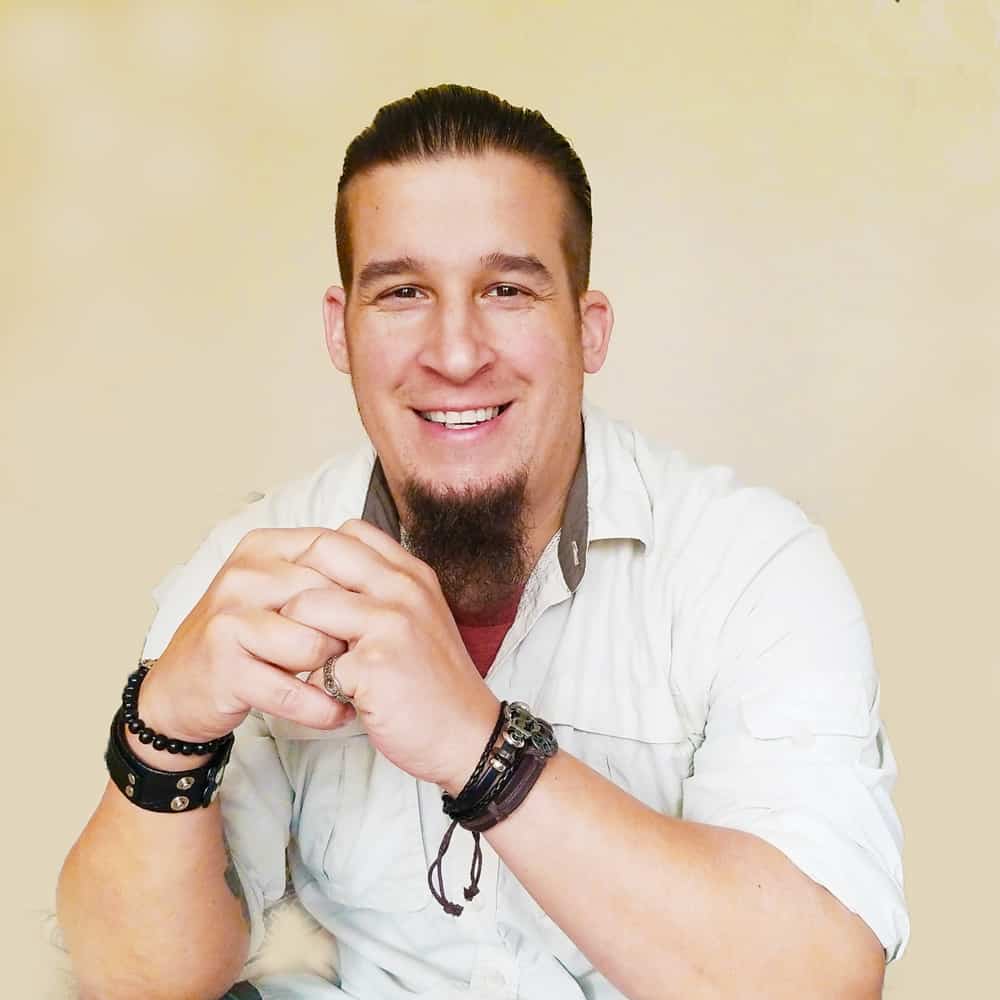 Full-time World Travel Writer who runs multiple websites and social media accounts. I have spoken at various conferences around the world. Some of my hobbies include adventure, fitness and new technologies. I am also a trekkie!