Yorkshire England is home to some marvellous hidden UK gems and landscapes to make you drool. It provides a combination of Roman and Viking heritage, Norman castles, medieval abbeys, Industrial Revolution-era cities, and 2 national parks to explore at your heart's content. It is also home to one of the fastest-growing types of accommodations in the world. You guessed it, UK Glamping! Glamping in Yorkshire includes an array of options to choose from. There are North Yorkshire Glamping with Hot Tubs, Yorkshire Glamping Pods, Yorkshire Yurts, Glamping in Yorkshire Huts, and more.
We have searched far and wide for some of the best and most unique locations for Glamping in Yorkshire. But before we get to our list of Yorkshire Glamping Pods, Huts, and more, let's go over some of the amazing sites to discover while Glamping in Yorkshire.
Other UK Glamping Articles
Scotland Glamping Accommodations
Things To See and Do When Glamping in Yorkshire
---
Yorkshire Dales National Park
A portion of the Yorkshire Dales lies in the 1954-established Yorkshire Dales National Park, which is an upland region of the Pennines in Yorkshire, England's ancient county. River valleys and hills ascending from the Vale of York in the west to the hillsides of the Pennine watershed make up the Dales. The huge limestone cave networks are a popular location for caving, and the slopes and dales are home to a variety of walking paths. Wonderful place to enjoy when Glamping in Yorkshire.
North York Moors National Park
In northeastern Yorkshire, England, there is an area of highland known as the North York Moors. One of the greatest stretches of heather moorland in the UK may be found there. You'll feel more spacious because of the open moorland. The calls of moorland birds, the flow of water in a stream, and the hum of insects in the heather may all be heard far away from the roar of the highway.
Enjoy the sea's majesty, the breeze on your face, and the beach under your feet while you're near the seaside. The dales are a beautiful mosaic of earthy colours and aesthetically attractive patterns that were developed centuries ago and are still being cared for by farmers today. Put this on your list when glamping in Yorkshire.
City of York
If you plan to spend a day in the ancient city of York which was built by the Romans, make sure to see some of the main attractions. York Minster is amazing and should be on your list. Shambles is a picturesque medieval street to explore
Whitby Abbey
Whitby Abbey was a Christian monastery that converted to a Benedictine abbey in the seventh century. The monastery was located on the East Cliff overlooking Whitby in North Yorkshire, England, the capital of the ancient Northumbrian kingdom, with a view of the North Sea. If spending some time on the coast while Glamping Yorkshire, definitely stop by to see it.
Now there are plenty of other sites and spots to see and enjoy when Glamping in Yorkshire and you can find more information when planning your Yorkshire Glamping Getaway. We wanted to give you a quick overview of our must-see spots. Now on to what you have come here for. Let's check out some of the lovely Glamping in Yorkshire Pods, Huts and more to book on your next Yorkshire Glamping Holiday.
Top Glamping in Yorkshire Spots to Book Now
---
Location: Liverton, North Yorkshire
Best For: Families, Couples, Groups (Multiple options for up to 8 guests)
Amenities: Gardens, Kids play area, Kitchen, Luxury bathroom, Flat screen TV, Sea views
Surrounded by breathtaking natural beauty, North Shire offers a wide range of accommodations to suit every need located within beautiful gardens, including one-bedroom options, a 2 bedroom Shire House (live like a hobbit!) and a four-bedroom home, making it perfect for couples or families alike.
Each home has a fully fitted kitchen and luxury bathroom, providing all the comforts of home in a magical setting. Whichever you choose, you're guaranteed to enjoy stunning sea views, with plenty of places for children to play, creating a fantastic glamping Yorkshire experience for all the family.
Location: Horton in Ribblesdale, Yorkshire Dales
Best For: Couples, Individuals
Amenities: Hot Tub, Terrace, Kitchenette, Bathroom, Internet access, Underfloor heating
What could be better than glamping in the stunning Yorkshire countryside, surrounded by rolling hills and picturesque views? And, of course, your private hot tub to relax in after a long day of exploring. Well, Brant Ghyll Glamping Pods Yorkshire offers just that and more.
Brant Ghyll mega glamping pods are located on a working farm and are just a few minutes' walk from two country pubs. With a kitchenette and terrace to dine on, they sleep two people in comfort. Each pod has its own private patio and hot tub, which genuinely provides luxury glamping with Hot Tub Yorkshire!
Recent Review: "It was the perfect little get away for me and my boyfriend for his birthday. The owners of the pods couldn't have been more helpful and friendly. Everything was spotless when we arrived and couldn't of asked for a nicer place to stay. The area they are in is very quiet so there isn't loads to do but it's good if you want some peace and quiet"
Location: Wiggington, York
Best For: Couples, Dog owners, Friends, Adults only
Amenities: Dog-friendly, Free WiFi, Wood burning fire, Kettle, Heating, Child free
The Dog Pod at The Little Hide is the perfect place to get away from it all and enjoy the Yorkshire countryside. These unique adult-only glamping pods are cosy and comfortable, with beds that can either be single or attached to create a double. Best of all, they're dog friendly so you can bring your furry friend along for the adventure!
The onsite facilities include BBQs, laundry, a kitchen and a washroom. There is an array of activities to ensure you are thoroughly entertained, from cycling to antique hunting, with the City of York only minutes away.
Recent Review: "Lovely cosy hut perfect for a night away, comfy bed and a nice little heater that warmed the hut up perfectly. Would defo be staying here again and only a 5 min drive to York park and ride and York it's self"
Location: Staveley, Knaresborough
Best For: Couples, Friends, Families (If you set up a tent outside the hut)
Amenities: Hot Tub, Terrace, Kitchenette, Games room, Communal pool, Sauna Barrel
Nestled in the rural countryside with stunning views of uninterrupted farmland and farm animals to greet, Shepherds Hut Ferrensby truly is a unique and luxurious option for glamping Yorkshire. Enjoy all the comforts of home, like a walk-in shower and complimentary tea and coffee.
Each pod has a private hot tub for ultimate relaxation! Shepherds Hut Ferrensby also has a shared heated pool and barrel sauna, as well as plenty of activities offsite. So whether you're looking to sightsee in Knaresborough, Harrogate or York, or just relax in luxury, this Shepherd's hut is perfect for glamping in Yorkshire with Hot Tub!
Recent Review: "We found our stay at this accommodation absolutely brilliant. The property manager was very helpful."
Location: Skipsea, Driffield
Best For: Couples, Individuals, Friends
Amenities: Double bed, Kitchenette, Terrace, Welcome pack (Tea, coffee, pint of milk etc.), Farm location, Beach nearby
Located at Mill Farm Country Park, the quaint Shepherds Hut offers everything you need for a comfortable stay. The large double bed is perfect for couples, and the kitchenette comes complete with a welcome pack of hot drinks.
Towels and bedding are kindly provided, and wash facilities are close to the campsite. Many activities are nearby, including wildlife watching, fishing, golf and the beach. For a great location with so much to do nearby, check out the Shepherds Hut Skipsea for glamping in Yorkshire.
Recent Review: "Beautiful little Shepherds Hut, packed with everything you need for a comfortable stay. Lots of little extra touches that make it a very pleasant experience. The toilet and shower block exceptionally clean. Would recommend to anyone."
Location: Earby, Borough of Pendle
Best For: Families, Couples, Groups (up to 6 guests)
Amenities: Pet-friendly, Patio, Mountain and Valley views, BBQ, Fire pit, TV, Onsite Activities
Looking for a fabulous glamping in Yorkshire experience that the whole family will enjoy? Deerstone Bell Tent Glamping in Yorkshire offers the perfect blend of tent camping and luxury, set against a stunning natural backdrop with glorious mountain and valley views. Enjoy a barrel sauna, followed by a plunge in cold water to revive your body.
The bell tents are spacious and comfortable, with a double bed and bunk beds; plus, you don't need to leave your furry pal at home – Deerstone is a pet-friendly site. As this is a family-orientated glamping experience, there is a whole host of activities that'll keep the kids occupied, including a movie tent!
Recent Review: "Beautiful campsite with such lovely personal touches. It is spotlessly clean and Karin is so friendly and welcoming, she did so much to make our trip very special. Would definitely recommend visiting lovely Deerstone."
Location: Dalby, North Yorkshire
Best For: Couples, Families, Friends
Amenities: Vintage wagon, Heated, Gas stove, Gardens, Fire pit with logs, Scenic views
Immerse yourself in nature with the amazing glamping experience Dalby Glamping wagon brings. Live off-the-grid style on Bickley Rigg Farm in this vintage heated wagon. Choose to cook your meals on the provided gas stove or BBQ, a truly special Glamping in Yorkshire experience.
The double bed and two fold-out single beds make this an ideal location for families. The fire pit with included logs is perfect for cosy evenings under the stars, and you'll never want to leave this magical spot with beautiful gardens and scenic views.
Location: Silkstone, Barnsley
Best For: Couples, Families with an older child, Individuals
Amenities: Solar powered, Private campsite, Kitchen, Heating, Onsite games room including DVDs and player, Breakfast
Offering wonderful glamping in Yorkshire opportunity, Sunnyside Eco-Caravan oozes vintage charm, sleeps three people and offers beautiful garden views. Situated on a private rural campsite, you will have access to a backyard which is perfect for enjoying some quality time outdoors.
Sunnyside Eco-caravan features an onsite fire pit and a communal games room. Breakfast is included in your stay, and there are also on-site showers and toilets for your convenience. Plus, Sunnyside is within walking distance of the Peak District, offering a supermarket, pub, ice cream parlour and train station!
Recent Review: "Lovely little caravan in the middle of the Yorkshire countryside. Not too far from the village with fantastic walks to nearby pubs and kitchens. Kirsty responded messages quickly and made it easy to amend dates."
Location: Leyburn, North Yorkshire
Best For: Small groups, Families, Friends
Amenities: Kitchenette, USB charger, Heater, Mountain views, Pet friendly, Outdoor space, Sightseeing, Cycling routes
If you're looking for a cosy, relaxing getaway or up for some sightseeing, the Cozy Camping Pods are perfect for both situations. With gorgeous views of the Yorkshire countryside, these glamping pods Yorkshire can accommodate up to three adults or, for families, two adults and two children comfortably.
Not only can you sit back and chill out in style, but the Cosy Camping Pods are conveniently within walking distance from the town of Leyburn, with its shops, restaurants, castles and cycling routes, and is close to the many alluring attractions of the Yorkshire Dales.
Location: Kettlewell, North Yorkshire
Best For: Couples, Individuals, Adults only
Amenities: Patio Heating, Kettle, Double hob, Wildlife, Refrigerator, Onsite wash facilities, Garden views
If you're looking for a luxurious, adult-only glamping pods Yorkshire experience that's perfect for all year round, Wharfe Camp Glamping Pod is for you! This pod sleeps two in a snug double bed and comes complete with all the amenities you need for a happy stay.
Your attentive host will greet you upon arrival, which adds a nice friendly touch to your glamping Yorkshire stay! Once you've settled into your darling pod, which comes with towels, bedding and other essentials, it's time to explore the stunning countryside or visit one of the many local country pubs.
Location: Lydgate, West Yorkshire
Best For: Couples
Amenities: Yurt experience, King size bed, Fireplace, Bathroom essentials provided, Private patio, BBQ, Microwave
For a truly wonderful experience, this glamping in Yorkshire Private Yurt Stay, which is located on a working smallholding, offers all you need for a cosy stay. You'll be able to relax in your private yurt, complete with a king-size bed and valley view.
The yurt is located on a 4-acre field with farm animals, and there's even a local swimming spot at Gaddings Dam. You can enjoy walks through nature and explore the local town of Todmorden, a truly wonderful retreat from the hustle and bustle everyday life brings!
Recent Review: "Great stay! Yurt was really spacious and comfortable in a really peaceful setting. We enjoyed being around the sheep and chickens and even had a couple of visits from moustaches the cat!"
Location: Staintondale, North Yorkshire
Best For: Couples, Individuals
Amenities: Comfortable Pod, Free parking, Electricity, Rural location, Local towns, Walking and Cycling trails, Outdoor and Indoor dining
Our "lil" Glamping Pod offers all the wonders of glamping in a quaint and compact package. The pod sleeps two in a converting double bed, perfect for couples or solo travellers.
While enjoying Glamping Yorkshire at Our "lil" Glamping Pod, you'll have access to free parking, stunning coastal views, and the peaceful countryside walking and cycling trails. The pod is also just a short drive from Scarborough and Whitby, making it the perfect basecamp for exploring everything this vibrant region offers.
Location: Wighill Park, North Yorkshire
Best For: Families, Friends, Couples
Amenities: Private bathroom, Kitchen, Smart TV, WiFi, Highchair, Lake Access, Double bed and Sofa bed, Free Parking, Pet friendly
Wighill Park Glamping Pod is a brilliant place to enjoy a taste of the countryside and still enjoy the comforts of home. This spacious pod is located on an active farm in the Yorkshire countryside and comes complete with a private kitchen and fitted bathroom.
There is space for two adults and two kids in the pod, with a double bed and sofa bed providing plenty of room for a delightful slumber. Dog-friendly, Wighill Park Glamping Pod is also surrounded by beautiful walking trails and local attractions, making it the perfect base for exploring the Yorkshire countryside and an excellent choice of Glamping Pods Yorkshire.
Location: Seamer, England
A stunning and unique little home called Grey Hart Lodge is located close to the quaint community of Seamer on a rural road. Groups seeking a special place to stay or couples seeking a cozy romantic getaway will find the place perfect. Fully furnished with a kitchenette, bathroom, shower, and bedrooms on a mezzanine. A secluded garden with a south-facing wood-fired jacuzzi, a fire pit, a BBQ, and off-street parking is located nearby. An ideal destination for year-round holidays.
Location: Lealholm, England
A 100-year-old cottage named Crumbleclive that has been tastefully repaired is situated against the striking Crunkly Ghyll background. In the 1890s, it served as the nearby estate's "Gun Room" initially. The cottage offers a veranda with views of the valley and the River Esk whitewater at its base. As songbirds congregate on the trees above you and soar through the canyon beneath, you will sense as though you are among the trees since you are encircled by oak trees. It is ideal for couples looking for a relaxing, romantic break!
Share Glamping in North Yorkshire on Pinterest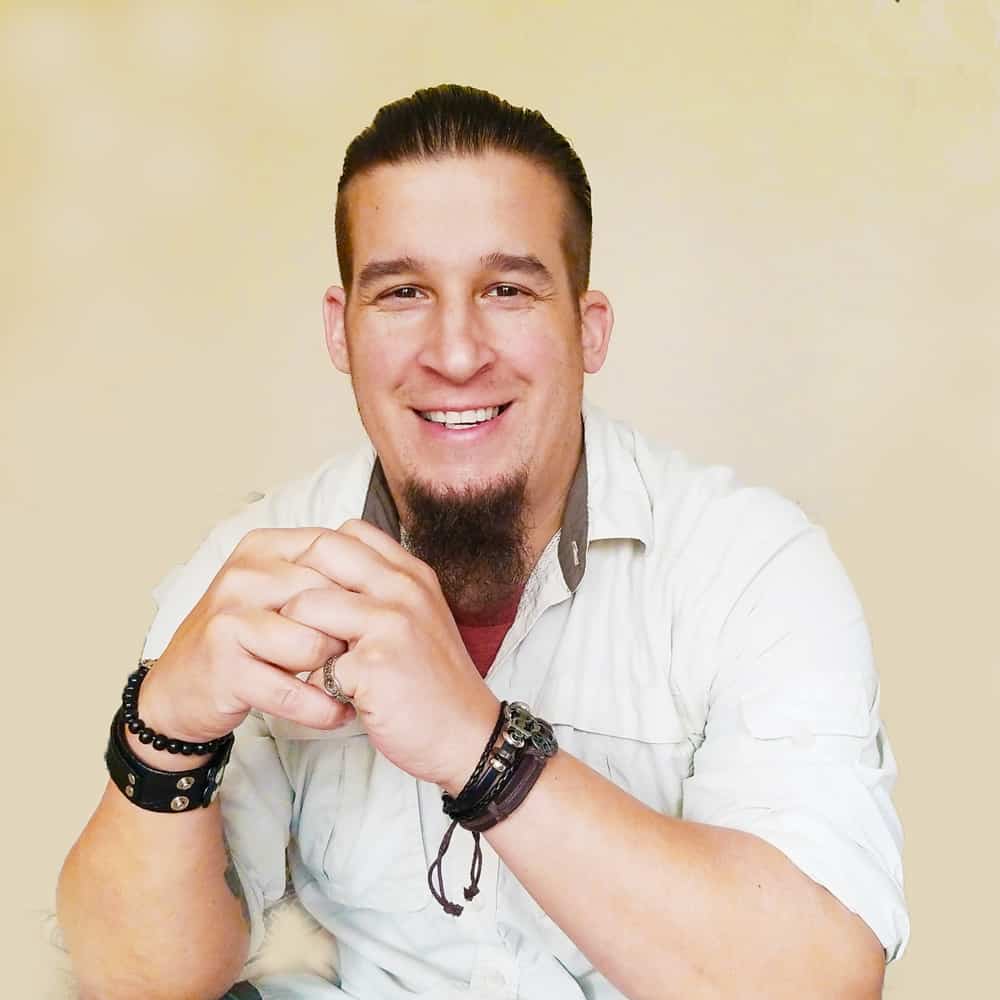 Full-time World Travel Writer who runs multiple websites and social media accounts. I have spoken at various conferences around the world. Some of my hobbies include adventure, fitness and new technologies. I am also a trekkie!