Kent is a county in South East England and one of the oldest in the country with a history dating back to the old Stone Age. The county is known as the "Garden of England" and described by Julius Caesar as "by far the most civilized inhabitants of Britain." It has a beautiful coastline to the south and the North Downs runs through the center of it.
It's also home to the remarkable city of Canterbury and the unique oast-houses, once used for drying hops in the past. With all the beauty and history in the area, luxury camping in Kent is an English pastime. Since UK Glamping in Kent is a popular outdoor activity in this county, we decided to put a little guide together to help plan your Kent Glamping getaway.
We will go over some of the various regions of Kent, things to see and do, and show you a few of the best places to stay when Glamping in Kent and exploring the area. If you have any additional questions or think we should add some more options, feel free to reach out to us.
---
Other UK Glamping Articles you may enjoy:
Glamping in Yorkshire Getaways
Top Cornwall Spots for Glamping
Peak District's Amazing Glamping Accommodations
---
Lovely Places for Glamping in Kent
---
The Grape Escape Kent Glamping Cottage
The perfect romantic glamping getaway in Kent. Enjoy a glass of wine or a morning tea with breathtaking views across a vineyard. There are plenty of foot trails to explore around the rolling countryside. The cottage has everything you may need including a wood-fired hot tub in the secluded garden. Tenterden village is just 4 miles away with shops, restaurants and pubs.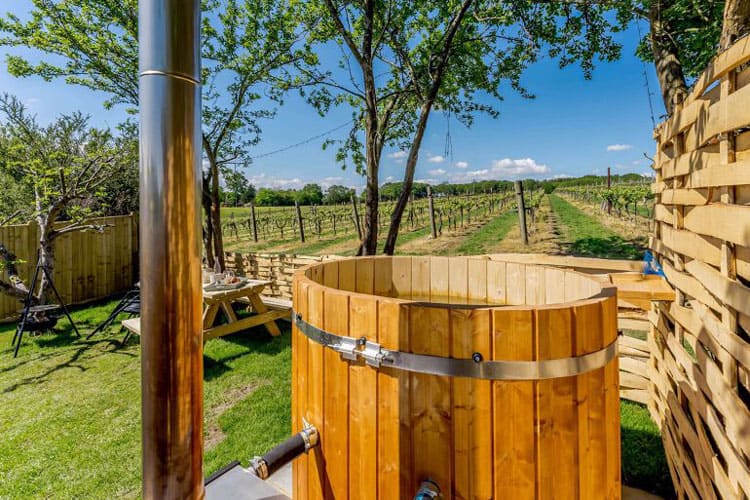 Recent Review:
"Just had a brilliant four night break at The Grape Escape. The hosts Liz and Tom are fantastic, left us to enjoy our break, but were on hand if needed. The property catered for all our needs plus more. The area is great for dog walks and off course wine tasting. We enjoyed watching the sunset in the evening with a glass of wine from the hot tub. We liked the quirky lay out of the property and that the grape vines were adjacent to the garden. Will definitely be returning!! "
The Sir Paul Gooderham
Have a unique glamping stay just outside of Kent County in this refurbished showman's carriage. The property is lovely with wonderful views of Bodiam Castle. Inside the carriage is beautiful, with everything you may need for your stay. The Kent and East Sussex Railway are close by and worth a ride. Also, make sure to check out "The Hub," which is a café and farm shop. If this carriage is booked up you can try the other similar properties The Prince Regent, The Lady Stella, Goldings Lodge and Lady Jane.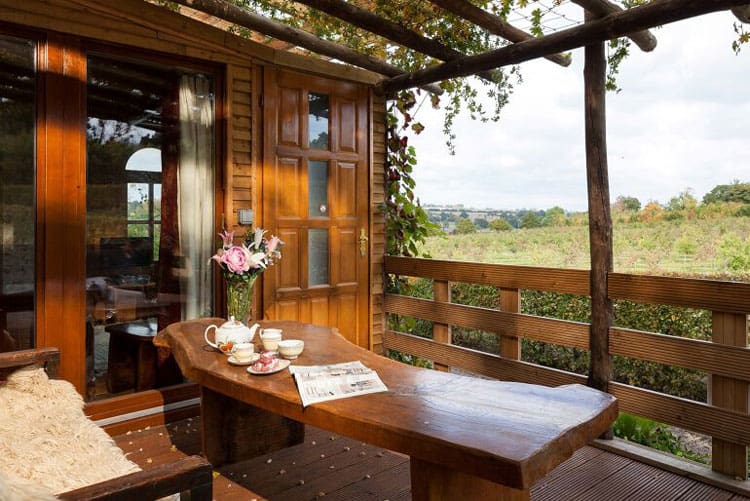 Recent Review:
"A charming and comfortable place to stay. Everything had been kept in keeping with the Showman's carriage style right down to crockery and decor. Excellent facilities , shower was amazing! On site cafe The Hub was great."
The Nissen Luxury Kent Glamping Pod
A wonderful Kent glamping getaway for 2 on the edge of the village of Rolvenden in Kent's Area of Outstanding Natural Beauty. Lots of vineyards nearby to taste wine, plus close to Tenterden to explore. This little glamping hut was recently built and has all the modern amenities one might need for a great stay. Snuggle up to the provided fireplace before stretching out in a comfortable King-sized bed after wandering around the countryside.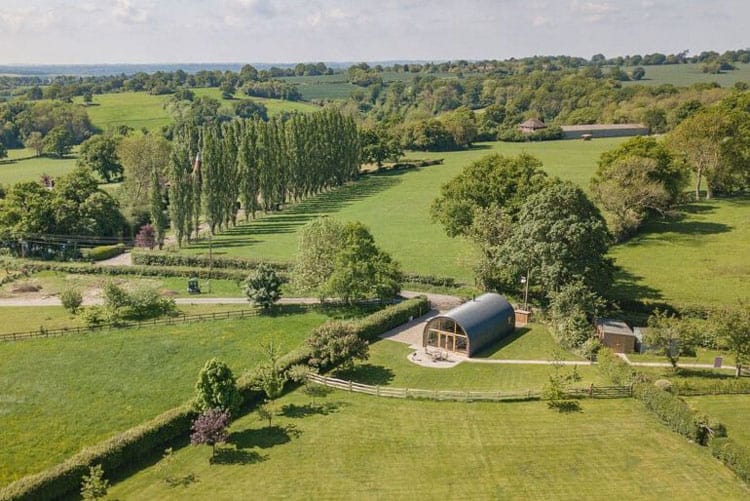 Recent Review:
"The Nissen is a well designed property with a large and airy living/dining area but still a cosy feel to it. The property has everything you need and plenty of room to spread out. The view across the countryside from the floor to ceiling windows is stunning. We met the owners a couple of times and they were very friendly and it was good to know they were there if needed."
The Secret Hideaway
This is a bright and lovely hand-built shepherds hut surrounded by magnificent rolling countryside. It is near the village of Benenden, where you can enjoy a local pub, village shop, butcher and St. Georgia's Church. A church has been on the property since 1086. The Kent Glamping hut is a great choice for a romantic English getaway. It features a double bed, kitchen, bathroom and a peaceful garden. Guest will even receive a welcome package of milk, bread, butter, jam or honey and a small bottle of wine or apple juice.
Recent Review:
"Stunning location. So tranquil and tucked away from it all. So many little extras included that made us feel so welcome. Accommodation was spotless and in these awful times of covid we felt very safe in the hut. Once we ventured out there was so much to see and do. Lovely walks around the area and in the welcome book there are some lovely ideas for local walks and vineyards to visit. Highly recommend The Secret Hideaway"
Beach Hut near Whitstable
A stylish loft-style beach cottage in Kent County in the village of Seasalter. Whitstable is close by with one of the most popular gastropubs in England. The historic city of Canterbury is just 6 miles from the property. Relax on the deck with a drink or dinner with expansive sea views around you. At night you can curl up to the wood burner and listen to the waves with a good book or watch your favorite T.V. show before heading to your double bed to sleep.
Recent Review:
"An absolutely perfect home from home in a stunning location. Hardly stirred from the property – just gazed at the ever changing scenery. Love the decor and all the attention to detail."
Blackbird Cottage in Kent
If you need a little more elbow room than this 2 bedroom, 2 bathrooms renovated rustic barn may do the trick. This thatched accommodation is located in the village of Ottinge and smack dab in the middle of the Kent countryside. The cottage has all the amenities needed for a comfortable stay plus a fully enclosed garden to enjoy. There are numerous countryside walks from your doorstep and loads of villages and sites to see just a short drive away.
Recent Review:
"What a lovely well stocked cottage, everything you need is available. Biscuits, tea coffee and wine on arrival were a very nice touch. Paul is a very welcoming host and more than happy to help where needed. The garden is a little bit of heaven ."
Glamping Kent Treehouse Retreat
Get connected to nature 20 feet in the air between 3 sturdy oaks and relax and reset. The treehouse is built using recycled timbers and has amazing views of the North Downs countryside. A marvelous spot for a couple to enjoy time away from the city read a good book, play some board games or just listen to the breeze and birds sing. There is a toilet in a cabin below the treehouse and a shower available at the house nearby. There's also a BBQ if you want to cook something up or you can have some delicious Indian delivered from a nearby restaurant.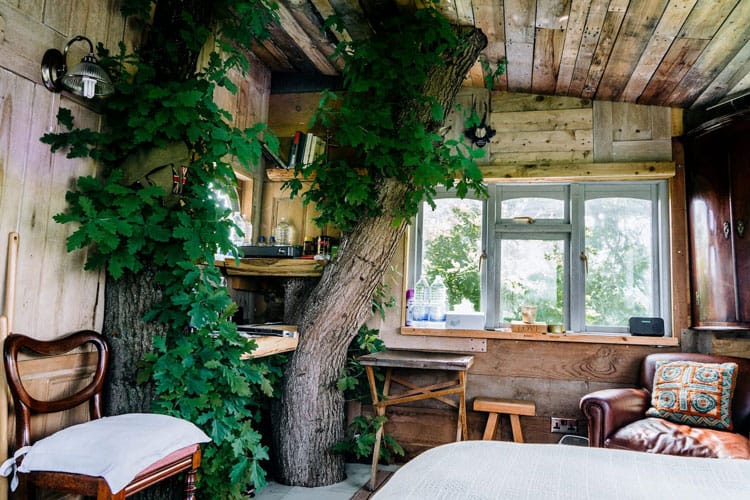 Recent Review:
"I stayed here for one night as a mini getaway from "everything" and it was worth it. So peaceful, aesthetic, and of course the charm of staying in a kitted out tree house is a story worth telling! Mark greeted me upon arriving and his hospitality and warmth were infectious. The resident ducks, chickens, and puppies were wonderfully entertaining. The fire pit was a delight, and the bedroom heater was very efficient as it was a chilly night. All rounded off with some fresh bread and jams in the morning. Highly recommended."
Old Smock Windmill in Kent
Who wants to have a unique stay in an old renovated windmill? Put it on your bucket list! This romantic accommodation near Benenden is one of a kind. Featuring a giant King sized bed, bathroom, kitchen and lounge area with a gas wood-burning stove. You will receive a welcome basket with farm fresh eggs as well. It is a great place to call home while exploring the local villages, pubs, walks and tourist sites. The inside decor and attention to detail make it a most memorable Glamping in Kent getaway.
Recent Review:
"This is the most amazing Airbnb that I have ever had the pleasure of staying in. Magical, breathtaking, lovely, quaint, cozy (but extremely spacious)…I cannot say enough about this place and absolutely plan to return. Clare provides everything you need with so many thoughtful touches. Stay here, you will not regret it."
---
What to See and do when Glamping in Kent
---
The North Downs
The North Downs Trail offers folks 153 miles of serene scenery, quaint historic villages and iconic English landmarks to enjoy. Locals and tourists alike utilize this route all year round venturing past eight castles, three cathedrals, three archbishops' palaces and dozens of stately homes and gardens.
City of Canterbury
A remarkable historic city known for its ancient cathedral that was built in 597 A.D. It is also the headquarters for the Church of England. The walls surrounding the old center were first formed by the Romans and the city became a site for pilgrimage in the middle ages. It is one of the most visited cities in the UK with sites like St. Augustine Abbey, Canterbury Cathedral, Westgate Gardens and The Beaney House of Art & Knowledge.
White Cliffs of Dover
These 350-foot chalk walls of earth are a very popular landmark in England. There is a beautiful walk along the cliffs where depending on the time of year, you may observe numerous butterflies, wildflowers, 2 shipwrecks, a lighthouse, tea rooms and the famous Exmoor ponies.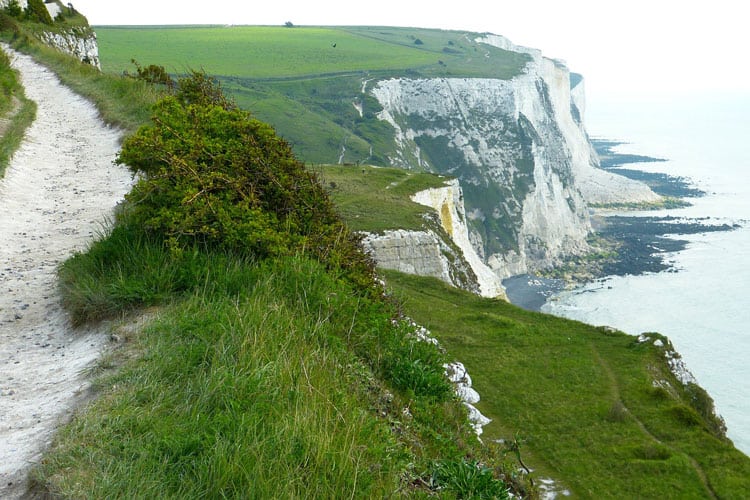 Romney Marsh
Also known as the 5th continent, Romney Marsh covers approximately 100 square miles. This unique land is sparsely populated and gives a sense of solitude with its sweeping skies, flat farmland and maze of ditches. It offers excellent walking, cycling and rich history. You can also enjoy the wonderful coastline from the shingle of Dungeness to the lovely beaches of Dymchurch.
Castles of Kent
The county of Kent has quite a few castles to explore all across the region. Plus there are a ton of various stately homes and abbeys to see as well. If you are a castle seeker and want to get the most of your time, we can recommend a few of our favorites. Starting from the west we have Hever Castle and Gardens, Scotney Castle, Rochester Castle and Bodiam Castle, which is just outside of Kent County. In the center of Kent is the famous Leeds Castle. Finally in the east of the county are Dover Castle, Walmer Castle and Gardens and Deal Castle.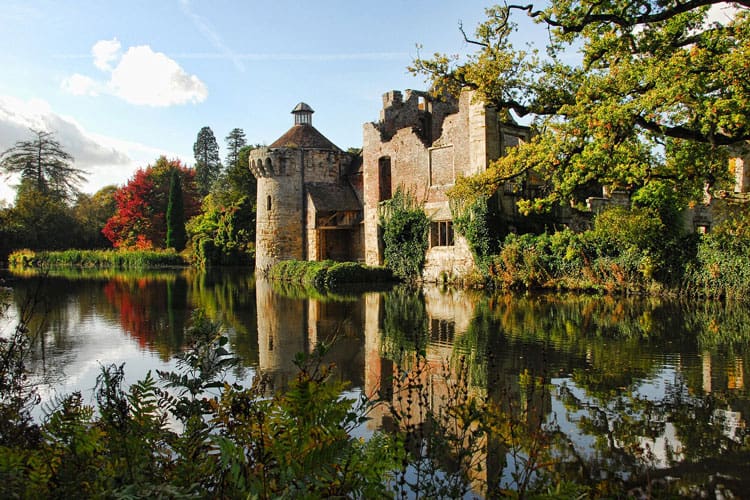 Pin it!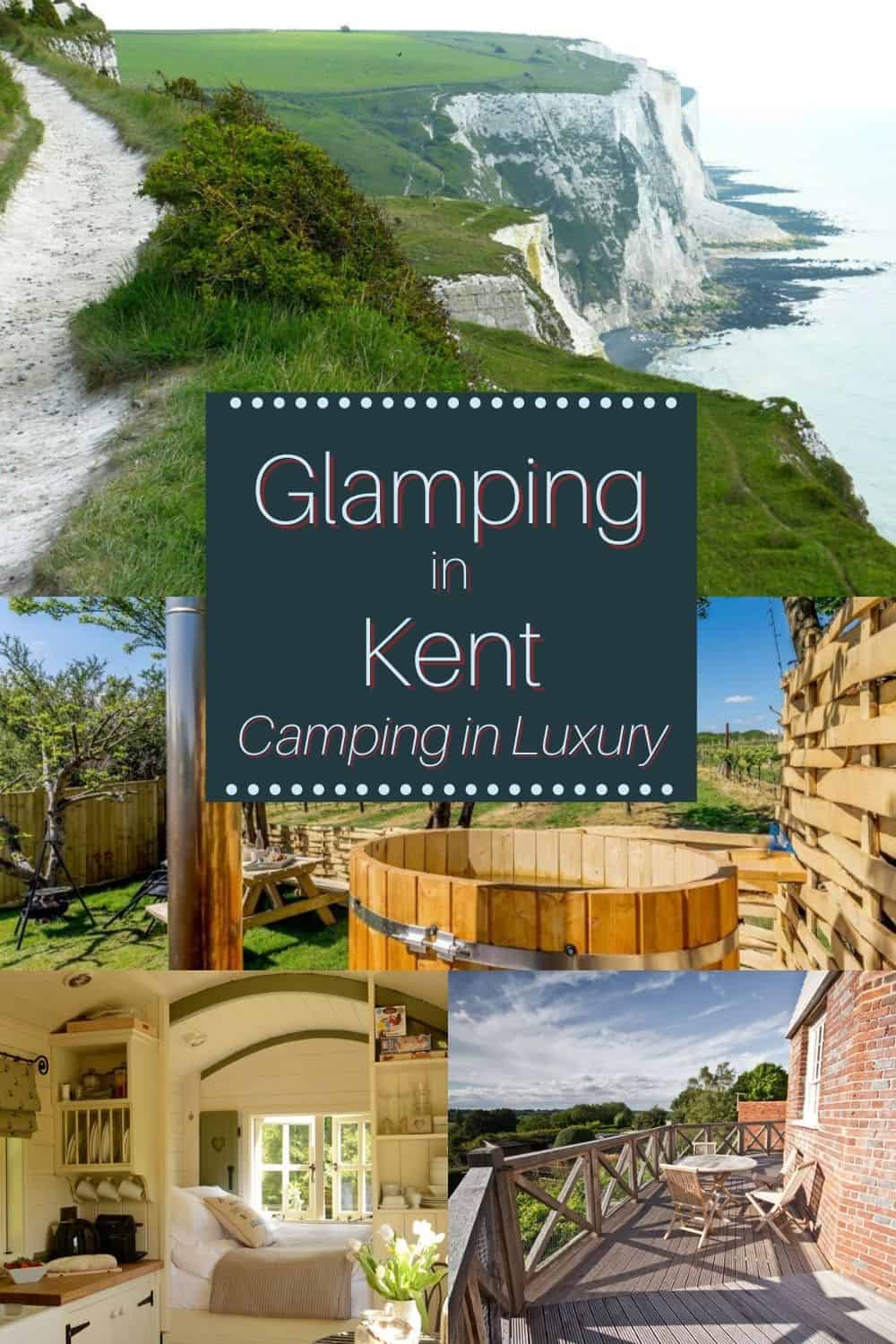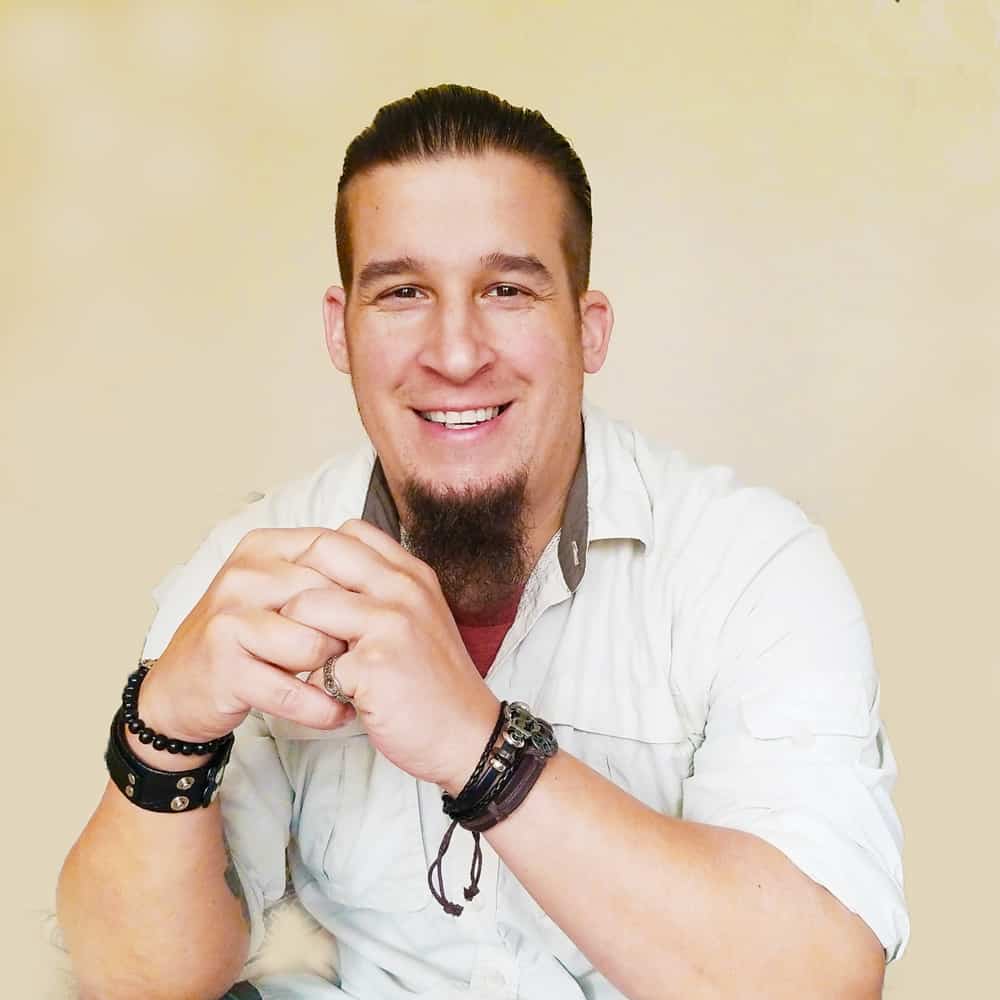 Full-time World Travel Writer who runs multiple websites and social media accounts. I have spoken at various conferences around the world. Some of my hobbies include adventure, fitness and new technologies. I am also a trekkie!