Colorado is definitely one of the most beautiful states in the US. It has a mixture of the amazing snow-covered Rocky Mountains, expansive deserts and remarkable deep river canyons. It has four national parks and is a mecca for outdoor adventure seekers and nature lovers. This is one of the reasons Glamping in Colorado is so popular among both locals and visitors. You get to immerse yourself in nature while enjoying some of life's modern comforts.
Now, of course, Denver, Boulder and Colorado Springs are cool and popular destinations for people seeking a trip to Colorado and you should probably spend some time there to explore. For this article though, we are going to focus on all the amazing outdoor places and sights to see when glamping in Colorado. Then we will go over some of our top choices for Colorado Glamping you can book for your next outdoor getaway in "The Centennial State."
Read more articles:
Crazy Blue Ridge Glamping Cabins
Best Washington Glamping Locations
Awesome Places To Check Out When Glamping In Colorado
---
Mesa Verde National Park
This unique area is a UNESCO World Heritage Site and consists of some of the best-preserved Ancestral Puebloan archaeological sites in the country. The park has over 5000 sites with 600 cliff dwellings including the world-famous Cliff Palace which is around 800 years old. Although, this region was inhabited almost 10,000 years ago.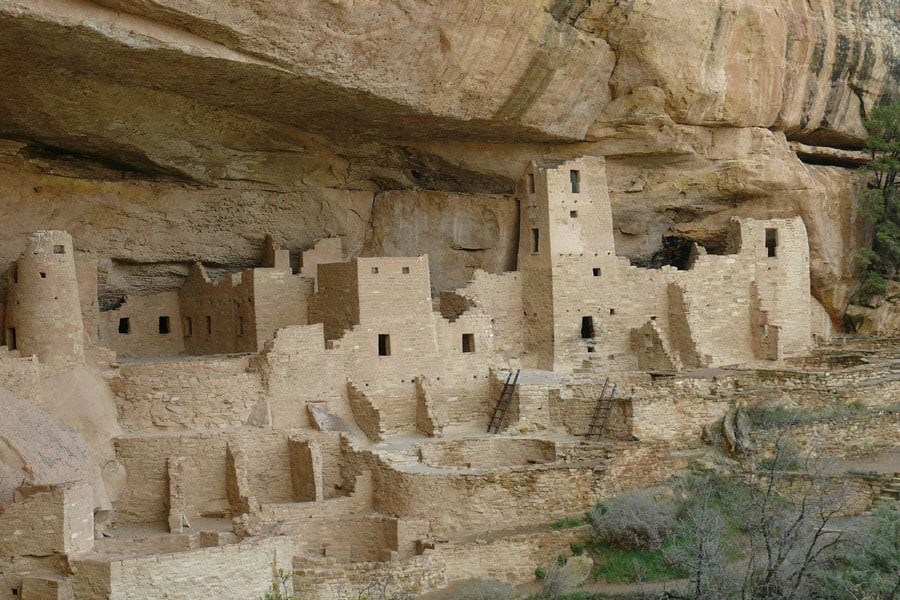 Rocky Mountain National Park
There is so much to do in the 415 square miles of this national park. Obviously, there are a ton of hiking, alpine lakes and scenic drives in the region. Trail Ridge Road is a great scenic drive for the family. Lakes of note are Emerald Lake, Dream Lake and Bear Lake. For the adventurous, you can try your hand on Hallett Peak, Longs Peak, or the beautiful Ouzel and Chasm Falls.
Garden of the Gods
This National Natural Landmark located near Colorado Springs is a wondrous sight. There are amazing rock formations and views in this public park and it has a very informative visitor center. Ridge Trail is a great easy hike that brings you to the rock formations. For a longer hike, you can try the Scotsman/Buckskin Charlie Trail that circles most of the park.
Great Sand Dunes National Park and Preserve
The park contains the tallest sand dunes in North America with some reaching up to 750 feet. It is such a unique landscape you may think you are on another planet. Make sure you have enough energy stored up as hiking some of the dunes can be quite exhausting, but the views are well worth the effort.
Skiing in Colorado
Colorado has some of the best mountain ski resorts in the world and these mountains are calling adventurers all year long. Most have unique and fun villages to explore for food, shopping and more. Aspen, Vail and Keystone are all popular and great mountains to explore either in Winter or Summer.
Colorado's Old Railroads
There are some cool old railroad routes in Colorado for train lovers and if you have time you should experience one of them. There is Georgetown Loop Railroad which also has mine tours. You have the Royal Gorge Route Railroad which takes passengers through the Royal Gorge for a truly unique experience. You also have the Durango and Silverton Narrow Gauge Railroad which is a beautiful steam train that brings visitors from Antonito to Durango, Colorado.
---
Top Spots to Book for Glamping in Colorado
---
Location: Colorado Springs, Colorado
This Colorado Glamping spots is located on 48 acres with giant aspen trees and an amazing view of Pike's Peak. It is about 1 hour from Colorado Springs and sits at about 10,000 feet in elevation. This makes it the highest Tentrr location in the world. It has a queen size bed in it and a firepit outside plus a solar shower.
You can also opt for the Adventure Gear Shed package that includes unlimited firewood, fishing poles & gear, SUP boards, mountain bikes, hiking gear, outdoor games, camp chairs, dog bed, and dog bowls.
---
Location: Wolcott, Colorado
This Glamping in Colorado spot is a great choice for those looking to explore and enjoy the Vail area. Experience a rustic canvas glamping tent with a beautiful wooden frame and deck. Relax in your king sized bed with a view of the wilderness outside. The property also has a restaurant, a bar and a terrace to enjoy. The tents are completely decorated and includes a stove to snuggle up to at night.
---
Location: Pagosa Springs, Colorado
Enjoy fully furnished safari-style Colorado glamping tents just outside beautiful Pagosa Springs. The luxury glamping tents can sleep up to 6 people and comes with a private campfire and access to an amazing group barn. The barn area has a full kitchen, baths, satellite tv, movie room, campfire, yard games, archery, roping and more.
This property is a superb place for groups or events. You can also explore the region by hiking the San Juan Mountains, horseback riding or maybe head out for a day of fishing. The possibilities are endless here.
---
Location: Canon City, Colorado
If two queen beds in a canvas glamping tent is what you are looking for, look no further. This Colorado glamping tent is located 1 hour from Colorado Springs. They offer all the amenities one may want while exploring Colorado. The hosts will even prepare your fire for you every evening so all you have to do is make yourself a drink and enjoy the starry Colorado sky while listening to the crackle of the fire.
---
Location: Remote area near Steamboat Springs, Colorado
This unique Colorado glamping location is situated at 9000 feet in elevation at the top of Moraine. If you are looking to get off-grid and really immerse yourself in nature, then this is the one for you. Firewood is provided and there is solar-powered lighting. Inside you will find bunk beds, a wood-burning stove, a Dutch oven and water is provided as well. A Compost toilet house is attached to the roundhouse. Take in the perfect sunsets and sunrises. On a clear night, you may think you are on your way to outer space with how many stars you see.
---
Location: Granby, Colorado
Looking for Glamping near Denver? Arapaho Valley Ranch is a unique family-owned guest ranch that has glamping tents, glamping tipis, cabins and more. Located at the bottom of the Indian Peaks Wilderness and less than a 2-hour drive from Denver this glamping resort is a secret among locals.
The tipis and tents are great for couples and a family of 4. The cabins are for larger families and groups. Enjoy the area with hiking trails or relax with a drink at the Red Dog Saloon at the ranch. You can also take the old steam train from the old town of Monarch. Don't forget to get a picture at the kissing swing with views of the Colorado River Valley with your significant other.
Glamping in Colorado Pinterest Pin!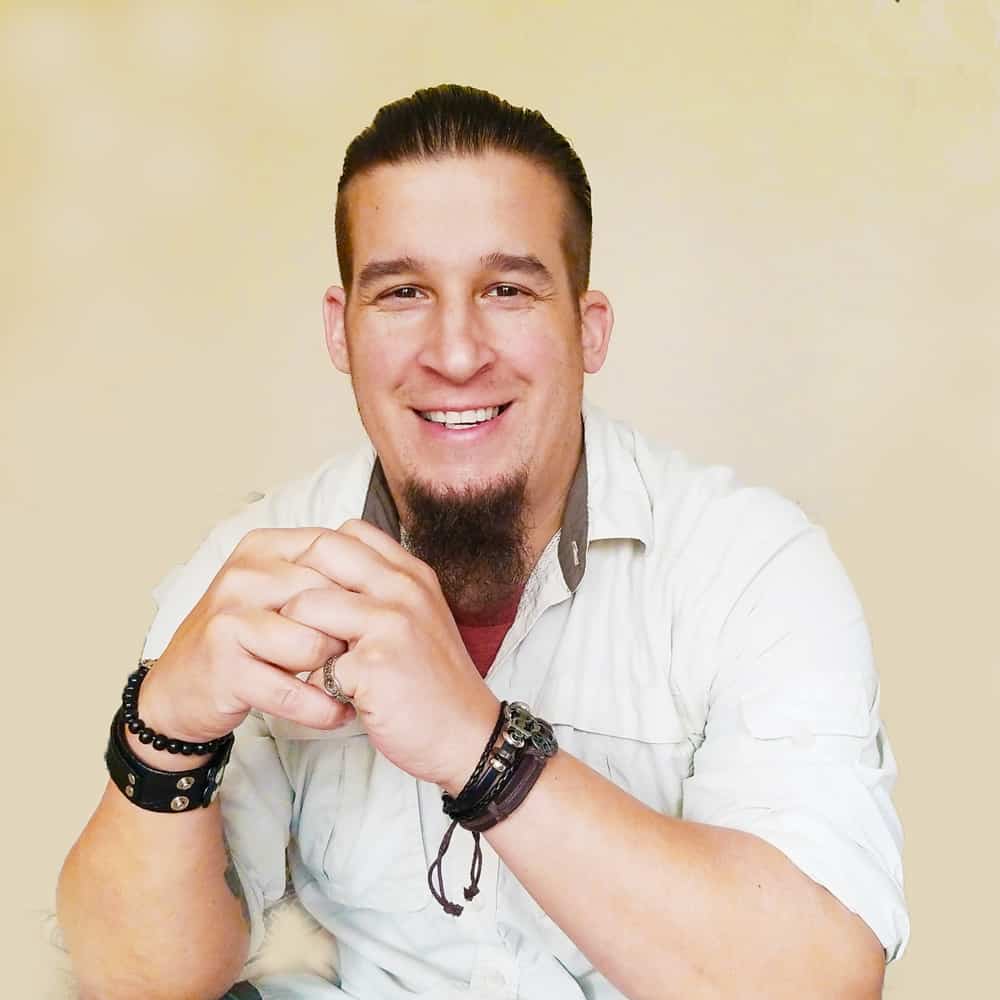 Full-time World Travel Writer who runs multiple websites and social media accounts. I have spoken at various conferences around the world. Some of my hobbies include adventure, fitness and new technologies. I am also a trekkie!