Planning a visit to Big Sur, California? Instead of booking a hotel, why not consider glamping. This gorgeous piece of California is known for scenes of unrivaled nature so what better way to fully experience it than with a Big Sur Glamping experience?
The breathtaking, rugged coastline of Big Sur is sure to be featured in any California dreaming. It's a spectacular stretch of natural beauty that runs for 90 miles between Carmel and San Simeon (home of Hearst Castle).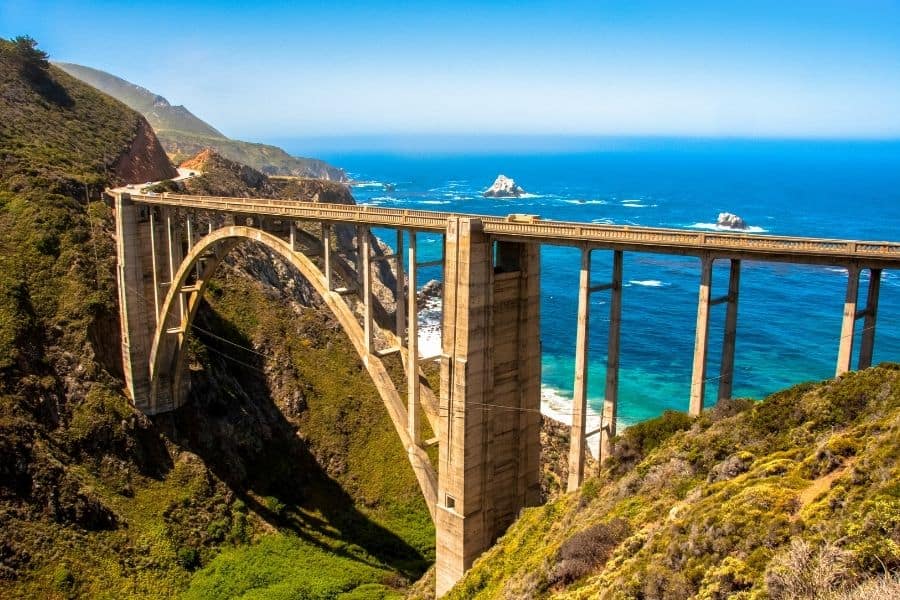 Route 1 (aka the Pacific Coast Highway) is a stunningly scenic road trip flanked by the Pacific Ocean and the Santa Lucia Mountains. Along the way are redwood forests, State Parks, picturesque towns, nature reserves and of course beautiful beaches.
This coastal California destination is a dream for nature lovers. So, it's not surprising that California glamping in Big Sur is a popular bucket list item for those exploring the area.
Also, no surprise is that Big Sur, California has been awarded "Traveler's Choice Award Winner for Top 25 Destinations in the United States."
Jump Ahead to Big Sur Glamping u0026amp; Big Sur Activities
More California Glamping Articles to Enjoy:
Ventana Big Sur Glamping Resort
---
Best Glamping in Big Sur
---
Location: Point Lobos
Best for: Families, Groups (sleeps 6)
If you're dreaming of magical beachfront glamping in Big Sur vacation this is it! This historic 100+-year-old cabin has 3 bedrooms and 1.5 baths making it perfect for a family or group getaway. The 2-level cottage also has a full kitchen, hardwood floors, fireplace, washer/dryer, living room with TV, internet and a deck.
The property is private and peaceful and the smells and sounds of the ocean, eucalyptus and cypress trees will soothe your soul. You'll be steps from Monastery Beach and a short drive from Carmel Beach, Pebble Beach Golf and Cannery Row.
Guest Reviews: "Everything about this lovely property is magical. From it's history to the spectacular views to the privacy, it is unmatched in any rental we found in Carmel over the past 25 years. There aren't enough superlatives to describe Whalers cottage. We can't wait until we can return."
---
Location: South Big Sur
Best for: Off-grid, Families, Groups
The luxurious, off-grid eco-glamping Treebones Resort is a perfect place to unplug and connect with nature. But don't think that means roughing it! These Big Sur yurts come fully furnished with king or queen beds, seating areas, sink vanity and decks with stunning views. There are also incredible custom glamping tents and twig huts that have to be seen to be believed.
Then there are the amenities that complete the experience. For dining, there's the Wildcoast Restaraunt with "redefined campfire cuisine" as well as The Sushi Bar with a 16-course tasting menu. Activities include a pool, hot tub, massage, yoga, hiking and beachcombing.
Guest Reviews: "I have stayed in places all over the world but as i approach age 60 this will standout as the most ideal place. To say we loved our stay is an understatement. Kudos to the owners and the way your hard working staff seems to quietly handle and share responsibilities. What you have created here is a dream we will remember for a long time. Thanks!"
---
Location: Hwy 1 near Monterey
Best for: Luxury, Couples, Groups, Adults only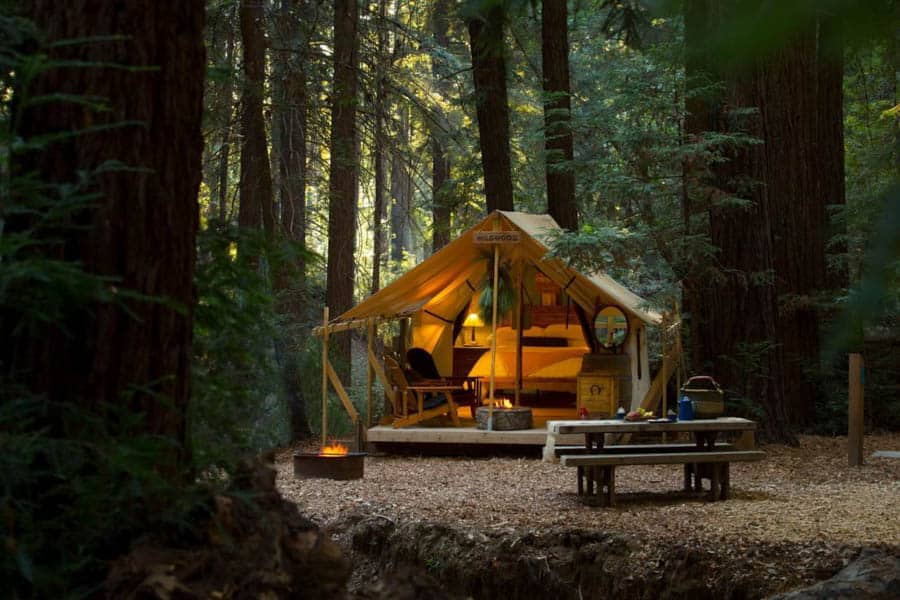 The luxurious Ventana Big Sur Resort has a variety of accommodations including guest suites in the main hotel, as well as cabins, cottages and campsites. But we're here to talk about glamping at Big Sur.
There are 15 Big Sur glamping sites with luxury safari-style canvas tents outfitted with custom beds, heated blankets, electricity, potable water faucets and lovely decks with seating and a firepit. Choose from the convenient Redwood Glampsites or the more secluded Canyon Glampsites. There are restrooms close to all sites and the main bathhouse is far from roughing it with heated floors and marble counters.
Guest Review: "Incredible location. Convenient to main highway, Big Sur beach nearby shops, restaurants and gas station. Extremely clean campsite and great space for tent camping. Nice, clean bathrooms. So peaceful and right in the redwoods with a flowing stream. Definitely going back."
---
Location: Hwy 1, Big Sur
Best for: Convenient location, Romantic getaway, Families or Groups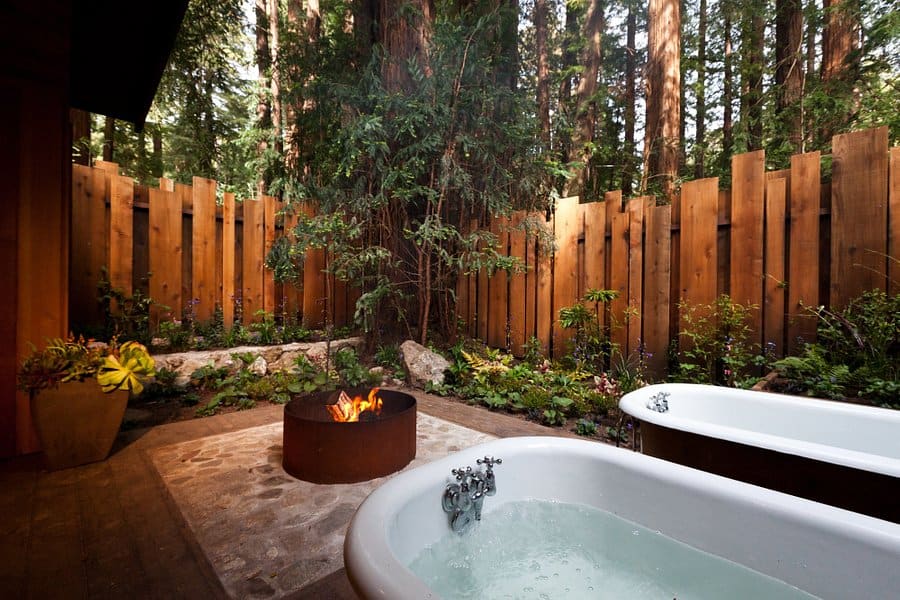 For a unique experience in a convenient location on Highway 1, Glen Oaks Big Sur is a great choice. Accommodations range from glamping cabins and cottages to rooms in a 1950s vintage Adobe Motor Lodge. Everything is nestled within the redwoods with access to trails and a river.
Each cabin and cottage is unique in size and decor. However, they are all comfortably furnished and have a bedroom, living room, kitchen, bathroom. Some even have outdoor clawfoot tubs to enjoy a soak in the woods.
Guest Reviews: "This was my second trip this year, and no kidding my 7th visit over the last several years. This place does not disappoint and remains consistently top notch. Regardless if you stay in the lodge or redwood cabins the rooms are special, clean, and filled with tons of personality. There are always special amenities to make it a perfect retreat or getaway. Perfectly located on the HWY 1 close to all the parks and sites. This has become one of my favorite spots in the US."
---
Location: 20 minutes from Carmel Valley Village
Best for: Couples, Small Families (sleeps 4)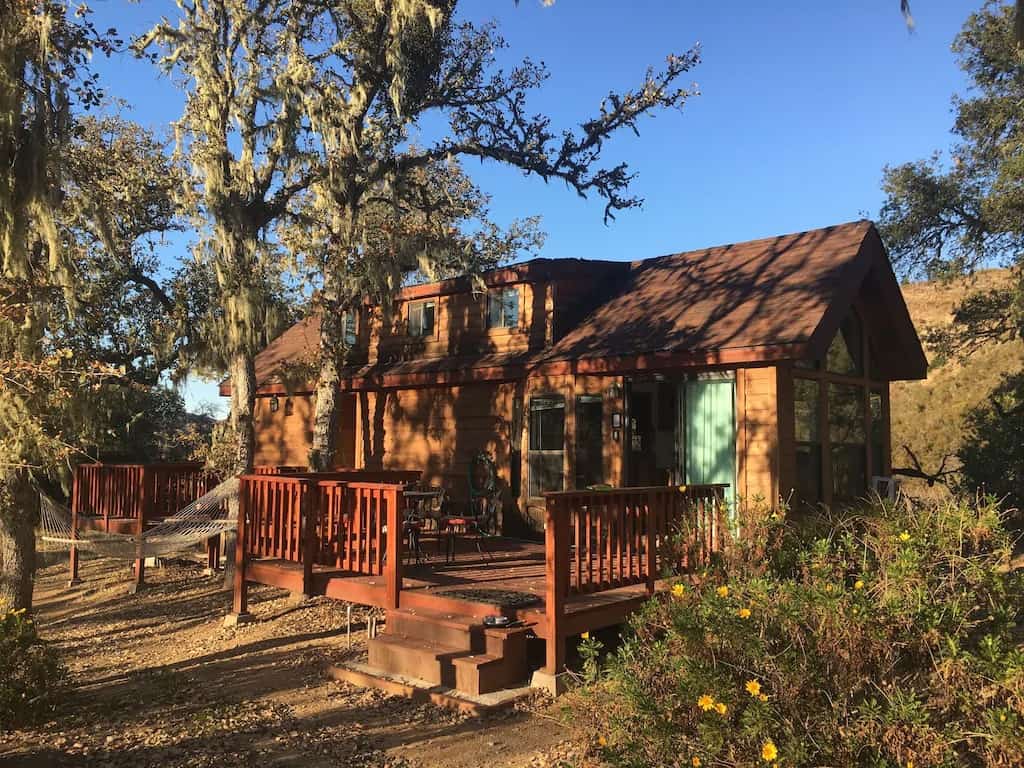 A cozy tiny home sitting on 10 private acres with beautiful views and meadows for walking. Within the 400sf there's a bedroom with a queen bed, a sleeping loft with 2 twins, plus a full kitchen, living area and dining nook. Everything is solar-powered with a backup battery so you can enjoy modern amenities while being eco-friendly.
If you can tear yourself away from the peaceful natural surroundings, Carmel Valley Village is just 20 minutes away. Also, Carmel-by-the-Sea is 45 minutes away and Monterey is a one-hour drive. If you want hiking and adventure there are plenty of opportunities in Los Padres National Forest, Ventana Wilderness and Tassajara Hot Springs.
Guest Reviews: "We stayed here for a week to unplug and get away from emails for the week. The house was lovely and the hosts are super responsive and willing to help answer your questions. I especially loved reading in the hammock. Would totally come again! :)"
---
Location: Hwy 1 Big Sur
Best for: Couples, Families, Groups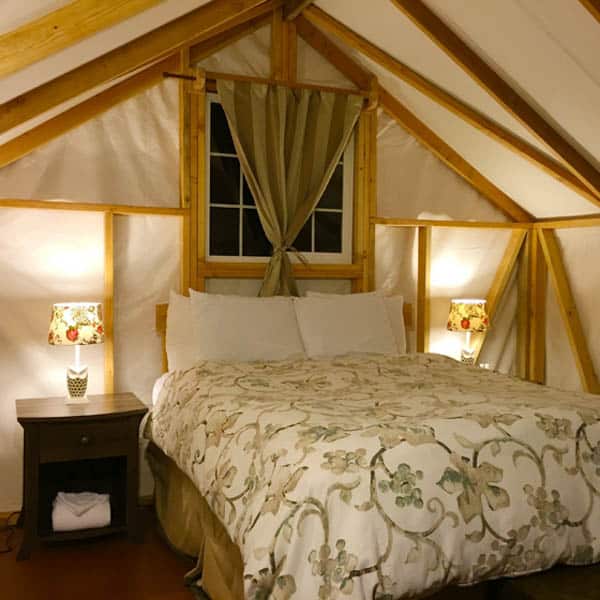 Fernwood is another Big Sur Resort with multiple accommodation options. There is a motel, Forest Cabins, Tent Cabins, Adventure Tents plus Tent and RV sites. Personally, our top choice would be the Adventure Tents which sleep 2 on comfy queen beds that come with luxurious bedding and bath towels. Outside the Adventure Tents, there is a deck and firepit.
For families or groups, the cabins and tent cabins can sleep 4-6 people. Amenities on site include bathhouses, a general store, a Tavern and Bar & Grill.
Guest Review: "The location in the forest was wonderful. Enjoyed our walk down through the camp grounds and into the state park. The bar and restaurant were also very good. Friendly staff and a super pizza in a lovely setting."
---
Big Sur Glamping Getaway – Rosehaven Serenity Cabin
Location: Carmel-by-the-Sea
Best for: Couples, Family, Small Group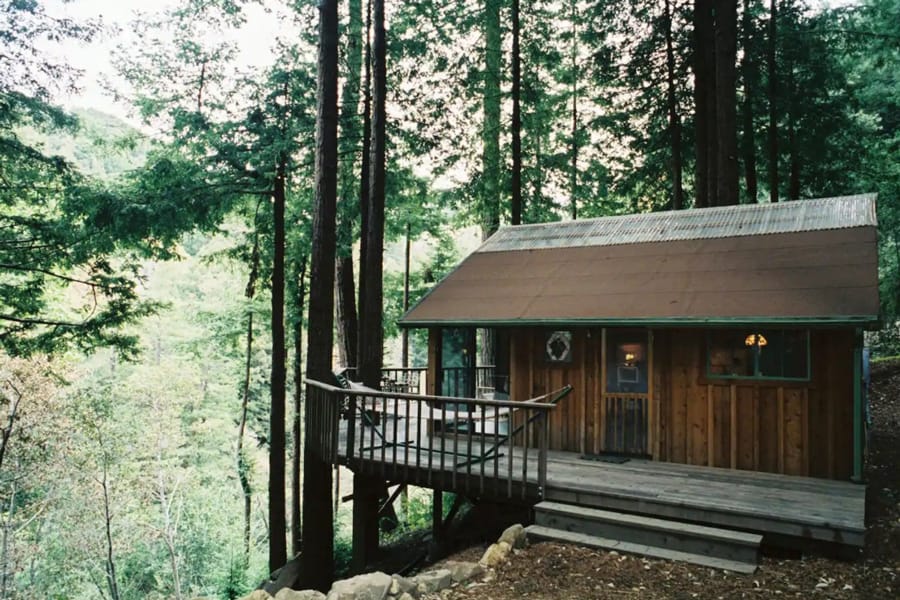 If glamping for you is all about nature, exploration, new bonding experience, and creating lifetime memories. Serenity Cabin is built just for you. Most vacationers will find its location ideal for an ultimate glamping experience. It is a perfect balance between a change of routine and the comfort of the most essential facilities.
The flexible pricing policy that assumes free-of-charge stay of family members under 15, makes Serenity Cabin an excellent option for families with kids. Spend your day waking up under the canopy of redwoods or chilling in a hammock or a hot tub. Afterward, gather all the family for a dinner that can be easily cooked at a fully-equipped kitchen. Serenity Cabin has everything to become your happy place.
Recent Guest Review for this Property:
"If you're looking for heaven—look now further. In fact, heaven can wait when you can experience this cabin and the surrounding area. I'd you're looking for a quiet, peaceful, getting from EVERYTHING and everyone in the crazy world, this is the place!"
---
Tassajara Tiny House Glamping
Location: Carmel Valley
Best for: Couples, Family, Small Group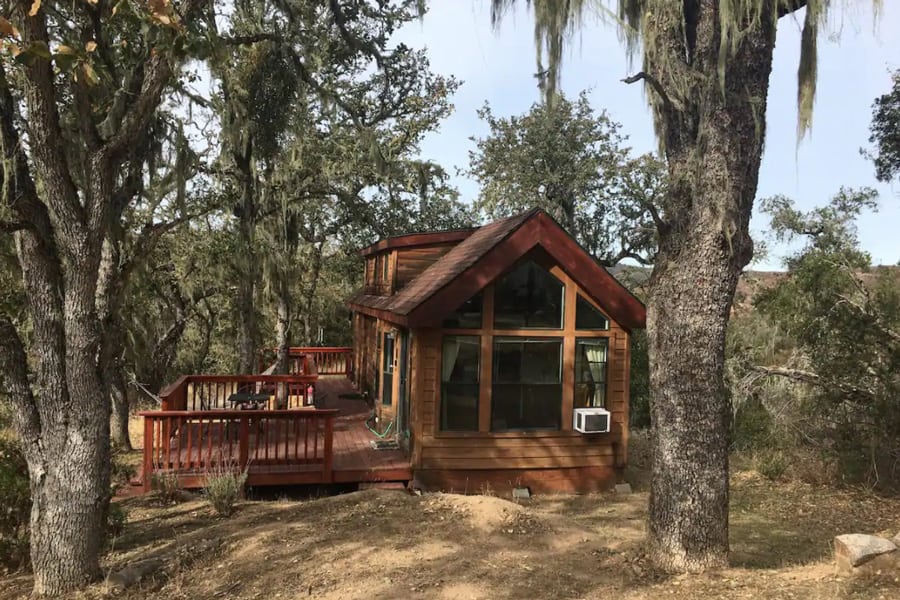 A cozy cabin in the woods that seems lost among lavender fields and a mountain setting. Isn't this exactly what everyone needs to shake off the dust of everyday stress, recharge, and get their second wind? Tassajara Tiny House located on 10 private acres is a unique Big Sur glamping location. As such, it offers the thrill of a remote and peaceful lifestyle while giving you all the comforts of civilization.
The electricity is provided by a solar array with a battery, so even gloomy rainy days won't cast you into the dark ages. A window AC and portable fans will guarantee you a chill during summer, while propane-based heating provides hot water and a smooth work of the furnace and the stove with an oven. A queen bed and 2 single beds will provide nice and cozy sleeping arrangements for a family or a small group of friends. So grab a picnic basket, enjoy sitting under a huge oak tree or chill in a hammock gazing at the stars inhaling vertiginous fragrances of forest and lavender fields.
Recent Guest Review for this Property:
"This out of the way place is perfect if you are looking to unplug and unwind. The views were amazing. We liked the added touch of board games to enhance our stay. There was a surprising amount of cookware which helped as make delicious meals with food brought from home."
---
Big Sur Glamping on a Goat Farm
Location: Big Sur Village
Best for: Couples, Family, Small Group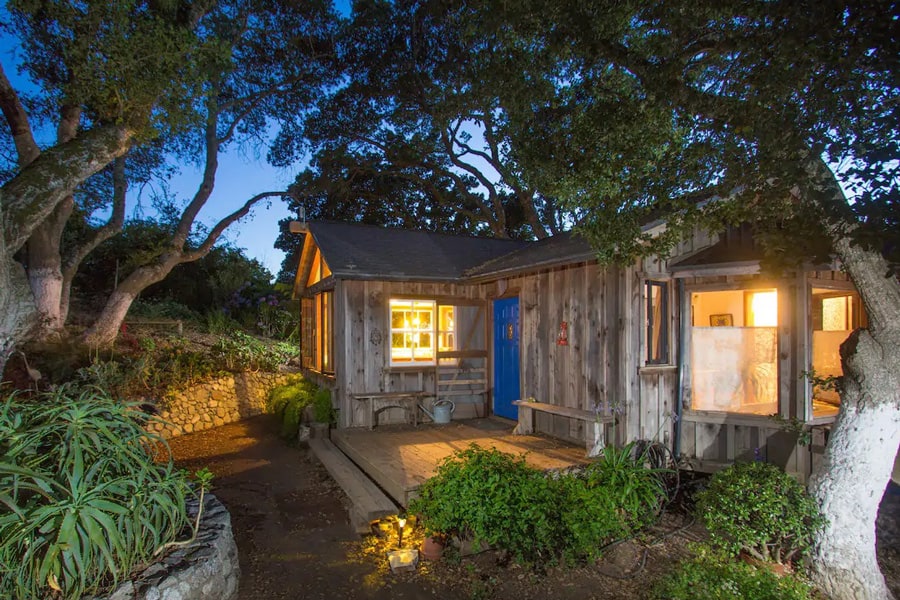 Whether you are already familiar with glamping vacations, or simply want an ultimate getaway with friends and family, this Big Sur California Farm Stay may be exactly your piece of cake. As such it is located at a real ranch with goats, sheep, chickens, and horses. The Airbnb Big Sur two-bedroom cabin guarantees lifetime memories for every urbanite as well as an educational and exciting experience for children.
If the farm life thrill was not enough, you also get a breathtaking ocean view from both bedrooms! The house itself also has a kitchen, a real bath, and Wi-Fi. The sleeping arrangements are perfect for a family with children or a company of friends. So it provides a Queen bed, 1 double, and 1 single bed which will take care of a good night's sleep of at least 4 guests.
Recent Guest Review for this Property:
"We had a wonderful stay in Big Sur. The location could not be better – you have total privacy on the property but the bakery and deli in Big Sur are a lovely walk down the hill which we did every morning. We spent most of our time hiking the property and enjoying the incredible range of views – ocean, forest, you get it all. If you have a sense of adventure and love animals this is the place for you. Make sure to bring hiking boots or shoes you can get muddy as the hikes are gorgeous but you'll cover all sorts of terrain. Can't wait to come back."
---
Happier Camper Perfect Location by the Beach!
Location: Marina
Best for: Solo or Couples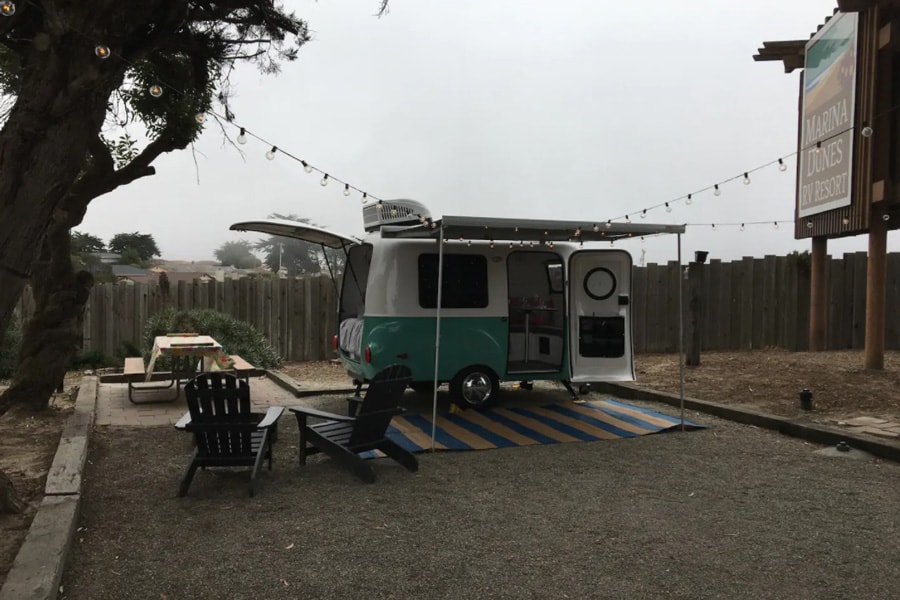 There is some particular thrill in trailer vacations. Big Sur California glamping locations allow you to combine the adventurous spirit of campervan leaves with a relaxed camping experience. This retro-looking fully equipped Campervan will provide you a perfect combination of a modern glamping experience with the fascination of ultimate retro vibes. Large panoramic windows with a huge rear hatch, a modernized through stylish interior are exactly what every glamper needs to break the routine. Grab a partner, and run away to freedom and joy.
---
Luxury Tent for Glamping Big Sur
Location: Carmel-by-the-Sea
Best for: Solo or Couples
When you wish to push away the daily stress and buzz of a big city, but reasonable comfort and safety are still important for you, consider this luxury Big Sur Airbnb glamping tent. It is furnished just for 2, has a private lounge area with a propane fire pit and a BBQ. And of course a comfortable bed with cozy electric blankets keeping you warm and safe even during off-season visits.
The restroom, hot shower and kitchen are located only a few steps away. This is so they don't interfere with the romantic privacy of your glamping tent. The luxury tent is located in an eco-friendly park. This helps you unite with nature and your very special loved one while enjoying all the comforts of an ultimate glamping experience.
Recent Guest Review for this Property:
"While visiting here you can expect a warm welcome from the main check in office as well as from the staff who helped with our fire pit which we used every evening while we ate dinner and roasted marshmallows on to make s'mores. The amenities were very clean and nice. Each tent space is a nice distance from the neighbors.
"The tents themselves were very cozy especially the heating blanket during the cold rainy nights when we stayed. Overall, we thoroughly enjoyed our stay and plan on visiting again soon! The location where we stayed is a very short, scenic drive from the Carmel Villages, Monterey Bay and Fisherman's Wharf, and Cannery Row."
---
Entire Guest House ~Wine Country Glamping
Location: Carmel Valley
Best for: Solo, Couples, Small Family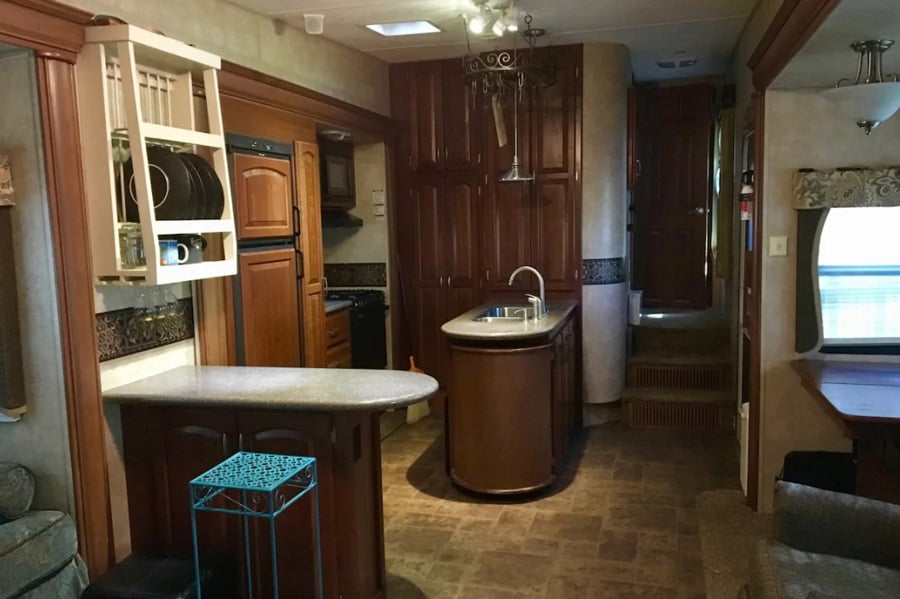 This Campervan guesthouse takes the glamping experience in Big Sur California to a whole new level even for experienced vacationers. Not only are you provided with all the comforts of the High-End Avalance RV, and a swim in a salt-water pool, but the owners gladly welcome you with a bottle of local Carmel Valley Grown wine and invite to enjoy a relaxing body and facial massage at their private Skin and Body Care studio.
The RV has a private fully-equipped kitchen and the feather pillows and organic cotton bedding will watch over your goodnight sleep. Along with the welcoming and relaxed atmosphere, all guests note the spotless cleanliness of the accommodation itself and the courtesy of the owners.
Recent Guest Review for this Property:
"The drive to the location was beautiful, we had no problem finding the property or the trailer. The trailer was clean and tidy upon our arrival. Heater works perfectly. The hosts gave us suggestions for local restaurants and wineries. Overall the area is gorgeous, the hosts were sweet and communicated very well. We are looking forward to returning to this area in the future!"
---
Bunk House with Gazebo
Location: Carmel-by-the-Sea
Best for: Couples, Family, Groups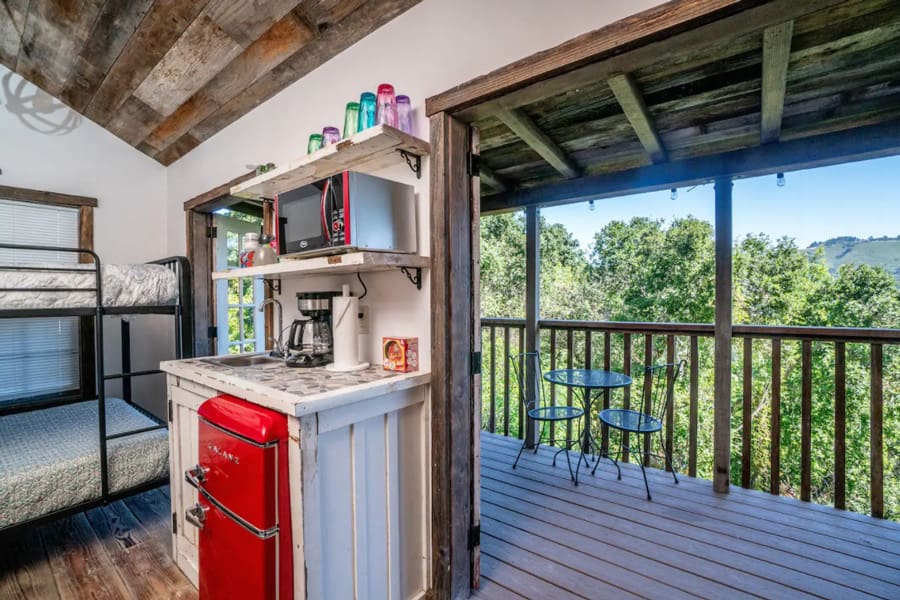 A rustic glamping Tiny House that seems lost in the woods and has beautiful views and a gazebo. It is a dreamy embodiment of the ultimate glamping location in the Big Sur California area. While hot showers and restrooms are public, you will enjoy your coffee pot, microwave, and mini-fridge right inside your tiny house. The firepit with BBQ is located in the shared area and has enough place to gather all your friends at a campfire, enjoy peaceful stargazing and guitar singing.
The place might look tiny, it has enough sleeping places for a comfortable stay of 6 people. This makes it a perfect friends and family vacation spot. If you are looking for an authentic eco-friendly and exciting glamping experience for you and your children, grab a guitar, a picnic basket and check out this cozy rustic bunk house today!
Recent Guest Review for this Property:
"Loved my stay in Carmel, especially in the tiny house. Everything was spotless and comforting. Wish we could've stayed longer but can't wait to come back! If you're thinking about getting away this is the place."
---
Things to do When Glamping in Big Sur
As mentioned above Big Sur is heaven for nature lovers and road trippers. The uber scenic, twisting Highway 1 is reason alone to visit Big Sur but be sure to allow lots of extra time for stops along the way as well as ventures off the highway.
Julia Pfeiffer Burns State Park
No Big Sur glamping trip is complete without time spent at this state park named after Big Sur pioneer, Julia Pfeiffer. The park is so full of natural beauty you'll want to spend at least half a day there, more if you're a hiker. There are seven hiking trails that meander along clear creeks and through redwood forest, leading to secret coves, flowing waterfalls, and breathtaking ocean views.
McWay Falls is an absolute must-see at Julia Pfeiffer Burns State Park. The short Waterfall Overlook Trail will take you to view a secluded cove with an incredible view of the falls dropping 80 feet to the ocean below.
Julia Pfeiffer Burns State Park is also home to 2500-year-old redwood trees and Ewoldsen Trail is the best way to see them while navigating a coastal canyon. These ancient giants tower to over 300 feet and are a great display of the wonders nature can provide.
Point Lobos and the Point Lobos State Natural Reserve
Point Lobos is at the north end of the Big Sur coast near the charming town of Carmel-by-the-Sea. Once described as "the greatest meeting of land and water in the world" this area of Big Sur has an abundance of hiking trails and one of the richest marine habitats in California.
It's also a popular destination for scuba divers, bird watchers, and nature photographers.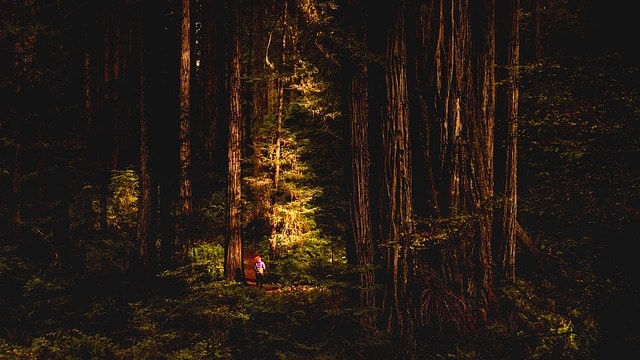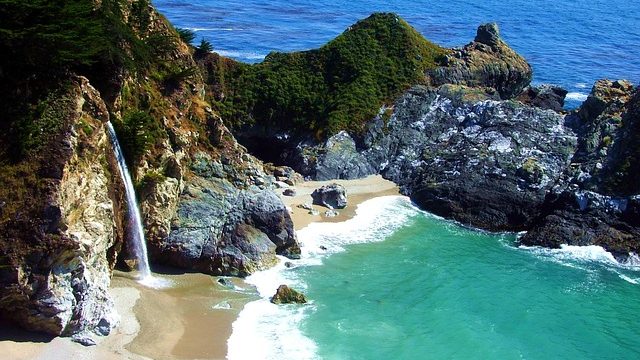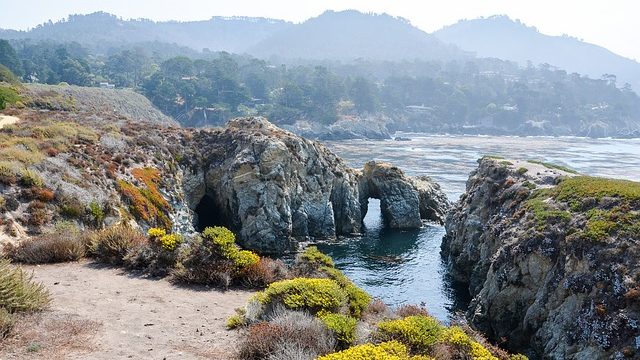 Pfeiffer Big Sur State Park
Unlike the other popular state parks at Big Sur, Pfeiffer is slightly inland rather than running along the coast. Despite not having the epic ocean view trails it's still a great place for nature hikes. Many of the park trails follow the Big Sur River as it winds through the giant groves of redwoods. Definitely don't miss the short hike to Pfeiffer Falls.
Pfeiffer Beach
Seculded Pfeiffer Beach is a photographer's dream. The iconic Keyhole Rock formation is one of the most photographed spots in Big Sur and at low tide you can walk out to it and explore the tidal pools. Take note this is a top choice for sunsets while glamping at Big Sur.
Bixby Bridge
Photographed almost as much as the Golden Gate Bridge, the Bixby Bridge is a must-see when Glamping Big Sur California. This incredible feat of engineering was erected in 1932 a soaring 260 feet above Bixby Creek. It can be tough to find parking at the bridge for a selfie but there are plenty of pullouts offering great views of Bixby Bridge with a gorgeous Pacific Ocean backdrop.
Andrew Molera State Park
This is the largest park in the Big Sur area and great for spending lots of time exploring and wandering the coastline. The park gives access to miles of trails with a multitude of redwoods, sandy beaches and bluffs. The flatter terrain also allows for cycling and horseback riding and the beach is popular with surfers.
Carmel-by-the-Sea
A seaside city with fairytale cottages and a village town center also brings visitors to the museums and historic Carmel Mission. It's a great place to find lunch along your coastal trip exploring Big Sur.
---
Pin It For Later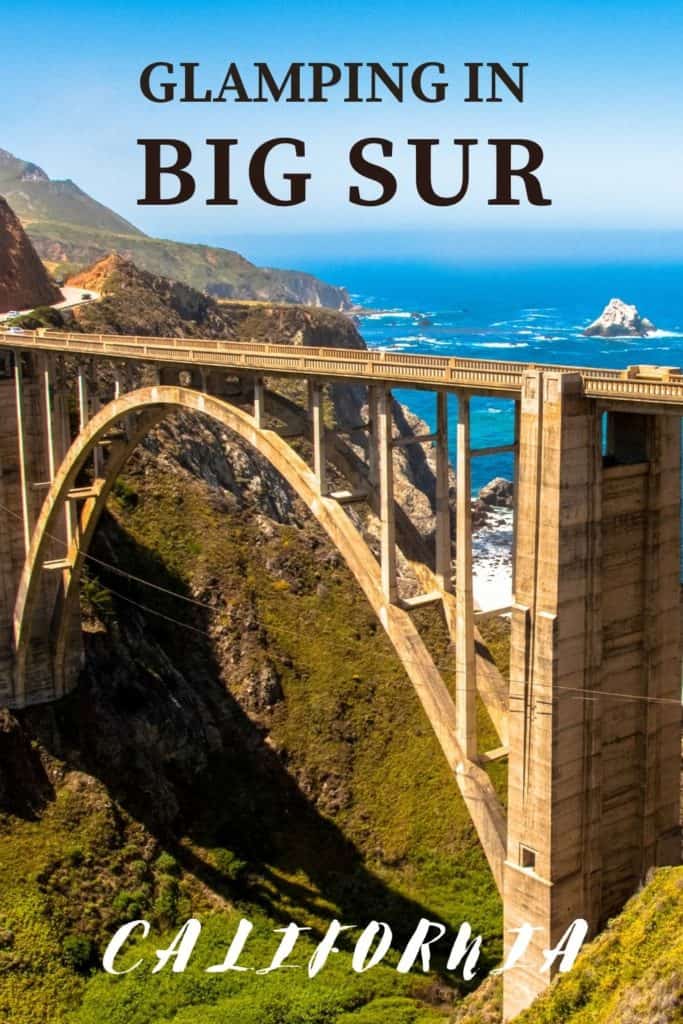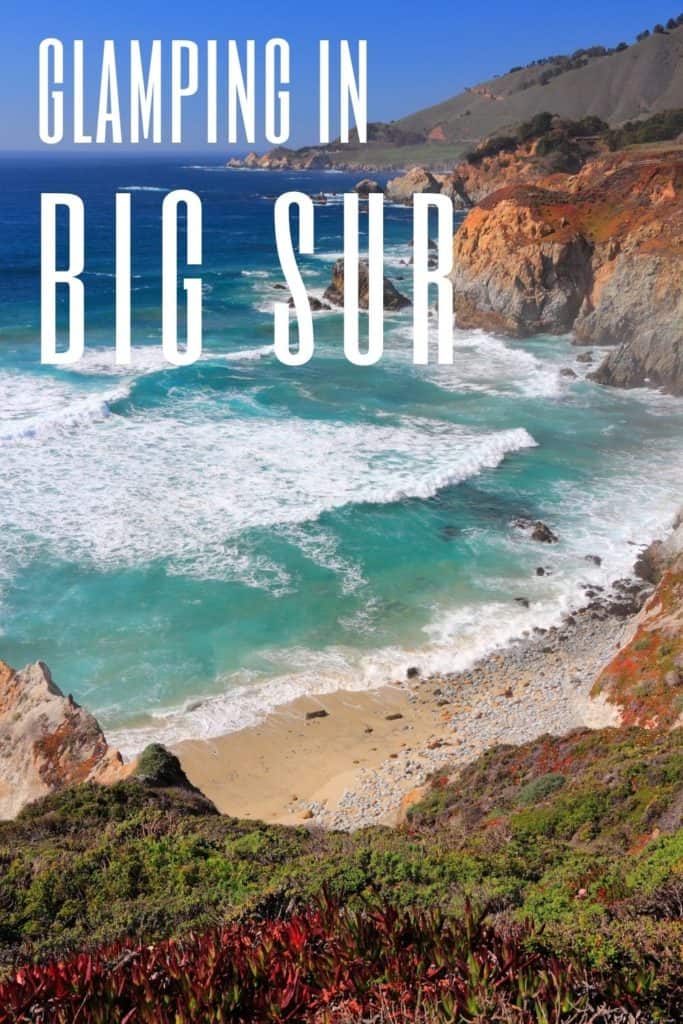 Looking for more USA Glamping Content?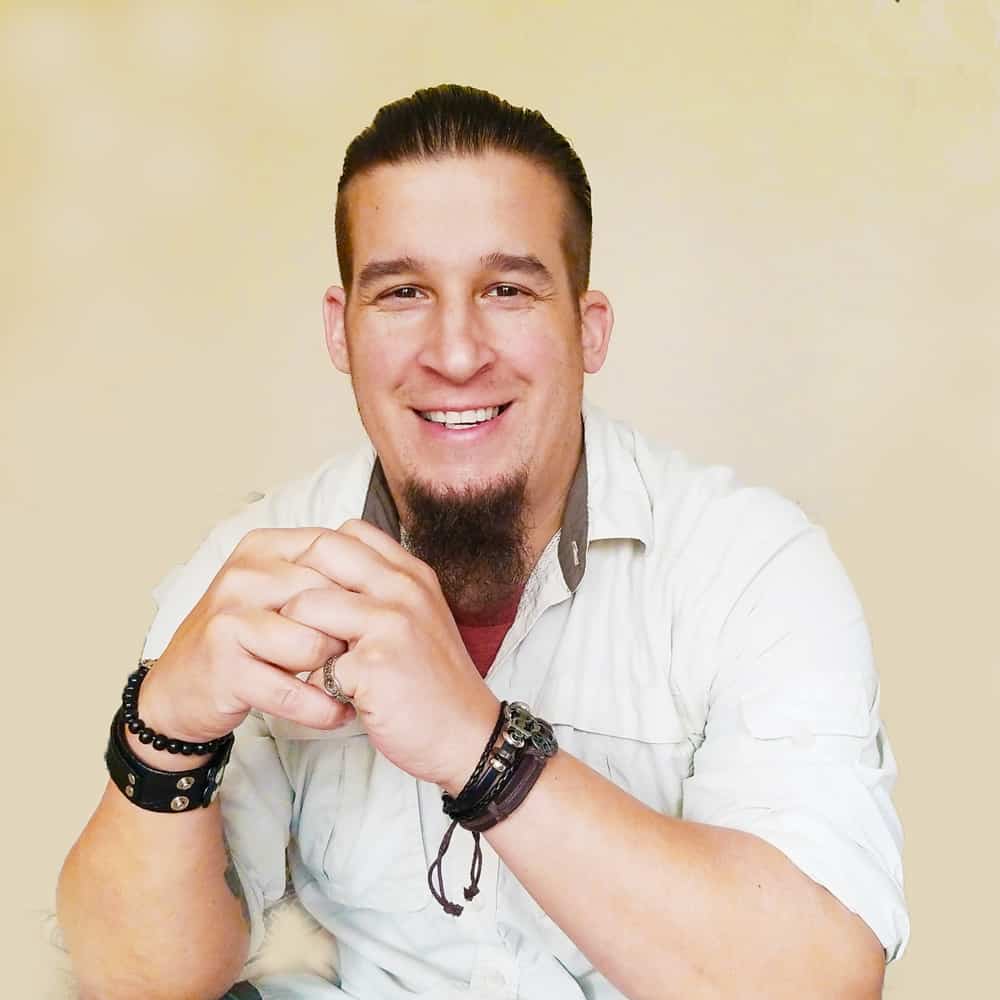 Full-time World Travel Writer who runs multiple websites and social media accounts. I have spoken at various conferences around the world. Some of my hobbies include adventure, fitness and new technologies. I am also a trekkie!