Alberta Canada is a vast province consisting of mountains, forests, lakes, deserts, and prairies. It's also known for a couple of the most popular national parks in the world. Many Canadians and international travelers head to this beautiful and unique region for outdoor activities and camping throughout the year. Glamping Alberta has become especially popular as it gives the ability to experience the outdoors and amazing scenery with comforts normally associated with a hotel.
We have created a list of some awesome Alberta Glamping spots to check out if you are headed to this region. We recommend you book as early as possible because many of these get filled up fast during peak times. Before we get into the list, let's go over some of the iconic outdoor things you can do in the province of Alberta.
Read Also
Luxury Camping Salt Spring Island BC
Glamping Tofino and Vancouver Island
Best Glamping in Ontario Canada
What to do When Glamping Alberta
---
Banff and Jasper National Parks
Banff and Jasper are two of the most popular national parks in the world offering an amazing area to explore for road trippers and outdoor enthusiasts. Some of the highlights in this region include the incredibly scenic Lake Louise, and almost equally beautiful Moraine Lake and Lake Maligne.
Another awe-inspiring sight in the area is the Athabasca Glacier, one of the six "toes" of the Columbia Icefield. Other top sites include Banff Hot Springs, Valley of Ten Peaks, and Castle Mountain for that perfect Instagram photo. Plus of course the charming towns of Banff and Jasper themselves.
Calgary
Calgary is world-renowned for its iconic Calgary Stampede Rodeo which is held every July and attracts thousands from far and wide for a week of festivities and events. Many folks head to this area to also explore the Dinosaur Provincial Park and Royal Tyrell Museum. Of course, Calgary is also close to Banff and Jasper National Park as well as Peter Lougheed Provincial Park.
Edmonton
Edmonton is home to the Edmonton Mall which is the biggest mall in North America. There are also some great outdoor activities to partake in near the city for those on a road trip through the area. Elk Island National Park is a good place to explore for animal lovers. The Ukrainian Cultural Heritage Village is a recreation of an immigrant village and there are also dozens of lakes for fans of fishing.
---
Top Glamping Alberta Spots to Book
Location: Rocky View County, Alberta
Suitable for: Couples, romantic getaway
The cute Bear Bungalows are a great option for a romantic glamping getaway in Alberta. The cabins are cozy and at night you can spend time gazing at the stars while staying warm by a wood fire. The whole area is covered with trees and is very peaceful.
Bear Bungalow can accommodate 2-3 people. There are loft bedrooms in each cabin (1 queen-sized and 1 double bed), and 1 bathroom. Bungalow amenities include a TV, indoor fireplace, kitchen with gas stoves, refrigerator, microwave, and outdoor fire pit.
Recent Airbnb guest reviews:
"This cabin is a gem and a perfect little getaway! Absolutely loved staying here and would recommend to anyone. Will definitely be looking to book again in the future."
"My daughter and I thoroughly enjoyed our stay at Bear Bungalow. It is a simply beautiful little cabin in a picturesque setting. Our hosts were incredibly hospitable and we would certainly consider coming back again."
---
Location: Clearwater County, Alberta
Suitable for: couples, families, small groups
Winter Prospectors Glamping Tent offers a unique outdoor experience in the winter with glamping tents that can accommodate up to 4 people at a time. These tents are located close to the Tay River. Therefore, early morning views include animals drinking water and roaming around the tents. You can also enjoy skiing in the forested areas near the glamping tents.
Camp amenities include an indoor fireplace, wooden stoves, an outdoor kitchen, free Wi-Fi, and a large spacious area. You will need to bring your own bedding.
Recent Airbnb guest reviews:
"It was definitely chilly in the evening (in January, to be expected!) but the fire kept us warm and Gail provided enough wood for us to keep it going, as well as a heater and generator if needed. It was a fun, unique experience for our family!"
---
Location: Rocky View County, Alberta
Suitable for: couples, families, small groups, romantic getaway
As the name suggests, this 100-year-old rustic cabin is located near the banks of Ghost Lake. You can also access the hiking trail of Spencer's Creek from here. This makes it the perfect vacation spot for anyone who loves fishing, hiking, and wildlife spotting.
But if you're not much of an outdoorsy person, you can curl up in the comfy beds and watch your favorite movies and TV shows with free Wi-Fi. Amenities include a kitchen, free parking space, indoor fireplace, BBQ grill, garden area, and much more.
Recent Airbnb guest reviews:
"This is a romantic, cozy and conveniently placed cabin, it was a wonderful and for the most part relaxing weekend get away. Rustic décor and wood fireplace along with the cute kitchenette made for a great romantic getaway. Definitely a trip to remember."
"Great little winter getaway, the perfect space for a couples night away! We heard from a friend who stayed here previously and we just had to check it out. Stayed two nights and loved every minute. it was snowing so we especially didn't feel bad staying inside and enjoying the space. The bucket of slippers is such a great touch!
The bed is beyond comfortable and we had the best nights sleep we've had in a long time. No need for the space heater if you're using the wood burning stove, it heats up at cabin fast! There's a bundle of wood for you when you arrive so no need to bring your own. It was great to walk in to, completely spotless, music on and lights glowing. What a warm welcome! Make sure you bring a few games or a deck of cards with you! We'd love to stay again and already have so many people inquiring about it since seeing our photos we took. Can't wait to come back!"
---
Location: Nordegg, Alberta
Suitable for: couple, small family, small groups, pet friendly
Little Nordegg Brazeau Cabin is one of the best glamping sites in Alberta if you're traveling with pets. This newly built cabin is super cozy and can accommodate up to 4 people in its open loft bedrooms.
Amenities include a kitchen, free parking, cable TV, BBQ grill, and a garden area. There are plenty of activities to do nearby including playing golf, visiting a museum, fishing, and hiking.
Recent Airbnb guest reviews:
"Cozy little cabin in a beautiful location. Very clean. Fire pit was lovely. Nice to see deer grazing in the woods from the kitchen window. Can't wait to go back and explore more of the area."
"Wendy was an extremely responsive host. The directions and instructions were super clear and the cottage was incredibly clean when we arrived. We enjoyed the outside grill and firepit, and walks in a quiet and secluded area. A week of peace!"
---
Location: Bonnyville, Alberta
Suitable for: couple, romantic getaway
Just as the name suggests, this is a glamping Alberta spot popular for its tranquility. The cabin can accommodate two people with its comfy queen-sized bed and it also includes a delicious breakfast! There are many interesting activities for you to do including kayaking, canoeing, bird watching, and hiking.
But, if you're not up for outdoor activities you can head to the seating areas near the lakefront and enjoy the views, especially at sunset. You are free to explore the area complete with farm animals like sheep and horses. Amenities include a kitchen, BBQ grill, mini-fridge, portable fans, indoor fireplace, and free parking facilities.
Recent Airbnb guest reviews:
"This place is so beautiful! I cannot overstate it. Sitting on the dock and watching muskrats and ducks and listening to coyotes was magic. The deck and fire pit were really nice too and the cabin itself is adorable! Plus the vintage row boat was a really special touch! Rachel and Ashley were really kind and accommodating and responsive. Id recommend bringing only bbq and fire side meals since theres not really a kitchen. We loved it and would recommend 1000%"
"Had an amazing time there with my girlfriend, the wood stove was cozy, enjoyed bbqing and having bonfires out back, relaxing on the dock, playing pool in the barn and visiting all the animals. The horses were very friendly and really loved the carrots we brought for them. Rachel and Ashley were very helpful with any questions and provided extra blankets, dish soap, coffee sweeteners, anything we needed really. I would recommend this place to any couple looking for a quiet little retreat. We definitely hope to come back in the future!"
---
Location: Kehewin, Alberta, Canada
Suitable for: couples, families, small groups
Hidden Treehouse Chalet offers a unique glamping experience at Alberta, with its location nestled in the thick forest near Elk Point. They have only one 4 meters high tree house and it can be accommodated by 4 people, 2 people in the main bedroom and 2 people in the loft bedroom. But if you tell them there will be more people, they will arrange sleeping facilities, probably in the treehouse with mattresses and futons or you can rent a trailer that accommodates 2-3 people at the same site.
Amenities include a kitchen, 1 bathroom, indoor fireplace, refrigerator, microwave, gas stove, fire pits, rock sauna, BBQ grill, outdoor showering facilities, cleared garden area, and much more. You are free to play games like badminton in the clearing, they will provide the equipment or you can hike up the hiking trails nearby the treehouse to see wildlife.
Recent Airbnb guest reviews:
"A beautiful property nestled in thick forest. Colin is an excellent host. He made sure we were setlled & answered any questions we had. The tree house is cozy & well built. Colin has it full with anything you could possibly need. No cell service so its an excellent way to unplug for a few days. Great family get away."
"Such an amazing getaway!! We loved the hot stone sauna and how remote the location was. Perfect escape from the city."
---
Location: Monarch, Alberta
Suitable for: families, small groups, pet friendly
If you want to have one-of-a-kind glamping Alberta experiences with kids, head to the Teepee and Tiny House. They have a view overlooking the Old Man River and the sunset views are incredible here!
Your kids will love sleeping in the teepee, 2 small beds are arranged and it is 100% safe because you will have the whole area for yourselves. The tiny house can accommodate 3 guests with its comfy queen-sized bed and sofa bed.
Recent Airbnb guest reviews:
"This is probably one of my most special and unique experiences on airbnb. The tiny home and tent are both beautiful but the view is breathtaking. The property is so peaceful. We enjoyed walking along the river, biking to the nearby town, but most of all, we enjoyed the view. We would absolutely stay here again!"
"This place is great. My kids loved the teepee. And Suzanne goes above and beyond to make the stay even better. She's an amazing host!"
---
Location: Three Hills, Alberta
Suitable for: couples, families, small and large groups
Good Knights Encampment is perfect for people who are looking for a medieval yet a luxury glamping experience in Alberta. The tents you see here can accommodate up to 40 people and they even allow visitors to have birthday feasts, wedding celebrations, and family campouts at night! The luxury tents come in all sizes and shapes with comfy beds. There are two family/group-sized tents that can accommodate up to 8 people at the same time. Each tent has a private bathroom called the throne room with a toilet and a sink.
You can also enjoy the activities like sword fighting, archery, hiking, craft making, and feel like you have traveled back in time. Camp amenities include a kitchen, electric heaters, fire pits, mini-fridges, ovens, stoves and BBQ grills.
---
Location: Red Deer County, Alberta
Suitable for: couples, families, small groups
Woodsy Cabin Getaway-Four Season Paradise, just as the name suggests is just like a paradise with picturesque scenery and a cute-looking cabin. The location is very secluded and dreamy. Sylvan Lake Beach is easily accessible from here. You can even have a private swim in the river nearby and sleep under the starry sky to make your getaway more romantic. It can accommodate 5-6 guests with 2 bunk beds and 1 queen-sized comfy loft. There is a hot tub available to enjoy private baths.
You are more than welcome to try kayaking, skiing, fishing, or just wander along the banks of the river. Amenities include a kitchen, stoves, ovens, microwave, mini-fridge, indoor fireplace, fire pits, air conditioning, cable TV, Wi-Fi, BBQ grill, and much more.
Recent guest reviews:
"Had a wonderful stay here with my cousin. The cabin submerges you into nature where you can watch the birds and wildlife for hours. The river is also just a short walk away and was wonderful to crosscountry ski on it."
"Best little getaway! The hosts are incredible, facilities are lovely and the location is perfect. If you find an opportunity to come to this amazing little cabin, you need to!"
---
Location: Bragg Creek, Alberta
Suitable for: Solo retreat, couples, romantic getaway
Nestled in the thick forests of Bragg Creek, this 25-foot long Marooned Motorhome can be one of the best Glamping Alberta spots for couples looking to spend some quality time alone. The mountainous views are amazing at sunrise. Only one bed is available but it is comfy. You can explore the forested areas, hike, go bird watching or just relax by the campfire outside while enjoying the cold breezes at night.
This motorhome comes with a kitchen, bathroom and includes amenities like air conditioning, oven, Barbecue utensils, BBQ grill, coffee maker, microwave, refrigerator, and much more.
Recent guest reviews:
"Really cool space. Nice and quiet and in the middle of the woods. Deer family rolled by while I was having a coffee and that is awesome. Very thankful to find this RV."
"Amazing, cozy, quiet. Everything you could possibly want for a getaway. My husband and I will definitely be back!"
---
Location: 36km south of Canmore, Alberta
Suitable for: solo retreat, couple, romantic getaway
This all-inclusive glamping tent experience at Mount Engadine Lodge is one of the best things you can do in Alberta. It is costly but is definitely worth the splurge. The prices include breakfast, lunch, afternoon tea, and dinner.
The location is packed with scenic views and once in a while, you can spot animals in the clear green meadows just outside your tent! Only one king-sized bed is available but upon request, they will arrange two twin beds. The glamping tents come with a private bathroom, private patio, and an indoor fireplace. No Wi-Fi or TV is available because they like to enhance the outdoor glamping experience by letting you disconnect from the outside world.
---
Glamping Alberta Pinterest Pin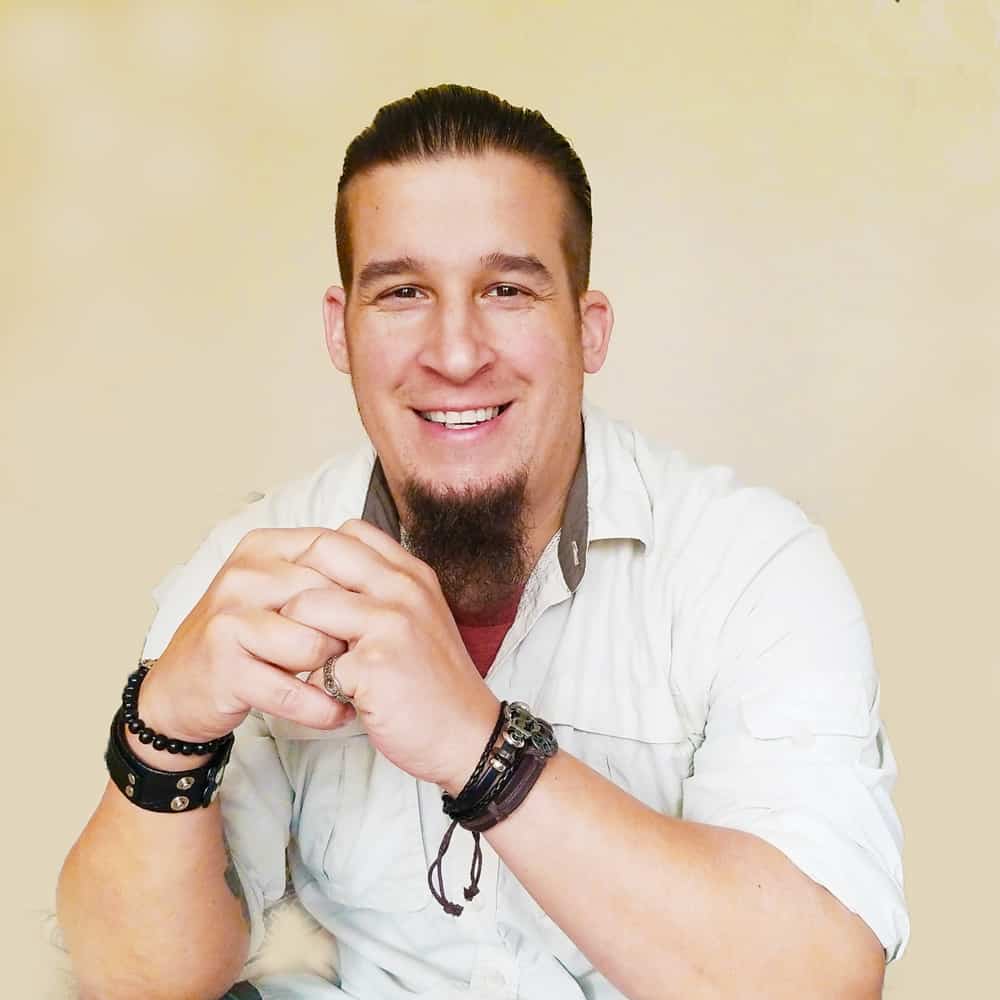 Full-time World Travel Writer who runs multiple websites and social media accounts. I have spoken at various conferences around the world. Some of my hobbies include adventure, fitness and new technologies. I am also a trekkie!