From amusement parks to subterranean gardens, our famed beaches, historic towns, and hole-in-the-wall treasures, Florida is full of wonder and unique locations for every visitor or local to discover. Florida Treehouses are one of the most sought-after accommodations in the sunshine state. The weather and abundant nature make for the perfect magical experience when looking for Treehouse Rentals in Florida.
In this article, we will go over not only some of our favorite Florida Treehouses, but a few of our favorite amazing outdoor sites you can discover on your weekend Florida glamping getaway or your week-long Florida treehouse vacation.
Some other Treehouse Glamping articles to look at:
Washington State Treehouse Rentals
---
Our Top Places to Visit From One of the Magical Florida Treehouses
Devil's Den
Because this subterranean spring is one of the most ancient sites in the United States, we had to include it on our favorite list! It's one of Florida's best-kept secrets!
Devil's Den's spring is 120 feet wide and maintains 72 degrees all year. Numerous folks come here for snorkeling, diving, and other activities.
Dry Tortugas National Park
The park's seven islands, situated east of Key West on the Gulf of Mexico, are bordered by coral reefs suitable for exploring. Numerous beaches are also popular in the area!
Since Loggerhead Reef is close, Loggerhead Key is renowned for its lighthouse and sea turtles. When you're feeling really daring, visit The Windjammer Wreck, which is the wreckage of a vessel that sank in 1875! It's ideal for underwater diving and snorkeling!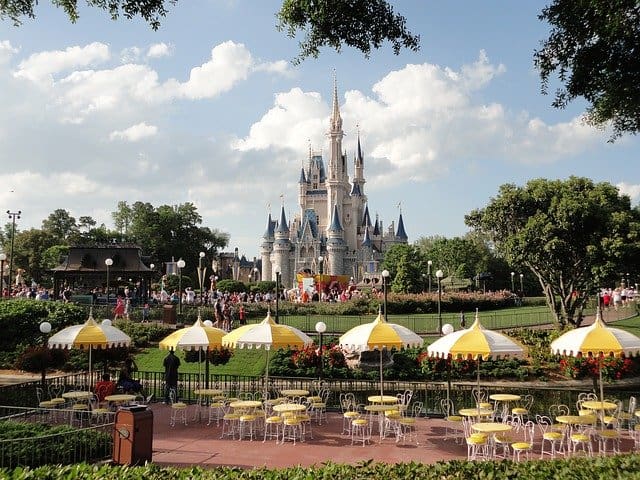 Everglades National Park
On the southern tip of Florida, Everglades National Park is a 1.5 million-acre park with renowned wetlands!
It is a wonderful activity to do in Florida since it is composed of coastal mangroves, marshes, flat woodlands, and a diversity of animal species. You may travel through the Everglades by car or take a boat out to experience the wild splendor.
Disney World
Walt Disney World is one of Florida's most well-known attractions, and you can't really go to Florida without visiting.
Magic Kingdom, Hollywood Studios, Animal Kingdom, and Epcot are the four parks, each with its own rides and attractions. Make sure to give yourself enough time to visit the parks you really want to see and leave time to explore some of Florida's natural sites as well.
---
Our List of Florida Treehouses to Rent
Location: Marathon, Florida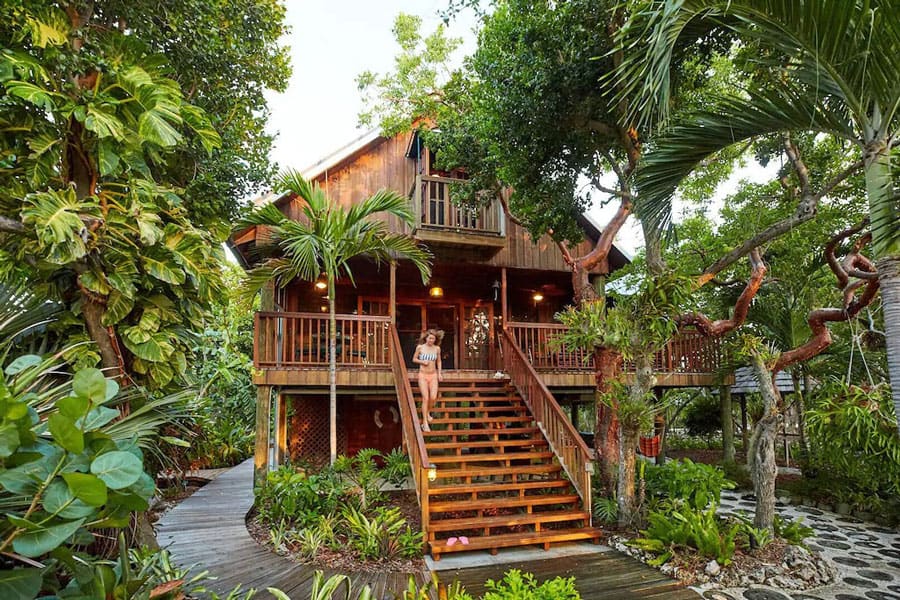 This Florida Keys Treehouse is a secluded, ten-acre beautiful tropical hideaway. It is just a half-mile off the coast of Marathon in the Florida Keys. You will enjoy the whole Tropical Island to yourself as our client, including an amazing Island Home that can sleep up to 10 people. The Island property features multi-level terraces, balconies, and a 35′ widow's walk with sweeping views of the Florida Bay and the Gulf of Mexico, as well as a breathtaking twilight vista of the wildlife sanctuary.
During your vacation, you will also have access to a 19′ Boston Whaler. Enjoy swimming, snorkeling, paddleboarding, kayaking, angling, and much more on your personal secluded beach with hammocks and palapas!
Location: Branford, Florida
It has brand new shiplap walls in the shared spaces, a new kitchen with a cast iron farmhouse sink and décor, as well as new doors, paint, and a dock! There's also a screen-enclosed veranda on the rear of the home with four rocking rockers that overlook the riverbank! On the site, we also have two single simple sit-on-top kayaks for you to utilize! To prepare the greatest wood-fired meals in the world, use a fire pit with a flip-over grill.
Location: St. Augustine, Florida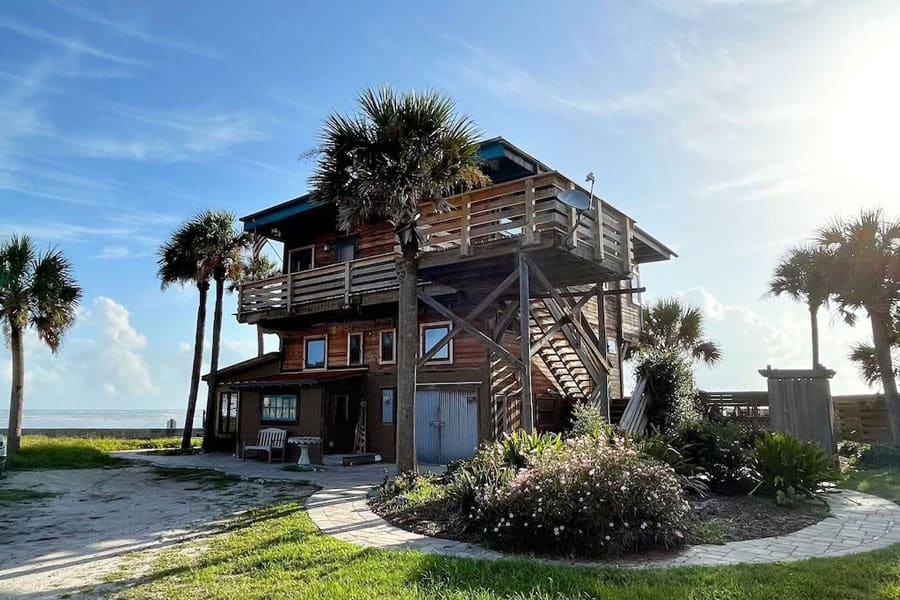 This unusual treehouse-type property is located along a gorgeous length of coastline and offers an amazing beachfront setting unlike any other. You will be occupying the whole basement level of this unusual property, which is separated into three different floors.
There are two bedrooms, a bathroom, and an open living/kitchen space that leads to the beach. Enjoy unobstructed ocean views while relaxing and watching dolphins frolic in the waves and magnificent sunsets sweep over the sky.
Location: Crystal River, Florida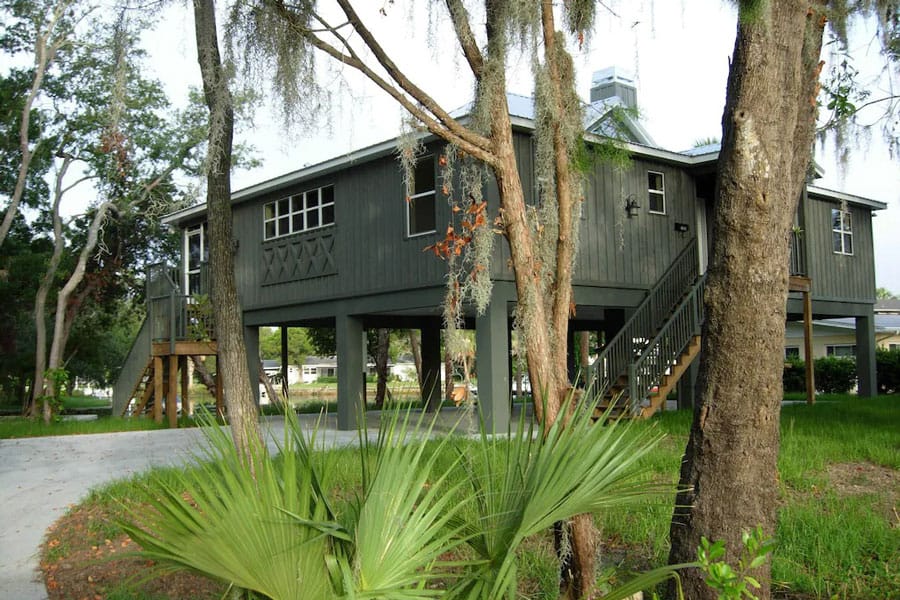 This river home is surrounded by undeveloped land. The Treehouse in Florida is known for its spring-fed rivers, excellent fishing, and numerous lakes. Hike through untouched forests, go scalloping, or visit one of our parks or attractions! Paddling Paradise is a paddling paradise. Water Activities that are Exciting. Outdoor activities. See one of the amazing manatees that live in Florida. There are so many things to do.
The Florida Tree House is a 12 x 50 ft. modernist stilt home on King's Bay with wood beam rafters. 3 Bedrooms, 2 Baths, Screen Porch Sunsets, animals, and manatees may all be seen from the three-story building. You may either utilize a floating dock for your watercraft or home kayaks. Angling and swimming are available in the springs that encircle the house. A gas grill, games, and a fantastic gourmet kitchen with contemporary equipment are all available.
Location: Old Town, Florida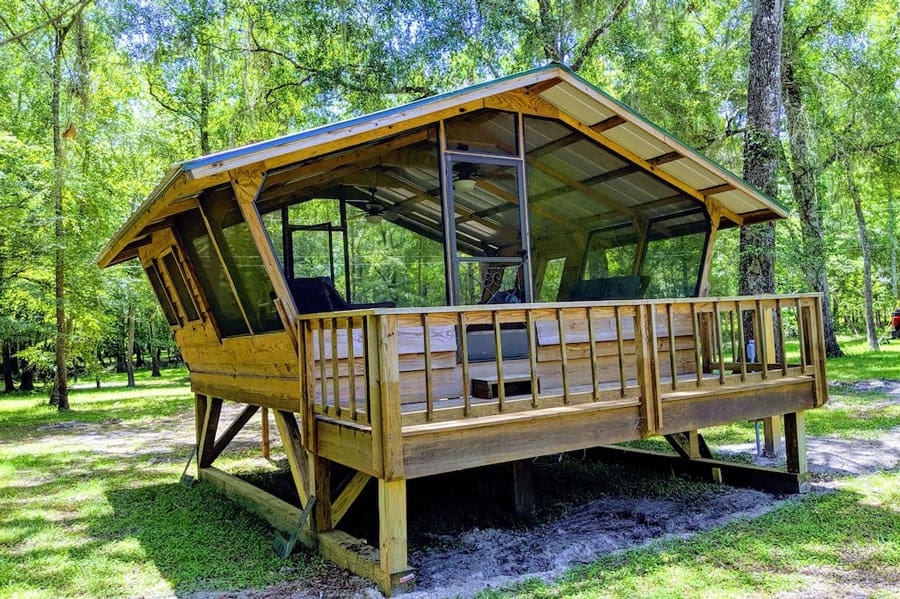 Do you need to replenish your batteries by getting some rejuvenation? Start your day with a cup of joe and a view of the Suwannee River, which is both gorgeous and quiet. That is exactly what the Birdhouse offers. This open-air structure has a front terrace with views of the river and three bedrooms, elevating Florida glamping to a new level. Enjoy the day trekking, angling, swimming, kayaking, and taking in the sights and sounds of the Suwannee. By river or roadway, you'll be minutes from a number of springs. They also have 3 Florida cabins available to rent as well.
Location: Bradenton Beach, Florida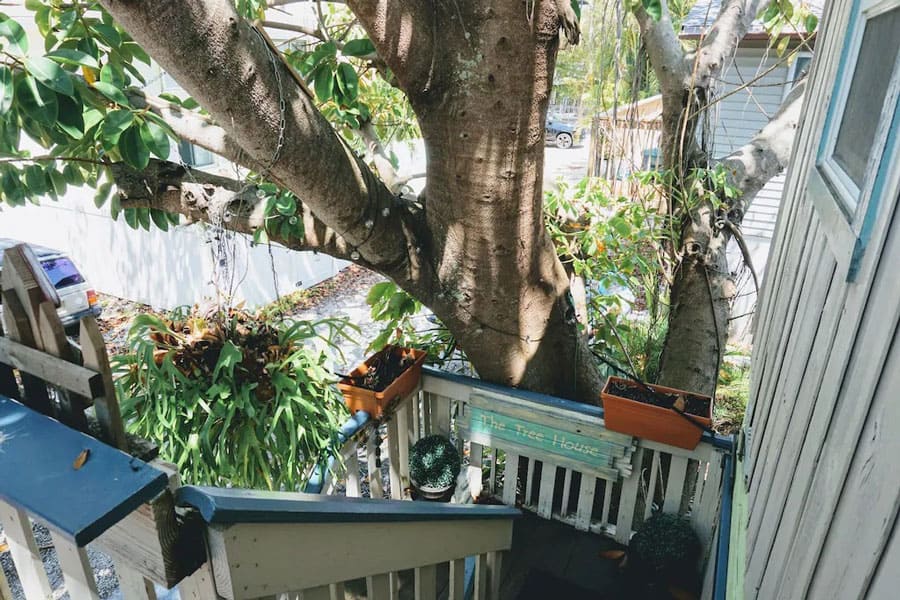 The house is close to the beach yet distant from the noise and bustle of seaside activity and other tourists. The house is located between the gulf beaches and the bay, yet it is really in the heart of Anna Maria Island. Complimentary trolley rides (every 20 minutes) provide convenient access to restaurants, pubs, and historic sites across the island.
The raised residence features a full kitchen with standard-size stainless steel equipment and granite countertops that has been meticulously refurbished. Each room has a flat-screen television.
There is a memory foam queen bed in the master suite, as well as an en-suite bathroom. The spare bedroom, which is off the living/dining area and has special access to the second common bathroom, offers two twin beds. There is a sleeper sofa in the living room area that can easily handle two more visitors.
Location: Oak Grove, Florida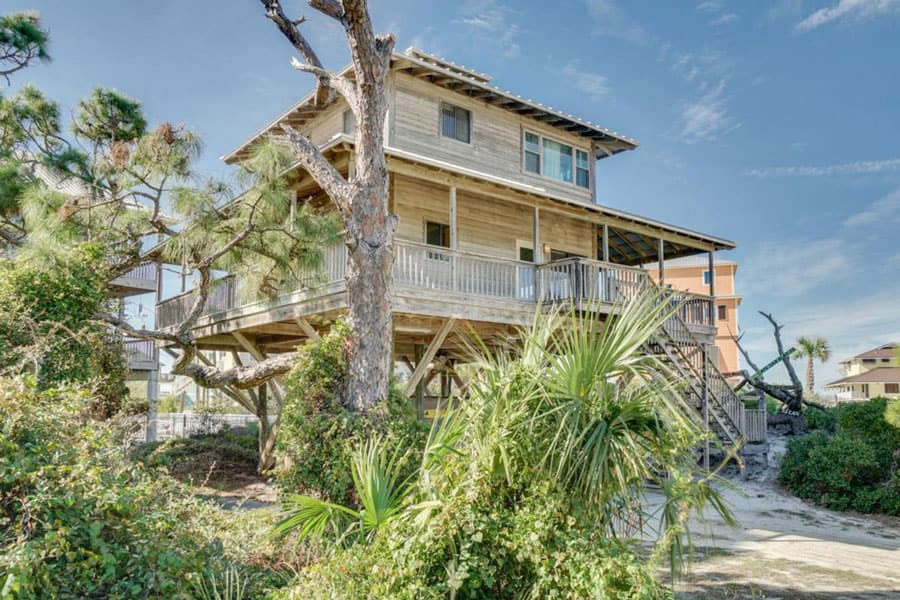 This charming Florida Treehouse offers air-conditioned rooms with a veranda and complimentary WiFi. It includes a beautiful patio with views of the sea. It is located just 0.9 miles from St. Joseph Peninsula State Park Beach for activities.
The treehouse-style residence has two bedrooms, a kitchen with a dishwasher and microwave, a washing machine, and three bathrooms, one of which has a hairdryer. There is also a flat-screen television to enjoy.
Orlando Treehouse Rentals in Florida
Location: Spring Lake, Florida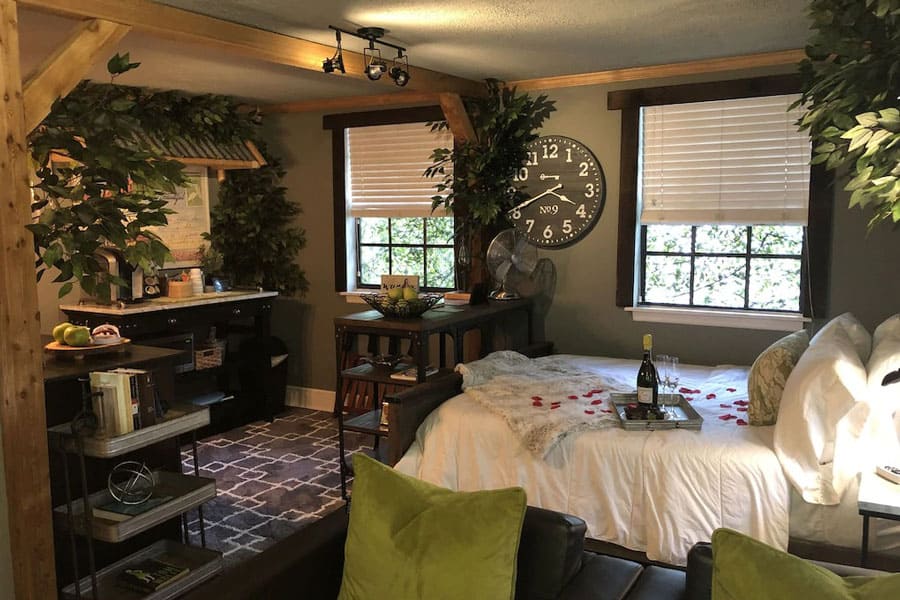 At this central boutique house in the Country Club of Orlando, urban chic mixes with childhood dreams. The Little Treehouse, a private 260 sq. ft. second-floor restored 1926 carriage house, is the ideal Central Florida hideaway for two. Five minutes from Downtown Orlando, Amway Arena, Orlando Soccer Complex, and Camping World Stadium, and only 25 minutes from Disney World and an hour from Florida's gorgeous east and west coast shores.
Location: Orlando, Florida
The Hive at Wanderlust Okto is a very unique 240sf Florida treehouse that will rapidly be among the country's most popular treehouses. In every aspect, it's one-of-a-kind. It began as a loving endeavor during Covid and rapidly grew into a project that attracted the attention of celebrity vocalists seeking to disengage from it all while remaining connected to the area and civilization. Queen bedroom, complete bathroom, Nespresso coffee machine, 80-inch television, exclusive balcony with views of the primary wedding site, outdoor claw tub, and bespoke chandelier.
Pin it!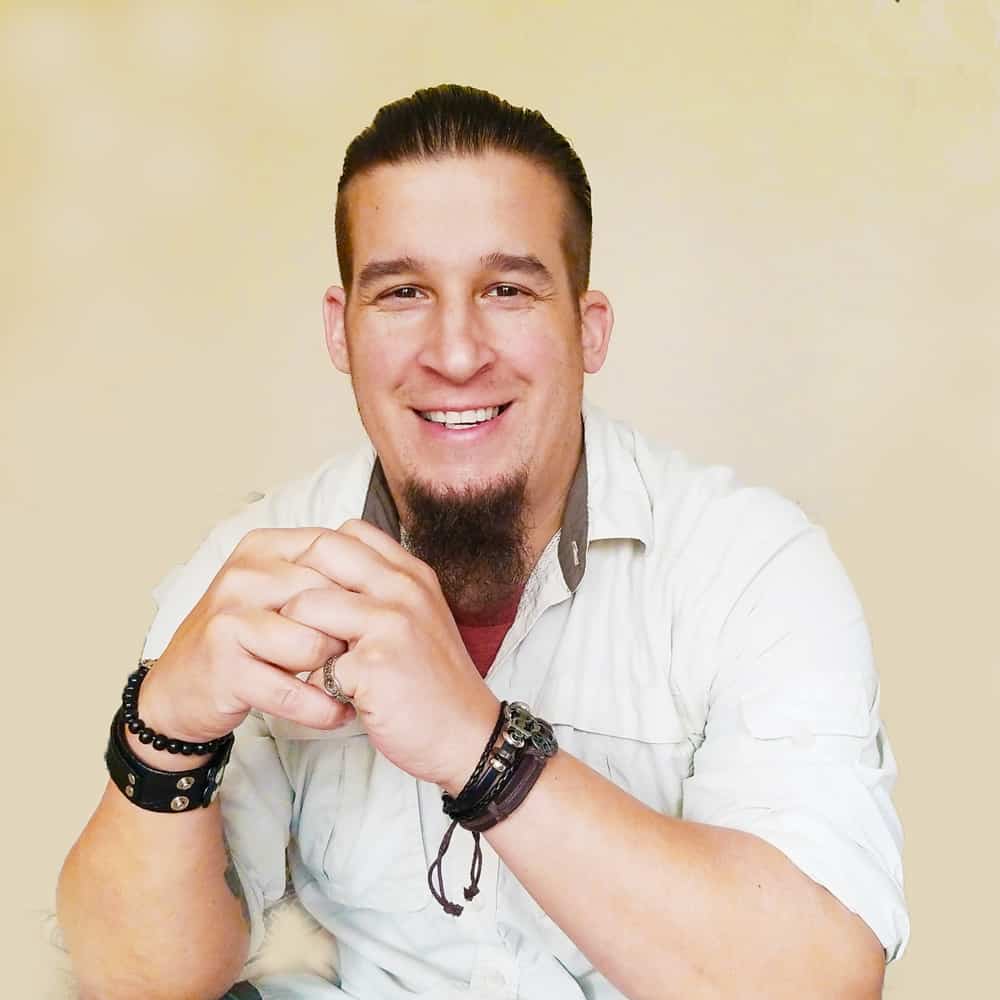 Full-time World Travel Writer who runs multiple websites and social media accounts. I have spoken at various conferences around the world. Some of my hobbies include adventure, fitness and new technologies. I am also a trekkie!